A selection of the best movies filmed in Wisconsin incl. comedy, romantic and drama movies
Are you thinking to travel Wisconsin on your next adventure?
If so, you'll be pleased to know that this wonderful state has also been the setting for some memorable scenes in movies.
From cult classic comedies to epic dramas, many films have chosen this unique location as their backdrop – and we can't help but feel a little bit proud!
In this blog post, I'll explore amazing movies set in Wisconsin that will give you an even deeper appreciation for the beauty of the land and its people.
So prepare yourself – it's time for a movie marathon full of Midwestern charm!
Pssst…!!?? You can't get enough of Wisconsin? Have a look at my other posts I wrote:
This blog is supported by you, dear reader. If you purchase through a link, I earn a small commission. As an Amazon Affiliate, I earn from qualifying purchases.
Comedy: Movies Set in Wisconsin
Where in Wisconsin: Milwaukee, Wisconsin
The movie is about Anne, a single woman with a messy life who is asked to be the maid of honor for her best friend Lillian.
She gets caught up in the strange rituals of the marriage which turns into a hilarious course of events. The wild road of the wedding that Anne travels with the other bridesmaids and Lillian is the plot of the story.
As there are several exterior sequences on the roads of Wisconsin, you can catch a glimpse of the place.
Bridesmaids also give you some glimpses of best fall activities in Wisconsin you can enjoy.
It's one of the funniest movies set in Wisconsin out there!
Info: 2011 | Starring: Kristen Wiig
Where in Wisconsin: Milwaukee, Wisconsin
Love Actually is plotted against a very simple but extremely complex emotion; love! There are several stories intertwined that make it really special.
The primary story is about a newly elected handsome British Prime Minister falling in love with his junior staffer Harry (a married man) who himself is in love with his secretary, and Sarah whose devotion towards her brother entangles her love life.
Info: 2003 | Starring: Hugh Grant, Emma Thompson and Alan Rickman
3. That '70s Show
Where in Wisconsin: Point Place, Wisconsin
Set in Wisconsin, the 70's show is a teenage comedy full of laughter and joy. It is a TV sitcom featuring six teenage friends and their life in Point Place, Wisconsin.
While Point Place is fictional, most of the shoot has been done in the city. You will enjoy the evolution of characters and Wisconsin itself as it was in the 1970s.
Info: 1998 – 2006 | Starring: Mila Kunis, Ashton Kutcher and Danny Masterson
Where in Wisconsin: Milwaukee, Wisconsin
One of the movies set in Wisconsin is the story of Jake who comes out of prison after 3 years and decides to reunite with his brother Elwood and reconstruct the Blues band.
The Blues Brothers are born!
As they try to find ways to collect money, they get into problems and deal with them as they come.
Info: 1998 | Starring: John Belushi and Dan Aykroyd
Where in Wisconsin: Milwaukee, Wisconsin
Wayne Campbell, a heavy metal fanatic, teams up with his childhood friend Garth Algar to produce a show, Wayne's World from the basement of his home.
As it becomes popular, it catches the attention of TV executive Ben Oliver who wants to get the shot to TV but has a hidden agenda too.
Wayne falls in love with Chinese-American singer, Cassandra Wong and as the show is not what it was, he ends up helping his lady love in her career. It's definitely a classic when looking for movies set in Wisconsin.
Info: 1992 | Starring: Mike Myers, Dana Carvey, Tia Carrere and Rob Lowe
6. Happy Days
Where in Wisconsin: Milwaukee, Wisconsin
Happy Days is an American sitcom set in Milwaukee, Wisconsin. It's about a family during the 1950s where they seek help from Fonzie to help them through all the struggles.
The young members of the family, Richi and his friend Potsie face life as new people move in and out of the place.
Info: 1974 – 1984 | Starring: Ron Howard, Henry Winkler and Marion Ross
Where in Wisconsin: Milwaukee, Wisconsin
This is one of the funniest movies set in Wisconsin. It is about a boy, Tommy, who has lost his father only to find out the automobile factory that he inherits is almost bankrupt.
While his stepmother, Beverly wants to sell the company, the emotional attachment of Tommy Boy to the employees makes him find some new clients with his father's assistant Richard by his side.
Info: 1995 | Starring: Chris Farley and David Spade
Where in Wisconsin: Wisconsin Lake
Realizing that his family is falling apart, Tom Baker and his wife Kate decide to take the kids out to a lakeside resort.
His enemy Jimmy and his family are unfortunately at the same place for the summer. The rivalry is seen every bit but in most cases, it takes a funny turn.
Cheaper by the Dozen 2 is perfect when looking for family movies set in Wisconsin.
Info: 2005 | Starring: Steve Martin, Eugene Levy and Bonnie Hunt
Where in Wisconsin: Milwaukee County Stadium, Wisconsin
Rachel Phelps, the former showgirl inherits the Cleveland Indians baseball team that she wants to move to Miami.
However, the clause says that she can only do so if the team fails beyond a certain limit. So, Phelps hires some of the worst players, including Rick who is near-blind and Jake who is prone to injuries.
However, that increases the fighting spirit, and the Indians become potential winners.
Info: 1989 | Starring: Tom Berenger, Charlie Sheen, Corbin Bernsen and Margaret Whitton
Romantic Movies Filmed in Wisconsin
Where in Wisconsin: University of Wisconsin
The Prince & Me is a romantic story of Paige, a commoner, and Eddie, the son of the King and Queen of Denmark, and the future king.
While Eddie tries hard to adjust to the American lifestyle, Paige finds it weird to adjust to the fact that her beau is the future king. Is the romance worth this turmoil?
Info: 2004 | Starring: Julia Stiles and Luke Mably
Where in Wisconsin: Wisconsin
One of the feel-good movies filmed in Wisconsin, Lars and the Real Girl is a delight to watch. Lars, an extremely shy guy, finds it difficult to make friends and talk to women.
So, when he tells his family that he has a girlfriend who he met online, they are overjoyed. The family finds out that the girlfriend is a plastic girl but due to the doctor's advice, they decide to support his delusion.
Info: 2007 | Starring: Ryan Gosling
Where in Wisconsin: Milwaukee, Wisconsin
Andrew Shepherd has completed his first term as the president of America and his widowed status is sure to get him re-elected.
However, as he falls in love with Sydney, a lobbyist, the opponents question his position, and his approval level drops. He now has to choose between his political career and love.
The American President is definitely one of the best feel-good movies set in Wisconsin.
You can relive the magic by staying at one of the most romantic hotels in Milwaukee, and visiting some of the iconic spots in the film.
Info: 1995 | Starring: Michael Douglas
Where in Wisconsin: Waupaca, Wisconsin
Ryan Bingham, a human resources specialist, flies a lot to help businesses fire people. As he is called back, he meets a new recruit Natalie Keener who offers an idea to fire people over the internet.
Ryan, a travel lover struggles to make people understand how firing face-to-face is important. Ryan takes Natalie with him to show her how it is done and they both learn their faults in some parts.
Ryan also falls in love with Alex, another frequent traveler and it changes his way of looking towards life.
Info: 2009 | Starring: George Clooney
Where in Wisconsin: Madison, Wisconsin
Four friends, Zach, Casey, Michael, and Eric are on the verge of turning 30 and they are scared of missing out on the freedom of 20s.
The worst happens to Michael, who in the fear of the responsibilities of his love Jenna and their child, moves in the arms of another woman.
Things get difficult in all the relationships. The Last Kiss is one of the top movies shot in Madison, Wisconsin.
Info: 2006 | Starring: Zach Braff, Jacinda Barrett and Rachel Bilson
Where in Wisconsin: Marinette, Wisconsin
Joe Keegan, a veteran comedian who has failed in almost all major auditions of his life, gets to know that the "Tonight Show" talent scout will be in the small town of Wisconsin.
As the Godfather of Green Bay hits the road, he meets the roughest crowd including footballers and hunters. He faces several difficulties as he reaches Wisconsin.
Are you a fan of Green Bay, WI? Have a look at my Green Bay, WI guide…this town has so many things to offer!
Info: 2005 | Starring: Tony Goldwyn, Lauren Holly and Pete Schwaba
Drama Movies Set in Wisconsin
16. Dahmer
Where in Wisconsin: Wisconsin
This movie is a biopic of serial killer Jeffrey Dahmer and is set in both past and present times.
As he sets his eye on his last victim, young Rodney, he starts contemplating the fate of the victim. The story shows the flashback of Dahmer's struggling relationship with his father and his first kill.
Info: 2002 | Starring: Jeremy Renner, Bruce Davison and Artel Great
Where in Wisconsin: Milwaukee, Wisconsin
Dr. Elle, a radio astronomer, discovers the existence of aliens who are intelligent enough to send messages in order to build a special machine.
As she receives the message, there is a strong pressure politically and from other scientists who want to take her work away. Will she be able to answer the call from the far world?
Info: 1997 | Starring: Jodie Foster
Where in Wisconsin: Madison, Wisconsin
Burt Farlander and Verona De Tessant, very much in love, are expecting their first child. However, they want a perfect place to call home and raise their child and thus they travel across borders.
As they go through some misadventures, they find themselves reconnecting with old friends and family and find a place that can be called home on their own terms.
Away We Go is a great choice when looking for a feel-good movie set in Wisconsin.
Info: 2009 | Starring: John Krasinski and Maya Rudolph
19. Dead Weight
Where in Wisconsin: Stoughton, Wisconsin
A woman gains consciousness in the desert and finds herself with a strange bag she cannot let go. She has amnesia and her one leg is impaled. As she tries to find her way out, she meets Baby Shaman.
The items in the bag and this encounter bring back some memory where it seems she may have killed her brother.
Info: 2019 | Starring: Anna Maganini
Horror Movies Set in Wisconsin
Where in Wisconsin: Silver Lake Mansion, Wisconsin
George and Kathy, a happy couple, find a house on sale in Amityville, New York. It's so cheap that they cannot resist purchasing it.
However, the low-price tag is associated with the murder story of the house where a man murdered his whole family.
George and Kathy get to know about it as they move in with their kids and believe the house is haunted. Thus, they hire a priest to get rid of the evil. The plot is set near some of the most beautiful lakes in Wisconsin.
Info: 2005 | Starring: Ryan Reynolds
Where in Wisconsin: Elkhorn, Wisconsin
The Beast of Bray Road is based on the real sighting of a beast that looks half human and half wolf.
A newly appointed sheriff in the area is forced to find out the reason behind the brutal chain of murders and he comes to the conclusion that the beast has the DNA of both humans and Wolf.
Info: 2005 | Starring: Jeff Denton
Where in Wisconsin: Milwaukee, Wisconsin
Billy Club is a horror-comedy shot in Wisconsin. Four friends reunite 15 years after a triple homicide in the Little League session where Billy killed two teammates and the coach.
Someone dressed as the umpire starts killing the survivors, putting their life back on track of fear.
Info: 2013 | Starring: Marshall Caswell, Erin Hammond and Nick Sommer
Where in Wisconsin: Milwaukee County Hospital, Wisconsin
Ana returns home to a peaceful suburban residence at night but the next morning becomes a massacre as a zombie neighbor attacks her husband and kills him.
Ana escapes and stumbles upon a police officer, named Kenneth. Ana, Kenneth, and other survivors take shelter in the deserted Crossroads Shopping Mall. Their mission is to fight the zombies and survive.
Info: 2004 | Starring: Sarah Polley and Ving Rhames
Where in Wisconsin: Merrill, Gleason, Lincoln County, Wisconsin
As a meteorite crashes in a rural area of Wisconsin, some giant spiders are released on the street, craving human flesh.
Dr. Vance, a NASA scientist, and Dr. Jenny Langer try to save humanity, and the two end up falling in love in the process. The locals have to confront the gigantic spiders to save themselves. Directed by Bill Rebane, this is a true classic!
Info: 1975 | Starring: Steve Brodie
Thriller Movies Set in Wisconsin
Where in Wisconsin: Milwaukee, Wisconsin
Michael Clayton, who works as a problem fixer, finds himself in a mix when he is asked to clean a mess that even he may not be able to deal with.
The top litigator of his law firm hands him the job that may clear his debt but he faces a dilemma as his heart wants to do the right thing.
Info: 2007 | Starring: George Clooney
Where in Wisconsin: Columbus, Milwaukee, and Madison, Wisconsin
In the 1930s, where bank robberies are frequent, John Dillinger and his gang terrorize the city.
The federal agents have a rough time catching them and FBI head Edger Hoover declares Dillinger as a top public enemy. The cat and mouse game continues in different cities of Wisconsin.
Info: 2009 | Starring: Christian Bale, Johnny Depp and Marion Cotillard
---
Why watch Movies filmed in Wisconsin?
Wisconsin is a visual delight! Thus, it's no wonder why it is the choice of location for several movies. Producers have been drawn to this part of the country for ages now, and several great films have been shot here. Hundreds of great movies set in Wisconsin are worth a watch.
Movies set in Racine, Wisconsin, movies filmed in Green Bay, Wisconsin, and movies filmed in La Crosse, Wisconsin are just some of the preferred locations in the area!
While it may not be possible to travel to Wisconsin for everyone, the movies that are filmed in the state carry a bit of the place with it.
You can get an idea of how the state is and how it used to look in recent years. There are several cool things to do in Wisconsin which you can enjoy seeing in the movies as well.
Sometimes, you may stumble upon an American legend that you may or may not have heard about. The impressive culture is quite a plus for the movies set there, and the journey through the tales is going to be amazing.
The place is a well-known holiday destination and sees thousands of tourists every year. It's thus no wonder that more and more people consider to vacation in Wisconsin.
No wonder the dairy state's a huge inspiration for movies set in Wisconsin. Many of the best state parks in Wisconsin have been used for movie sets too! Today, I bring you the best movies set in Wisconsin you absolutely need to watch!
What's your favorite? I can't wait to hear from you in the comments!
---
Short FAQ about Movies Filmed in Wisconsin
---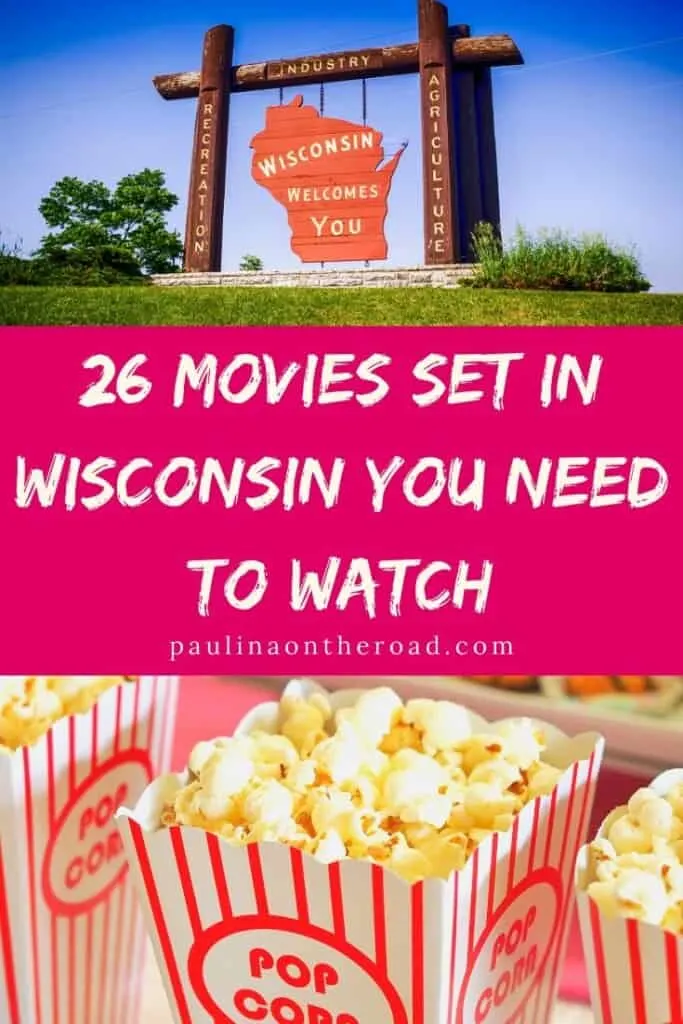 ---