A guide to the best Family Hotels in Tenerife and best places to stay in Tenerife with kids
Tenerife is an extremely popular family destination located in Spain that attracts over six million travelers from around the world every year!
The number one reason to plan for Tenerife family holidays is its wonderful weather and the second, the enchanting beaches of Tenerife island. You can even plan for a vacation with your family at Christmas in Tenerife.
Apart from this, you can go to the shark aquarium, swing through the thick forests, enjoy a submarine safari, and even hand-feed monkeys! These are some of the few things that your kids will love to do!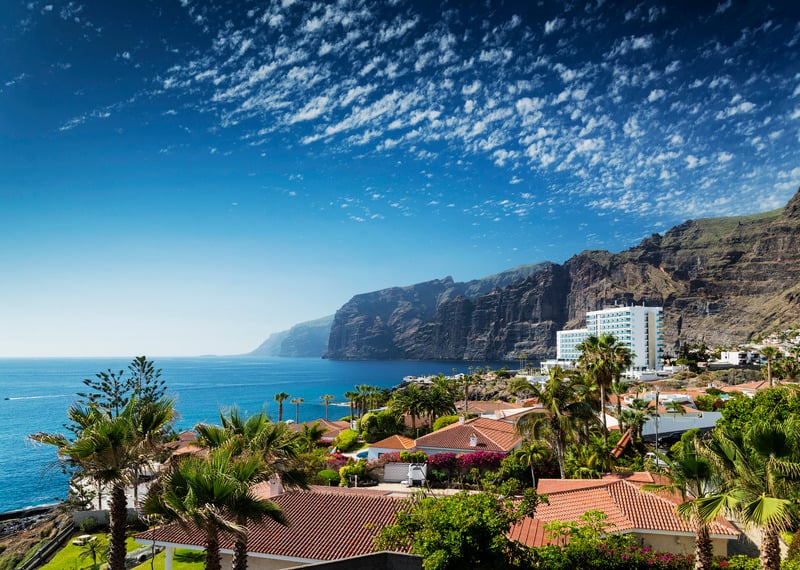 Having said that, most of you might be wondering about the best family hotels in Tenerife and also about the places where you should stay.
The good news is that there's an array of accommodation options available in Tenerife as there are many adults-only Tenerife hotels, as well as kids and family-friendly hotels to stay, and this is what I'm going to talk about here.
If you are looking at which is the best area to stay in Tenerife, have a look at my guide about the best hotels and areas to stay in Tenerife.
Thanks to affiliate links, I pay my bills. If you make a purchase through them, I may receive a small commission at no cost to you. As an Amazon Associate I earn from qualifying purchases. All opinions are always mine. Merci!
Overview: The Best Hotels for Families with Kids in Tenerife
---
Useful Travel Information About Tenerife
⚘ Avoid tourist traps and get the "Tenerife Like a Local" itinerary for less than 10€. – Get it here

✈ Book cheap flights to Tenerife with Skyscanner

✔ Book tours in Tenerife with GetYourGuide

➳ Find the best hotels in Tenerife with Trivago

➳ Enjoy gorgeous holiday rentals in Tenerife with VRBO

❖ Rent a car with the best discounts at DiscoverCars

☘ Get the best discounted outdoor gear (outlet) at REI.com

✎ Never leave without travel insurance. I get mine at HeyMondo. It is easy to set up, cheap, and reliable.

$ Withdraw money without hidden fees and avoid exchange rates with Wise (you'll get a free card on top!)
Best Areas to Stay in Tenerife with Kids:
1. Costa Adeje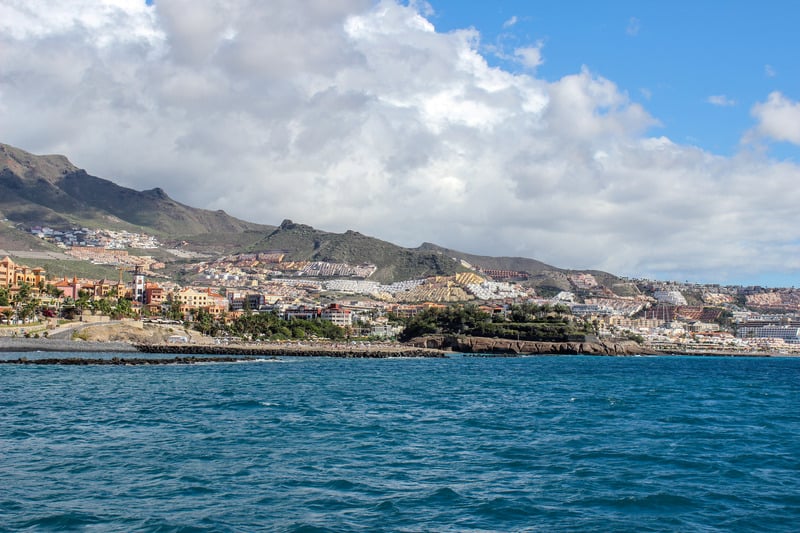 Costa Adeje offers you a perfectly relaxing and peaceful holiday option.
It's one of the classiest resort areas in Tenerife and boasts 3000 hours of sunshine every year! There are many fantastic hotels in Costa Adeje.
In addition to the beaches, there are many amazing things to do in Costa Adeje for both couples and families.
After relaxing at the beachside lounge and pool, you can step outside to get a taste of its culture.
You can even climb Mount Teide, Spain's highest mountain for a hike, or enjoy a boat ride in search of majestic whales!
The beaches of Costa Adeje offer plenty of adventure water-based activities to every traveler. You can relax at the beach, go windsurfing, skiing, scuba diving, and even paddle-boarding.
Most of the white sand that you'll get to walk on has been shipped all the way from the Sahara!
Locals keep the beaches very clean and groomed. You'll find a wide variety of beach bars, lounges, shops, cafes, bars, and restaurants.
Your kids will love wildlife spotting in the Atlantic, and that's why Costa Adeje is famous among families. Another thing that you can do along with your kids is visiting Siam Park.
Make sure to buy tickets in advance during high season. – Check rates here
This amazing water park has won many awards and once you come here, you'll understand the reason why it has won so many glittering awards.
Enjoy a wide range of family-friendly water rides. The surrounding looks amazingly beautiful with subtropical greenery and don't worry; you'll get a lot of options when it comes to drinking and food!
2. Playa Las Americas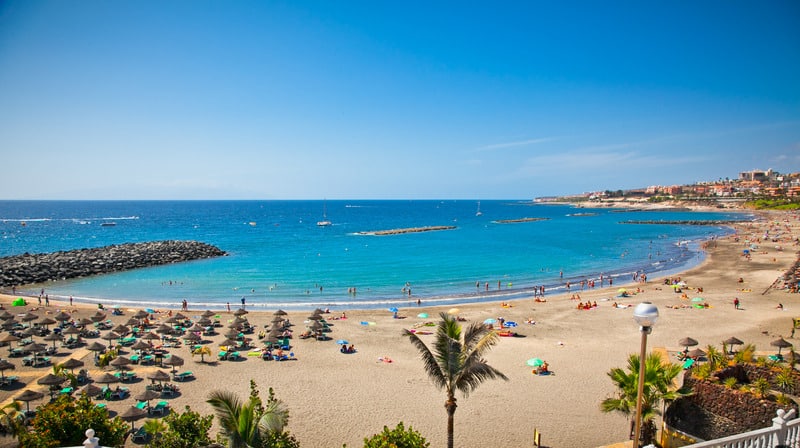 Another popular Tenerife family resort situated in the southwest Tenerife is Playa Las Americas. This resort is very famous for its man-made, as well as, natural beaches. It's lively, organizes different music festivals, and offers several clubs and bars.
Although this resort is typically designed for bars and beach lovers, there's a wide range of fun-filled activities for everyone to try as well. You'll also find some of the best family hotels in Tenerife at Playa Las Americas.
Go to the Central Park of Arona and walk through the gardens with your kids. Get mesmerized by the lovely palm trees, and buy souvenirs and gifts for your kids and yourself from the traditional market stalls.
If you want to enjoy the nightlife, you must head to Veronica Strip. Buy some dirt-cheap drinks, have fun in the lively atmosphere, and dance all night long!
The legendary Siam Park is also just a stone's throw away. Walk on the white sand beach, enjoy breathtaking verdant landscapes, and watch the cascading waterfalls gently flowing down. The Lost City of Siam Park is the epitome of children's attraction here.
3. Los Gigantes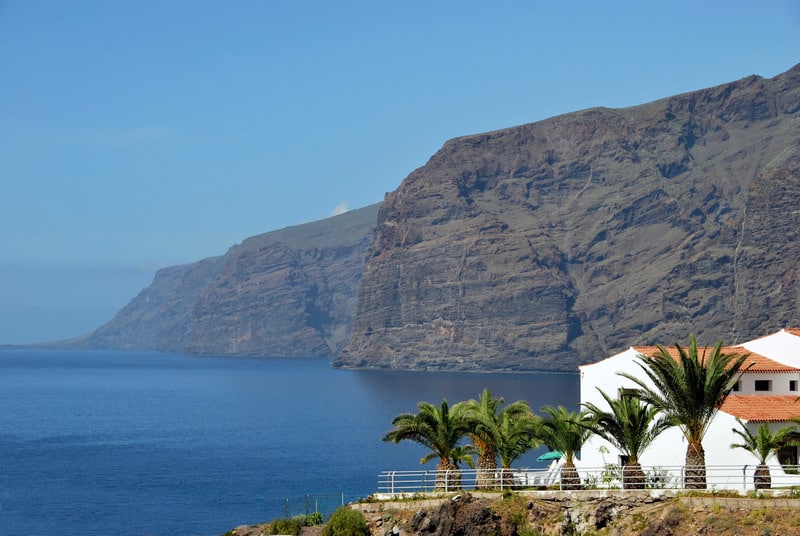 Situated on the west coast of the Canary Islands of Tenerife lies Los Gigantes. The town enjoys a flat part of the coast with an extremely unique landscape.
The town boasts some of the majestic and highest cliffs which found a place of pride in the prestigious Guinness Book of World Records! There are several things to do in Los Gigantes like hiking and watching the sunset.
This place is genuinely an exotic place for travelers. You'll even maybe get to see some swimming and jumping dolphins and whales! – Check whale-watching tours here
Tourists like to go for a boat ride to take a good glimpse of the water life. I recommend sailing a bit deeper to get a panoramic view of the entire town.
One of the Tenerife family resorts that you should visit is Puerto Deportivo Los Gigantes.
Come here to adore snow-white yachts, go for a sea excursion and fishing, and enjoy nature at its best. The incredible scenery will leave you awe-inspired!
Top 10: Best Family Resorts in Tenerife, Spain
The Adrián Hoteles Jardines de Nivaria ***** is a 5-star luxurious hotel located in Costa Adeje. From the hotel, you'll get the full view of Playa Paraiso Beach. The hotel has a spa and a heated infinity pool.
All the rooms of this hotel feature a satellite TV and air conditioning. The private bathrooms include a hairdryer, slippers, and a bathrobe.
For lunch and dinner, you can enjoy the buffet restaurant that serves Spanish and Italian cuisines.
There are paddle courts, tennis courts, archery facilities, and giant chess available for all the lodgers. You can even plan your best outdoor activities in Tenerife or in Costa Adeje.
If you want to book a room at one of the best family hotels Costa Adeje, you should consider Adrián Hoteles Roca Nivaria. – Check rates and reviews here
Highlights
Three swimming pools
The RoniAventura water and adventure park
A buffet restaurant, serving Italian and Spanish cuisines
A poolside bar
Free parking
Another amazing hotel for kids in Tenerife is the Europe Villa Cortes GL *****. This seafront villa hotel offers a spa, a fitness room, luxurious and spacious rooms including a balcony, and six amazing restaurants.
The hotel's theme is inspired by the Mexican mansion. All the rooms include a private bathroom, custom-made Mexican furniture, and a satellite TV.
It also has a beach club restaurant serving gourmet dining options. You can fill your tummy with tantalizing Bavarian, Mediterranean, and Mexican food.
For tasty drinks, you can choose from one of the four bars that this hotel has to offer. In the morning, you can try their delicious buffet breakfast.
You can relax at the outdoor pool with your kids and watch them having fun under the waterfall. The pool includes a children's area as well. – Check rates & reviews here
Highlights
Two swimming pools including an outdoor pool with a waterfall and a dedicated children's area
Several restaurants serving Mexican, Mediterranean, and Bavarian food
Several bars including a beach bar
Located only 15 minutes away from Tenerife Sur Airport
Free WIFI and free parking
Located in Puerto Santiago lies the Landmar Playa La Arena **** which is 50 m away from La Arena beach. This hotel is kids-friendly and features luxurious and spacious rooms with private balconies and an outdoor pool.
All the rooms of the Landmar Playa La Arena **** are vibrant, very spacious, and offer a satellite TV, air conditioning, and a private bathroom.
For recreational activities, the hotel features a table tennis court, a mini-golf course, and a tennis court.
From Tenerife South Airport, you'll have to travel around 45 minutes to reach Landmar Playa La Arena. – Check rates & reviews here
Highlights
Three swimming pools
Spacious rooms with vibrant decoration, and a private balcony and bathroom
Free WiFi, a parking, beachfront, and a bar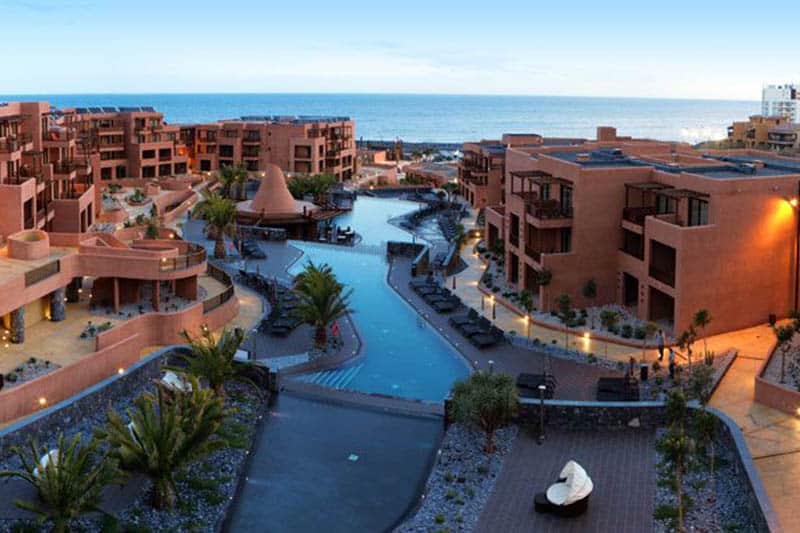 The Hotel Barceló Tenerife is a family holiday all-inclusive hotel where you'll get the perfect sea views with luxurious accommodation.
The hotel hosts eight amazing swimming pools, fitness center, and free WiFi.
All the rooms of the Hotel Barceló Tenerife are spacious, give you a contemporary aura, and include a hydromassage bath and a private balcony.
Some of the top facilities that you'll find here are a mini-spa, Turkish baths (which you can use by paying a fee), a night club, and tons of evening entertainment.
Not surprisingly, this is one of the top spa resorts in Tenerife.
The hotel hosts the restaurants Cueva Atxona and La Proa where you can head to try their buffets.
Guests can try some drinks and snacks at one of their four bars. This hotel has a beautiful garden, as well as volleyball and tennis courts. – Check rates & reviews here
Highlights
Eight fantastic swimming pools
A fitness center
Free WiFi
A spa and wellness center
Buffet restaurants
Four bars including a pool bar
An attractive garden to get up-close with nature
When you start planning for Tenerife holidays for kids and you'd like to book a room in one of the best hotels, consider the Hovima La Pinta Beachfront Family Hotel ****.
This hotel will give you a complete view of the attractive Atlantic Ocean. It offers beautifull gardens, free WiFi, and two outdoor swimming pools.
You'll find air conditioning in each of the rooms that are nicely designed and very spacious. There's also a living area with a satellite TV and a sofa bed where you can rest.
Meet new people and try some of the international cuisines in the buffet restaurant. For those who'd like to enjoy a couple of drinks, you can visit the bar. – Check rates & reviews here
Highlights
A children's playground, a children's club, and a splash zone
Table tennis and a pool table
Located around 20 minutes away by road from Tenerife Sur Airport
Modern décor and spacious rooms
Two outdoor swimming pools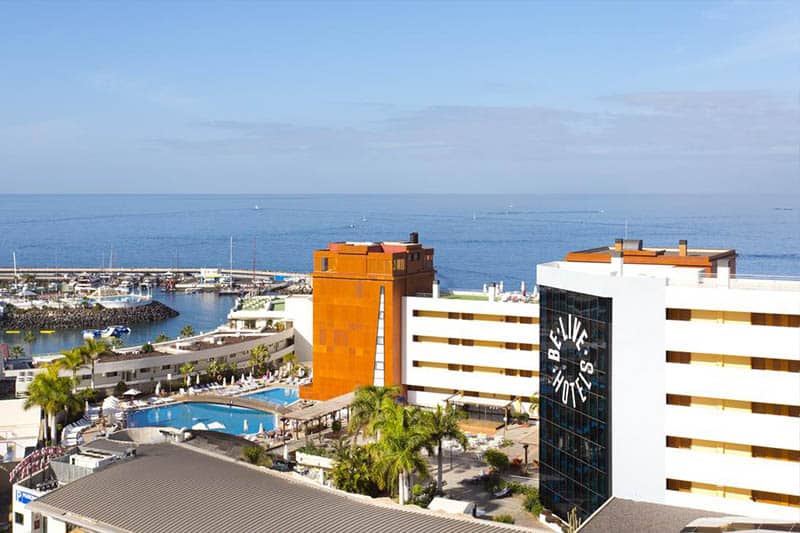 The Be Live Experience La Niña **** is only 200 m away from Fañabe Beach. This hotel has outdoor swimming pools, rooms with a private balcony and bathroom, as well as a spa.
You'll also be provided with free WiFi. Each room is well decorated, spacious, and bright. And for your entertainment, you can watch some of the entertainment shows organized by the local animation team. – Check rates & reviews here
Highlights
A buffet restaurant serving a wide range of delicious international cuisines
A gym, entertainment options, and a hair salon
Wide and spacious rooms
A hotel pool and lobby bars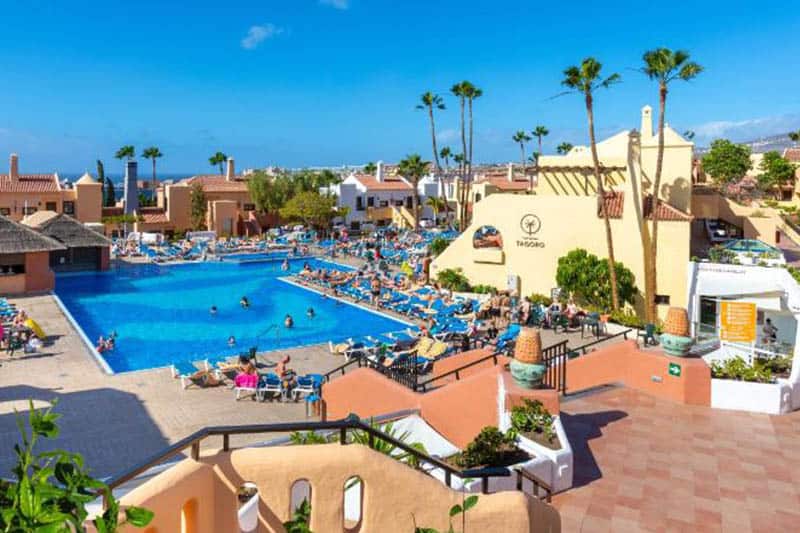 Tenerife with kids will become even more fun when you select the best place to stay! That's why I've the Tagoro Family & Fun Costa Adeje **** for you!
You'll get an airport shuttle, four outdoor swimming pools, a private balcony and bathroom in each of the modern and spacious rooms, and free wifi. This hotel is located in a very quiet area in south-west Tenerife.
The hotel also features a kids club, a mini-court for different sports, and a crafts area for kids to enjoy coloring. Pick this one if you are traveling with kids. – Check rates & reviews here
Highlights
A kids club with tons of activities to do
Four outdoor pools
Rooms with a private balcony
A shuttle service
A tennis court
Many activities that can be enjoyed by both kids and adults
Several buffet restaurants serving international cuisines
An out-of-the-average hotel for family and kids in Costa Adeje is the Hard Rock Hotel Tenerife *****. You'll get the airport shuttle and a beachfront view. This luxurious hotel features a saltwater lagoon, three swimming pools, and shuttles run daily.
All the rooms are spacious and equipped with air conditioning. Each room has its private bathroom which includes a bathrobe, slippers, a hairdryer, and a rain-effect sensory shower. The modern décor of this hotel and rooms is amazing and surprisingly colorful! – Check rates & reviews here
Highlights
Rock Royalty suits that will give you access to private concierge services like a VIP check-in
A hotel spa with tons of services
Several dining and entertainment facilities
A mini club for kids
A beach club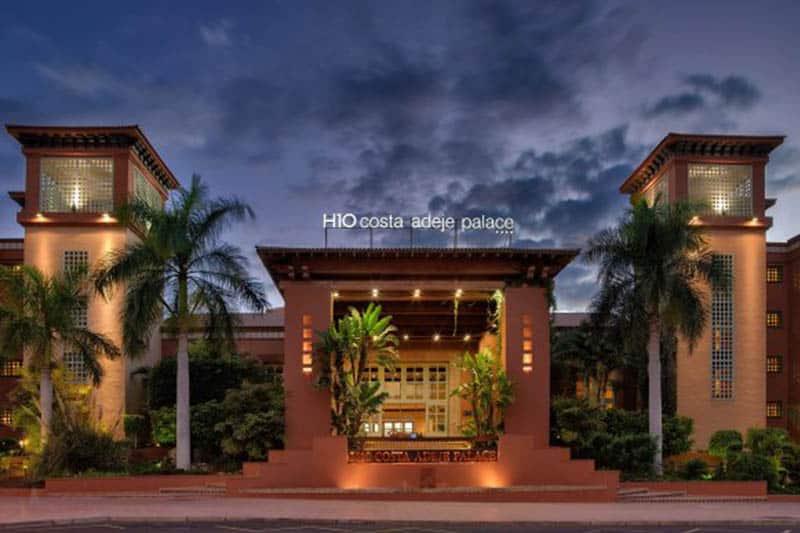 The H10 Costa Adeje Palace **** is located in southern Tenerife. The hotel features three outdoor swimming pools, a wide range of outdoor facilities, lots of restaurants and bars, and a terrace where you can relax.
You'll enjoy the scenic sea beauty, and all the guests get access to Playa de las Américas Casino. – Check rates & reviews here
Highlights
Several swimming pools
Many pubs and bars
A terrace with the perfect sea view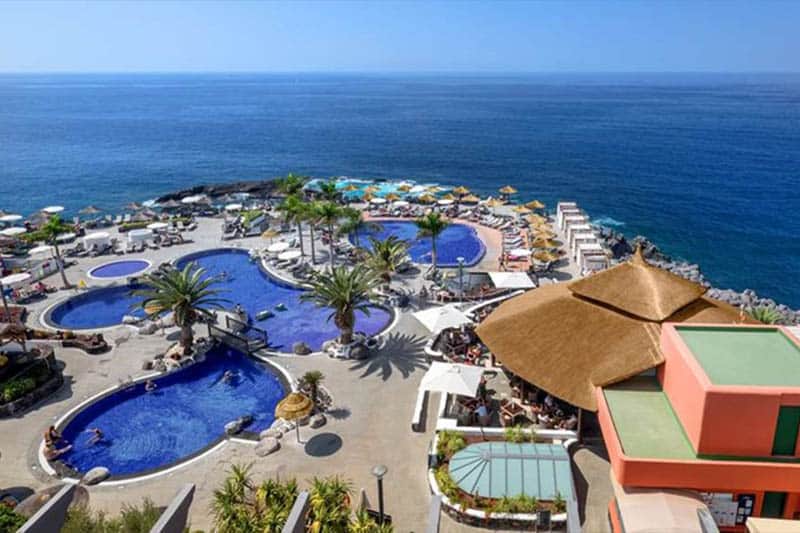 The last one that I've got for you is the Barceló Santiago **** in Puerto Santiago. This resort is one of my favorite ones because of its breathtaking view of Los Gigantes Cliffs and La Gomera Island.
You'll find chic rooms that are well-equipped with a TV and air conditioning. Enjoy one of the three outdoor swimming pools, relax at the spa, try a hot tub and Turkish bath, and go and enjoy a meal at one of the restaurants. – Check rates & reviews here
Highlights
The nearest beach is only 200 m away
South Tenerife Airport is 45 km away
Three outdoor swimming pools, a Turkish bath, a hot bath, and a spa
Lots of restaurants serving buffet meals
Map of the Best Areas to stay in Tenerife with Kids
---
Short FAQ about Best Family Hotels in Tenerife
What are the best areas to stay in Tenerife with kids?
There are several great areas to enjoy your vacations in Tenerife with kids like Costa Adeje, Los Gigantes, and Playa Las Americas.
What can you expect enjoying at the Adrián Hoteles Jardines de Nivaria?
You can enjoy a full view of Playa Paraiso from the hotel. There are paddle courts, tennis courts, archery facilities, and giant chess available for all the lodgers.
Which hotel is the best for staying at Puerto Santiago having the view of Los Gigantes Cliffs?
The Barceló Santiago will let you enjoy a breathtaking view of Los Gigantes and La Gomera, and a perfect option to stay at Puerto Santiago.
---
---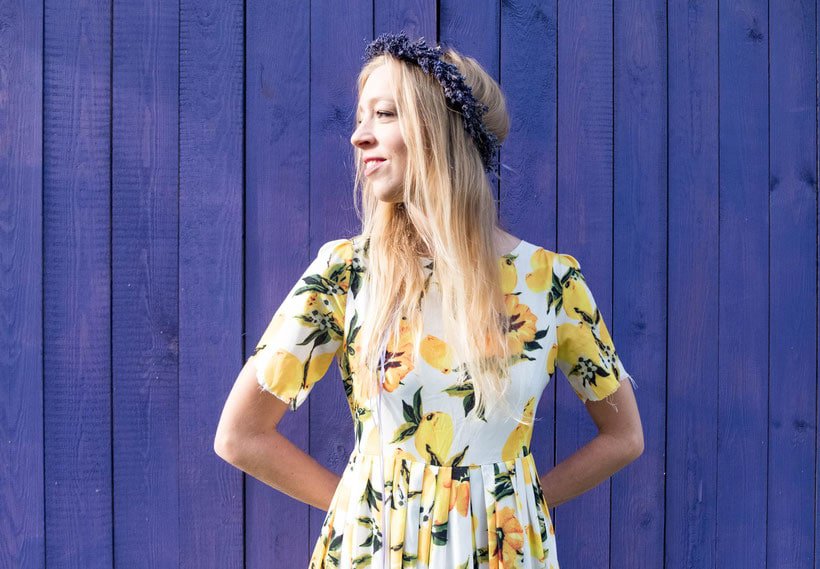 Hola! I am Paulina, a fervent travelette who crossed the Atlantic Ocean by Boat HitchHiking. On my blog, you'll find all the tips to make the most of your holiday. Get ready to enjoy outdoor and sustainable travel like hiking, cycling or sailing. Let's hit the road together!