Guide to the best Tenerife spa hotels, including all-inclusive, adult-only and family-friendly options
A stay at a spa hotel is the best way to pamper and reward yourself, and the success of your spa holiday depends on the spa facilities and location to a great extent.
The serenity of the surroundings can play a major role in relaxing your body and mind.
It is for this reason that I love staying at the spa hotels in Tenerife whenever I visit the island.
Blessed with beaches, mountains, and beautiful landscapes, Tenerife will gift you blissful moments of peace.
Tenerife has exceptional hotels that are designed to make wellness an easy and exciting way of life.
If you're wondering where to stay in Tenerife for a relaxing holiday, here is my pick of the best spa hotels in Tenerife for a relaxing and unforgettable stay.
"Paulina on the Road" is supported by you, dear reader. As you buy through my links, I earn a small commission. As an Amazon Affiliate, I earn from qualifying purchases. Thank you for your support
---
Overview: Top 5 Spa Hotels in Tenerife
---
Useful Travel Information About Tenerife
⚘ Avoid tourist traps and get the "Tenerife Like a Local" itinerary for less than 10€. – Get it here

✈ Book cheap flights to Tenerife with Skyscanner

✔ Book tours in Tenerife with GetYourGuide

➳ Find the best hotels in Tenerife with Trivago

➳ Enjoy gorgeous holiday rentals in Tenerife with VRBO

❖ Rent a car with the best discounts at DiscoverCars

☘ Get the best discounted outdoor gear (outlet) at REI.com

✎ Never leave without travel insurance. I get mine at HeyMondo. It is easy to set up, cheap, and reliable.

$ Withdraw money without hidden fees and avoid exchange rates with Wise (you'll get a free card on top!)
Best Spa Hotels in South Tenerife
If you wish to enjoy a spa holiday while not being away from adventures, South Tenerife is the best location.
It is frequented by visitors throughout the year for its pleasant sunshine and beaches.
There are many fabulous spa hotels here with state-of-the-art equipment to keep you de-stressed and rejuvenated.
This lively destination also has awesome nightlife, waterparks, and thrilling water sports.
And there are many other fun things to do in South Tenerife for families, solo travelers, or couples.
Whether you are visiting at the height of summer or enjoying Christmas in Tenerife, you'll fall in love with South Tenerife.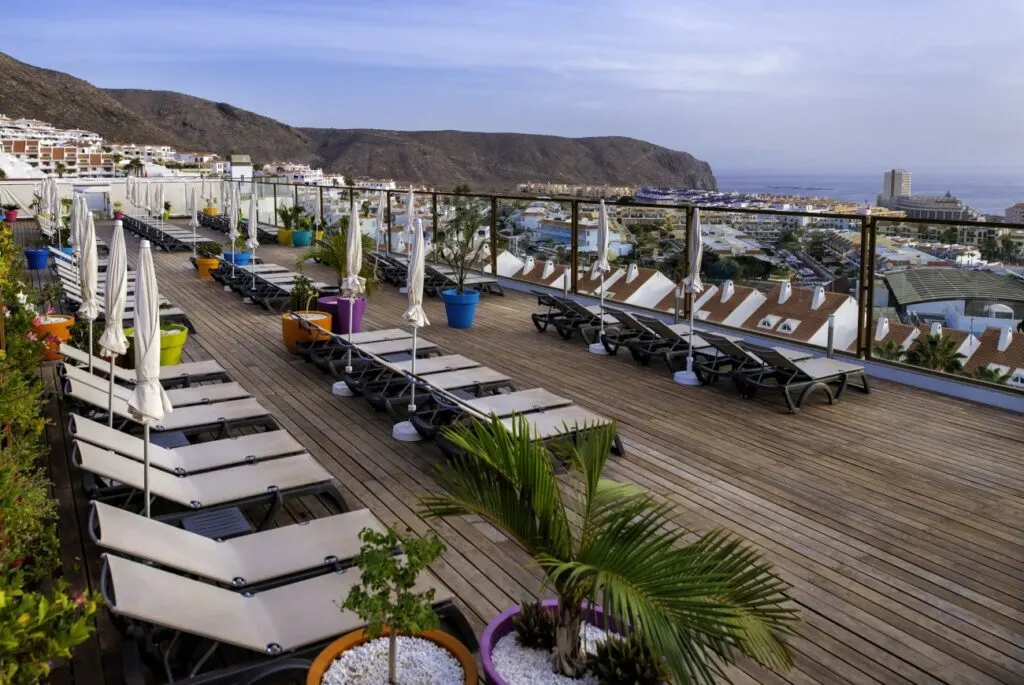 Where: ​​Los Cristianos, Tenerife
Highlights: Open-air spa with entertainment and a pool bar
Wondering where to stay in Tenerife on your next vacation with kids and still enjoy some quiet moments?
Then book your stay at the Paradise Park Fun Lifestyle Hotel in Los Cristianos.
This hotel offers nine types of accommodation ranging from standard rooms and premium studios to ocean-view suites.
This property has something to please its guests of all ages – including an adults-only solarium and pool, an open-air spa with entertainment, and fun zones with games and activities for kids.
There are also many great things to do in Tenerife with kids nearby, including Siam Park and Aqualand.
The hotel has a cozy spa that offers personalized and professional body and beauty treatments.
There is a Hydrotherapy area with facilities like a Roman bath, Jacuzzi, sauna, bi-thermal shower, and Scottish shower.
Book a massage session here to relax your muscles, relieve pains, and refresh your mind.
Paradise Park is the best spa hotel Tenerife has for enjoying romantic couple experiences.
They offer special pampering packages for couples to enjoy massages and hydrothermal circuits together.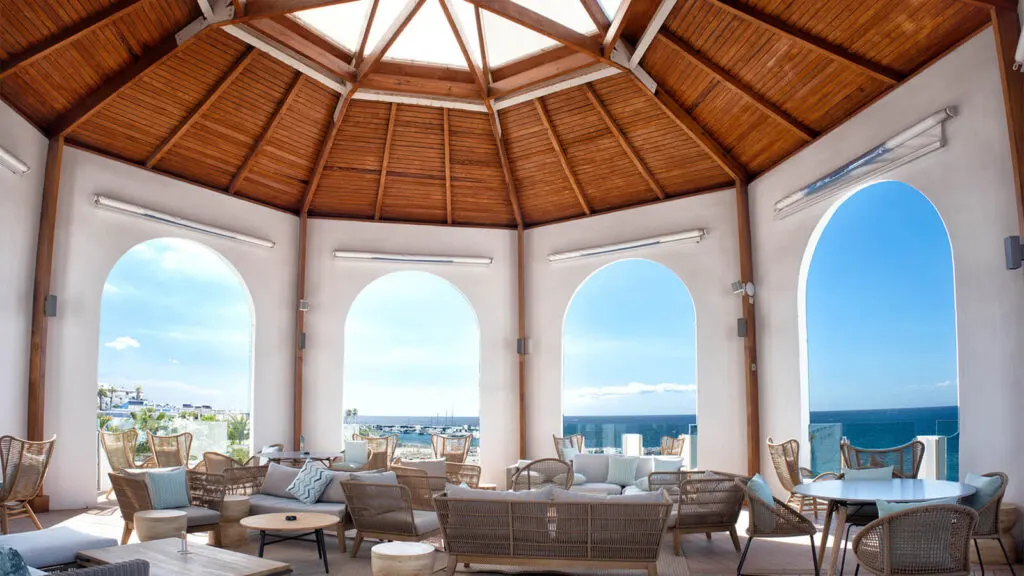 Where: Adeje, Tenerife
Highlights: 2 heated pools and an infinity pool with Bali beds
Princess hotels in Tenerife have an unparalleled status for their luxurious services and thoughtful living spaces, and Guayarmina Princess is no exception!
Guayarmina Princess is a beachfront property that adds a cherry on top to the brand's reputation.
It is ranked among the best spa resorts Tenerife has exclusively for adults and is perfect for a romantic getaway.
The spa has an indoor freshwater pool with massage jets and promises a surreal experience.
There is also a sauna, Bali beds, sunbeds, Turkish baths and massage cabins for couples.
The hotel rooms feature a sophisticated design and comfortable furnishing ideal for relaxation, and views of the Atlantic Ocean or the lively Costa Adeje town.
The dining scene comprises 3 restaurants and 6 bars including a food market with an international buffet.
Spend a romantic beach day with your partner or take a drive to the Siam Park or Aqualand for some adventures.
If you want hotels in Tenerife on the beach, you can't go wrong with Guayarmina Princess!
Where: Adeje, Tenerife
Highlights: Unique brunch on a floating tray in the private villa
Royal Garden Villas Tenerife takes pride in being one of the best luxury hotels in Spain.
It redefines the meaning of elegance with its villas with heated private pools and terraces and is equally excellent for a romantic getaway or a fun family vacation.
The hotel is home to The Golden Pond spa with a jacuzzi, hydromassage showers, and waterfalls.
The spa offers some of the best rejuvenating treatments and massages in Tenerife.
Couples can fuel up the romance with the specially curated spa treatments in a private space.
The gastronomic scene at the hotel is par excellence with a cozy restaurant and bar. The range of delicious wines and champagne at the cellar will spoil you for choice.
Royal Garden Villas stands out among the best luxury hotels in Tenerife with unique experiences like pool brunch in the villa.
You'll find many of the top things to do in Tenerife nearby to the hotel.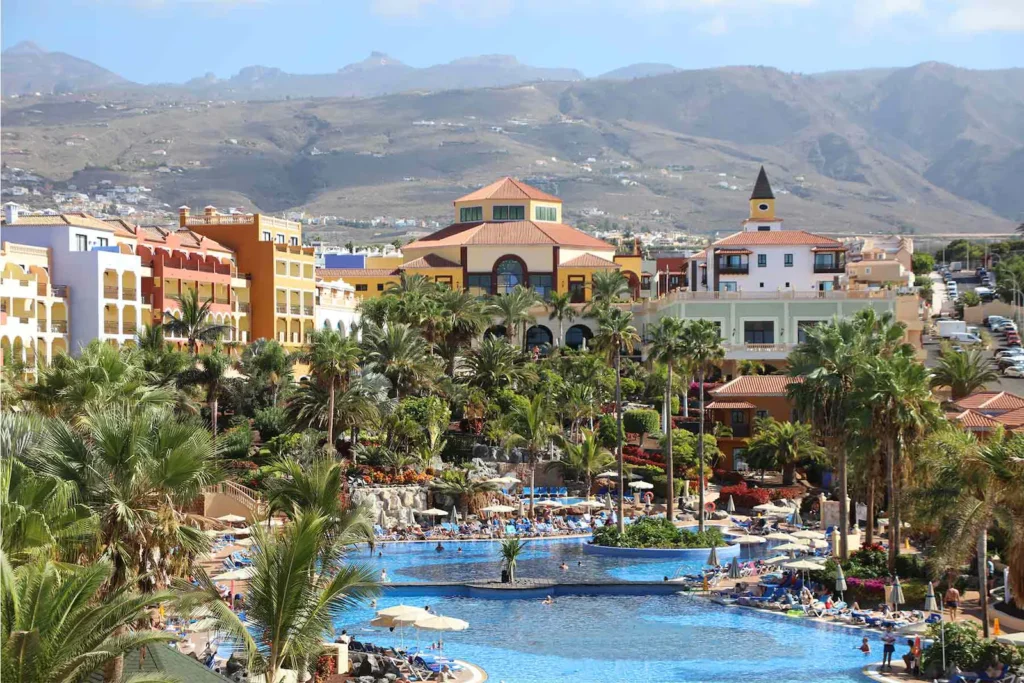 Where: Costa Adeje, Tenerife
Highlights: Clifftop infinity pool with views of Atlantic and lush gardens
Your search for the best beachfront all-inclusive hotels in Tenerife ends at the Bahia Principe Sunlight hotel.
The hotel's seven-block complex along the cliff allows guests to enjoy unrivaled views of the Atlantic.
The infinity pool and the Bahia Spa will take you closer to meeting your well-being goals.
Guests can pick from the relaxation and beauty treatment packages that they offer.
It is one of the finest family-friendly spa hotels in Costa Adeje with entertainment programs for kids and adults.
At the hotel, you can spend your time enjoying activities like minigolf, darts, table tennis, archery, and aerobics.
It is also accoladed with a cycling-friendly silver certification and offers special packages for cyclists.
There are sports massage services at the spa and special menus at the onsite restaurant.
Don't forget to make time to get out and explore all the great things to do in Costa Adeje, including hiking Barranco del Infierno.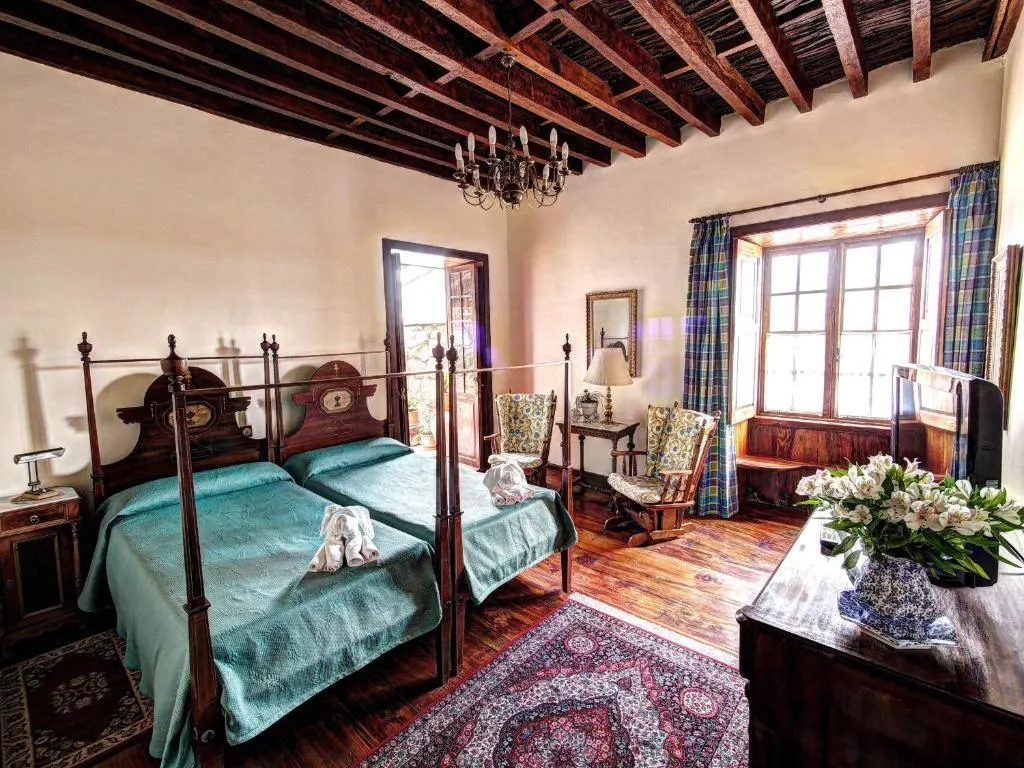 Where: San Miguel de Abona, Tenerife
Highlights: Outdoor buffet breakfast
Hotel Rural San Miguel exudes cozy vibes and aims to offer you a one-of-a-kind experience.
Located in San Miguel de Abona, this property is surrounded by lovely gardens and features rustic décor, and has rooms with all amenities for a pleasant stay.
The hotel is reserved exclusively for adults and thus ensures a quiet and romantic ambiance.
There are sun decks and sun loungers to enjoy the Canarian Sun in the best possible way.
Spend time at the spa and wellness center featuring a sauna, hot tub, and hot spring to rekindle your senses.
Guests of this hotel can have a bright start to the day with the outdoor buffet breakfast served here.
There are also plenty of outstanding dining options within walking distance of the hotel.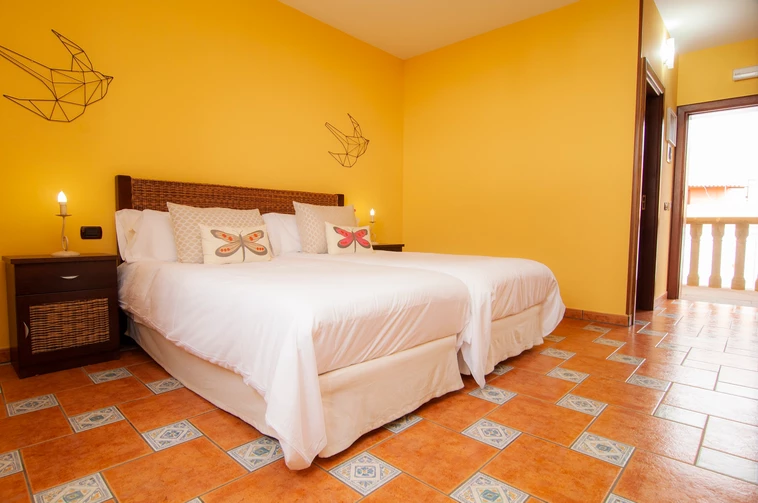 Where: Vilaflor, Tenerife
Highlights: Solarium in the gardens
Hotel El Tejar & Spa in Vilaflor brings simplicity and comfort together.
The rooms here feature décor that blends perfectly with the surrounding landscapes and guests can enjoy views of the mountains, coast, or the beautiful garden from the rooms.
The spa at the property boasts features like a sauna and jacuzzi to let you relax physically and mentally.
I recommend a hydromassage session to relieve muscle tension and feel positively blissful.
There is also a swimming pool and private terrace to escape the stress of daily life and be at ease.
The hotel's gastronomic options are synonymous with brilliance. The chefs will amaze you with a different and innovative buffet menu with local flavors every day.
The La Corona Natural Park which is famous for its beautiful hiking and biking trails is near the hotel.
If you are lucky enough, you can also witness the impressive wildlife here.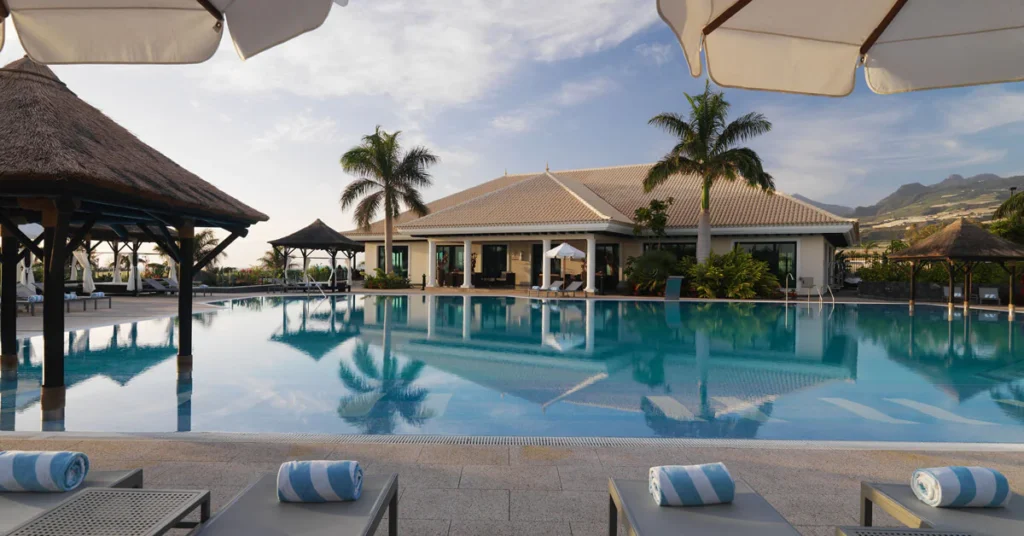 Where: Alcalá, Tenerife
Highlights: Personalized butler services in all rooms
Gran Meliá Palacio de Isora is a luxurious seafront property with views of Mount Teide and La Gomera Islands.
And if you're feeling adventurous, you can also take a day trip from Tenerife to La Gomera.
The hotel's surreal location makes it the apt destination for relaxation and peace. Moreover, it has exclusive adults-only facilities that will ensure utmost privacy.
This is one of the best spa hotels in Tenerife that offers authentic water rituals and chromotherapy showers.
The aromatherapy and massages are sure to enrich all the senses and calm the mind.
Additionally, the Gran Meliá Palacio de Isora is also home to Europe's largest saltwater infinity pool.
Most of the rooms have magnificent terraces with hydromassage tubs and views of the Atlantic Ocean.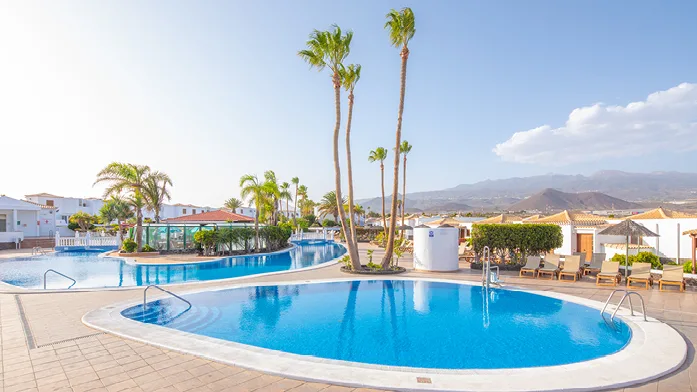 Where: San Miguel de Abona, Tenerife
Highlights: Beautiful pool surrounded by palm trees
Royal Tenerife Country Club pays attention to the tiniest details to be your home away from home.
It offers spacious suites with large balconies or gardens with views of rising hills or golf course greens.
The most impressive part of the resort is its creatively landscaped pool.
Guests can relax beneath palm trees after a swim and enjoy a delicious drink from the poolside bar.
The available spa and massage services are ideal for absolute rejuvenation.
If you prefer a self-catering vacation, this resort is the perfect choice as it has well-equipped kitchens and dining areas in its suites.
There is also an on-site supermarket to get the ingredients to prepare a feast.
Near the hotel, you can enjoy exciting water sports, whale watching and lots of shopping.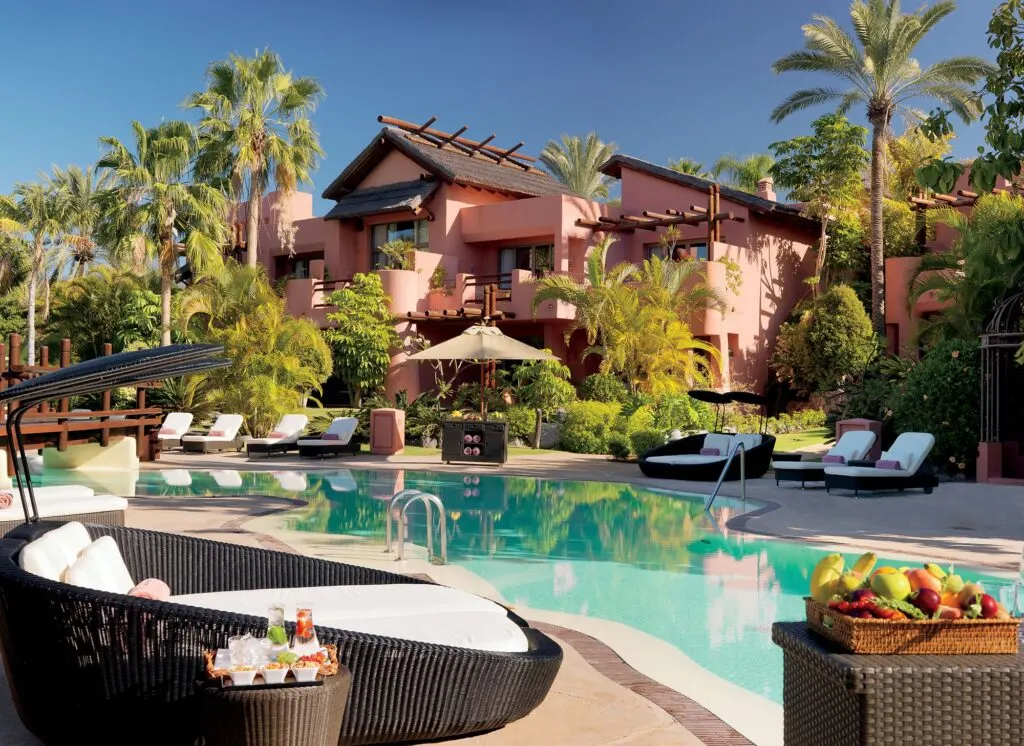 Where: Guía de Isora, Tenerife
Highlights: Exclusive area of the Abama beach with complimentary use of sunbeds
The Ritz-Carlton in Abama is a destination unto itself with iconic architecture and upscale accommodation.
It takes luxury to a new level with rooms and suites with balconies or terraces.
This stunning resort offers breathtaking views of the Atlantic and La Gomera islands from the rooftop terrace.
Its newest addition, the villa club surrounded by tropical gardens is an abode of serenity and privacy.
The Ritz-Carlton offers a boutique-style resort experience and has adults-only and family focussed spaces.
When it comes to overall wellness Tenerife has many valuable traditional treatments and you'll find many of them here.
The spa at this hotel uses these techniques for its innovative and regenerative therapies.
Guests can enjoy soothing aromatic massages and stress-relieving massages at the hotel.
This is also one of the best spa hotels in Tenerife for expectant mothers as they offer nourishing massages for them.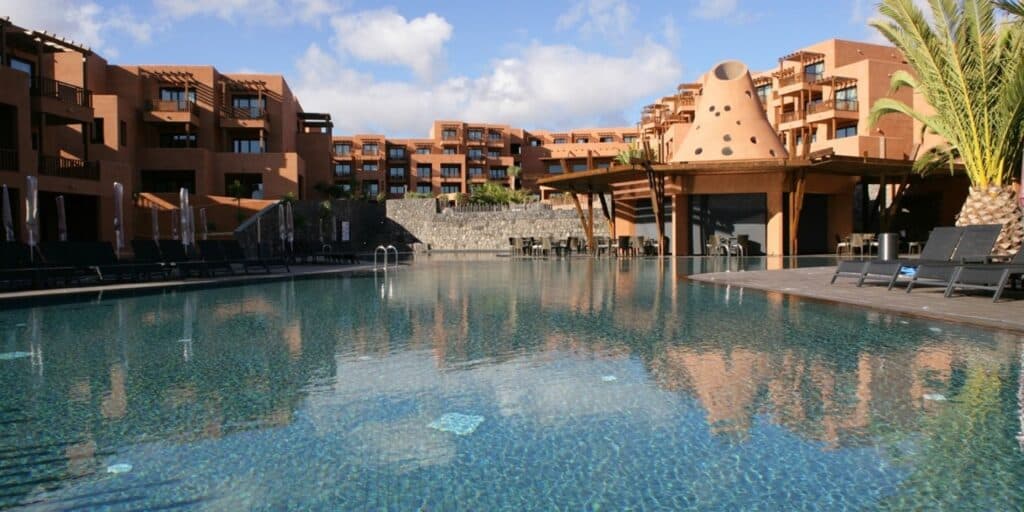 Where: San Miguel de Abona, Tenerife
Highlights: Eight outdoor pools & entertainment events for kids and adults
In the list of best seafront spa hotels in south Tenerife, Barceló is second to none.
The architecture and colors perfectly complement its surrounding landscape rather than being a monstrous eyesore.
The hotel features open-plan rooms with furnished terraces and a hot tub ideal for unwinding.
There are eight outdoor pools including heated pools and a children's pool for taking a refreshing dip.
Guests can also enjoy the artificial lake for activities like kayaking without stepping outside the hotel.
Due to a large number of great activities for kids, this is one of the best family hotels in Tenerife.
Barcelo Tenerife's serene wellness area is designed to guarantee rest and guests can enjoy massage sessions and treatments to reconnect with themselves.
Located next to the eco-cultural Sans Blas Nature Reserve made of natural spaces, Barcelo Tenerife is one of the best eco-spa hotels in Tenerife.
Taking a guided tour of the area is one of the best things to do to explore the region's natural and cultural heritage.
Where: Adeje, Tenerife
Highlights: Detoxifying ayurvedic, Thai and Mayan massages
If you are looking for Costa Adeje spa hotels exclusively for adults, Iberostar Selection Sábila is an outstanding choice.
It is located close to the best beaches in Tenerife like the Torviscas and Fañabe beaches.
The hotel's spa lets you break the everyday monotony and immerse yourself in a world of relaxation.
The spa includes everything from a heated outdoor pool, whirlpool, and Turkish bath to a sauna, and is the leading spa Tenerife has for aromatherapy massages and ayurvedic therapies.
Guests will appreciate the efforts taken by this hotel to protect the environment. All the bright and spacious rooms are free from the use of single-use plastics.
Most of the rooms also offer stunning ocean views from the balconies.
If you wish to take advantage of exclusive privileges like rooftops and relaxation rooms, book the star prestige rooms.
Best Spa Hotels in North Tenerife
Spa hotels in North Tenerife offer perfect opportunities to unwind.
The abundance of nature creates perfect surroundings to indulge in relaxing activities.
It's the perfect escape from the hustle of city life and guarantees the tranquility needed for a spa getaway.
Hiking is the most popular activity here and you will have a busy day admiring nature.
However, there are lots of amazing things to do in North Tenerife for families, couples, and even solo nature lovers.
You can take a massage session at your spa hotel to relieve the muscle tensions after that.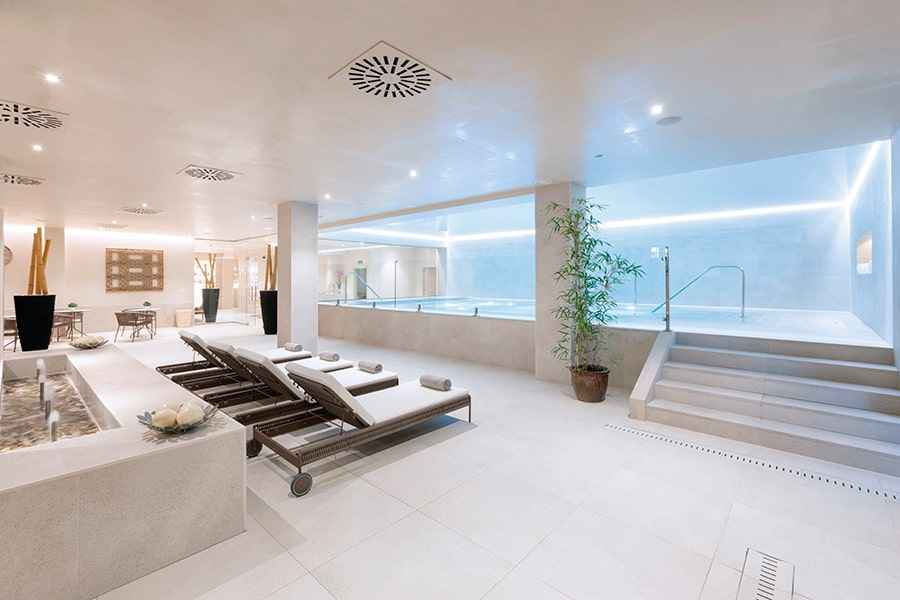 Where: Puerto de la Cruz, Tenerife
Highlights: Kid-friendly pool
Hotel RIU Garoé in Puerto de la Cruz is known for its excellent hospitality and comfortable accommodations.
This impressive Tenerife spa hotel is great for couples and families alike and one of the best hotels in Puerto de la Cruz.
All its rooms at Hotel RIU Garoe are equipped with modern amenities like AC and feature a balcony or terrace.
Guests can also opt for the suites to enjoy mesmerizing sea views.
There is a wellness center with a sauna and steam room that guarantees to make your vacation unforgettable.
Guests can gain immense benefits from the massages, body treatments, and skin revitalizing programs here.
The on-site restaurant with live cooking stations treats guests with delicious buffet breakfasts and dinners.
The hotel also has a large swimming pool area with sun loungers and a poolside snack bar.
The children's playground and the separate kid-friendly pool will keep the little guests busy while you relax.
There are many fun things to do in Puerto de la Cruz nearby, or you can take a day trip to the amazing Cave of the Winds.
Scuba diving, golf, and bicycling are some of the activities not to be missed near the hotel.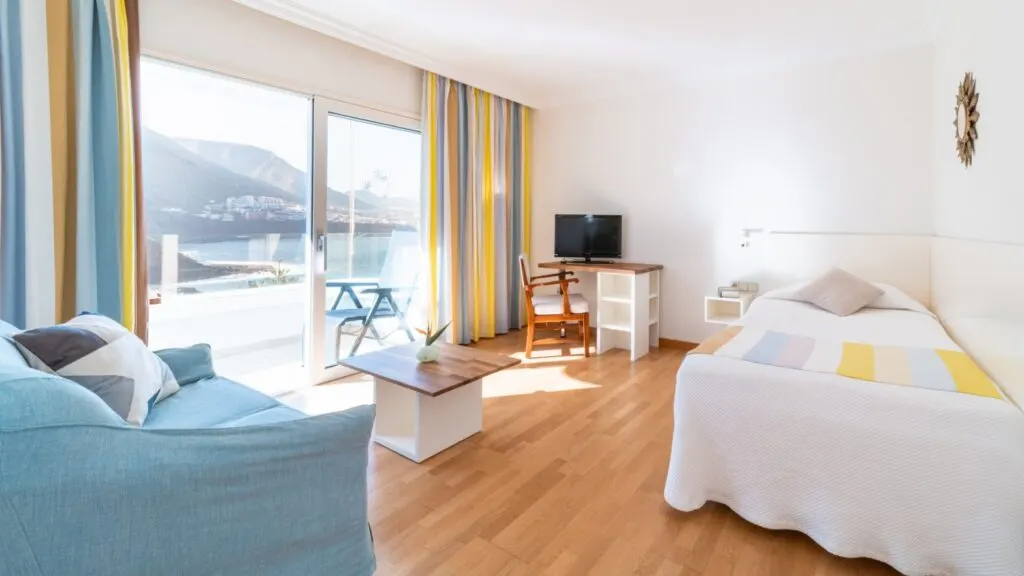 Where: Punta del Hidalgo, Tenerife
Highlights: Rooftop lounge with views of the bay of Punta del Hidalgo and Mount Teide
Nestled at the foot of the Anaga Mountains, Oceano Hotel presents true luxury for your body, mind, and soul.
Its unique location right in front of the Atlantic Sea is a delight for all the senses.
From all the rooms you can enjoy magnificent sea views and wake up to soothing sounds of nature.
This is one of the finest health spa hotels Tenerife has in terms of treatments.
The spa offers curated personalized programs based on natural healing methods.
Experienced doctors and therapists will guide you to choose the best according to your wellness needs.
Guests of the hotel can also enjoy a yoga session like never before on the roof terrace with ocean views.
The sun-bathing lawn, stunning gardens, the sauna, and the infinity pool provide ample relaxation opportunities.
Near the hotel, you can enjoy some of the top North Tenerife activities like hiking and surfing.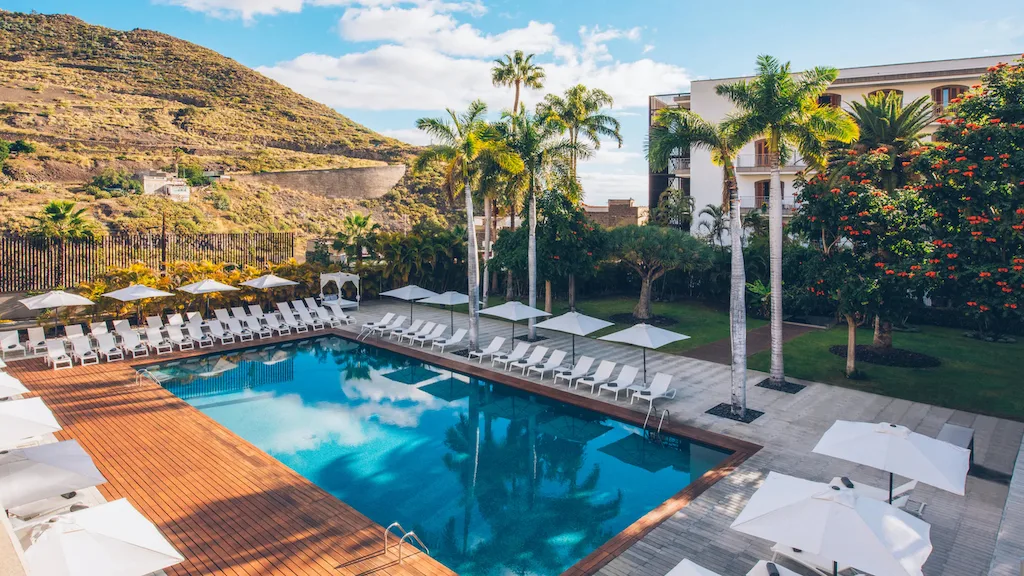 Where: Santa Cruz de Tenerife, Spain
Highlights: "Sprucnh" concept that combines a 90-minute water circuit in the spa and an exquisite brunch
Iberostar Heritage Grand Mencey ranks among the best 5-star hotels in Tenerife that treats you like royalty.
Located just a short walk away from the city center, this spa resort is a Canarian architectural gem.
The property features beautifully landscaped gardens, a traditional interior courtyard, and historic works of art.
The accommodation type here ranges from spacious double rooms and suites to family rooms.
The hotel's spa is spread across 4,500 m² and is the perfect place to de-stress.
It's one of the most spectacular spas in Tenerife with features like a dynamic pool, whirlpool bath, and Scottish shower.
They also offer sublime experiences with massages, facial, and body treatments.
The fitness activities offered include pilates, yoga, stretching, aqua gym, and more. Plus, on the rooftop of the spa, you can even play paddle tennis.
Another outstanding feature of this hotel is its dining scene. There are 3 restaurants and 2 bars including a casino to try your luck.
If you have time to explore between spa treatments, there are many fun things to do in Santa Cruz de Tenerife.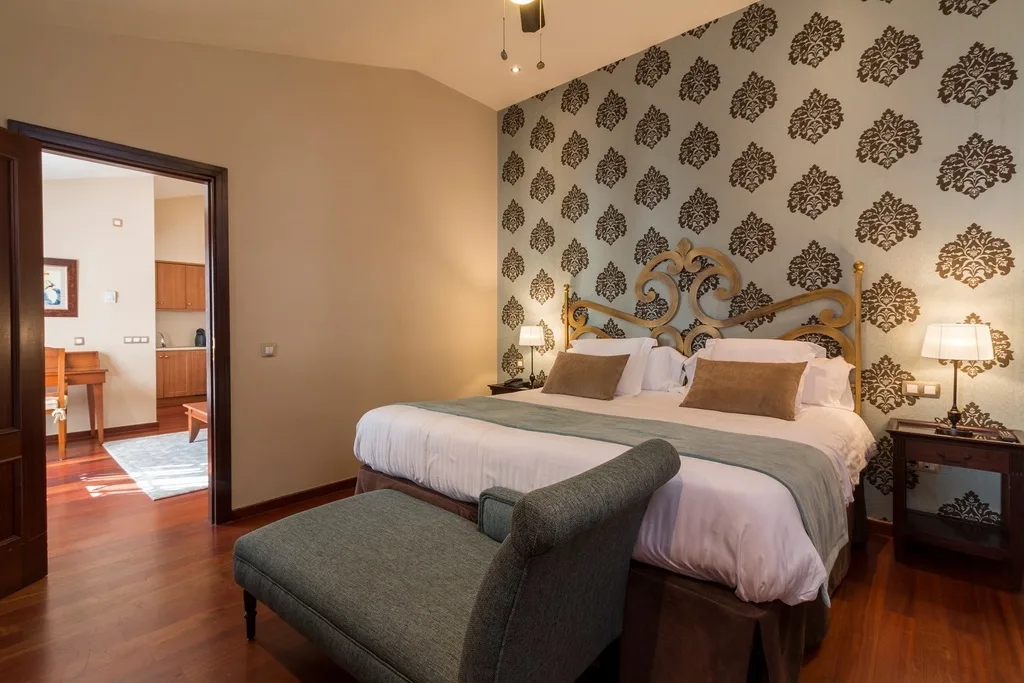 Where: Las Lagunas, Tenerife
Highlights: Healthy cuisines made with organic products from the hotel's farm
Laguna Nivaria Hotel & Spa showcases a perfect blend of tradition and modernity.
The property has been adapted set from a 16th-century mansion in the historical center of San Cristóbal de La Laguna.
All its accommodation types from standard rooms and family rooms to suites boast features like a hot tub and kitchen.
The suite with a jacuzzi, private sunroom, and terrace is perfect for an enriching experience.
The hotel has a comfortable spa with facilities like a counter-current swimming pool, Scottish showers, a Finnish sauna, and a Turkish bath.
This is the only Tenerife spa that uses the Galileo machine for therapeutic use. Visitors can also take the guidance of a personal trainer to make the most of their wellness journey.
Guests of the hotel can relish healthy cuisines made of fresh organic produce at on-site restaurants.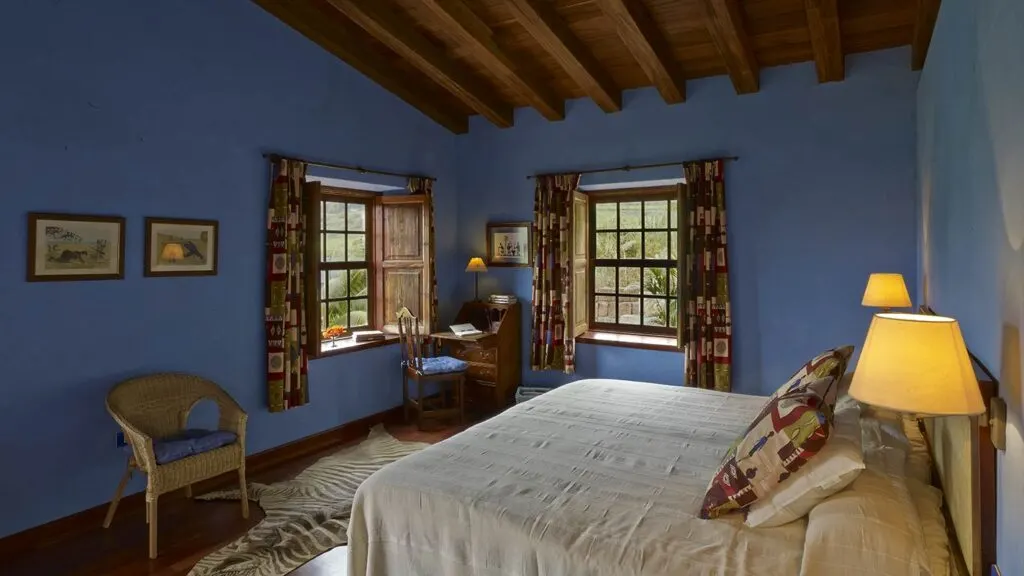 Where: Valle de Guerra, Tenerife
Highlights: Special packages for long stays and telecommuting
Haciendas del Valle is one of the best spa hotels in Tenerife for long stays with family.
Situated in Valle de Guerra, this spa hotel is surrounded by beautiful gardens and vineyards and feels very secluded.
Its farmhouses are comfortably furnished and have all the facilities to make you feel at home.
Every unit has a well-equipped kitchenette and dining area to enjoy a lovely meal with your family, as well as a terrace and outdoor furniture to relax amidst beautiful views of nature.
You can head to the wellness center for a soothing soak in the hot tub. The spa lounge is the perfect place for enjoying blissful moments of calmness.
Guests can spend their day hiking, fishing, horse riding, and visiting the wineries nearby.
There are also many excellent restaurants just a short walk from the hotel.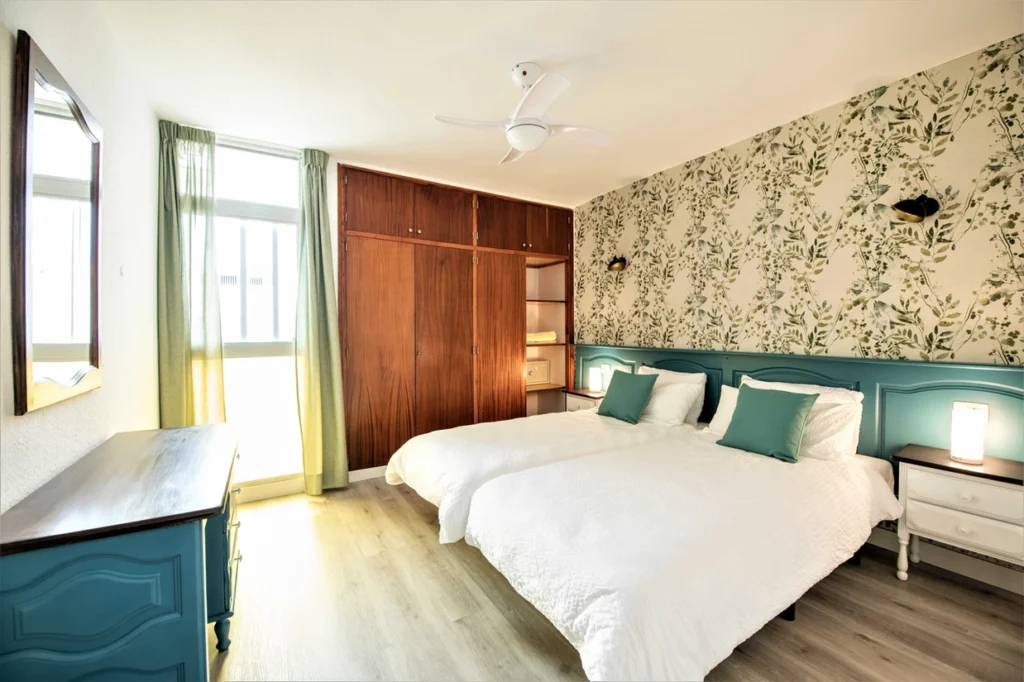 Where: Punta del Hidalgo, Tenerife
Highlights: Outdoor yoga and gymnastics sessions
Located next to the Anaga Rural Park, Atlantis Park Resort paves the way for blissful seclusion amidst nature.
The resort aims to take care of your physical and mental well-being desires while offering a relaxing stay.
It features spacious apartments with rustic designs and modern amenities, and all the units have a kitchen and a balcony with views of the surrounding lush gardens or the swimming pool.
But most importantly, the resort has a wellness center that provides personalized experiences to revitalize your mind and body.
The wellness center offers an array of facial treatments, body therapies, and massages in a tranquil setting.
Additionally, the hotel organizes outdoor yoga, stretching, and gymnastic sessions that promote overall well-being.
The on-site restaurant brings flavors from around the world to your plate and has innovative vegetarian and vegan dishes on its menu.
Guests can enjoy some of the best outdoor activities in Tenerife like hiking, kayaking, and surfing nearby.
Do not miss booking an excursion to explore the beautiful nature, vegetation, history, and culture of Tenerife.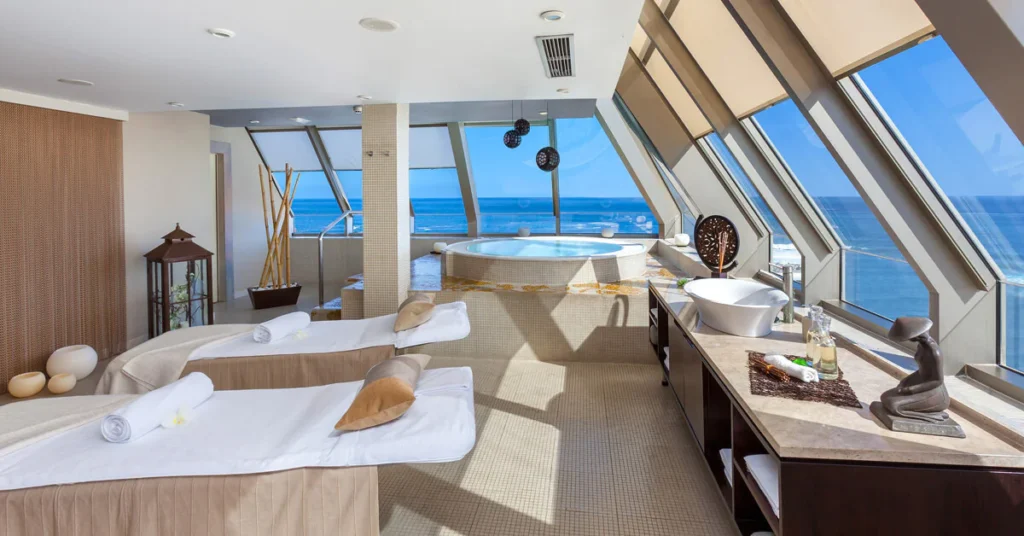 Where: Puerto de la Cruz, Tenerife
Highlights: Buffet restaurant with show cooking station
Sol Costa Atlantis is located in the heart of Puerto de la Cruz which is known for its year-round mild climate.
Most of the rooms at this hotel offer scenic views of either the sea or El Teide, and some even capture both.
All of the units feature pleasant interiors with upscale amenities and modern furniture.
There are also spacious family rooms making it one of the best spa hotels in Tenerife for families.
The hotel has a well-equipped spa on its 14th floor with an exclusive VIP area for couples.
This VIP spa area features an impressive glass dome to soak up the beautiful views of the surrounding ocean and mountains.
The facilities like hydrothermal circuit, ice fountain, and Turkish bath and hydromassage make it rank among the best Tenerife spas.
There is also an outdoor pool at the resort with sunbeds and sunshades to be at ease.
Take a sip of your favorite drink from the bar next to the pool as you appreciate the calming waters.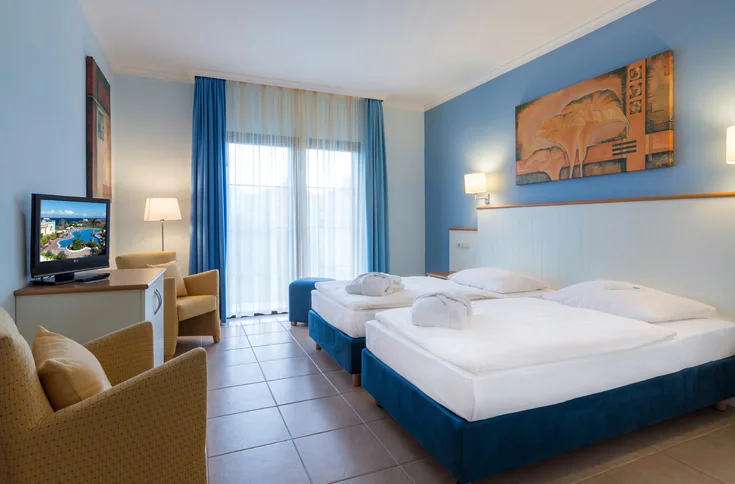 Where: Los Silos, Tenerife
Highlights: Free cocktail crash course & spa with bion sauna, experience shower, and Kneipp bath
Surrounded by mountain slopes and banana plantations, Luz Del Mar is located in the charming town of Los Silos.
This is one of the best Tenerife spa hotels that allow you to admire the unspoiled beauty of nature.
The indoor wellness room and sauna area are perfect to treat yourself to moments of great relaxation.
Guests also get access to use the Finnish Sauna, bio sauna, and fitness center.
The hotel has rooms and suites with a private terrace or balcony, most of which offers breath-taking sea views.
All the stylish units display fabulous color combinations and are adorned with artworks of Marco Mehn.
Features like mini-kitchen, TV, bathtub, and air conditioner in every room ensure a comfortable experience.
You can book Mount Teide trips, guided hiking tours, and paragliding activities from the hotel.
Rock climbing, mountain biking, and golfing are some other popular activities nearby.
Come back to the hotel and de-stress your body with the range of massages in the massage room.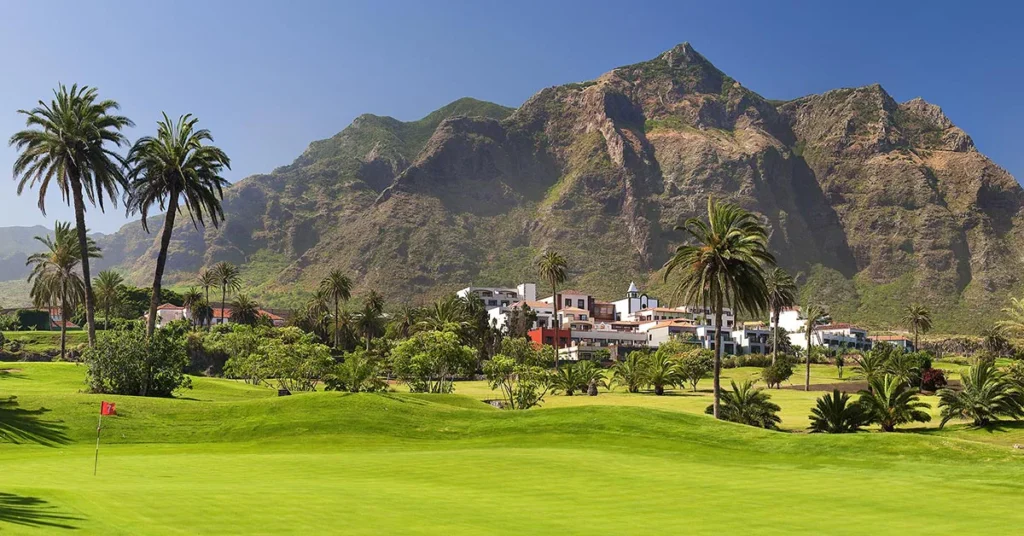 Where: Buenavista del Norte, Tenerife
Highlights: Infinity pool and sundeck with gorgeous ocean views & cycling-friendly facilities like parking and guided tours
Hotel Hacienda del Conde is an ideal destination to make your intimate holiday an unforgettable event.
It's one of the best adults-only hotels in Tenerife which guarantees peace and privacy if you're looking for a romantic getaway.
Here you can have ethereal experiences like open-air meditation in front of the Atlantic Ocean.
The surrounding gardens take you a step closer to nature with their aromatic plants and fruit trees.
The relaxing infinity swimming pool and spa in a tropical setting will also add to the delight.
This luxury hotel features spacious Canary Islands-style rooms and suites with luxurious amenities and alluring views over the golf course and surrounding mountains.
There is a special suite for cyclists that includes a visit to the thermal circuit at the Spa. This suite is excellent if you plan to explore the beauty of Tenerife on your bicycle.
Whale watching, horseback riding, and wine sampling are the other activities that you shouldn't miss nearby.
You can also venture a bit further and explore the unique things to do in Los Gigantes such as hiking Masca Valley.
If you're looking for Tenerife all-inclusive adults-only hotels, look no further!
---
Short FAQ About the Best Spa Hotels in Tenerife
What are the best spa hotels in Tenerife for families?
What are the best 5-star hotels in Tenerife with spa facilities?
What are the best Costa Adeje spa hotels?
---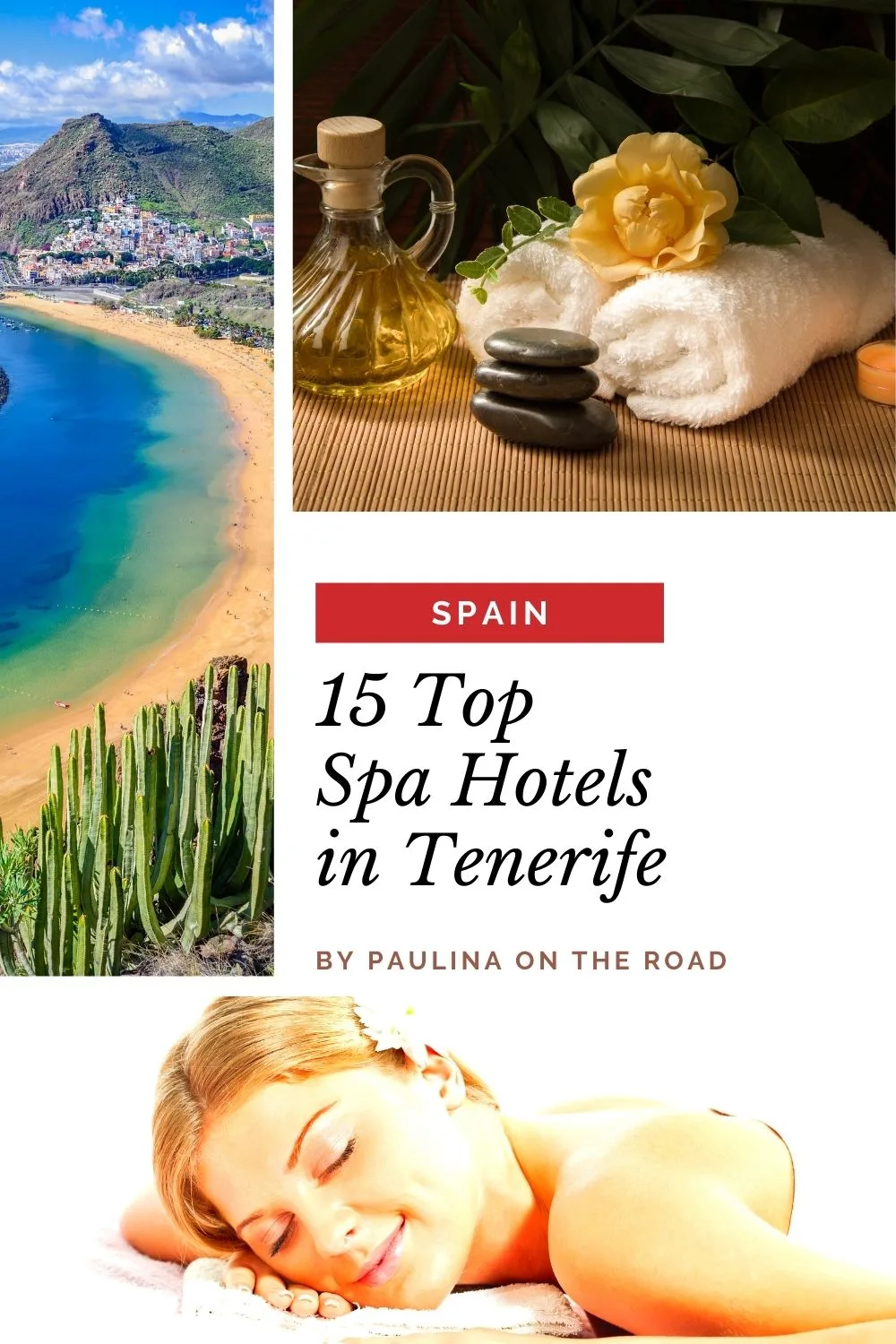 ---
Hola! I am Paulina, a fervent travelette who crossed the Atlantic Ocean by Boat HitchHiking. On my blog, you'll find all the tips to make the most of your holiday. Get ready to enjoy outdoor and sustainable travel like hiking, cycling or sailing. Let's hit the road together!