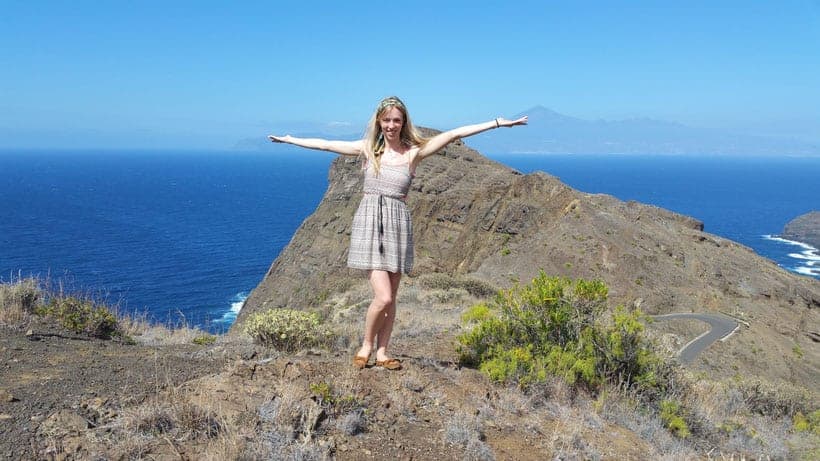 Only a few days after moving to Tenerife, I went to a short trip to la Gomera (Canary Islands, Spain). Every day I saw its impressive silhouette from my house in Puerto Santiago, Tenerife…and every day my wanderlust grew bigger and bigger!
The original plan was to visit la Gomera in one day… but I quickly realized that you can perfectly spend there an entire week… without seeing all the hidden jewels of its 370 km²! Join me on a day trip from Tenerife to La Gomera.
[Versión española abajo]
In only 1 hour you get to the capital by ferry departing from Los Cristianos, Tenerife (2 companies connect both islands: Fred Olsen and Armas Naviera). It's just the perfect day trip from Tenerife along with Gran Canaria island.
Visit the capital San Sebastian
The capital San Sebastián is super tiny and is starting point of many hiking routes and excursions on the island. I fell in love with its architecture and its colourful houses reminding the Carribean. San Sebastián's history is closely linked to Christopher Columbus.
After leaving Palos de la Frontera, the discoverer stepped by in la Gomera before discovering the New World. In this regard, the city has a "Casa Columbus" and "Casa de la Duana" where Columbus supposedly took the water to bless the new continent. Unfortunately it was closed for works, otherwise I would have loved to bath in its fortunate water!
Food in La Gomera
When I travel, I love to discover the local delicacies. And Gomera has plenty of them! The best are the delicious tropical fruit juices at Las Carabelas on Plaza de la Constitución. For the foodies, I recommend La Cabaña in Barranco de las Lajas, only 10 minutes from the capital. Here you can experience the best Gomera's traditional gastronomy has to offer: palm syrup, watercress stew and Almogrote – Cheese Paste. Strong flavour, but only natural ingredients!
Walking La Gomera
Gomera's landscape will leave you speechless: it's incredibly wild and steep. It's a true paradise for hikers… which in this case are mostly Germans! Hiking routes have been meticulously rehabilitated. Often they are the former paths that were used before the construction of roads.
After a long hike, there's nothing better than a bath in the Atlantic sea! A hidden jewel is La Caleta Beach with its cute beach bar. Right next to it are the beautiful natural swimming pools El Pescante. Both locations offer almost surreal views to Teide in Tenerife!
To discover Gomera's handcraft and its most typical food, Gofio, I recommend to visit Molino de Gofio in Hermigua.
Agulo Village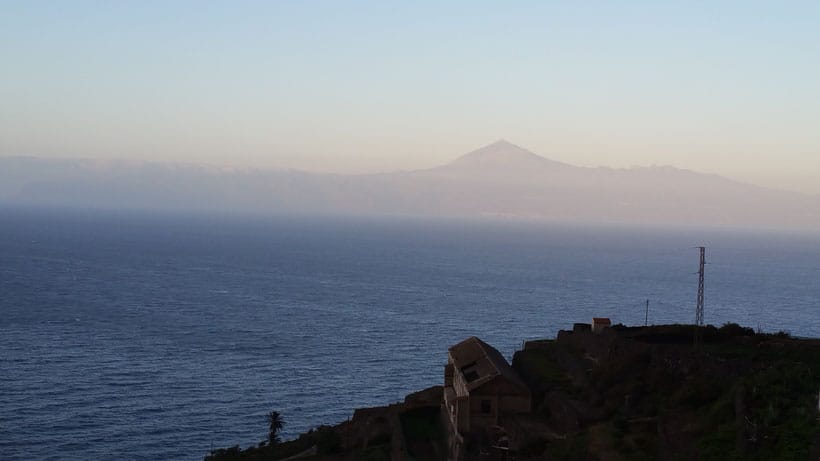 I also fell in love with Agulo: surrounded by banana trees and tropical fruit gardens, this village with incredible views to Teide has preserved its original charm. It has been built under a giant cliff with the island's most popular and spectacular viewpoint: the Mirador de Abrante.
Its church is outstanding: its structure is dominated by huge domes. That's why it's also called "The Little Mosque"! Another picturesque detail are the banks of Agulo: decorated with exotic flowers they are facing each other to facilitate communication.
It's also in Agulo where I could live a unique moment: a live demo of the Gomera Whistle Language! With its very own language, the Gomera people could transmit news all over the island in only a few hours!
More program couldn't fit in one day! …but there's still to be discovered more than half of the wildest Canarian island! I am looking forward to come back and discover more of this almost unknown jewel!
Hotels in La Gomera
In the capital San Sebastian:
Parador la Gomera****
Hotel Torre del Conde**
In Valle Gran Rey:
Hotel Playa Calera****
Hotel Gran Rey**
Hotel Jardin Concha*
View on Pico del Teide from Gomera – Vista al Teide desde Gomera
---
Visitar La Gomera desde Tenerife
¡Qué ganas de descubrir la Gomera! Todos los días veía su impresionante silueta desde mi casa en Puerto Santiago, Tenerife. ¡Y cada día aumentaban mis ganas de visitarla! El plan era de visitar la Gomera en un día … pero rápidamente me di cuenta que uno se puede quedar alli más de una semana. ¡Y eso sin ver todo a todas las joyas escondidas de sus 370 km²!
Desde Los Cristianos (Tenerife) se tarda 1 hora en ferry a la capital gomera (2 compañías hacen el traslado: Fred Olsen y Armas Naviera).
La capital San Sebastian
La capital San Sebastián es chiquitita y es punto de salida de numerosas rutas de senderismo y excursiones por la isla. Me encantó por su arquitectura y sus casas coloreadas que inspiroraron a ciudades caribeñas. Su historia está estrechamente vinculada con Cristobal Colón. Después de haber salido de Palos de la Frontera, el descubridor pasó por la Gomera antes de descubrir el "Nuevo Mundo". Hay una "Casa Colón" y en la Casa de la Duana se encuentra el pozo en el que Colón tomó el agua con el que se bendijo el Nuevo Continente. ¡Desafortunadamente la casa estaba cerrada por obras, sino me hubiera encantado bañarme en sus aguas!
Comida típica
¡Cuando viajo, me encanta descubrir la cocina típica del lugar! ¡En Gomera hay muchos platos riquísimos y poco conocidos en la península española! Lo mejor son los zumos de frutas tropicales en Las Carabelas en la Plaza de la Constitución. Para comer recomiendo La Cabaña en el Barranco de las Lajas a 10 minutos de la capital donde se pueden probar todas las delicias regionales a muy buen precio: miel de palma, potaje de berros o el almogrote. ¡Sabores fuertes, pero solo ingredientes naturales!
El paisaje de la Gomera te dejará sin aliento: es salvaje e increíblemente escarpado. Es un paraíso para los amantes del senderismo… ¡que en este caso son mayoritariamente alemanes! Los senderos han sido rehabilitados meticulosamente y en muchos casos son los antiguos caminos que exisitían antes de la construcción de carreteras. Para los más playeros, os recomiendo una joya: la Playa de la Caleta con su chiringuito. A 10 minutos también se encuentran las preciosas piscinas naturales El Pescante. Ambos lugares ofrecen vistas casi surrealistas al Teide de Tenerife.
El Mirador de Abrante y Agulo
El Molino de Gofio en Hermigua es el lugar perfecto para conocer la artesanía gomerana y probar su alimento más típico, el Gofio. Justo al lado se encuentra Agulo: rodeado de plataneros y huertos con maracuyá y mangas, este pueblo con unas vistas increibles a Tenerife ha conservado su encanto auténtico. ¡Me enamoré 100%! Aunque muchas rutas de senderismo acaban en Agulo, solo se veían a pocos turistas en su casco antiguo perfectamente mantenido.
Está construido bajo un acantilado gigantesco con el mirador más popular y espectacular de la isla: el Mirador de Abrante. Su iglesia llama muchísimo la atención: su estructura está marcado por una gigantes cúpulas. ¡No es por nada que también la llaman La Mezquita! Otro detalle pintoresco son los bancos de Agulo: decorados de flores exóticas están puestos uno frente a otro para facilitar las conversaciones entre vecinos. Es aqui donde tenía la suerte de vivir un momento único: ¡una demostración del silbo gomero! Con el idioma propio de los Gomeros se p¡odían transmitir noticias en pocas horas por toda la isla!
No podía caber más programa turístico en un día! … y aun así todavía queda más de media Gomera por visitar! ¡Qué ganas de volver a la isla más salvaje de las Canarias!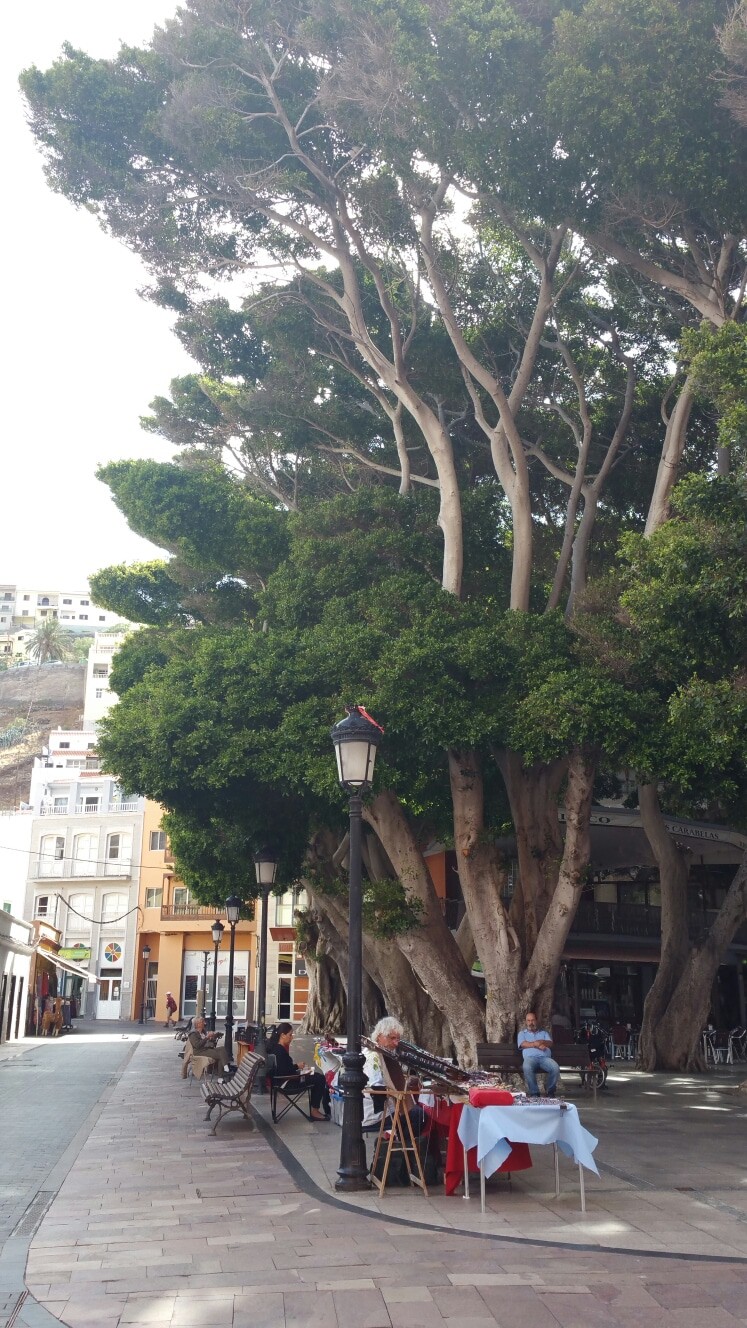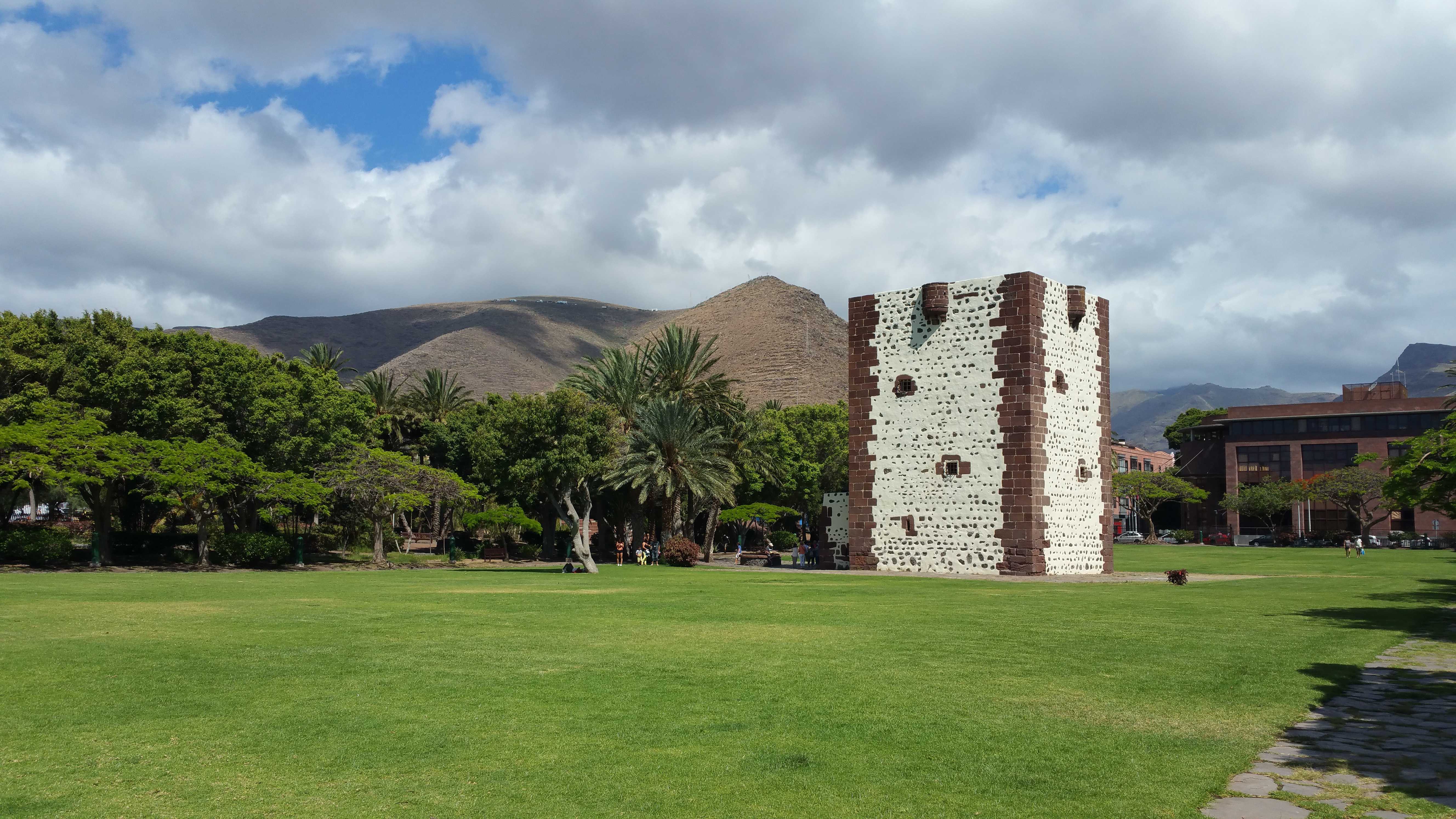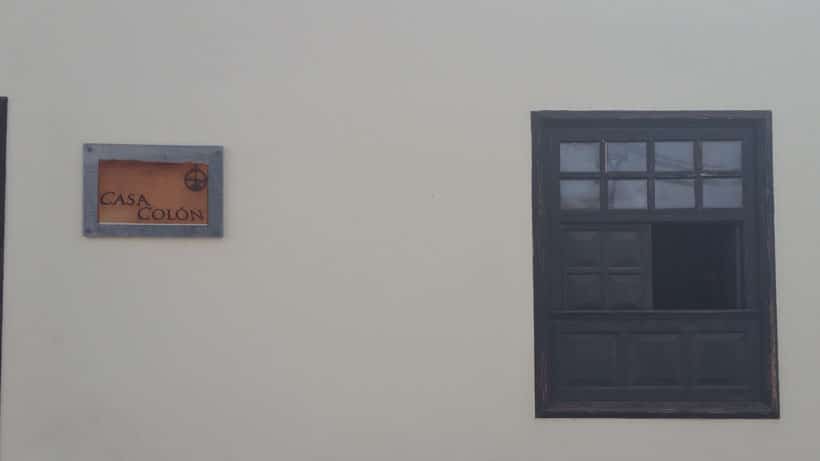 ---
For more information about tourism on La Gomera, I recommend the following webpage: Tourism of La Gomera
Para más información sobre turismo en La Gomera, os recomiendo la página siguiente: Turismo en La Gomera
---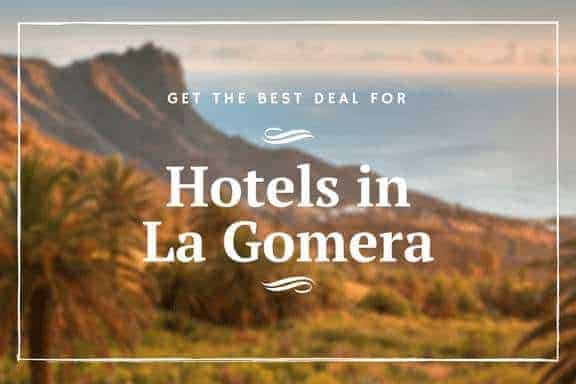 The perfect day trip from Tenerife to La Gomera. Find a selection of best things to do in La Gomera, hotels and the best hiking trails. And of course tasty food from the Canarian Islands, Spain.
The perfect day trip from Tenerife to La Gomera. Find a selection of best things to do in La Gomera, hotels and the best hiking trails. And of course tasty food from the Canarian Islands, Spain.
---
Hola! I am Paulina, a fervent travelette who crossed the Atlantic Ocean by Boat HitchHiking. On my blog, you'll find all the tips to make the most of your holiday. Get ready to enjoy outdoor and sustainable travel like hiking, cycling or sailing. Let's hit the road together!