Finally, I get to present the village where I was living for the past 3 months! It's very tiny, but perfect for such a short stay.
Puerto Santiago
is located in "
Los Gigantes
" area in Southwestern Tenerife.
For it is one of the most beautiful areas of Tenerife as you get the best the island has to offer: spectacular vistas, a unique natural setting, a warm climate, fabulous beaches, great hikes but (almost) no party scene.
This "local's" guide will share with you the best things to do in Los Gigantes, Tenerife.
Far away from the touristic mass center
Costa Adeje
, it attracts nature lovers and those who favor quiet tourism in Tenerife.
The zone has its hotels and clubs, but in far smaller dimensions than the party area known as "Las Américas". It also lacks huge aqua parks or shopping malls…
Therefore the charm and all the attraction of this remote region lies in its spectacular nature: the GIANT cliffs and beautiful beaches of "Los Gigantes"!
Sunset in Puerto Santiago
Best Hotels in Los Gigantes
Hiking Trails of Masca and Punta Teno
The Canyons and cliffs of Los Gigantes deserve their ostentatious name: at some points, they reach 600m and they are among the highest cliffs of the European continent!
They are the perfect place for enthusiasts of water sports, whale watching, and hiking – in fact, you'll find some of the best hikes in Tenerife here!
A broad range of choices for such a tiny region!
The Masca Canyon and Punta de Teno are for me its most precious jewels. You can read here the post about Masca Trekking.
Masca Valley, especially, is one of my top things to do in South Tenerife and a must when you visit.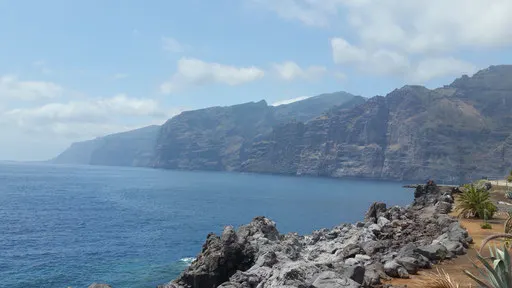 Be aware that the weather in Los Gigantes can be often a bit fresher and a bit more windy than in Costa Adeje.
The other hidden gem of Los Gigantes region is Punta de Teno. The route between Buenavista del Norte and Teno is nothing for people with a fear of heights! Despite a panel dissuading people to use the dangerous road, only a few keep away.
The brave ones will be rewarded with tremendous views to La Gomera island and Los Gigantes cliffs. The sunset is spectacular and Punta de Teno is surely one of my favorite places on Tenerife.
Guíos Beach at Los Gigantes
Eating Out and Party
After so much activity, you'll want to try the delicious Canarian food with its papas arrugadas ("wrinkled potatoes"), seafood and typical wines!
I recommend Los Corales in Puerto Santiago with its balcony viewing La Gomera, low prices and tasty food. La Pérgola is the perfect place for a romantic dinner or for those who look for more sophisticated cuisine. Nightlife in Los Gigantes is rather quiet.
Whereas during the year bars in Playa Arena get crowdy mostly during weekends, Puerto Santiago shows its party spirit during the local Carmen festivities.
For all those who are looking for a time-out from party life at Costa Adeje, Los Gigantes is the perfect place to energize! And Masca should be a mandatory stop for every Tenerife visitor!
Los Gigantes is also the perfect place if you want to spend a relaxing stay in one of the best all-inclusive, adults-only hotels in Tenerife.
Book here the best holiday rentals in Los Gigantes
Stay in a family hotel
Are you wondering what are the best areas to stay in Tenerife with kids? In my opinion, Los Gigantes has got it all to be the perfect place to stay in Tenerife with families.
Wh? It's a very quiet place, with a great local vibe, the beaches are not crowded and currents or waves are not strong. Whereas Costa Adeje is notoriously famous for its party scene, Los Gigantes and the Puerto Santiago village is just perfect for those who want to spend a quiet Tenerife holiday.
On top, the area boasts some of the best family hotels in Tenerife. Many of them come with their own entertainment team offering animation in several languages.
Another benefit is that you'll be very close to the marina of Los Gigantes which is the departure point for most whale-watching tours in Tenerife. – Check rates here
Do you know any hidden jewels in Tenerife? I would be so happy if you'd share them with us in the comment section!
Approaching Punta de Teno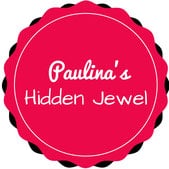 The region's tourist centers, Puerto Santiago and Los Gigantes, stand out for their beaches and tranquility. Los Guíos Beach is right next to the Gigantes cliffs and has some hippies shops (I loved Nautilo's!)
Another beach that I like a lot, is Playa Chica. It is very tiny but it has a nice familiar atmosphere. Both have black sand.
Impressive landscape in "Teno" Country Park
On the way to Teno…
Cave under Barceló Santiago Hotel
A Fair with a view!
Everything's ready for the big procession in July
Streets awaiting the statue of Our Lady
Statue of Our Lady Carmen, Patron of Seamen
Traditional dances are important at every local party in Tenerife
---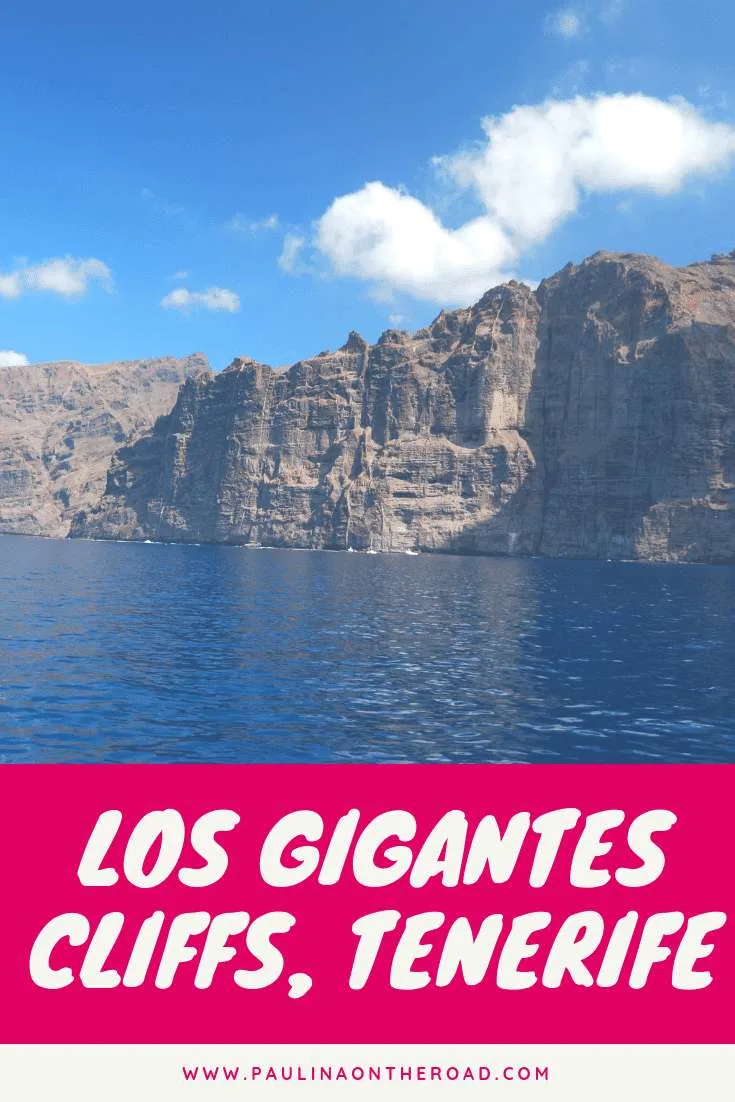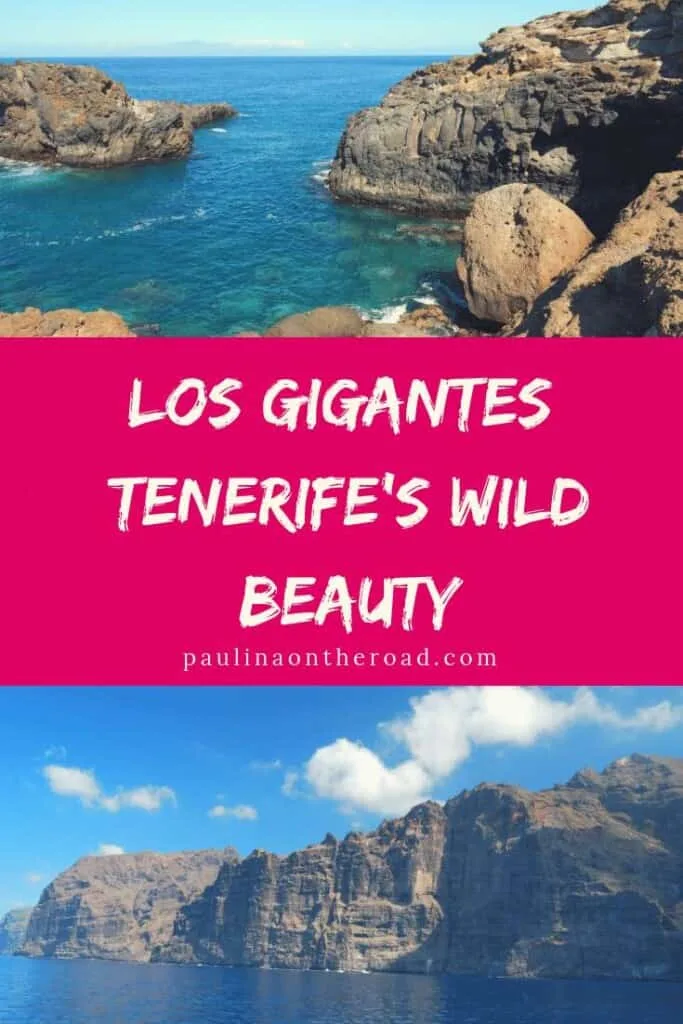 For more information about tourism on Tenerife, I recommend the following webpage: Tourism in Tenerife
Hola! I am Paulina, a fervent travelette who crossed the Atlantic Ocean by Boat HitchHiking. On my blog, you'll find all the tips to make the most of your holiday. Get ready to enjoy outdoor and sustainable travel like hiking, cycling or sailing. Let's hit the road together!