Guide to the most amazing things to do in Tenerife South, including family-friendly Tenerife South activities, nightlife and the best beaches
You've finally taken that long-awaited vacation to the South of Tenerife and while you're there you're looking for things to do in Tenerife South.
Well, don't worry, there are so many amazing things to do in South Tenerife that you won't be short of choice.
Read on to learn about some of the best options for Tenerife South activities and attractions!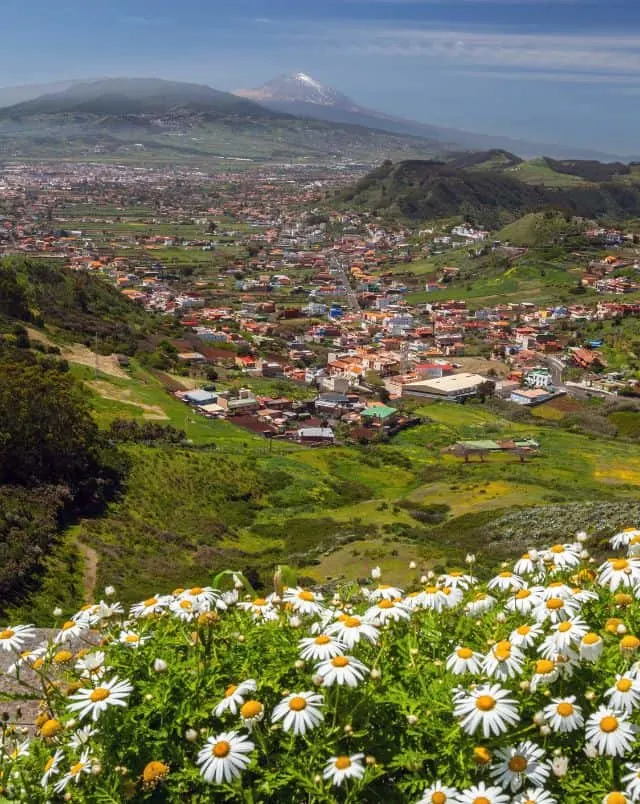 This blog is supported by you, dear reader. If you purchase through a link, I earn a small commission. As an Amazon Affiliate, I earn from qualifying purchases.
Top resources to travel Tenerife
⚘ Avoid tourist traps and get the "Tenerife Like a Local" itinerary for less than 10€. – Get it here

✈ Book cheap flights to Tenerife with Skyscanner

✔ Book tours in Tenerife with GetYourGuide

➳ Find the best hotels in Tenerife with Trivago & holiday rentals with VRBO

❖ Rent a car with the best discounts at DiscoverCars

✎ Never leave without travel insurance. I get mine at HeyMondo. It is easy to set up, cheap, and reliable.

$ Withdraw money without hidden fees and avoid exchange rates with Wise (you'll get a free card on top!)
Overview: Top 5 Things to do in South Tenerife
Partying in Playa de las Américas
Visiting charming seaside towns
1. Take a trip to Mount Teide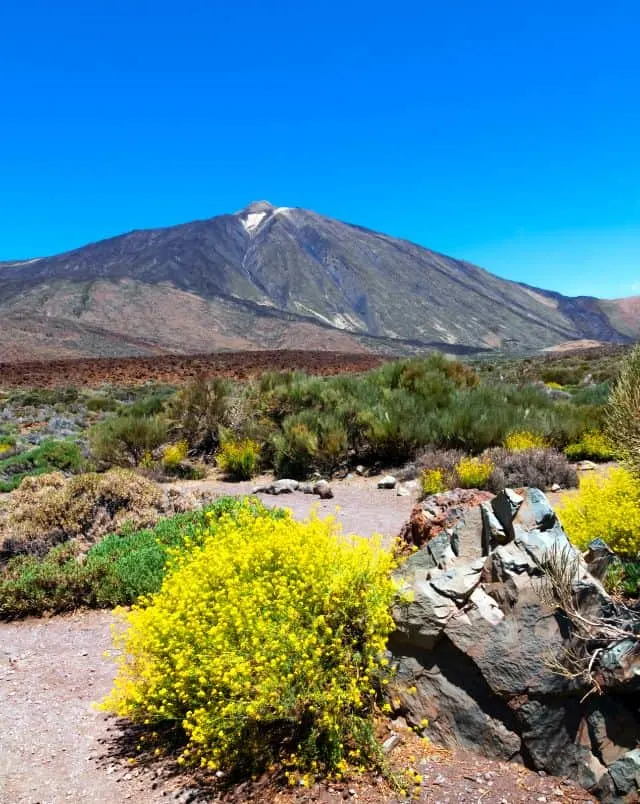 If you're looking for Tenerife South activities then Mount Teide trips provide some of the best outdoor activities in Tenerife.
Teide National Park is actually a UNESCO World Heritage Site that offers so much to explore.
There are some magnificent hiking trails here; you can even hike to the top of Mount Teide, though you will need to have sought a permit in advance.
This is one of the most challenging hikes in Tenerife and should only be attempted if you're very fit.
There are other less challenging hiking trails around the lower slopes of the mountain that you won't need a permit for.
For those seeking something a little less energetic, it's possible to take a thrilling 8-minute cable car ride to the top of Mount Teide.
If you do this on a clear day, it's possible to see the Mountain's shadow casting out miles over the Atlantic Ocean. Utterly sensational.
2. Hit the stunning beaches of the Costa Adeje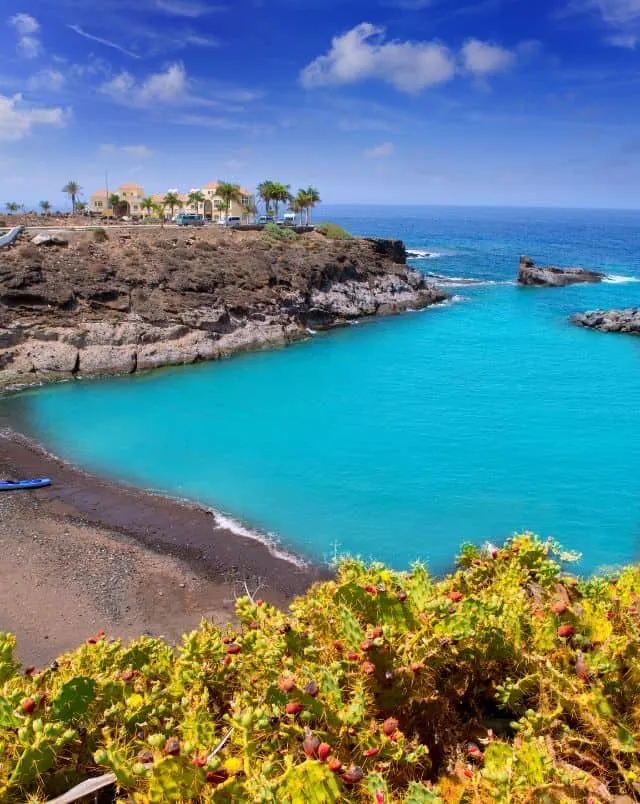 No holidays in South Tenerife are complete without hitting the stunning beaches of Costa Adeje, home to some of the best beaches in Tenerife.
The Costa Adeje is home to many of the finest resorts in South Tenerife and is a fantastic place to base yourself for your holidays to South Tenerife.
Many of the island's main attractions are within easy reach of here, including the unmissable Barranco del Infierno (see below), undoubtedly one of the very best things to do in South Tenerife.
You'll find many of the best beaches in South Tenerife here including those at La Caleta, Playa Paraiso, Callao Salvaje, Playa del Duque and Playa Torviscas.
On the flip side, it's also home to the mass-tourism overkill of Playa de las Américas, home to the island's rowdiest nightlife (see below).
Along the Costa Adeje, you'll discover everything from quiet, black sand beaches to crowded, picture perfect golden sand beaches. Your choice.
While here, check out some of the other amazing things to do in Costa Adeje.
There are also a lot of excellent hotels in Costa Adeje, and the city is a great base while you are visiting South Tenerife.
3. Visit the incredible Barranco del Infierno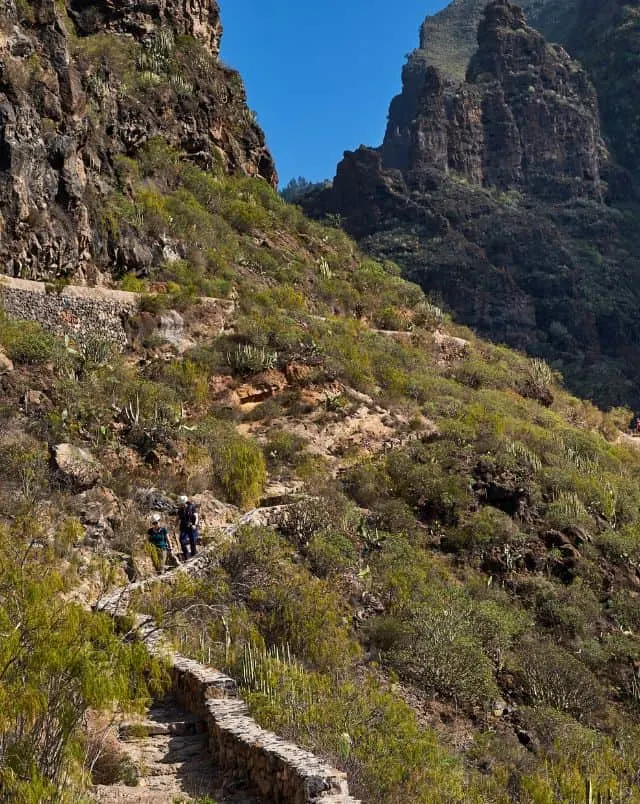 Staying in the Adeje part of the island, the incredible Barranco del Infierno is always near the top of most places to see in Tenerife South lists.
The Barranco del Infierno (Hell's Gorge in English!) is actually a ravine located just outside the town of Adeje and is one of the most incredible things to see in Tenerife South.
For those of you seeking challenging things to do in South Tenerife, the hiking trail through the ravine is truly stupendous.
It's also one of the most difficult on the island, so only attempt it if you're physically equipped to do so.
You will need a permit to hike here though, as daily visitor numbers are limited.
The trail leads you all the way to the highest waterfall on Tenerife, which is a welcome sight at the end of your hike.
On the way, you'll pass incredible rock formations and caves where the Guanches (original inhabitants of the island) used to live.
This really is one of the most fascinating places to visit in Tenerife South.
4. Stay in Los Gigantes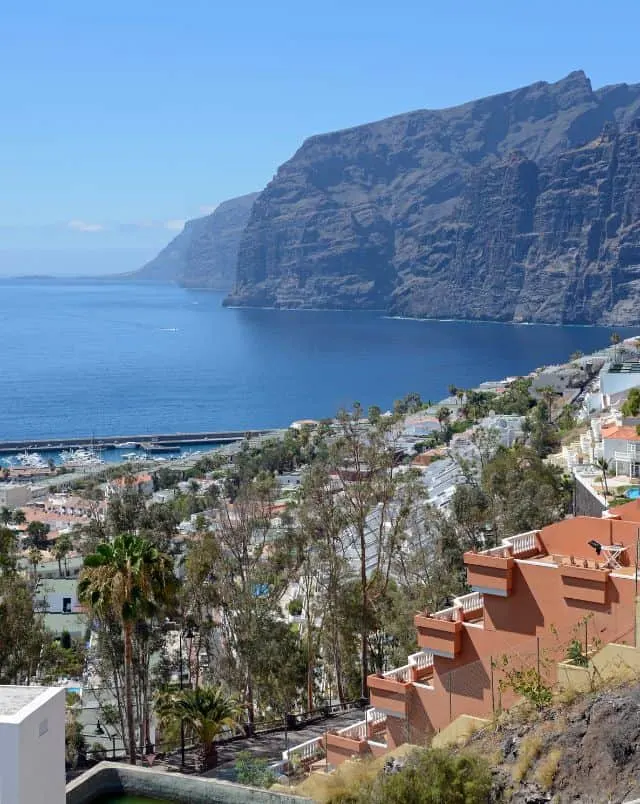 Would you like to base yourself in a small resort town on the west coast that provides a great base for outdoor activities in Tenerife?
Then you're in luck, because there is a whole plethora of fantastic things to do in Los Gigantes.
The town's name of Los Gigantes translates into English as 'The Giants', a reference to enormous 800 meters high cliffs that provide a stunning backdrop to the town.
This charming seaside town is surrounded by some of the best walks in Tenerife, with trails to suit all ability levels.
It's not all walking though, here you'll find a sensational black sand beach, with a host of water-based activities that are some of the best things to do in the South of Tenerife.
You'll also find some fantastic beach-side restaurants and natural seawater pools at the beach here.
The laid-back town also has a host of shops, cafés, restaurants and bars to choose from.
5. Unwind at a spa hotel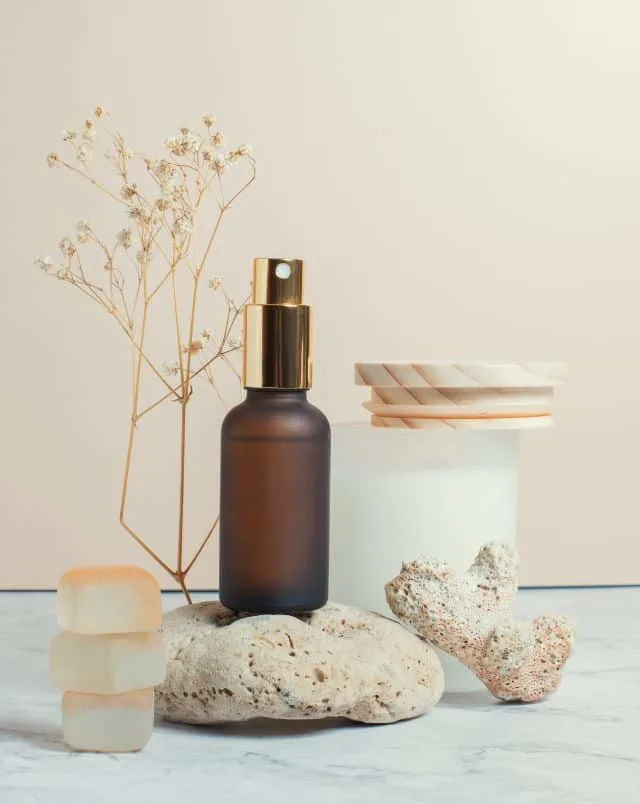 If you're looking for relaxing things to do in South Tenerife, then why not unwind at a spa?
There are many spa hotels in Tenerife but among the finest is the Vincci Selección La Plantación del Sur.
The hotel's massive Nammu Areas Spa is a marvelous place to unwind.
Look out for the incredible 'Canarian Circuit', a thermal circuit that is actually set within a volcanic cave!
There's also a superb gym offering Pilates, dynamic yoga, body-forming, Nordic walking, fit-ball and other gym-related activities.
The hotel itself is in the colonial Canarian style with stunning tropical gardens and it's only 500 meters from the fantastic Bahia del Duque Beach.
For golfers, it's just down the way from the finest golf course on the whole island.
There are also magnificent views from the hotel grounds.
You'll find this sensational spa hotel located along the Costa Adeje in South Tenerife.
6. Spend Christmas in Tenerife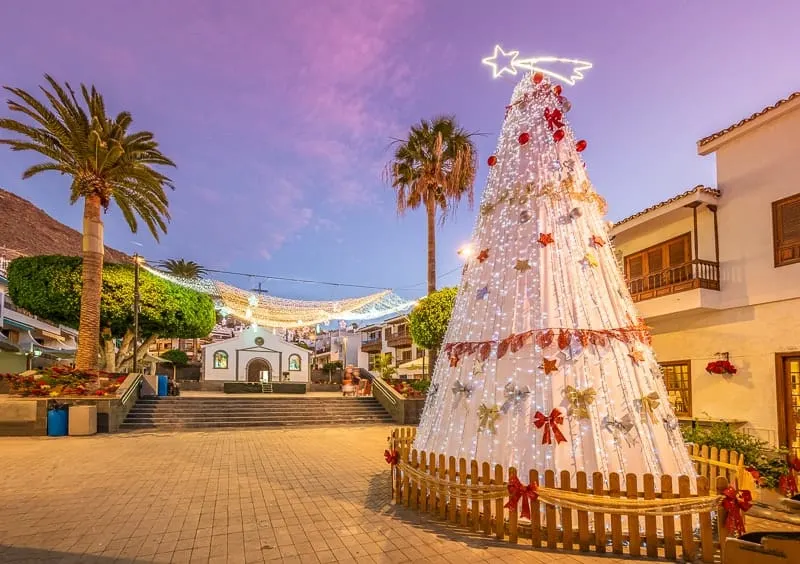 Set just off the west coast of Africa, Tenerife South offers year-round sunshine.
This makes spending Christmas in Tenerife a great option for those wishing to escape the savage winters of harsher climes.
Due to the year-round sunshine, Tenerife is also a year-round destination.
Therefore, you'll find most of the things to do in Tenerife South open over the festive period.
There are even northern Europe-style Christmas markets where you can stock up on local wines, food, and unique Christmas gifts.
Christmas here is unique and special, making this one of the best things to do in Tenerife with kids.
If you're worried that it won't feel like Christmas in the subtropical climes, don't.
The festivities here are surprisingly homely, despite the warm breezes and daylong sunshine.
There are numerous concerts and festive events going on around the island; you'll even find carol singers!
If you're lucky, it may even snow on Mount Teide!
7. Go paragliding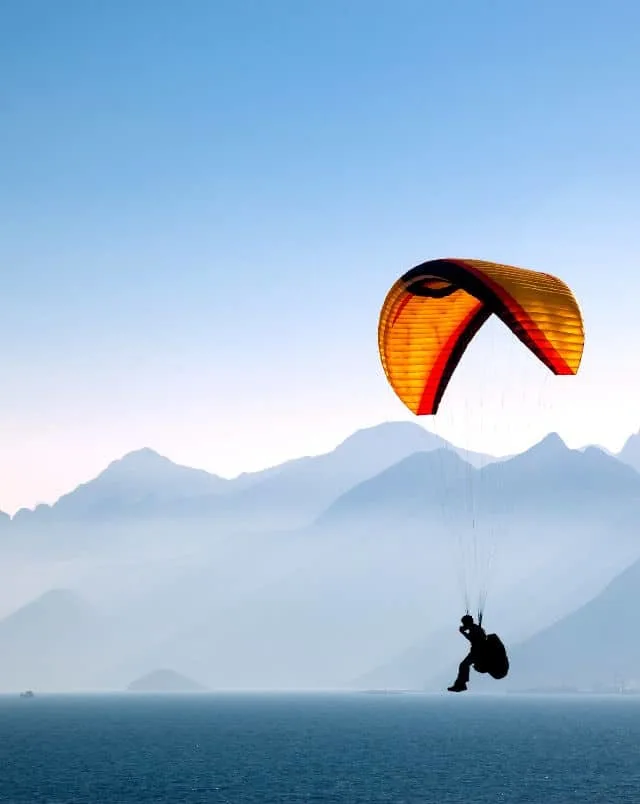 If you're a thrill seeker on the lookout for amazing things to do in Tenerife then why not try paragliding on the Costa Adeje?
Different operators offer a range of tandem paragliding flights graded on height, duration and adventurousness.
Options include Standard, Performance, and Acrobatic.
So whether you're looking for a graceful descent or a daredevil experience, there's an option available for you.
Bear in mind that the options have different launch points, so if you're a couple or a group that wants to go on the experience together, then you'll need to choose the same one.
If you want a totally different perspective on all those magnificent places to see in Tenerife South, then this will provide that, and then some.
In short, this is a great morning or afternoon activity in which to indulge in your stuntman fantasies.
Tenerife South attractions don't come much more adventurous than this.
Book here the best paragliding experiences in Tenerife
8. Watch some whales and dolphins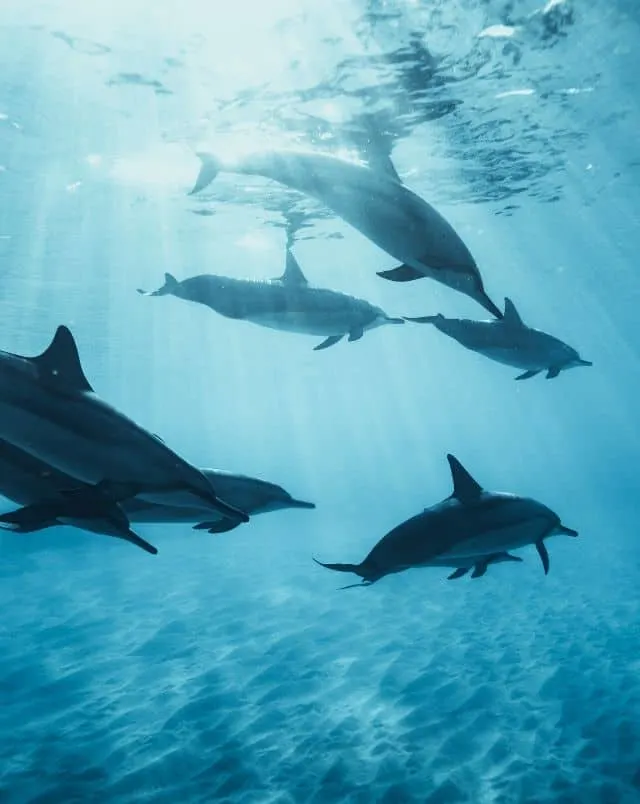 Among the most rewarding things to do in Tenerife South is to venture out into the sea to watch some whales and dolphins at play.
The best places from where to do this are Los Gigantes, Los Cristianos and Puerto Colón, where you'll find several excursions departing to see the incredible aquatic mammals.
Over a third of all whale and dolphin species pass through the waters that surround Tenerife so there's no better place in which to participate in this activity.
Make sure to only take a trip with a company that can prove they have excellent ethical credentials though, as not all do.
The excursions typically last between two and five hours.
Some include lunch, others don't, so make sure you know what you're getting prior to departure.
A few even pause to let you have an open sea swim, so take your swimming gear if that's the case.
9. Try surfing in Tenerife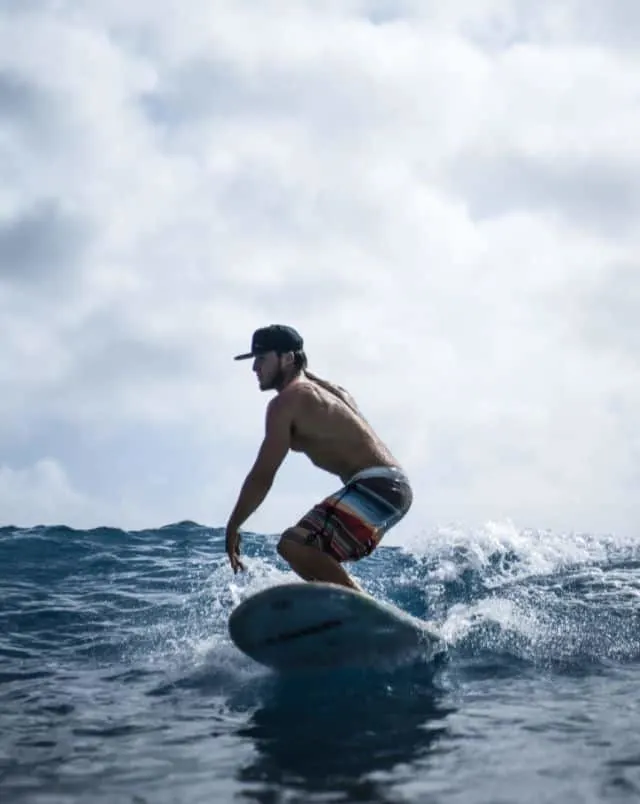 If you're on the lookout for exciting things to do in Tenerife South then why not try your hand at surfing?
If you're just starting out, having never tried surfing before, then head to the beaches at Playa de las Américas or Las Galletas.
At both these beaches you will find many operators offering equipment for hire and lessons (typically three hours) to get you started.
There are waves to suit all ability levels, so whatever your proficiency, you'll be able to practice your surfing skills.
For more committed surfers, head to the beautiful coastal town of El Médano.
El Médano is actually a fishing village but over the years it has become something of a surfing mecca, with many hardcore (and professional) surfers even basing themselves here year-round.
Once you've finished your day's surfing, El Médano is a typical surfing town that offers fantastic (predominantly seafood) restaurants, surf shops, relaxed bars and live music cafes.
10. Have fun at a waterpark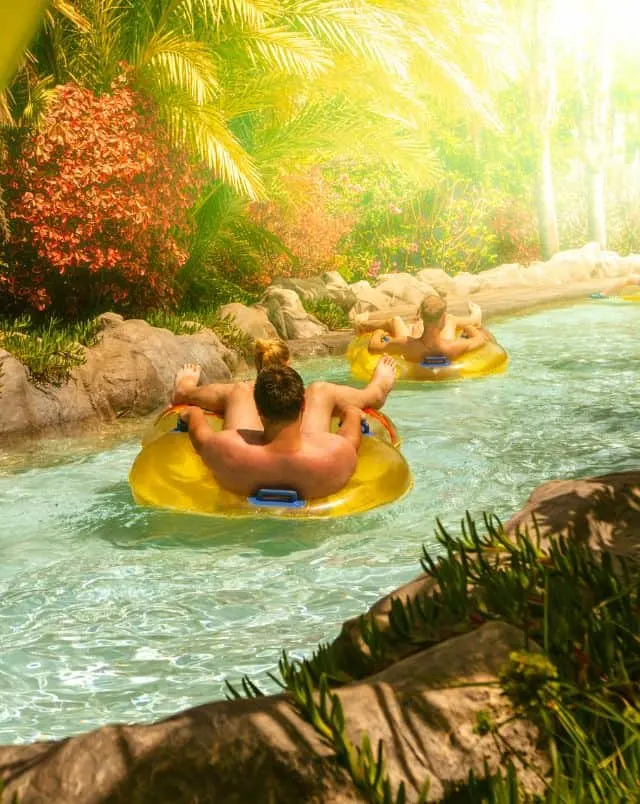 If you're looking for fun things to do in South Tenerife then head to Siam Park, an enormous Thai-themed water park on the Costa Adeje.
If the Siamese theme seems a bit strange for a water park that is technically part of Europe and located just off the coast of West Africa, the park was opened by Princess Maha Chakri Sirindhorn of Thailand, hence the Siamese theme.
If you've got kids, or just want to cool off in the water and have some fun, this is absolutely one of the best things to do in Tenerife South.
The park is consistently rated by TripAdvisor as the 'Best Water Park in the World', and a visit there will confirm why.
As one of the top water parks in Tenerife, the range of attractions in the park is absolutely excellent.
There's everything from relaxing palm-fringed pools to water slides suitable for all the family to frightening adrenaline-pumping thrill rides.
If you're brave enough, tackle the Singha, a water roller-coaster!
Book here tickets for Siam Park
11. Party in Playa de las Américas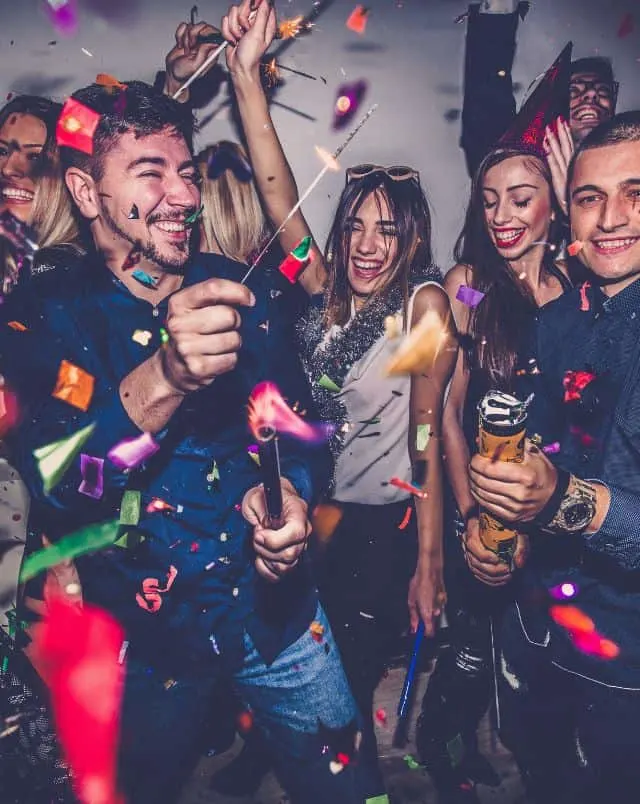 The sun's gone down and you're looking for fun things to do in Costa Adeje.
You want to party through the night and damn the rest of it.
Well then, one of the best things to do in South Tenerife for those in that frame of mind is to head to Playa de las Américas and party, party, party!
Just don't expect anything cultural! Playa de las Américas is an ugly concrete jungle, the epicenter of mass-tourism overkill on the island.
But if you don't care about such things (even if just for one night) and you're simply looking to party, this is without doubt the best place to head to.
Most of the nightlife centers around Avenida Rafael Puig Lluvina, with countless bars and clubs banging out ultra-loud music into the early hours.
So if you're looking for raucous things to do in South Tenerife, then head straight to the island's party capital.
12. Sample the local cuisine in La Caleta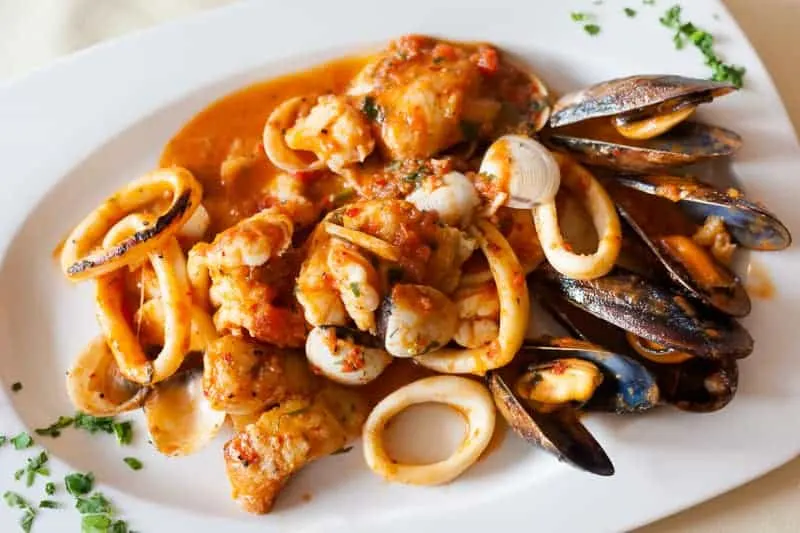 No trip to the island is complete without sampling the magnificent local cuisine and there's no better in which to do this than the charming fishing village of La Caleta.
La Caleta has become something of a foodie destination in recent years with many travelers venturing to the island simply to sample the fare here.
As a fishing village, you probably won't be surprised to learn that the emphasis here is on seafood, and La Caleta is home to the finest seafood restaurants on the whole of Tenerife.
You'll find that eating out here is a bit more expensive than most other places on the island, but once you've tried the food you'll understand why.
The restaurants here only use the freshest fish and ingredients, with excellent wine lists to ensure you will have the perfect drink to complement the superb food.
Specialties here include seafood paella, lobster, fresh octopus and other perfectly prepared local fish.
So, if food is your thing, this is one of the finest things to do in South Tenerife.
Tenerife has its own unique cuisine but still shares some dishes with mainland Spain.
Read my full post on what to eat in Spain to learn more about the amazing food!
13. Visit some charming seaside villages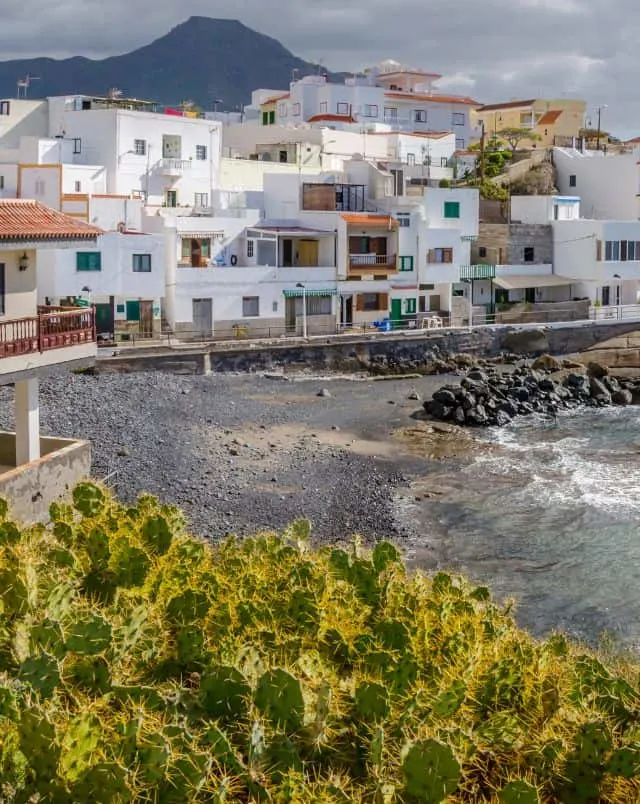 One of the most interesting things to do Tenerife South is to visit some of the charming seaside villages that line the coast here.
The wonderful fishing villages are fascinating locations where you can get a real taste of the island's day-to-day life.
And many will be surprised to learn it doesn't all revolve around mass tourism.
The villages of El Puertito, El Médano, La Caleta, Los Abrigos, and Callao Salvaje are some of the interesting places to go in Tenerife South.
If you hire a car, the relative proximity of these villages mean you could visit them all in a day (or even a morning or afternoon if you're pushed for time).
While El Médano (surfing), La Caleta (food) and Callao Salvaje (climate) have all had varying influxes of tourists, El Puertito and Los Abrigos have remained relatively untouched by mammon.
Los Abrigos is actually a more relaxed alternative to La Caleta, and is one of the best Tenerife South things to do for foodies.
14. Explore the Masca Valley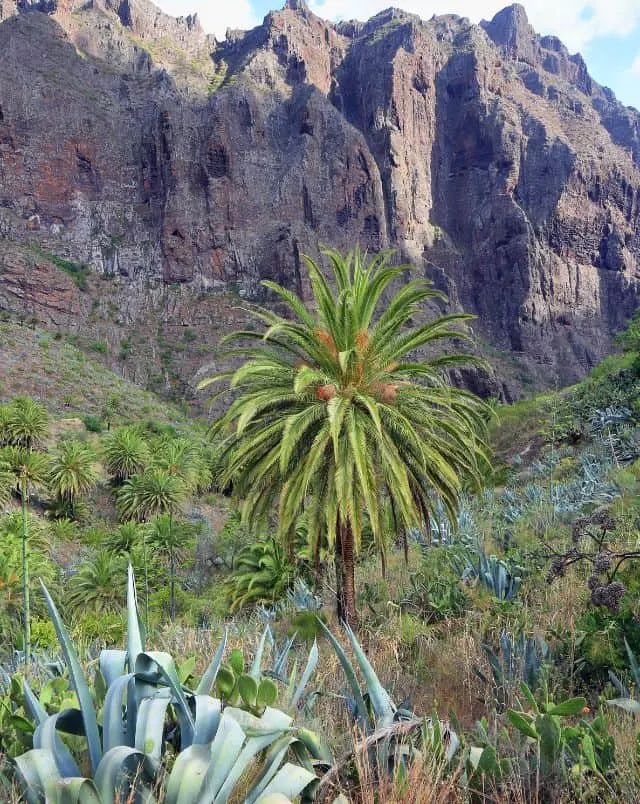 The Masca Valley is a truly unique and exotic place. The valley has incredible flora and fauna; the greenery here will blow your mind.
And look out for the disorderly stacked house that clings impossibly to the mountainsides.
The Masca Valley is located within the Parque Rural de Teno (Teno National Park) and the centerpiece of the valley is the sensational village of Masca.
The isolated village of Masca is full of narrow and steep cobbled streets.
Make sure to take a stroll around as you're sure to find delightful surprises around every turn.
The main square contains a chapel and local artisans selling pottery from small stalls.
Don't forget to have a drink on one of the fantastic terraces looking out over the clifftops.
For the active among you, one of the best things to do South Tenerife is the famous Masca Valley hike.
There are several hiking trails through the valley, but the Masca Gorge Trail is undoubtedly the finest.
This 3 miles (each way) trail is quite challenging so don't attempt it unless you're fit.
15. Shop at Los Cristianos Market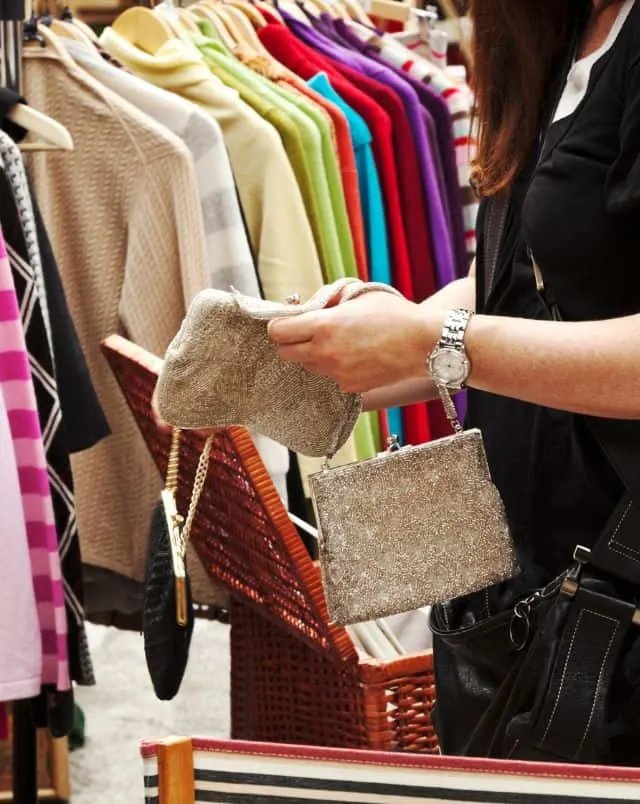 Your vacation is nearing the end and you need to stock up on gifts for friends and family back home.
So why not head to the colorful Los Cristianos Market?
If shopping is your thing, then a few hours browsing around the handicrafts and bric-a-brac is one of the best things to do in South Tenerife.
Los Cristianos market is located on the seafront.
You'll find all the usual items that are aimed at the tourist market like leather goods, local handicrafts, fridge magnets and t-shirts.
However, a large part of the market is dedicated to more useful goods and you'll find it's very popular with locals as well.
A large part of the market (probably the most interesting) offers second-hand goods such as vinyl records, books and antiques.
You can also get great tapas here!
The market is open from 09:00 until 14:00 every Sunday.
---
As we've explored, there are so many amazing things to do in Tenerife South that if you're not doing it already, it's time to start packing!
An added bonus is that the island has VAT-free status, making it a very reasonable place to visit.
With otherworldly lunar landscapes, lush mountains, palm-filled valleys, black sand beaches, charming villages, party towns, amazing food, and countless fantastic activities, there are so many reasons to move to Tenerife that you should all at least consider it!
---
Short FAQ About the Best Things to do in South Tenerife
What is the nicest part of South Tenerife?
Costa Adeje and Los Gigantes are some of the most popular places to visit in Tenerife South for a reason. However, if you want a picturesque spot to visit away from the crowds, try the seaside villages like La Caleta or Callao Salvaje.
What are the top attractions to visit in Tenerife South with kids?
Siam Park is definitely the top South Tenerife attraction for families. However, kids will also enjoy exploring Masca Valley, seeing whales and dolphins, and hanging out and swimming on the beach.
What are the best things to do in Tenerife South at night?
Without a doubt, the best thing to do in South Tenerife at night is to party in Playa de las Américas. Nothing else comes close.
---
Before You Go: Top Tips for your Trip
---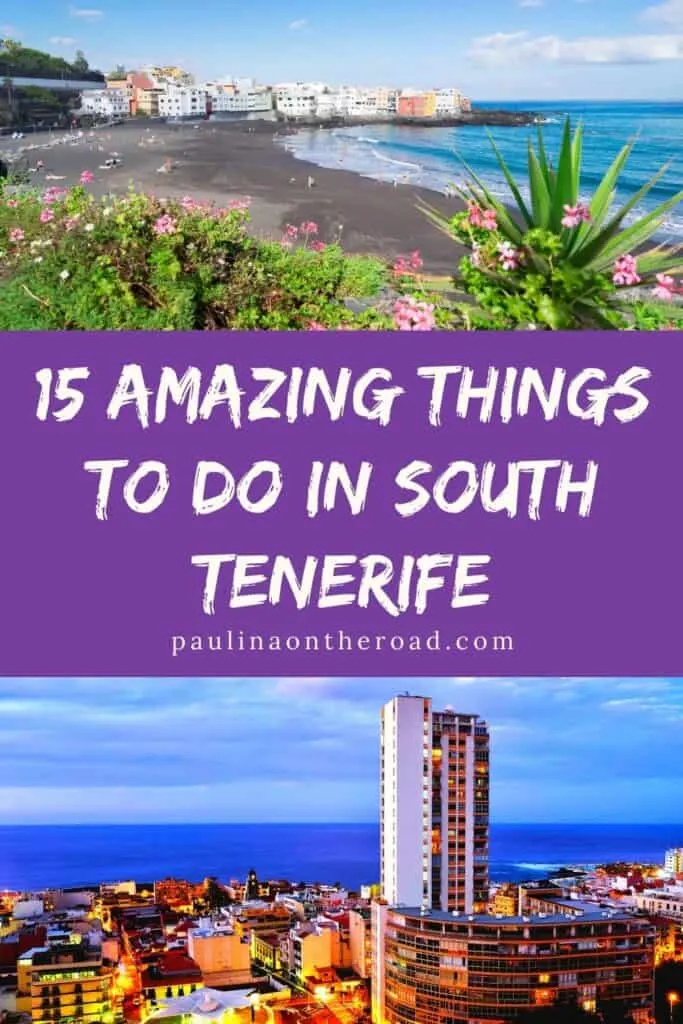 ---
Hola! I am Paulina, a fervent travelette who crossed the Atlantic Ocean by Boat HitchHiking. On my blog, you'll find all the tips to make the most of your holiday. Get ready to enjoy outdoor and sustainable travel like hiking, cycling or sailing. Let's hit the road together!