What to eat in Spain: 30 Dishes to Try + Recipes!
A foodie guide on the best food to eat in Spain, and about the best dishes to try in Spain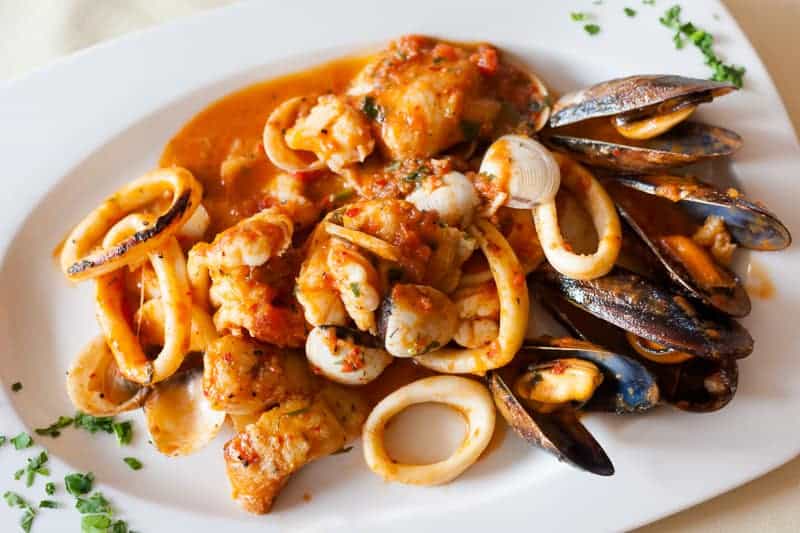 Being one of the top destinations in Europe, Spain is not only a well-known touristic country but also a place with a deeply-rooted culinary heritage.
If you ever wanted to know what a foodie paradise looks like, Spain's food culture is probably the closest to fit that image. Indeed, besides its culture and beaches, food is one of the main things for what Spain is known for.
Not only will you have some of the most authentic tasting experiences in your life, but you will also get the opportunity to eat in restaurants that are some of the oldest buildings on the continent (basically food museums).
The mixture of different regions and their varied cuisine sets will ensure the excitement that every gourmand desires.
Still, the most charming part is not the typical Spanish food per se, but the warmth of the streets, the kindness of the Mediterranean people, and the diversity of choice that will bring you the real joy and make you feel like a local.
You will find some of the recipes below so that you can join in and bring one of the most fantastic culinary adventures wherever you go. Prepare to fall in love with the Spanish cuisine, if you already didn't.
In case you are planning to travel to Spain, make sure to book a guided food tour with GetYourGuide.
Thanks to affiliate links, I pay my bills. If you make a purchase through them, I may receive a small commission at no cost to you. As an Amazon Associate I earn from qualifying purchases. All opinions are always mine. Merci!
Famous Dishes from the Valencian Region
Valencia is the birthplace of some of the most famous dishes in Spain. This coastal city is a real treasure for all of us who yearn for the full experience and locally produced ingredients.
Its fresh seafood and rich land for growing all kinds of vegetables are just some of the things you will notice on your plate.
Valencia is best known for its paellas, and it is said that the real paella can't be made elsewhere! If you want to get a feel of local cuisines, you can visit the best Paradores in Spain. You should definitely try them as they serve the best cuisines with great variety.
If you are planning to visit Valencia, have a look at my 1-day Valencia itinerary or this guide on how to spend 3 days in Valencia.
1. Paella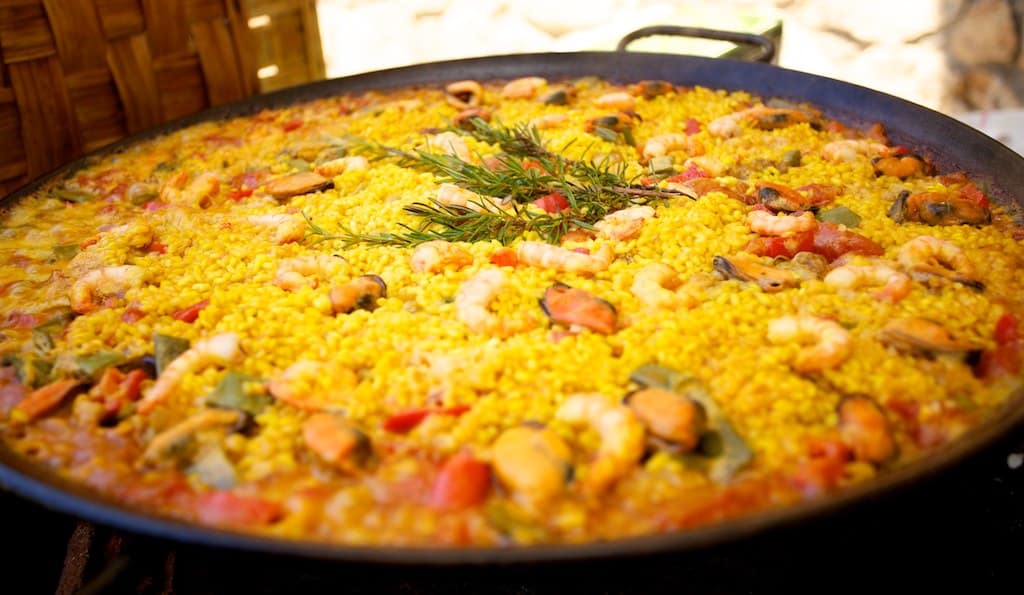 As I mentioned before, paella is a food synonym for the Valencian region. This rice dish is usually mixed with meat and vegetables.
Traditionally, it requires a special flat pan and it is prepared over high heat, but if you don't have one, it is possible to prepare the paella in a regular pan as long as it is for a maximum of three people.
The authenticity of enjoying these famous dishes from Spain at home is guaranteed by putting the pan in the center of the table and eating directly from it.
This dish is a must when traveling to Spain and in case you are visiting Valencia for 3 days or more, make sure to try it at least once!
If you can't travel to Spain right now, you can get amazing Paella kits at Amazon. Making paella at home as never been easier. – Check at Amazon
2. Fideuà – Noodle Paella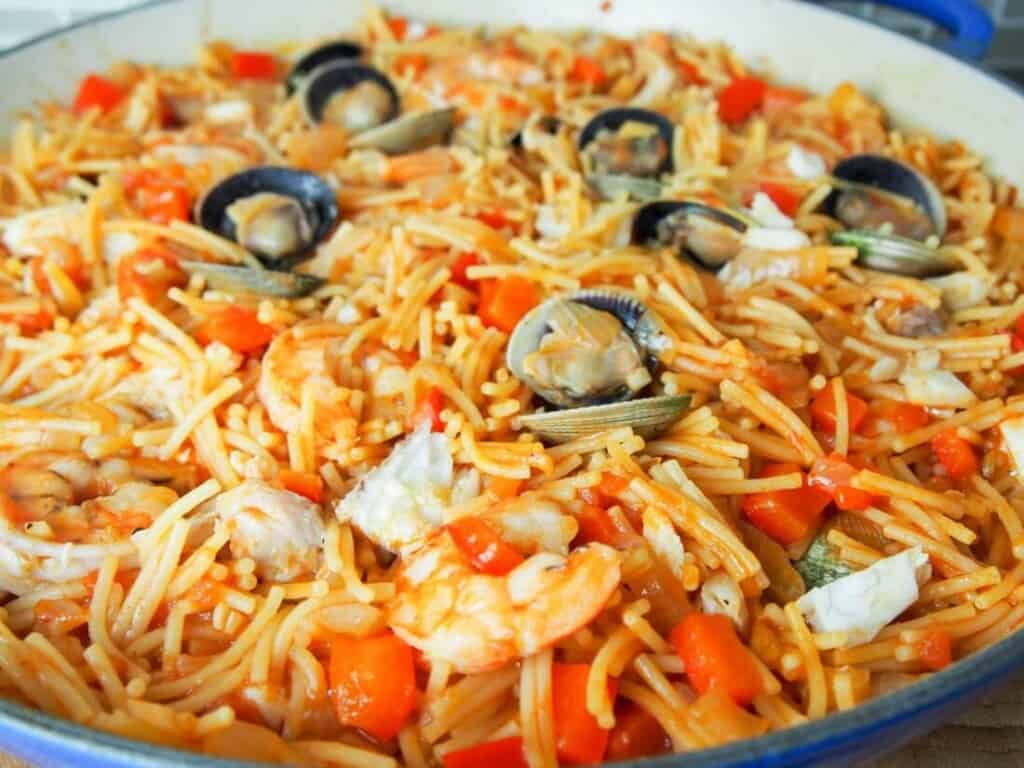 Although recently, Fideuà (noodle paella) became popular through Barcelona, its origin is Valencian. Essentially, it is a noodle version of paella that therefore has pasta as its base.
This means that you need a big flat pan (paella) to prepare it. And as with the classic paella, it is best to make it outside, on the open fire. It is served as a common food in Spain, and there are several variations you can try.
It's usually served with aioli (a sauce made of garlic, salt, and olive oil and found in the cuisines of the northwest Mediterranean, from Valencia to Calabria).
3. Turrón – Nougat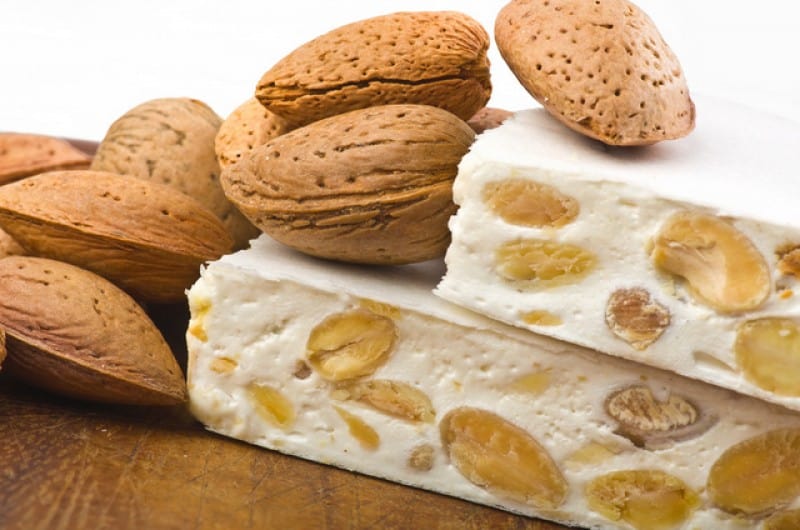 If you wonder what people eat in Spain during Christmas, turrón (nougat) will come up as one of the answers. It is difficult to classify it since it is something between a desert and a pastry.
However, if you are looking for an English word for it, the simplest translation is nougat. The usual ingredients are almonds, honey, egg whites, and sugar, but the tricky part is knowing the right timing to mix and roll them.
If you can't travel to Spain, you can order Turrón at Amazon! – Check prices here
4. Horchata – Tiger Nut Milk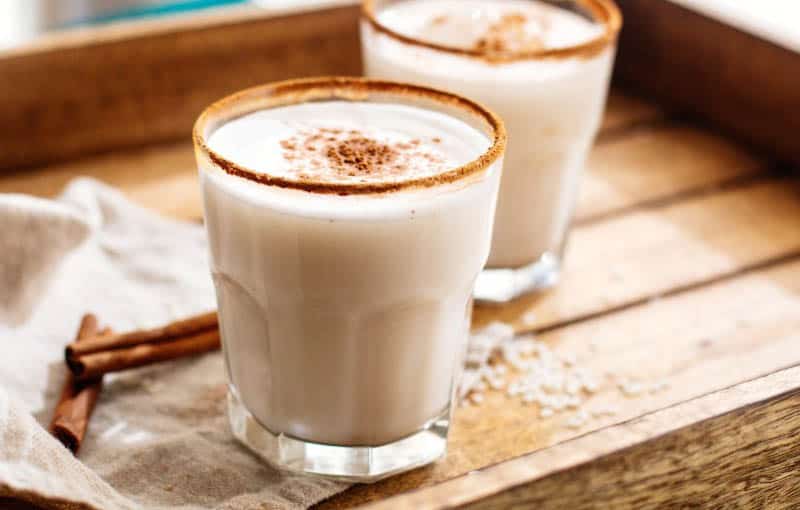 If you are into trying food and drinks from Spain, horchata (tiger nut milk) should be on your top priority list! The typical horchata is called "horchata de chufas" (chufa is a tiger nut), but there are a few variations of it.
It is a cold, milk-type beverage, known as one of the most famous after-lunch snacks from Spain.
Do you want to make Spanish horchata at home? You can order it at Amazon. – Check prices here
Typical Food from Barcelona and Catalunya
Catalunya is one of the biggest gastronomy centers in Spain! The diversity of food offered in this region is one of its highlights. Also, their typical menu confirms a strong regional distinction.
The whole area is rich with ingredients such as seafood along with local land products, so there is a lot to choose from.
Therefore, it is not surprising why many of us consider Barcelona one of the best places in the world! No wonder that it has been the film location for several movies set in Spain.
Barcelona also falls under the category of most beautiful places in Spain you must visit. If you want another taste of Spain, have a look at my favorite funny Spanish phrases.
5. Patatas Bravas – Fried Potatoes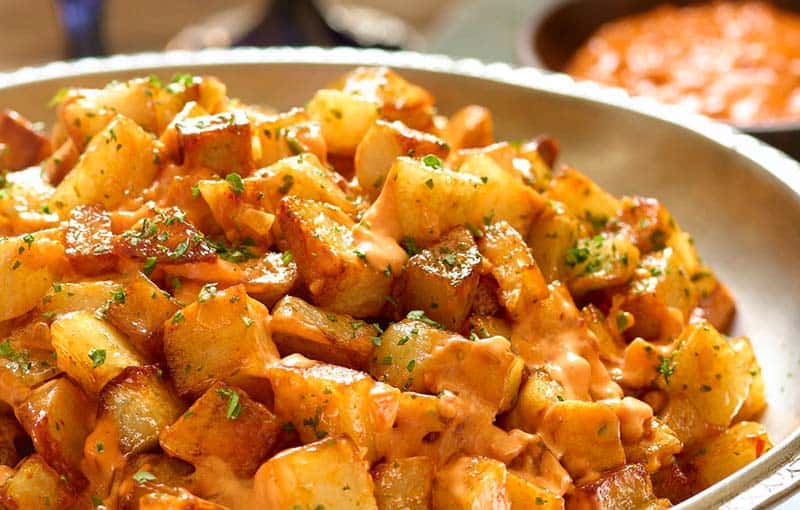 Patatas bravas (fried potatoes) is a signature dish that the Catalan region is proud of. It is easy to prepare since it consists of deep-fried potatoes and sauce. You will find many variations in other countries.
It is an ideal choice if you are in a hurry, or simply in need of a good Spanish snack or a quick dinner in Spain.
6. Pa Amb Tomàquet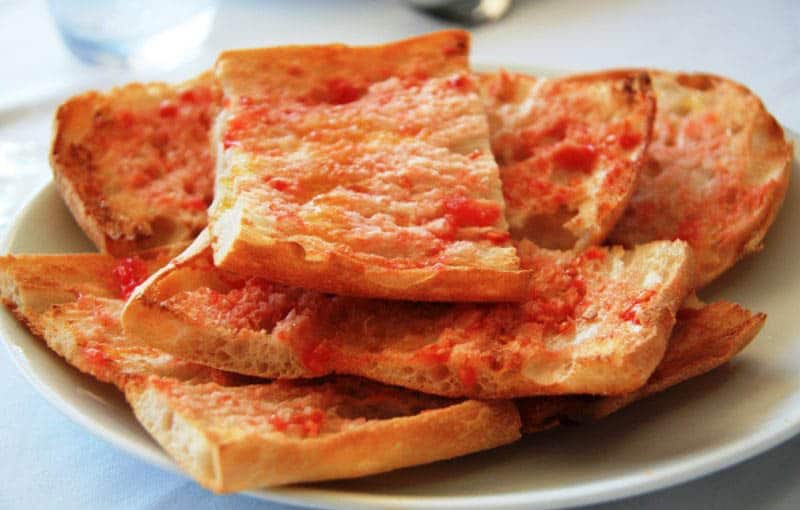 This is another classical dish from the region. It goes by several names, but the most common ones are pa amb tomàquet, pan con tomate, and pan tumaca.
It is very easy to make and light for the stomach. Therefore, it is one of the main foods in Spain served for breakfast. There are a few ways to make pa amb tomàquet, but here is the most common one:
7. Cava – Sparkling Wine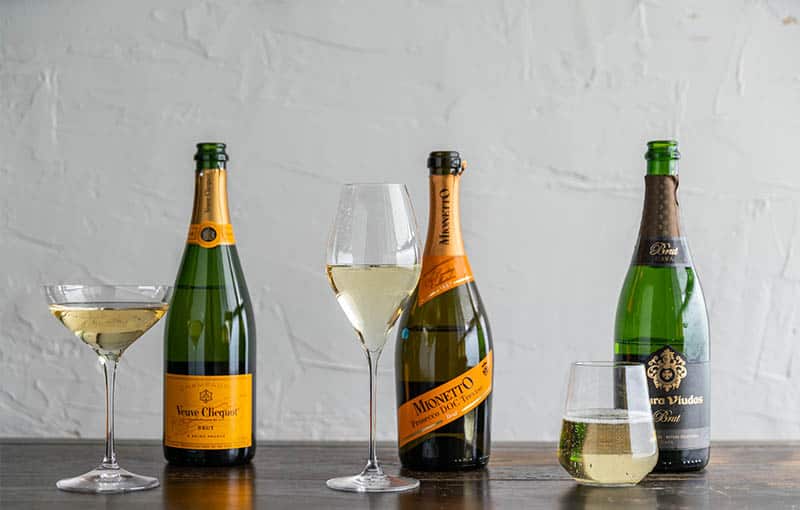 When it comes to well-known food and drinks from Spain, cava is a good representative. It is fundamentally made like champagne, but with different types of grape.
The simple, lemony flavor of this sparkling wine comes from Macabeu, which is the basic grape type used for its production.
Cava is often described as an affordable substitute for champagne, and it is served on different occasions. There are several beautiful wineries you can visit or take a wine tour to these prettiest wineries near Barcelona.
8. Crema Catalana – Catalan Cream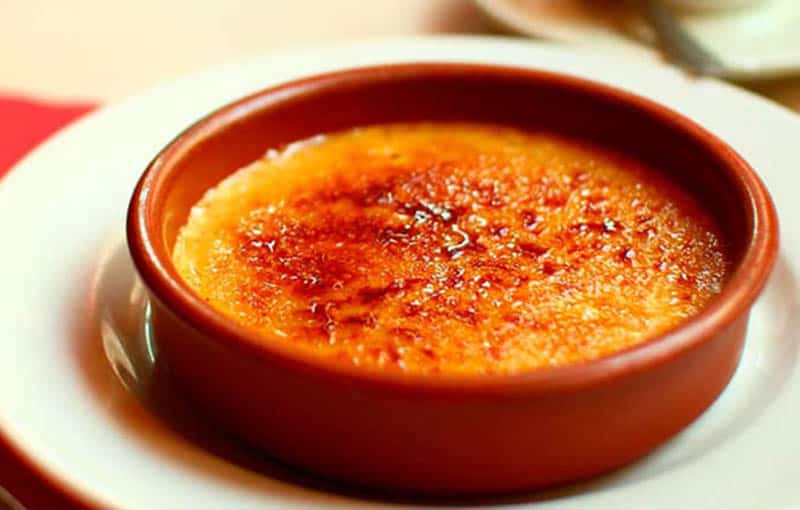 Crema Catalana (Catalan cream) became one of the favorite desserts to many of us who had the chance to try it. It is simple to make and in terms of taste, it can be compared with crème brûlée.
People love it because the list of the things you need to make it is very short and available locally. It is smooth, sweet, rustic, and indulgent simultaneously which is why it might become your favorite too.
You don't have to travel to Spain to indulge in Crema Catalana! You can easily order it online. – Check on Amazon
9. Calçots – Green Onions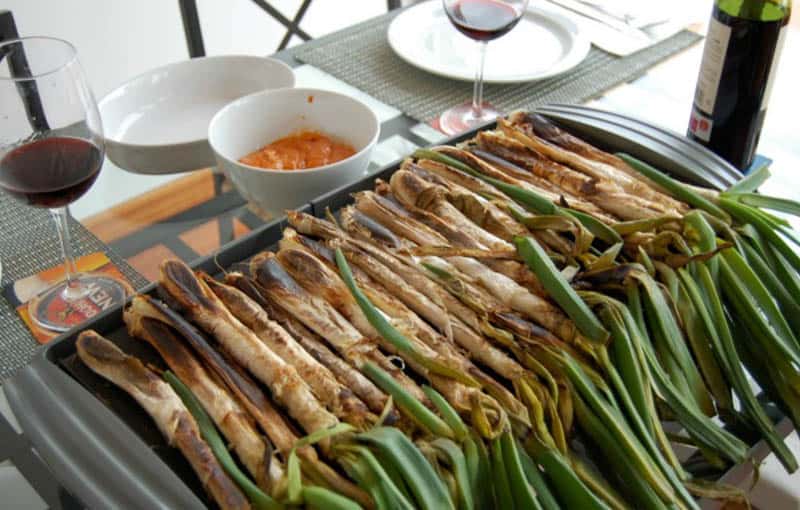 Calçots is a Catalan green onion, traditionally eaten to signal the spring. It feels like a celebration of a sort.
Although you can find this vegetable on the restaurant menus for the whole year, the proper way to enjoy calçots is to eat it outside and while nature is blooming.
Famous Food from Central Spain
Although Madrid can be considered as a melting pot for many different cultures (not only other Spanish regions), there are still plenty of authentic local cuisine to try, and fantastic restaurants to visit for traditional food.
The climate of the region influences the food as well, so it is no wonder that meat is one of the dominant ingredients in this part of the country.
Even if you can use your time in Madrid to try all sorts of cuisines, you should really use the chance and try local dishes such as gazpacho, the famous churros, and the typical Spanish tortillas.
10. Jamón Ibérico – Iberian Ham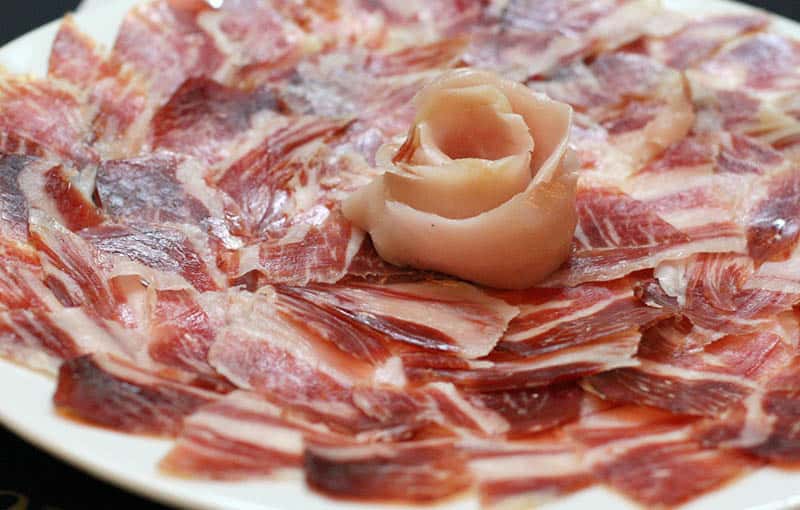 There are two kinds of ham in this world. One is Jamón Ibérico (Iberian ham), and the other is the sum of all other hams in existence. The question ''What do people eat in Spain?'' can be easily answered: only the best!
Even the back story is fascinating and includes many centuries, different rulers, and the ritual sacrifices that the pigs were used for.
Nowadays, Jamón Ibérico (Iberian ham) is one of the best known Spanish products, and it can be found worldwide.
You're not in Spain? No problem, you can get Jamón Iberico at Amazon too! – Check prices here
11. Tortilla Española – Spanish Omelet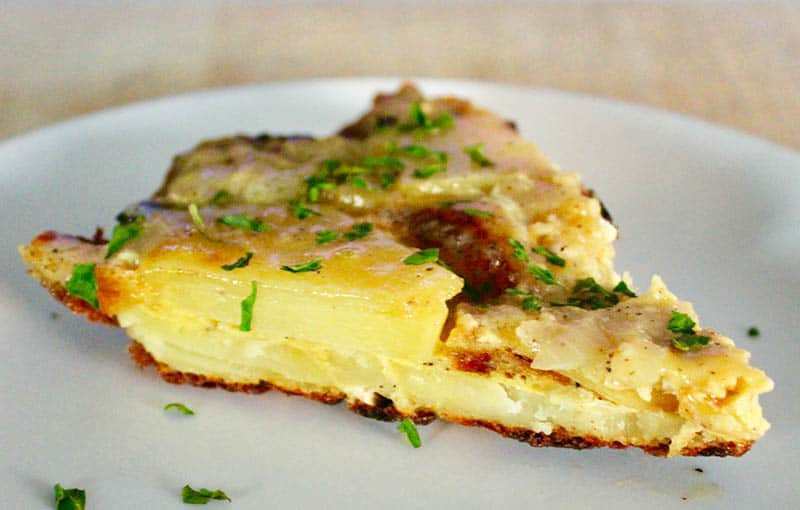 This is one of the most popular foods in Spain! It is easy to whip up and has the right amount of versatility to be prepared as both breakfast and dinner.
The main reason why tortilla española (spanish omelet) the omelet is considered to be a Spanish food classic is that all the ingredients are more or less already in our households.
Essentially, you only need eggs, a few potatoes, a little bit of oil, and an onion to prepare it.
12. Churros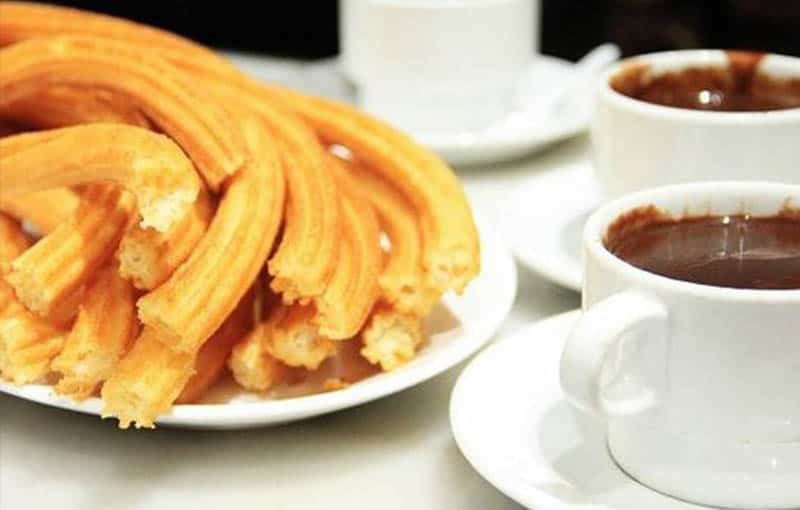 One of the best traits in the Spanish capital are well-made churros. Churros from Madrid are practically a symbol of Spain in the world of foodies, and it is unthinkable to leave the country without having tried them!
Certain churrerías (churros shops) are so popular that people stand in line for hours just to taste this crispy and chocolate-dipped delicacy!
13. Albondigas – Meatballs
Meatballs are common in many regions that have a climate similar to Madrid. Albondigas is the Spanish meatball version, usually made for dinner. You must give it a try as it is one of the must-eat foods in Madrid!
The delicious thing about albondigas (meatballs) is that they are small and made with the flavorful sauce. This is also one of their biggest distinctions from Italian meatballs.
14. Migas – Crumbs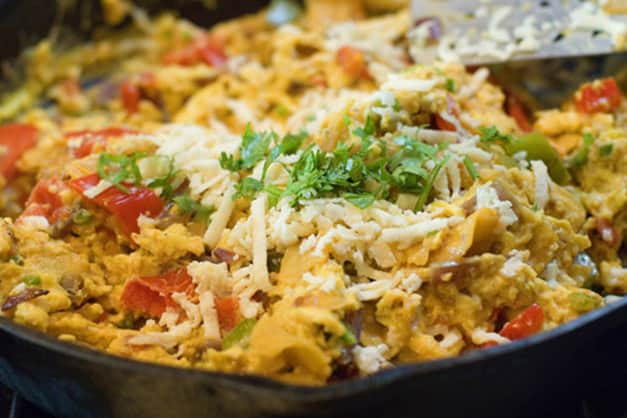 Migas (crumbs) are also a very popular snack and supper idea to try while visiting the central region of Spain.
They are principally fried bread crumbs, typically served with paprika and fried eggs or red chorizo sausage. It is said that migas are one of the most ancient Spanish dishes!
15. Leche Frita – Fried Milk
Despite being translated as ''fried milk'' which doesn't sound very tasty, Leche frita is an amazing dessert! It has two variations for serving. One is cold, and the other hot, with a scoop of ice cream on the side.
The main ingredients are obviously milk, wonderfully mixed with flavor, eggs, butter, sugar, cornstarch, and cinnamon.
16. Pisto Manchego – Ratatouille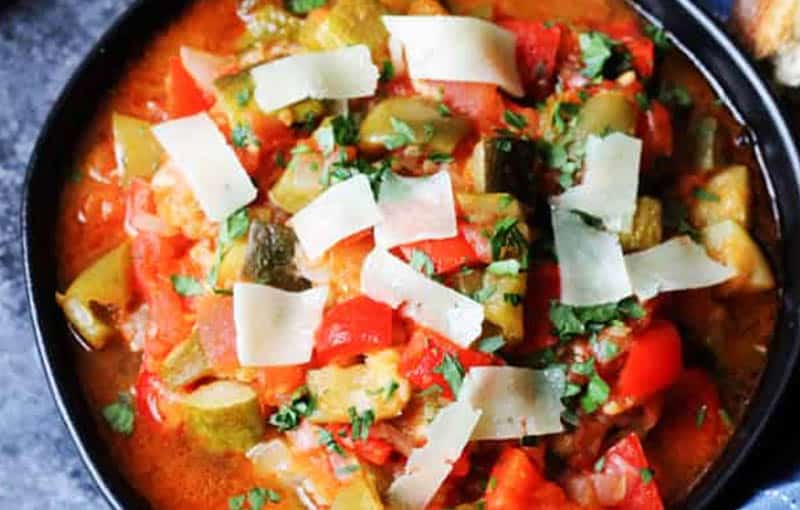 Whether you are a vegetarian or not, you will love pisto manchego (ratatouille). It is one of the finest mixtures of stewed vegetables, and definitely a food to try in Spain!
Historically speaking, the origin of pisto manchego (ratatouille) is Arabic. However, it is one of the most popular vegetarian dishes in the region.
17. Cochinillo Asado – Roasted Suckling Pig
If you are a meat lover, you shouldn't skip Cochinillo Asado, commonly known as "roasted suckling pig".
The quality of its preparation is measured by the tenderness of the pork, and many take pride in knowing the right way of roasting and seasoning it. This is a typical lunch food, and it is especially popular in Castilla.
The best way to enjoy this typical dish is by going on a day trip from Madrid to Segovia and try cochinillo asado (roasted suckling pig) at its birthplace, the town of Segovia.
Traditional Dishes in Northern Spain
As a traveler, you can't be satisfied with just visiting. It is all about the experience, and tasting food in Northern Spain is no exception!
An alternative name for this region can be ''eating well is a duty'' since gastronomy makes one of the most important aspects of their daily lives.
The Basque country is a typical representative of the region famous for its tradition of pinchos, which is going from bar to bar and sampling food.
18. Pimientos de Padrón – Padrón Peppers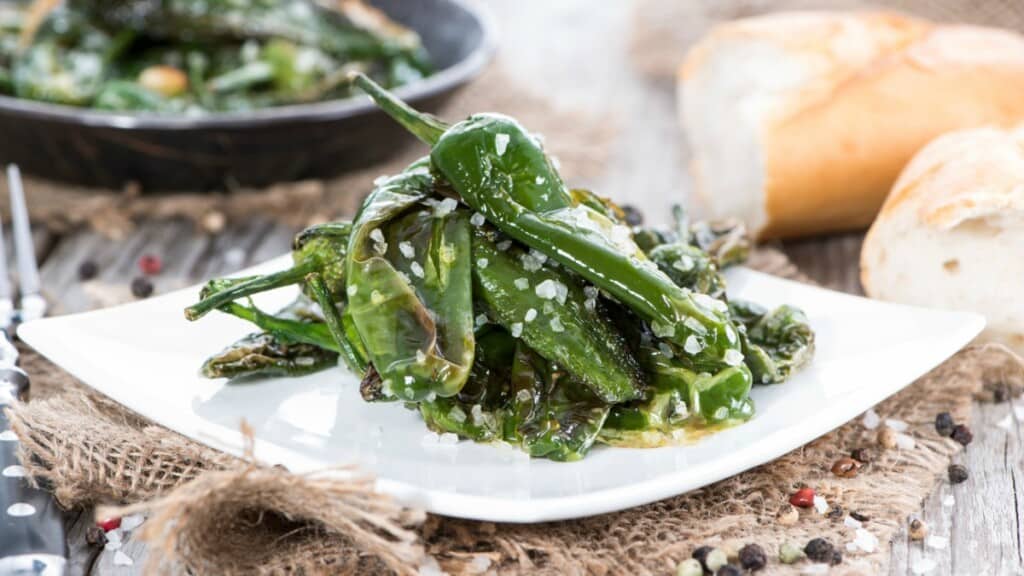 Pimientos de Padrón (padrón peppers) can be described as a rustic and traditional Spanish dish, made from a particular type of pepper that grows in Northern Spain.
It is typically served as a snack, but it is not uncommon to find it as a part of a bigger tapas (appetizers or snacks) buffet.
19. Pulpo a la Gallega – Polbo á Feira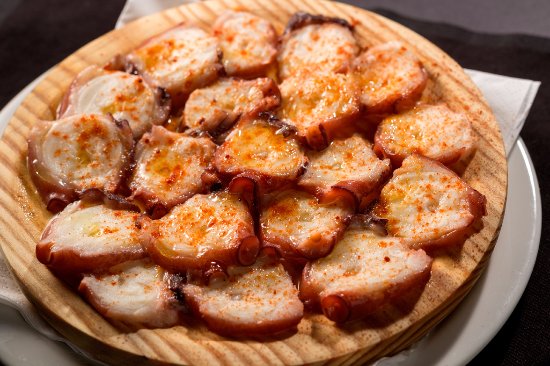 Apart from being one of the most typical foods from the Northern parts of Spain, pulpo a la gallega (polbo á feira) is also one of the easiest to make.
There are only four ingredients needed to recreate it in the kitchen and they are all easy to find. It is a great option for making a quick and tasty dinner.
20. Bacalao – Cod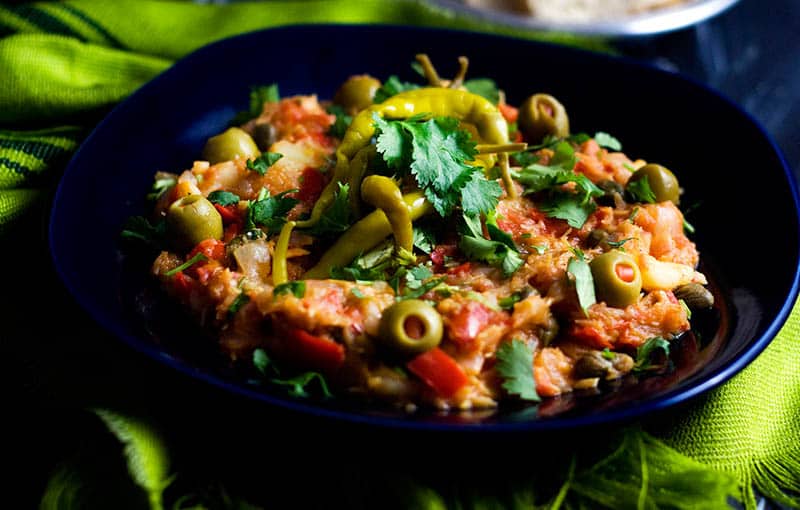 I mentioned before a typical Christmas dish in Spain. Well, bacalao (cod) can be defined as a traditionally served Christmas dish.
It is basically a salt cod stew, prepared with potatoes, tomatoes, and garlic. But please note that a good bacalao (cod) needs time to prepare, especially when it comes to the level of salinity!
Some of the best bacalao (cod) can be enjoyed in San Sebastian, northern Spain. It is also having the countryside where you can enjoy farms which is one of the best things to see in San Sebastian and it is often seen as an off the beaten path Spain attractions.
21. Fabada asturiana – Asturian Bean Stew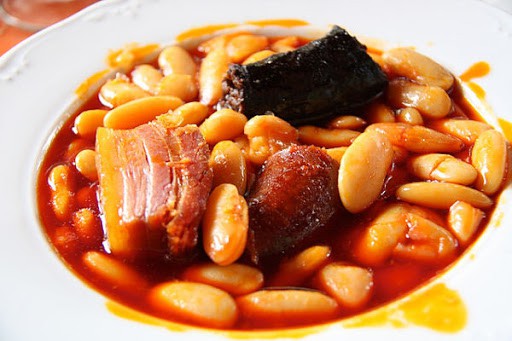 When the weather is chilly, and you really want something to warm you up and gives you energy, there is nothing better than a bean stew known as "fabada asturiana" (Asturian bean stew).
Despite its origin, which is Asturias, this stew can be found all over Spain. It is commonly served for lunch, especially during winter.
22. Tinned Seafood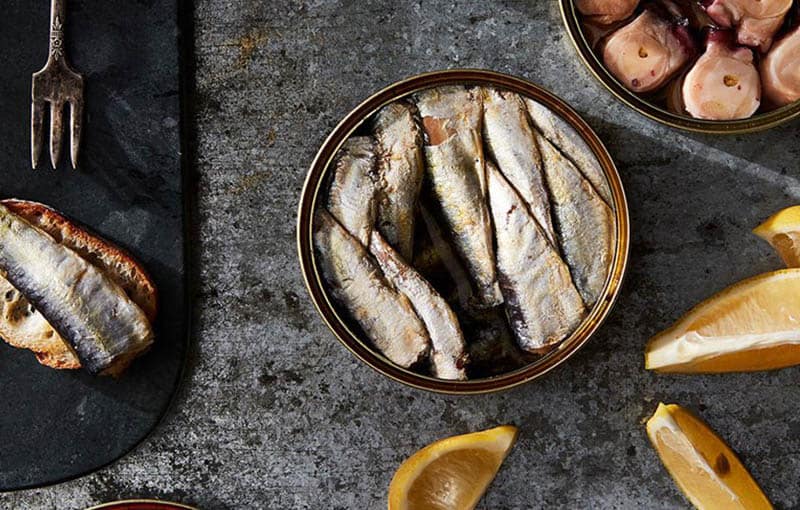 There is a long tradition of tinning seafood in Spain. Nowadays, it can be found in pretty much every place that serves food, and versatility of the fish adds to the popularity and frequency of serving.
Tinned seafood is typically eaten for dinner, or as a snack while drinking.
You don't want to wait until your next Spain vacation to try tinned seafood? Good news! You can get it at Amazon! – Check prices here
23. Chorizo a la Sidra – Chorizo in Cider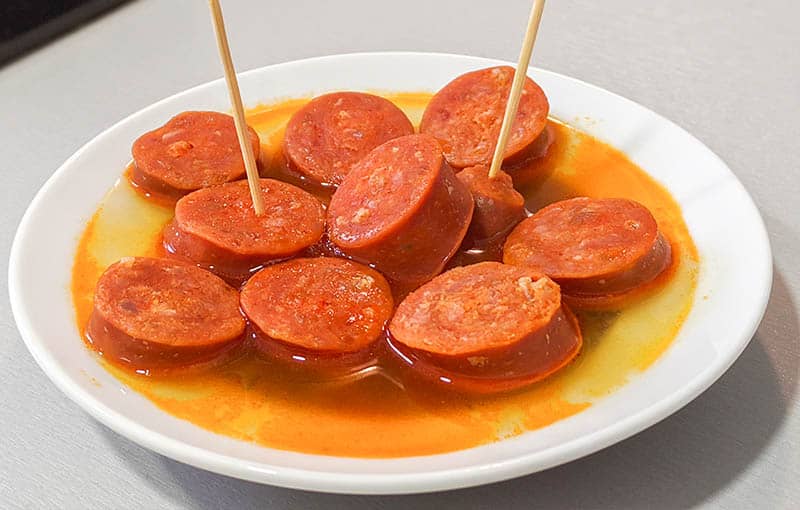 A combination of many times mentioned chorizo sausage and hard apple cider found in Asturias is among the things to eat in Spain that you don't want to miss.
It is often prepared during barbecues but commonly served as an appetizer. It is not complicated to make, but the quality of the ingredients makes a huge difference!
If you can't travel to Spain right now, you can still order Spanish chorizo online – Check it on Amazon
Popular Food from Southern Spain
Many have written about the several attractions of Andalusia and its food.
Some people can be surprised to hear that Sevilla is not only popular because of its amazing cultural heritage, but also because it has some of the oldest tapas restaurants in Spain.
But besides Seville, there are plenty of other towns waiting for you with amazing Andalusian food.
24. Gazpacho – Cold Soup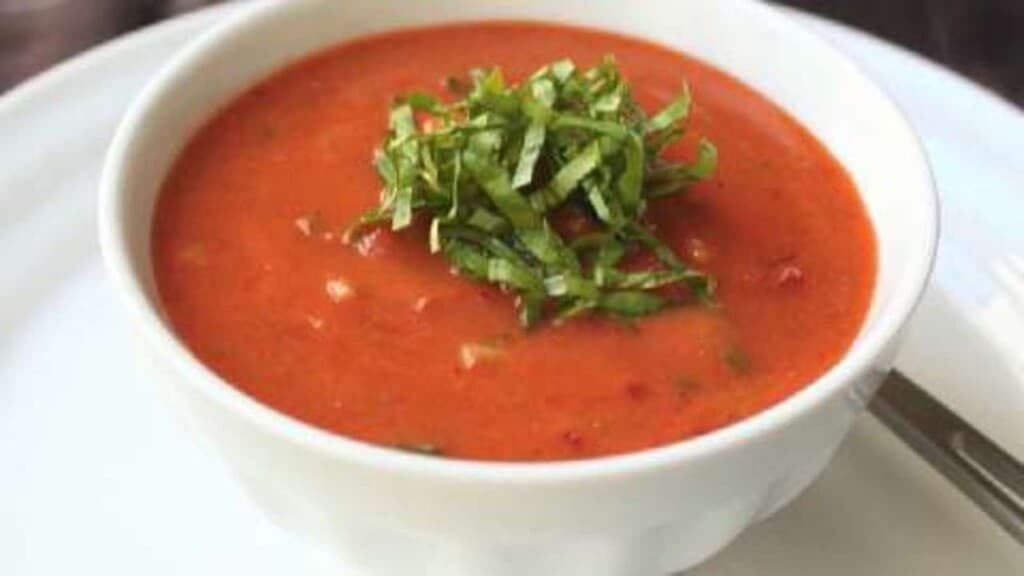 Apart from being one of the most notable seasonal soups, gazpacho (cold soup) is another perfect option for those who don't eat meat. It is prepared with raw ingredients and commonly served cold, and during hot summer days.
25. Salmorejo
This is another cold soup that is typical for the southern Spanish region. Although it has similarities with gazpacho (cold soup), Salmorejo is creamier and tastier, due to the ham that adds to the flavor. Just like gazpacho (cold soup), it is also served during summer.
26. Croquetas de Jamón – Ham Croquettes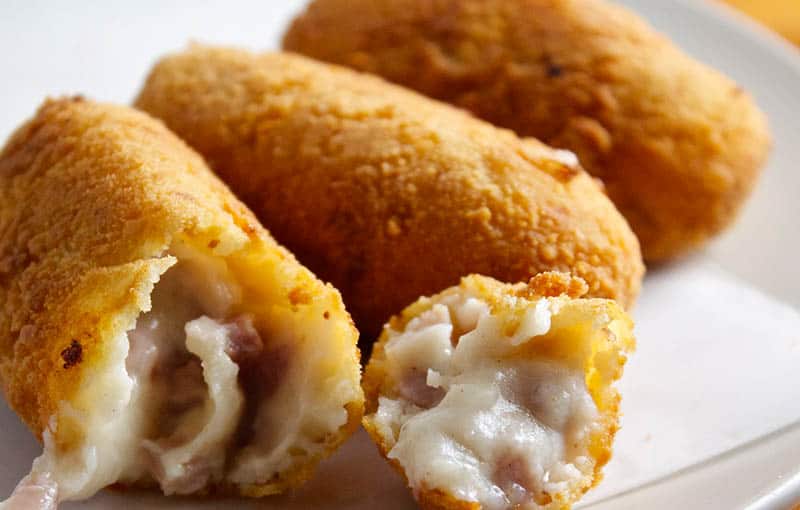 Croquetas de jamón (ham croquettes) are a frequent southern appetizer made of bread crumbs, olive oil, ham, and seasoning.
They are one of the most popular foods in Spain, and one of the easiest to make at home. You can also serve them as a light dinner.
27. Calamares a la Andaluza – Andalusian-Style Squid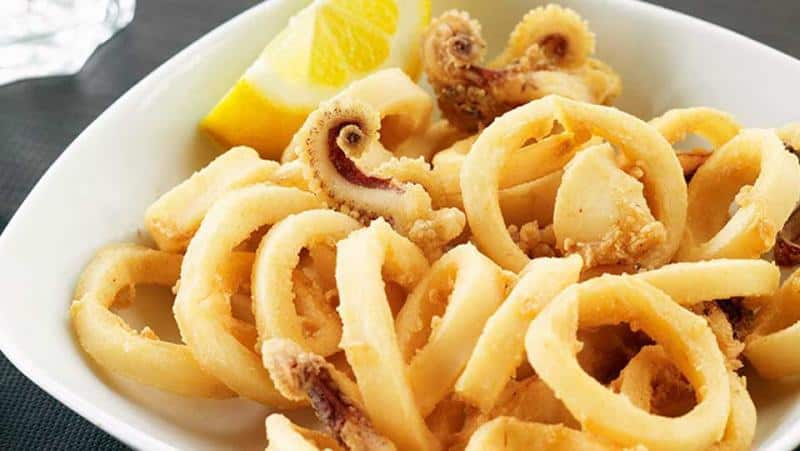 Fried calamari (squid) is the best known Andalusian flavor. It is one of the most famous tapas (appetizers or snacks) made from seafood and very easy to prepare.
I would point out that the best way to enjoy calamari (squid) is to consume them with a cold beer.
28. Espetos – Sardine Skewers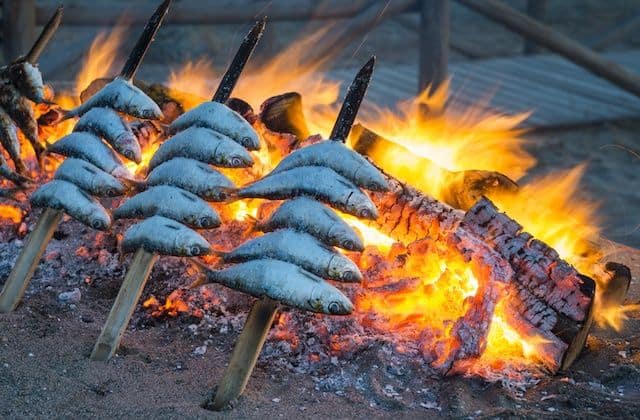 When it comes to espetos (sardine skewers), Malaga has the classic ones. They are a part of a lifestyle and treated as ancestral culinary. The whole preparation process is very unique in this region and represents one of the most authentic foods in the world.
29. Gambas al Ajillo – Garlic Shrimps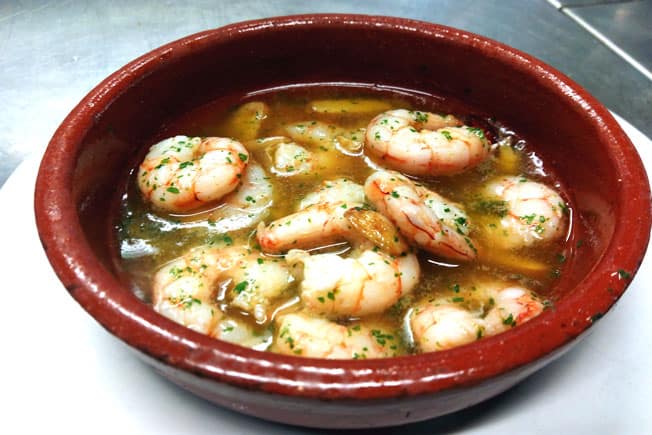 Small tapas (appetizers or snacks) are the best ones to taste and usually the most famous ones too. Gambas al ajillo (garlic shrimps) are the best examples.
This is a truly Spanish dish, and involves a lot of garlic and paprika, with slight variations in additional ingredients from place to place.
30. Boquerones en Vinagre – Anchovies in Vinegar
The summers in southern Spain are always better with a plate of boquerones en vinegar (anchovies in vinegar), an awesome appetizer made from small blue-colored, marinated fish.
The best time to eat this tapa (appetizer or snack) is between April and September when there is plenty of fish. Still, it has to be carefully prepared to avoid possible diseases from the parasites that inhabit it!
It's one of my favorite foods from Spain, especially on hangover days!
---
Short FAQ about Things to eat in Spain:
What time do people eat dinner in Spain?
Dinner in Spain is eaten late, usually after 10pm.
What food do you have to eat in Spain?
Naming a few from the list: paella, fideua, patatas bravas, etc.
Is it expensive to eat in Spain?
Meal prices in Spain can vary, but breakfast prices are usually a little cheaper than lunch or dinner. You can get a good breakfast for 5 €.
---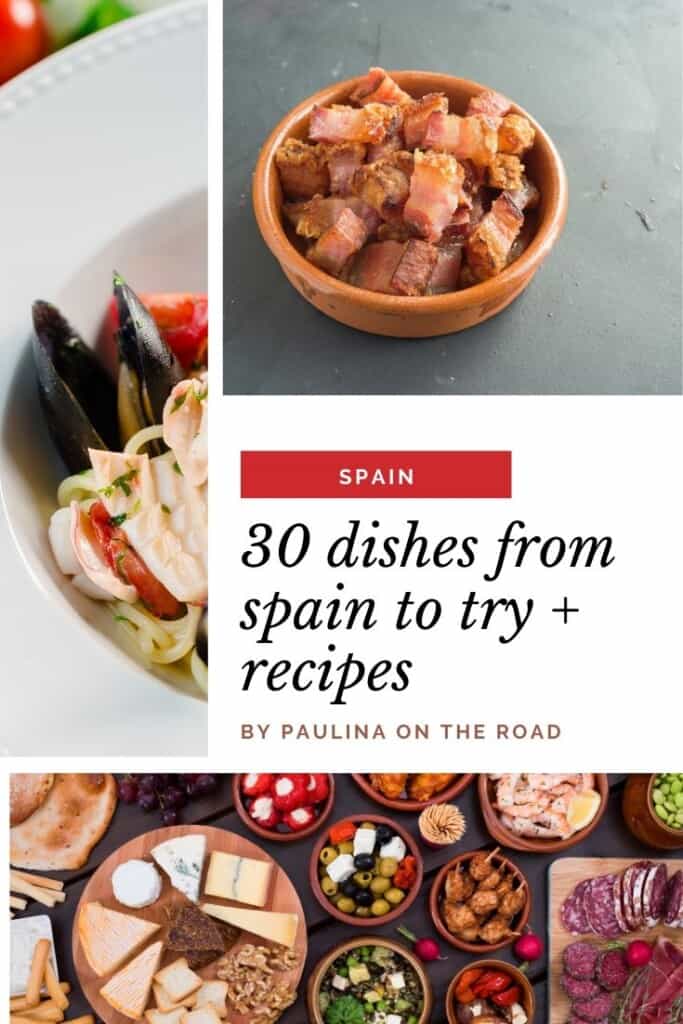 ---