A Foodie Guide to Spanish Christmas Food, including Starters, Warm Spanish Food, Desserts & Christmas Desserts
Christmas is a big deal in Spain. Not only because it has a lot of festivities going on during this holiday season, but because people get to spend special time with family and friends.
Well, to be honest, there are a few unique traditions to look forward to if you are visiting Spain during this time of year.
The best one is that you get to enjoy the Spanish Christmas food that tastes even better when shared in such a genuine atmosphere.
Spanish food culture is one of its most famous features, and for a good reason. It is a foodie paradise of sorts, and just imagine tasting Spanish Christmas food?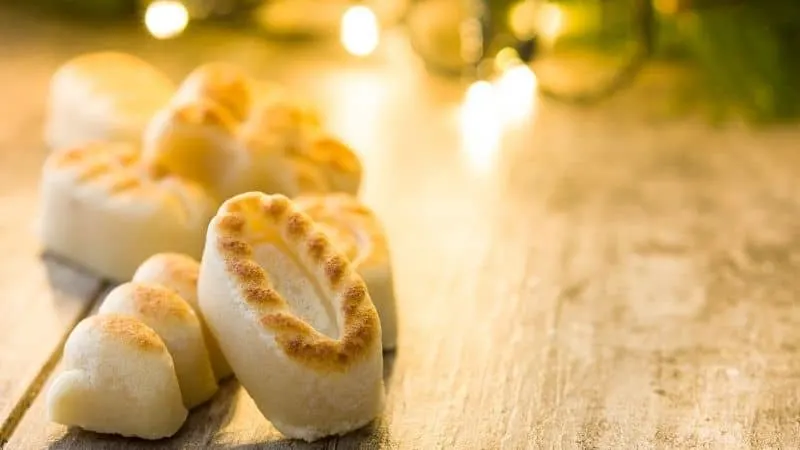 You can hardly find that amount of dishes that vary in taste anywhere else. They also have an option for any budget, and many of these dishes can be prepared within minutes!
So, regardless of your location during the holiday season, here are some of the best meals you can try. Or even prepare (I included a few Christmas recipes) for yourself or the people you plan to spend Christmas with.
The ultimate goal is to enjoy Christmas and New Year, and it just so happens that I am writing about the 25 best Spanish foods for that purpose.
"Paulina on the Road" is supported by you, dear reader. As you buy through my links, I earn a small commission. As an Amazon Affiliate, I earn from qualifying purchases. Thank you for your support
Starters: Cold Spanish Christmas Food
1. Entremeses: Chorizo, cheese, lomo…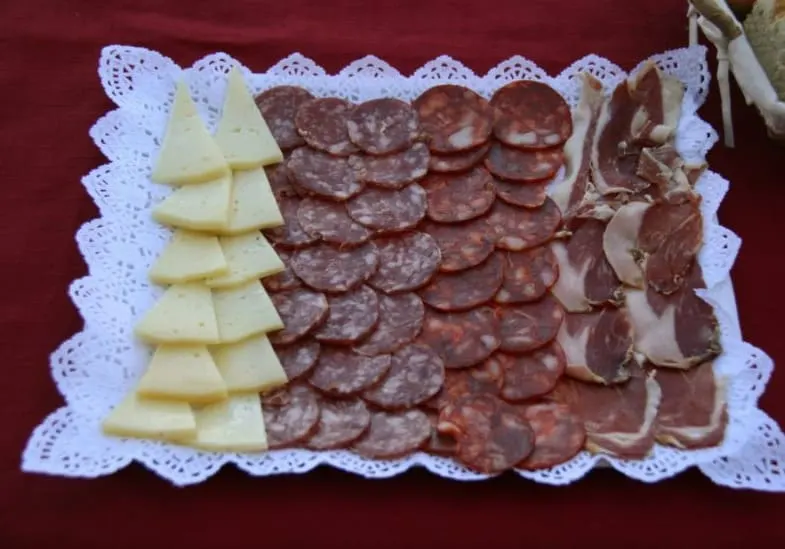 When it comes to tasty and easy Spanish food, entremeses should probably be among your top choices. They are appetizers that are extremely easy to make, and they are an essential part of the Spanish Christmas menu.
They mainly consist of hand-carved food slices, and the most authentic Spanish food that goes in entremeses are chorizo, cheese, and lomo. Still, if you have some Jamon, you can mix it up a bit.
You just need a few minutes, a bit of creativity, and voilà; it's done!
2. Boiled Shrimp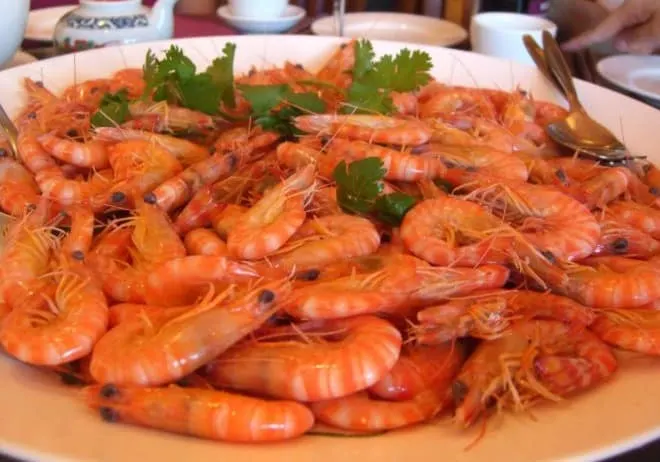 Another super easy dish that should be on the list of Spanish food to prepare is the boiled shrimp.
Spanish people love it, and it's no wonder that preparing seafood is not only famous Spanish food in general but also a Spanish Christmas tradition.

You don't need many ingredients (except shrimp, you need water, some ice, sea salt, and a slotted spoon).
It takes no more than 7-8 minutes to prepare them, perfect for the busy holiday season!
3. Iberico Ham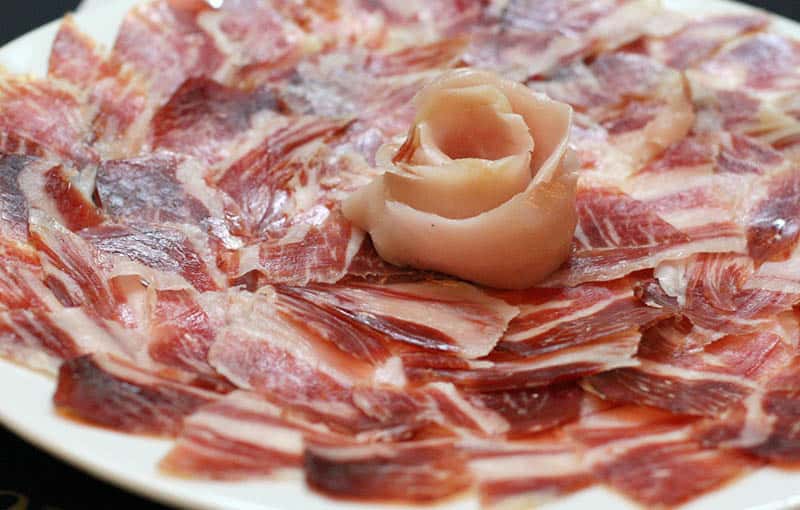 Jamón Ibérico is a ham that Spain takes pride in. It is one of the most popular Spanish food. Also, it is one of the main ingredients in numerous meals, whether we are talking tapas, appetizers, or meals, during regular days or holidays.

Iberico ham has an incredible taste, and it can be served on its own. It's the ultimate Spanish Christmas food and cannot be missed at any party.
However, you can mix it with all sorts of vegetables, eggs, cheese, and so on, and make beautifully decorated plates to enjoy while watching Spanish Christmas movies with friends.
4. Spanish Garlic Shrimp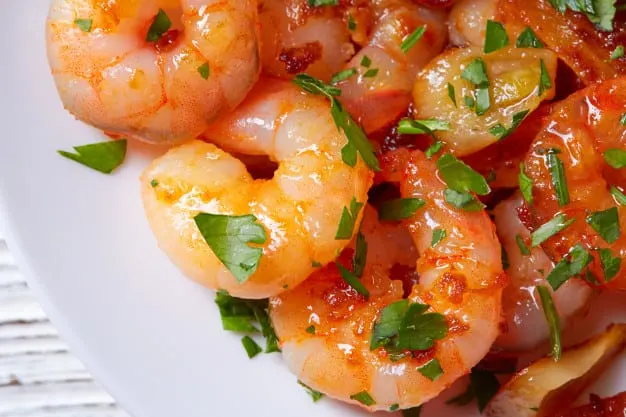 In the case of Spanish culture food, nothing beats a good tapa. Gambas al Ajillo or garlic shrimp is a classic spicy Spanish food dish.
It is very popular to prepare seafood during the holidays. This one is exciting because it has a rich flavor, and it is one of the easy Spanish food recipes.
Follow this recipe and try to make it on your own:
5. Boquerones en vinagre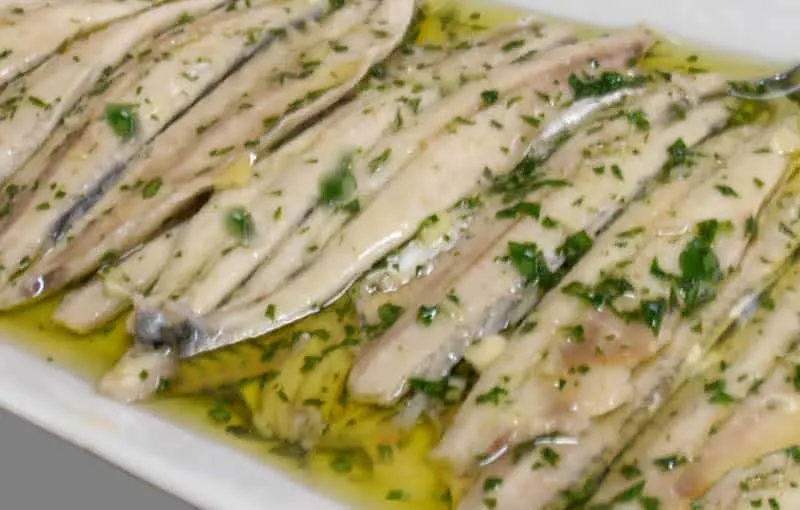 Marinated anchovies or boquerones en vinagre is another popular Spanish food that is commonly made not only during Christmas but in general.
You can find it all year round, but it is also served as Spanish Christmas food as it is one of the most traditional Spanish tapas.
If you want to make them at home, you should know that the secret of the boquerones is that they are marinated in vinegar and virgin olive oil.
Also that they are usually dressed with parsley and minced garlic. It's one of the top choices of Spanish Christmas food.
Recipe: Spanish Boquerones en Vinage
6. Marinated Cazon Fish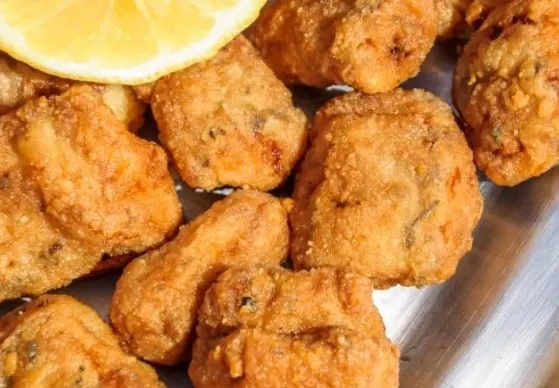 If you are particularly fond of Spanish finger food, and a fan of Andalusia, then you'll be happy to know that during Christmas, it is customary to prepare one of its most famous tapas; marinated Cazón fish.
It's not complicated to make it, and you don't need a lot of ingredients – dogfish, and a lot of seasoning (oregano, paprika, cumin, salt, vinegar, garlic, and oil).
But to get the most out of the taste, you'll need to leave it in the fridge before frying it for at least 7-8 hours.
Also, if you happen to have vegetarian or vegan friends over for the holidays, there are alternative recipes that include tofu or nori flakes rather than fish.
7. Tetilla Cheese Puffs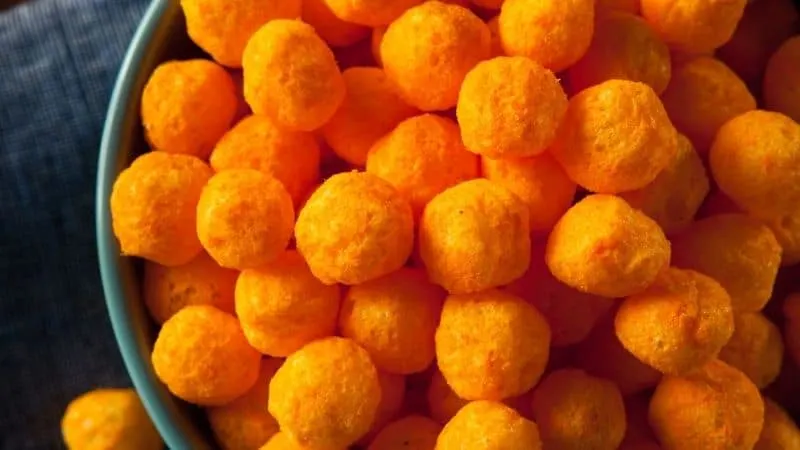 One of the main reasons we love Christmas is that we get to eat a lot of homemade food.
So, for a person who wants something simple, delicious, and yet to be a traditional Christmas food in Spain recipe, Tetilla cheese puffs are a perfect choice.
What makes these cheese puffs typically Spanish is its main ingredient – Tetilla cheese made in Galicia, a region in north-western Spain.
Buy Spanish tetilla cheese here
You can try out the recipe below:
First Course: Warm Spanish Food for Christmas
8. Seafood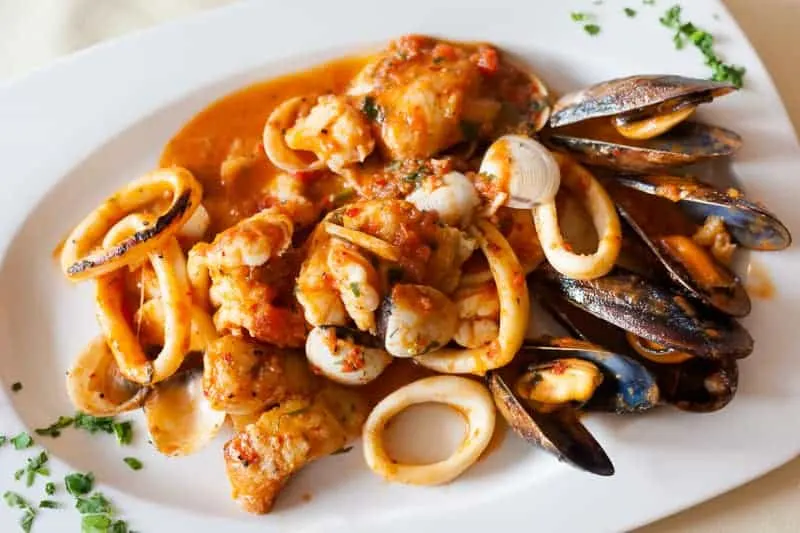 Seafood plays a major role in the Spanish kitchen. Whether we talk about traditional or modern dishes, it is difficult to imagine that meals, especially in Southern Spain, don't have one or more seafood ingredients.
In fact, many of the most popular Spanish food include seafood as the main part.
The frequently eaten seafood are usually shrimps and all kinds of fish because they are delicious, affordable, and not complicated to prepare.
9. Galets
A traditional Christmas lunch in Catalonia wouldn't be complete without warm soup known as Sopa de galets. There is more than one way to prepare Sopa de galets, so you can choose if you'd like to use only vegetables or meat, or both.
The usual way to make this soup is to make pasta and a broth, or to make pasta, broth and to add meatballs in it.
Make sure you eat it warm as it is the way they eat it in Catalonia. It's one of the best Spanish Christmas food from this region.
10. Cured Ham Croquettes
Croquettes are another example of typical Spanish food, and the number of variations in recipes is enormous.
When it comes to the ham as one of the common ingredients in Spanish meals, it should be no surprise why ham croquettes are also present as a Christmas food in Spain.
Most of the ingredients such as eggs, bread crusts, salt, pepper, milk, flour, onions, and oil can be found in our homes.
The only thing you might have to buy is the ham itself, and you can start cooking. It's an inexpensive dish, yet a feast to the senses.
11. Spanish Berenjenas con Miel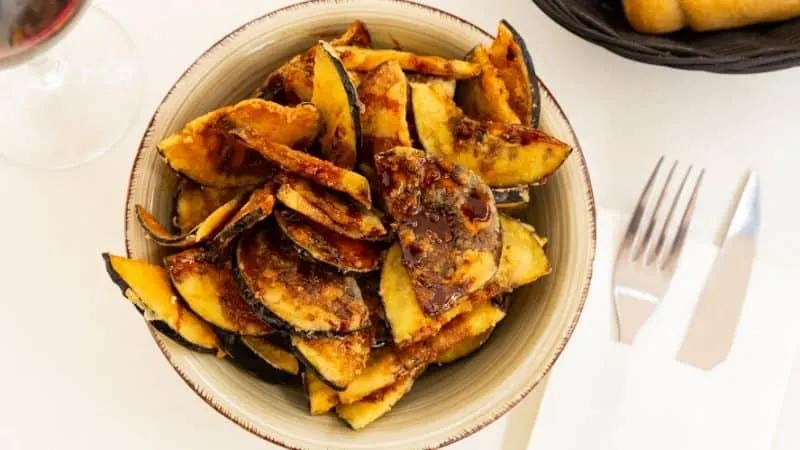 The tapa culture in Spain is amazing and diverse. For example, if you ever visit Sevilla, you will learn that Berenjenas con Miel is one of their signature tapas.
This one is especially popular among people who don't eat meat as it is one of the few original tapa recipes that are not altered to be vegetarian.
The great thing is that you need about 15 minutes to prepare it, and you need two eggplants, flour, pepper, milk, salt, olive oil, and honey.
It is a delicious fried and crispy tapa that can quickly become Spanish food from Spain you'd regularly enjoy.
Check the complete recipe here
Second Course: Hearty Spanish Christmas Food
12. Cochinillo Asado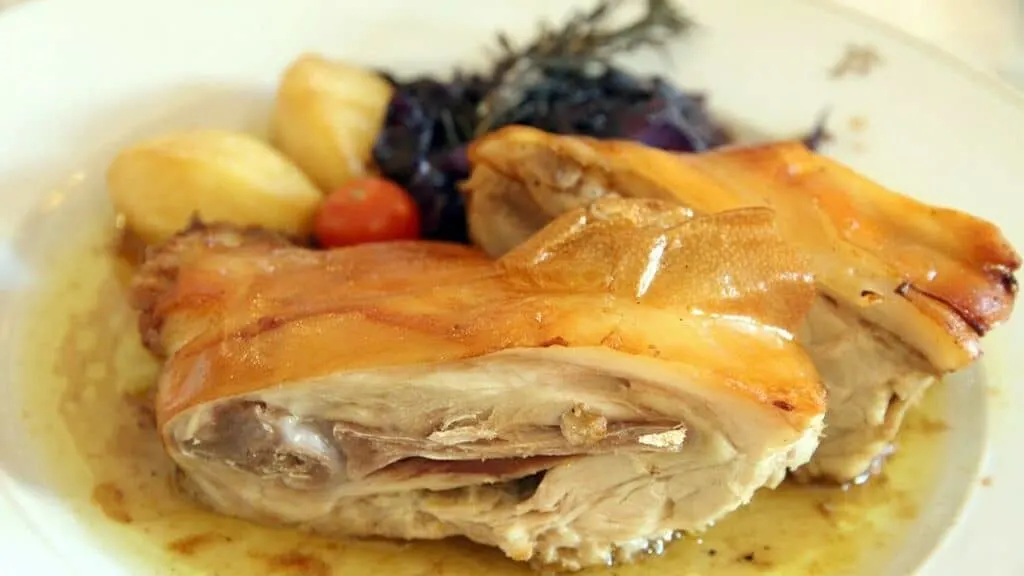 If you want to feel Spanish for merry Christmas during the big family gatherings, you should consider Cochinillo Asado or the roast suckling pig. It is the most typical among the typical holiday meal recipes, and it originated in the city of Segovia.
The preparation of the roast suckling pig is not complicated, but it does take time and skill as you need to get the seasoning right.
Also, you should keep in mind that this pig, unlike the pigs we are used to seeing in the markets, is a lot smaller, so make sure to search for the proper one.
13. Lamb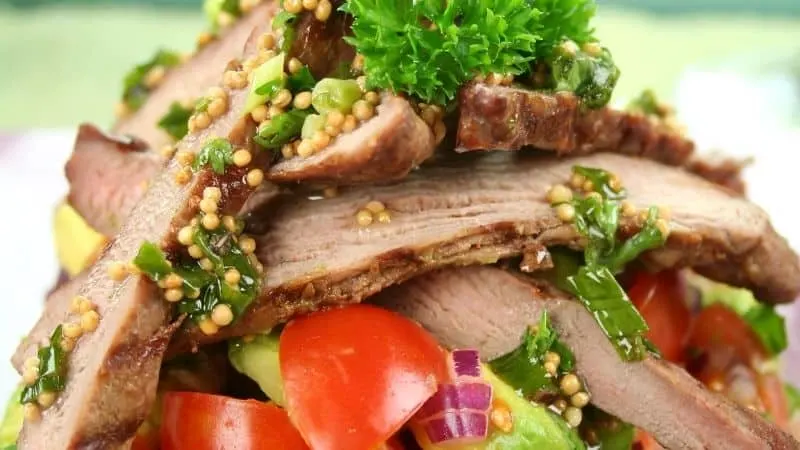 Depending on the region you want to explore in Spain, the Spanish Christmas dinner can be very different.
Still, the simplest dishes are usually the best ones, and a proper roast lamb is just that. Like with any other meat, it takes time to roast a lamb to perfection.
You should keep it at a low temperature for at least a few hours to get the tender and smooth texture.
To make it even more traditional, you can serve it with potatoes and onions.
14. Paella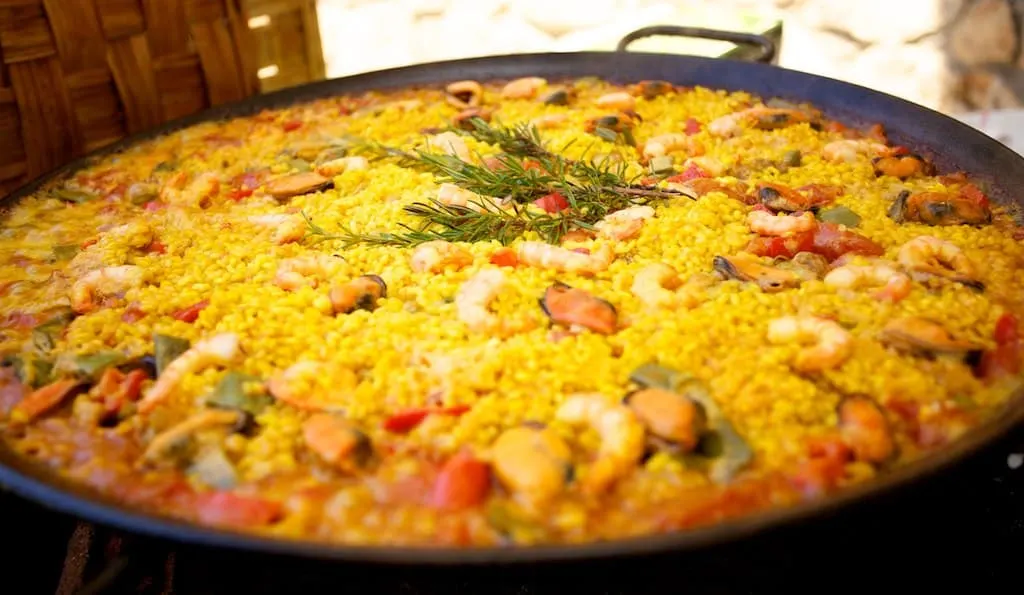 There is no chance to talk about Spanish cuisine without mentioning Paella. It is by far the most known dish from Spain, not to mention it's the incredibly interesting historical background and the variety in recipes.

To make a real paella, you'd need to have a special paella pan. It is usually made with either seafood or chicken and rice.
Although it isn't quite the same, there are ways to make paella without having any special equipment, and enjoy this exquisite food journey through Spanish history.
15. Baked Fish with herbs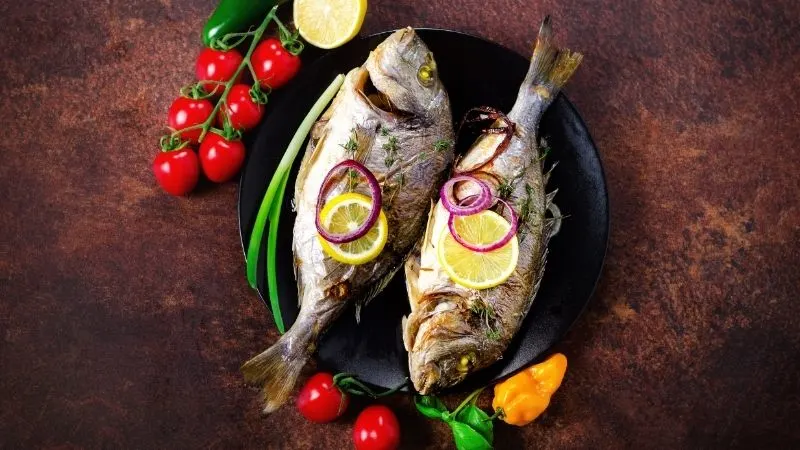 If you'd rather have fish for your big Christmas meal rather than lamb or pork, Spanish cuisine won't fail you (it is not called a foodie paradise for no reason).
The packed flavor can come from many things, but one commonly known in north-west Spain involves herbs such as rosemary, thyme, and oregano, among other ingredients.
Here is an easy Spanish Christmas recipe:
Spanish Christmas Desserts & Sweet Food
16. Spanish Christmas Cookies – Spanish Almond Cookies (Polvorones)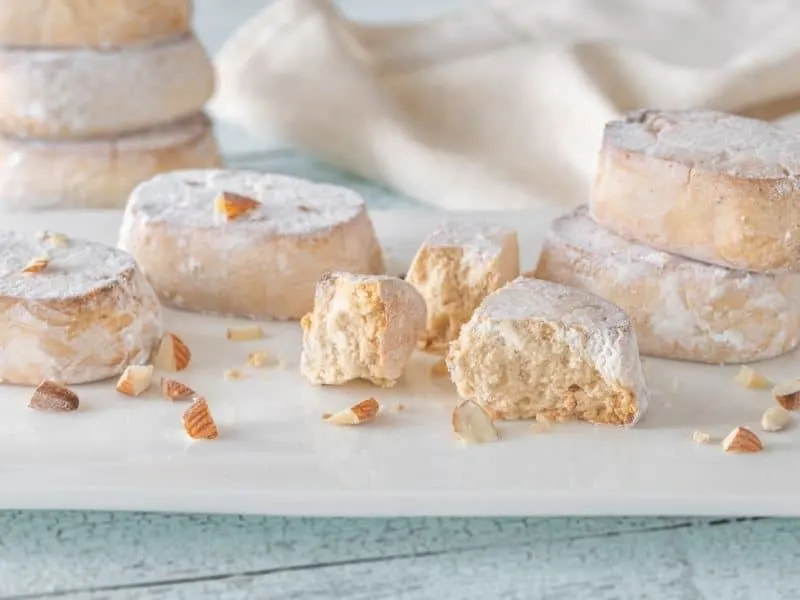 Almond cookies are Spanish Christmas cookies that are also known as Polvorones.
It's interesting to know that Polvo means dust in Spanish, and the name is connected with the fact that these cookies are covered with a lot of sugar that makes them "dusty".
Just like Paella, these cookies also have a rich historical background rooted in the era of the Spanish Inquisition.
They are easy to make and certainly a perfect choice for the whole family to enjoy while setting Spanish Christmas decorations to enjoy the full experience of Spain.
Buy traditional polvorones here
The Spanish almond cookies can be made by the following recipe:
17. Turrón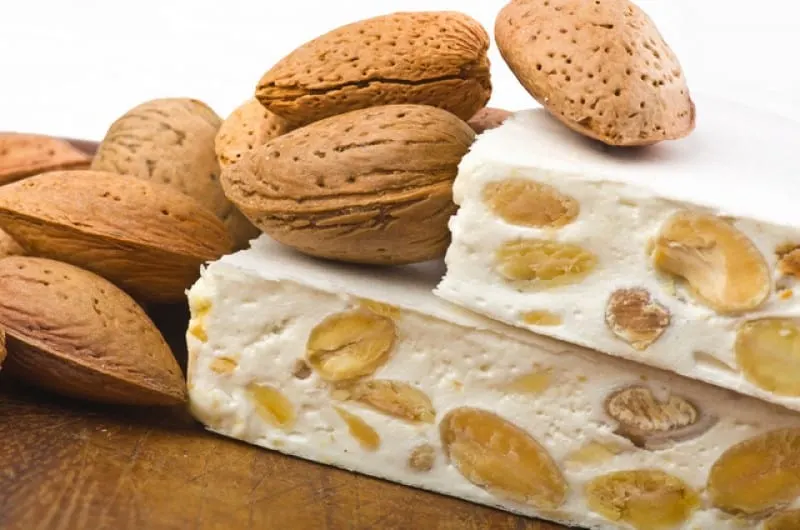 Turrón is one of the special and unavoidable Christmas sweets in Spain, one of the top things that Spain is known for. It is said that historically, Moors brought it while trying to conquer the land somewhere in the 13th century.
Although there are plenty of Turrón recipes throughout the country, the classic version has one special ingredient – toasted nuts. You also need eggs, sugar, and honey to fully enjoy it.
It would be hard to imagine that almost every house in Spain during Christmas doesn't have at least one kind of Turrón, and nowadays they often make it any time of year.
If you are spending winter holidays in Spain you can't leave without tasting Turrón from small, local shops.
18. Mantecados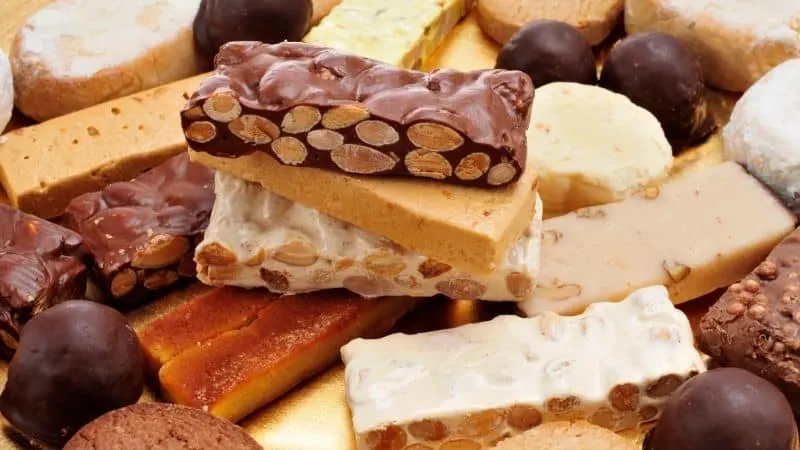 Another Andalusian treat – this time the sweet one, that will make you feel the joy of Christmas.
Polvorones and mantecados are an essential part of the Christmas tradition, and they are usually homemade and served as cookies in oval and round shapes.
Polvorones have this polvo or ''dusty'' in their name because they are sprinkled with sugar and crumble when you're not careful. Mantecados got their name from the type of fat that is used as an ingredient.
Although some people won't find them fancy, these cookies are one of the best ways to make you feel at home. Isn't that what Christmas is all about anyway?
19. Roscón de Reyes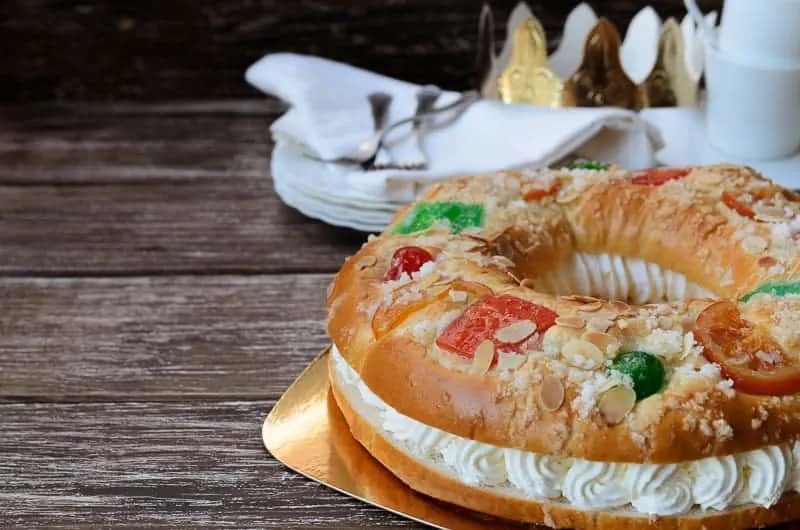 Well, the festivities in any Spanish house wouldn't be complete without making the Kings' cake to celebrate January the 6th, the day of Reyes Magos. This is a crown-shaped sweet-bread like a cake made once a year.
It is usually topped with something colorful and sweet, and stuffed with whipped cream or chocolate. It is also customary to put a ceramic figurine in the cake, and whoever gets it in the slice, gets good luck for the year.
It's one of the most typical Spanish Christmas foods.
20. Marzipan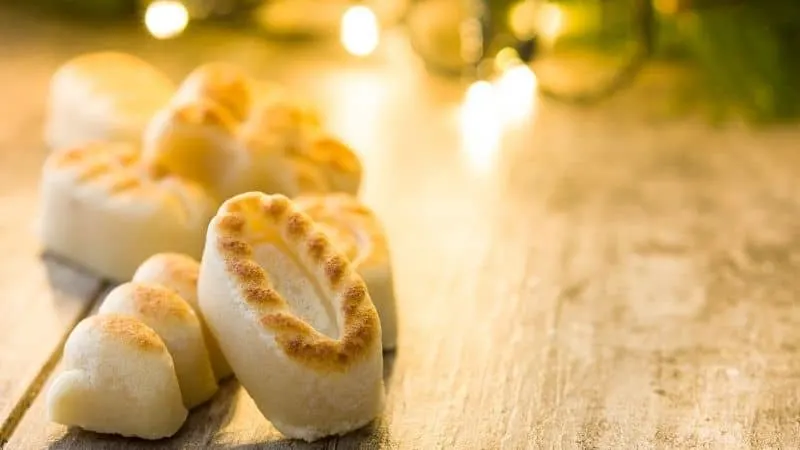 One of the most famous marzipan is marzipan de Toledo, a Christmas dessert from the Toledo region in Spain.
It is made from almond, sugar, flour, eggs, and water and in different shapes.
Just like the almond cookies, marzipan is also a very popular homemade dessert.
It is super easy and affordable to make, and once you try it, you must love it. It is a great dessert to enjoy the holidays without worries.
21. Spanish Flan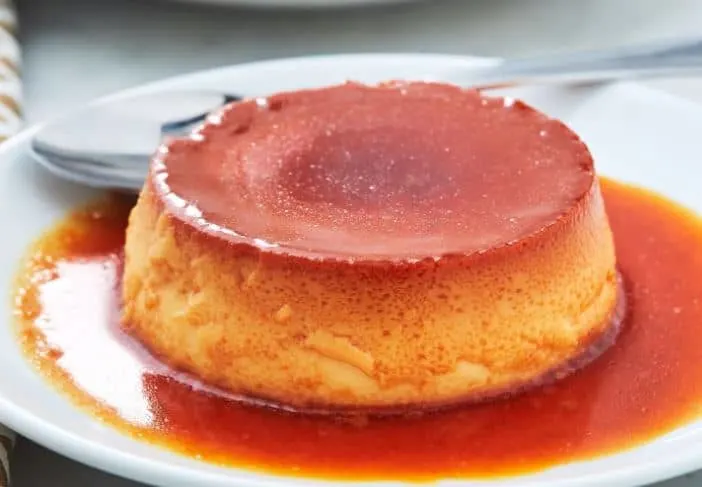 Spanish flan is a must-try item on a Christmas dessert menu. It is one of those sweets that makes you jiggle inside, in a positive way.
It takes only four ingredients to make it, and in less than an hour and a half, you get to enjoy one of the most popular Spanish desserts for Christmas.
It is smooth and silky, and it is vanilla; you can't go wrong with that.
22. Churros con chocolate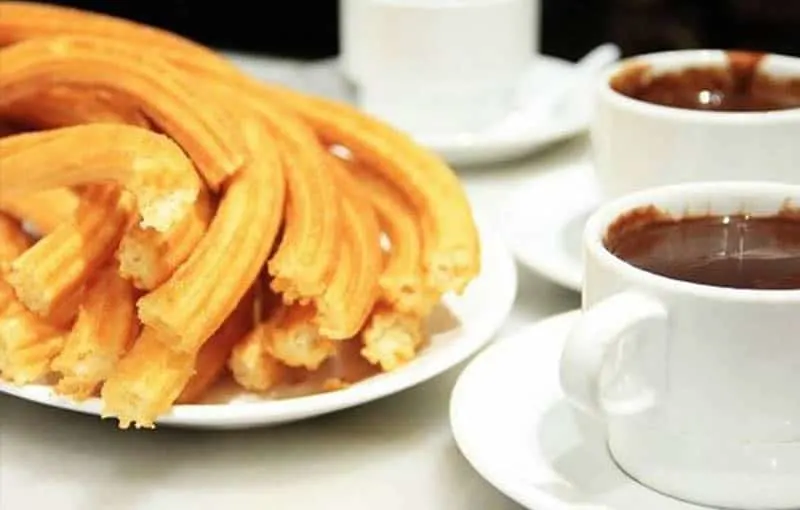 Did you know that the oldest churrerias in the world are located in Spain? When you ask about the first thing that comes to mind about food in Spain, most likely churros would be in the first two things.
It is one of the best snacks from Spain, and a must-try food to try in Madrid.
Spain indeed has many trademarks, but when it comes to food, churros are one of the most recognized. It is no wonder why churros con chocolate can be found as one of the sweet parts of the Christmas celebration.
There are two main parts of this dessert – the fried dough and the chocolate sauce to dip the churros in. And that's it, it's as simple as that.
If you want to make it at home, have a look at this heart-warming Spanish hot chocolate recipe.
23. Yemas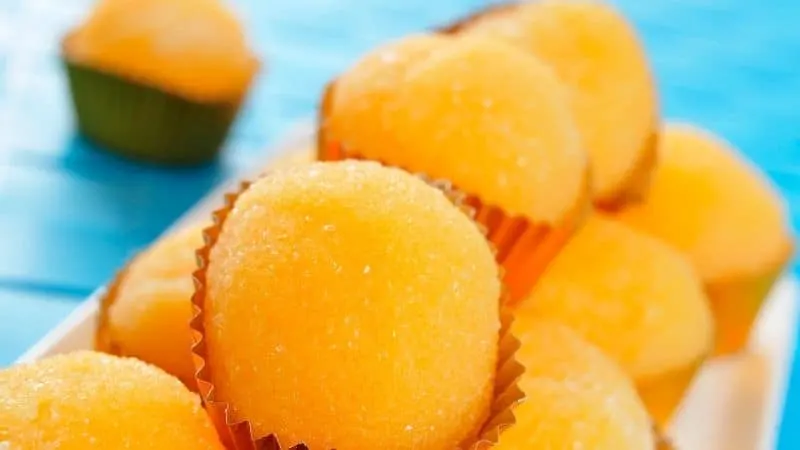 Yemas or egg yolks are another traditional dessert. The term yemas is connected with Santa Teresa, and it is said that they originated from her birthplace, Ávila.

The yemas are just egg yolks with sugar and water, baked with a certain technique. The secret is that after you finish, you have to let them sit for at least 24h before serving them.
That way you get a nice, crystalized yolk mixture that is nice to see and tasty to consume.
Spanish Christmas Drinks
24. Cava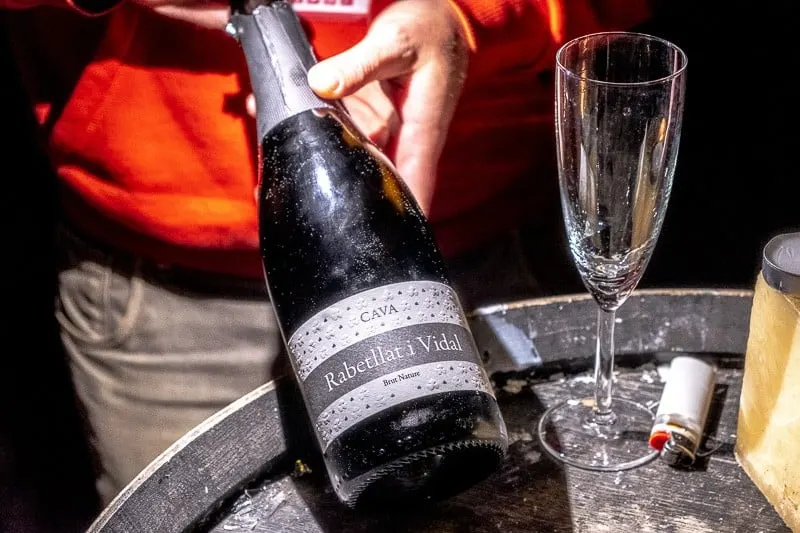 Just as it is important to have the best food during the holidays, it is equally important to have a great wine to completely enjoy the days off. Spanish Cava is what we would know as champaign.
It goes back to the 19th century, and since then, it is one of the most respected Catalan drinks.
Of course, everything sparkly just goes with the Christmas spirit, and what a better drink to complement it than sparkling wine? There are many varieties of Cava, and they all go incredibly well with Christmas lunch or dinner.
If you're in Catalonia, don't forget to visit wineries near Barcelona to learn more about the winemaking process.
25. Jerez Dulce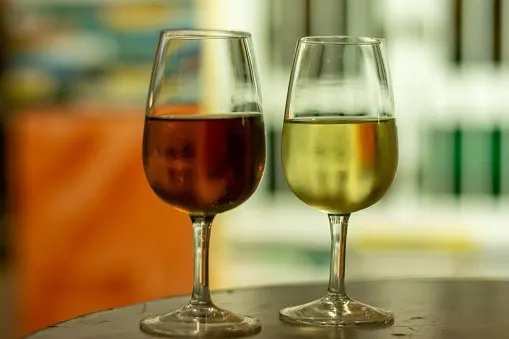 Regardless of being stuck with some daily tasks or enjoying the most important holiday meal, Jerez Dulce is a drink to keep nearby.
They are naturally sweet, and since sherry in general needs a lot of time to age properly, Jerez Dulce can't be a wrong choice.
If you're wondering what to eat in Spain at Christmas time, Jerez wine is a must!
---
Quick Overview of Christmas traditions in Spain
Traditional Spanish Christmas lasts for days, and there are a lot of events going on. Not only the most beautiful places in Spain, but every single town in Spain is beautifully decorated during this time of the year.
The legendary Spanish Lottery
One of the biggest is the Spanish National Lottery, also known as El Gordo. The fun fact is that it is the biggest lottery in the world (held since 1812), and more or less, the whole of Spain participates in it.
Also, it is customary that instead of the classical Spanish Christmas song people sing the lottery winning numbers.
Christmas Mass in Spain
For those who are eager to celebrate their faith, there is also La Misa Del Gallo organized on Christmas Eve. This Misa is also known as the Midnight mass. It is common to eat a Christmas dinner before or after this event.
Reyes Magos bring the gifts
Although there are many more interesting traditions from the country, I would mention two more because they are rather unique.
The first one happens on January 6th, and it is called Los Reyes Magos, or the three kings who are known to give sweets and presents to the children (not Santa Claus).
---
A short FAQ about Spanish Dishes for Christmas
What is a traditional Christmas treat in Spain?
The most traditional Christmas treats in Spain are turron, pestiños, and marzipan
What are some Spanish Christmas traditions?
Some of the most popular Spanish Christmas traditions are the Spanish National lottery, El Reyes Magos and Midnight mass.
What are typical Spanish Christmas desserts?
Some very typical Spanish Christmas desserts are Polvorón, Mantecados, Roscón de Reyes.
You can't get enough of Spanish Christmas food? Have a look at my Google Story here.
---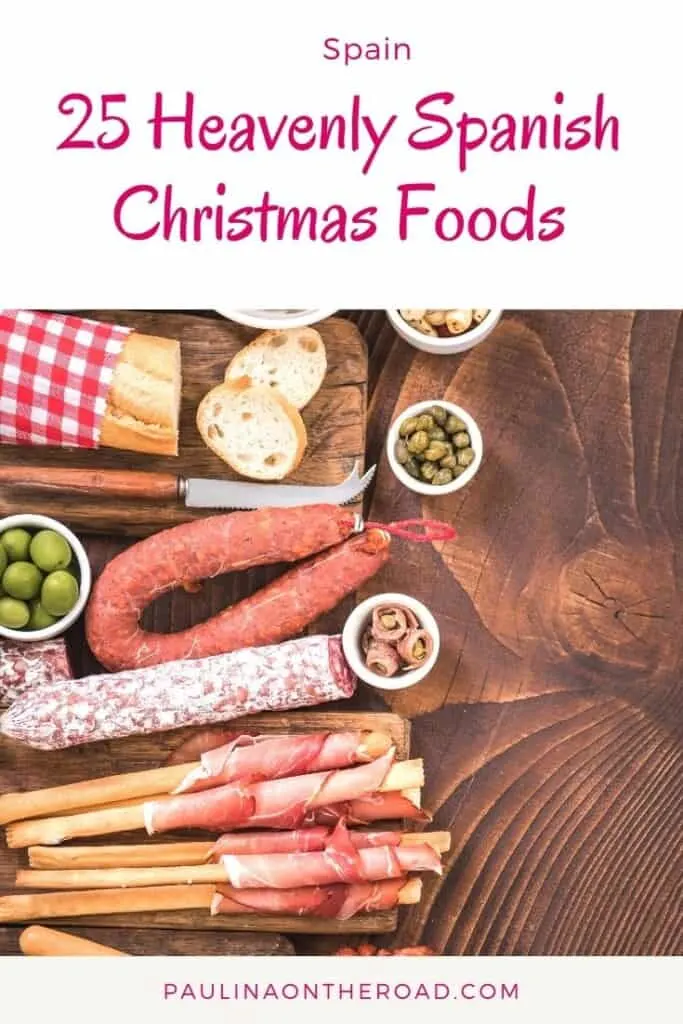 ---
Hola! I am Paulina, a fervent travelette who crossed the Atlantic Ocean by Boat HitchHiking. On my blog, you'll find all the tips to make the most of your holiday. Get ready to enjoy outdoor and sustainable travel like hiking, cycling or sailing. Let's hit the road together!