A
Buenos dias from Spain, or Bon dia as they say here in Catalonia. Be aware, this post comes with a mission! Specifically, I want to convince you that traveling to Barcelona holds so much more than the endless queues of Sagrada Familia, Casa Gaudi, and Camp Nou.
Indeed, there is a more laid-back and involving form of tourism to Barcelona. I am talking about a wine tour to the quaintest wineries near Barcelona!
Have you been already a few times to Barcelona or you fancy a getaway from the hustle and bustle of the Catalan capital? Well, look no further, as a winery day tour from Barcelona with Wine Tourism Spain will show you the least expected side of Barcelona by bringing you to the tranquil countryside of Catalunya.
Let's go wine tasting from Barcelona to the countryside and visit the prettiest wineries near Barcelona.
---

Like it? Pin it!
---
Why go on a Wine Tour near Barcelona
Because it makes you happy!
Not only will you learn a lot about wine culture in Catalonia, but also will you get a unique opportunity to get to know and interact with real Catalan people… which will not necessarily happen when you stay in Barcelona! Indeed, the city became so international, that it will be quite unlikely to talk to a local from the Ciutat Condal.
As a fervent militant of slow and sustainable tourism, I consider it vital to talk and learn from the local community. Because it's at that moment where you learn something new and create special memories that will make your holidays truly unique.
Thus, even if you are not a wine connoisseur (I am definitely not!), you'll have a blast and discover a different side of Barcelona. It's enough to be a wine lover or simply being curious about life in the countryside of Barcelona.
The wineries are located at less than 45 min from Barcelona downtown, so you'll easily visit a few during a single wine tour from Barcelona with Wine Tourism Spain.
How to get there
Book a tour with Wine Tourism Spain. They have a wide range of group and private wine tours departing from the city center of Barcelona.
The choice is yours ranging, from Montserrat wine tours to ecological wine tours. Most include a delicious tapas meal. – Check here the tours to wineries near Barcelona.
Where
In the countryside behind Barcelona which is shaped by the mountain Montserrat, famous for its Benedictine abbey. The mountain with the characteristic jagged appearance separates the wine areas of Penedes and Pla de Bages.
Both wear the prestigious D.O. (denomincación de origen – the designation of origin) label. Not all wineries close to Barcelona can be visited though.
Montserrat separates Penedes from Pla de Bages where only 18 cava production sites remain.
When
All year round! From November to February is low season, which is great as you'll get to ask loads of questions to the guide and the wineries will not be as crowded. High season for wine tours near Barcelona, Spain lasts from May to October.
Wine Culture in Catalonia and Why it matters
Cava Tasting in the Dark
Viticulture in Catalonia dates back several centuries and is intrinsically linked to the local culture.
Indeed, wine production near Barcelona started several hundreds of years before the Romans even arrived in the region. The Greeks, the Iberian, and the Phoenicians introduced winemaking in Catalonia. But it was intensified only after the Romans arrived in Spain.
Similar to France, Catalonia was severely hit by the phylloxera which considerably reduced red rootstocks. That's why the Catalans increasingly started growing white grapes which were later particularly coveted for cava production.
However, cava, the most emblematic export and beverage of the region, was only invented in the late 1870s in the Penedes region.
Undeservedly, cava is currently undergoing an image problem which I will address later in this post.
So, why is it so important to go on a wine tour near Barcelona? Well, let me share with you some of the reasons:
Barcelona became a victim of its own success with 80 million people visiting the city last year. A wine tour near Barcelona is thus a great opportunity to take travelers out of town and share with them the beauty of the Catalan countryside.
The benefits of tourism are shared more equally. Thanks to wine tours, small, local businesses are supported and viticulture, a culture of thousands of years, is preserved.
It's a unique opportunity to interact with the local community.
Everybody has seen the Sagrada Familia. But who has been to Barcelona and discovered a winery from the 10th century located in a medieval castle and making wine for 36 generations?! A wine tour from Barcelona will make your trip unique.
The guide of Wine Tourism Spain will give you first hand, insightful information about Catalan identity, history and winemaking. For me, a wine tour near Barcelona is more personal and participative than a mere sightseeing tour.
Wine tourism in Catalonia is thus the perfect way to give your holiday a unique touch and go beyond the traditional "bucket-list" attractions of Barcelona.
I went to the Cava & Wine Tasting tour and I'll share with you some of the highlights of this wine and cava day trip from Barcelona. This trip has great reviews on TripdAdvisor and you can book it here.
Cava Tasting in the Dark
1.Winery: Cava Tasting in Ca N'Estella
The first winery near Barcelona that will be visited with Wine Tourism Spain is the Finca Ca N'Estella. This first stop will be all about cava as the winery produces some of the finest sparkling wines in the region. It's the perfect location for wine tasting near Barcelona.
Located in the emblematic Penedes region, Ca N'Estella is managed by the same family since 3 generations.
Even nowadays, you'll eventually stumble upon Anna, the current manager, her mother or her grandmother. Her grandfather Delfí Rabetllat i Vidal bought the wine estate in the 1960s after he came back from France where he was exiled during the Spanish Civil War.
The main building of the estate is an impressive, white finca.
Reflecting the warming Catalan sun and surrounded by grand vineyards, the finca reminded me of Zorro's house as you can see it in the movie: a spacious patio with growing lemon trees and purple flowers, the emblematic veranda with it picturesque arches… It really looked all like a movie set!
Such a picturesque setting
Ca N'Estella: A Family Owned Winery near Barcelona
The roots of the finca go back to 1874 when it was still owned by Joan Estella, hence the name of the property. Nowadays, the building is perfectly maintained and functions as a weekend and holiday home for the managing family. It's considered as one of the top wineries near Barcelona, Spain.
However, Finca Ca N'Estella is not only enchanting for the eyes but also for your paladar!
Even though the winery also makes great white, red and rosé wine under the brand of Clot Dels Oms, the tour focuses on the art of cava making. The cava of Finca Ca N'Estella is produced under the family name Cava Rabetllat i Vidal.
During our visit, we tried 3 different cavas, one of them in the dark in order to focus even more on the smell, taste and refreshing effect of the cava.
The tasting takes place inside the old bodega where Anna's first cavas and wines are still aging. After a quick and enjoyable introduction to cava making by our guide, he explained to us why Catalan cava is currently facing an image problem.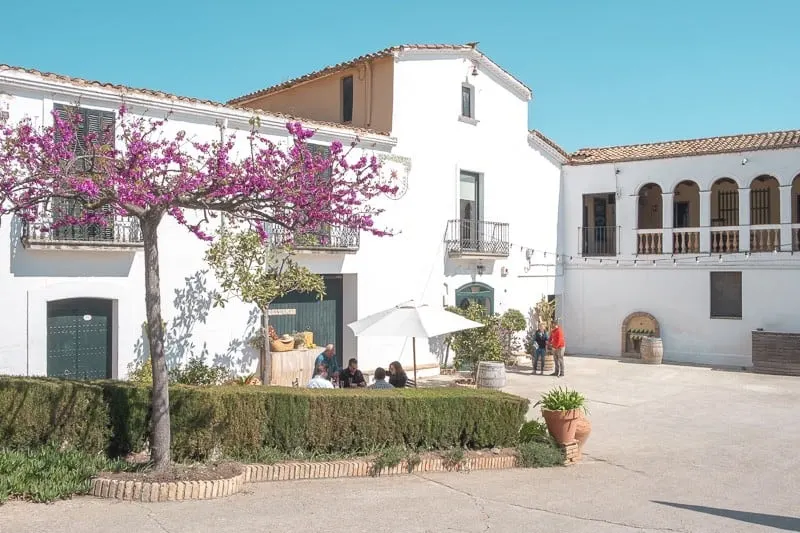 The image problem of cava
Catalan cava is produced in the exact same way as French champagne. However, only French sparkling wine made in the Champagne region can be sold as "champagne".
For the Catalan cava producers, this means that they cannot sell their wines for the same high prices as their French colleagues. Even though the quality of their products might be the same… if not superior! When looking for what to eat in Spain, cava is a must!
Recently, a few very large wineries in Catalonia, particularly from the Penedes, started selling Catalan cava for 2 € or 3 € in Northern European supermarkets. This contributed significantly to a negative image of cava which is now often seen as a cheaper and low-quality alternative to French champagne.
However, the cavas of wine estates such as Ca N'Estella are boasting world-class quality and have nothing to do with the headache provoking "cava" that you'll buy for 3 € in the supermarket around the corner.
Cava production as you can enjoy it with Rabetllat i Vidal is based upon decades of traditions and knowledge. The numerous awards won by the Rabetllat i Vidal family are conclusive witnesses of this fact.
That's why several cava wineries near Barcelona are now refusing to continue selling their sparkling wine as "cava". They created the "Corpinnat" label which stands for stricter production rules, based only on Penedes and with a strong focus on organic agriculture. The grapes must be hand harvested and buying bulk wine is forbidden.
Corpinnat, formed by the words "cor" (heart) and "Pinnat" (Penedes in Latin) hopes to recreate trust in the high quality of Catalan cava. Because cava is so much more than the sparkling bulk wine that you'll likely find in your favorite supermarket for a (too) cheap value.
By going on a cava wine tour near Barcelona, you'll quickly be convinced that cava doesn't lag behind champagne at all!
Book here a wine tour from Barcelona
Tapas Lunch in a Small Winery
Tapas Time!
Such an informative excursus definitely makes you hungry. Luckily, Wine Tourism Spain takes care not only of your thirst but also of your hunger! 🙂
The company puts considerable emphasis to showcase you also the most typical dishes from Catalonia.
Indeed, the lunch consisted of some of the most emblematic tapas from the region: pan amb tomaquet (breath with tomato), Spanish ham, coca catalana (Catalan "pizza"), ampadrat (bean salad) and the national classics such as Spanish ham, tortilla (Spanish omelet) and Manchego cheese.
RELATED: Read more about typical Spanish food
The tapas lunch takes place in the living room of the Rabetllat i Vidal family and enjoying some tasty tapas while being surrounded by old family photos was definitely an experience.
The house is just so scenic, that you'll feel like you travelled back in time. Day wine tours from Barcelona will provide you thus a unique insight in the local community.
However, I recommend having a more hearty breakfast before you go on this tour, as the lunch consists of tapas which cannot be compared to a full lunch. And as you know, it's crucial to have a solid foundation in your stomach when doing a wine tasting excursion. 😉
Typical Catalan Tapas
2. Winery: Wine Tasting in Oller del Mas
The setting of Oller del Mas
The transfer from Ca N'Estella to Oller del Mas only takes 45 min and takes you from the famous Penedes region to the less known DO (designation of origin) of Pla de Bages.
The route is super scenic as it circumvents the characteristic Montserrat mountain. A visit of Montserrat monastery can also be easily combined with a Montserrat Wine Tour.
After leaving Montserrat behind us and driving for a while through the Catalan countryside, the majestic castle of the winery Oller del Mas towers in front of us.
The castle with its wide interior patio throws you right back to the ages of knights and craftsmen. The origins of the castle go back to the 10th century and the managing family is making wine since 36 generations.
And this without ever losing of its high-quality standards: that's one of the many reasons why Picapoll red from Oller del Mas was voted as best red wine in Catalonia 2019! With this, Oller del Mas is one of the best wineries near Barcelona.
Oller comes from "potter" in Catalan and refers to the pottery craft that was practiced by the family during the medieval ages. The current owner revived the legacy of his ancestors and produces some of his wine in old clay barrels.
Wine Tourism Spain is the only tour operator that can organize visits and tastings in this prestigious winery. After a short visit to the castle, it's about time to taste the wines of Oller del Mas. Some Manchego cheese is waiting for us on the table, it's perfect to pair the intense aromas of the wines we are about to taste.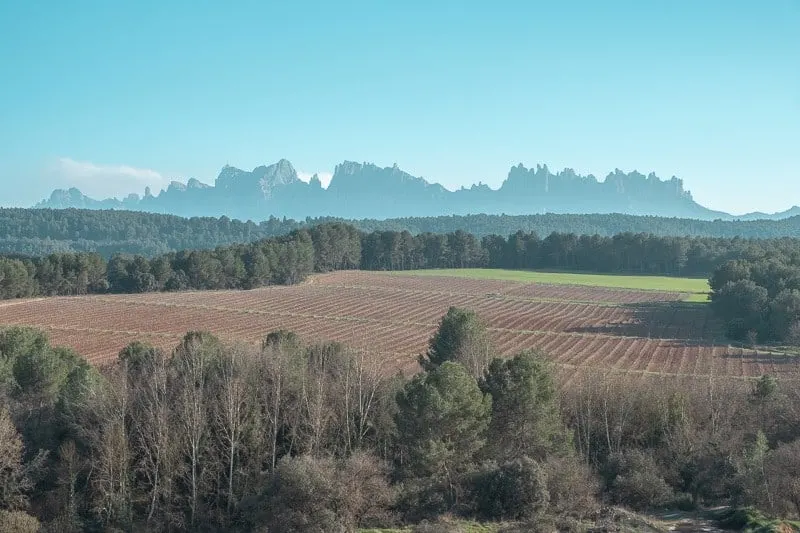 Why Oller del Mas is Different
During the tasting of 2 red and 1 white wine, our guide explains to us how Frank, the current manager, decided to produce wine with a different approach.
Starting as a winemaker when he was 27, Frank was facing extremely high expectations of the legacy of his ancestors. Well, his reaction was: "I just continue doing my 8000 bottles, and if nobody buys them, I will just drink them with my friends".
Who would have imagined that with this attitude he would win the prestigious award of "Best Wine in Catalunya" in 2019?
Frank started doing things differently as his father. He got into vermouth and even craft beer production. He rescued local grape sorts from oblivion and started using only local grapes for wine production at Oller del Mas such as picapoll, macabeu, samsó, Malvasia manresa…
Nowadays, it is extremely hard to find wine ONLY made with regional Catalan grapes… Thus you'll definitely drink a little treasure when having a glass of Oller del Mas wine!
Today his wines are vegan-friendly and proud to be 100% Catalan. Even the corks come from Catalonia and 5% goes to charity purposes. Frank also only uses light glass for a low CO2 impact. Among others, the wines of Oller del Mas got the European organic certificate which is extremely hard to get.
All in all, is there anything more rewarding than doing things your style and ending up having success?
Book here your Montserrat & Oller del Mas tour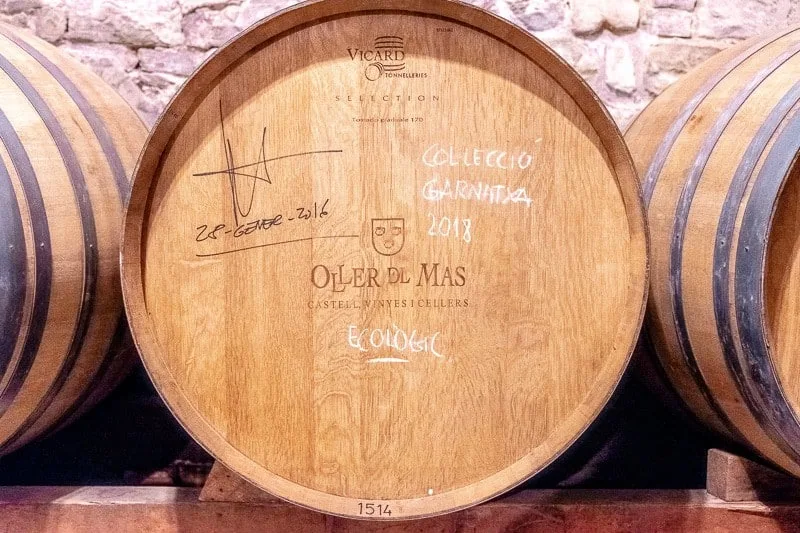 Why Wine Tourism Spain for your Wine day trip from Barcelona?
Happy in Catalan Countryside
Wine Tourism Spain is a local company that helps small, regional wineries to have an additional income. Their aim is to bring travellers from the hustle and bustle of Spanish city centers to the relaxing countryside in order to learn and enjoy the beauty of Spanish wine regions. Wine tasting tours in Barcelona, Spain are thus a great way to learn more about Catalan culture and heritage.
Managed by only 25-30 people and not working with seasonal contracts, Wine Tourism Spain will confer your stay a different touch by turning it into wine tasting holidays in Spain.
The company has been experiencing growth over the last years, which is mostly due to the fact that it offers the best wine tours in Barcelona.
All the excursions can also be transformed into a private wine tour Barcelona.
Everybody has seen the Sagrada Familia, but who can claim to have enjoyed the best awarded Catalan wine in a medieval castle or finca managed since several generations by the same family?
Book here your Spain wine tours from Barcelona
Read more about the 10 most famous buildings in Barcelona
Read more about how to spend 48 hours in Barcelona
---
---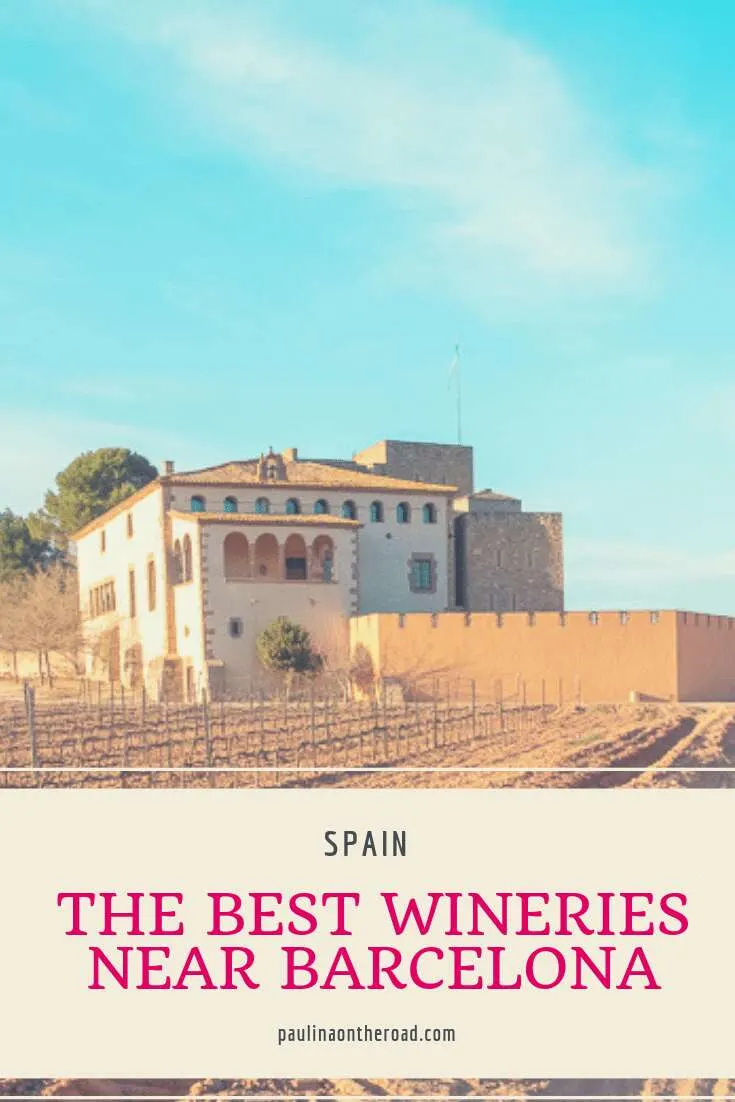 Hola! I am Paulina, a fervent travelette who crossed the Atlantic Ocean by Boat HitchHiking. On my blog, you'll find all the tips to make the most of your holiday. Get ready to enjoy outdoor and sustainable travel like hiking, cycling or sailing. Let's hit the road together!