A guide to the most iconic buildings, famous architects and famous landmarks in Barcelona, Spain
If you're planning a trip to Barcelona, Spain, then there are lots of sights to see and experiences to be had!
On the must-see list for many is some of the amazing buildings found here. From awe-inspiring Cathedrals and Churches – such as Sagrada Familia – iconic Gaudi masterpieces, huge Palaces – like Park Güell – Art Deco structures along with modern designs – this city has it all.
Known around the world for its architectural excellence and characterized by bold colors against a blue sky, Barcelona is sure to delight.
In this blog post, I will explore with you some of these famous buildings in Barcelona in depth so that you can get an idea about what awaits you in this magical Spanish destination!
This blog is supported by you, dear reader. If you purchase through a link, I earn a small commission. As an Amazon Affiliate, I earn from qualifying purchases.
Pssst…!!! You can't get enough of Barcelona? Have a look at my other posts about the Catalan capital:
Top resources to travel Spain
⚘ Avoid tourist traps and get the customizable "Spain Like a Local" itinerary for less than 10€. – Get it here

✈ Book cheap flights to Spain with Skyscanner

✔ Book tours in Spain with Viator

➳ Find the best hotels in Spain with Trivago

❖ Rent a car with the best discounts with DiscoverCars

☘ Get the best discounted outdoor gear (outlet) with REI.com

✎ Never leave without travel insurance. I get mine at SafetyWing. It is easy to set up, cheap and reliable.

$ Withdraw money without hidden fees and avoid exchange rates with Wise (you'll get a free card on top!)
1. Park Güell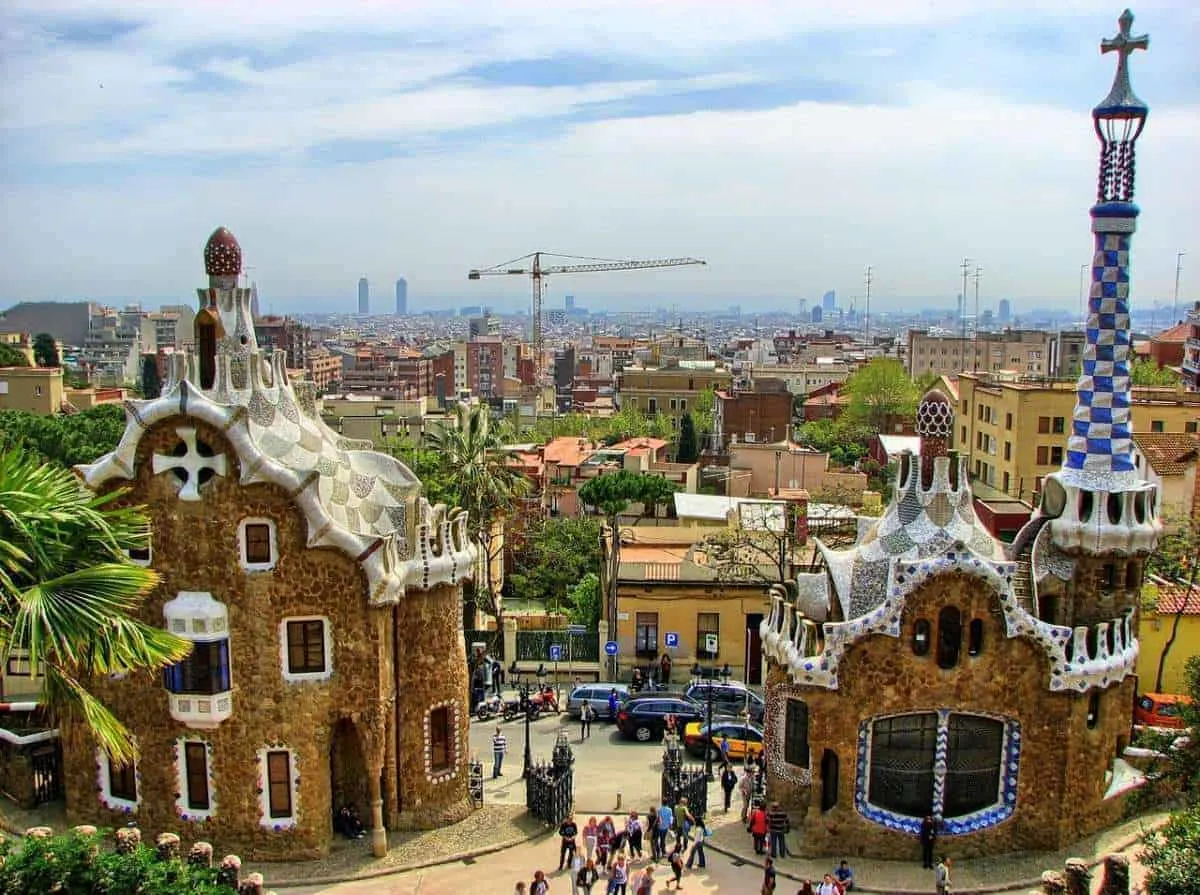 Park Guell is a sprawling venue composed of gardens and quirky architectural pieces located on Carmel Hill from which you get a breathtaking view of the entire Barcelona skyline.
One of the major works of Gaudi in Barcelona, it was originally intended as a residential park for Barcelona's aristocrats, but eventually became one of the most famous Barcelona landmarks.
Gaudí is the most famous architect in Barcelona, if not all of Spain, and his iconic buildings are considered to be among the best architecture in Barcelona.
When you talk about what is Spain known for, Gaudi is almost always near the top of the list!
So it's no surprise that Park Güell is now one of the most famous landmarks in Barcelona and officials started charging entrance fees.
While Park Guell is away from the center of Barcelona, it's still located within the city limits.
You can spend a lot of time wandering around this gem that features The Gaudi Museum, the entrance pavilion, and an incredible panoramic view from the balcony.
If you are visiting during the peak tourist season which falls in late spring through early fall, you should book your tickets online to skip the crowds.
The Palau Güell is one of the prettiest buildings in Barcelona and thus very popular. It's thus very important to book in advance as the entrance is limited.
Book here your Fast Track tickets to Parc Güell.
2. Casa Batllo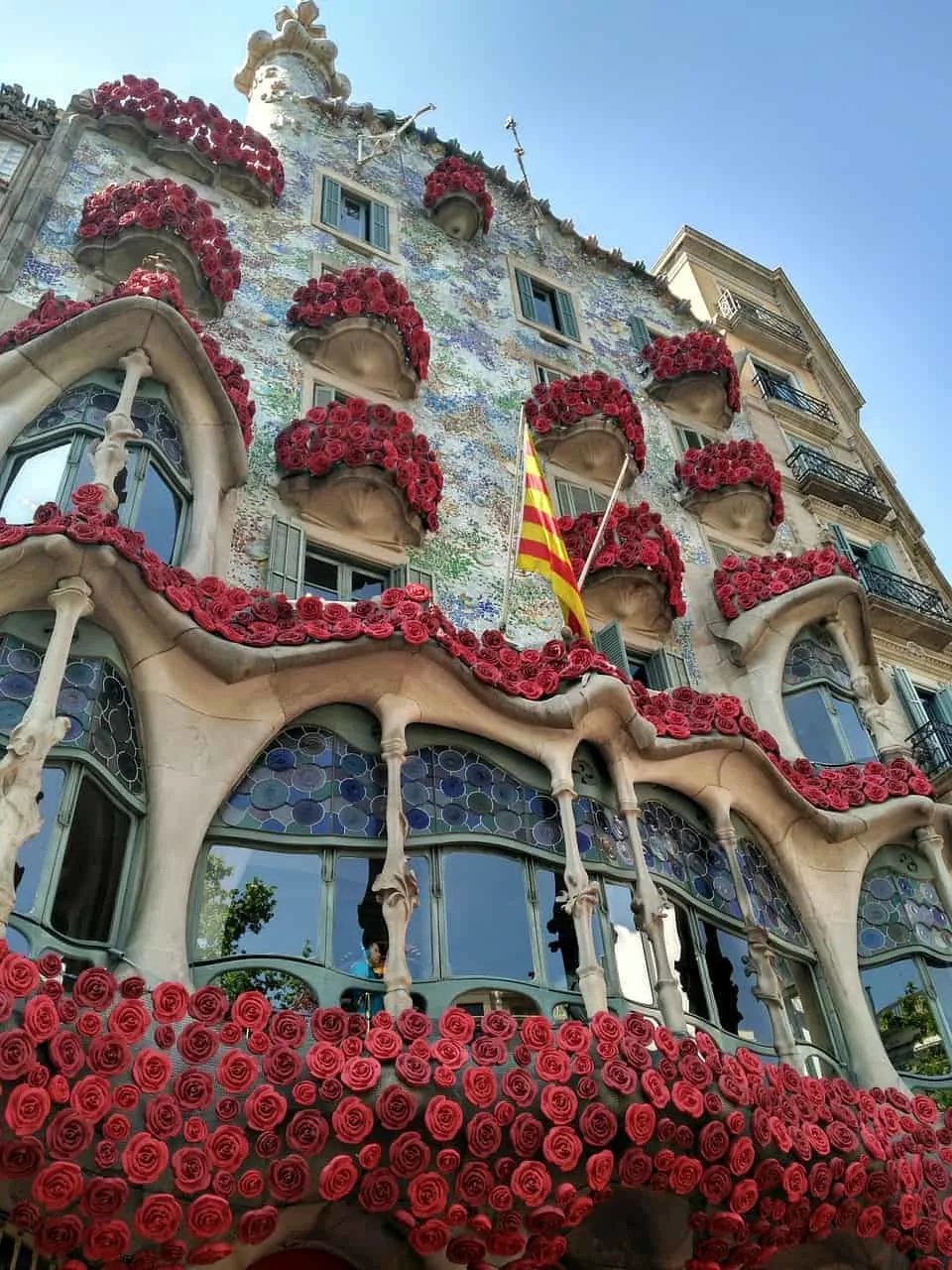 Located in the center of the city, this famous house in Barcelona is another architectural jewel created by the Catalan architect, Antoni Gaudí.
Nicknamed "The House of Bones" by locals, Casa Batlló is known for its elegant terraces, bright colors, and unusual facade.
If you're looking for cool buildings in Barcelona, this is one of the most unique and innovative buildings with fun interior and exterior design that will delight.
Casa Batllo is one of the reasons why Barcelona is considered one of the most beautiful places in Spain.
Along with nearby Casa Amatller and Casa Leo Morera, Casa Battlo comprises a so-called "Block of Discord" – prominent modernist houses located on the same block.
Gaudí is considered the greatest exponent of the Catalan modernist movement, and most of his iconic buildings are in this style.
If you are able to pay for the entrance, I highly recommend taking some time to explore the inside with a guided audio tour.
The major pet peeve of many travelers is the long line at the entrance which can be avoided by buying tickets online and showing up early.
This Gaudí designed building is one of the main tourist attractions in Spain, and one of Barcelona's most iconic buildings. It is without any doubt one of the top Gaudi Houses in Barcelona!
Book here your tickets to Casa Batllo
3. Casa Amatller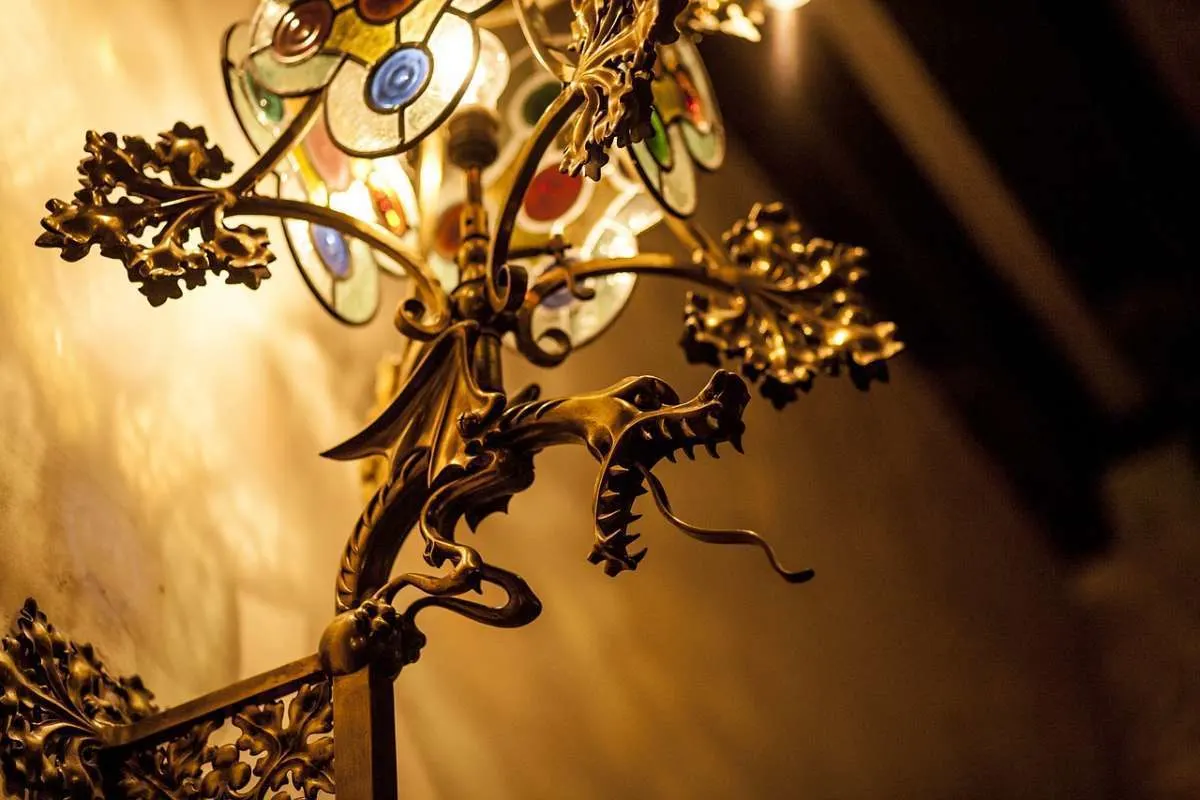 Right next to Casa Battlo you'll find Casa Amatller, a Catalan modernistic building that is often ignored by tourists because of its more famous neighbor.
The neo-gothic facade of the building probably will remind you of Dutch architecture, and rightfully so, because it was inspired by the buildings in the Netherlands.
Take a guided tour inside the building and learn about the history of art in Barcelona.
Casa Amatller is one of the most famous Barcelona, Spain buildings.
Book here your tickets to Casa Amatller
4. Casa Lleó-Morera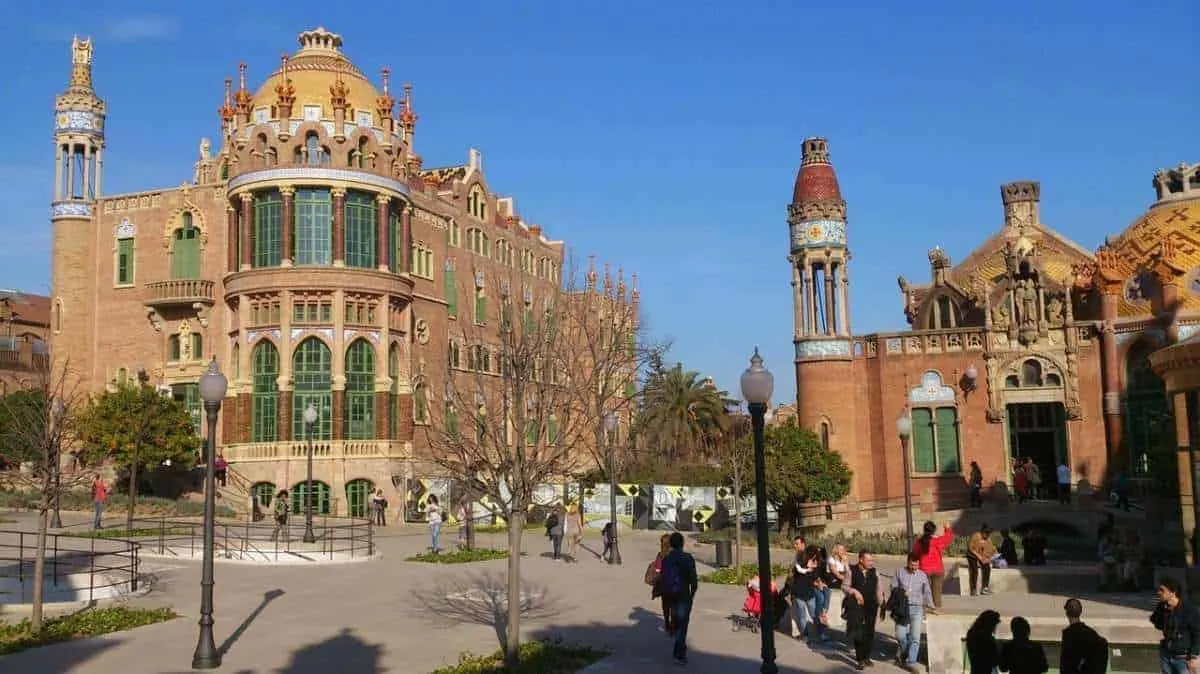 Along with Casa Battlo and Casa Amatller, Casa Lleo-Morera is one of the most grandiose modernist constructions in Barcelona.
The design of the building and the details of the balconies are intricate and impressive.
Similar to Casa Amatller and Casa Battlo, you can purchase tickets online and take a guided tour of the building.
On the tour, you'll have the opportunity to learn about one of the geniuses of the Catalan modernism movement – Lluís Domènech i Montaner.
Book here your Gaudi Walking Tour
5. Casa Mila (La Pedrera)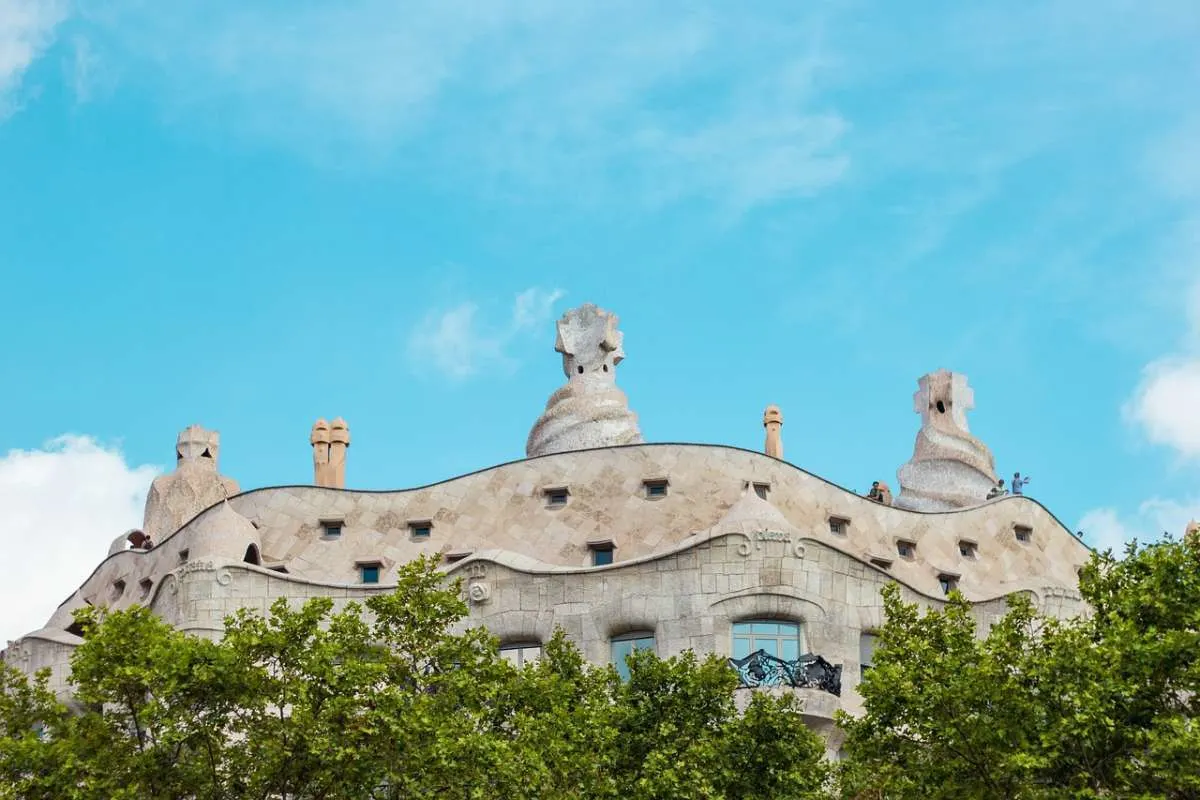 Casa Mila is located only a few minutes away from Casa Batllo and is another famous house in Barcelona.
Just like Casa Batllo, Casa Mila is nicknamed "The Quarry House" because its irregularly shaped facade resembles a quarry.
The rooftop of Casa Mila is a major attraction thanks to the amazing city views.
To skip the long lines which are also typical for this place, I strongly recommend booking your tickets in advance.
Casa Mila is one of the masterpieces of Catalan art.
Book here your skip-the-line-ticket for Casa Mila
6. La Sagrada Familia
Gaudi's masterpiece is probably the most photographed piece of famous architecture in Barcelona. In fact, it is easily THE most famous building in Spain.
While there are countless interpretations of what Gaudi was trying to portray through his artwork, La Sagrada Familia is an indisputable testament to his unrelenting imagination and religious devotion.
Despite still being under construction, this Roman Catholic church is considered some of the best architecture in Barcelona.
It consistently draws huge numbers of tourists year-round, so prepare to brave the crowds.
The main highlight of the interior of La Sagrada Familia is the columns that stretch toward the ceiling.
If you look closely, you will notice that the style of construction is somewhat different between the old and new parts of the church.
This difference has created a lot of controversies, as some think that Gaudi would not have approved of the construction methods that are used to finish his most famous work.
This building can already be seen as UNESCO World Heritage. It is one of the most visited Gaudi buildings in Barcelona.
The building is a must-do, even if you just have 48 hours in Barcelona.
Book here your Fast-Track tickets for La Sagrada Familia
7. Arc de Triomf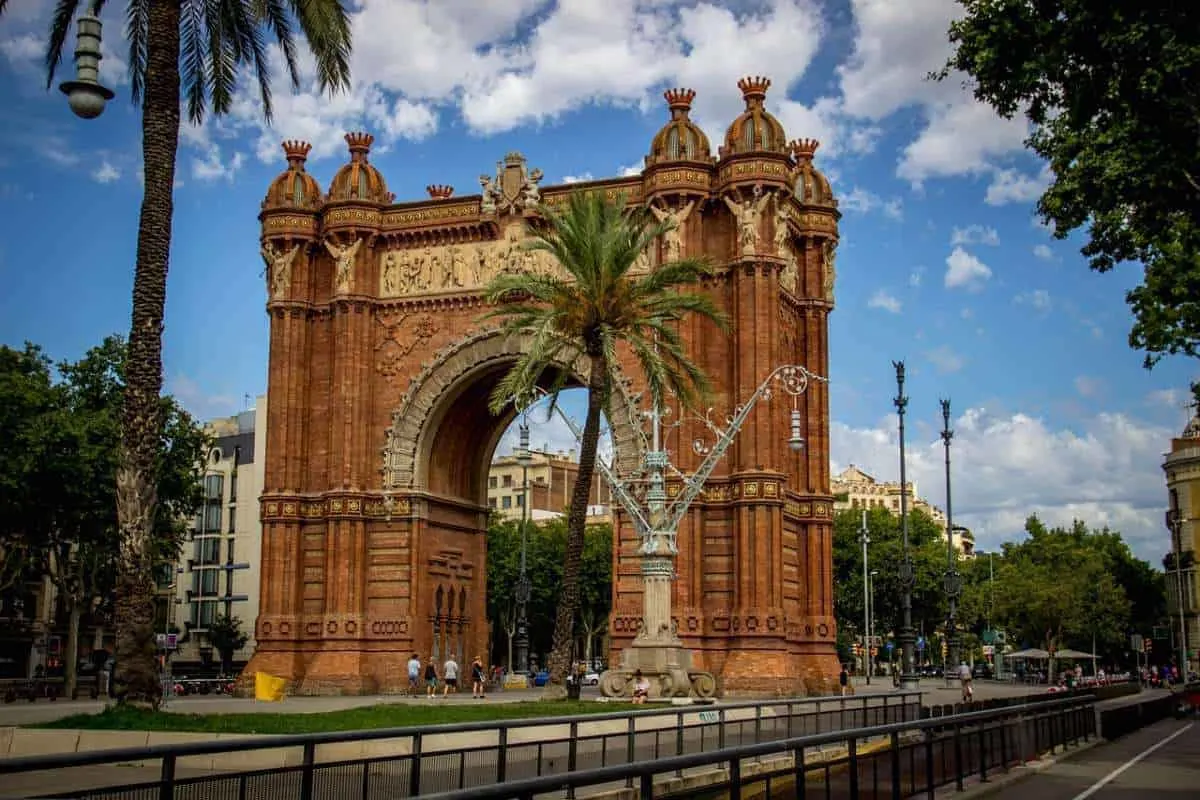 The Arc de Triompf is a red-brick triumphal arch that was built as the gateway to the fair in the Parc de la Ciutadella, but today it serves a purely decorative purpose.
One of the most famous monuments in Barcelona, the triumphal arch has numerous details and motifs that are definitely worth checking out.
So, take a few minutes to walk down the palm-tree avenue and take a peek at this architectural marvel.
Book here your Gaudi Walking Tour
8. The Gothic Quarter
The Gothic Quarter is one of the most popular neighborhoods in Barcelona.
Full of history, the Gothic Quarter of Barcelona is the gateway to the Old City. It has trendy bars, restaurants, and nightlife combined with centuries-old buildings and cathedrals.
The Gothic Cathedral, a majestic 13-15th-century building is the major highlight of the area which shouldn't be missed.
On top of the cathedral, the Gothic Quarter boasts several of Barcelona Spain's prominent buildings such as Sant Jaume Square and the Church of Santa Maria del Pi.
Other places located within the Gothic Quarter that are worth visiting are Plaça del Rei – home to the Museum of History of Barcelona – and Plaça Reial, a popular gathering place with a lot of restaurants and a lively atmosphere.
La Boqueria is a market well-known for its large assortment of products.
Even though it's technically located right on the border of the Gothic Quarter, you should take a walk around and breathe in the unique atmosphere of this historic place.
Book here your Gothic Quarter Walking Tour
9. Basilica de Santa Maria del Mar
One of the best examples of the Catalan Gothic Style, Santa Maria Del Mar (Our Lady of the Sea) is located in the Ribera district of Barcelona.
Completed in the 14th century, the church took over 50 years to be built, but it's now one of the most beautiful buildings in Barcelona.
Make sure to check out the inside of the church and take a guided tour to one of the rooftop terraces if you want to learn more about the history of the cathedral. The tour is available from May to October.
The church is known for its unique architectural style with a simple interior devoid of any imagery and a stern-looking outside complete with an ornate nave.
I recommend you take this tour early morning before the venue gets crowded.
This building is less known but is one of the reasons why Barcelona is considered one of the top city breaks in Spain.
Book here your Gothic Quarter Walking Tour
10. The Temple Expiatori del Sagrat Cor – Tibidabo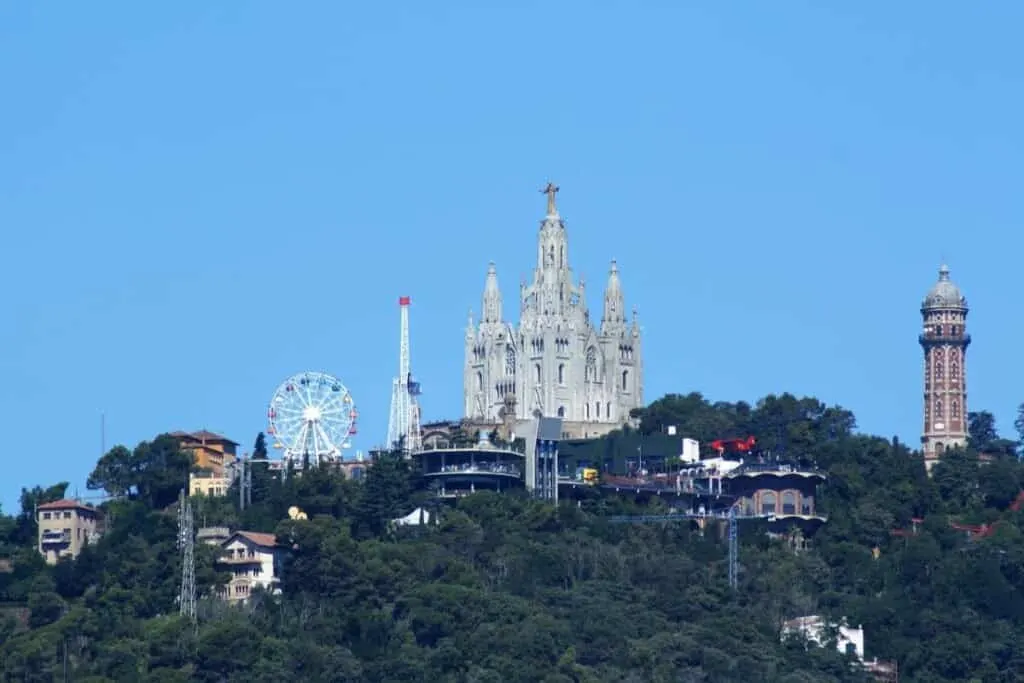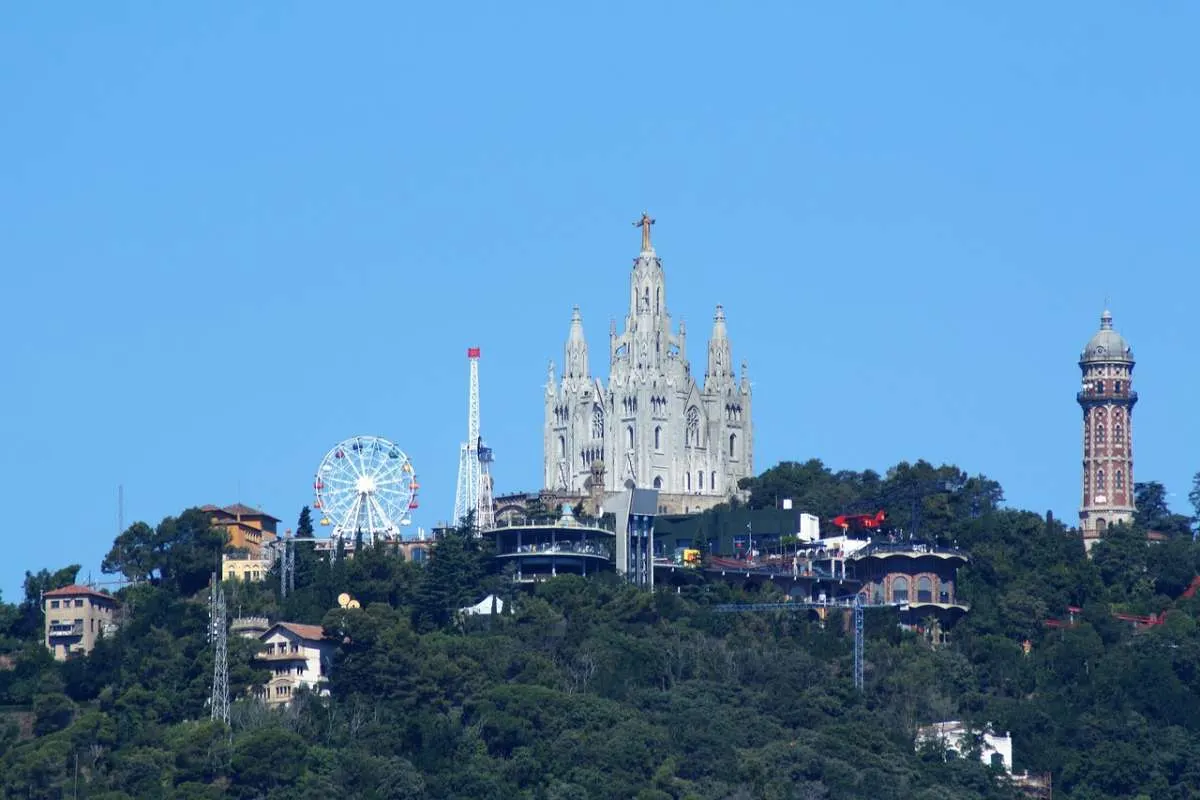 Tibidabo Cathedral or with its full title, Temple Expiatori del Sagrat Cor (Temple of the Sacred Heart of Jesus) is another famous building in Barcelona.
This church sits on top of Mount Tibidabo, from which it gets its name.
Climb up the stairs to the top of Tibidabo Cathedral and you will be rewarded with an amazing panoramic view of Barcelona and more.
While the cathedral's entrance is free, you have to pay 2 euros for the elevator to get to the top.
The venue is accessible by public transport, including buses and trains.
Book here your ticket to Tibidabo
11. Hospital Sant Pau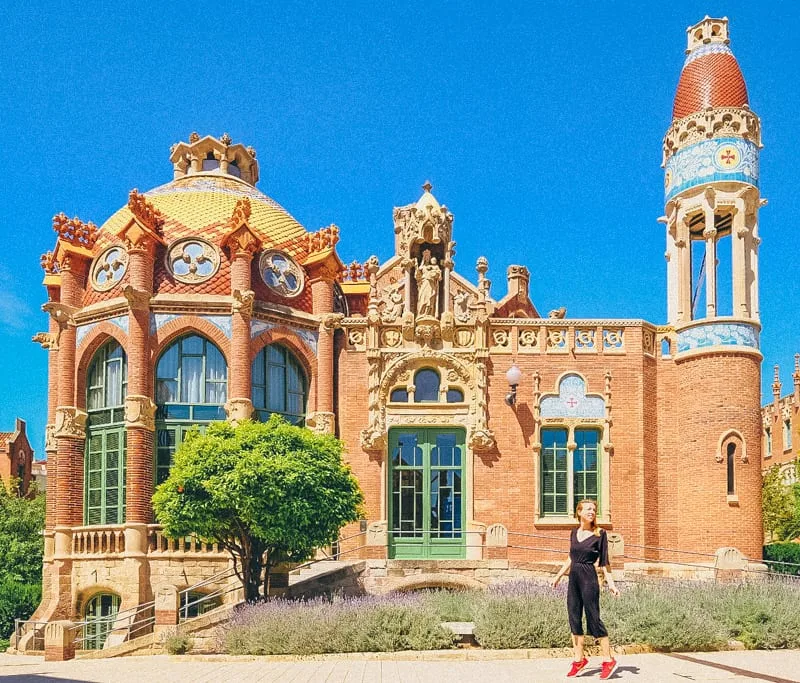 One of the most famous Barcelona buildings is the Hospital de Sant Pau, which is listed as a UNESCO World Heritage Site in Spain.
This Barcelona iconic building is the largest Art Nouveau complex in the world.
As the name suggests, Hospital de Sant Pau was a fully functioning hospital until 2009.
But after a newer hospital was opened up across the street, the building was restored and reopened as a museum and cultural center in 2014.
The former hospital complex also has gorgeous gardens and intricate mosaics.
Book here your ticket to Hospital de Sant Pau
12. Palau de la Música Catalana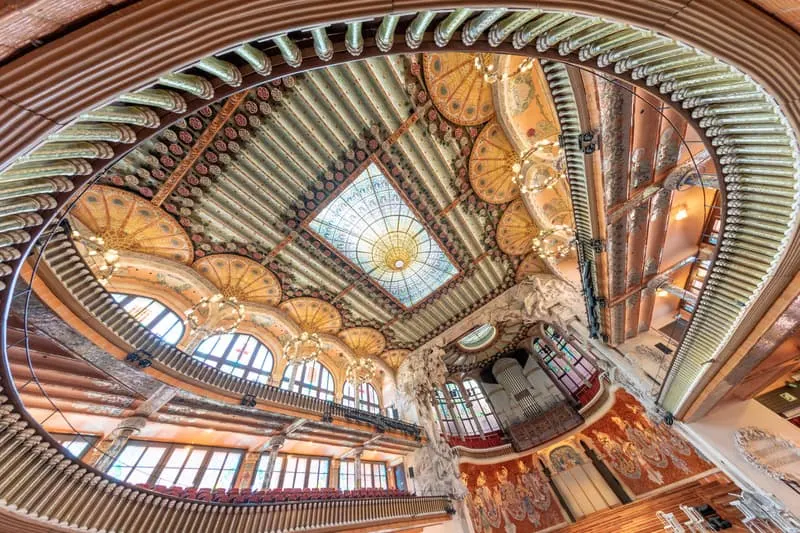 Palau de la Música Catalana is often grouped together with Hospital de Sant Pau due to both being UNESCO sites built by Lluís Domènech i Montaner.
But this building is one of Barcelona's famous landmarks in its own right.
This iconic Barcelona building is full of fascinating history, some of which is only viewable by guided tour.
The colorful stained-glass skylight, doubled-headed eagle statue, and Art Nouveau sculptures make Palau de la Música Catalana one of the most famous buildings in Spain.
Book here your guided tour of Palau de la Musica Catalana
13. Torre Bellesguard
You might also recognize Torre Bellesguard by the name Casa Figueras. This is another iconic modernist building by famous Barcelona architect, Antoni Gaudí.
The design for Casa Figueras was inspired by the medieval castle originally built on the land in the 15th century for the King of Aragon.
In 1900 Jaume Figueres bought the land and castle ruins and commissioned Gaudi for a project.
Gaudi was given free rein to design, unfortunately, this wound up being disastrous for the family.
Due to delays and Gaudí's obsessing over details, the family nearly went bankrupt and had to sell the home.
This famous house in Barcelona has been open to the public for the past 30 years.
Book here the best tour of Torre Bellesguard
14. Pavilion Mies Van der Rohe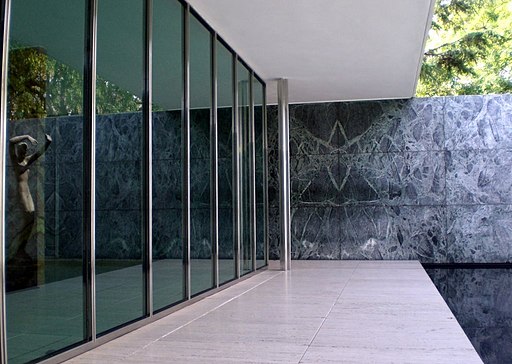 Although this is one of Barcelona's famous buildings, it isn't for everyone. It is definitely worth a visit for those interested in minimalism, modernist art, and architecture.
Also known as the German Pavilion and Barcelona Pavilion, this iconic building was designed by Ludwig Mies van der Rohe and Lilly Reich for the 1929 International Exposition.
It is an important building in both modern and minimalist architecture.
With its adjacent pool, the Pavilion is reminiscent of expensive minimalist homes on TV, but what makes it stand out are the materials.
The Pavilion is built using expensive and heavy materials, particularly golden onyx, travertine, and green marble.
Book here a private architecture tour of Barcelona
15. Camp Nou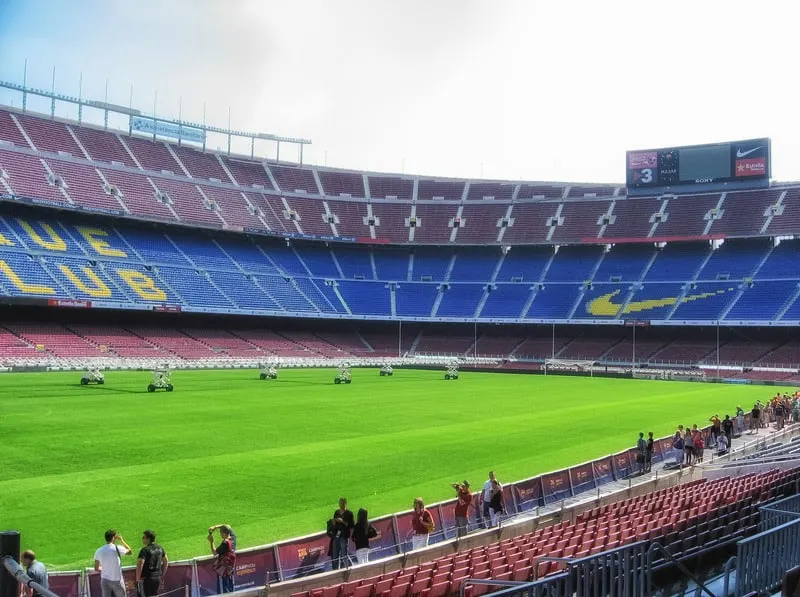 Football fans will be happy to see Camp Nou make the list of famous landmarks in Barcelona.
Since it was built in 1957, Camp Nou has been the home stadium for FC Barcelona. The stadium holds just under 100,000 people making it the largest football stadium in both Spain and Europe and the third-largest in the world. – Get tickets here.
The easiest way to see this iconic building is to watch a football game or visit the attached museum dedicated to FC Barcelona. But true fans should book a guided tour with a journalist to get special access and behind-the-scenes stories.
Book here your guided tour to Camp Nou
16. Casa Vicens Gaudi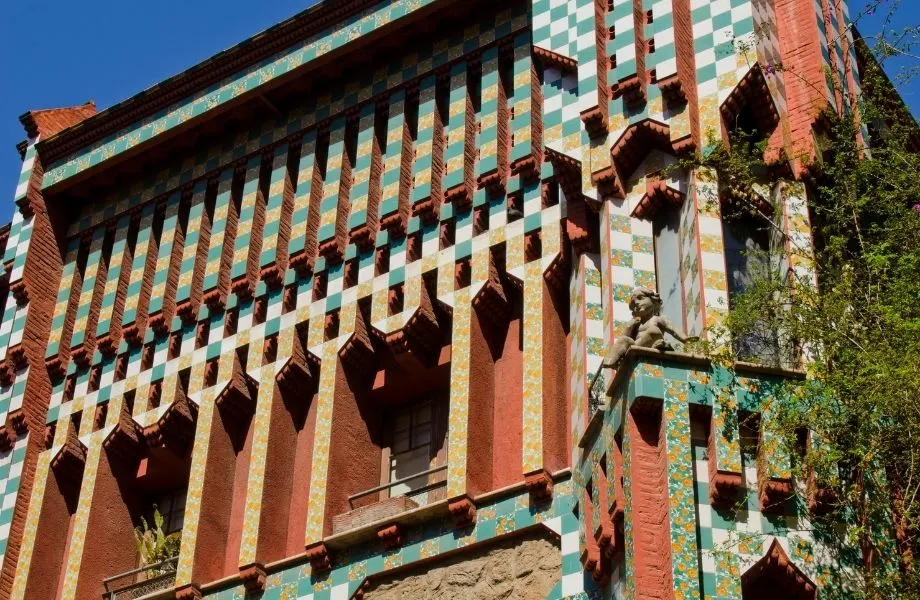 One of the lesser-known Gaudi buildings to see in Barcelona is the Casa Vicens Gaudi.
Built between 1883 and 1885, this is generally considered to be Gaudi's very first major project, as well as the first building of the Catalonian Modernisme architectural movement.
The large, multi-story building is one of the most iconic buildings in Barcelona and can now be visited as a museum.
It houses a large collection of important architectural documents about Gaudi and the building itself.
There is also a sizeable permanent art collection on-site, as well as regular temporary exhibits related to art, architecture, and culture.
Book here your Gaudi's Casa Vicens Skip-the-Line Entrance Ticket
17. Torre Glòries (formerly Torre Agbar)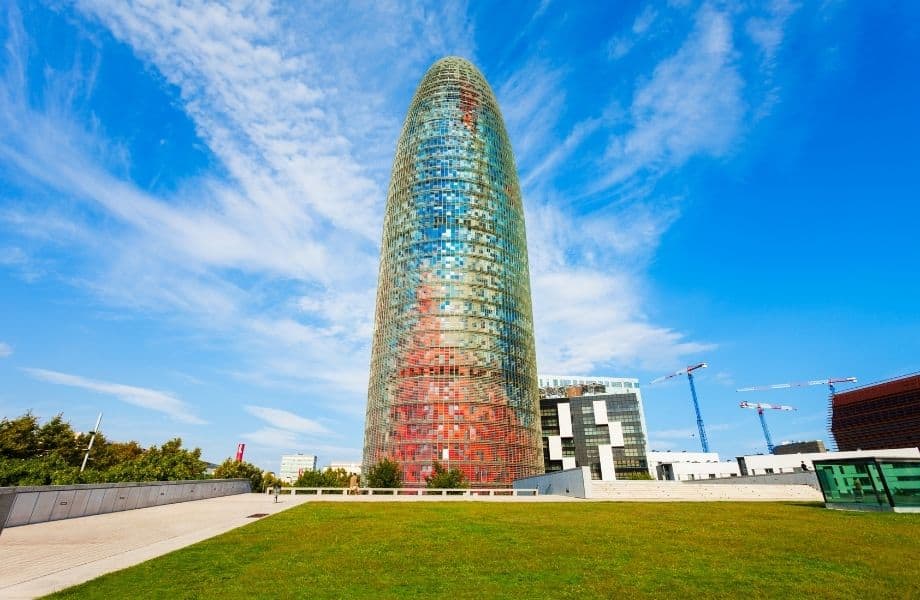 The Torre Glòries (more well known by its former name of Torre Agbar), is a 38-story skyscraper in Barcelona that was designed by the famous French architect Jean Nouvel.
This bullet-shaped building is definitely one of the most unique Barcelona landmark buildings with its shiny and colorful glass siding.
In addition, the building is fitted with 4,500 LEDs that allow it to light up in different colors and designs. The lights are able to produce 16 million different colors.
At night you won't be able to ignore this famous building in Barcelona! Even during the day, it's unmissable from most parts of the city.
Book here a bike tour around Torre Agbar and other iconic Barcelona sites
18. Monastery of Pedralbes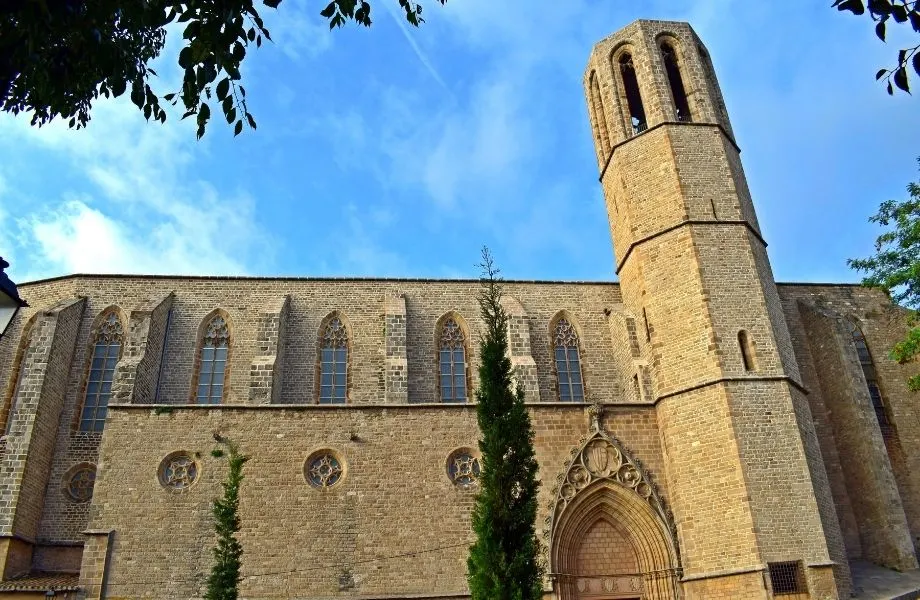 One of the most beautiful buildings in Barcelona is the Monastery of Pedralbes. This stunning gothic monastery dates back to the 1300s (though it has undergone a few renovations since).
Today, the building has been converted into a museum and welcomes visitors from all over the world and all faiths.
Visitors will find not only some of the best architecture in Barcelona to explore and admire but also some fantastic religious art pieces.
Make sure to visit the cloisters and newly renovated St. Michael's chapel.
19. Gran Teatre del Liceu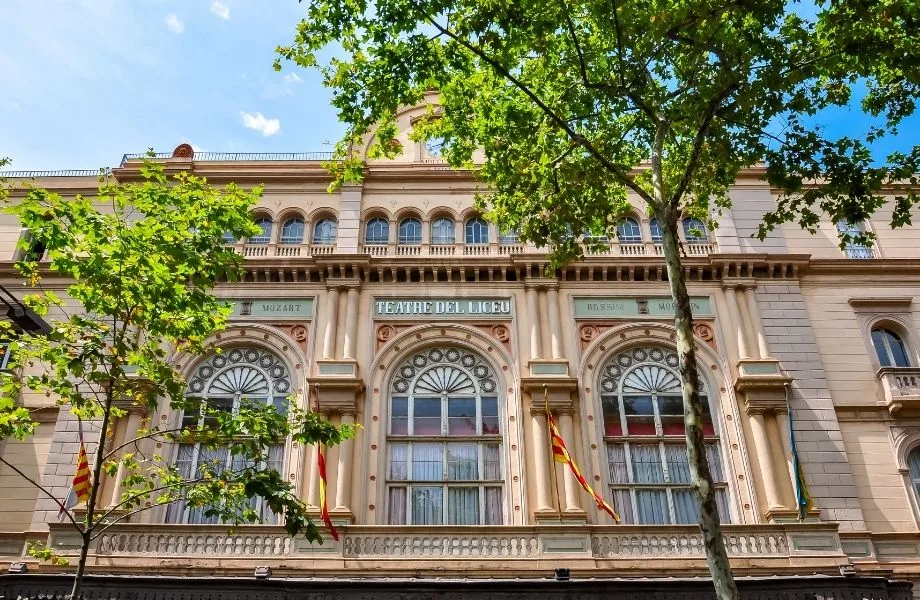 Although construction on the Gran Teatre del Liceu officially began in 1845, the theatre's history really dates back to 1837.
At the time Manuel Gibert i Sans, a lawyer and member of the Spanish military, requested a military battalion form a theater group.
They formed the Liceo Filodramático de Montesión (now named Conservatori Superior de Música del Liceu), and educational music school.
This group and institution later became the basis for the Gran Teatre del Liceu.
In its lifetime, the Liceu has seen fires, and regime changes and faced many other struggles that threatened to close it down.
Now it is one of the most famous buildings in Barcelona, Spain where you can admire the architecture on the outside before enjoying the show inside!
20. Basilica Santa Maria del Pi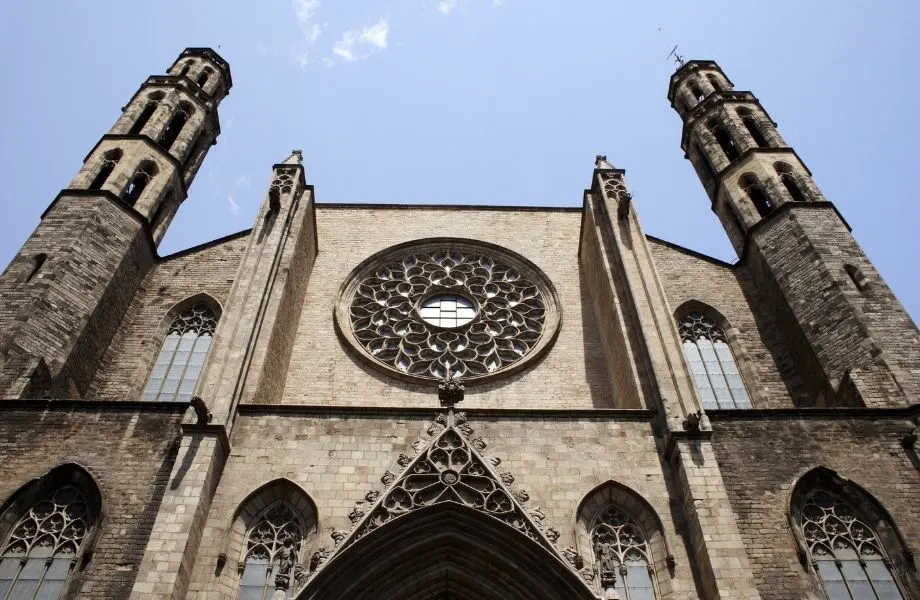 Most of this gothic church was built between the late 14th and early 15th centuries. However, it still contains a Romanesque door from the 13th century.
The church was seriously damaged during an earthquake, bombed during Spanish succession, and looted following a fire in the 1930s.
But despite all this, this famous building in Barcelona, Spain is now one of the city's most impressive landmarks.
When you visit the Basilica Santa Maria del Pi, be sure to book a visit to see the beautiful bell tower – and enjoy the great view over Barcelona.
Book here to enjoy a Spanish concert at the Basilica Santa Maria del Pi
Looking for more to do in Barcelona? Remember that the city is also a great base to explore the Catalan countryside, including day trips to the best wineries near Barcelona.
---
About the Author

The Discovery Nut is a website about traveling the less-discovered locations and encouraging others to get out of their comfort zone. Daria Bachmann founded The Discovery Nut as she wanted to share her passion for traveling to less-known places. Through writing and videos that can be found on her website and YouTube channel. She hopes to inspire others to venture out into the world and discover new destinations.
Follow Daria on Instagram: @thedisocverynut
---
Short FAQ
Who is the famous architect in Barcelona?
Antoni Gaudi, a Catalan architect is the most famous architect in Barcelona and probably all of Spain.
What is the most famous building in Spain?
While a few iconic buildings compete for this title, La Sagrada Familia is probably the most famous building in Barcelona AND all of Spain.
What are some of the most famous buildings in Barcelona Spain?
There are many famous buildings in Barcelona. Some of the most iconic buildings are Casa Batllo and Casa Amatller, the Arc de Triomf, and Park Guell.
---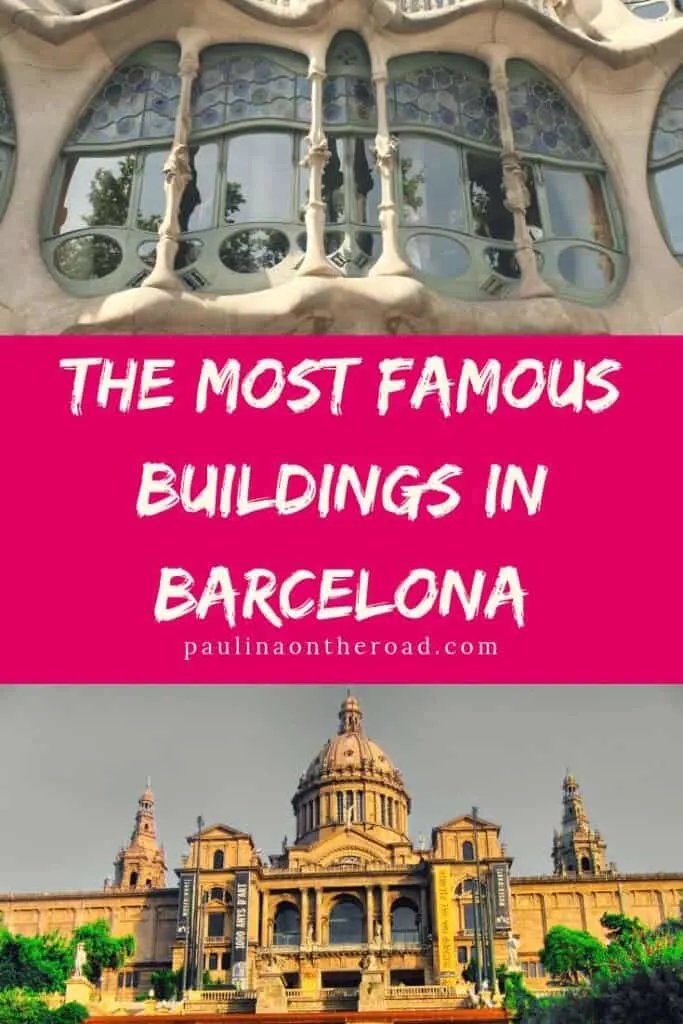 Hola! I am Paulina, a fervent travelette who crossed the Atlantic Ocean by Boat HitchHiking. On my blog, you'll find all the tips to make the most of your holiday. Get ready to enjoy outdoor and sustainable travel like hiking, cycling or sailing. Let's hit the road together!