A travel guide on what to see when having 2 days in Barcelona
Written by Chris Bell
If you want to spend a weekend abroad, Barcelona is an excellent choice, as it's one of the cultural capitals of Europe. As the home of Gaudi, the city has several architectural highlights that you simply can't find anywhere else in the world.
The city is also a great place for fashionistas to fill their bags with the latest trends. Thus, there are plenty of things to do when having 48 hours in Barcelona!
It's very worth visiting Barcelona, Spain for a long weekend to immerse yourself in everything the city has to offer. Trying out everything might be a tight squeeze, but that has never stopped us from trying.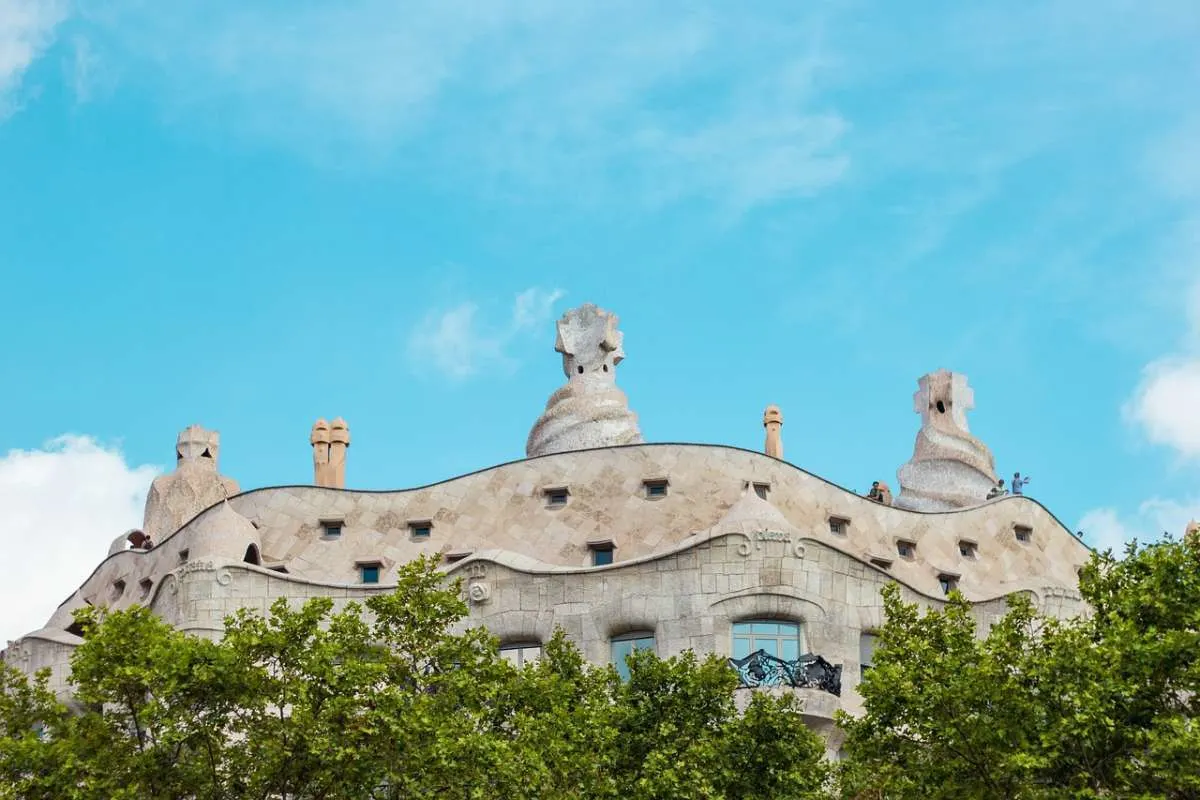 So, let's find out what you should definitely do during your weekend in Barcelona to get the most out of your vacation.
Your 48 hours in Barcelona start with figuring out the best way to get from airport to the city center of Barcelona.
Another great way to make the most of your time in Barcelona is by taking the legendary hop-on hop-off bus trip. – Get tickets here.
Be ready for an unforgettable 48 hours in Barcelona!
1. Visit the Sagrada Familia
If you ever received a postcard from Barcelona, then chances are high it had the Sagrada Familia on it. The Sagrada Familia is often jokingly called the church that is never finished, as people have been working on it for over a century now. In fact, the biggest spire has yet to be finished.
But even if you visit it today, you can see the grandness of this church, as there is nothing else quite like it.
La Sagrada Familia is one of the most famous attractions in Barcelona and tickets can likely sell out. I strongly recommend buying your tickets in advance.
Book here your fast-track tickets to Sagrada Familia
Gaudi took inspiration from both nature and Christianity when he designed this church. It has resulted in an unusual design with curved shapes and multiple facades depicting Christian scenes.
The towers of the structure somewhat resemble trees with leaves covering the surface.
Due to its natural look, it almost seems as if the church has always stood there since the beginning of time. Read more about the most famous buildings in Barcelona
2. Get souvenirs from the Ramblas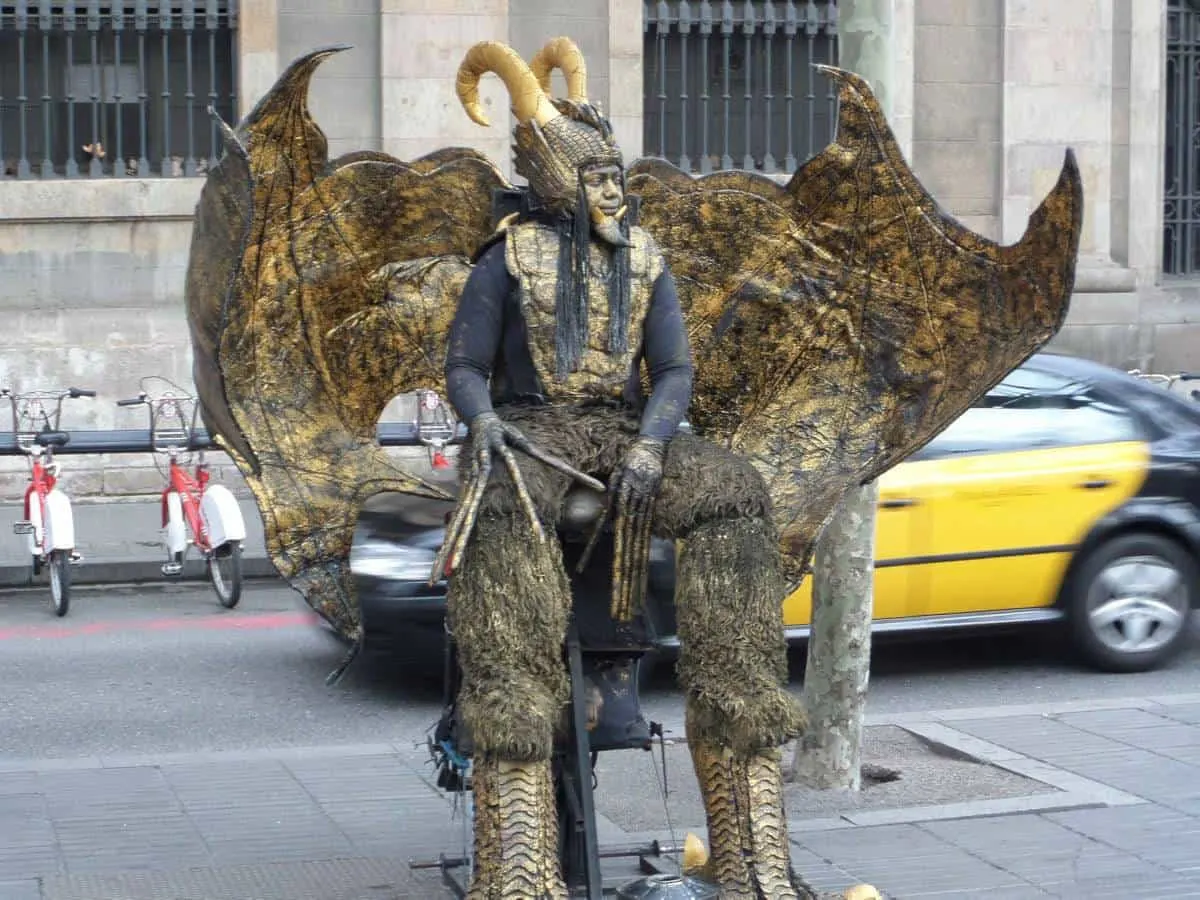 The Ramblas is the most famous street in Barcelona for a good reason. It's a long shopping street in the heart of Barcelona. It leads from the Plaça de Catalunya all the way to the harbor.
As you walk down the Ramblas, you will find painters making beautiful portraits, souvenir shops, restaurants with terraces across the entire street and beautifully dressed up street artists portraying cultural figures.
This lively promenade is a great place to look for some souvenirs to take home for your friends and family. The Ramblas is a must when you spend 48 hours in Barcelona.
From the legendary Ramblas, it is only a short walk to the best cafés in Barcelona.
3. Take a stroll through Park Güell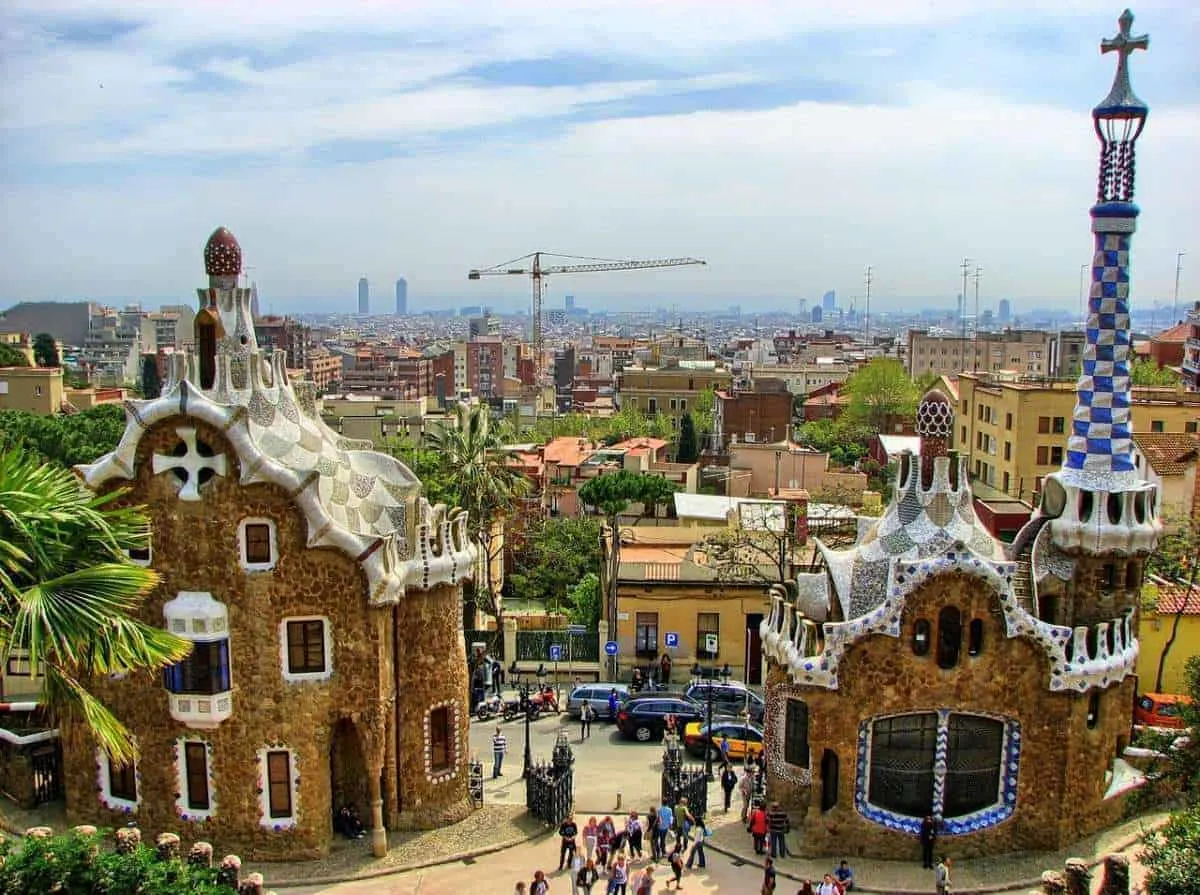 Gaudi has had a strong influence on the architecture of Spain and this is nowhere more apparent than in Park Güell. Not only was Park Güell designed by Gaudi, but he also actually lived in it. Taking a stroll through the city park, while enjoying the unique architecture that perfectly blends in with surrounding nature, is the perfect way to escape the busy city life of Barcelona.
It is possible to walk through most of the park for free, but if you want to visit the buildings in the center, you do require a ticket. Tickets are likely to be sold out, thus I recommend buying your tickets in advance.
Book here your tickets to Park Güell
The cliche about the park that the buildings look like gingerbread houses is entirely true and it's a lovely sight to behold. The park also offers a scenic view of the city of Barcelona, which allows you to make some great photos.
A stroll through the park is truly something else, when you get to enjoy the beautiful views, with street artists playing Spanish music in the background and the sun shining brightly livening up the mood. For me, it was certainly one of the most memorable experiences in Barcelona. Book here your tickets to Park Güell
4. Dine at the Plaça Reial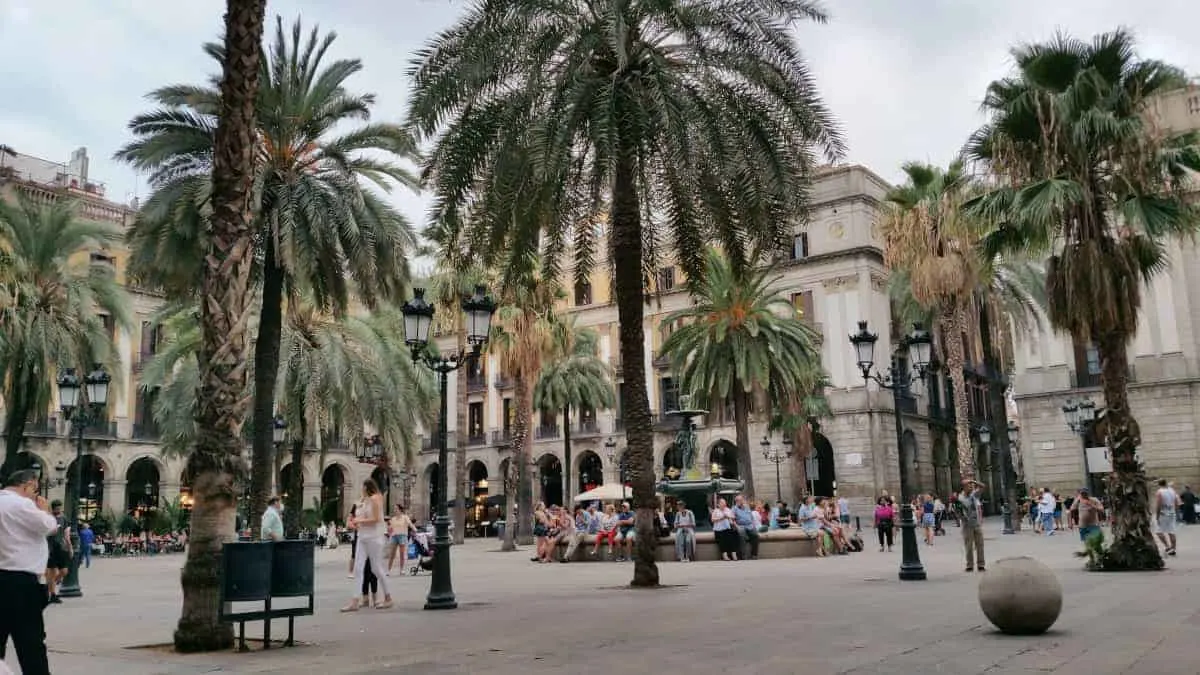 The Plaça Reial is a historic square in the heart of Barcelona. If you want to dine at a stunning location for an affordable price, then the Plaça Reial is the place to be.
At the Plaça Reial you will find a dozen restaurants, each with their own cuisine and outdoor terraces. If you are wondering what to eat in Spain, then try the typical pan tumaca from Catalonia.
Book here your food tour in Barcelona
As you pick a restaurant with a cuisine that's to your liking, you can sit down on a terrace, surrounded by historical buildings, palm trees, a fountain, and the occasional street artist. Perfect for ending your evening with a romantic dinner.
5. Enjoy the Font Màgica
Barcelona is a city that's still very much alive in the evening hours. Due to the warm climate, the evening can be an excellent time to go out and enjoy a drink. One attraction that's only available in the evening is the Magic Fountain, which is a light show in front of the National Palace.
The fountain show manifests itself as an erupting volcano of dancing water, colorful light, and familiar music. As it's free, you really have no excuse to skip it. If you happen to find a great spot to watch it from right next to the fountains, then do expect to get a little bit wet.
6. Get a taste of Spain at the Mercat de la Boqueria
In the heart of Barcelona, you will find the Mercat de la Boqueria, which is a traditional food market. As one of the biggest fresh food markets in Spain, it's a good place to mingle among the locals looking to get some fresh fruits, nuts or fish.
Book here your food tour in Barcelona
But it's also excellent for tourists who want to get a taste of Spain, as the stalls offer plenty of little treats including Spanish hams, pieces of melon, fruits, fruit shakes, and Spanish candies.
Especially on a warm summer day, it's a great place to cool down with some refreshing foods. A visit to the market is definitely a highlight when spending 48 hours in Barcelona.
The food in Barcelona makes the town one of the best city breaks in Spain.
7. Enjoy the view from the Montjuïc Cable Car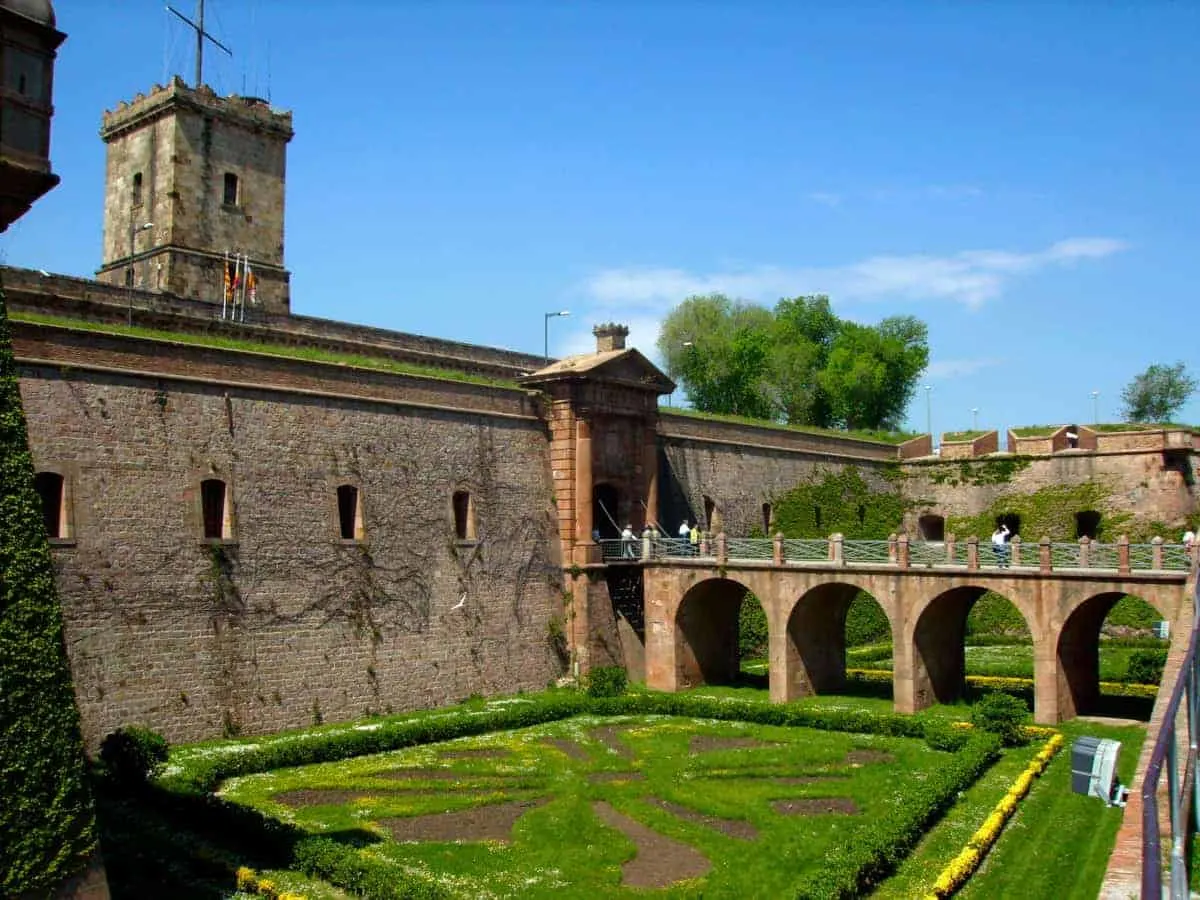 The best way to appreciate the skyline of Barcelona is by taking the Montjuïc Cable Car. From this cable car, you get panoramic views over the city as you head upwards to your destination. Where are you going you ask?
Book here your Montjüic Cable Car Tickets
Well, you're going up the Montjuïc, which is a hill in front of the coast of Barcelona. At the top, you will find the most defensible position of Barcelona, Montjuïc Castle. This historical castle has a classic walking bridge, large walls, bastions and a great view over the city and harbor of Barcelona.
Book here your Montjüic Cable Car Tickets
It's a great journey to one of the more unusual cultural landmarks of Barcelona.
8. Go on a shopping spree
Shopping is a guilty pleasure for most travelers who go on city trips. Every vacation, I come home with some new clothes that I didn't have before.
If you are looking for some affordable summer fashion, then you could go to the Portal de l'Àngel, where you can find many international retail shops such as Bershka, El Corte Inglés, Benetton, Zara and so on can be found.
Book here your shopping tour in Barcelona
It's worth noting that the Portal de l'Àngel actually lies in one of the oldest parts of Barcelona, so you can also easily combine a visit with some sightseeing.
The Portal de l'Àngel is connected to a more high-end shopping street, called the Passeig de Gràcia. If you are a serious fashion shopper looking for a long street with many well-known fashion brands, such as Tommy Hilfiger, Diesel, Lacoste or Gucci and more, then you certainly take a stroll down the Passeig de Gràcia.
After spending an afternoon on these streets, you'll be sure to come home with a new Spanish look.
Book here your shopping tour in Barcelona
I hope these ideas have given you some inspiration for a weekend in Barcelona. The great thing about Barcelona is that there are always more things to discover. Just remember to take it easy and give yourself some time to take it all in, then you are bound to have a great time in this marvelous city. And I definitely recommend spending more than 48 hours in Barcelona. 🙂
Barcelona is also a great base for day trips. Discover here the best wineries near Barcelona and here the best Montserrat day trips.
---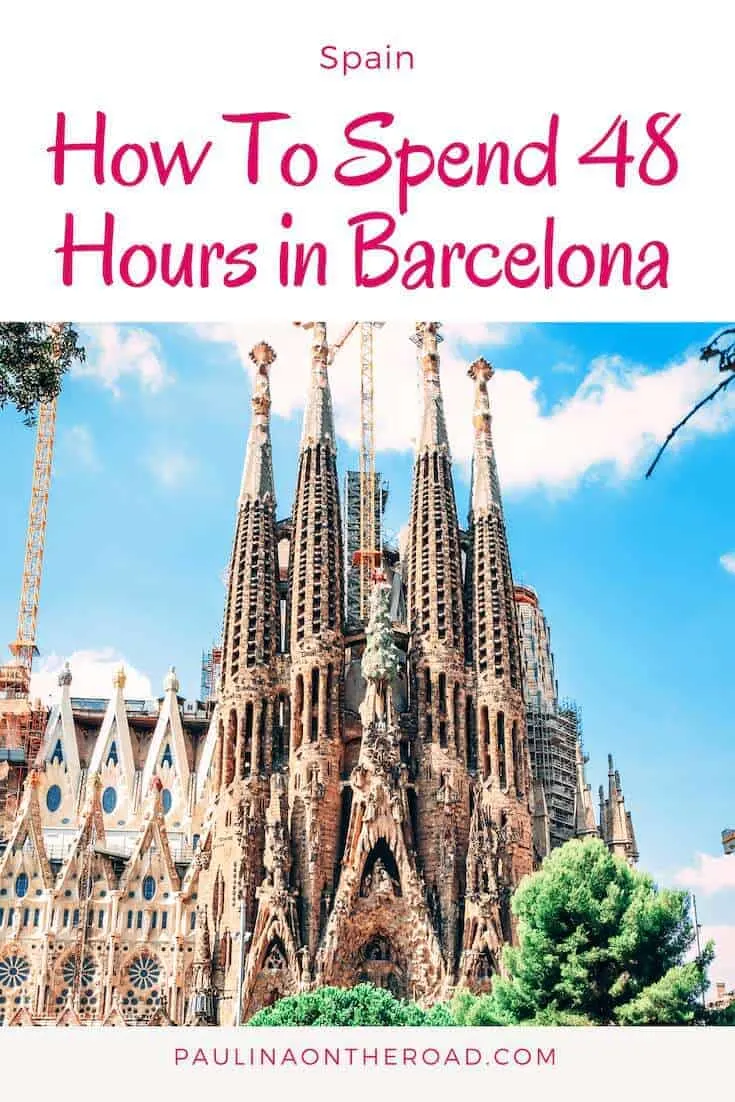 ---
About the Author
Hey, I am Chris Bell, an avid traveler from Amsterdam that loves to write travel blogs and city guides at MeetTheCities. Spending most of my time abroad, random strangers constantly ask me for directions, which inspired me to write several city guides to show people around town. I quickly found myself blogging as well to show people the hidden gems that can be found across the world.
---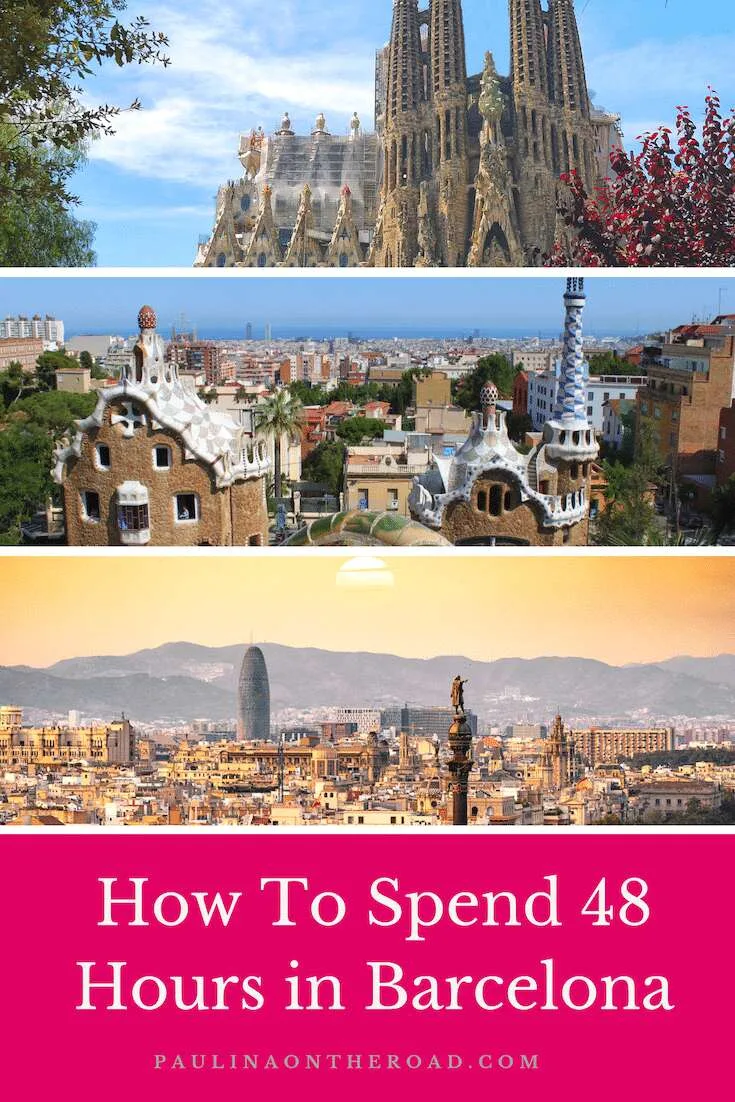 Hola! I am Paulina, a fervent travelette who crossed the Atlantic Ocean by Boat HitchHiking. On my blog, you'll find all the tips to make the most of your holiday. Get ready to enjoy outdoor and sustainable travel like hiking, cycling or sailing. Let's hit the road together!