Unique Places in Spain you don't want to miss – The 40 Most Beautiful Places in Spain Round-Up.
Hola preciosa! That's usually my first reaction when I travel to Spain. This country that I called Home for over 5 years, is one of the most diverse travel destinations.
This post will take you over a list of the most beautiful places in Spain as suggested by travel bloggers.
Whether you're into the vibrant culture and large cities, or fancy extreme hikes, desert landscapes, pristine beaches or lush island life, Spain has got it all. Such variety makes it hard to choose some of the most beautiful places in Spain.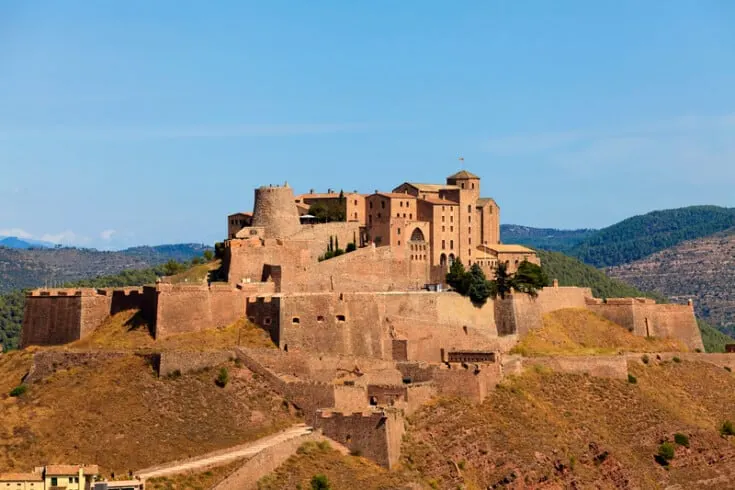 Whereas I already wrote a lot on this blog about the places I lived in Spain such as Madrid, Barcelona or Tenerife, I was curious about what fellow travel bloggers consider the most beautiful places to visit in Spain.
This round-up gives you precious insights into the prettiest corners of Spain according to local and international travel bloggers. Be ready for very famous sights, but also many quaint, less known gems in Spain.
Is your favorite place in Spain included in this list? If not, I would love to hear your opinion about the best places in Spain in the comment form.
This post contains affiliate links. if you buy via them, I'll earn a small commission which helps me to keep this blog running. I received services for free for an honest review. All opinions are my own.
Most Beautiful Places in Spain: Catalonia
1. Tibidabo in Barcelona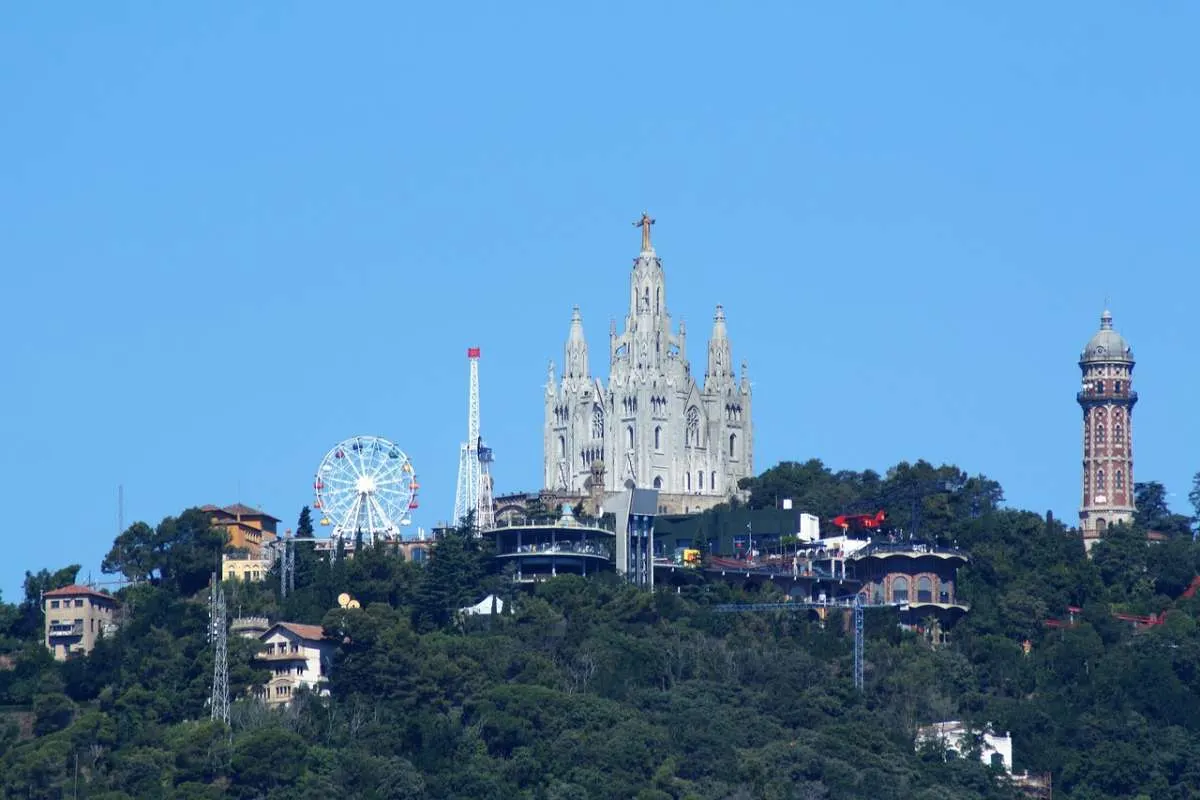 By Backpack & Explore
If you visit Barcelona, it is hard not to notice the imposing Sacred Heart Church and the colorful Big Wheel that dominates its skyline. These are part of the Tibidabo Amusement Park located at Tibidabo, the tallest hill in the Collserola mountain range.
Built in 1899, this is one of the oldest amusement parks in the world.
Tibidabo is one of the most affluent areas in Barcelona which is quite obvious when you see the houses that look like castles. On a sunny day, you have an unobstructed view of the city which is breathtaking. Tibidabo itself impresses you as soon as you get down at the bus stop, even before you have visited the amusement park itself.
Book here your ticket to Tibidabo
You can either trek to the hill-top or take a funicular ride to the top of the hill. A package ticket with the Funicular railway will give you access to two of the rides along with the panoramic area.
The entry to the church and the panoramic area is free. A 10€ worth ticket gives you access to as many rides as you like. We did not experience the rides but simply wandered in the panoramic area soaking in the beautiful views of the city.
The Sacred Heart church is an eloquent piece of architecture and it stands tall right at the center of the panoramic area. Tibidabo is a must-visit place in your Barcelona itinerary.
More about Barcelona
How to spend 48 hours in Barcelona
The Most Famous Buildings in Barcelona
Fabulous Wine Tours from Barcelona
2. Siurana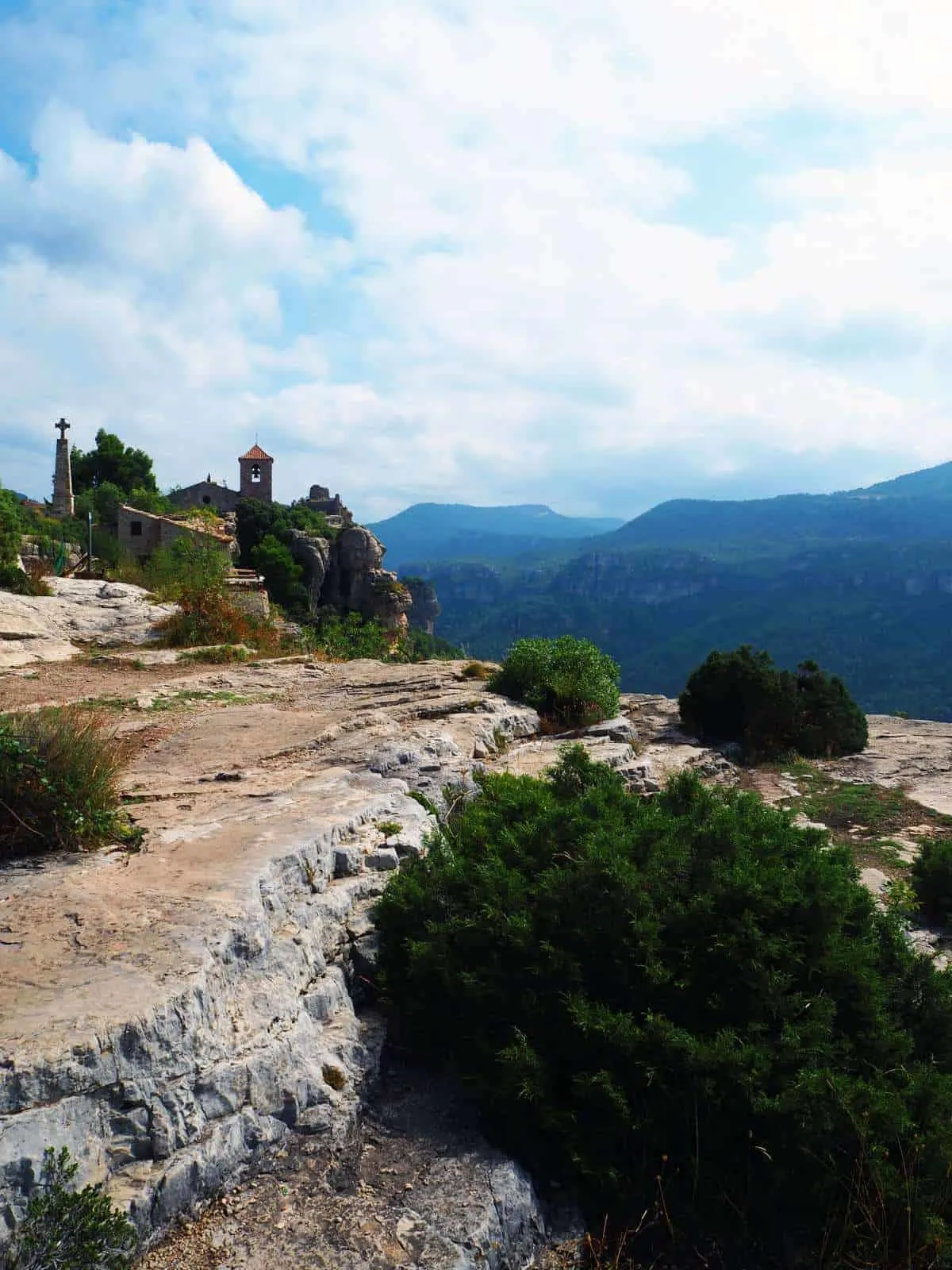 By TwoGetLost
Perched high on a mountain summit, with views from every corner, lies the incredibly picturesque village of Siurana. It's particularly well known among rock climbers in Europe.
Not only is this village located in arms reach of some of the best climbing and trekking grounds in Spain, it is also steeped in history and a mecca for the budding photographer with some of the best views in Spain.
In 1153, Siurana was the last Muslim community to be invaded and conquered by the Christians. The village tells of the tragic story of Abdelazia, the Moorish Queen, who decided to jump from the cliff with her horse rather than be captured by the Christians.
In the horse's last attempt to hold onto life, it's footprint was imprinted into the rock, and this remains as a lasting memory of the tragic story.
Nowadays, you can wander the cobblestone streets, taking in the view around every turn and stopping at your choice of pretty, traditional cafe for tapas and a glass of local wine.
You will find several spots of historical interest, all within easy walking distance of each other, but the main attraction is, of course, the view.
Book here your trip to Siurana
How to get there: Siurana is best reached by car from the nearest towns of Tarragona or Reus. The drive up the mountain is steep and winding and makes for quite an adventure itself.
If you are staying further afield, there are many companies offering tours here. Barcelona is a two-hour drive away and Siurana is a refreshing escape from hectic city life. Book here your trip to Siurana
3. Girona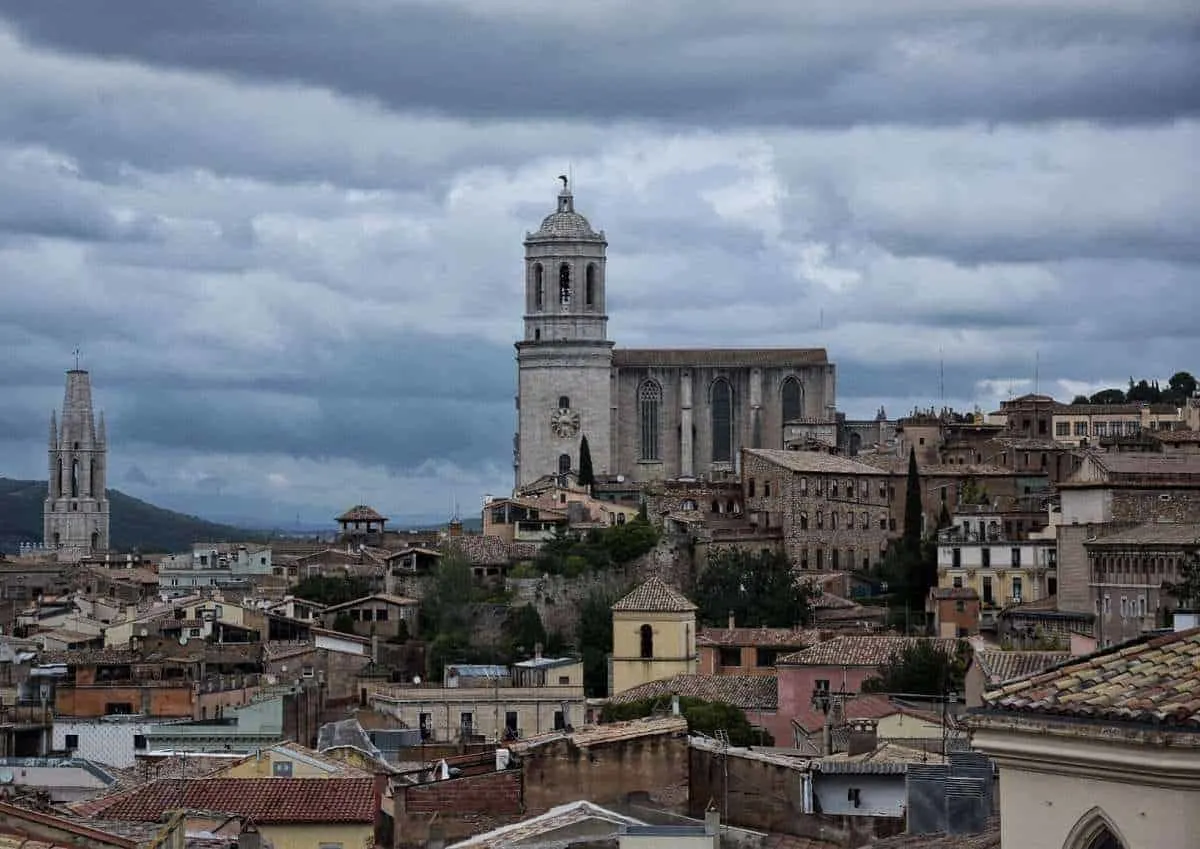 By MyAdventuresAcrossTheWorld.com
Girona is the main city of Costa Brava and a real gem. Incredibly well-connected thanks to a low-cost airline hub, Girona is often overlooked in favor of its more famous neighbor Barcelona. It's a real pity because there are many incredible things to do in Girona.
Just picture a beautiful maze of cobbled alleys, well-kept gardens and parks, large airy squares and smaller ones where you can just sit and observe life, a placidly flowing river overlooked by colorful buildings and crossed by several beautiful bridges such as the Eiffel one.
Add to this a gothic cathedral, a Jewish quarter and ancient walls that go around the city offering the most breathtaking views and is definitely one of the most beautiful places, Spain has to offer.
Top it off with some of the best restaurants in the world. Now, it's easy to see why Girona, one of Game of Thrones filming locations, is becoming an increasingly popular destination.
Book here your day tour to Girona from Barcelona
How to get there: Getting to Girona is incredibly easy. Girona airport is connected to the rest of Europe via budget flights. Alternatively, you can fly to Barcelona and opt to take the bus or train from there.
The train ride can take 35 minutes on the fast train, or up to 90 minutes on the regional one that makes several stops along the way. Book here your day tour to Girona from Barcelona
4. Bunkers del Carmel, Barcelona
By VickiViaja.com
Barcelona is definitely one of the most beautiful places in Spain to live in. Not for nothing did I move to the Catalan capital just a few months after my first trip to Barcelona. Barcelona is full of extraordinary and impressive sights. One of the most beautiful of these attractions is the Bunkers del Carmel.
Up until a few years ago, Bunkers del Carmel was still one of the secret places to visit in Spain. A hidden gem really. Today, many travelers are drawn to this beautiful place from which you can enjoy an incredible 360-degree view over the entire city.
This unique view is not accidental. The bunkers were built for strategic reasons in this place because you could detect approaching enemies from all directions already at an early stage.
Even though the view is no longer used strategically today, it enchants dozens of visitors every day. In addition to a fantastic view over the rooftops of Barcelona, you can see up to the sea and watch approaching cruise ships from here.
Inside the bunkers, you can find a small exhibition where you can learn more about the history and use of this place. The bunkers are thus a real highlight and shouldn't be missed on any Barcelona itinerary.
More about Barcelona
How to spend 48 hours in Barcelona
The Most Famous Buildings in Barcelona
Fabulous Wine Tours from Barcelona
Book here your tickets to Sagrada Familia
5. Ribes de Freser, Girona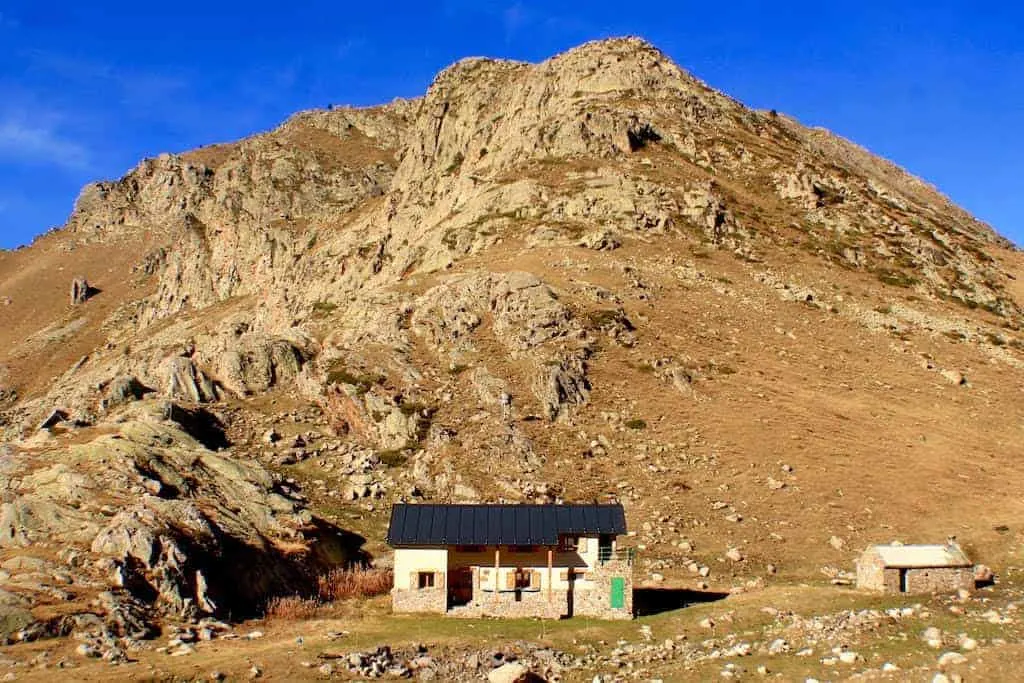 In the northeast corner of Spain, where the road intersects the Pyrenees, you'll find one of the most stunning hidden gems in Spain. What makes this place so beautiful is how condensed everything is within a valley of the Pyrenees.
Besides the typical European cobblestone streets, the river weaves through the center of town, rocky mountains and hillsides tower above, and lush forests surround the city on all sides. What a unique place in Spain!
My favorite part about Ribes de Freser is the abundance of outdoor activities. This town is located a few miles from the trailhead of Val de Nuria and Cami dels Enginyers AKA the Old Road, which I'd consider one of the best day hikes in the world.
If you don't feel like tackling this strenuous 12-mile hike, you can opt to ride the train up to the small ski resort, Nuria and hike back down the Old Road.
Ribes de Freser is also filled with hiking trails right from town, rock climbing, mountain biking, fishing, and most of all, a ton of 4×4 trails. This is the place to be if you want to go off-roading.
How to get there: People from all over flock here to enjoy the most beautiful nature in Spain that can be accessed by dirt road. Whether you decide to take on a strenuous hike, rent an ATV and explore the mountains, or just chill in town.
You'll be blown away by the beautiful nature in this region of Spain. Ribes de Freser can be reached by driving an hour and half north of Barcelona on the C-17 upon which you'll see signs for Ribes de Freser.
Book here your Day Trips from Barcelona
6. Priorat, Tarragona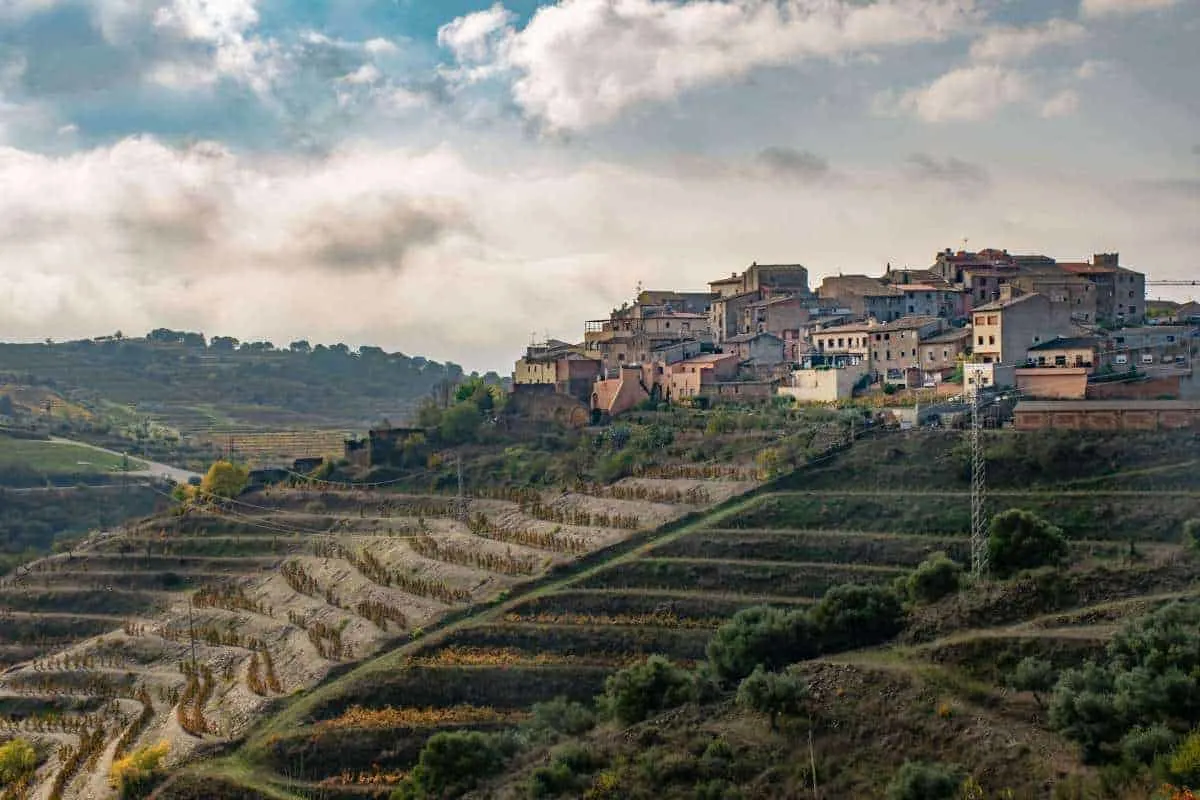 By TravelBlissNow.com
Happiness is a wine-soaked visit to the tranquil region of Priorat, Spain. This region, in southwest Catalonia, produces rich, full-bodied wines from grapes grown on terraced slopes so steep, it's a wonder anyone can walk on them. The views from the hilltops are among the most beautiful in Spain.
Best of all, the region is relatively free from tourist hordes as it is still one of the secret places to visit in Spain. It's a place where the term "authentic" still applies.
It has sleepy villages, like Falset and La Vilella Alta, where you'll find great home-made food. At the centuries-old wine cellars, you can schedule tastings and meet the winemakers. When looking for what to eat in Spain, this is definitely a must!
They've been reinventing the Priorat wines by going back to basics, with a focus on the flavors of the local grapes. Priorat is thus one of the most beautiful places to go in Spain.
Book here your wine tour to Priorat
The best way to visit the Priorat region is to take a tour. This way, the tastings will be scheduled at the best wineries for you, and you can avoid mixing the tasting with driving on the twisty roads. If you go on your own, you will need a car to travel between villages. Read more about wine tours from Barcelona
How to get there: Priorat is a two-hour drive west from Barcelona, or via train ride to the Falset-Marçà train station.
7. Vall de Nuria, Pyrenees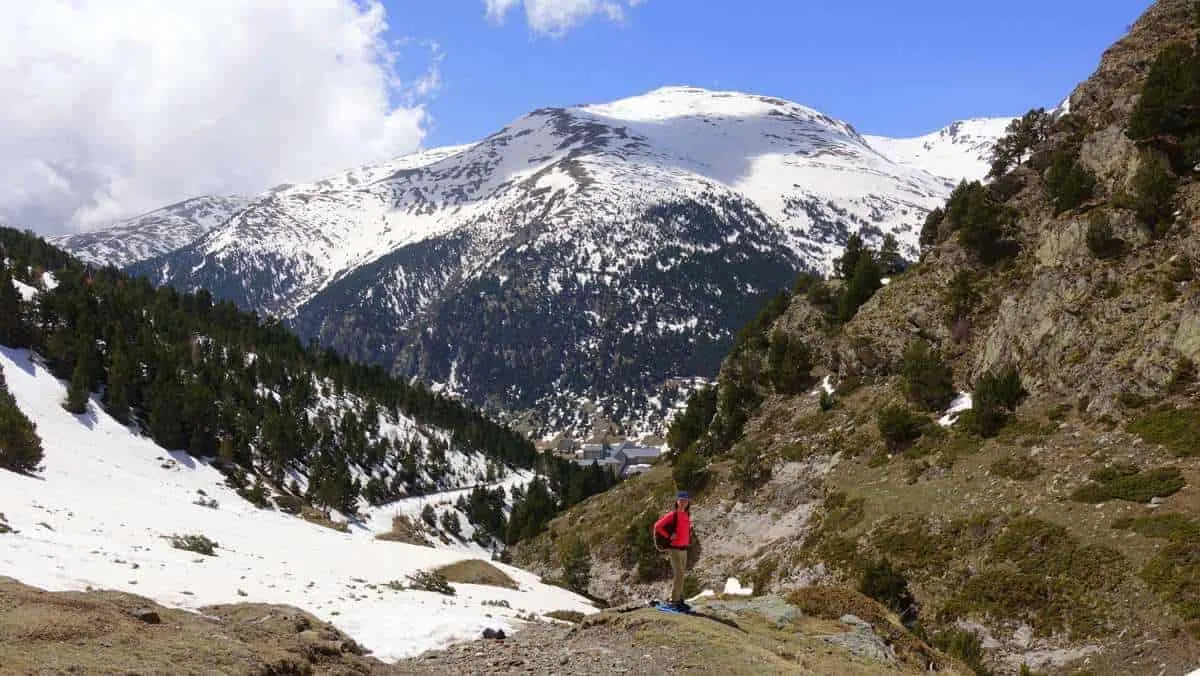 By LydiaScapes.com
One spectacular place to visit is the snow-capped mountains at Vall De Nuria in the Pyrenees. This surely had to be on our '40 most beautiful places in Spain' round up. Located a scenic train ride away from Costa Brava or a drive away from the city of Girona, this snowy place is truly breathtaking and beautiful.
When you visit during the start of springtime in Spain, this area is still rather cold with the mountains covered in ice, which makes it the perfect place to try this activity called snowshoeing.
Put on your trusty snowshoes, grab your ski poles and get the best of the beautiful mountain terrains by crunching up the snowy ice paths and enjoying a good workout.
While hiking, you will also see some winter wildlife like mountain goats, lizards and the occasional marmot, a cute fluffy beaver size animal that hibernates in winter and comes out of its burrows in spring.
Book here your tour from Barcelona to the Pyrenees
It announces its presence by making a funny noise that bellows through the mountains, calling its other fellow kind. When it does that, it can stand on its 2 feet and looks like a mega-size hamster at certain angles.
How to get there: You can get to the Pyrenees by driving from Girona town. It takes about 50 minutes to get to the town of Olot, 1 hour 20 minutes to drive till Ripoll and a good 2.5 hours drive to Puigcerda.
Some things to prep before making a trip over to the Pyrenees to do snowshoeing is to have proper walking shoes, thin breathable winter hiking clothing, a good Spanish snack, and a water ration to fill your belly and quench your thirst during a break. – Book here your tour from Barcelona to the Pyrenees
Most beautiful places in Spain: Andalucia
8. Tarifa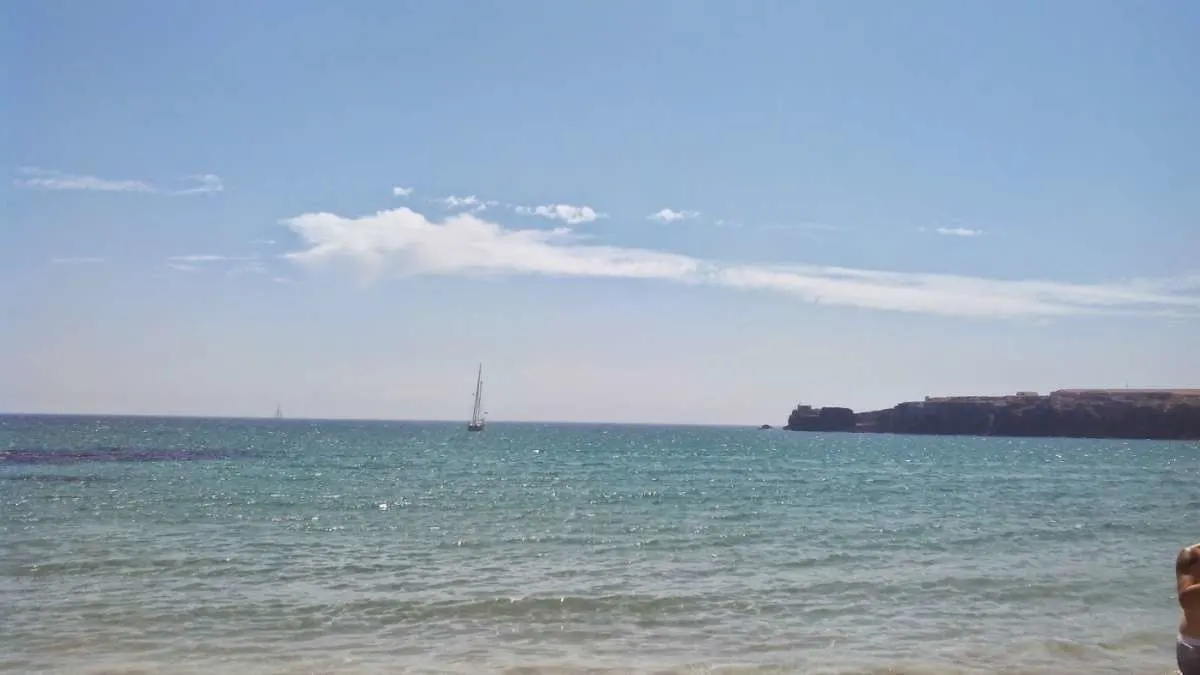 By EcoConsciousTraveller
I absolutely love Tarifa in Spain's Andalucia region in the south. Although it's really popular for Spanish families and friends to spend their holidays in Tarifa, it's less well known among tourists from outside of Spain.
This definitely makes it much more authentic for travelers from outside the country than Ibiza or the Costa del Sol!
In the town of Tarifa itself, as well as in every direction nearby there are beautiful beaches! The beaches are truly incredible and the town itself is so picturesque and quaint. Tarifa is really my favorite beachside destination in the world as is has some of the best beaches in Southern Spain.
There's so much to do while you're there. The normal beach stuff like sunbathing or swimming, surfing or hitting the chill bars at night time. You can even take a day trip to Morocco as you're so close!
The food is also delicious; seafood lovers will not be disappointed!
It's also generally cheaper than a lot of popular holiday destinations in Europe. What you pay for a delicious meal in Tarifa is really nothing!
On that note however as it's a very popular tourist destination for Spanish tourists in the summer, if you are heading there in July or August, the prices will definitely be higher than the rest of the year.
How to get there: I flew into Malaga airport and took a blablacar car share to Tarifa. There are also bus services from around the country. Read more about places to visit in Andalucia.
9. Nerja, Malaga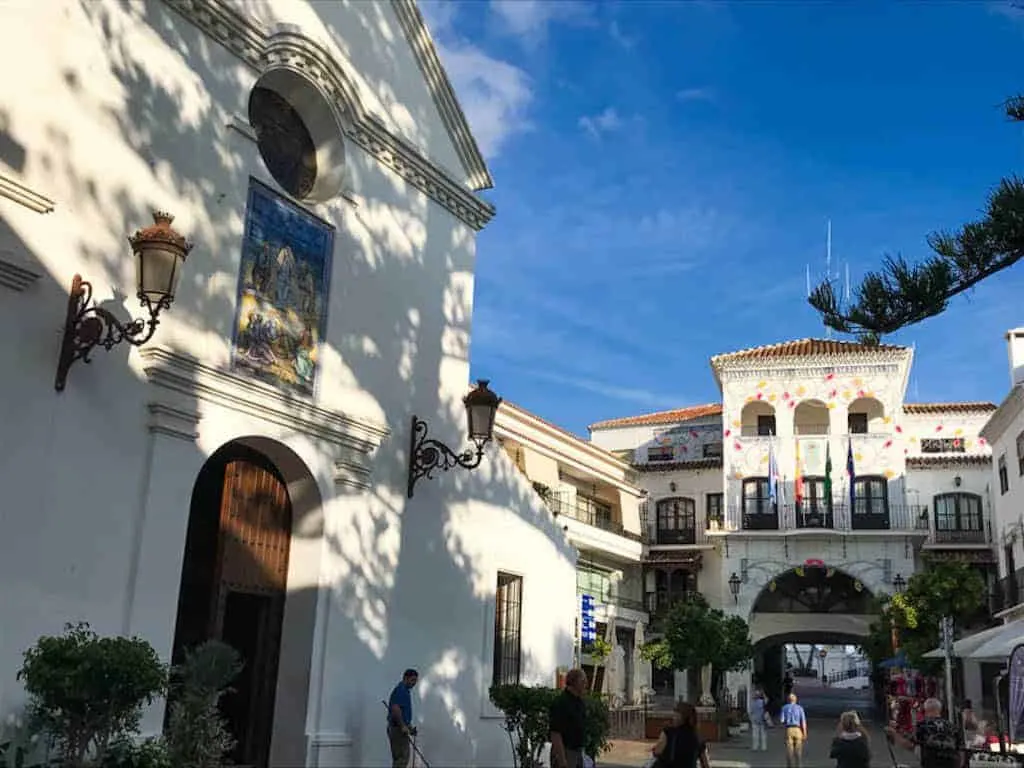 By ExploreNowOrNever
Lovely Nerja, on the Costa Del Sol, just north of Malaga, was a "vacation from our vacation" during our two weeks in Spain. It was fiesta day when we arrived so we navigated our way to the famous Balcony of Europe—which marks the center of the town—while stepping around senoras and señoritas of every age dancing in their beautiful flamenco dress to the bands that lined the streets. It was quite a sight to behold. Nerja is one of the most popular day trips from Malaga.
Because Nerja is a bit off the beaten track, there are far fewer tourists here than in other Costa del Sol hot spots. Meaning chances are high that you can enjoy gorgeous beaches here almost to yourself, even in high season.
But be thoughtful where you book if beach time is your main objective. Unlike in most other beach towns, the beaches in Nerja are not contiguous. It can be tricky to gain entrance. That's why hotels that promise beach access are particularly appealing.
Book here your tour to Nerja and Frigiliana
While you're enjoying the stunning coastline here, be sure to seek out a paella on the beach! Several restaurants make it easy. Or, you can look for the purveyor of the giant paella directly ON the beach (but only at lunchtime!)
If you missed the white hill towns in Andalusia (or didn't get your fill), plan a day trip from Nerja to lovely Frigiliana. It's a memorable way to enjoy the best in the area. Read more about places to visit in Andalucia.
Related: Unique Things to do in Nerja
10. Ronda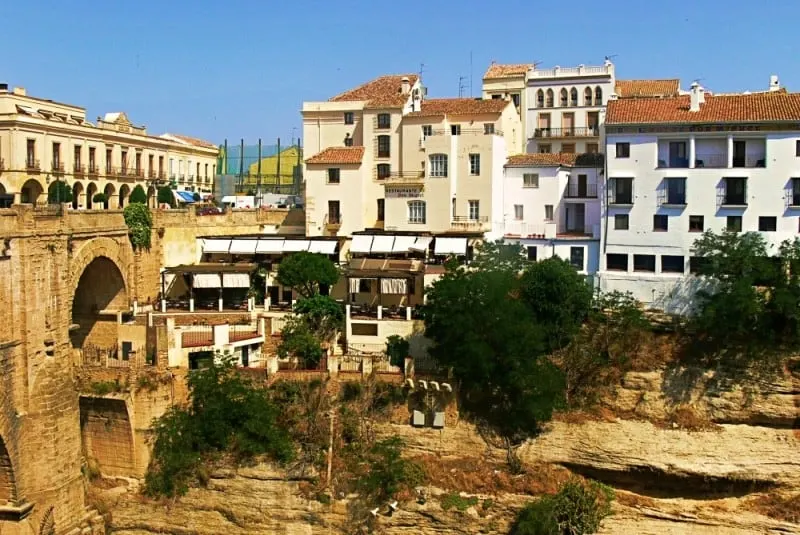 Ronda has one of the most dramatic locations in all of Spain. Andalucía in southern Spain is famous for the pueblos blancos (white villages) that dot the hillsides. Ronda is the largest of these towns, and the white buildings of the old town are incredibly beautiful. However, Ronda is even more famous for its dramatic location.
The new and old town is separated by a deep ravine, the El Tajo gorge, and the old town is perched right on the rim.
The New Bridge (it was new back in 1759 when it was named) is a beautiful stone bridge that spans the ravine. The iconic view of the bridge is best seen from the Camino de los Molinos, on the bottom of the gorge.
Ronda is also famous for bullfighting and the perfectly circular Plaza de Toros bullring is one of the oldest in Spain, over 200 years old. Even if you don't like bullfighting, it is worth visiting the bullring. The view as you stand in the middle surrounded by the perfect tiers of the seats spread around you in a perfect circle is gorgeous.
Afterward, wander the narrow, cobbled streets, then settle into an outdoor café and enjoy tapas and a glass of wine as you watch the world go by. No wonder that this gorgeous town has been a movie set for several films set in Spain.
How to get there: You can get to Ronda by car, bus or train from all major cities, including Malaga, Seville, and Granada.
11. Albaicin, Granada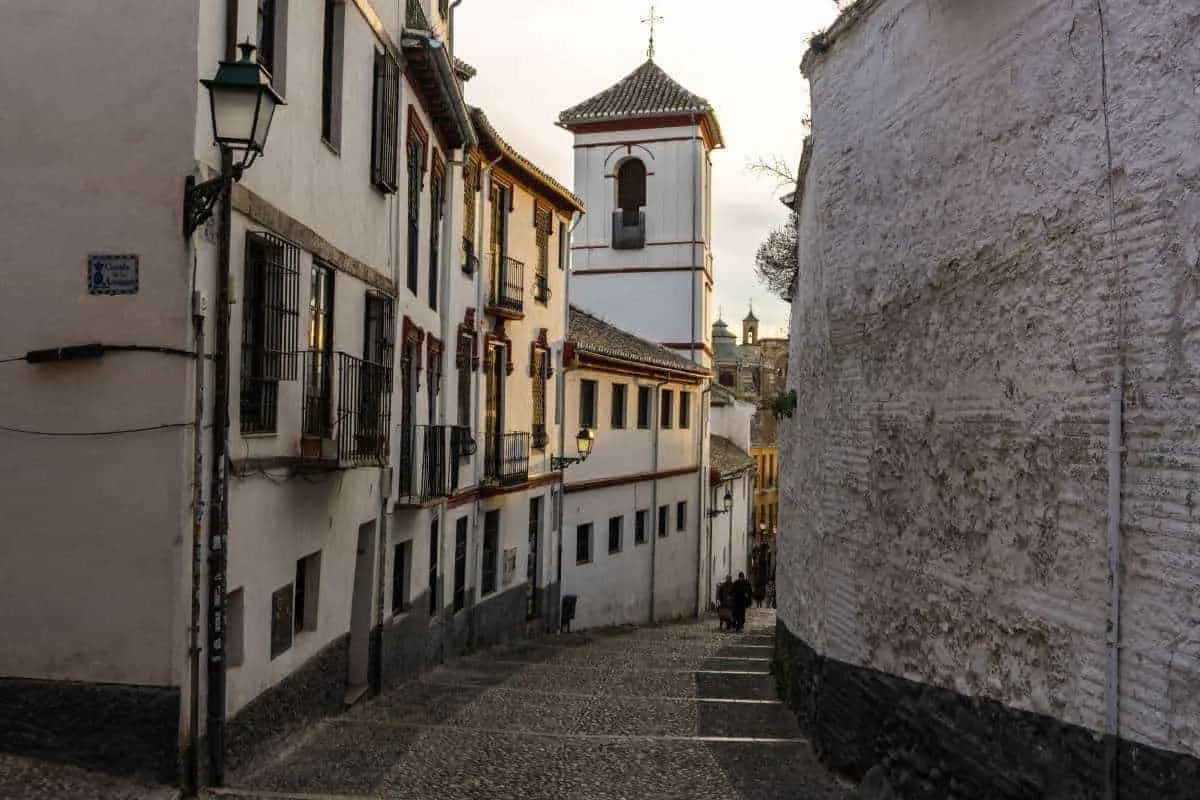 By TheWorldWasHereFirst.com
One of the most beautiful places to visit in all of Spain would be the city of Granada. While this city in Andalucía is best known for the famous Alhambra, it is also home to some of the most beautiful neighborhoods in the world, most notably the Albaicín.
As the former Arab quarter, the Albaicín today is protected as a UNESCO World Heritage Site and is known for its winding cobbled streets and tall, whitewashed houses. Getting lost while wandering through the narrow lanes of the Albaicín is one of the absolute best things to do in Granada and the neighborhood is sure to charm you.
As are the myriad viewpoints in the quarter providing stunning views of the Alhambra.
Book here your walking tour through Granada
If you want to get to know the centuries-long history of the Albaicín, it is possible to take a guided free walking tour of the quarter. Here, you can learn all about how the Albaicín was home to important families under Moorish rule and how the area fell into decline after the reconquering of Granada in 1492.
Though it was once one of the cheapest and most run-down places to live in Granada. Today is one of the most beautiful places to live in Spain
but also one of the most expensive neighborhoods in all of Spain when it comes to property prices.
As one of the main tourist areas in Granada, the Albaicín is easy to reach on foot from every other major attraction in the city.
12. Alhambra, Granada
By NotAboutMiles.com
One of the top things to do in Granada is a visit to the world-famous Alhambra. The Alhambra Palace is the reason why many travelers visit Andalusia, Spain's southern province. And when you visit, you will find out exactly why this amazing palace-fortress complex is at the top of visitors' itineraries!
The Alhambra was originally a fortress, built to defend the city. But in the 13th century, the sultans of Granada decided to occupy the site as their residence, and over the next several decades, built an opulent palace complex, called the Nasrid Palaces.
After the Catholic monarchs gained control of Granada, Charles V built a Renaissance Palace at the site. Adjacent to the complex is the gorgeous Generalife Gardens.
Together with the historic Albayzin quarter on the hill opposite, the Alhambra and the Generalife Gardens have designated a UNESCO World Heritage site.
You will be awe-struck by the architecture of the Nasrid Palaces, with their arabesque detail and lacy arches. The Patio of the Lions within the Nasrid Palaces is a must-see. And if you visit in the spring, you will see the gardens in full bloom. Granada is also a great day trip from Malaga.
Don't forget to book tickets for the Alhambra well in advance of the planned date of your visit, because the daily number of visitors is controlled, and you want to make sure you can get in! A guided tour is also a great option, so you can learn about history.
Read: Things to do in Granada – the perfect 3-day itinerary
13. Italica, Seville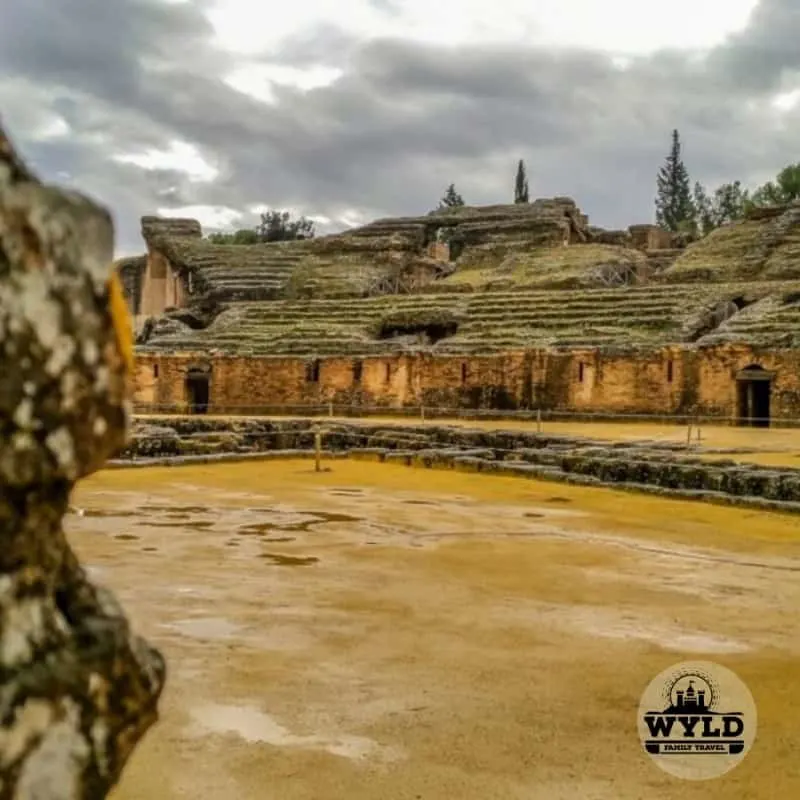 Italica, Spain was a place many people did not know about when we were telling them about the magnificent day trip we had out there from Seville. Mark, being a Game of Thrones fan knew all about it though and it was high on his list of places to see when we were in Seville.
Italica is now the ruins of a grand Roman town where the two Emperors Trajan and Hadrian were born. We spent around 2 hours wandering the ruins of the town as well as the grand Colosseum. It was the 3rd biggest Colosseum in the Roman Empire at one stage and in it's prime could hold 25,000 people.
We wandered the ancient walk-ways through the town, marveled at the mosaics that are still visible even after being exposed to the weather for so long and we enjoyed the quiet. For us, this was an experience in an ancient Roman site that we had not had before. It had been raining earlier in the day and we were the only people walking the ancient paths.
If you are visiting Seville, this is a place you must go and see for yourself before the crowds flock there and you will not be on your own. Italica is thus one of the best day trips from Seville.
How to get there: Just a little over 10 km out of Seville it is easily accessed by a taxi for around 15€ as well as a bus. We found the bus a little easier to catch on the way home than on the way out there. Entry to Italica was 2€ for adults and our daughters were for free.
Book here your Day Trips from Seville
14. Cabo de Gata, Almeria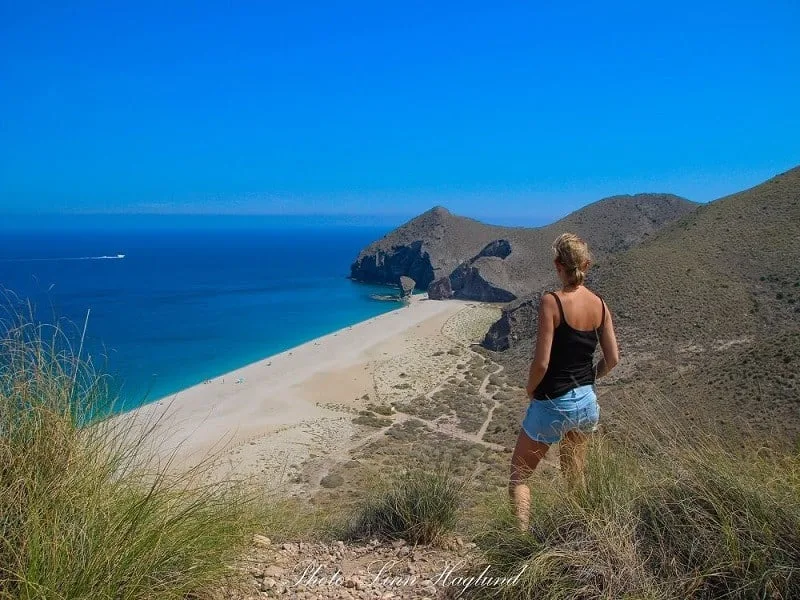 By BrainyBackpackers.com
Cabo de Gata-Níjar Natural Park is one of my favorite places in Spain. It is the only area in mainland Europe with a desert climate, as well as it offers some stunning beaches, cliffs, and breathtaking views. The beaches in Cabo de Gata are without a doubt some of the best in Spain.
Some of them are a hike away from the road and sand dunes roll down to mix with the beach. And the best of all, they are completely off the beaten path. Some of the most known are Monsul beach, Los Genoveses beach, and Los Muertos beach, but there are so many other beautiful gems along the coastline worth exploring.
To get to the national park Almería has the closest airport. From there, if you don't have a car, there are daily buses from Almería to San Miguel of Cabo de Gata, Las Negras, and San José. The three towns are surrounded by splendid beaches and hikes.
From Las Negras, you can easily get to La Cala de San Pedro which houses a hippie community and is the only beach in Spain where you are allowed to camp on the beach.
This makes the beach popular among backpackers that either make the one-hour hike across from Las Negras or get the boat over. Read more about the best beaches in Cabo de Gata, Almeria.
15. Grazalema, Cadiz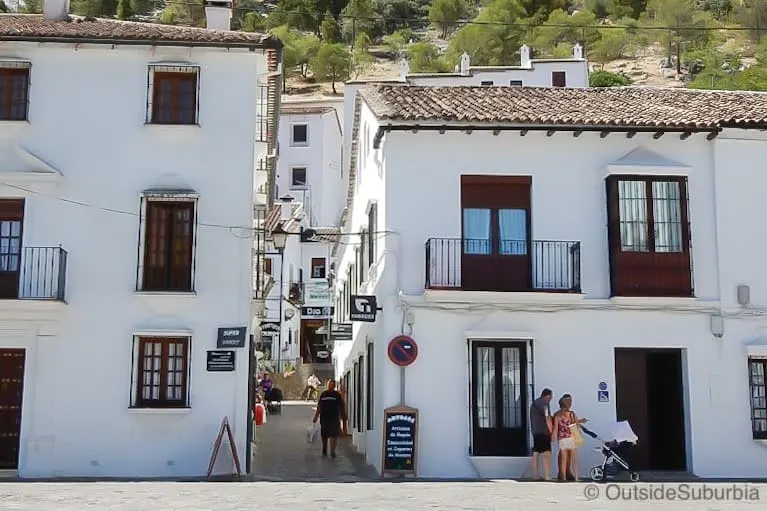 By Outside Suburbia.com
Between the Atlantic in the west and the Mediterranean in the east, lies some hidden gems of Spain. If you are visiting Andalusia, Southern Spain, you cannot miss a trip to visit these white villages.
We went on a road trip from Seville to Granada and stopped at a couple of villages on the way. These white villages, with whitewashed walls, red-tiled roofs, cobblestone streets and ornate churches atop cliffs, make you wonder if you are in Greece. They date back to the Romans and Moors and are rich in history.
Grazalema in the Cadiz province is a natural park with a variety of flora and fauna that varies from Spanish fir, maple woods to deer and Iberian wild goats. This Spain nature attraction is known for its great hiking routes and outdoor activity options and popular with climbers and hikers.
While tourism is picking up in the area, the economy of the villages depends on small-scale agriculture, cork harvesting, furniture making, sheep herding, and handicrafts.
Grazalema Natural Park has a trail of white villages going through it, many of which belong to the Natural Park. We stopped at one of them for lunch and spent the afternoon wandering through the whitewashed streets and alleyways that seem to lead up to the mountains nearby.
16. Trevelez, Granada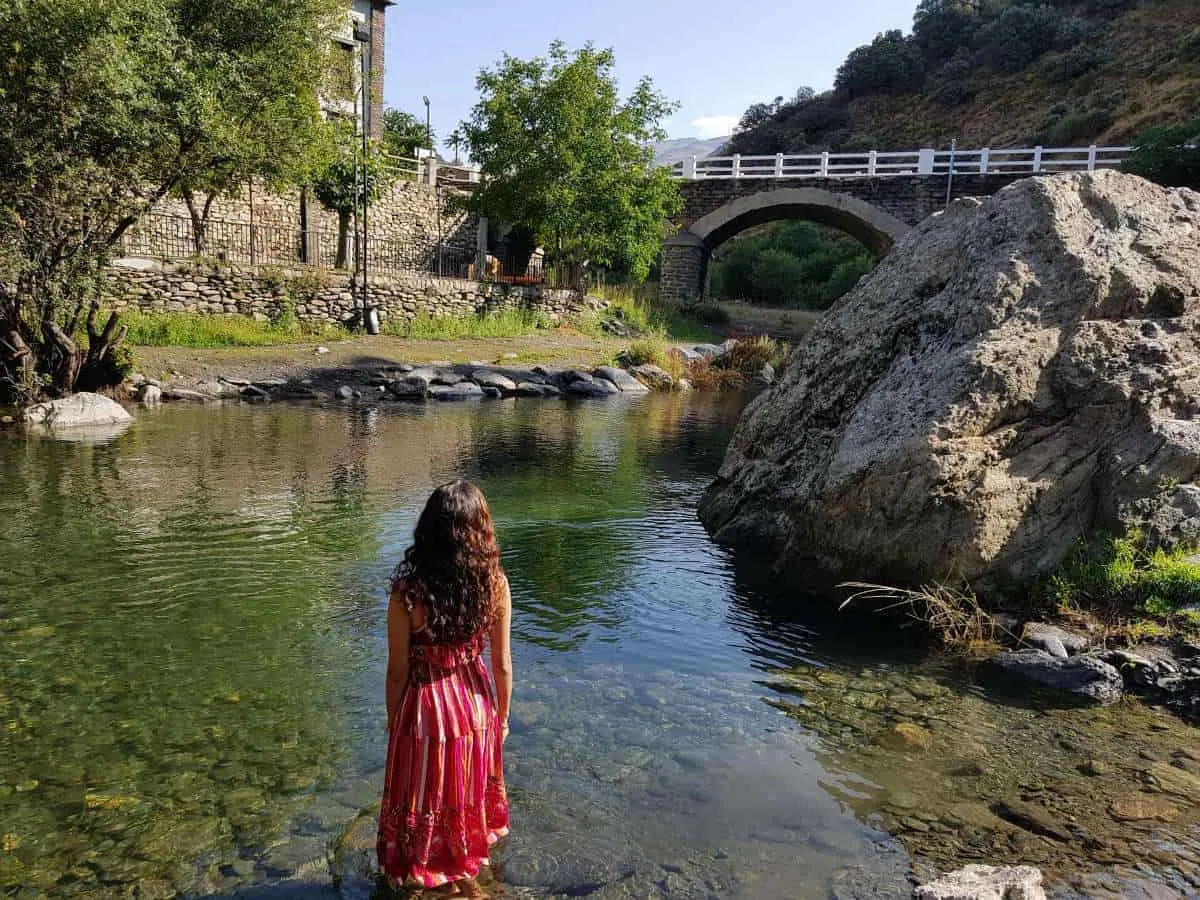 Trevelez will have you wishing small-town tranquility could be bottled and sold as a mood. After Valdelinares in Aragon, Trevélez is Spain's second-highest village. And also the highest village in Andalusia.
This makes it an excellent base for hiking the highest peaks of the Sierra Nevada. Even if you're not into hiking, it's a great destination just for its rarified mountain air and tranquility.
A beautiful tradition up here is the annual midnight trek to the top of Mt Mulhacen, mainland Spain's highest peak.
Through the night of August 4th every year, pilgrims from nearby villages climb this mountain in honor of the Virgin of the Snow. She is believed to have saved a priest's life while he was on his way to Granada from the Las Alpujarras.
The pilgrims believe that every annual midnight trek will keep travellers safe for yet another year. Seems to have worked pretty great so far for Trevelez.
How to get there: From Granada, catch an ALSA bus up to Trevélez. This will cost you 8€ and the journey takes you up the mountain through a winding road for a little over 3 hours. If you go by car, take the A4132. Book here your tour to Trevelez
17. Estepona, Malaga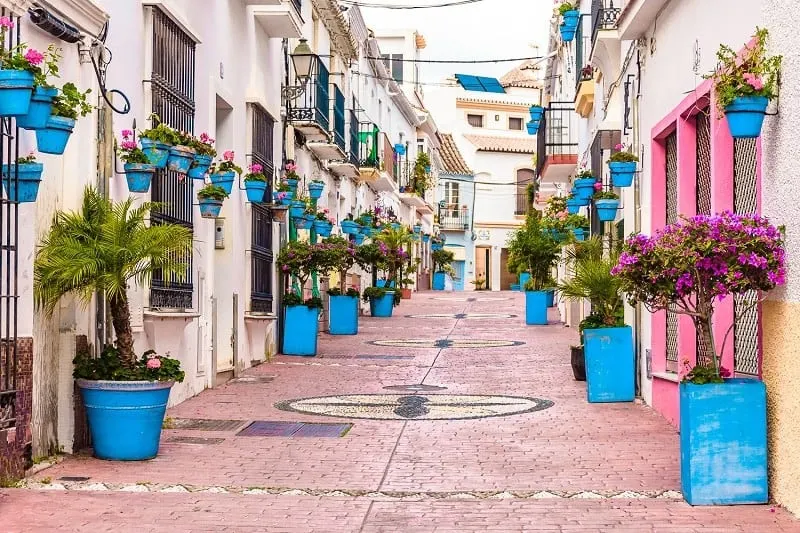 Estepona is one of the lesser-known cities in Spain, and it's located in the Southern part of Costa del Sol. It's an old city with a historical town square and narrow Andalusian alleys.
What makes Estepona even more charming and unique is the fact that along all these alleys and streets, the house walls have flower pots in different colors. Each street has its own colors of flower pots hanging on the walls.
The old town and marina have many charming cafes and traditional Spanish bars serving tapas, coffee, and beer. The best thing to do here is simply strolling around the old town, and go for a walk along the beach promenade that goes to the Marina. Have a stop at some restaurant or café and just enjoy the beautiful and peaceful surroundings in a charming town.
Estepona also has a very long beach which doesn't get as crowded as the beaches in the Marbella area, further up on Costa del Sol. It's easy to get to Estepona. If you're coming from abroad, you can fly to Malaga from many places around the world, and then you hop on a direct bus from the airport.
How to get there: If you're already in Spain, the best way to travel to Estepona is by bus or car.
18. Marbella, Malaga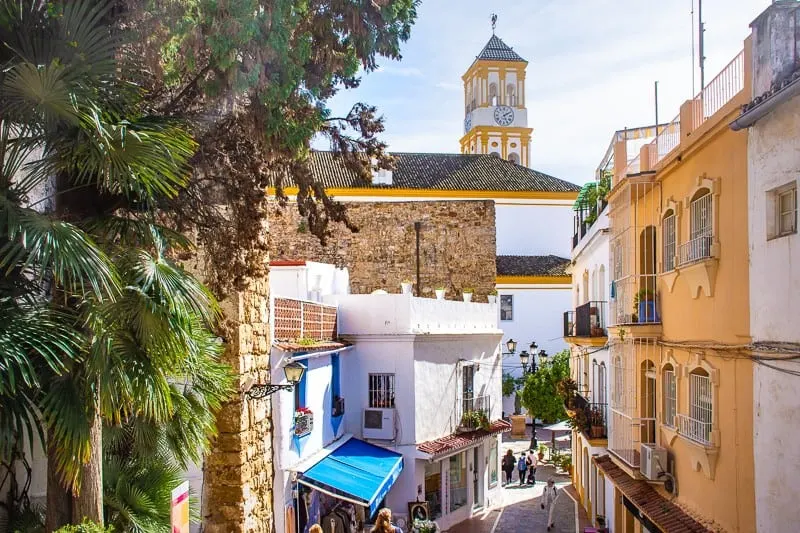 Marbella is one of the most popular destinations in Spain, and rightly so. It has a great location on the sunny Costa del Sol, and offers everything from luxury to history as well as budget options. It is well known for its party scene and attractions of jet setters from around the world. Read more about where to stay in Marbella.
However, my favorite part of Marbella is the old town which is filled with picturesque alleys and squares with Andalusian houses. There are also many nice restaurants serving traditional Spanish food from the region.
It's pure bliss to stroll around the old town of Marbella, and it makes a nice contrast to the newer areas of the city.
Locally, the old town is known as Casco Antiguo, and it's often divided into two parts – Barrio Alto and Barrio Nuevo. Plaza de los Naranjos is especially beautiful and was built in the 1400s. This is where you can admire the beautiful town hall and the oldest church Ermita de Santiago.
If you like history and picturesque towns, then this is definitely a must place to visit. Marbella also has some of the best beaches in Spain, and some of them are even walkable from the city center, such as Playa Venus.
How to get there: It's easy to get to Marbella, either from Malaga where you have an international airport, or by bus from various cities in Spain. Read more about places to see near Marbella.
19. Mijas, Malaga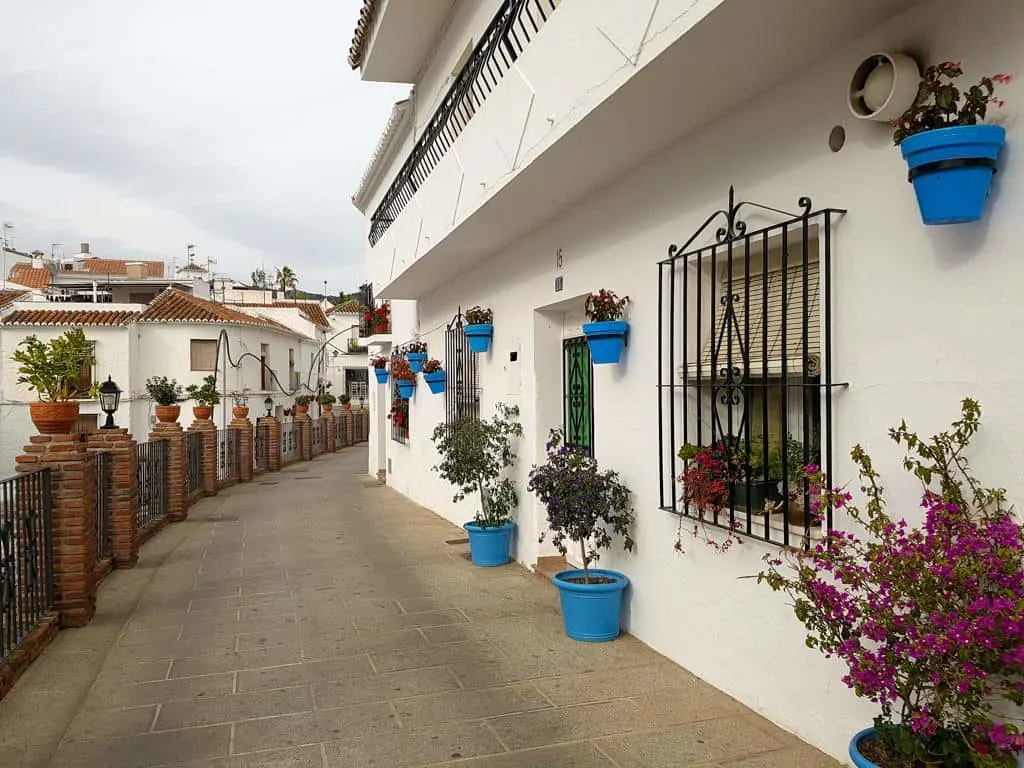 By TheWorldInMyPocket
Mijas Pueblo is one of those hidden gems that Andalucia has to offer. Tucked in on one side of a mountain, Mijas Pueblo is the most beautiful white village on Costa del Sol, in my opinion. There are plenty of things to do there, and you can easily spend the entire day exploring and enjoying the sights.
From Malaga, it's very easy to get to Mijas Pueblo, as there are daily buses that go up the mountain.
One of the popular museums in the village is the Miniature one. One of the cool things about the exhibits in this unique museum is that you do need a magnifying glass to see them. There are paintings done on grains of rice, stuffed clothed fleas, and even a human head reproduction.
Another interesting thing to see here in Mijas is the free flamenco show which takes place every Wednesday and Saturday in the main square and is free of charge.
Whilst the main attraction of the village are the donkey taxis, I wouldn't recommend going for a ride with them because I consider it to be animal cruelty. Instead, you can take the electric tuk-tuk if you want a ride around the village.
Read: Things to do in Malaga – the perfect 3-Day Itinerary
20. Cordoba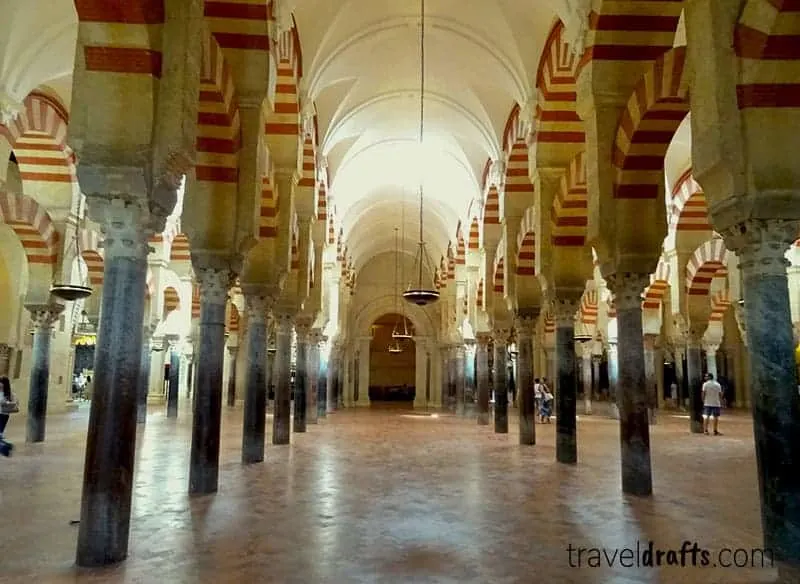 By TravelDrafts.com
Cordoba is one of Spain's most fascinating cities and one of the most important centers during the Arab domain in this region. The city of Cordoba is a good testimony of the legacy of Muslims in Spain.
All over the city, you will find evidence of the fusion between Muslims and Christian. It is also a very pleasant city with a good vibe, especially during summer and at night.
The biggest appeal of Cordoba is its Mosque/Cathedral. It used to be a Catholic church, but it was transformed into a mosque during the Muslim rule, and after the Reconquista, it was converted back again into a church.
This turned the building into a mixture of styles and a rather breathtaking building. The most interesting feature is the arcs inside the Cathedral, they are simply unique. You can also visit the tower in the gardens of the Cathedral.
During your trip to Cordoba, you should wander around the city center (a World Heritage site), stop at the Jewish Quarter and eat some tapas, cross the Roman Bridge and enter the Alcazar de Los Reyes Cristianos.
How to get there: The easiest way to go to Cordoba is by car, but you can also reach it by train from Madrid or Seville.
Read: Things to do in Cordoba, the perfect 3-day itinerary
21. Mojacar, Almeria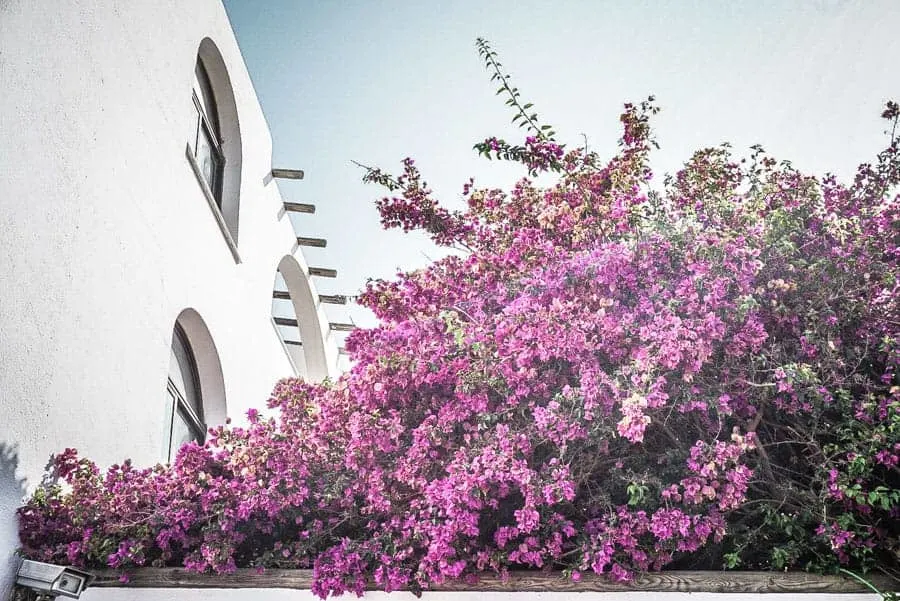 By TheDiscoveriesof.com
Mojácar Pueblo and its surroundings are one of the nicest places in Spain that I've visited. Tucked away in the Almeria province on the southern coast, the old town is one of Spain's prettiest white villages. A cluster of whitewashed houses, tiled exteriors and bright pink bougainvillea clustered at the top of a hill.
The old town is relatively small and easily explored in the course of the day. Make sure you visit the Moorish fountain, which has a plaque commemorating the peaceful handover of the town from the Moors to the Christians during the Spanish reconquest.
Other highlights include the Mirador de la Plaza Nueva which boasts som
of the best views of the town, closely rivaled by the Mirador del Castillo with its pretty views of the town and out to sea. There's also the Woman of Mojacar, a rather unusual statue in the town center. According to folklore, if you touch her breast, you'll return to Mojacar.
Away from the pueblo, Mojacar is located at the edge of the beautiful Cabo de Gata National Park.
You can explore the park in many ways, but the easiest (and, IMHO, the prettiest) is taking the coastal La Mena path, which winds up cliffs and down gullies alongside the clear waters – there are even few beaches along the way for you to stop and take a dip in.
How to get there: Fly to Almeria airport and it's about a 1.5 hour drive from there.
Most Beautiful Places in Spain: Mediterranean Coast
22. Altea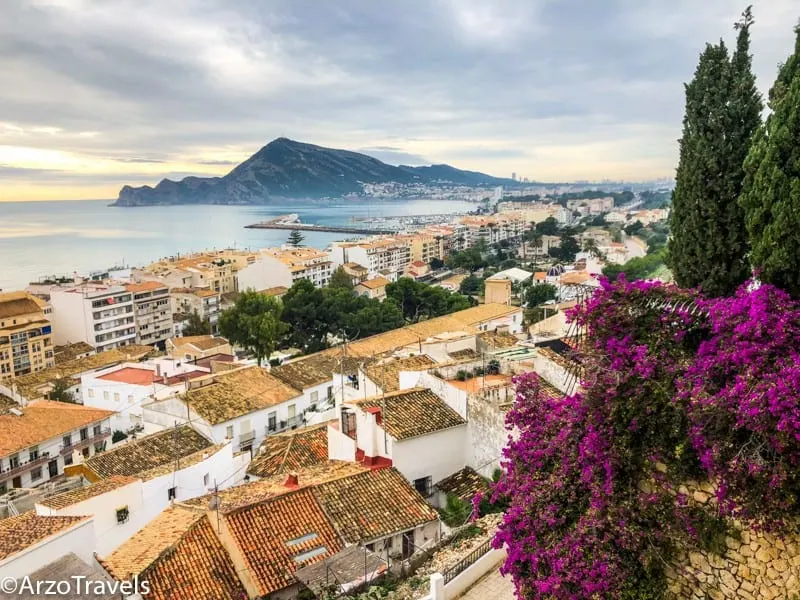 Whitewashed houses, colorful flowers against white walls, and pretty ocean views – no, we are not talking about Greece but about a small village in Spain named Altea.
Never heard of Altea? Well, I had not heard of it before my visit either and then it became one of the most charming and cutest places I visited in Spain.
Located at Costa Blanca, near Alicante, this town sits on a hill and not only offers lovely views over the ocean – it is so tiny that it just takes a few hours to discover. However, Altea teaches us that size does not matter.
As it is small, I also suggest having dinner at one of the restaurants that come with a view and to take your time. If you are lucky, you will have a music band playing. How much fun was it to watch some older Spanish ladies (also tourists) started dancing Flamenco! On a sunny day, you can take a break and relax at the beach for an hour or two. Altea – so small and yet so cute!
How to get there: Alicante has a popular airport. From there, you can take a train and will get there within less than one hour (a return ticket is around 10€ and the train station brings you almost right in the center of Altea Town).
If you want to get there by car it is also easily accessible from Alicante and takes less than an hour.
23. Alicante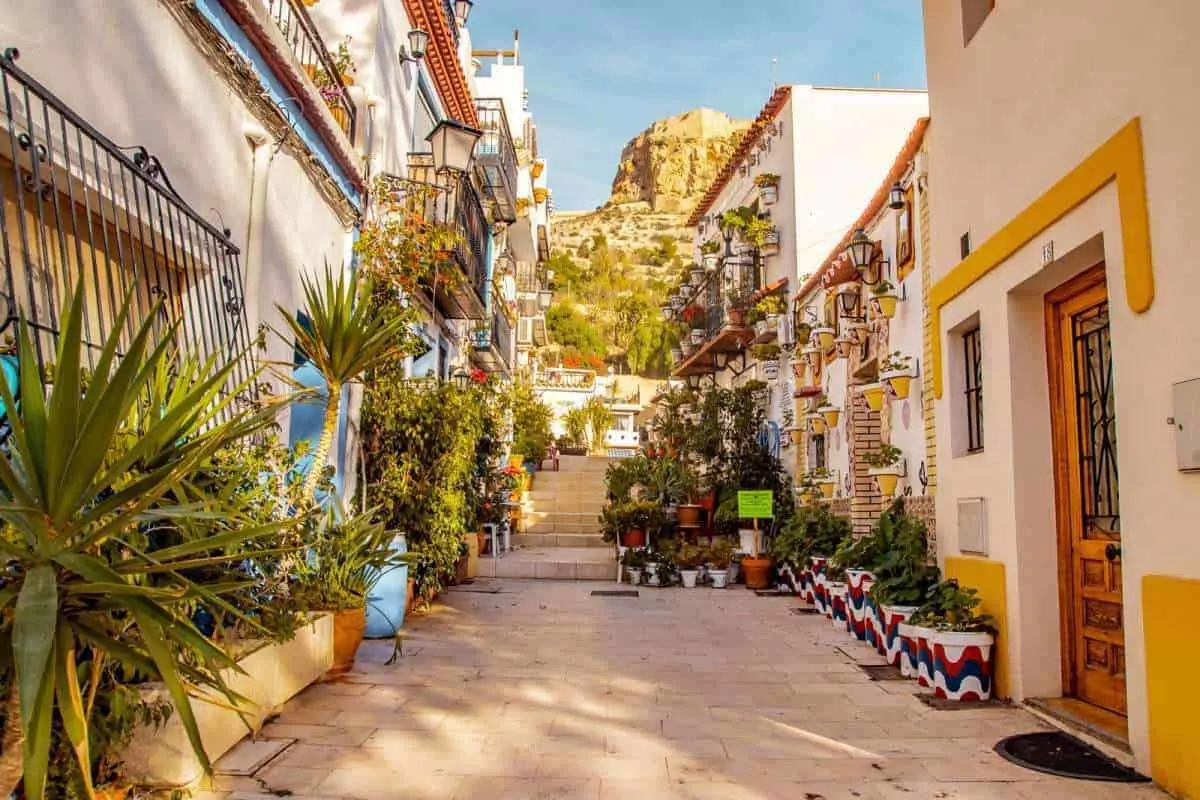 When I traveled to Alicante, at first I was a little skeptical as there are simply too many cheap direct flights coming in from Northern Europe. I reckoned the city would be extremely touristy and totally not my place. Quickly, I learned that most travelers flock to nearby Benidorm and other popular places along the Costa Blanca and leave Alicante for what it is. Perfect!
I found out that the city center has a beautiful old town with steep narrow streets and colorful houses. No cars, just staircases, and walkways in and between the streets where you will find some small boutique shops and tiny restaurants among the friendly locals drinking coffee in front of there houses.
Alicante old town is built on the side of a massive rock formation and has amazing views over the city.
The castle on top of the rock is an absolutely spectacular sight and a great place to watch the sunset. Alicante also had much more soul than I thought and the nightlife was full of locals rather than tourists.
There were a couple of hidden squares full of charming restaurants and terraces.
From Alicante, there is an endless list of amazing activities and day trips to be done in the region and the city is also known for hosting the start of the world-famous Volvo Ocean Race event. It is one of the top places to stay in Spain.
24. Buñol, Valencia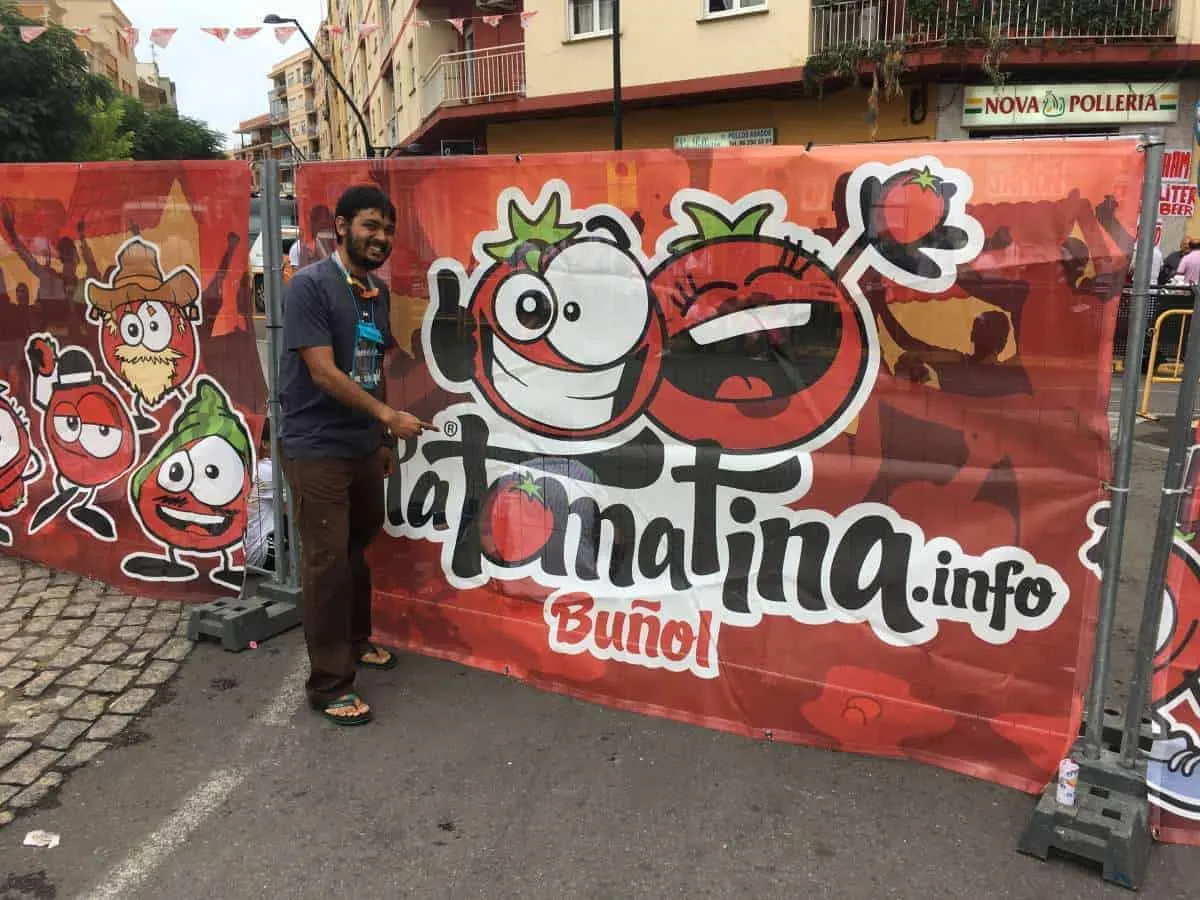 By ConstantTraveller.com
Buñol is a sleepy little town a few kilometers off Valencia. Residents usually seem surprised to see visitors most of the year. But one particular occasion marks this place out. Every year, during the last Wednesday in August, truckloads of tomatoes are thrown at visitors during the Tomatina festival purely for entertainment purposes.
That sounds weird but the festival is actually quite fun. There are certain rules to follow as well but most visitors have too much fun to really think about anything except having a good time.
Trucks loaden with more than a ton of tomatoes pass through the main square with people throwing tomatoes at each other for almost an hour.
Once everything around you is red with tomato pulp, you can shower from giant fire trucks, as well as residents' garden hoses before drying up. Suffice to say, you'll have ticked off a successful bucket list item from your list as well.
How to get there: The festival is a ticketed event so make sure you buy your passes beforehand.
Buñol is roughly 30 kilometres from Valencia with most ticket operators providing transport options between both cities. If you're keen on adding this bucket-list item to your list this year, the Tomatina festival is scheduled for August 26 this year 2020.
This definitely puts Buñol on the 'most interesting places in Spain to visit' list!
Read more about Valencia:
25. Guadalest, Valencia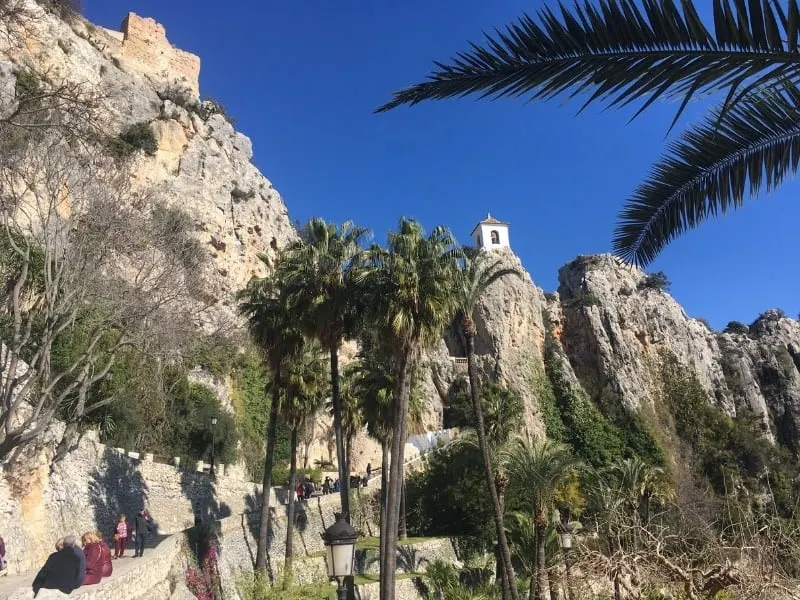 The mountain village of Guadalest is set high above the Costa Blanca coast. It is perhaps the most famous village in Spain and is, I think all the more beautiful for being a retreat from the concrete jungles of the Costa Brava resorts.
It's a fortified village, atop a granite mountain with views to both the coast and a gorgeous turquoise blue reservoir that supplies the water to Benidorm!
The village dates back over 1,000 years and documents its history in a series of museums. There are fabulous cobbled streets, gorgeous cafes and stunning views. With just 300 permanent residents, this is a stunning place to visit, once the day-trippers have gone home!
The museums here will tell you the history of the village. You can buy artisanal products from the small stores here and enjoy the produce of the region in a much more traditional fashion that you can on the coast.
The best views of Guadalest come from the castle, high on the granite outcrop where the reservoir is a great relief from the mountain vistas. The tower at the top of the castle makes for great photos too. Guadalest is a superb place to relax and enjoy local wines and foods and a quiet place to spend a night or two.
Most Beautiful Places in Spain: Northern Spain
26. San Juan de Gaztelugatxe, Basque Country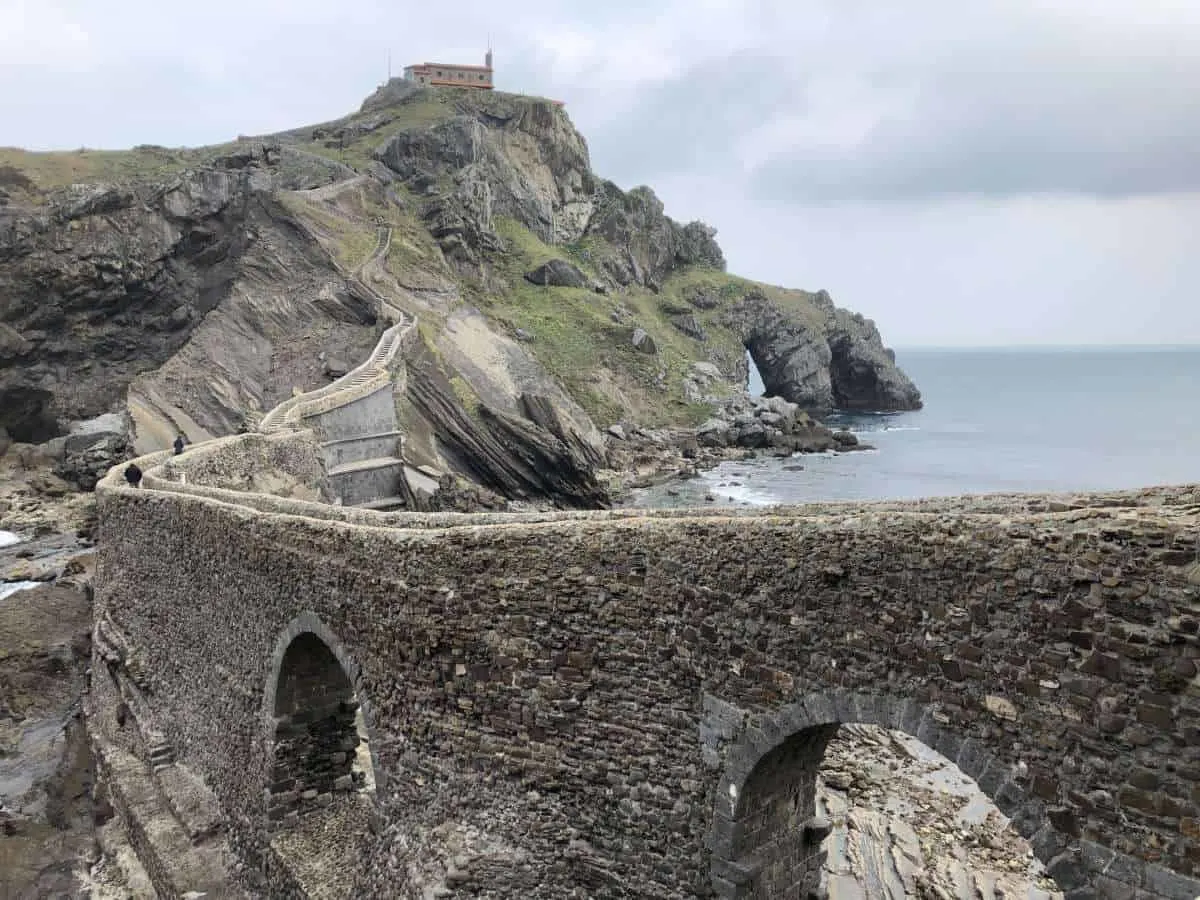 Located in Bizkaia, Basque Country, San Juan de Gaztelugatxe is a must-visit for its natural beauty, historical intrigue and for any Game of Thrones fans looking to find Dragonstone.
The journey to get there is an adventure itself and is about an hour's drive from Bilbao. Once you get to the village of Bermeo, the carpark can be reached via a winding coastal road offering breathtaking views across the Bay of Biscay.
You'll find plenty of parking places in the three car parks which are well signposted but I recommend arriving early in Summer. This place can get pretty busy and now even more so, after it was featured in GOT, season 7.
You cannot drive to the foot of Gaztelugatxe. You'll have to take the half-hour hike down the cliffside to reach the 240 steps steep incline to the church itself. The walk, although pretty intensive, is easy to do and you'll be rewarded with amazing views of Gaztelugatxe on the way down. Just remember you'll have to walk back up so pace yourself, take plenty of water and wear sensible shoes.
Once you reach the bottom of the cliff, you'll arrive at a huge stone bridge crossing the rocky beach and stormy stretch of sea to get to the islet.
This is my favorite view of the church, its zigzagging staircase to reach the top and almost impossible natural rock formations. You can imagine locals taking their weekly pilgrimage up to worship or to shelter from storms or pirates.
The church you'll reach the top is not the original from the 9th century. It has been rebuilt several times after being damaged by fire, weather, and looting but it is still very impressive. As a reward for all that hard hiking, make sure you ring the bell at the top three times for luck, take a break to enjoy the views and recharge before the hike back.
27. Picos de Europa, Cantabria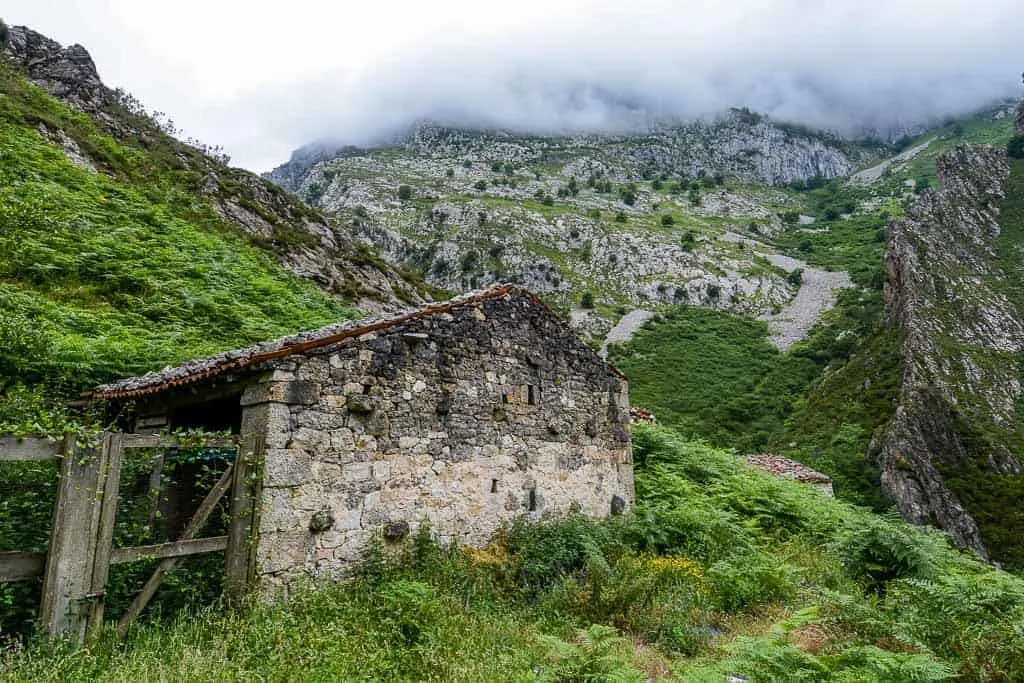 By DontForgetoMove.com
Picos de Europa is a stunning mountain range in Northern Spain and one of the country's best-kept secrets. If you've had your fill of the busy streets in Madrid and Barcelona, Picos de Europa is a perfect destination to enjoy Spanish country life.
The hiking here rivals the most popular trails in Europe, with treks that take you through valleys, past lakes and up to peaks with stunning views of the Cantabrian sea. What a unique Spain scenery!
If you need a quick break from all the walking, you can hop on the Fuente Dé cable car which glides you up to the mountain, taking you from an elevation of 1070 meters to 1823 meters in just 4 minutes.
The views from the cable car's clear windows are gorgeous, but remember to bring a jacket because it can get chilly at the top. You may also spot snow on your way up, depending on the time of year!
Picos de Europa was recommended to us by a Spanish friend and it was easily one of our favorite stops on our Northern Spain road trip. Besides the excellent hiking, this area is perfect for slowing down your travels a bit and learning about country life and witness the most beautiful nature in Spain.
Walking around the mountain range, you'll bump into tiny villages that feel like they haven't changed in centuries.
Cangas de Onis is a particularly popular town with tourists and is a great starting point to visit the nearby lakes of Covadonga. Cangas de Onis also has a little market on Sunday. Perfect for picking up local produce for a picnic on the mountain!
28. San Sebastian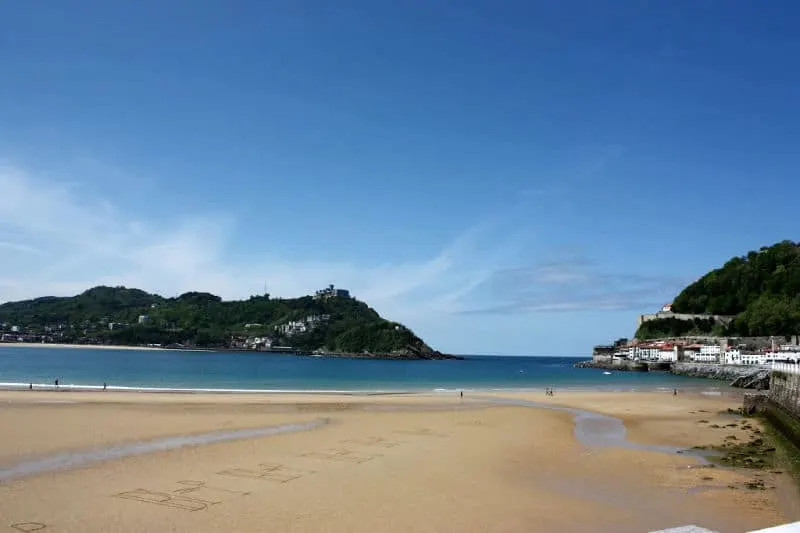 San Sebastian is hands down one of my most favorite places in Spain. This sophisticated Spanish seaside town has everything going for it.
It's located in the Basque area of northern Spain and boasts the most beautiful sandy concha shaped beach, a picturesque promenade and world-famous cuisine. In September, there is a major Film festival and Zurriola beach plays host to multiple surfing championships.
READ: 11 Things To See in San Sebastian
For a perfect day, throw down your towel on the glorious La Concha beach and go for a swim in the crystal-clear waters of the Atlantic in this sheltered bay. Afterward, grab lunch or just have a drink at one of the beach restaurants such as Bar La Carpa.
In the evening, join the rest of the town and take a stroll down the classy promenade in your finest as the sun sets over Santa Klara island.
For the ultimate gastronomic experience, head to the beautiful old town with its many "pintxos" (Basque for tapas) bars serving wonderful local wines and artisanal cloudy ciders.
One of our favorite's is Bodega Donostiarra, but there is a huge choice and it's hard for your taste buds to be disappointed. My advice would be to try as many as possible and opt for a pintxos bar crawl to make the most of your time in this unique town.
How to get there: If you are traveling from the UK, then nearby Biarritz or Bilbao airports are a good option, with Ryanair and Easyjet operating from both and it's only about an hour by bus into town. If traveling by train, the main Renfe station is conveniently located close to the center of the old town.
29. Bardenas Reales, Navarra
By 197TravelStamps
The Bardenas Reales are one of the best-hidden secrets, Spain has to offer to curious visitors. The Bardenas Reales are a surreal looking desert area in the Navarre Region in Northeastern Spain. There are several impressive valleys, hills and curious rock formations like the Castildetierra.
For decades, the area has been closed for visitors because it was used as a training camp for the army. In 1999, it was declared a national park and is now open for visitors. A circular drive leads through the Bardenas Reales and you can stop anywhere on the road to enjoy the incredible views over the desert landscapes.
However, since parts of the huge desert area are still used as a training range for bombings by the Spanish Air Force, you are not allowed to go offroad.
How to get there: The Bardenas Reales are located around 2.5 hours south of Bilbao or less than two hours drive from Pamplona or Zaragoza. If you plan a road trip from Barcelona to the Basque Country in the North, you can visit the Bardenas Reales without the need for a detour.
30. Cies Islands, Galicia
By AWorldToTravel.com
I know what you are going to think. Of course, since she's from Galicia, she is going to say that this land has some of the most beautiful spots in Spain. Well, you are not wrong. After traveling – a lot – since I was a teenager and visiting almost all of the Spanish provinces (over 50!), my land continues to enchant me, day in and day out.
That is why it has become my base, and I can not do anything but praise it on a daily basis.
Within Galicia, my favorite spots are Cathedral's beach, the Death Coast, Sil Canyons, Baroña and Cies Islands. The latter is a stunning archipelago part of the National Park of the Atlantic Islands (along with Ons islands and a few other tiny ones), perfect for a summer day trip from Vigo or a coastal Rias Baixas spot.
To get there, as you could imagine, you will need to take one of the few ferries that reach Cies islands daily, as well as make a reservation beforehand (since there is a daily tourist quota that can not be surpassed).
Alternatively, if the budget allows, you can also rent a private boat or yacht that will take you there in style and without rubbing shoulders with dozens – if not hundreds – of other tourists.
Whatever you choose, get ready to enjoy some of the most turquoise and pristine waters that can be found in Spain. Enjoy! And if you want more info, check this article I wrote about Vigo and Cies Islands.
Most Beautiful Places in Spain: Central Spain
31. Salamanca
The "New" Cathedral of Salamanca is one of the newer massive cathedrals of Spain. Begun in the early 1500s, it was not consecrated until 1733, over 200 years later. It started out in a late Gothic style but finished up as more of a Baroque exercise. The carved walnut choir is worth a long look.
The adjacent "Old" Cathedral dates from the 12th Century. Luckily, it was not destroyed, as so many old cathedrals were when the city patrons felt the need to build a new one. It features a stunning 15th century painted altar. There's also a tower you can climb for a view of the city.
Salamanca, though, is not only its cathedrals. The 12th-century University of Salamanca is definitely worth a wander for its architectural and artistic wonders.
The main plaza is noteworthy for its sculptural homages to the great scholars and artists of Spain and Europe. Sit in the plaza, have a coffee, and let yourself gaze on the visages of important thinkers of several centuries.
How to get there: The UNESCO World Heritage city of Salamanca can be reached in just under one and a half hours from Madrid (or three hours on a cheaper slower train.)
32. Toledo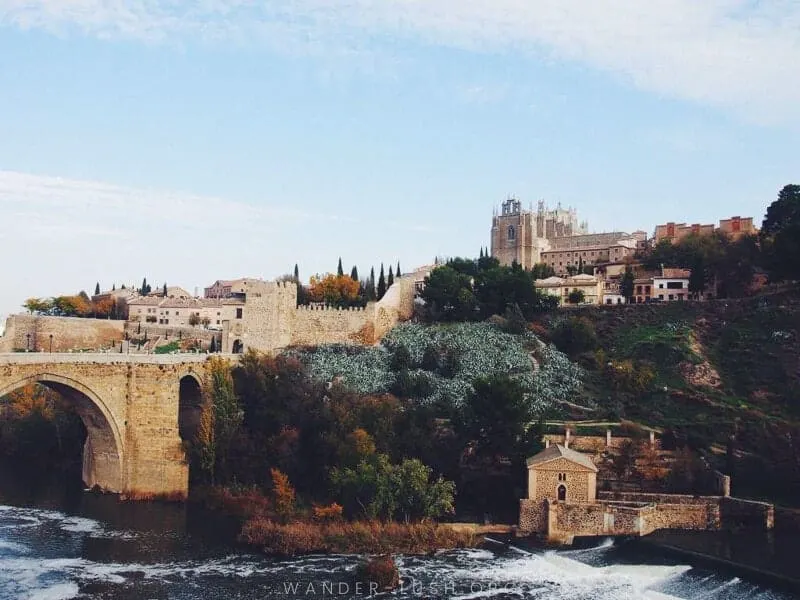 A ribbon of terracotta rooftops and church spires wrapped around the sage-colored Targus River, Toledo is surely one of the most beautiful regional cities in Spain. Part of Toledo's appeal is the contrast. Arriving from nearby Madrid (which lies less than an hour's drive away) is one of the most memorable chapters of a road trip around Spain.
An amalgam of Christian, Muslim and Jewish influences, Toledo has a fascinating urban landscape and was recognized as a UNESCO World Heritage Site in 1986.
Highlights include the Puente de Alcantara Roman bridge, the stone city walls and Visigothic gates, the impressive Mosque of Cristo de la Luz, and the thirteenth-century Gothic Cathedral.
Toledo is the perfect size to explore on foot. Literary fans will revel in following the footsteps of Miguel de Cervantes' Don Quixote (the author based portions of the novel in and around Toledo).
Two sections of the 'Route of Don Quixote', a pathway through Castile-La Mancha designed to commemorate the 400-year anniversary of the novel's publication, run through the city, guiding visitors through Toledo's charming cobbled streets.
As a reward for all that walking, you'll want to sample some of the region's famous sweets. Toledo is well-known for its marzipan, made from sugar, honey and almond meal. One shop, Santo Tome Obrador, has been making marzipan in Toledo since 1856.
33. Abarracín, Teruel
By SurfingThePlanet.com
Teruel Province is one of the most underrated regions of Spain, in spite of the number of natural attractions and picturesque villages you can visit there. Teruel is a province situated in the Autonomous Region of Aragon in northeastern Spain.
One of the main highlights to visit in Teruel is Albarracín, a beautiful medieval village always found in the Top 10 lists of the nicest villages in Spain. Walking around in Albarracín you will easily feel yourself in a fairy tale and the atmosphere will simply transport you back to the Middle Ages.
Albarracín is situated in the valley created by the Guadalaviar River. It's surrounded by rocky hills, and the original medieval walls were built on the side of them. Walking in the cobbled narrow streets amongst the old buildings of reddish tone is a really romantic experience, especially around sunset when the red color becomes intense.
The main highlights you can't miss out on are the Cathedral, St. Mary's Church and the Episcopal Palace. You should also climb the walls that were built by the Muslims who occupied the village for several hundred years. From these walls, you can enjoy the best views of Albarracín and the surrounding landscape.
34. Segovia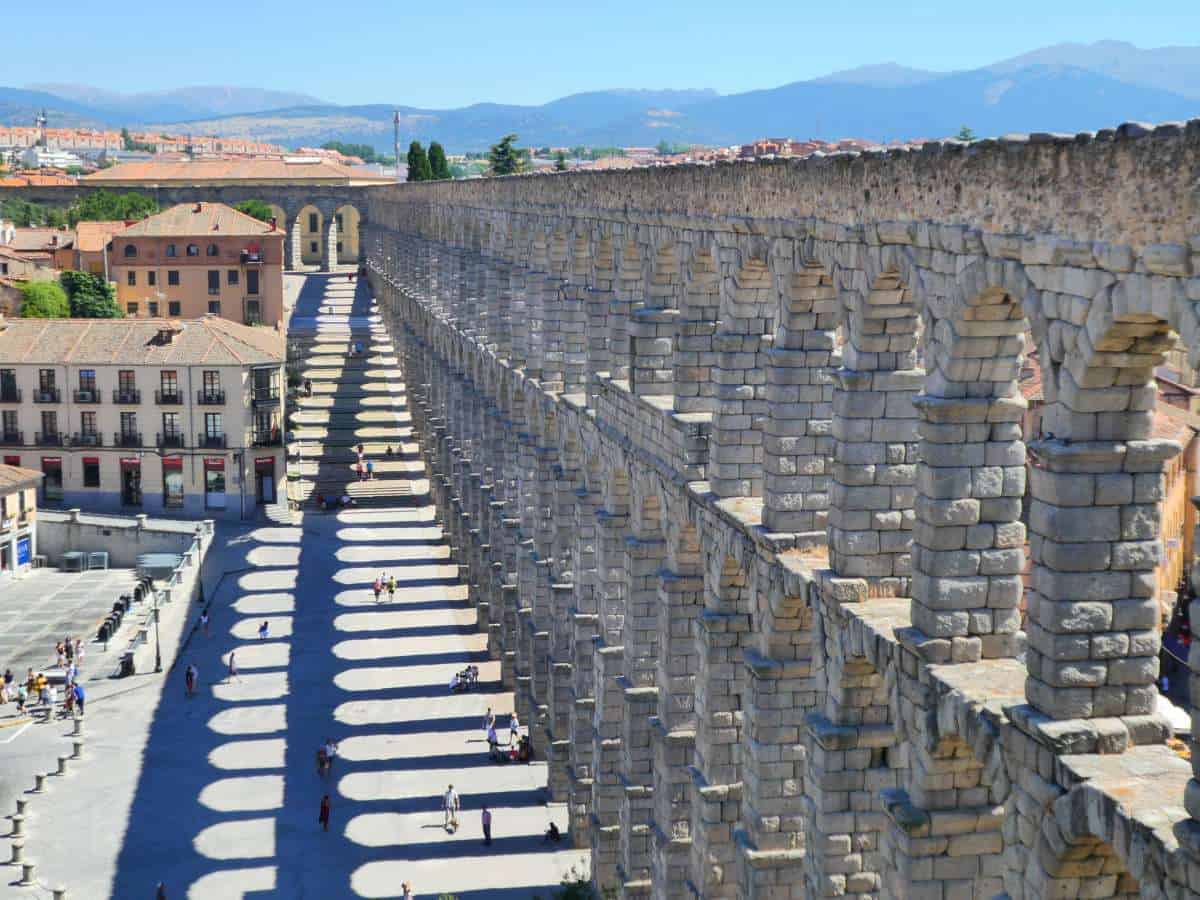 How to get there: To get to Segovia, take the A6 motorway out of the city. Continue on the AP6 and then the AP61. Segovia is well signposted. Surrounding Segovia, you'll find loads of car parks in (or if you visit on a Sunday, you'll find free street parking. Just remember to check the signs!) The journey takes about 1hour 20minutes.
Segovia is a UNESCO listed city you could easily spend a couple of days at, although it's equally a super easy day trip to do from the nation's capital, Madrid. A day-trip from Madrid to Segovia is one of the most popular things to do when in Madrid.
The three main landmarks Segovia has to offer, first and foremost is the infamous El Aqueducto or the Aqueduct of Segovia, said to be built by the devil himself! There is also the Alcazar of Segovia, which looks a little bit like the Magic Kingdom at Disneyland and Segovia Cathedral.
Of course, the Aqueduct takes the glory, but there are a ton of other things to see and do in this ancient walled City such as the walks in the rustic countryside.
You can also get to Segovia by public transport. Numerous buses get to Segovia from Madrid. Alternatively, take the train from Madrid Chamartín station to Segovia Guiomar it takes around 30 minutes, from Segovia Guiomar. Then, catch the bus into the city center.
Whichever way you get to Segovia, you won't be disappointed.
35. Trujillo, Extremadura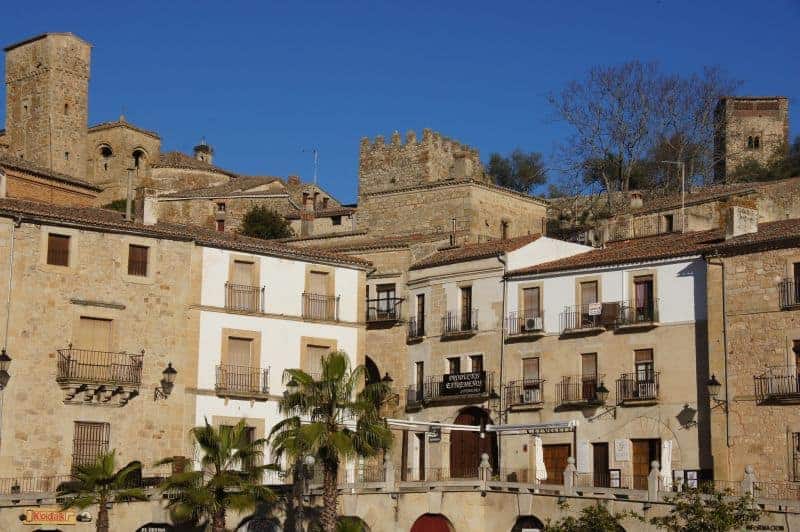 By TheNomadicVegan.com
Trujillo, Spain is a hidden gem in the remote region of Extremadura, in the far west of Spain. While Spaniards are aware of Trujillo's beauty, not many foreign visitors make it out here. A visit to Trujillo is a great way to experience a slice of life in the real Spain, far from the tourist traps that plague the bigger cities.
Nowadays, Trujillo is a very quiet, provincial town with fewer than 10,000 inhabitants.
A few hundred years ago, though, it was home to many wealthy and important families, who have left us their ornate medieval and Renaissance palaces to admire. Many of the Spanish conquistadors came from Extremadura, and they built imposing residences here with the wealth they plundered from the Americas.
The most famous former resident of Trujillo is Francisco Pizarro, who conquered Peru. A statue of him stands in the Plaza Mayor, which is a large, open square surrounded by arched colonnades and medieval buildings.
The Pizarro family home is now a museum, and there's also the Palacio Marques de la Conquista, which was built for his brother, Hernando Pizarro. The plateresque carvings on the façade include images of the conquest of Peru.
Most Beautiful Places in Spain: Spanish Islands
36. Mount Teide, Tenerife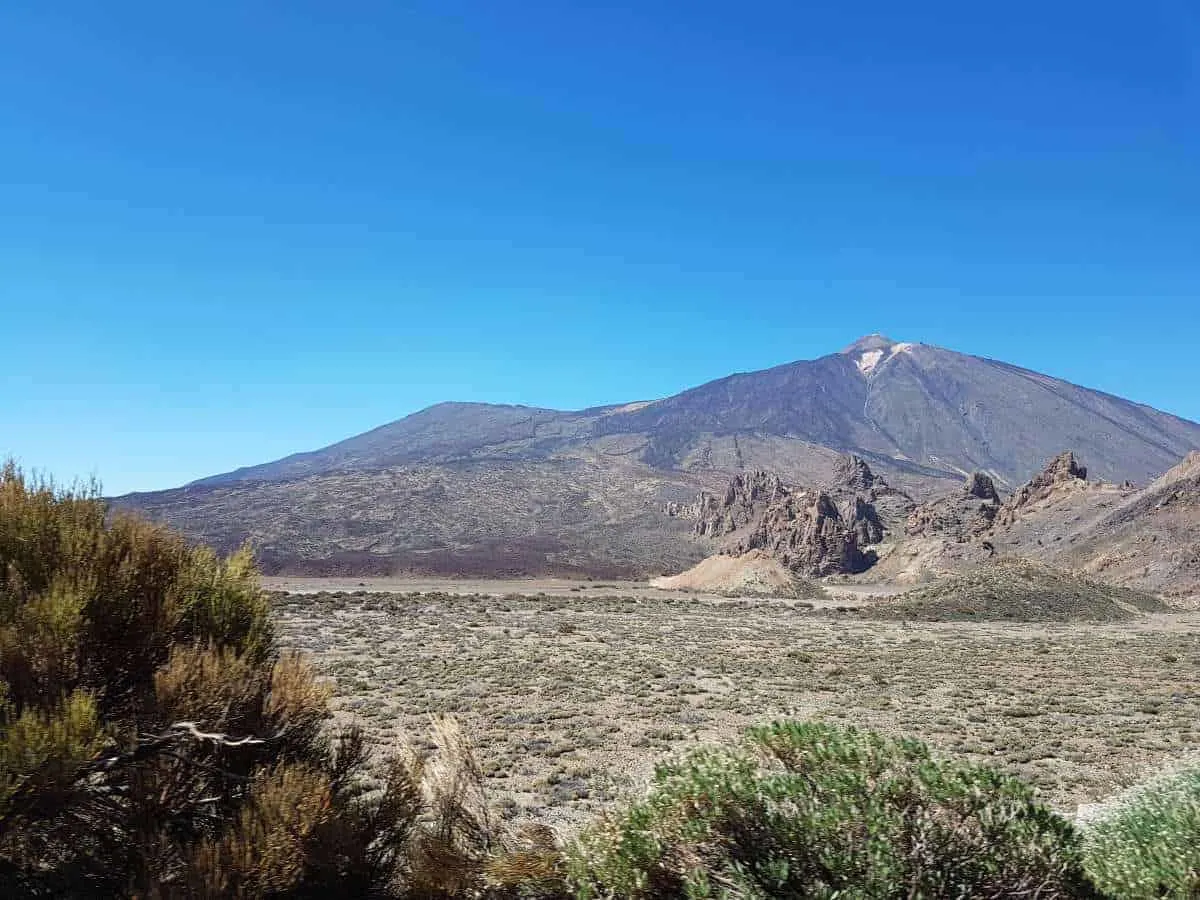 By Wandernity
Did you know that the highest point in Spain is Teide volcano in Tenerife, Canary Islands? It reaches a 3,718-meter height and can be seen from almost any point on the island.
Teide is probably the most iconic view of Tenerife with its otherworldly surroundings, beautiful colors, and majestic size. Even the road leading to it seems surreal, like a surface of Mars from the movies.
People visit the volcano at all hours. Daytime is the most popular because a cable car is working. It can be used to get to the summit without much effort. It is also possible to hike up a trail and enjoy how the views change as you climb higher and can see further.
If you have a rental car, you can stay for the sunset and see the change of colors around the volcano, as the sun sets in the ocean.
For the particularly adventurous, it is possible to hike up the volcano during the night in order to experience the sunrise from the top of Teide.
How to get there: Teide can be reached by car, by public transportation (from the north by Bus line 348 and from the south by Bus Line 342), or you can join a guided tour that can be bought on the streets popular for tourists.
37. Palma de Mallorca, Mallorca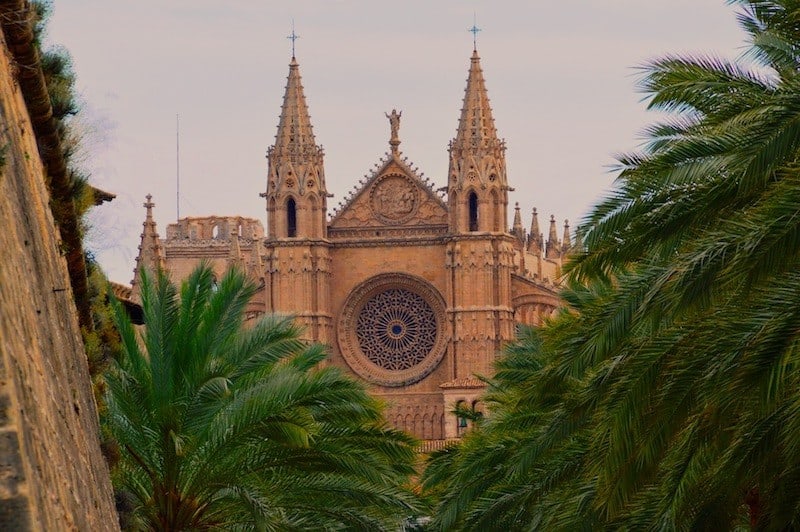 By LifeOntheMediterranean.com
The most beautiful place in Spain isn't on the mainland at all. It's on a Balearic Island that is part of Spain. Palma, on the Island of Mallorca, is one of the most uniquely beautiful cities you'll find in 'Spain.'
And it's not just physical beauty, but the beauty of their history, architecture, language, cuisine, and people. Palma is a wonderful melting pot of centuries of influence.
The city has palm-fringed promenades lined with lots of outdoor cafés, and stunning architecture to gaze at. People freely speak their local language of Catalan and enjoy their regional cuisine, which is made up of flavors from all over the Mediterranean.
The thing I love most about Palma is that it doesn't feel Spanish at all.
There are influences from the time of the Romans, Moors, the Byzantines, Arabs, Muslims, Jews, and Christians. You have the Gothic, Christian Cathedral of Santa Maria of Palma next door to the Muslim Fortress of La Almundiana, both from the 1200s.
The Castell de Bellver from the 1300s was built as the royal residence for the King, but also substituted as a prison! There is so much history in Palma, and much of it you can see on foot. It's strange and beautiful at the same time. There's lots to do if you are visiting Mallorca for the first time.
How to get there: Palma is a 55-minute flight from Barcelona or you can arrive by ferry in a couple of hours. There are loads of well-manicured beaches nearby with crystal clear waters. And the landscape is very mountainous. There are stunning views anywhere you are in the city and on the island.
38. Caló des Moro, Mallorca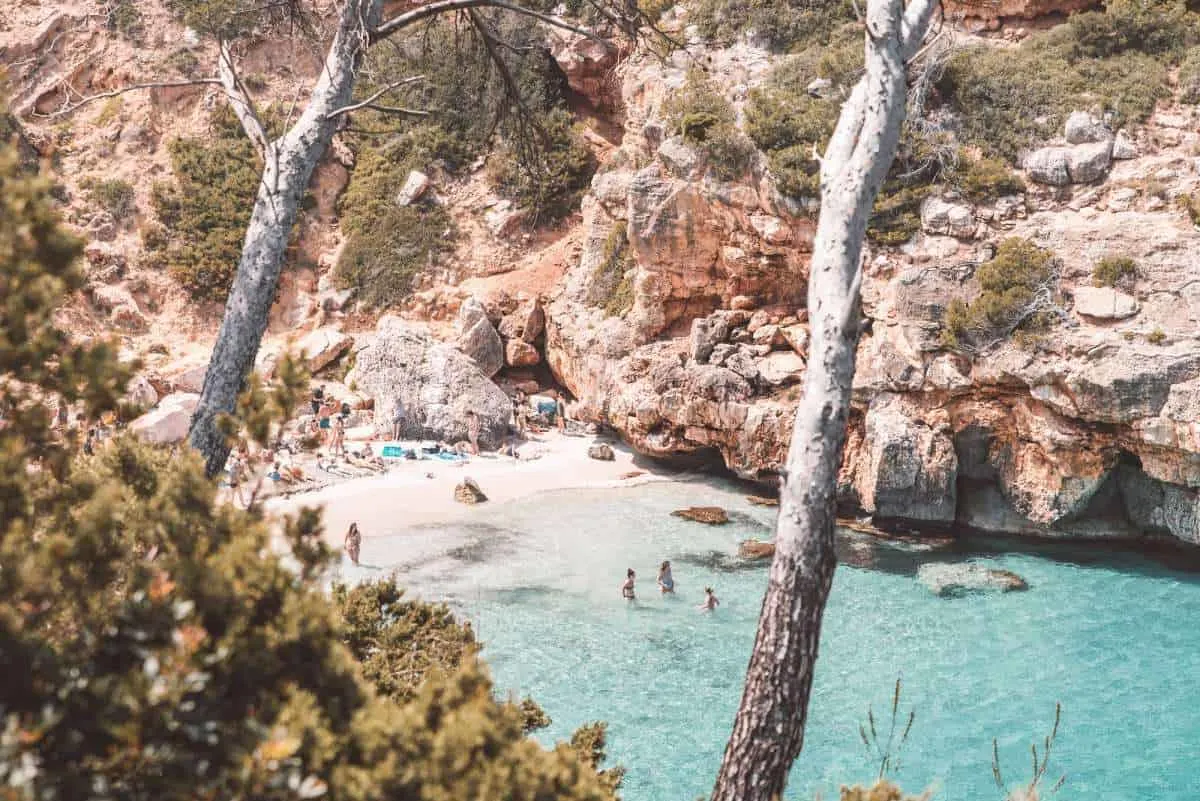 By LeLongWeekend.com
This hidden beach in Mallorca is by far one of the most beautiful places I've visited in Spain. I thought perhaps these little pieces of paradise had been lost the world over, but one remains, and it's called Caló des Moro. Located on the eastern coast of the Balearic Island, it's not the easiest beach to get to in Mallorca.
But I think this adds to its charm, and it certainly adds to its seclusion. The beach itself is set within private grounds, but the keepers of the land allow the public to access the beach and its surrounds, so long as they respect the land.
How to get there: Head south from Cala Llombards and to the southern end of Carrer des Caló des Moro (before it loops back around), you'll find a sign on a low wooden gate marked "privado" next to a low stone wall.
Proceed through the gate and follow the path to the beach – you can't miss it! Turquoise waters meet the rusty colored cliffs in a spectacular scene.
I'd encourage you to pause and enjoy the gardens before descending the steep path down to the beach. But once you do, you'll want to stay a while… Pack enough food and water to last you the day (just remember to take any waste home with you) and enjoy this secluded bay until the sun sets.
39. Formentera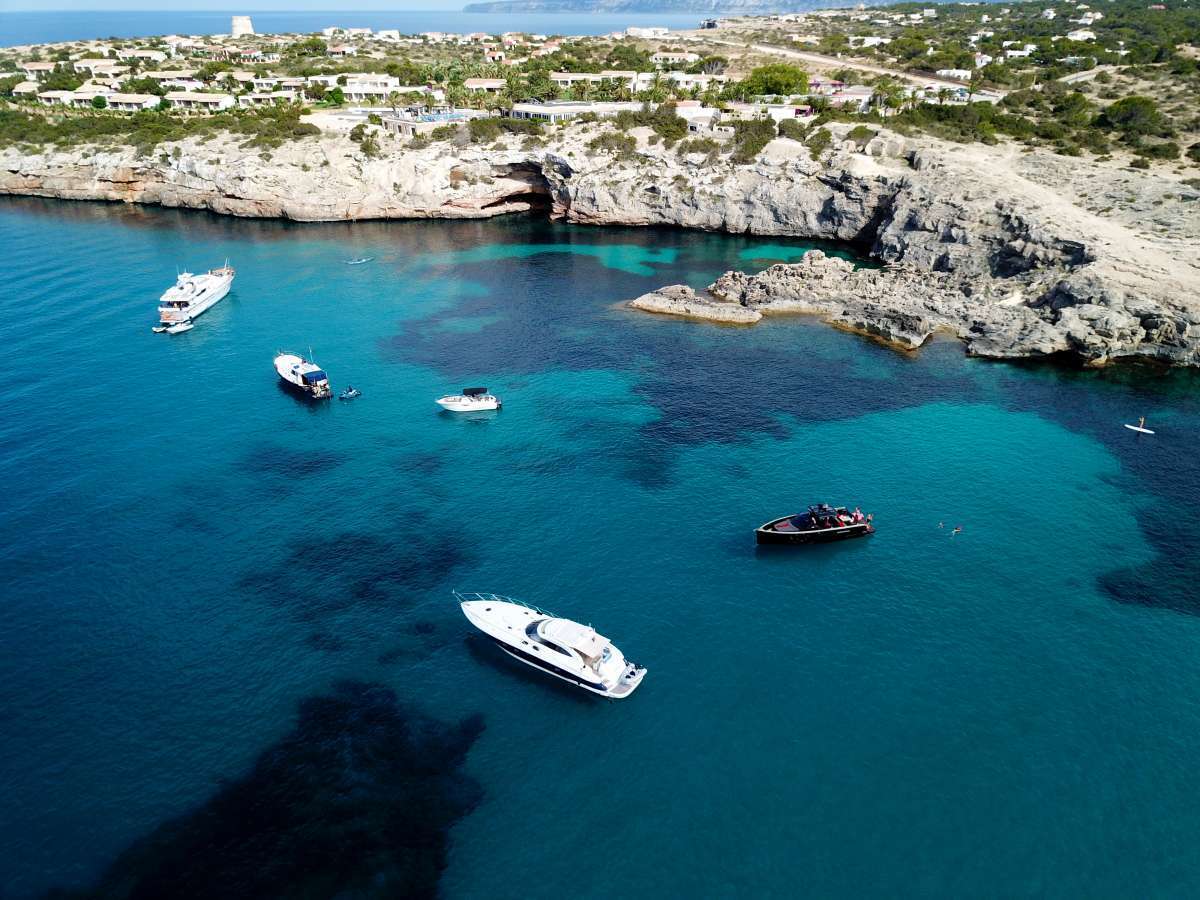 By Luxe Adventure Traveler
Ibiza is one of the most popular places to visit in Spain with more than 7 million visitors flocking to the Spanish island every year. But there's practically a hidden gem just a short ferry ride from Ibiza.
It's Formentera, the smallest of Spain's Balearic Islands, and it is easily accessible from Ibiza by ferry.
How to get there: Formentera has a reputation as the Caribbean of the Mediterranean with its crystal clear water, white sugar sand beaches, and laid back vibe. Formentera only has a smattering of villages and is a far cry from bustling Ibiza.
But if mornings biking to a deserted beach followed by lazy afternoons devouring fresh seafood while sipping gin-tonics under an umbrella at a tiny beachside restaurant sound likes heaven on earth, then Formentera is for you.
If you're willing to splurge, you can even rent an Ibiza yacht charter and sail around Formentera to beaches and sea caves only accessible by boat.
40. Timanfaya National Park, Lanzarote
By TheTravelBunny
Timanfaya National Park in Lanzarote may not be the most traditionally beautiful place in Spain but it is one of the most breath-taking. The group of over 100 volcanos and huge lava field covers an area of over 51 square km and form Timanfaya (fire mountain) National Park.
The park is in the South West of Lanzarote and is the hub of Lanzarote's UNESCO biosphere reserve. The cone-shaped volcanos are pitted with deep craters and the red, rust and orange colors of the peaks contrast with ochre sands and the black ash and icon of the lava fields.
The route the bubbling lava fields made through the Lanzarote countryside to the coast is clearly visible. The temperature beneath the soil is intense and plumes of hot steam erupt from small crevices in the rock when the rangers pour water into them.
Explore the area by doing the 'Ruta de Tremesana' which is a hike with a park ranger. Because of the unique flora and fauna that need protection, unescorted hikes are not allowed. The hikes take around 3 hours.
If you're not up to that then El Diablo buses leave from the car park every 20 minutes for a tour of the lava fields and volcano craters. The commentary provides fascinating facts in three languages and the views are stunning. I can highly recommend the tour.
How to get there: The park is open daily from 10.00 – 17.45. The El Diablo buses cost 10€ for adults and 5€ for children. There are no public buses to Timanfaya so you'll need to book a tour from your hotel or hire a car.
If you hire a car, you'll be able to enjoy many of the other things to do in Lanzarote which can be done in a day as it's a small island.
***
Is your favorite place in Spain included in our list of the most beautiful places in Spain? If not, I would love to hear your opinion about the best places in Spain in the comment form.
---
Short FAQ
Where are the most beautiful places to enjoy natural places in Spain?
Spain is full of nature places to visit. Some we mention in this post are Vall De Nuria, Pyrenees, Grazalema in the Cadiz province with its variety of flora and fauna that varies from Spanish fir, maple woods to deer and Iberian wild goats and more.
Which are the most beautiful Spanish Islands?
The most beautiful places in Spain include a number of gorgeous islands including Tenerife, Ibiza, Mallorca and Lanzarote
Which are the most beautiful places to visit in Spain?
In this blog post, with the help of several travel bloggers, I came up with a list of the 40 Most Beautiful Places in Spain You Must Visit. Explore some secret places in Spain.
---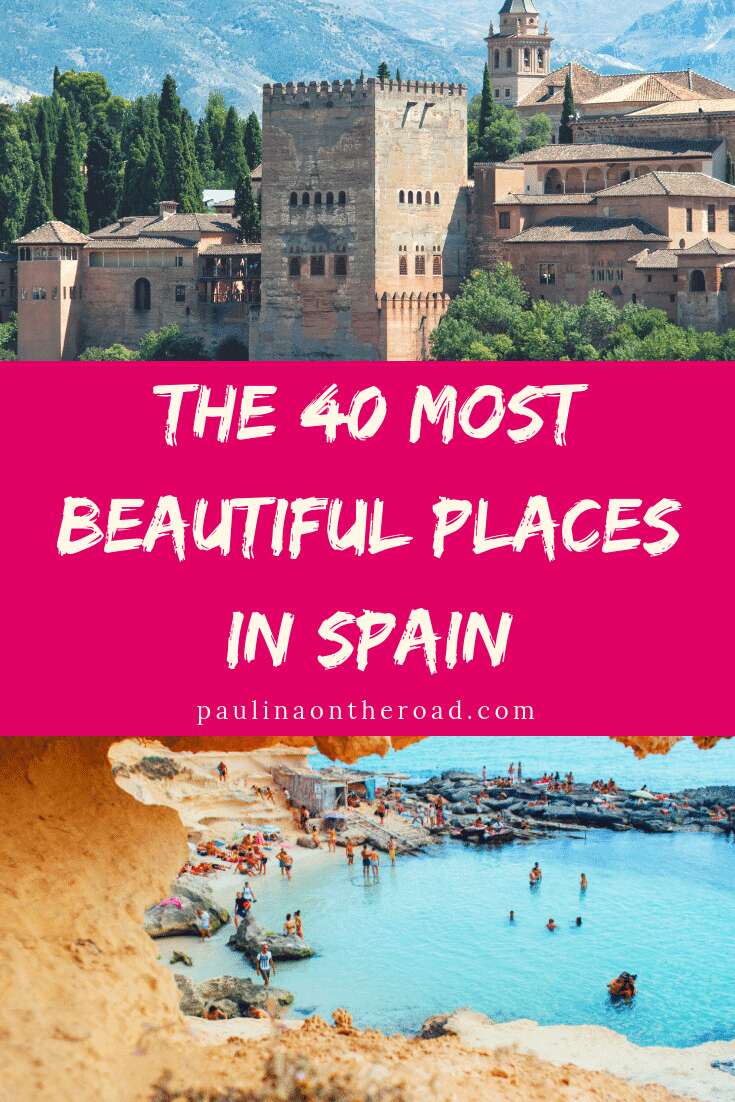 ---
Hola! I am Paulina, a fervent travelette who crossed the Atlantic Ocean by Boat HitchHiking. On my blog, you'll find all the tips to make the most of your holiday. Get ready to enjoy outdoor and sustainable travel like hiking, cycling or sailing. Let's hit the road together!