Spain is one of the hottest travel destinations on this planet. Although it was only in the late 60's when the Spanish tourist industry started to grow as dictator Franco decided to open the country and liberalism started creeping in, Spain is nowadays one of the most visited countries.
Today Spain is ranked second in the world, in terms of being a foreign tourist destination.
With millions of visitors every year, it was the third most-visited country in the world. And with the crisis in several Arab countries, former coveted travel destinations, Spain's popularity is only growing more.
As deciding where to stay in Spain might be quite an overwhelming task, I compiled a variety of travel bloggers' favorite places to stay in Spain arranged by its geographic regions.
I can't wait to read about yours in the comment form!
This blog is supported by you, dear reader. If you purchase through a link, I earn a small commission. As an Amazon Affiliate, I earn from qualifying purchases.
Top resources to travel Spain
⚘ Avoid tourist traps and get the customizable "Spain Like a Local" itinerary for less than 10€. – Get it here

✈ Book cheap flights to Spain with Skyscanner

✔ Book tours in Spain with Viator

➳ Find the best hotels in Spain with Trivago

❖ Rent a car with the best discounts with DiscoverCars

☘ Get the best discounted outdoor gear (outlet) with REI.com

✎ Never leave without travel insurance. I get mine at SafetyWing. It is easy to set up, cheap and reliable.

$ Withdraw money without hidden fees and avoid exchange rates with Wise (you'll get a free card on top!)
1. Andalusia
Cadiz
Cadiz, Spain is one of the most underrated places in Spain. Cadiz is located on the sun-drenched Costa de la Luz, in the southwest of Spain.
The city is surrounded by the sea in the Andalusia region and offers a maze of picturesque cobblestoned lanes, Arabic influences, open plazas, and opulent churches.
You can sit in any of the plazas and listen to the local music while eating local food like paella, or just a tapas and wine.
Wander the historic districts before heading to the beach where the local people congregate, and while away the afternoon in the Spanish sun.
Favorite Place to Stay: Parador de Cadiz ****
Top Thing To Do: Rent a Boat in Cadiz
Tarifa
At the southernmost point of continental Europe in the region of Andalucía, you'll find the small town of Tarifa. Besides being cute-looking and very peaceful outside of the summer holidays, it's also a primary location for kitesurfing and digital nomadism.
I was CouchSurfing for free during my stay, but I used the coworking hostel La Cocotera to get some work done.
They have nice private rooms and dormitories and a fabulous roof terrace to meet other people who are working online. Many of them are also avid kitesurfers or taking lessons to get better at it.
Other activities include the yearly Feria de Tarifa, during which the old town is filled with people in traditional dress on horses. Go on a whale-watching tour between March and October.
For a really quiet experience go hiking at the nearby beaches of Bolonia. From Tarifa, you can also see the shores of Morocco across the Strait of Gibraltar. Just a 35-minute boat ride away, you can take the hydrofoil ferry across to Tangier for a day trip or longer.
Tarifa is also a perfect day trip from Seville.
Favorite Place to Stay: La Cocotera Boutique Hostal & Coworking
Top Thing To Do in Tarifa: Scuba Diving
Granada
Granada is a city, poems are written about. It is nestled beautifully below the snow-capped peaks of Sierra Nevada. With one of Europe's most stunning monuments, The Alhambra Palace is the perfect setting for romance. Granada is both worldly and mystical.
In keeping with the rest of Andalucía, Granada has embraced both eastern and western cultures, like the Abades City Hotel, which is conveniently located on Calle Recogidas. It too has an eclectic contrast of both ancient Moorish and Spanish culture.
Each floor is a source of inspiration, where you can wander and be amazed by the literary genre of the Costumbrismo from the 1830s, or be taken back by the serenity of El Agua. Abades City Hotel has much to offer, but my favorite part is the view from the junior suite.
Follow in the footsteps of Granada's most celebrated poet, Federico Garcia Lorca, whose poems can be read on every corner of this floor.
Let his words echo through every room as you surround yourself with the views of the hillside covered in olive groves, and the narrow streets of the old Moorish quarter.
This hotel will make you question, are you living reality or fantasy as you watch a fusion of both cultures around you.
Granada is considered one of the most beautiful places in Spain.
Favorite Place to Stay: Hotel Abades Recogidas ****
Top Thing To Do in Granada: Alhambra Complex Guided Tour Options
My all-time favorite city in Spain is Granada in the Southern region of Andalusia. I first visited Granada in 2014 and I've returned another six times since then!
Each time I went to Granada, I stayed in the exact same hostel, Oasis Backpackers' Hostel Granada. I guess I never wanted to try somewhere new because I had such a great experience there.
The hostel organized nights out, free tours, and I made lifelong friends with the staff!
Every time I've been to Granada, I've discovered something new. The most obvious attraction in Granada is the Alhambra, a beautiful palace complex declared as a UNESCO World Heritage Site.
But once I delved deeper into the city, I found other treasures.
I discovered different lookout points in the Albaicin neighborhood with unbelievable views, a community living in man-made caves in the Sacromonte hills, Moroccan markets and tea shops, vibrant squares, a tapas bar where two beers and two plates of food only cost 4 € in total and colorful street art on every corner of the Realojo neighborhood.
Even a short drive out of the city took me to natural hot springs, waterfalls and snowboarding in the Sierra Nevada mountains as well as sleeping on the beach for San Juan festival.
Favourite Place to Stay: Oasis Backpackers' Hostel Granada
Sevilla
By The Passport Chronicles
When I was headed to Spain everyone raved about Barcelona but to be honest I wasn't overly impressed. To me, the south of Spain was what I fell in love with. Specifically Sevilla.
Sevilla has so many things to offer. Starting with how cheap it is. From accommodation to food, you save yourself a lot of money exploring this city.
I stayed at The Nomad Hostel and had a beautiful private room with giant windows and more space than I knew what to do with. Centrally located you could walk to all the main sites such as Plaza de Espana ( my favorite site in Sevilla) or the gardens of the Alcazar.
No need to worry about public transportation because the city itself is totally walkable and completely safe.
The best part of Sevilla is how laid back the atmosphere is. Barcelona is always buzzing but Sevilla seems to stop and really take its time. It made the place that much more relaxing.
I stayed for 3 days in this wonderful city but I could have spent a lifetime.
Favorite Place to Stay: The Nomad Hostel & Pension
Top Thing To Do in Seville: Do a Day Trip to Carmona
2. Balearic Islands
Mallorca
My favorite place to stay in Spain was one of the islands in the Balearic Isles, Majorca aka Mallorca. When you look at the globe at large, it's a seemingly tiny isle, but there's so much to see and so much to do.
I loved the Cuevas del Drach, and the snaky Tramuntana on the way to Sa Formentor and Sa Calobra.
Don't forget the puigs, cathedrals and castles, beaches and ports. Majorca is perfect and has everything you want to do!
And the best part for me was that I actually found an Airbnb rental to stay at that even had an orange and lemon orchard, along with sheep and dogs. It was absolutely amazing!
Favorite Place to Stay: Finca via Airbnb
Top Thing To in Mallorca: Sailing Yacht Excursion with Wine & Tapas
A bucket-list item for any trip to Spain would have to be the magnificent train journey from Palma to Soller through the Mallorcan countryside. Catch the vintage train from the Plaza de Espana Station in Palma for the hour-long journey to Soller and then the tram from Soller down to the Port.
Families with children will particularly enjoy the train journey with its 13 tunnels, 4 bridges, and gorgeous views.
Because of the old-fashioned sound of the 'clickity-clack', of the wheels on the track and the way to match, our kids affectionately named the train the 'rocky train'.
There will be a few local stops along the way before you reach Soller Village. Take a walk around Soller Village to stretch your legs then hop on the tram to Puerto Soller.
The tram travels carefully through orange groves (that bump against the windows as you travel) and deposits you in the port where you will complete your journey.
Enjoy the small beaches, where you can swim or sunbathe before grabbing something to eat. If you are traveling with children there are two small playgrounds on the beach.
Pick up a souvenir before heading back to the train to return to Palma… or stay the night. It's an idyllic place to slow down and rest.
Favorite Place to Stay: Hotel Finca Ca N'ai – Adults Only ****
Top Thing To in Mallorca: 1-Hour Hot Air Balloon Flight
Menorca
When the idea of heading to the island of Menorca in Spain came up, I wasn't exactly…excited.
This island was a go-to destination for drunk, lazy Brits in the '80s and in my mind, would still be recovering from that. I hopped on the plane to test my assumptions…and was immediately blown away for all the right reasons upon arrival.
Menorca might just have the best beaches and surrounding waters I've ever seen. Yes…Menorca is giving Thailand and the Philippines a run for its money!
I also quickly discovered that Menorca has a trail running all around its island edges.
The 'Cami de Cavalls' is a 185 km coastal path, estimated to have existed since 1330 and has plenty of spectacular views, original watchtowers, and varying levels of difficulty for all adventurers.
I managed to get a quarter of the way around with the time that I had, but I'll be returning to finish it off for sure!
Favorite Place to Stay: Rustic Finca in Minorca
Top Thing To Do in Menorca: Full-Day Boat Tour with Paella Lunch
3. Basque Country
San Sebastian
By Alibcandid
The summer of my 10th year, my best friends' family spent a month in San Sebastian. She returned with tales of building sandcastles and eating delicious food.
Her photos showed a perfect crescent beach under tree-lined hills. At that moment, I vowed to visit.
READ: 11 Things to see in San Sebastian
Nestled in the foothills of the Pyrenees, with Basque houses and even a herd of sheep in plain sight, San Sebastian is a lovely mix of old and new.
Visiting during the offseason makes it possible to see San Sebastian like a local (avoid crowds) and snag discount rates at the gorgeous Maria Cristina Hotel. Start your day with a walk along Concha Bay.
Enjoy a cafe con leche and a pastry at the new, but traditional bakery LOAF. Walk through the cathedral and wander the Parte Vieja. Nibble your way through a lunch of pintxos and sangria.
In the afternoon take a siesta or the cable car up to the Monte Urgull. In the evening, book an excursion to a Basque cider house (Sagardotegia) and don't forget to taste the best pintxos in San Sebastian.
The authentic Sagardotegia close in the late spring and reopen for cider season! Whether you come for the beach, the shopping or simply to enjoy the architecture and gastronomy of Spanish Basque Country, San Sebastian will not disappoint.
Favorite Place to Stay: Maria Cristina Hotel, A Luxury Collection Hotel, San Sebastian *****
Top Thing To Do in San Sebastian: Gourmet Pintxo Tour
4. Canary Islands
Tenerife
One of my favorite places to stay in Spain is definitely Tenerife.
This tiny island amidst the Atlantic Ocean apparently has got it all: lovely beaches, extended hiking trails, delicious food and warm temperatures all year round.
Whereas the Southern part of the island is very popular among the UK and the Scandinavian tourists, the area around Los Gigantes and the north, Anaga Rural Park, are still not spoiled by tourism.
The most famous hikes of Tenerife are trekking down the canyon from Masca village to Masca beach. This area used to be very popular among pirates due to its remote location.
Favorite Place to Stay: The Ritz-Carlton, Abama *****
Top Thing To Do in Tenerife: Teide National Park Stargazing
Gran Canaria
By Tripsget
One of my favorite destinations in Spain is Gran Canaria. To be honest, it's very different from continental Spain and even people and their traditions are not the same as, for example, in Madrid.
Gran Canaria has its own pace and lifestyle: everybody looks very sporty and does a lot of surfing.
The climate in Gran Canaria is good all year long (the winters are warm and the summers aren't too hot), so it makes it a perfect surfing destination.
Gran Canaria is also quite diverse. The central part is just natural parks and mountains, the North is home to the capital Las Palmas and the South is a popular all-inclusive destination for all Europeans.
If you're going to Gran Canaria just to relax, swim and eat, it makes sense to stay in one of the resorts in Playa Ingles or Maspalomas, e.g. Bohemia Suites & Spa.
If you want to meet the culture and experience life in Gran Canaria as it is – Las Palmas is the perfect destination.
It's budget-friendly – you can stay in one of Airbnbs for just 30-50 euros per night (private room in a shared flat) and you'll be very close to the beach and plenty of bars and restaurants.
Favorite Place to Stay: La Casa Barco
Top Thing To Do in Gran Canaria: Sunset Cruise with Music
Fuerteventura
One of my favorite Spanish islands is Fuerteventura, the second-largest Canary island. Why? Fuerteventura has some of the best beaches in Europe, all thanks to its proximity to the African coast and the Atlantic winds.
In total, about 77 km of sandy beaches and turquoise water! It is also much less popular than Gran Canaria or Tenerife, thanks to which you can enjoy the beach all by yourself.
Some of the coolest spots on the island include dunes of Corralejo, beautiful beaches of Jandia peninsula, Isla de Lobos and El Cotillo – surf town.
Fuerteventura is a perfect place to relax, sunbathe or try sports like kitesurfing or surfing, as there are about 80 surf schools on the island!
I suggest staying in Corralejo, as it offers a lot of shops, restaurants, and bars that you can enjoy in the evening. I love boutique hotels, so my recommendation for a hotel is the Katis Villas Boutique Fuerteventura ****, the ultimate place to relax!
Favorite Place to Stay: Katis Villas Boutique Fuerteventura ****
Top Thing To Do in Fuerteventura: Sailing with Snorkeling and Dolphin Watching
With over 300 days of sunshine, the paradise island of Fuerteventura, the second largest of Spain's Las Islas Canarias, is the perfect year-round destination due to its ambient climate.
Its incredible beaches are regarded as some of the best in the world! From the vast expanse of the sand dunes of Corralejo to the secluded lagoons of El Cotillo and the breathtaking Cofete in the south, the island offers a beach to suit everyone!
Known as the Hawaii of Europe, the turquoise ocean and lunar landscape create an amazing Nature's playground for anyone looking to explore island-life in a more active way!
From surfing and SUP to hiking and cycling, this is an island to enjoy outdoors!
In the north of the island, the former fishing village of Corralejo is a now bustling resort that has managed to retain its original charm.
The beachside Avanti was Corralejo's first hotel, built-in 1963 and since refurbished into adult-only boutique accommodation featuring a roof terrace with stunning sea views and a hot tub.
Their on-site restaurant Rompeolas is regarded as one of the island's best and provides the perfect setting for a long lunch watching the world go by.
Favorite Place to Stay: Avanti Lifestyle Hotel – Adults Only ****
Top Thing To Do in Fuerteventura: Sailing with Snorkeling and Dolphin Watching
Lanzarote
By The Traveller's Journey
Flanked by Arrieta, a quaint, food-forward fishing village just east, and volcanic mountains to the west, Finca De Arrieta, a luxe glamping retreat in northern Lanzarote, was the perfect base camp to explore the Island.
Our free-standing, eco-lodge included a breezy, indoor/outdoor living space, kitchen, and a private bedroom with an elegantly draped mosquito net. We weren't exactly roughing it.
The bathroom's shower included a bucket to catch the water which was repurposed to water the plants. In keeping with conservation, we were asked to save produce scraps for the chickens.
The eco-retreat is powered by the largest green energy system in Lanzarote. Common areas include a pool and sundeck, solar grill, a life-sized chess board, a sunken trampoline, and animals.
Resident donkeys were friendly, and Cluckingham Palace was open to guests for fresh eggs daily. The retreat was off the grid, with no wifi save one common area – a welcome chance to unplug.
Complimentary surfboards, a 5-minute walk to an unspoiled, uncrowded beach, and it was official: I'd found paradise.
Favorite Place to Stay: Eco Village Finca de Arrieta
Top Thing To Do in Lanzarote: Volcanoes and Caves: Full-Day Tour
5. Catalonia
Platja d'Aro
Platja D'Aro is a small coastal town on the Costa Brava north of Barcelona. There is a stretch of white sandy beach in the town which can be very touristy, however, there are treasures to be found just outside the tourist area.
The Silken Hotel San Jorge has its own semi-private beach on a secluded cove with golden sand and picturesque coastal paths.
The hotel also has a spa, so after a day on the beach, you can treat yourselves to a massage and spa session. Our room had a beach view, and a delicious breakfast was included in the stay, however, the highlight was definitely the beautiful beach.
We swam, sunbathed, and drank cava on the beach to our hearts' content, and had the most relaxing weekend we could have hoped for.
Favorite Place to Stay: Park Hotel San Jorge & Spa ****
Top Thing To Do in Barcelona: Park Güell Admission Ticket
Barcelona
Over the years I've visited over 45 countries and hundreds of cities and towns, many amazing places that I will never forget. Yet our visit to Barcelona and our stay at Hotel 1898 remains one of our favorite travel memories ever!
Barcelona truly has everything.
A great location situated on a nice beach at the base of some lovely mountains and boasting a great climate year-round. It's easy to get around, there is excellent public transport, great shopping and the place is heaving with incredible tapas bars and groovy designer hotels and rooftop watering holes.
One of the things that makes it truly special is the influence of the famous artist and architect Antonio Gaudi which includes the incredible Sagrada Familiar which is still under construction.
We stayed at Hotel 1898 which is right on the famous central pedestrian street Las Ramblas.
It's a stunning heritage conversion that includes a great rooftop bar and a fabulous grotto swimming pool and best of all it's next door to the equally famous La Boqueria food market. You really can't go past it for location and value!
Favorite Place to Stay: Hotel 1898 ****
Top Thing To Do in Barcelona: Winery Tasting & Winery Tours
READ: The best wineries near Barcelona
READ: 10 most famous buildings in Barcelona
Barcelona is an incredible, lively city I recommend to anyone visiting Spain. The city is full of unique dining experiences, world-renown architecture, beautiful beaches and much more.
This is the place to be to see the picturesque and famous architecture from Antoni Gaudi, The Sagrada Familia cathedral and his work in Park Guel and other buildings throughout the city are true works of art.
The cathedral is still under construction but is already breathtaking.
While you are there, take advantage of the warm climate. Go to the beach and swim if the season is right. Enjoying the food in Barcelona was a highlight of our trip. We found a huge variety of cuisines but tried to stick to Tapas. We loved being about to try so many different things.
Make sure you order some "patatas bravas" and make reservations before you head out. If you like freshly baked pastries and bread, you can stay at the centrally located Hotel Praktik Bakery. The bakery is on ground level with the hotel above.
I am really just scratching the surface at what there is to see and do in Spain without mentioning the great museums, city parks, art, and other great attractions you can take advantage of during your trip.
Favorite Place to Stay: Praktik Bakery ***
Top Thing To Do in Barcelona: Gaudi Walking Tour
I know, this is hardly a secret but Barcelona is amazing! About 10 million people know that and visit every year, but most seem to follow the usual Rambla/Gaudi/Gothic Quarter circuit.
But guess what? Barcelona is a huge city, and if you tour away from the crowded city center, you'll discover a whole new city.
I am lucky I have several friends who live in Barcelona and I've been to the city several times so for my last visit, I decided to do something a little different.
I asked some of my Barna friends to recommend a place and I followed their directions.
Some of my favorite Barcelona insider tips included watching the sunset from the Carmel Bunkers and from the rooftop of Barcelò Hotel Raval, visiting Torre Bellesguard, one of Gaudì's least visited works and the Parc del Laberint.
One of the best buildings in Barcelona by far!
We enjoyed staying at OK Apartment, an apartment not far from Gracia, which also happens to be one of our favorite neighborhoods in town!
Favorite Place to Stay: Barceló Raval *****
Top Thing To Do in Barcelona: Palau de la Música Guided Tour
Girona
I have a soft spot for the Spanish region of Girona. The Pyrenees Mountains welcome hikers and winter sports enthusiasts while the Mediterranean's cozy coves attract the beach-loving crowd.
However, the charming medieval villages of Girona are what make this area my favorite place in Spain. No wonder that it was a movie set for many movies set in Spain.
Cobbled streets, stone houses, Catalan cuisine, and vineyards abound in this quaint Spanish region. But what could be more fun than staying in a castle? Only a few minute's drives from downtown Girona, Castell d'Emporda sits atop a small hill overlooking the surrounding fields and is only 20 minutes from the beach.
This 14th-century castle is the ideal place to take a break from the big city and to immerse yourself in the history and culture of the region. It is also the perfect place for a wedding. The castle's Remei Chapel is the perfect setting for any princess bride.
Just make sure to pick the right room. Only the Castle rooms, Tower Rooms, and the stunning Suite Pere Margarit overlooking the Olive Grove are located in the castle itself. The other rooms are in a modern building located near the gardens.
Did you know that the amazing Salvador Dali almost bought the castle? Stay here and discover why.
Favorite Place to Stay: Hotel Castell d'Emporda ****
Top Thing To Do in Girona: Game of Thrones Tour
Only an hour north of its better-known neighbor by train or car, Girona has long been a popular day-trip destination for visitors to Barcelona or elsewhere along the Costa Brava.
However, we would implore you to spend a little longer here to get under its skin – and savor some of the streets which are so deliciously pretty, you'll want to see them twice.
Its impeccably gorgeous medieval center has become quite well known recently due to Game of Thrones, whilst foodies fall over themselves to try and get a reservation at Rocambolesc, one of the best restaurants in the world.
The city is small and compact – easy enough to discover on foot – so make sure you take the time to traverse one of Girona's many bridges (including one by a certain Mr. Eiffel), scale its city walls, marvel at the colorful houses lining the river and get lost in its labyrinthine alleyways whilst trying to discover its secrets and its stories.
Favorite Place to Stay: Carlemany Girona ****
Top Thing To Do in Girona: Game of Thrones Tour
Lloret de Mar
By Inguaridible Viaggiatore
About 40 kilometers from Barcelona and Girona (where the low-cost airline Ryanair landed) you reach the city that never sleeps where you can combine an intense nightlife with the beaches.
Bars and squares, every opportunity is the right place to party and meet new people.
Going around the city, do not miss the Santa Clotilde Gardens, similar to the Italian Renaissance gardens, overhanging the sea and The Castle overlooking the beach of Sa Caleta.
The bronze monument dedicated to the fishermen's wives, located on a rocky spur at the end of the beach, commemorates the families of fishermen, an activity of great importance in these parts, and was created by the artist Ernest Maragall in 1966 at the Millennium of Lloret de Mar.
According to a local legend, by touching the foot of the sculpture you will see one of your desires.
In the area around Avenida Just Marles, some of the most popular places are concentrated, but the whole Lloret is dotted with bars and clubs of all kinds.
Favorite Place to Stay: Hotel Santa Marta *****
Top Thing To Do in Lloret de Mar: Catamaran Sailing Experience with BBQ Lunch
Sitges
Sitges is a tiny coastal town 30km south of Barcelona which can be reached by road or by train. It is a popular weekend destination, with many Barcelonins having a holiday home there.
The town has less than 30,000 inhabitants but it receives several times its size in day visitors and overnight stays thanks to over 3km of beaches, many bars and weekly celebrations and festivals from Carnival to Gay Week.
The town is picturesque and filled with history and is home to the Bacardi hotel as the founder was from Sitges.
This is also the place where the first pizza in Spain was cooked.
Favorite Place to Stay: ME Sitges Terramar ****
Top Thing To Do in Sitges: Tasting Food and Natural Wines with Wine Lover
6. Valencian Community
Alicante
Best known for its beaches, resorts and nightlife, a lot of travelers don't even consider Alicante a worthy destination. And yes, it has a lot of that. But if you look a little deeper, you will find that there is a lot more to this historic city.
Alicante has a charming Old Town* that is worth getting lost in for a few hours… or days. Its 9th-century castle is perched on top of an outcrop in the middle of the city, and it offers fantastic views and great photo opportunities.
But for me, the crown jewel of Alicante is the Barrio de Santa Cruz, which used to be the old Muslim Quarter.
A maze of steep narrow lanes, it has the cutest houses, each of them unique, and the best views over the city and the Mediterranean sea.
For an authentic experience, stay in the middle of the Old Town. Les Monges Palace Boutique is set within a historic building and it has a rooftop with fantastic views over the city and the castle.
Favorite Place to Stay: Hotel Spa Porta Maris by Melia ****
Top Thing To Do in Alicante: Evening Tapas Tour
Valencia
Valencia is the third-largest city in Spain and its location on the south-eastern coast of the country is one of the things that make it such an appealing destination.
Like its big brother Barcelona, Valencia boasts some fantastic sandy beaches as well as a beautiful old town to explore, so you can fit in a beach holiday and a city break in one go.
Plus, of course, you can find some stunning examples of modern architecture and Europe's largest aquarium at the City of Arts and Sciences.
The old town is relatively compact and easily walkable – it is also where the concentration of cafes and restaurants is the highest along with numerous shopping opportunities, so it makes sense to choose your hotel in this area.
We stayed at the all-suite MYR Plaza Mercado and Spa, located right opposite the central market (El Mercado Central) – a magnificent building as well as a great source of freshly squeezed juices in the morning.
READ: 3 Days in Valencia
Favorite Place to Stay: Hotel Plaza Mercado & Spa ***
Top Thing To Do in Valencia: Hemisfèric & Principe Felipe Museum Combo Tickets
7. Northern Spain
A Coruña Province
We recently spent one night in a Galicia glamping site I had been wanting to stay for a long time: Cabanas do Barranco, in Serra de Outes. Really close to our base, I cannot believe it took us this long to uncover its gorgeousness!
Carefully brought to life by Addomo architecture studio, the design took into account the intimacy of each building and the views of the nearby mountains of the Barbanza peninsula, Tremuzo, A Pena and Muros and Noia estuary.
Every construction respected the existent forest trees and their roots, with come even more alive as the building shapes, lights and shades are defined by them. In short, they will delight any design and sustainable architecture enthusiast.
Favorite Place to Stay: Eurostars Atlántico ****
Cies Islands
By Tiki Touring Kiwi
Spain is an epic country. It's one of those places that lived up to its hype for me. Specifically, the west coasts Cies Islands blew my mind. There are three main islands, two of which you can access via the public ferry from Vigo.
It'd be awesome to camp there for a few days (the only accommodation option) and hike to every corner of the island and spend time on all of the beaches.
We spent time on three beaches, you can't go wrong with any of them. In terms of hiking, the popular spot to go is south from the ferry to the Faro Cies lighthouse with epic views back towards the mainland, ocean, and the third island.
Like the beaches, pick a spot and hike straight to it. You won't be let down.
I'm a silly vegan, but there are a couple of restaurants on the island and you've got to try octopus according to my friends. I'll stick to having a cold beer while waiting for the ferry to leave. Wondering where to stay in Spain? You can't skip Cies Islands!
Favorite Place to Stay: Parador de Baiona ****
Santander
It's hard to find a city in Spain that's untouched by the perils of tourism, but Santander is one of those cities. We recently spent a weekend there, arriving with no prior knowledge or expectation and departing having immensely enjoyed all this charming city has to offer.
From the elegant tree-lined 'Paseo de Pereda' promenade to the atmospheric plazas; the golden sands of El Sardinero, and the impressive (yet blustery) coastal walks; to the newest jewel in Santander's cultural crown, Centro Botin, Santander has a lot to offer.
There are food and drink; tapas bars exist all over Santander, serving delightful dishes formed of incredibly fresh local ingredients.
The standout is Bodega del Riojano, a rustic dining room lined with colorful wine barrels painted by the hands of contemporary artists, including Picasso, in return for food.
If you're wondering where to stay in Spain, Santander is a must!
Favorite Place to Stay in Spain: Gran Hotel Sardinero ****
Top Thing To Do in Santander: Hop-On Hop-Off Tour 24-Hour or 48-Hour Ticket
Cangas de Onis
Cangas de Onís is beautifully located between the banks of the River Sella and River Güeña, in the northwest province of Asturias. It is surrounded by the remarkable Picos de Europa mountains. Cangas de Onís itself is spectacular, there are the warmth and kindness from the locals, with a comforting traditional atmosphere.
Local food is meticulous and with Asturias being famous for dairy, what better place to enjoy the creamiest and freshest yogurt dessert in Los Arcos Restaurante.
There are simply no words to describe such perfection in the quality of the ingredients. Cangas de Onís is most famous for its Roman Bridge, where hangs an Asturian Cross, the symbol of this province, which can just be seen from our Hotel Los Robles*.
It is value for money and very well located, overlooking the market square and rugged green hillside.
Yet for me, my favorite part is the drive from Gijón to Cangas de Onis, as I take in the charming coastal towns and the traditional hórreo (a typical granary), reminding me of how lucky I am to be in Asturias and when the world we live in modernizes, some regional customs never change.
Favorite Place to Stay in Spain: Hotel Los Robles *
---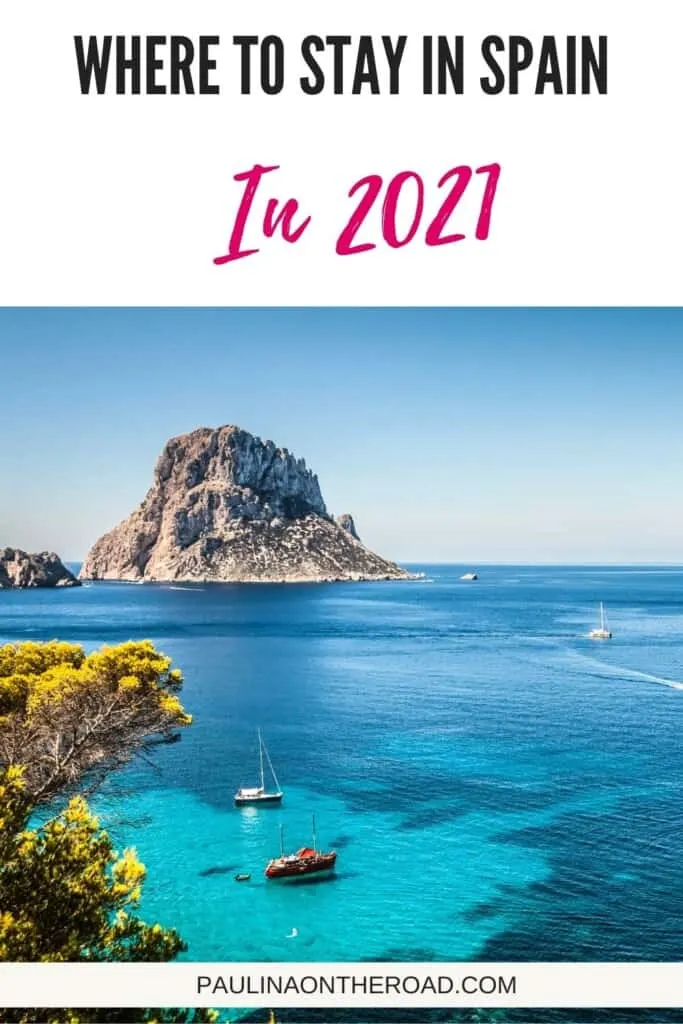 ---
Hola! I am Paulina, a fervent travelette who crossed the Atlantic Ocean by Boat HitchHiking. On my blog, you'll find all the tips to make the most of your holiday. Get ready to enjoy outdoor and sustainable travel like hiking, cycling or sailing. Let's hit the road together!