A guide to the best attractions, sights, and most beautiful places in Tenerife North
Are you looking for the perfect getaway? If adventure and relaxation are what you're after, North Tenerife in the Canary Islands should definitely be on your list!
From secluded beach coves to charming villages tucked away among volcanic mountains, traveling Tenerife's north offers stunning landscapes and a range of unforgettable experiences to explore.
Whether it's leisurely day trips or exciting nightlife that catches your interests, there's something for everyone here.
So grab your camera and join me as we go on an exploration of all the incredible things to do in North Tenerife!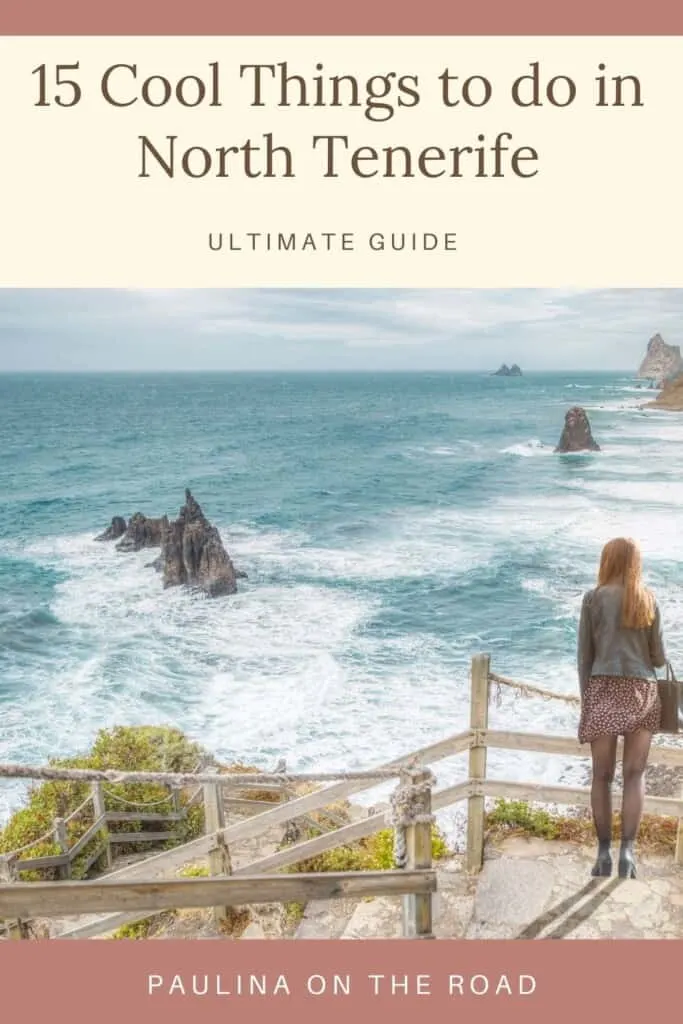 This blog is supported by you, dear reader. If you purchase through a link, I earn a small commission. As an Amazon Affiliate, I earn from qualifying purchases.
Top resources to travel Tenerife
⚘ Avoid tourist traps and get the "Tenerife Like a Local" itinerary for less than 10€. – Get it here

✈ Book cheap flights to Tenerife with Skyscanner

✔ Book tours in Tenerife with GetYourGuide

➳ Find the best hotels in Tenerife with Trivago & holiday rentals with VRBO

❖ Rent a car with the best discounts at DiscoverCars

✎ Never leave without travel insurance. I get mine at HeyMondo. It is easy to set up, cheap, and reliable.

$ Withdraw money without hidden fees and avoid exchange rates with Wise (you'll get a free card on top!)
Book here your Tenerife North airport flight + hotel package
Where to stay in North Tenerife
Budget
La Asomada del Gato
Hotel Aguere *
VillaSol ***
Mid-Range
Rural Finca El Picacho
Sogno Di Gio ****
OCEANO Hotel Health & Spa ****
Luxury
IBEROSTAR Heritage Grand Mencey *****
MC San Agustin *****
La Laguna Gran Hotel ****
If none of these suit you, I have several guides on where to stay in Tenerife.
Do you need the best family hotels in Tenerife, or maybe you're looking for Tenerife's all-inclusive adult-only hotels?
You'll also find many amazing spa hotels in Tenerife for the ultimate relaxing holiday.
Buy here Travel Tenerife Like a Local
1. Hiking In North Tenerife
The best way to discover the lush green, pristine north side of Tenerife is definitely the countless hiking trails that traverse the region.
North Tenerife is becoming increasingly popular among hikers thanks to its amazing hiking trails.
This makes sense because in addition to hiking there are tons of awesome outdoor activities in Tenerife.
Indeed the unique microclimate created by the interaction of Mount Teide, its volcanic activity, and the sea resulted in a very specific landscape and fauna.
There are trails for every level and most include picturesque, remote villages, coastline paths, and interesting insights into volcanic activity. The deep ravines will definitely take your breath away.
As the area is quite secluded, traditional life can still be found in many hamlets of Anaga, the northeastern part of the island. Some of them just know 2 ways of access: by foot and by boat.
Another personal favorite is the Masca Valley hiking trail, one of the Northwest Tenerife secrets, and one of my very favorite hikes in Tenerife!
So put on your hiking boots and explore the great outdoors of Tenerife's north! – Check here rate and reviews
If you somehow run out of hikes in Tenerife North, you can check out the Barranco del Infierno in the south of the island.
Book here a guided tour of Anaga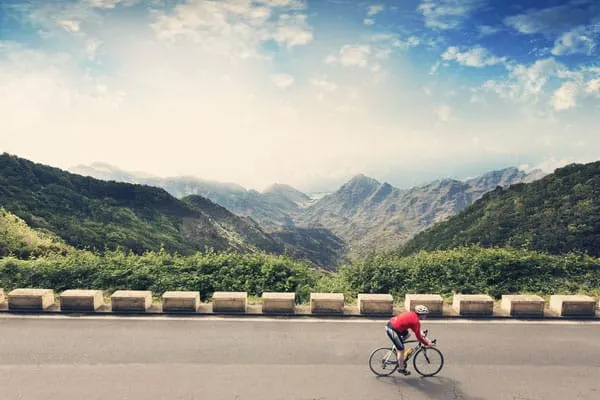 2. Visit the Beaches of North Tenerife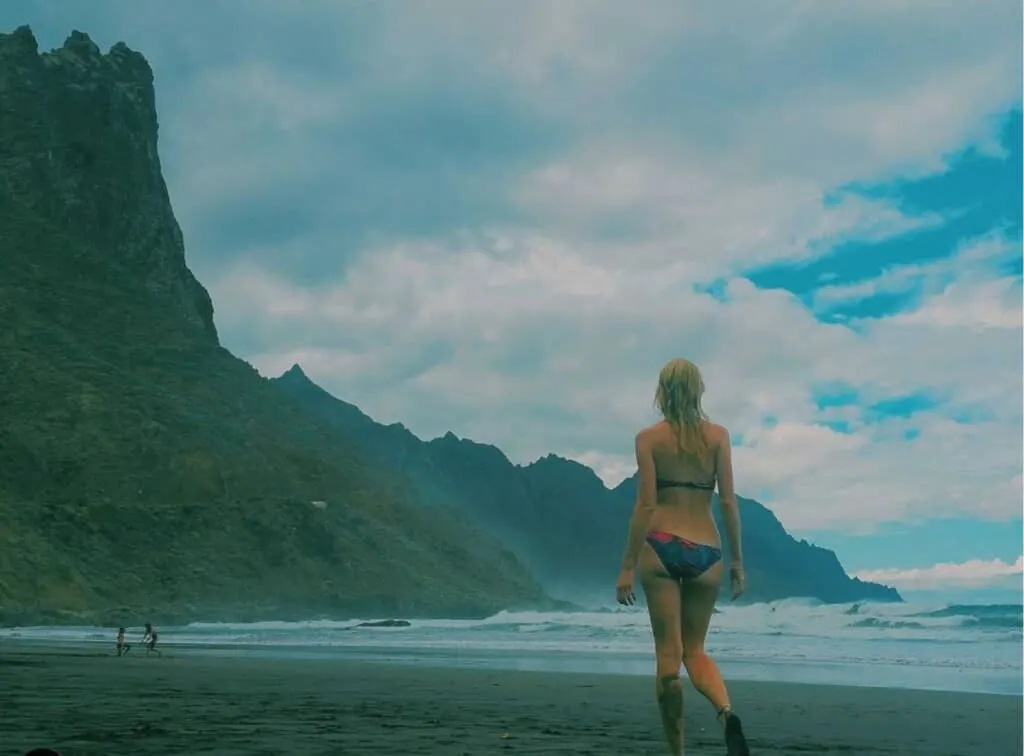 When the weather in Tenerife is good (which is most of the time), the beach is THE place to be, and some of my favorite beaches of Tenerife can be found in the north of the island.
Whereas the beaches of the south can be easily massified and invaded by concrete buildings, the beaches of North Tenerife remained in most cases pristine and untouched.
Having a swim at Tenerife's North Beach is definitely one of the top things to do in Northern Tenerife.
It will be just so easy to fall in love with their rough, savage character.
Some can only be accessed by narrow, winding roads, but they are completely worth it and some of the best things to see in Tenerife by car.
The most scenic beaches in North Tenerife are the following:
Benijo Beach – (Taganana) Probably one of my favorite beaches in Tenerife. The rocks inside the sea and the view of the Anaga mountains create a unique atmosphere. Enjoying the sunset at Benijo Beach will be an experience to remember forever. There are only a few restaurants serving typical food from Tenerife. Benijo Beach is probably the most photographed beach of Tenerife.
Almaciga Beach – (Taganana) Almaciga Beach could be the strongest competitor of Benijo Beach when it comes to the title of the most beautiful beach in Tenerife. On top of Almaciga Beach is just next to Benijo. It's heaven for water sports lovers and it's nestled at the foot of the Anaga mountains.
Roque de las Bodegas Beach – (Tanganana) Further west, Roque Las Bodegas is the third beach of Taganana. It's the largest and busiest of the 3, but the waves are softer which makes it particularly suited for families. I really enjoyed having lunch at its several restaurants. The most legendary one is Casa Africa, where they serve the freshest fish and seafood at the best price.
Playa El Socorro Beach – (Puerto de la Cruz). El Socorro Beach has been awarded for its water quality and is especially popular among surfers. It has a gorgeous view of the roughed coastline of north Tenerife.
Playa Bollullo Beach – (La Orotava) Quite remote, but an absolutely pristine beach. A narrow pathway through banana plantations followed by steep steps leads to Bollullo beach. The beach has a certain bohemian vibe as the scenery is absolutely sublime and secluded.
Book here a tour of Anaga Rural Park
However, the most known beach in the north is Las Teresitas Beach, close to Santa Cruz de Tenerife.
Even though it has not much in common with the rest of the pristine beaches of the north, it is particularly popular due to its festive mood, large size, snack bars, and golden sand (most beaches on Tenerife have back, volcanic sand).
Did you know that the sand from Las Teresitas beach was shipped in 1975 from Spanish Western Sahara?
Book here the best AirBnbs in North Tenerife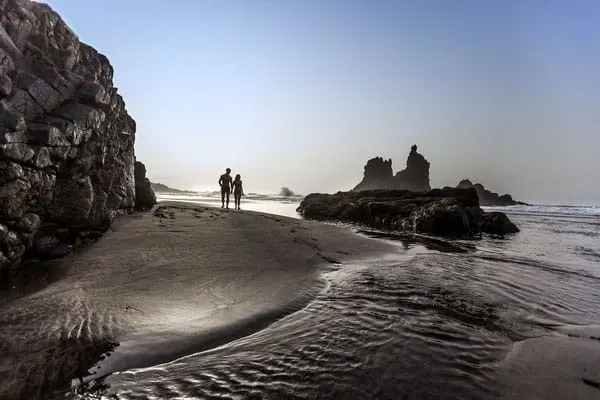 3. Explore the different vegetation and climate of North Tenerife
The north part of Tenerife has a totally different natural landscape, climate, and atmosphere than the lively south.
Mount Teide is the natural barrier between the north and the south, it created an arid and sunny climate in the south and a humid, cooler climate in the north.
The best way to explore the natural parks of Tenerife is by hiking. – Check guided hikes here
This resulted in different kinds of vegetation and economic sectors.
Whereas the south is all about the beach & sun, the north produces a wide range of fruits and vegetables.
With its lush green vegetation, the north of Tenerife becomes an increasingly popular hiking destination.
You shouldn't miss the following viewpoints:
Mirador de Jardina
Mirador de la Cruz del Carmen
Mirador de Abicor
Mirador de Pico del Inglés
Mirador El Bailadero
Book here hiking tours of Tenerife North
4. Go Hiking in Anaga Rural Park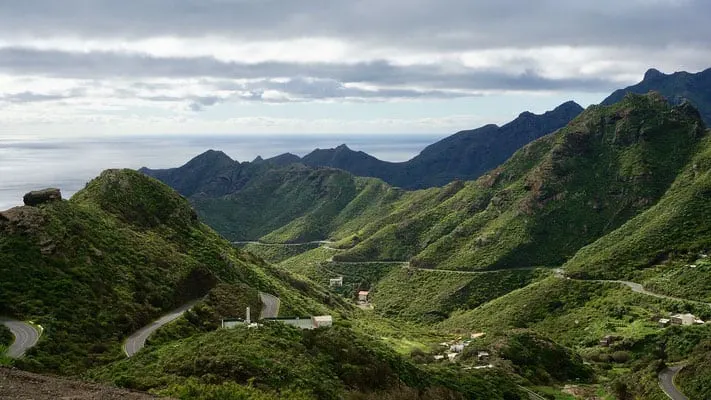 The most famous natural park in the north of Tenerife is Anaga Rural Park belonging to the municipality of Santa Cruz de Tenerife.
It spans the towns of La Laguna, Taganana and Santa Cruz de Tenerife.
The sharp peaks, and the deep ravines in the background of the blue ocean created a fascinating landscape that has been declared Biosphere Reserve.
The forests of Anaga Natural Park have been recognized as original tertiary parks due to its numerous native plant species.
Indeed it survived more than 400 million years! It also boasts a large laurel forest (similar to La Gomera).
Hiking through the laurel forests of Anaga will make you feel like a journey back in time… The twisted tree trunks give the forest a prehistoric flair.
You can also find several animals that can only be spotted in Anaga parks such as owls, kestrels, or laurel pigeons.
No wonder that Anaga Natural Park is a coveted destination for birders for a long time. – Check guided tours here
The best way to explore Anaga Natural Park is by hiking, horse riding, or mountain biking.
Probably you'll come across one of the small settlements whose inhabitants mostly live off small farming and cultivating local plantations with sweet potatoes, vines, passion fruit, yams, …
The best way to explore Anaga Natural Park is by hiking.
Book here a guided hiking tour of Anaga Park
5. Enjoy traditional Canarian food
If you were worried about what to do in Tenerife for foodies, you'll love it in the north.
Did you know that the gastronomy and eating culture in North Tenerife varies from the South?
Even though the Papa Arrugadas con Mojo is popular all over the island, North Tenerife has several traditional dishes that can hardly be found in the south.
All of them reflect the climatic difference and the farming background of the north area.
A foodie tour is definitely one of the top things to do when visiting North Tenerife. – Check rates here
Some of the must-try dishes in the north are:
Gofio – Originally invented by the aboriginal of Tenerife, Los Guanches, gofio is one of Tenerife's oldest recipes. It can be compared to flour made of different grains. You can add it to your broth, your soup, sauce, eat it with honey and almonds or with milk for breakfast. Gofio is omnipresent on Tenerife's tables! On top, it is very healthy and provides a lot of energy.
Ropa Vieja – This dish requires a lot of preparation time but is extremely popular. It consists of chicken, chickpeas, potatoes, some wine, and many different spices.
Potaje – This soup is usually served as an appetizer and consists of chickpeas, several vegetables, and potatoes. It is a very healthy meal option.
Conejo al Salmorejo – Rabbit in Sauce is a very popular meal in north Tenerife. Rabbit meat is marinated for 5 hours in a special sauce with several spices and herbs. It's usually served with papas arrugadas, wrinkled potatoes
Carne de Cabra – Goat Meat can be found in several restaurants and is a typical dish from north Tenerife. Meat is cooked for several hours until the meat is soft as butter.
Puchero Canario – Slowly cooked vegetables and meat. It includes the best of what Tenerife's gardens and stalls have to offer: sweet potato, Canarian zucchini, pork meat, chicken, chorizo, cabbage, green beans, chickpeas, potatoes, carrots, corn, and gofio, of course.
A great place to enjoy authentic food from Tenerife at an unbeatable price are Guachinches. Check out this guided Guachinche tour to visit only the best.
6. Eat in a Guachinche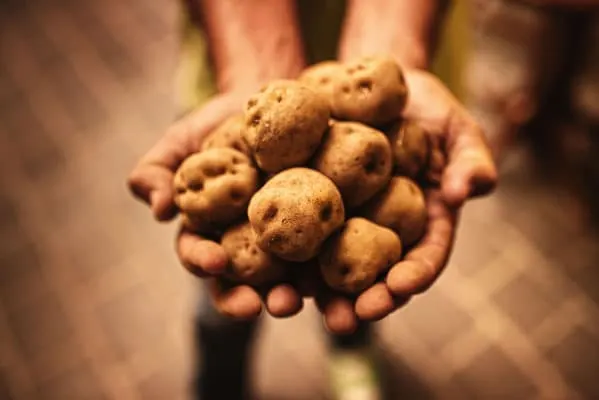 Often located in somebody's garage, the guachinches serve wine with homemade traditional food.
The guachinches came to life when wine producers organized wine parties to sell their wine directly to British buyers and consumers.
Nowadays you can hardly get a more authentic experience than eating in a guachinche: unique local wine, rich stews, loads of meat, and delicious desserts.
Guachinches are located in the wine regions of Tenerife such as Tacoronte, El Sauzal, Tegueste, La Matanza de Acentejo, Santa Úrsula, La Orotava and Los Realejos. – Check this guachinche tour
These are some of the most recommended guachinches in North Tenerife:
Guachinche Julián
Parralito
El Ramal
If want to try several guachinches and don't want to get lost on the way, download the guachinche app "Guachapp"
Discover all the best guachinches
7. Discover Tenerife's Wine Culture
Did you know that Tenerife has an exciting wine culture?
The island boasts 5 Dominaciones de origen (protected origin appellations) from Yconde-Daute-Isora, Tacoronte-Acentejo, Abona, Valle de Güimar and Valle de la Orotava.
Most of the wine cellars can be found in the north and some of them are considered to be the highest vineyards in Europe and can be visited with a Tenerife Wine Tour.
The multiple microclimates of Tenerife and its volcanic soil had a large impact on creating a unique taste of wines.
However, the wine regions strongly differ from each other, depending on their localization.
Guimar and Abona have a dry climate whereas the other wine regions have a humid climate as Mount Teide stops the clouds coming from the Azores.
The most famous grape of the island is the aromatic Malvasia which was already exported in the 16th century by the British to America and Europe.
The wine trade in Tenerife is thus a history that goes back to more than 300 years.
As Tenerife was not hit by the phylloxera vine aphid which destroyed most of the vine roots in Europe, some of the most ancient varieties of vines in the world can be found on the island.
If you're eager to learn more and taste the refreshing wines of Tenerife, I recommend taking a Tenerife Wine Tour.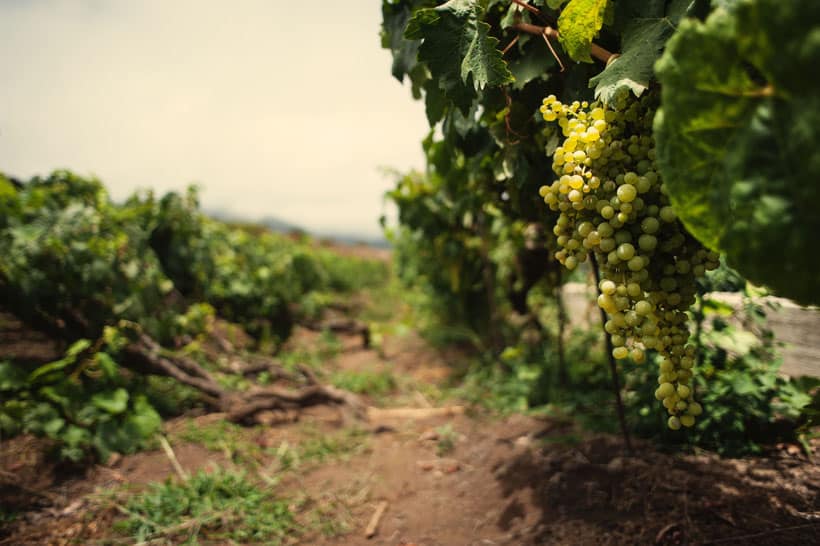 8. Visit La Laguna
La Laguna, the most picturesque town in the north of Tenerife at the foot of the Anaga mountains, is particularly known for being the blueprint for Latin American colonialism.
No wonder you'll feel like in a miniature Santo Domingo or Havana when you walk through La Laguna's cobbled streets with pastel-colored house fronts and its quiet courtyards.
Some of La Laguna's mansions date back to Spain's Golden Age in the 16th and 18th centuries, so wandering around is one of the best things to do in Tenerife North for history buffs.
Due to its unique cultural and historic heritage, La Laguna has been declared World Heritage Site by UNESCO.
La Laguna used to be Tenerife's capital before it was transferred to Santa Cruz de Tenerife in 1821.
As it's home to Tenerife's only university, the town is particularly lively with a young, creative spirit.
What to visit in La Laguna:
The historic center with its old mansions displaying an eclectic range of architectural styles including Portuguese, Genoese, Flemish, French, and Castilian
The cathedral of La Laguna
The University of La Laguna dating back to 1701
Plaza del Adelantado with the town hall, a convent, and several terraces
Plaza del Cristo for its market
Shopping in La Laguna at its quirky, cute little shops. Main shopping streets are Obispo Rey Redondo and Carrera Streets
La Laguna can be easily reached from Santa Cruz de Tenerife by taking the tram line 1 (the only tram on Tenerife) or with a day trip from Tenerife's south. – Check rates & reviews here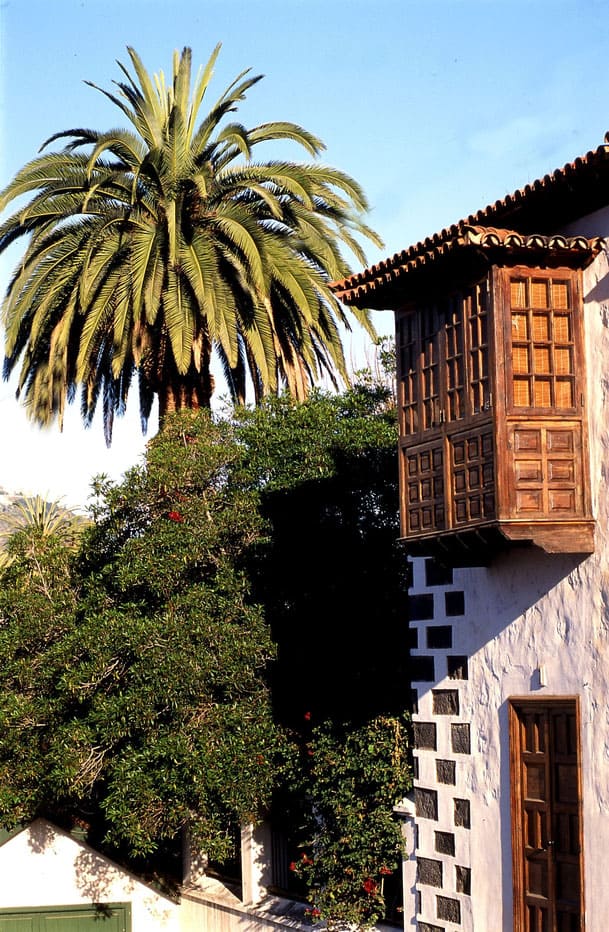 9. Visit Santa Cruz de Tenerife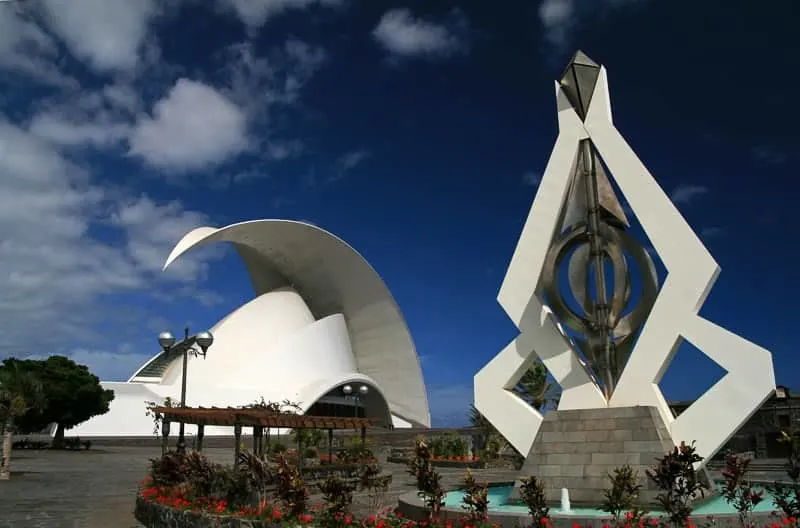 When visiting the north part of the island, a visit to Tenerife's capital Santa Cruz de Tenerife is a must.
The largest town on the island and probably the only one with real city vibes boasts a wide range of cultural activities, excellent restaurants, and beautiful architecture.
The harbor of Santa Cruz de Tenerife is considered one of the busiest in the Canarian archipelago as it's the gateway into mainland Spain and a stop-off point for many cruise liners traveling to the Caribbean.
If you're looking for different things to do in Tenerife, be sure to walk around and admire the architecture of the city.
When visiting Santa Cruz de Tenerife, you can't skip the following buildings and places in North Tenerife:
Auditorio de Tenerife – the spectacular auditorium built by star architect Santiago Calatrava
Barrio de la Concepción – the historic, picturesque quarter of Santa Cruz
García Sanabria Park – for cool shades and relax near its fountains
Plaza de España
Plaza de la Candelaria for shopping
Parliament buildings of the Canary islands
Santa Cruz is famous for its huge carnival celebrations in February. The capital turns into a party town and the plazas hosts huge stages with daily parades going through its streets.
The traditional Tenerife costumes are really elaborate and some say that the Tenerife carnival is the largest after Rio.
Santa Cruz de Tenerife can be easily reached from the southern part of the island by bus or by an organized day-trip.
Book day trip to Santa Cruz here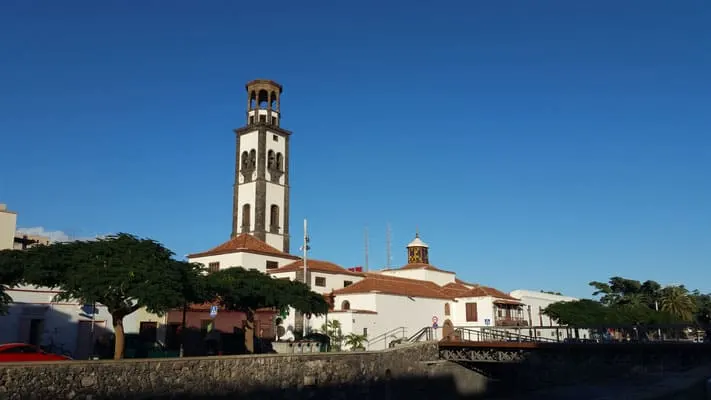 10. Visit La Orotava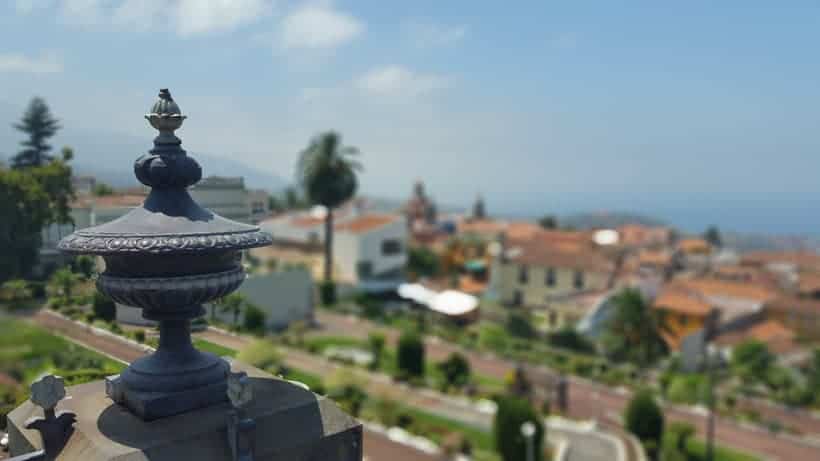 To me personally, La Orotava is one of the prettiest places in North Tenerife. It's located just above Puerto de la Cruz, in the lush green Orotava valley.
From the town, you'll enjoy spectacular views of the ocean and on Mount Teide.
There are also many amazing things to do in La Orotava, and you can easily spend a day wandering around the town.
La Orotava gets its charm from its narrow, cobbled streets and pastel-colored house fronts. Each house seems to be the result of delicate and well-though work.
The windows are traditionally framed with wood, which gives La Orotava a very characteristic architectural style.
Part of this very typical architectural style is the famous wooden balconies.
In case you want to learn more about La Orotava and life in the fertile valley, I recommend a visit to the renowned La Casa De Los Balcones.
One of the best things to do in La Orotava trying the local cuisine. There are several excellent restaurants in La Orotava serving traditional Canarian food.
Due to its very pleasant climate, La Orotava boasts several beautiful parks that invite to relax. Along with Liceo de Taoro, the Jardines de Victoria was my favorite to stroll around.
They are built an Asian-inspired mausoleum and were exemplary for La Orotava's beauty.
La Orotava is also famous for its large flower and volcanic sand carpets that are laid down on the streets for the festivity of Corpus Christi.
The festivity attracts thousands of visitors every year. During that time of the year, the beauty of La Orotava is hard to put into words.
Book here the best AirBnbs in Tenerife North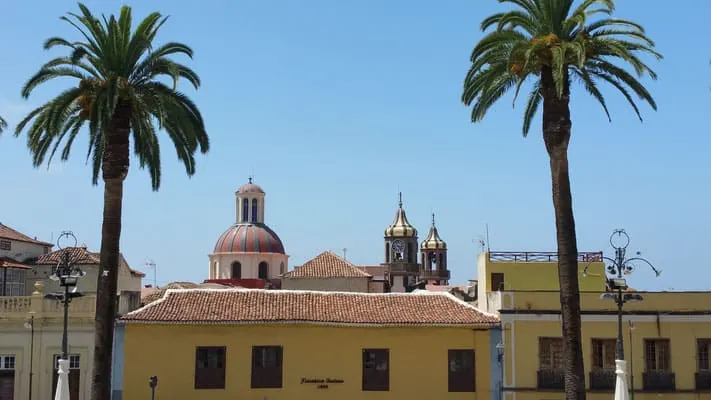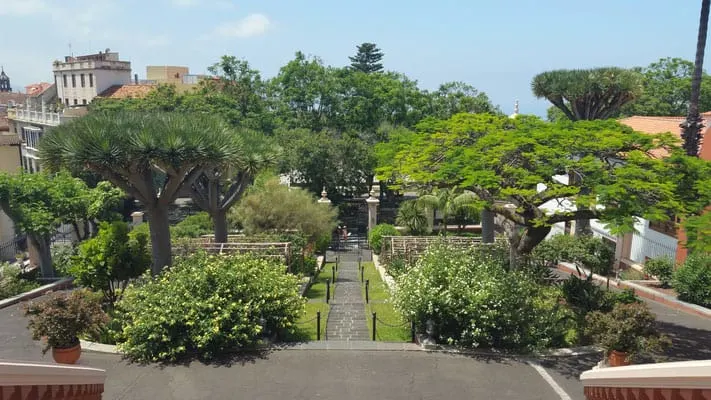 11. Visit Icod de los Vinos and the Dragon Tree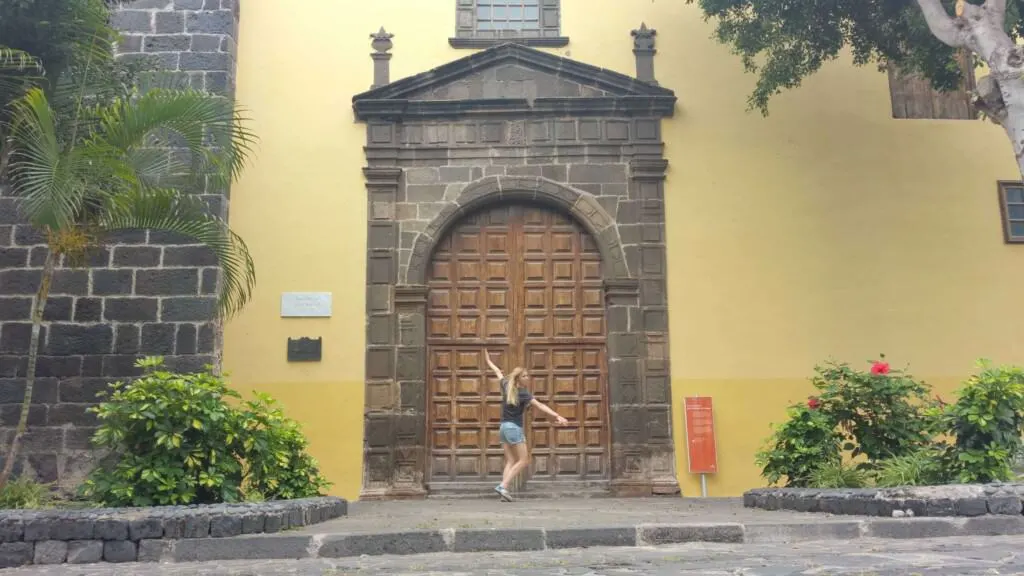 Even though the towns of Garachico and Icod de Los Vinos might not be on many lists as best things to do in North Tenerife, they are well worth a visit.
Indeed due to their limited size and secludedness, they preserved the authentic Canarian atmosphere in the architecture, gastronomy, and traditions.
The Dragon Tree makes the most of the Icod de Los Vinos fame. It is one of the most popular attractions in North Tenerife.
It is about 22m high and the diameter of its trunk is estimated 10m.
They say that is more than 1000 years, (probably even more) old hence its name in Spanish: Drago Milenario. It became not only the symbol of Icod but of the entire island.
The sap of the Dragon Tree is red as blood and used for medical and healing purposes.
Some of the restaurants near the Dragon Tree even do lemonade with the sap.
The town of Icod de Los Vinos has several immensely beautiful plazas that invite you to relax and enjoy the Canarian vibe.
To me personally, the Plaza de la Constitución was one of the most beautiful squares I saw on the island.
Visit Garachico and Icod de Los Vinos with a day-trip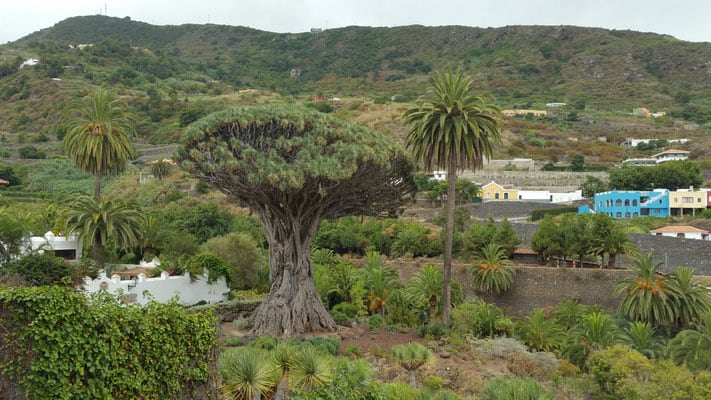 12. Garachico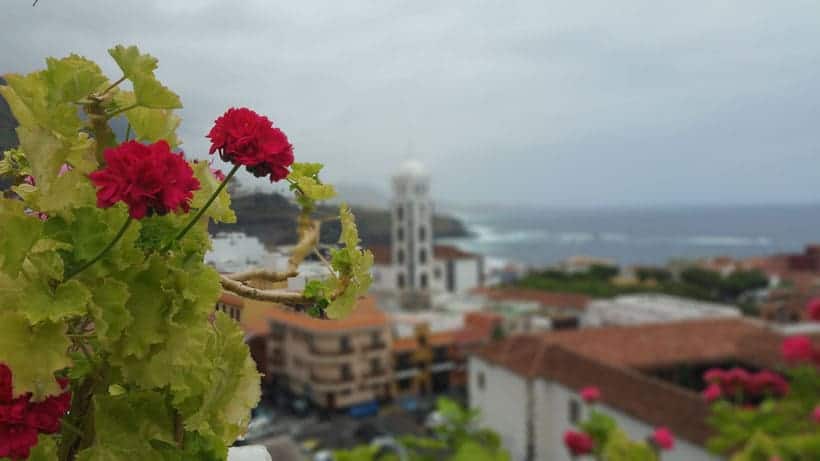 Garachico is located further north of Icod de Los Vinos. In the 18th century, it was Tenerife's richest town, they say that Garachico's street was made of marble.
It hosted the most important harbor to which arrived all the merchandise from the American colonies. But unfortunately the volcano Montana Negra exploded and destroyed large parts of the town.
But the volcanic explosion created Garachico's most famous attraction: the natural rock swimming pools.
They are located only 5 minutes from the city center and are very popular among locals.
Only a few improvements have been added, such as paved walkways or stairs. The best: entrance is for free!
When in Garachico, you can't miss eating out at one of its traditional restaurants like Las Cucharitas (they have banana croquettes on their menu!!)
Like Icod de Los Vinos, Garachico preserved its traditional architecture and its cobbled, narrow streets are some of the prettiest that you'll find on the island.
Entering the Plaza de la Libertad will give you an idea of Garachico's ancient grandeur.
Learn all local secrets with "Travel Like a Local" Guidebook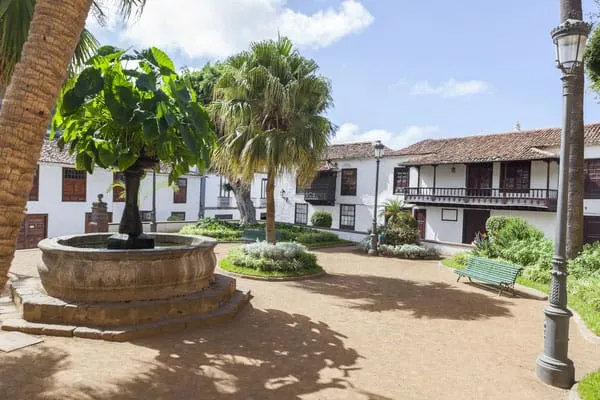 13. Visit Cueva del Viento
If you want to add a truly unique and adventurous touch to your trip to Tenerife, I recommend visiting the Cueva del Viento (Cave of the Winds) near Puerto de la Cruz.
The Cave of the Winds is a natural, volcanic attraction that has been shaped for several thousands of years.
It's a gallery of lava-shaped tunnels expanding across the entire island of Tenerife. So far only a limited stretch can be visited.
Its total length is estimated to be 75 km and it could be the biggest lava-tunnel system in the world.
The Cave of the Winds is a direct result of the intense volcanic activity in Tenerife.
When the 1200ºC hot lava gets in contact with the air, it gets cold in just 5 minutes and solidifies, creating the "roof" of the Tunnel.
The lava keeps running below "the roof" until it reaches the sea, leaving an empty hollow behind: the tunnels of Cueva del Viento, a perfect day trip from Puerto de la Cruz.
The lava expulsed from Pico Viejo volcano reached the coast where now lies the town of San Marcos.
The holes we can see at the cliffs of San Marcos were created by the lava from Pico Viejo, as they are the end of some tunnels.
This is one of the most unique places to visit North Tenerife has to offer, and it's definitely worth a trip when you visit the island.
14. Visit Teide National Park
If you're wondering what to do in North Tenerife for outdoor enthusiasts, no trip is complete without a visit to Teide National Park.
Teide National Park is one of the best things to do in North Tenerife, and for good reason. The park is full of volcanoes, craters, and other intriguing geological landscapes.
If you are wondering what to see on Tenerife for kids, Teide is perfect for families.
Exploring the interesting terrain is one of the best things to do with kids in Tenerife because you can pretend like you're on a different planet.
You can also take them on a guided tour of the Observatory Tower, the largest solar observatory in the world!
One of the top attractions is Mount Teide Peak (Pico del Teide), a volcano inside the park, and also the highest peak in Spain at 3,715 m.
Although you do need a permit to climb the peak, it is free, making Teide National Park one of the best free things to do in Tenerife North.
In 2007 the park was awarded UNESCO World Heritage status.
Book here your tour of Teide National Park
15. Have Fun in Puerto de la Cruz
Puerto de la Cruz is full of fun things to do in Tenerife North, such as wandering the old town or relaxing on the black sand of some of the best beaches in Tenerife.
The botanical gardens and Plaza del Charco are also one of the top places to visit in North Tenerife.
But you absolutely have to eat at a guachinches in Puerto de la Cruz. The city has some of the best guachinches in north Tenerife!
As mentioned above, guachinches are local Canarian food establishments that serve local wine and traditional food.
Some of the best spots are Mesón Los Gemelos and Tasca El Olivo.
For those who love art, Casa de la Real Aduana is a great contemporary art museum to spend an afternoon in.
Cave of the Winds is also the perfect day trip from Puerto de la Cruz.
Travel Tenerife like a local with this handy guide
---
Why visit North Tenerife?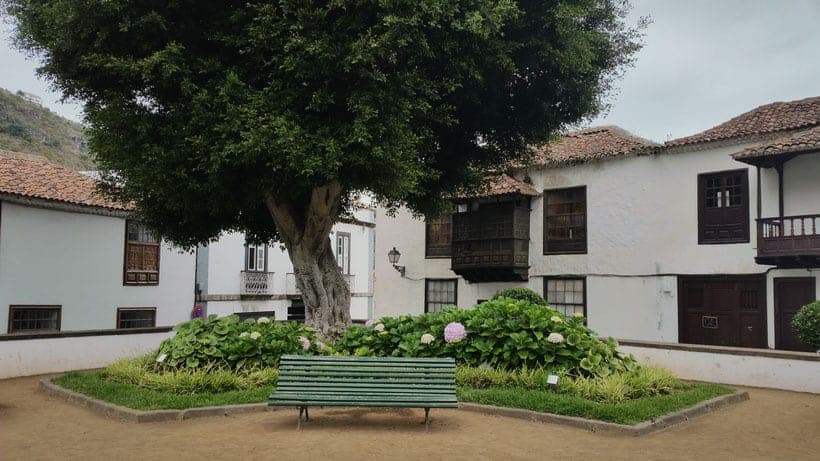 The south of Tenerife is known for its spectacular Tenerife beaches, party mood, and countless activities.
For those who can't spend the entire day on the beach or those who are seeking to escape the heat of the south, North Tenerife is the perfect escape from the crowds.
If you're looking for non-touristy things to do in Tenerife, then Northern Tenerife is the region for you.
However, you can easily spend more than just a day trip to the north of the island as it offers plenty of activities to do. You'll never wonder what to see in North Tenerife.
For the locals, the north side of Tenerife starts above Los Gigantes in the west and up north of El Medano in the east. Mount Teide marks the impressive frontier between north and south.
Although you can visit Tenerife year-round, and many pick the summers to get the most out of the beaches, winter and Christmas in Tenerife are also incredibly magical!
Whether you visit North or South Tenerife, you will fall in love with the island. But if you have time, take advantage of all the great things to do in North Tenerife.
Find all locations in a map of North Tenerife at the end of the post!
Buy here Travel Tenerife Like a Local
---
I hope some of these, admittedly very personal, highlights of my visit to North Tenerife could convince you to include the beautiful north in your travel plans.
Have you been in North Tenerife? Did you enjoy it? I would love to hear about the things you loved (or loved less) in the comment form.
---
Short FAQ about what to do in North Tenerife
Where is North Tenerife?
This is the northern part of Tenerife, which is the largest of Spain's Canary Islands, located off West Africa.
What are the best walking trails in Tenerife?
Hiking is one of the best things to do in Tenerife for free as there are many different hiking trails. However, the best place for hiking is in Teide National Park, which also has the largest peak in Spain, Mount Teide. Anaga Rural Park is also a great hiking spot, as is Masca Valley in Northwest Tenerife.
What things to do in Santa Cruz, Tenerife?
One of the top things to do in North Tenerife is attending Carnival festivities in Santa Cruz. If you can visit during this time, it is highly recommended. Otherwise definitely visit the Barrio de la Concepción and the Auditorio de Tenerife.
Is North or South Tenerife better?
This really depends on personal preference. South Tenerife is better if you just want a beach holiday, while North Tenerife has more outdoor activities to enjoy.
Which is the prettiest part of Tenerife?
Definitely, Teide National Park is the most eye-catching part of the island. However, there are lots of beautiful parts of Tenerife.
Is North Tenerife colder than South?
Yes. However, the temperature change can sometimes be minimal, especially during winter. But on average, North Tenerife is both colder and wetter than South Tenerife.
---
Map: Highlights of North Tenerife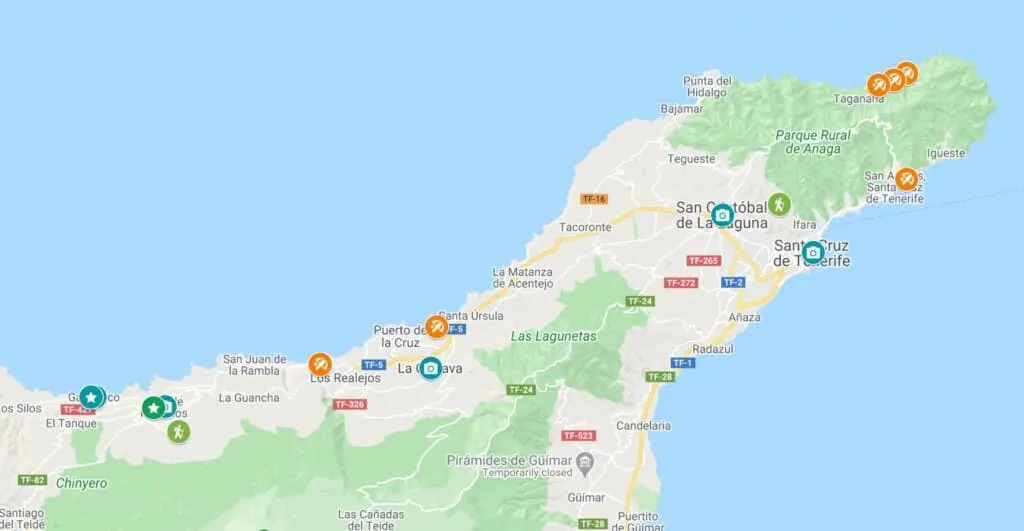 ---
Before You Go: Top Tips for your Trip
---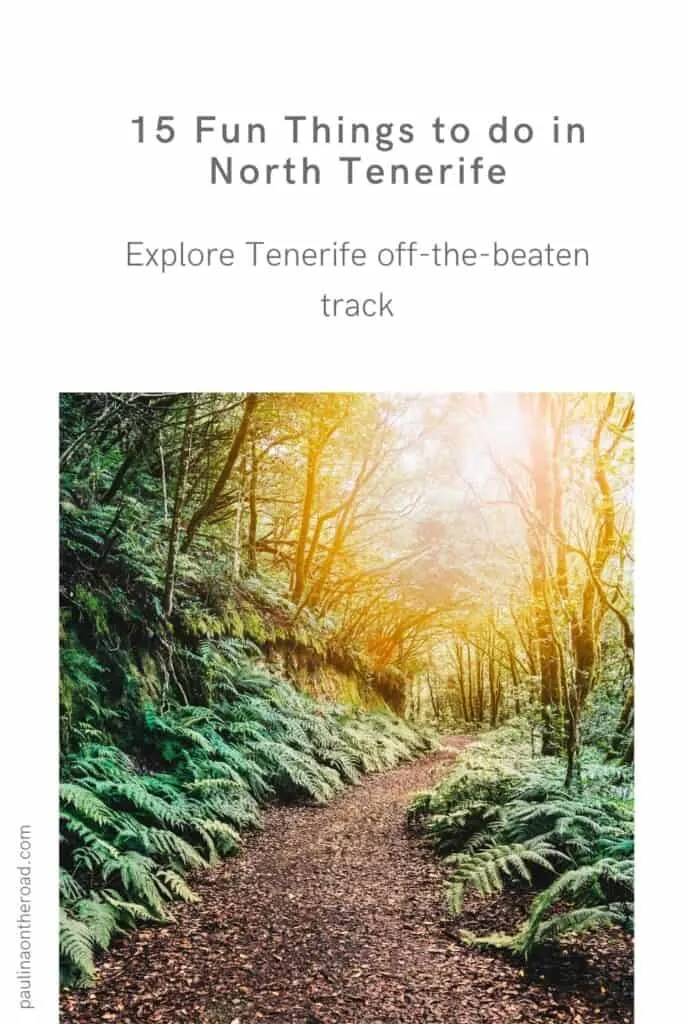 ---
Hola! I am Paulina, a fervent travelette who crossed the Atlantic Ocean by Boat HitchHiking. On my blog, you'll find all the tips to make the most of your holiday. Get ready to enjoy outdoor and sustainable travel like hiking, cycling or sailing. Let's hit the road together!