Some dream of a white Christmas. Others dream of a warm and sunny winter getaway.
Blessed with the warmest weather in Europe, the Canary Islands/Spain are the place to go if you're craving some winter sun.
Beyond swimming and sunbathing, Christmas in Tenerife is a great type of holiday that won't make you miss the mulled wine and the traditional Christmas markets that Europe is famous for.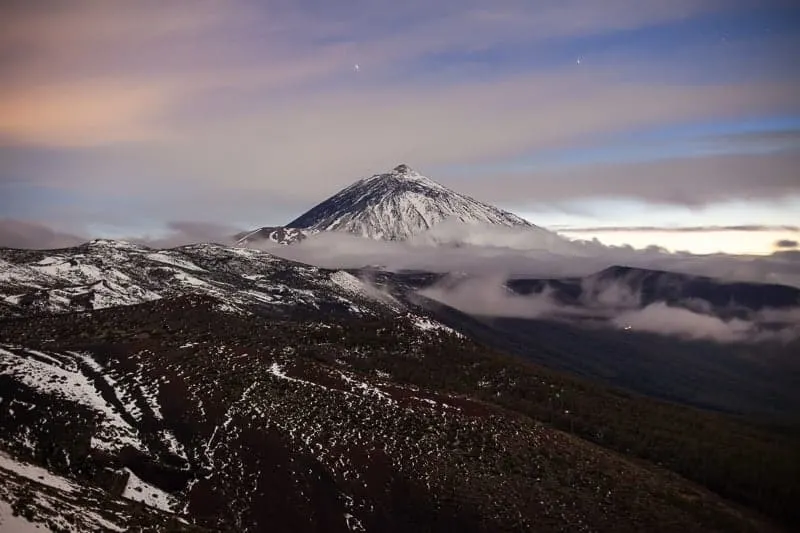 This sub-tropical destination, mostly known for its summer fun also comes to life during the winter holidays.
As a sun-lover, I really enjoyed spending my winter in Tenerife. I even went for a swim in February!
In fact, I would argue that winter is one of the best times to enjoy all the top things to do in Tenerife because the weather is ideal.
A balmy average temperature of 20°C, clear blue skies, lots of sunshine, and multiple events that ooze Christmas spirit are just some of the reasons to spend the most wonderful time of the year on this idyllic island.
Useful Travel Information About Tenerife
⚘ Avoid tourist traps and get the "Tenerife Like a Local" itinerary for less than 10€. – Get it here

✈ Book cheap flights to Tenerife with Skyscanner

✔ Book tours in Tenerife with GetYourGuide

➳ Find the best hotels in Tenerife with Trivago

➳ Enjoy gorgeous holiday rentals in Tenerife with VRBO

❖ Rent a car with the best discounts at DiscoverCars

☘ Get the best discounted outdoor gear (outlet) at REI.com

✎ Never leave without travel insurance. I get mine at HeyMondo. It is easy to set up, cheap, and reliable.

$ Withdraw money without hidden fees and avoid exchange rates with Wise (you'll get a free card on top!)
Information about Weather in Tenerife at Christmas and December
Nestled in the Atlantic Ocean, Tenerife enjoys a sub-tropical climate with hot summers and warm winters. Therefore, the Tenerife weather during Christmas shouldn't concern you. No need to pack fluffy sweaters or thick socks. A light jacket, and spring and summer clothes will make you forget about the harsh winter on the Old Continent.
That's what makes Tenerife holidays at Christmas as magic as they are. It's also one of the reasons why Tenerife is considered one of the best places for winter sun holidays in Spain.
Winter temperatures may vary between the south and north of the island, but you can still expect average temperatures around 20°C during daytime in all areas.
Temperatures in December and January in Tenerife South are usually higher, with an average of around 23-25°C during the daytime.
This makes it perfect weather to still enjoy all the fun things to do in South Tenerife even in winter.
Tenerife North is a bit chiller, but you can still expect an average of around 22°C. Read more about things to do in North Tenerife.
Nights are a bit chiller on both sides of the island, but a light jacket or cardigan will typically suffice.
Due to the mild year-round climate, winter in Tenerife usually means that you can spend your days at the beach or sunbathing. The ocean water is considerably cooler in the winter months compared to the summer, but you can always enjoy your hotel's pool. And why not plan a stay in some of the best all-inclusive, adults-only hotels in Tenerife?
Rain usually isn't part of the picture, and snow is a very rare event in the Canary Islands. You should still pack a coat and umbrella, though. Just so you don't leave anything to chance.
1. Celebrate Christmas the traditional Spanish way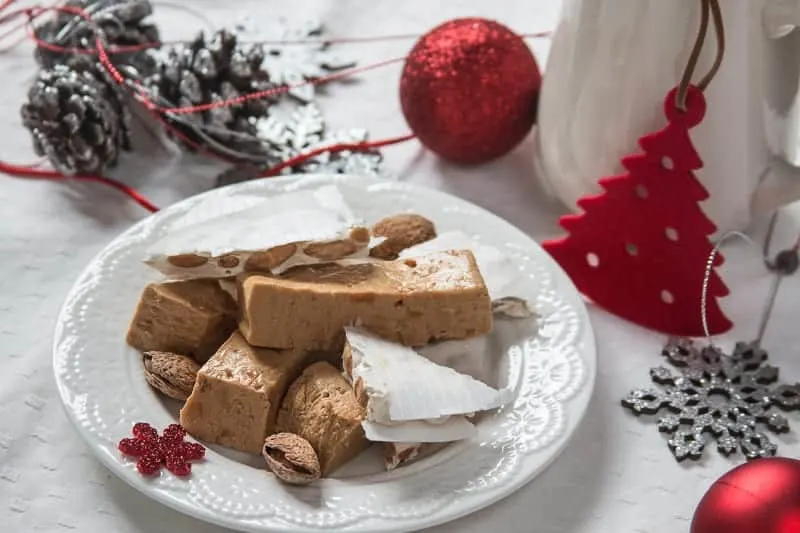 In Tenerife, just like in the rest of Spain, Christmas is taken seriously and celebrated in the most traditional way. This important holiday is typically spent with the family. Considering the year-round tourism on the island though, most restaurants and places are open during this time of the year.
Traditionally, Christmas in Tenerife starts with nochebuena, the Spanish word for Christmas Eve.
Celebrations start early in the evening and typically last well into the early hours of the Christmas morning. The first part of the night consists of a traditional feast made of delicious tapas, traditional soups and salads, and roast dishes of lamb, beef, or poultry.
After the meal, indulge yourself in some Spanish sweet delicacies such as mantecados, turrón, or polvorones – a variety of cakes, biscuits, and nougats that taste heavenly.
The Midnight Mass is an unmissable event during a traditional Spanish Christmas, and families in Tenerife usually attend it religiously, year after year.
After the service, just wander around the streets and enjoy the festivities known as El Baile del Niño, where musicians play their instruments while the crowds celebrate the birth of the Child.
There are no gifts on Christmas Day morning, but don't worry… you'll still get some in January, as the Spanish tradition dictates. In order to communicate with the locals, you can have a glimpse at these typical Canarian expressions.
2. Spend Christmas on the beach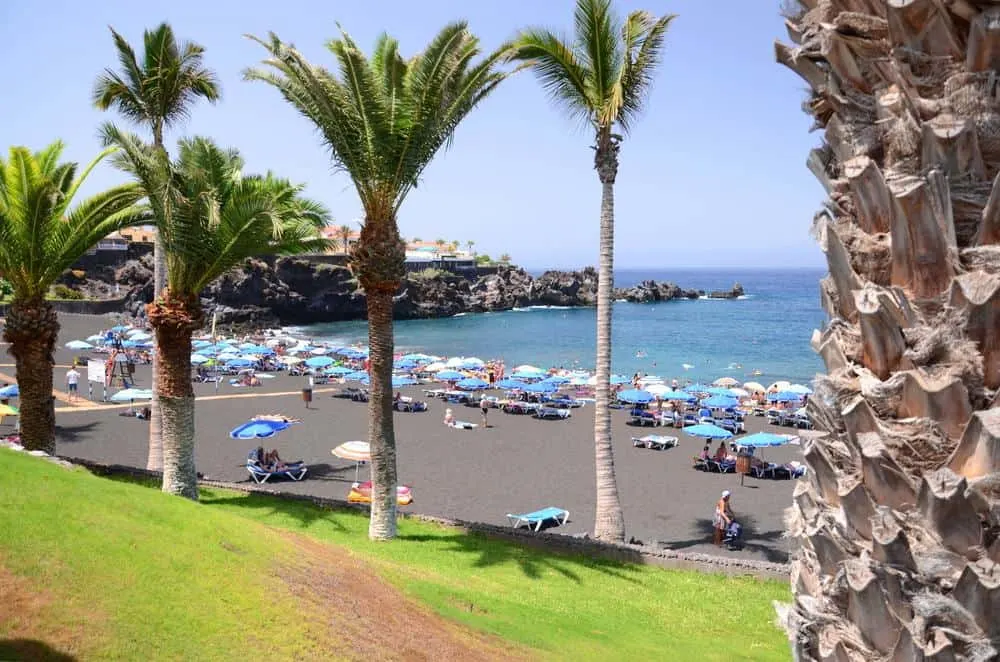 Christmas day, or Dia de Navidad, misses the Christmas Eve's glitz, but choosing Tenerife for Christmas comes with its own perks. You can spend the day at the beach, sunbathing or even going for a swim if the weather allows it.
With the average Tenerife Christmas temperature usually in the mid-20°C, enjoying a picnic on one of the exotic volcano sand beaches while admiring the immensity of the ocean can be rewarding and relaxing at the same time.
Las Gaviotas beach, located at a stone's throw away from Santa Cruz de Tenerife, is a great choice for both sunbathing and enjoying nature.
Nature lovers will also enjoy Los Gigantes beach. Nestled in the secluded resort of Santiago del Teide on the western side of the island, this place can blow you away with its incredible, uncontaminated nature.
READ: Things to do in Los Gigantes.
Giant cliff formations flanking the beach provide an awe-inspiring scenery for that Insta-worthy shot you've been dreaming of snapping.
El Socorro beach in Los Realejos municipality is a true magnet for surfers who want to conquer the sea even during this time of the year.
The man-made Playa de las Americas is another fantastic beach to consider if you're a sports fan. In summer, this place is packed with sunbeds and umbrellas. In winter, it's a popular place for people to enjoy all kinds of sports, from surfing to beach volley or basketball.
For a relaxing afternoon and a no-frills Christmas day, have a stroll along the Punta Larga beach promenade and stop in one of the many restaurants, shops, or ice cream parlors for a well-deserved break.
After a relaxing day at the beach, you can further unwind at one of the top spa hotels in Tenerife with a view of the ocean.
READ: The best Beaches in Tenerife
3. Visit Christmas Markets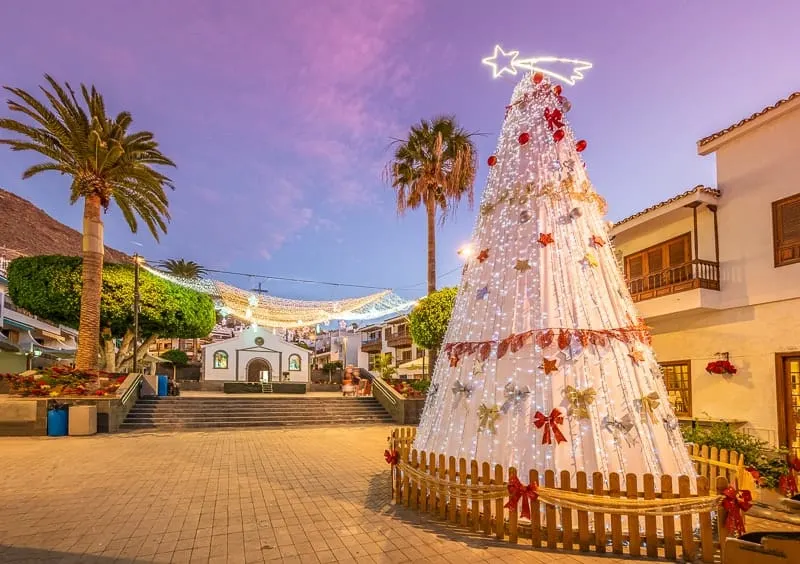 If your idea of a perfect Christmas has the word "markets" printed on it, then you'll probably love to know that Tenerife comes with its own Christmas markets.
Sure, you can forget about mulled wine and grilled sausages.
Ditch the warm winter clothing too, and get ready to enjoy one of the most amazing experiences the Canary Islands can offer, such as the Christmas markets in Puerto de la Cruz.
You won't get hot beverages, but here you can still indulge in some locally-produced wine and cheese, have a taste of traditional baked goods, and shop unique souvenirs such as artisan jewelry, trinkets, or handmade gifts.
You can even find some gifts for outdoorsy people under $50.
Besides the stalls, the events are usually accompanied by traditional bands and street performances.
If you can't find what you are looking for at the markets, you can also enhance your Christmas shopping experience at the fantastic Siam Mall in the capital, where you can shop for clothes and the latest fashion items, take pictures with Santa, or listen to the carol singers who make their way around the shopping center.
Furthermore, the stunning circular shopping center Plaza del Duque in Costa Adeje is a great place for shopping gorgeous Christmas decorations.
There are many other wonderful things to do in Costa Adeje during this time of year.
It is also a great place to stay over the holidays, and there are tons of fantastic hotels in Costa Adeje.
4. Christmas Day on a boat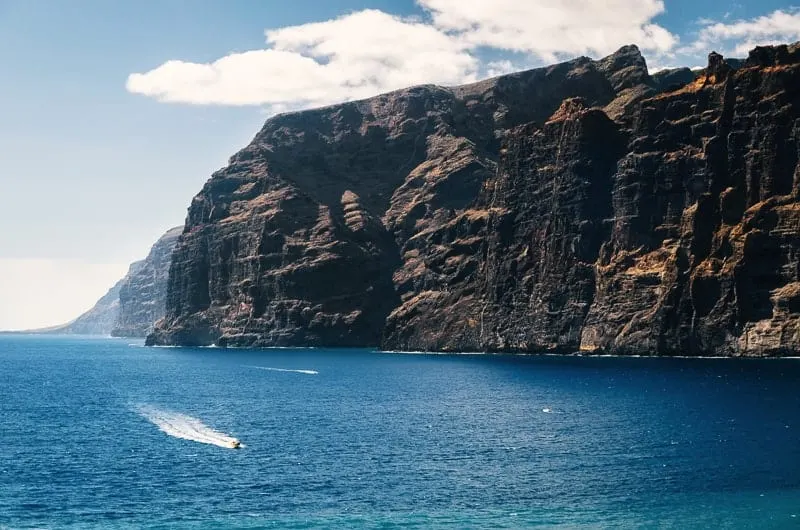 For an unforgettable Christmas holiday in Tenerife, forget the beach and enjoy the Canarian sun onboard a private yacht.
Perfect either for two or groups of friends looking to celebrate Christmas in style, private charter boats let you host onboard parties and sail wherever the mood takes you.
Book here your charter boat in Tenerife
If you can't afford the luxury of a private boat rental, a boat trip could be an excellent alternative that will still give you a glimpse of this original "Christmas Tenerife" adventure.
Perhaps the most amazing experience is whale and dolphin watching while indulging yourself in a gourmet feast made up of fresh seafood and traditional Spanish Christmas specialties including the world-acclaimed paella.
Depending on your time and preference, you can typically pick from 3-hour and 6-hour tours.
Book here your dolphin and whale watching tour in Tenerife.
5. Have a Christmas Dinner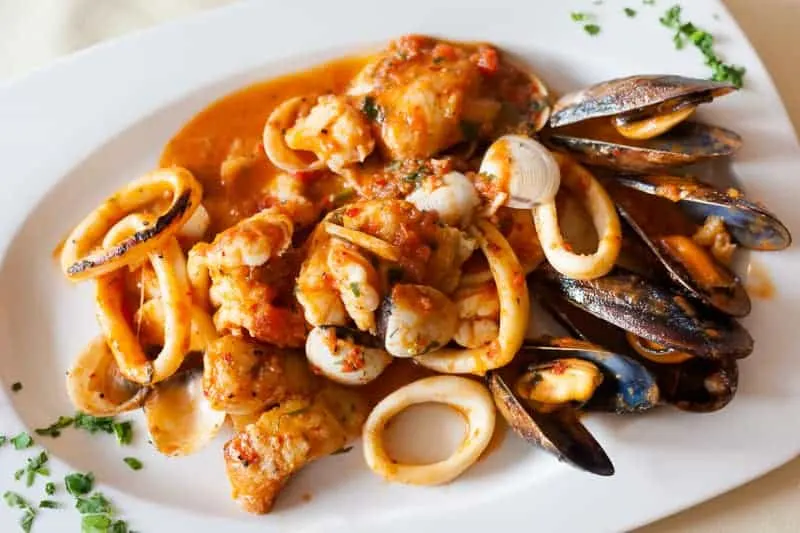 If you're wondering what to do in Tenerife for Christmas dinner, you'll be delighted to know that most restaurants prepare traditional buffets or special meals for Christmas day.
There are plenty of venues to choose from, but one of the best dinners can be tasted at Gulliver's Grillhouse in San Miguel de Abona.
While it won't serve you a traditional Christmas dinner, this restaurant stands out with delicious seafood dishes, amazing holiday roasts, and mouthwatering desserts, such as a heavenly Christmas pudding with rum sauce. If you are wondering what to eat in Spain, this is a must-eat! It's a typical Spanish Christmas food!
For a more continental experience, you can also check out The Merry Monk in Los Cristianos, a beautifully decorated, family-run traditional British pub.
Here, you can have a traditional British meal and enjoy the typical Christmas atmosphere that might remind you of home. As for the after-dinner drinks on Silent Night tunes, head to the Dreamers Cabaret Bar in the same municipality.
Owned by the Freddie and the Dreamers band former guitarist Roy Crewdson, this stylish bar is the best place to go for a pint and some night entertainment ranging from cabaret shows to lively karaoke contests.
6. Enjoy a white Christmas at Teide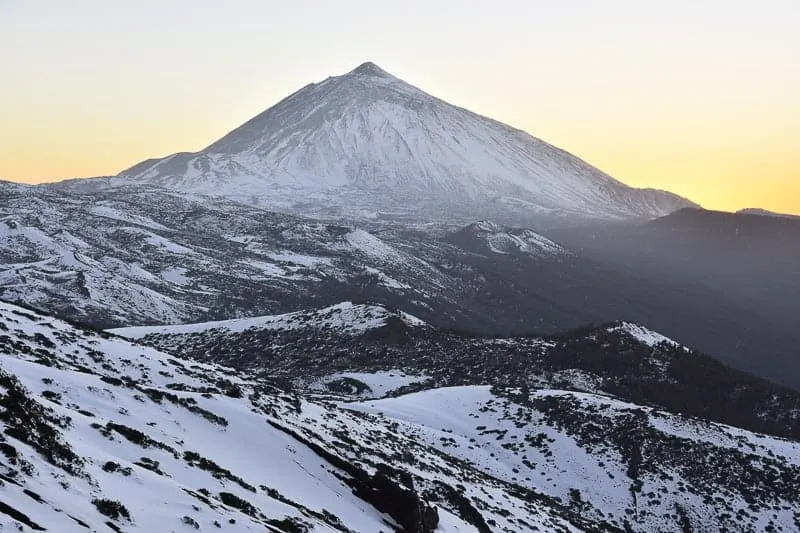 The Canary Islands at Christmas are rather warm, and those who choose to spend their holidays in Tenerife at Christmas usually don't dream of white expanses and snowmen.
However, if you find yourself craving for a bit of winter chill and snow, a hike up the El Teide volcano is perfect for those who want to challenge themselves before the end of the year.
Not to say that this experience can show you a different side of Tenerife.
READ: Best Mount Teide Trips
Nestled in the middle of the island and overlooking the surroundings, El Teide becomes magic in winter when its rocky terrain transforms into a real wonderland that attracts tourists and locals alike.
There are various routes that can take you to the summit, and once you've reached the top, you can enjoy a tour of the Teide Observatory, perhaps combined with nocturnal astronomical observations.
Did you know that Tenerife boasts exceptional stargazing conditions thanks to the low light pollution? You can enjoy a stargazing experience at the Teide Observatory.
Book here your tour of the Teide Observatory.
Here, you can also build snowmen, sleigh down the slopes, or enjoy a unique safari tour that takes you to the most beautiful, undiscovered spots of the island.
No matter your choice; Mount Teide is one of the top hikes in Tenerife, and is undoubtedly a must on your Tenerife Christmas bucket list.
Book here your Mount Teide Trips
7. Attend a concert or a show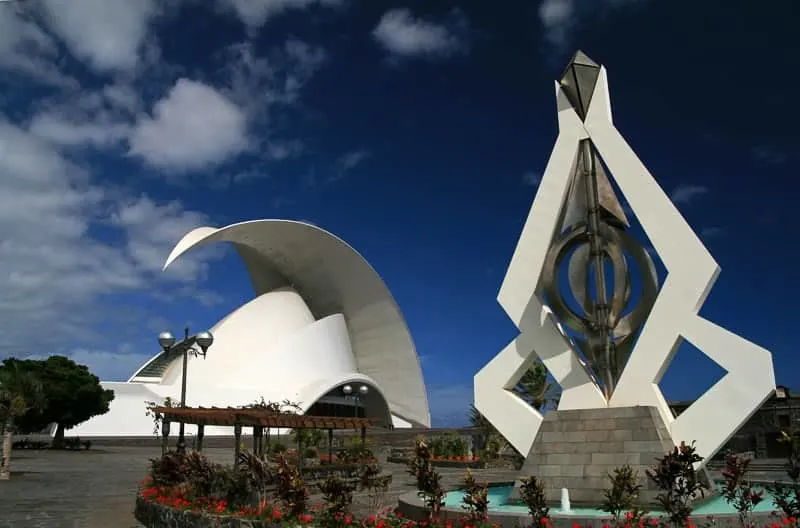 Canaries Christmas holidays mean much more than bathing in the winter sun. Tenerife is also known for its many cultural events taking place during this time of the year, and you can attend a lot of Christmas concerts and shows while here.
Perhaps the biggest event to attend is the Tenerife Symphony Orchestra concert held each year on December 25th at Santa Cruz Harbor.
Entry to this musical extravaganza is totally free, but you still have to make sure you snap a ticket from the venue's official website. Seats are limited, so make sure you're fast at grabbing your spot to avoid disappointment.
The harbor also live-streams the concert on its website, so you can still enjoy this fantastic event if you miss out on the tickets or can't go.
If concerts are not really your thing but you would like to enjoy a ballet performance, head to the Infanta Leonor Auditorim for beautiful representations of the Nutcracker or other operas.
Tenerife's Adán Martín Auditorium in Santa Cruz de Tenerife also hosts occasional soul and gospel concerts, and throughout the island, you can also attend a variety of top-class shows. All you have to do is decide which one you fancy.
READ: Things To Do in Santa Cruz, Tenerife
8. Visit Nativity Scenes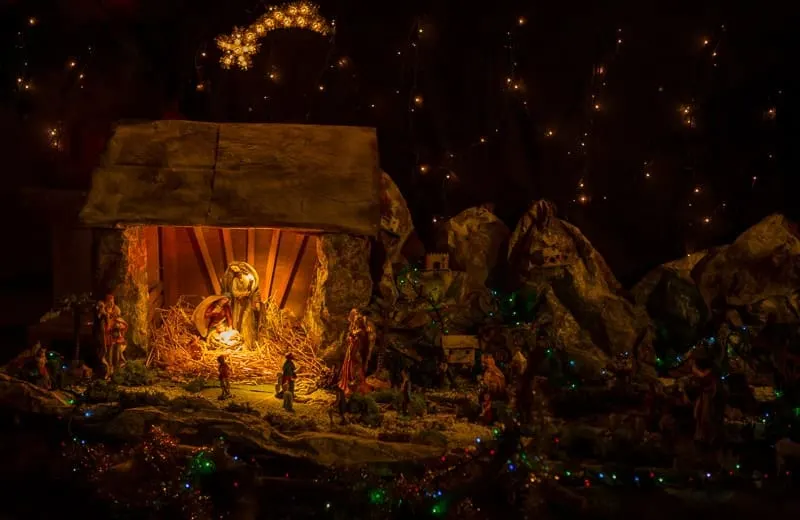 Despite the warm temperature in Tenerife at Christmas, nativity scenes on the island are as charming as those you can admire in continental Spain. From early December onwards, most towns and villages display original nativity scenes that not only reflect the holiday spirit, but bring together local communities, companies, and associations who create them.
One of the most traditional scenes is built every year by the Santa Cruz Council. It's so popular that both locals and tourists flock to admire the hand-made figurines arranged on a typical Canarian landscape.
If you don't mind a slightly colder temperature, head to the UNESCO World Heritage Site La Laguna. Indeed, the center of this village impresses each year with six incredibly detailed nativity scenes.
Or, if you want to explore the less-touristy spots of the island, hop on a rental car and enjoy the nativity scenes in the characteristic towns and villages that dot this beautiful island.
While there, don't forget to try some local wines and taste the typical Christmas pastries in each area, so you can fully enjoy the Christmas in Canary spirit.
9. New Year's Eve in Tenerife
When it comes to the Christmas holidays, the Canary Islands don't stop the celebrations until the 6th of January. In other words, spending New Year in Tenerife comes as a logical consequence of spending your Christmas holidays here.
You'd be surprised how many things there are to do in Tenerife during the New Year's eve. Undoubtedly, the best way to celebrate the upcoming year is to do it as the locals do it, out in the main square, waiting for the twelve strokes of midnight.
While most municipalities organize New Year events, it's still wise to consult the festival program for your destination to avoid disappointment, and don't forget to toss 12 grapes in your pocket to eat as the new year begins.
Lovebirds looking for a more private place to spend the New Year's Eve can enjoy the tranquility of the many beaches that surround the island. Or have an unexpected picnic under the starry skies in the Mount Teide National Park.
If you are looking for a stylish New Year's Eve, joining an exclusive party in one of the island's discos and clubs is by far the greatest idea.
Venues such as the Papagayo Beach Club typically organize unique events hosted by world-famous DJs.
Hotels and resorts throughout Tenerife also host New Year's Eve galas for their guests. This could be an awesome idea for families with younger kids, giving you the possibility to sneak to your room whenever needed.
10. Reyes Magos in Tenerife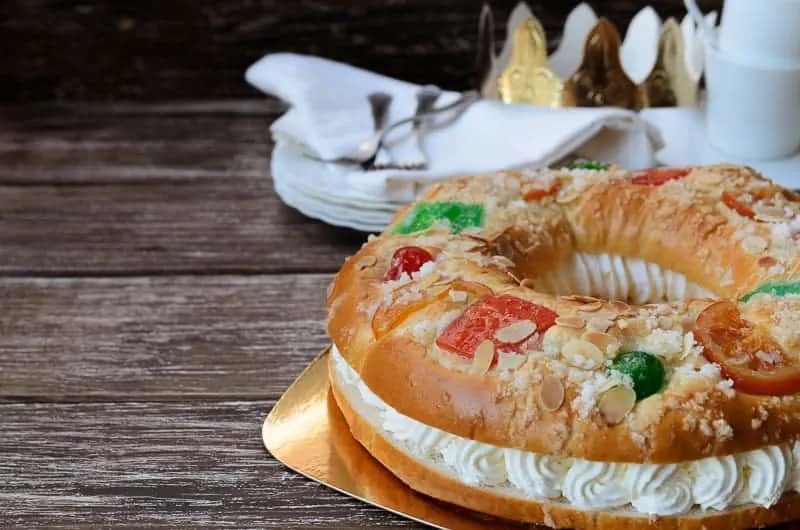 Early January on the island is as magic as December. After the New Year holidays, Tenerife now awaits Los Reyes Magos – literally the three kings. Spending the week after New Year on the island can give a whole new meaning to Christmas.
You'll now understand the lack of a big belly guy squeezing down the chimneys on December 25th, as Spain's version of Santa Clause is the traditional Tres Reyes. The Kings allegedly visit all children on the evening of the 5th of January, bringing gifts and sweet treats.
Even if you're not a child anymore, you can still witness Melchor, Baltasar, and Gaspar making their original entry in the municipality. It doesn't even matter where you're staying, as most towns and villages host parades and festivities during this celebration. The 3 Kings' Parade is known as la Cabalgata.
However, if you're planning to attend the most popular cabalgata, go to Los Cristianos in Tenerife South.
It's not certain how the Kings will arrive, but I can say that in the past years, they have made their entry from the sea and ridden on camels around the Church Square or by helicopter. The parade then goes through the entire town down to Casa del Mar, where they receive the letters from children with their gift requests.
The municipality of Adeje is also known for its unique parades, and most towns on the island host similar events if you're aiming for a less crowded experience.
Summary
Tenerife at Christmas can be amazingly surprising. A place where you can enjoy traditional holidays alongside typical summer fun. Indeed, Tenerife in December is one of the best places to go if you're wishing for a warm yet not overwhelming getaway.
From traditional Christmas dinners to Christmas markets with a twist, sunbathing on Christmas day or drifting away aboard your private boat, the Tenerife Christmas can melt even the toughest hearts and satisfy even the most demanding travelers.
Plenty of Outdoor Activities in Tenerife are awaiting you!
So, what are you waiting for? Plan your Christmas holidays to Tenerife this year and get ready to discover the magic of this place.
---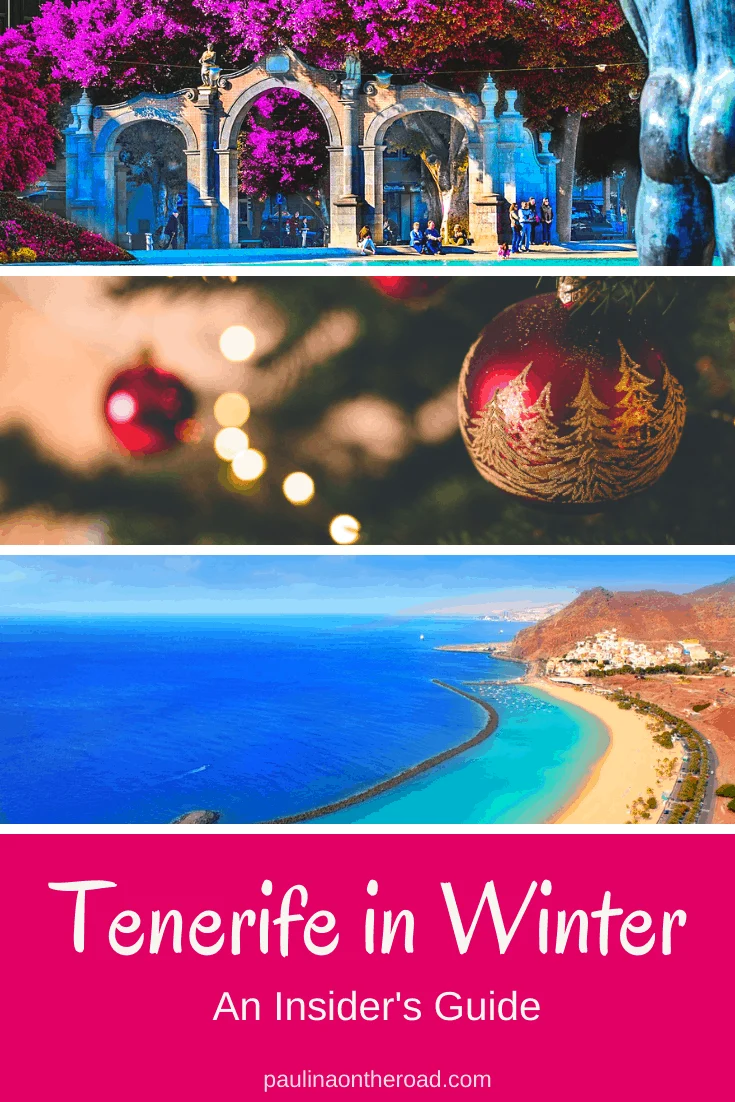 ---
Before You Go: Top Tips for your Trip
You'll snap tons of photos and I love to take my GoPro in order to shoot even in extreme situations.
Make sure to wear comfortable walking shoes and hiking sandals when traveling to warm countries.
Sunscreen is key! I always take with me my eco-friendly sunscreen by Thinksport.
I always carry a light rain jacket, just in case. Pack smart with these organic cotton clothing companies.
Be environmentally friendly and get one of these awesome backpacks made from recycled materials.
Get in the mindset with these amazing wilderness survival books.
Travel insurance is essential! If you haven't already obtained travel insurance for your trip, travel protected against all odds with HeyMondo.
To make the most of your trip, I recommend Lonely Planet Tenerife
---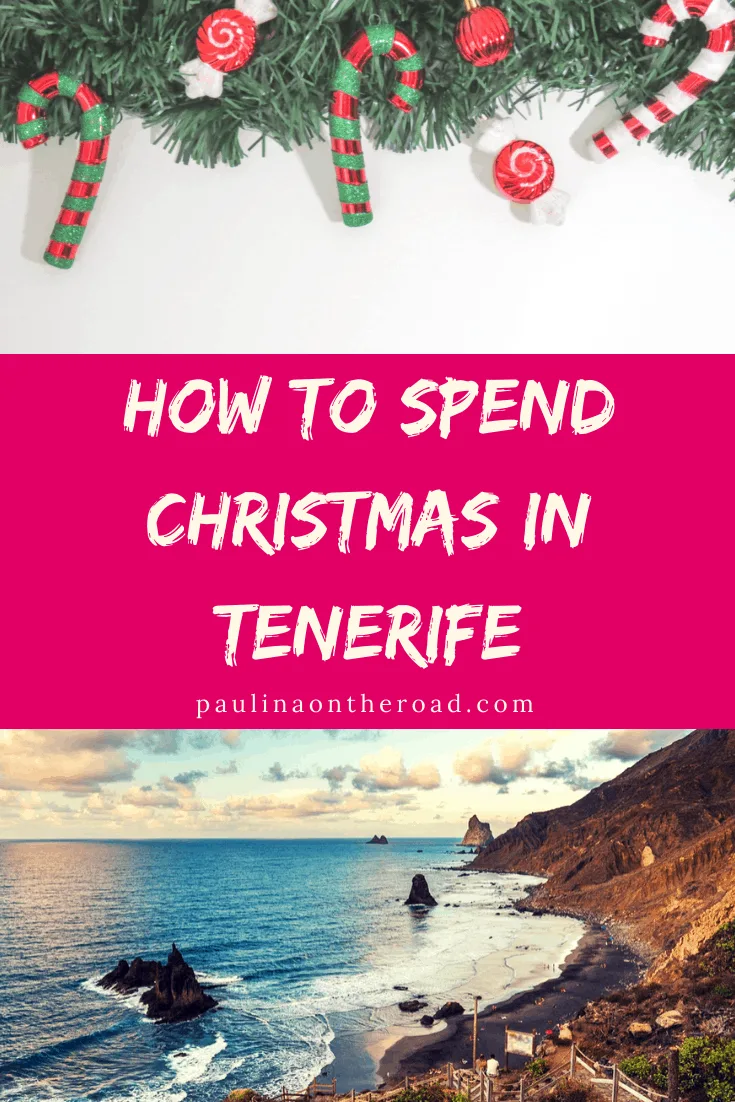 ---
Hola! I am Paulina, a fervent travelette who crossed the Atlantic Ocean by Boat HitchHiking. On my blog, you'll find all the tips to make the most of your holiday. Get ready to enjoy outdoor and sustainable travel like hiking, cycling or sailing. Let's hit the road together!