A guide to the best things to do in Tenerife for outdoorsy people
For those who travel to Tenerife and expect to lay on the beach all day long is the only thing to do: you couldn't be more wrong!
Although Tenerife, one of the most visited islands of the Canarian archipelago, is often limited to a destination for its holiday packages, it got a very broad range of fun options for those who are seeking a more active way to spend their holiday on the Canarian island.
Of course, you can spend 7 days (and more!) a week testing Tenerife's lovely beaches, but you'd miss out a whole paradise for outdoor lovers and adventure seekers.

After living on the island for several months, I can't wait to share with you my favorite outdoor activities in Tenerife.
During the last years, Tenerife has incredibly broadened its offer for those who can't spend every day by relaxing at the beach or the pool.
The island, especially the North, is not only gaining fame for being an excellent hiking destination, but it is also developing its leisure options when it comes to stargazing, wine & foodie culture and protected natural areas.
You're curious now? So let's leave the pool for 1 day and discover Tenerife's most fun outdoor activities!
This guide is supposed to give you handy tips on which outdoor activity to choose in function of where you stay in Tenerife for your holiday.
The selection is based upon my 5 month-stay in Tenerife and my professional experience in the Spanish tourism sector. I only recommend activities that I already did or would love to do.
Activity places are categorized as location-wise and budget-wise.
This blog is supported by you, dear reader. If you purchase through a link, I earn a small commission. As an Amazon Affiliate, I earn from qualifying purchases.
Top resources to travel Tenerife
⚘ Avoid tourist traps and get the "Tenerife Like a Local" itinerary for less than 10€. – Get it here

✈ Book cheap flights to Tenerife with Skyscanner

✔ Book tours in Tenerife with GetYourGuide

➳ Find the best hotels in Tenerife with Trivago & holiday rentals with VRBO

❖ Rent a car with the best discounts at DiscoverCars

✎ Never leave without travel insurance. I get mine at HeyMondo. It is easy to set up, cheap, and reliable.

$ Withdraw money without hidden fees and avoid exchange rates with Wise (you'll get a free card on top!)
1. Outdoor Things To Do in Costa Adeje – Los Cristianos
The area around Costa Adeje and Playa Las Americas is Tenerife's tourist hotspot in the south. It is well known for its hotel and resort complexes, its party options and shopping malls.
You'll get used quickly to this accumulation of tourist shops, international restaurants and huge clubs. The popularity of Costa Adeje is also due to its proximity to the airport.
In case you decide to stay at one of the hotels in Costa Adeje, you'll be spoiled by choice with activities. to do as many tour operators have their base in the area.
It's the perfect place for nature lovers visiting Tenerife as there are many great outdoor activities and things to do in Costa Adeje.
Costa Adeje and Playa Las Americas are also the perfect locations for family holidays since all activities, beaches and sights are within walking distance.
The choice of fun activities for kids in Tenerife is also broader than in many other areas of Tenerife.
A huge convenience of Costa Adeje is its proximity to the South Tenerife airport and to the "most spectacular water attraction in Europe": legendary Siam Park.
Siam Park is definitely one of the top outdoor things to do in South Tenerife, especially with kids!
Best Outdoor Activities in Costa Adeje – Los Cristianos
Budget Activities
Hiking the Barranco del Infierno
Whale Watching Tour
Activities with kids & those Young at Heart
FlyFish Adrenaline
Siam Park (The World's Number 1 Water Park!)
Watersports Combo: Jet Ski, Para-Sail and Flyfish
Activities at the sea
2-Hour Surf Lesson for all Levels
Skyline Yacht
3-Hour Whale Watching Tour with Snorkeling
Activities for Action Lovers
Parascending Experience
Tandem Paraglide Flight
Jet-Ski Circuit Experience
Day Trips and Excursions from Costa Adeje
La Gomera Island Tour
1-Day Tour with Guide to El Hierro
2. Activities in Los Gigantes
The area of Los Gigantes, including the villages of Puerto Santiago and Alcalá, in the western part of the island, has some of the best things to do in Tenerife.
It is the perfect place to stay for those who are seeking grandiose natural landscapes, a calmer form of tourism and traces of an authentic Canarian daily grind.
Indeed towns like Puerto Santiago or Playa San Juan are still not spoiled by mass tourism and Canarian traditions are cherished and kept alive.
This means that you'll do your grocery shopping with the local population, watch solemn processions walking through the streets in August, assist traditional Canarian dance performances and much more.
Outdoor activities in Los Gigantes area are mostly related to its spectacular outdoors. Indeed, the giant canyons, who gave origin to the name of the area in Tenerife's far west, are a unique natural setting. Some of these canyons are among the highest in Europe.
As the sea and beaches along the cliffs of Los Gigantes are protected, it became a more ideal refuge für dolphins and whales. That's why Los Gigantes are well known all over the Canarian archipelago for its whale and dolphin watching activities.
In case you'd opt for a whale-watching excursion, please inform yourself about the provider if they are treating the animal's rights with respect.
Best Outdoor Activities in Los Gigantes
Budget Activities
Snorkeling Trip in the Turtle Area
5-Hour Whales and Dolphins Tour
Camel Riding Tour at El Tanque
Activities with kids & those Young at Heart
Watersports Combo: Jet Ski, Para-Sail and Flyfish
Water Experience: Boat Tour, Jet Skiing, Snorkel and Standup Paddleboard
Camel Riding Tour at El Tanque
Activities at the sea
Whale Watching Cruise by Sail Boat
Skyline Yacht
Activities for Action Lovers
Road Cycling Tenerife – Los Gigantes Route
Fun Day in Forestal Park Tenerife
3. Outdoor Activities in Masca
The village of Masca comes probably recommended in every Tenerife guide on the market. And that's no surprise at all!
As Masca had no paved road access until the late 60's, it could maintain its original and unspoiled character.
It is set in a breathtaking natural setting, nestled between the spectacular cliffs of Los Gigantes. It is not only a popular destination for day trips from Costa Adeje but it also has the most famous hikes on Tenerife.
The Masca hiking trail leads you during ~3h through the canyon with its pirates' caves, unique flora and microclimate until you reach Masca Beach.
Masca Beach can only be accessed by foot or by boat, so please make sure to book your boat trip back to the marina of Los Gigantes. Unless you want to hike the entire canyon up again.
Must-do's in Masca: Have a Cactus Fruit Lemonade and taste the cuisine of the Canarian aborigines in "Alte Schule" restaurant just before you immerse yourself in the best outdoor activities in Tenerife.
Best Outdoor Activities in Masca
Budget Activities
Mt. Teide and Masca Valley Tour
Masca Gorge: Full-Day Hiking Trip From Above
Activities with kids & those Young at Heart
Teno Mountains Half Day Hike to Masca and Boat Trip
Activities at the sea
Costa Adeje: Masca and Los Gigantes Whale Watching Cruise
Activities for Action Lovers
From Playa de las Américas: Full-day Teide Jeep Safari
4. Activities To Do near Mount Teide
Mount Teide, Spain's highest peak, is a paradise for outdoor lovers and adventure seekers. The choice of outdoor activities in this moon-landscape seems to be almost infinite!
Due to its unique natural setting and climate, Mount Teide offers leisure options for hikers, hobby astrologists, extreme athletes, couples and foodies alike.
Boasting some of the best stargazing conditions in Europe, Mount Teide and its observatory attracts astrologists from all over the world.
Sports enthusiasts and proficient hikers will enjoy the hike up to Spain's highest peak and spend a night in Teide's Mountain hut.
For those that don't claim to be experienced trekkers, there's still the cable car which brings you up to 3718 m. The view is simply mesmerizing.
Couples will enjoy a romantic sunset with a view on La Gomera island while enjoying some of the finest Spanish cava.
And foodies will have a blast with lunch or dinner at one of Spain's best hotel chains: Hotel Parador Las Canadas. The views on Mount Teide from its dining room are overwhelming.
The town of La Orotava is the perfect place to stay in case you'd plan an extensive discovery and visit of the Natural Park of Mount Teide. It was one of my favorite towns of Tenerife with its intricate, colorful buildings, narrow streets, lush parks and its intriguing cultural heritage.
Best Outdoor Activities near Mount Teide
Budget Activities
Mount Teide Cable Car Fast Track Ticket
Stargazing at Mt. Teide
Activities with kids & those Young at Heart
Mount Teide Observatory Guided Tour
Teide Volcano and Beach Tour
Activities for Action Lovers
Pico del Teide Full-Day Hiking Tour
From Playa de las Américas: Full-day Teide Jeep Safari
Mount Teide Hiking Tour
Special Experiences
Teide Night Experience with Dinner and Stargazing
Teide by Night: Romantic Sunset & Stargazing Experience
Mount Teide Trek, Winery Tour and Tapas
5. Activities in Anaga, Northern Tenerife
Anaga Rural Park, in the north of Tenerife, is a paradise for hikers and trekkers!
This area is mostly unspoiled by tourism and its imposing mountainous landscape make it the perfect destination for outdoor activity lovers. Anaga also holds some of the most remote and spectacular beaches like Playa Benijo or Playa Santiago.
Its peculiar micro-climate created a unique flora, like the laurel forest which attracts visitors from all over the world..
But not only hikers and botanists will fall in love with Anaga region. Some of Tenerife's finest wines are being produced in this area as well. Did you know that Tenerife's produces 5 wines that are wearing the prestigious denomincación de origen label?
Anaga is also home to the legendary guachinches, where locally made wine is served accompanied by traditional homemade food. Nowadays guachinches are well known among the locals for serving the tastiest food (especially meat) at unbeatable prices.
A visit of Anaga Rural Park isn't complete without visiting the town of La Laguna.
It's home to Tenerife's only university and the town has a certain hip and creative vibe. Allegedly La Laguna's old city center inspired the schematic urban design of Latin American cities.
That's why at certain moments, when strolling through La Laguna's colourful streets, you'll think that you're somewhere in Cuba or Peru.

Best Outdoor Activities in Anaga, Northern Tenerife
Budget Activities
Santa Cruz de Tenerife in Half a Day
Full-Day La Laguna, Taganana & Teresitas Excursion
From Puerto de la Cruz: VIP Tour around Anaga and La Laguna
Activities with kids & those Young at Heart
Anaga Rural Park Full-Day Guided Tour
4-Hour Gauchinche Food Tour
Activities for Action Lovers
Hike into the lost paradise Anaga
Special Experiences
Mount Teide Nature and Wine Shore Excursion
Full-Day Gastronomy and Grape Experience
Morning Yoga in Anaga
6. Outdoor Things To Do in Santa Cruz de Tenerife
The capital of Tenerife, Santa Cruz de Tenerife, is probably the only real town on the island.
The Carnival of Santa Cruz de Tenerife figures among the best carnivals on the planet right after Rio de Janeiro and the Caribbean.
Whereas Santa Cruz gets very crowded during February, when carnival madness takes over the streets, the capital is always well worth a visit throughout the year. I especially liked the local fashion shops.
The colorful house fronts of Santa Cruz and its colonial heritage invite to stroll in its historic center.
It also has some lovely shopping options and urban architecture lovers will be appreciated Calatrava's breathtaking creation Auditorio de Tenerife and García Sanabria Park.
Best Outdoor Activities in Santa Cruz
Budget Activities
Full-Day La Laguna, Taganana & Teresitas Excursion
Santa Cruz de Tenerife in Half a Day
Special Experiences
4-Hour Guachinche Food Tour
Full-Day Gastronomy and Grape Experience
7. Luxury Activities in Tenerife
Tenerife's is also becoming more and more popular among luxury travelers and honeymooners. No wonder with these mesmerizing sunsets behind La Gomera island, virgin beaches, calm retreats, and the best seafood.
For luxury travelers and honeymooners, the area near Abama Beach and Alcalá are the best places to stay as they are home to Tenerife's most exclusive hotels: the The Ritz-Carlton, Abama ***** and Red Level at Gran Melia Palacio de Isora – Adults Only *****.
In case you're seeking to give your stay in Tenerife a more exclusive and unique touch, these activities are just perfect for you.
Best Luxury Outdoor Activities in Tenerife
Luxury Activities on the Water
All-inclusive Private Motor-boat Tour
Luxury Motor Boat Sunset Cruise
Whale Watching Deluxe
Whale & Dolphin Watching with Drinks and Snacks
3-Hour Private Yacht with Whale & Dolphin Watching
Luxury Activities on the Island
Teide at night: Romantic Trip with Champagne aander the Milky Way in the Night
Professional Photo Shoot with 50 Photos
"Speakeasy" Secret Gourmet Garden
---
I hope this article helps to find your perfect activity to make your stay on Tenerife unforgettable.
Are you missing any activity? Please do not hesitate to write me in the comment form. Just remember that Tenerife's got it all!
What are your favorite activities on Tenerife? I would love to hear about them.
In order to get more information on tourism in Tenerife, Spain, I recommend the site of Tourism Board of Tenerife and the in-depth guide on Where to stay in Tenerife.
---
8. Best Time to Visit Tenerife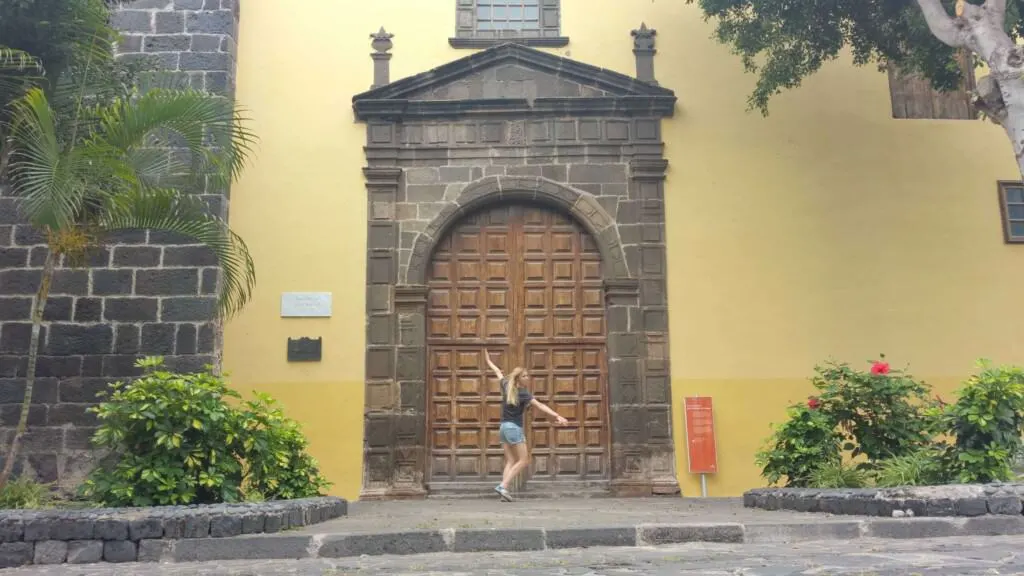 You may wonder what is the best time to visit Tenerife? Well, it's one of the few European destinations that have good weather all year round and offers fun activities throughout the year.
I have visited Tenerife during the winter, summer and autumn months. During the winter, temperatures are mild – around 20 °C.
The sea might be cold at that time of the year, but even then I saw several swimmers. During the summer months from May to September, temperatures can get really hot.
The good thing about Tenerife is that there's always a slight refreshing wind blowing. Temperatures can remain quite high also in autumn, ranging from 20-26°.
In case you want uninterrupted party and beach time, visit from June – September. Best time for hiking holidays is from October – March when temperatures are mild and nature is blossoming.
I personally think Tenerife in October is the best time to go hiking, with March being a close second.
Don't miss out Tenerife during the epic Carnival festivities in February.
9. Where To Stay in Tenerife
Before you head to Tenerife and book your accommodation, you'd need to make a choice.
Decide if you want party holidays, quieter locations, amazing hiking trails, nature, city life or remote beaches.
You'll find luxury spa hotels in Tenerife as well as amazing family hotels in Tenerife.
You'll have the choice between the green Northern part of Tenerife with its stunning nature, mountains, lower temperatures, and adventurous hiking trails or the South, famous for its beaches, sun, and parties.
Both areas are separated by Spain's highest mountain, the volcano Mount Teide.
Read here my in-depth guide on where to stay in Tenerife.
---
Tenerife Map – Best Outdoor Things to do in Tenerife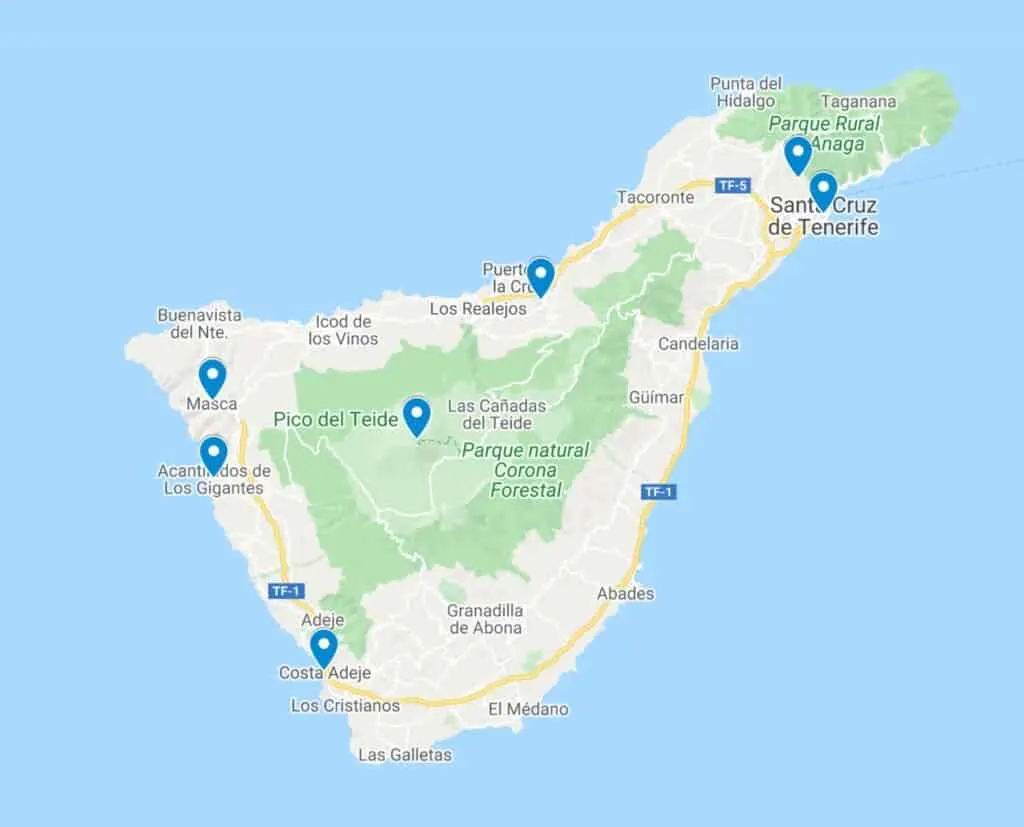 ---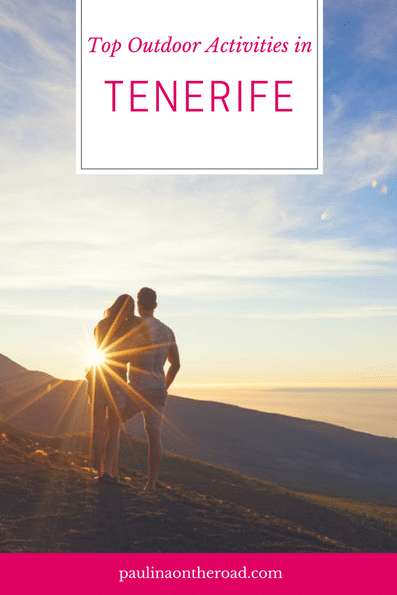 ---
Hola! I am Paulina, a fervent travelette who crossed the Atlantic Ocean by Boat HitchHiking. On my blog, you'll find all the tips to make the most of your holiday. Get ready to enjoy outdoor and sustainable travel like hiking, cycling or sailing. Let's hit the road together!