A guide to the best things to do in Ardennes, Belgium on a weekend break
I am a huge fan of weekend breaks! Who isn't, right?
It's just the perfect way to discover the surroundings of your current base. It's not only a way of slow traveling but also to travel in a more sustainable way.
Now that I am back in my home country, Luxembourg, I love to discover its surroundings with "new" eyes. In the end, even home countries can satisfy the chronic wanderlust of a frenetic traveler like me. Luckily there are a lot of great day trips from Luxembourg.
Let me take you on a weekend break, right across the Luxembourgish border. To the green lung of Belgium: the Ardennes! A region that will make every foodie's and outdoor lover's heart beat faster!
Belgium seems to have something to satisfy any traveler's needs. Bruges' the most romantic town in Europe (for me), Brussels has the urban lifestyle, the coast is for relaxation seekers, Antwerp for fashionistas, Liege for the off-the-beaten-track traveler…
I have become a convert for cheap weekend breaks to Belgium! Whenever I can, I take one of these short breaks to Belgium to explore further.
The good news is that there are a lot of options for short breaks in Belgium, especially in Ardennes. so you can sample lots of this unique country.
If you're not sure where to start, you can find some great Belgian Ardennes vacation packages. But read on for inspiration!
Find all locations on a map at the end of the post!
I have been a guest of Ardennes Marketing. All my opinions, as always, are my own. This post contains affiliate links. If you buy through them, I will earn a small commission that will help me run this blog. All opinions are always mine. Thanks a lot!
Book here your day trips from Brussels
Useful Travel Information About the Ardennes, Belgium
⚘ Avoid tourist traps and get the "Belgium Like a Local" itinerary. It's 9,99€ only. Get it here

✈ Book cheap flights to Belgium with Skyscanner

✔ Book tours in Belgium with GetYourGuide

➳ Find the best hotel deals in Belgium with TripAdvisor

❖ Rent a car with the best discounts at DiscoverCars

☘ Get the best discounted outdoor clothes (outlet) at REI.com

✎ Never leave without travel insurance. I got mine at HeyMondo. It is cheap and easy to set up.

$ Withdraw money without hidden fees and avoid exchange rates with Transferwise (you'll get a free card on top!)
---
Where to stay in Ardennes, Belgium
There are plenty of Ardennes vacation rentals available. However, if you're looking for a Belgian Ardennes hotel here my top recommendations!
THE Place to Stay in Ardennes, Belgium
Le Florentin *** (spacious, luxury rooms with selected interior design)
Budget
Woodstone
Hotel Au Coeur de Lacuisine ***
Hotel Le Barbouillon **
Mid-Range
Hotel Panorama ***
Château de Grandvoir *** (stay in a real castle)
Le Gastronome ***
Luxury
Hotel Sanglier des Ardennes ****
Hostellerie Le Prieuré De Conques ****
Hotel de la Poste – Relais de Napoleon III ****
Hotel des Ardennes ****
Book here your Ardennes vacation rental
---
1. Torgny, the most beautiful village in Ardennes, Belgium
When you enter Torgny in the Gaume region, also known as the southernmost village of Belgium, you might feel like in Southern France for a second. Nestled in one of the most remote, southern corners in Belgium, close to the French border, Torgny is famous for its Mediterranean-like charm.
Indeed, the hand-hewn stones, colorful flowers growing along the ochre-colored house fronts with their red curved tiles, rather remind Southern France than Wallonia, Belgium.
But Torgny is not only reminiscent of the Mediterranean by the outside, but it also boasts a very particular micro-climate that allows the cultivation of wines.
The best way to explore and enjoy the beauty of Torgny is by strolling around and absorbing the Mediterranean vibe. I loved to see how the only 200 inhabitants cherish their village and each house front is covered by a different type and color of flowers.
Torgny can also be visited by day trip from Brussels.
Exploring Torgny feels like traveling back in time within one of these classical Southern French movies. Just a perfect way to spend your weekend in Belgium.
If you can't get enough of cute, picturesque villages, you might want to visit more villages bearing the label "Wallonia's Most Beautiful Villages" such as Celles, Clermont-sur-Berwinne, Crupet, Laforêt, Nobressart, Ny, Ragnies, Soiron, Sosoye, Soulme or Wéris.
Without any doubt, Durbuy completes this list of the most beautiful villages in Belgium.
Avoid tourist traps and get the "Belgium Like a Local" itinerary. – Get it here.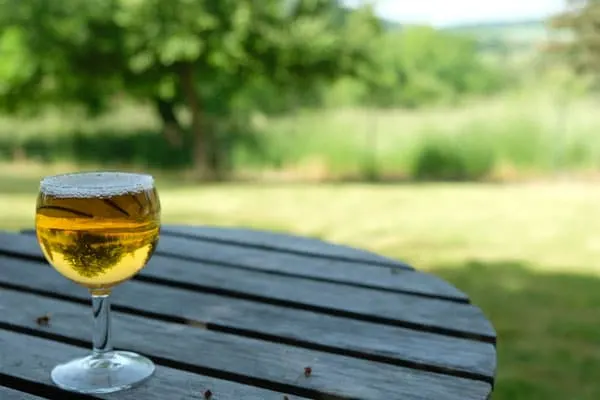 2. Hiking in Ardennes, Belgium
The Ardennes region in the Belgian Luxembourg province is heaven for hiking and trekking lovers. In case you love well-indicated trails leading through lush green, dense forests, Ardennes will be like your playground. It's one of the best hiking places in Belgium.
Indeed, the region is very variated when it comes to landscapes as high plateaus contrast with picturesque valleys created by the rivers Ourthe, Semois, Salm, or Lesse.
Hundreds of well-maintained trails adaptable for every level make it very hard to choose only one. The longest and most famous trails are the Transardenneaise, the Transgaumaise-Trans Semoisienne, or the Escapardenne-Eisleck Trail connecting Belgium to Luxembourg.
This trail can also be done if you are based in Brussels since it is one of the best hiking trails near Brussels.
We didn't go for any of these super long hikes (we wanted to see as much as possible from the Ardennes in one weekend). Instead we opted for the playful trail "Sentier des Fees" ("The Trail of the Fairies") between Virton and Etalle (at the parking of Croix Rouge crossing, see map below) in the Gaume region below the Ardennes.
Indeed, the setting reminded me of an enchanted forest and I wouldn't be surprised to spot a little fairy… The trail is about 1.5 km and leads through a magical forest, with curious rock formations, home to the fairies of course.
During the summer months, thematic trails are organized for kids (and supposed grown-ups like me) where a fairy will guide you through the enchanted woods and you'll need to meet certain challenges to work for the fairies.
But the Ardennes region cannot only be explored by foot but also by bike, by horse or following the routes of former stagecoaches. It's simply a paradise for people that enjoy traveling slow and sustainable.
You can find here a selection with the most popular hikes in the Ardennes, Wallonia.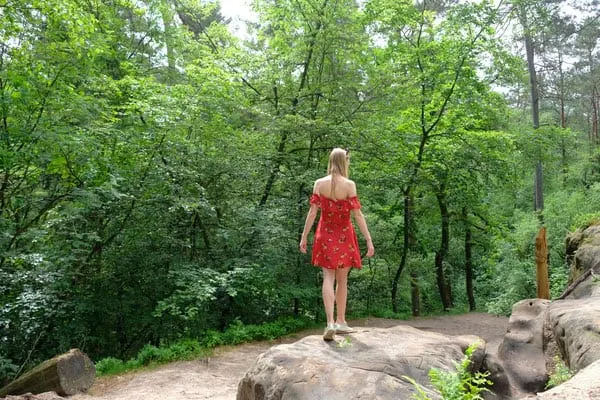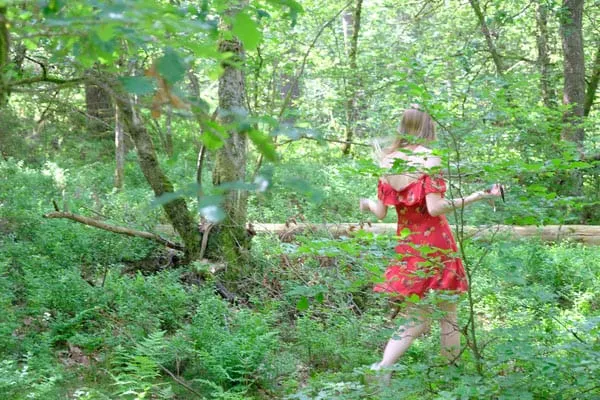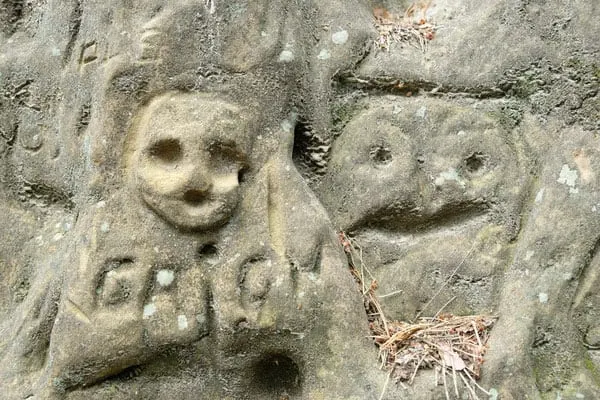 3. Visit Orval Abbey in Ardennes, Belgium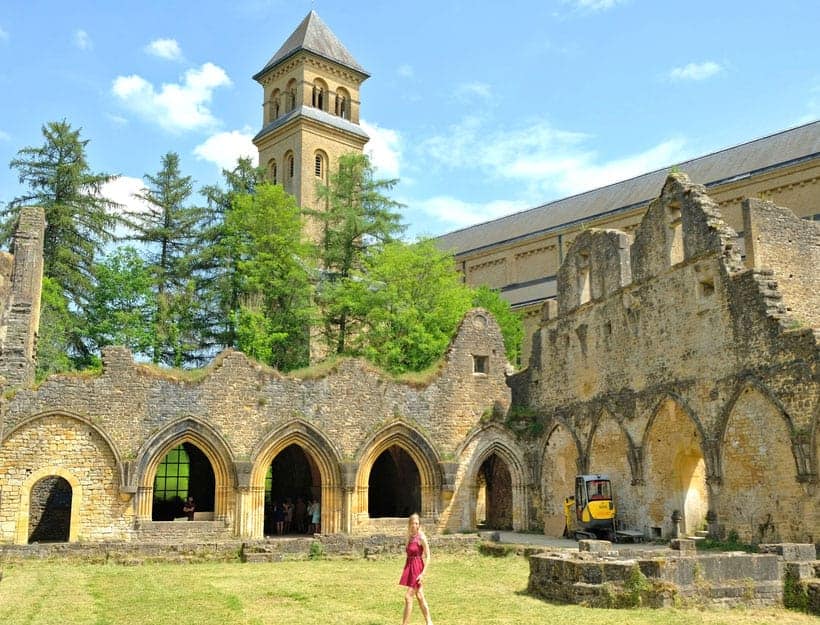 You can't leave the Ardennes region in southern Belgium without having visited at least one of its legendary Trappist abbeys.
Not only are all of them absolutely stunning attractions and spiritual retreats, but they also produce delicious food and the world-wide coveted Trappist beers.
There are a few Trappist abbeys in the Belgian Luxembourg province, but we opted to visit the imposing Orval abbey in the Gaume region, south of the Ardennes. Surrounded by lush forests, Orval Abbey is close to the French corner and one of the remotest corners of Belgium. It's an absolute oasis of peace, tranquility and spirituality.
Supporting the Cistercian regulations, the monastery boasts a cheese factory, bakery and confectionery. All of their products can be found in the restaurants or grocery shops in the Ardennes region.
The roots of Orval abbey go back to 1070 when it was founded by Benedictine monks. Later on in 1132, the abbey was incorporated into the Cistercian Order. Many locals gave their lands to the monastery hoping for the eternal prayer of the community.
Slowly, Orval Abbey became one of the richest monasteries in southern Belgium.
However, wars and fires disrupted the routine several times. After the passage of the French Revolutionaries, the abbey was left abandoned for over a century. It simply became uninhabitable due to the massive destruction.
The old abbey was used as a stone quarry as long as it was seen worth to be protected by the Belgian government. Soon, the territory was sold again to the Cistercian Order and became a new home for French monks.
I particularly liked the contrast of the old, medieval ruins with the modern, imposing abbey which boasts gorgeous Art Deco details. Monks came back to Orval in 1927 and they follow the spiritual traditions of the Trappist Order until today.
Only a part of Orval abbey can be visited as several patios and buildings are restricted to the monks and accommodated guests at the guesthouse. Guests can even eat together with the monks and the meals are often prepared with Orval beer and the delicious Orval cheese. I'd might start thinking to do a retreat at Orval abbey…
Other Trappist abbeys in southern Belgium that are open to the public (and brew delicious artisan, Trappist beer) are Abbey of Our Lady of Scourmont in Chimay, and Abbey of Our Lady of Saint-Rémy in Rochefort. Visiting Trappist abbeys is just the perfect road trip for your weekend in Belgium.
Don't forget to stop by at one of the 2 restaurants (À l'Ange Gardien and L'Hostellerie d'Orval) near the abbey to taste some typical Belgian meals prepared with Orval cheese and beer.
Avoid tourist traps and get the "Belgium Like a Local" itinerary. Get it here.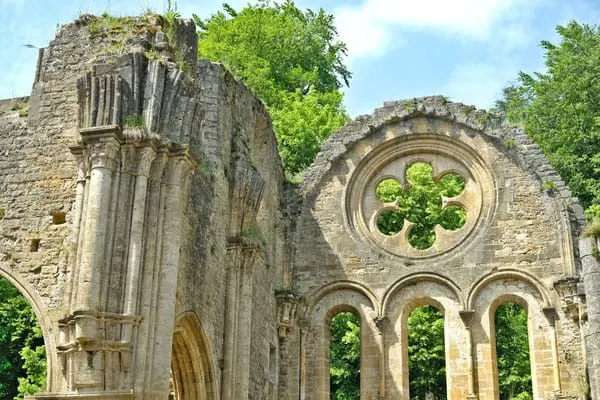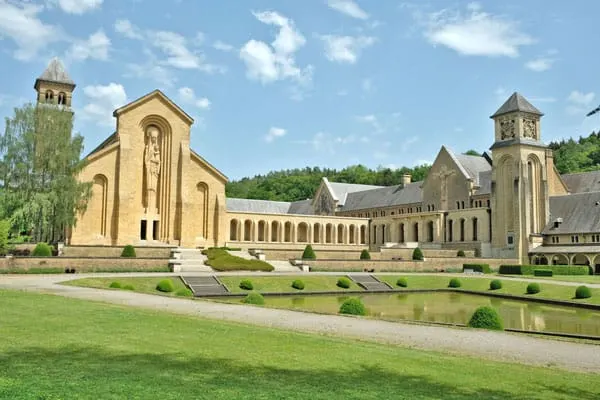 4. Trappist Beer Tasting in Ardennes, Belgium
Of course, you cannot visit Belgium without tasting (at least) one of its world-famous Trappist beers.
The Belgian Luxembourg province boast several small and larger breweries producing high-quality beers like l'Ardwen, la Woinic, la Cuvée d'Arthur, la Margoulette, la Sedane, l'Oubliette…
However, the most intriguing beer productions are the Trappist beers that are only produced in monasteries.
Only 12 beers in the world can bear the label "Trappist": the beers of Achel, Chimay, La Trappe, Orval, Mont des Cats, Rochefort, Westvleteren, Westmalle, Mont des Cats Stift Engelszell, Zundert (NL), Spencer (USA) and Tre Fontane (IT). Most of them are thus produced in Belgium.
In order to be a Trappist beer, the breweries need to respect strict standards when it comes to production, advertising, and communication.
The beer must be produced within the walls of a Trappist abbey, either by monks or under their supervision.
Spiritual life should still be more important than the beer production and the brewery shouldn't be a profit-making venture. The income from the beers should cover the production fees, expenses of the monks, and maintain the buildings and ground of the abbey. All the rest is supposed to go into charity, social welfare, and people in need of help.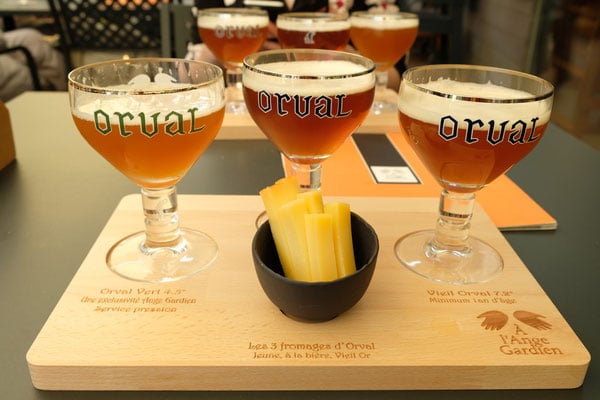 When it comes to marketing, the advertising language of the beers should be marked by honesty and modesty and with respect to the religious setting of the beer production.
As we visited Orval abbey, we couldn't leave without a Trappist beer and cheese tasting at the À l'Ange Gardien which served us 3 kinds of Orval beers and 3 different Orval kinds of cheese. A delight!
Orval beer was first brewed in 1931 by a brewmaster originally from Bavaria. It has a fruity note with a little bitter hint. The brewing process only uses spring water, hop cones, barley malt, candy sugar, and the special Trappist yeast.
The special characters in the Orval beer production are the 2 stages in the brewery process.
First, in the brewing room, a large quantity of very fine hops are added, creating the famous bitter taste and is the reason why the beer keeps for a longer period of time. In a second stage, hops are once again added. These 2 stages produce the very characteristic Orval aroma.
The Orval beer makes a great match with the Trappist cheese from the Abbey, an uncooked, semi-soft cheese, with a natural washed rind. It is not very strong in taste, but characteristic, thus it appeals to a large public. Just the perfect way to enjoy your weekend break in Belgium.
Orval beer and cheese can be enjoyed in the surrounding shops and restaurants of Orval abbey. However, the restaurants next to the abbey created a unique menu card incorporating Orval cheese and beer in their pasta, meat dishes, or even their desserts! It's the perfect stop after visiting the abbey.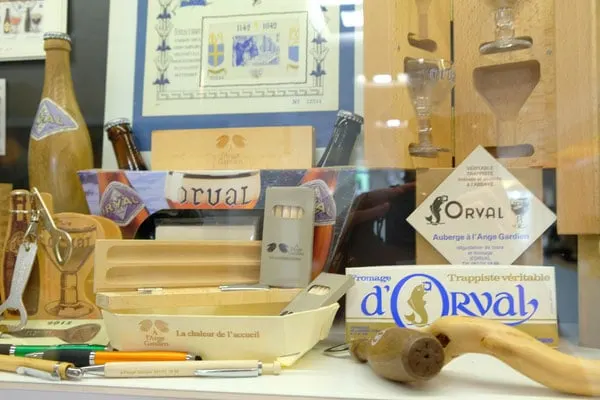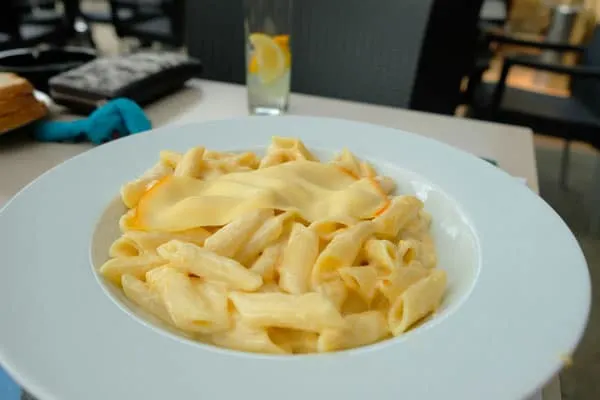 5. Bouillon Castle
The town of Bouillon will immediately enchant you by its fairytale setting. It is one of my favorite places to visit for Belgium short breaks.
Located along the Semois river, this charming town with its towering castle on a rock, boasts an impressive history that goes back to the medieval ages.
Indeed, the castle of Bouillon was first mentioned in 988, and still today, it impacts its size and good condition.
In 1082, Bouillon Castle was inherited by Godfrey of Bouillon, who sold it to the Bishop of Liège in order to finance the first crusade. The castle was later fitted for heavy artillery by Vauban, Louis XIV's military architect in the late 17th century.
In order to have the best view of the castle, I recommend taking the road to Le Panorama. If you want to enjoy a view on the backside of the castle, you should take the road down to the gothic bridge from 1935 on the Semois river in order to admire the castle in all its beauty.
Sitting on the old bridge and being surrounded by lush forests just made me feel like a fairytale.
Bouillon Castle, one of the prettiest Belgian castles, is open to visitors and the entrance fee includes a falcon and owl show. A treasure hunt can be organized upon request. Visiting the Bouillon Castle is definitely a highlight of your weekend break in Belgium.
Schedules and opening times depend on the time of the year you want to visit.
Related: The best hotel in Bouillon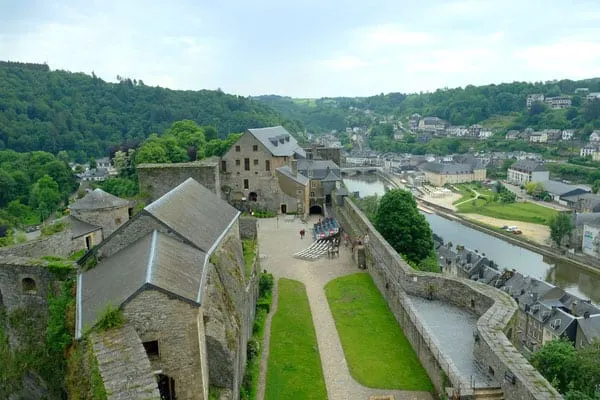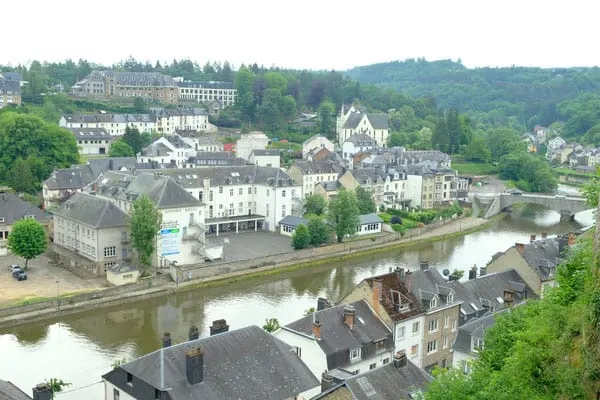 6. Town Center of Bouillon, Belgium
After visiting the castle, you shouldn't leave Bouillon immediately! The charming city center of Bouillon is perfect for strolling around and along its river.
And of course, enjoy Belgian cuisine in one of its numerous restaurants. In fact, Bouillon is perfect for a foodie day trip!
Also known as the "pearl of the Semois" river, Bouillon is one of the most important tourist attractions in the Belgian province of Luxembourg.
For those that are interested in the medieval past of Bouillon, I recommend visiting the Musée Ducal who boasts a dedicated section to the crusades and the architectural evolution of Bouillon castle.
When in the city center of Bouillon, you'll pass along the Liege Bridge, which was the first structure to be built over the Semois River.
It was part of an important trade route connecting Verdun and Liege. No wonder that the town is often considered as one of the most beautiful cities in Belgium.
If you hope to stay in Bouillon when you visit Ardennes, Belgium, I recommend the Hotel de la Poste – Relais de Napoleon III ****, one of the prettiest hotels in Bouillon.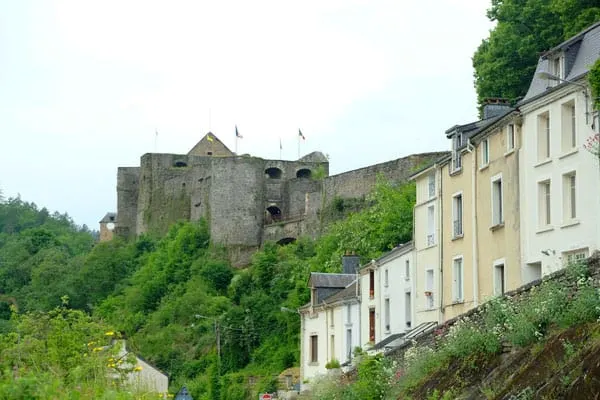 Following the Semois river to the north, you'll also pass along the stronghold of French-Brittany which is part of the remaining ruins of the city fortification.
It is a particularly picturesque place located near the river which invites you to sit down for a moment and enjoy the place in all its beauty.
I particularly liked how different each quarter of Bouillon was. There's the old town, right below the castle which has vast streets, open plazas, and bright colored houses.
Then, right next to it, you'll find yourself in the Quartier de Bretagne (Brittany Neighbourhood) where soldiers from Brittany used to live.
They were in charge of the protection of the town in the 17th century. The houses have a very particular style and it is the perfect place to relax.
Avoid tourist traps and get the "Belgium Like a Local" itinerary. – Get it here.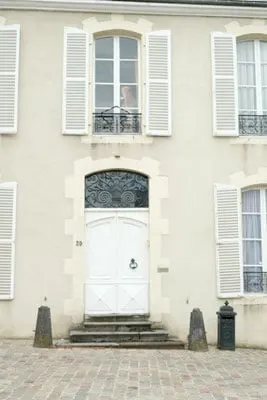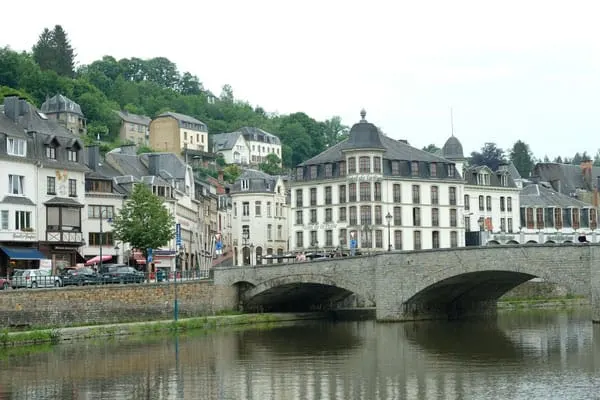 7. Chocolate Tasting in Ardennes, Belgium
Chocolate is the undoubted star in Belgium. It doesn't matter the region or the town, you'll always find a shop selling the most creative chocolate creations. A chocolate tasting is definitely a must-do on your weekend break to Belgium.
Even though most Maitre Chocolatiers are located in the larger Belgian towns such as Brussels, Antwerp or Bruges, the Ardennes, and the Gaume region boasts several chocolate makers as well.
READ: Where to Eat Traditional Food in Brussels
I visited Les Chocolats D'Edouard, Chocolat Consultant, and ice-cream maker in Florenville, aka the man that you need in your life. And, dear readers, after this visit, I see chocolate and ice-cream with different eyes. There's a before and after having tasted the ice-creams of Edouard.
Following living for 8 years in Italy, where Edouard needed to adapt his knowledge about Belgian chocolates to the Italian public. After working in Turkey and Lebanon, he came back to Florenville where he opened his shop, tea-room, and atelier.
Visiting Edouard is not about eating, but about "giving yourself a pleasure". From the tea-room, you have a direct into the atelier where Edouard's team is preparing tasteful delicacies.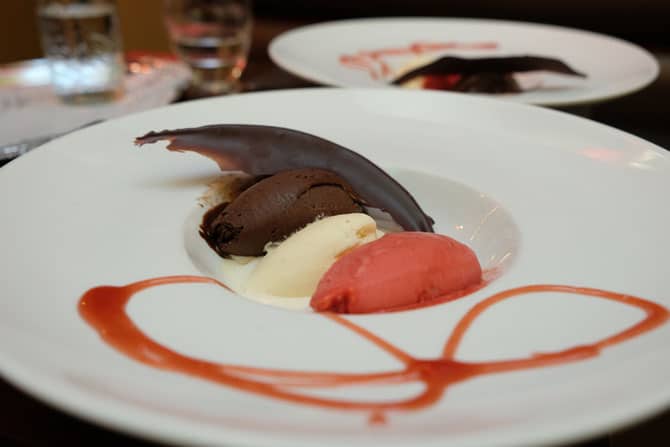 But first, let's talk about chocolate! Edouard prepares his creative chocolate creations with only the best and finest ingredients. Quality and selection standards are very high.
He generally prefers the combination of 1 or 2 high-quality ingredients than mixing 10 of less quality. His creations are real and surprising in taste. Eating chocolate at Edouard's is like going back to the origins of chocolate making.
Edouard's chocolates are creative but not daring. It's all about the absolute quality standard of the primary ingredients.
The combination of the finest cocoa and top ingredients from all over the world results in such alluring creations like melting praliné with rosemary, chocolate with violet flowers, black chocolate with black tea from China, and with a hint of pear and hazelnut.
The one that will definitely leave you speechless is his Gianduja with the finest hazelnuts from Piemont. When it slowly melts in your mouth, you'll get an idea what heaven must taste like.
If heaven tastes like chocolate, paradise must have the flavour of Edouard's ice-cream! Edouard learned the art of ice-cream making in Italy and nowadays he gives lessons at the University of Ice-Cream in Bologna! And trust me, eating ice-cream will never be the same again after having tasted Edouard's Black Chocolate or Madagascar Vanilla Ice-cream!
His artisan sorbets are a refreshing and light mix of fruits like pineapple, mango, and banana or pineapple, mango and basilic!
Edouard shares his god-like knowledge with anybody who's interested in doing a workshop at his atelier. Here, you'll learn about the fine art of combining flavors with chocolate and the history of chocolate production. Tailor-made workshops are available upon request.
Edouard will be one of the reasons why you should include Florenville in any Ardenne, Belgium itinerary. And even if it means a detour, I would run miles for his ice-creams!!
LES CHOCOLATS D'EDOUARD
Place Albert 1er, 36
B-6820 Florenville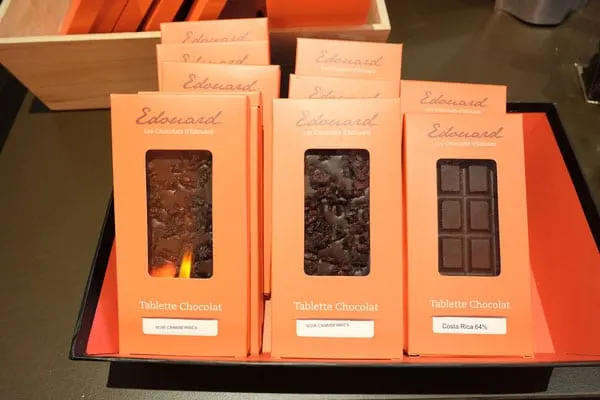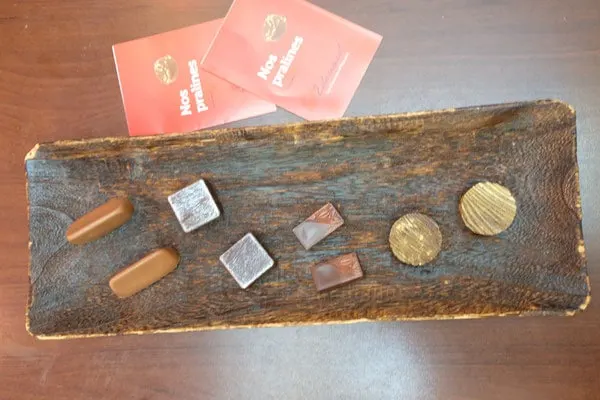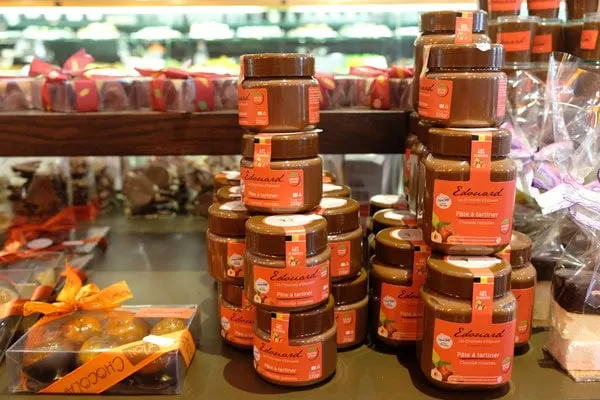 8. Visit Ardennes Sausage Factory and Tasting
You'll leave never Belgium being hungry! Especially the Ardennes region is famous for its hearty and delicious food.
But the Belgian Luxembourg province has something more to offer than only beer and chocolate: le Saucisson d'Ardenne, the Ardennes Sausage. You just can't miss tasting them on your perfect weekend in Belgium.
Recently recognized as a protected geographic product, the Ardennes sausage is a dry sausage with pork or mixed pork and beef meat. After being minced and spiced, the meat is stuffed into the natural gut.
It's then fermented and smoked with beech and oak wood and finally dried. The main characteristic of the Ardennes sausage is its pronounced smoked taste.
In fact, the Ardennes sausage was only created by the producers of Ardennes ham to enhance its by-products.
The other star of Ardennes' meat production is the Ardennes Ham which is obtained from the pig's hind leg by immersion into saltwater, dry salting or rubbing with salt, maturing in cold storage and finally being smoked using different wood types. In order to wear the label, the meat must be produced in the Belgian province of Luxembourg.
Several factories can be visited, but we opted for the Salaisons G. Blaise (G. Blaise Saltings) in Florenville founded in 1910. The craft of salting meat is family-run since three generations. The mid-scale factory is specialized in high-quality artisan products based upon traditional methods and recipes.
Blaise Salaisons produces Ardennes ham, pâtés, regional specialties, a
nd, of course, the Ardennes sausage. I particularly liked the creative variations of the traditional sausage by adding Orval beer, shallots, or even honey.
But the best of the Blaise Salaisons is definitely the power ladies behind this business! Indeed, the business is managed by women for 60 years!
You can still greet Andree, the wife of the founder aged 96, at her butcher shop where she follows her passion for selling top quality, artisan products. Stephanie, Andree's granddaughter, is running the company today with her aunt.
She also manages Le Florentin Hotel and a few shops in the region. A real business lady to look up to!
Visits can be arranged as part of your stay in the Le Florentin *** or upon request here.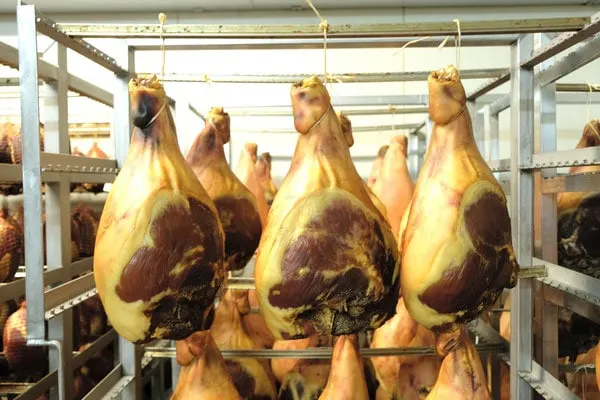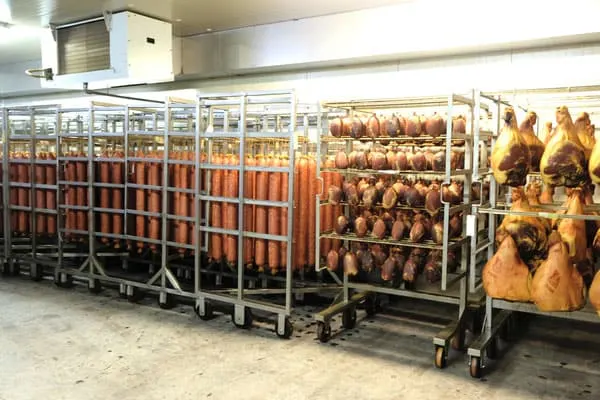 9. Canoe Ride on Semois River
The Ardennes region offers a wide range of possibilities for those that are looking for a more active getaway. You can choose among equestrian excursions, skiing (in winter), golf, swimming and climbing activities.
But is there a more relaxing and enchanting way to enjoy Ardenne's beauty than by canoe? While there are several routes on different rivers that can be explored by canoe, we went from Poupehan to Frahan with Semois Kayaks.
Semois Kayaks also rents kayaks, Stand Up Paddle Boards (SUP), and pedalos. Kayak and canoes routes can be adapted to your needs upon request.
It is an easy ride of 1 hour (there's the option to do 4 hours as well) which will let you immerse in Ardenne's beautiful natural landscapes. I did the ride with my sister and it was the perfect opportunity to chat while enjoying the absolutely relaxing movement of our boat. A canoe ride makes any weekend trips to Belgium even more relaxing.
After your ride, you might want to enjoy a refreshing bath while you wait for Kayak Semois' pick-up service. Followed by some crunchy French fries or a Belgian chocolate ice-cream at their friterie in Poupehan.
If you don't want to rent a kayak, you can bring your own whitewater inflatable kayak.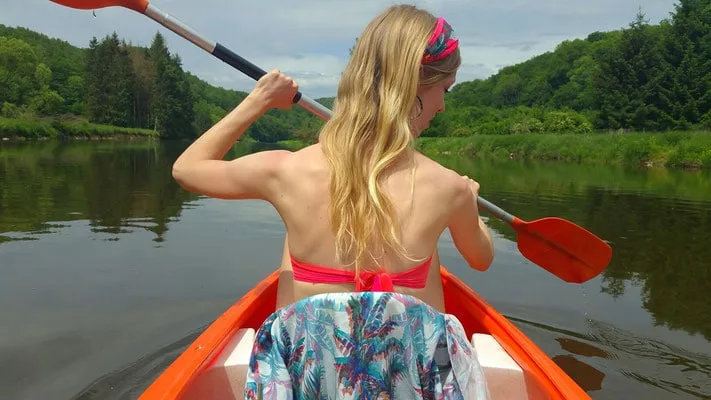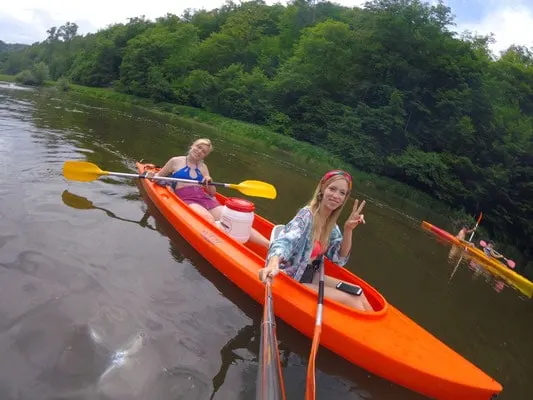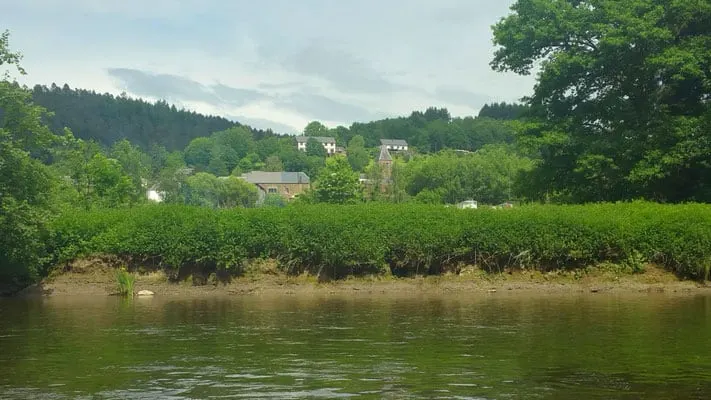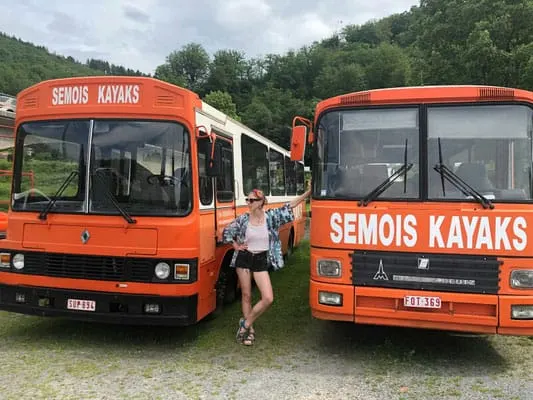 10. Food in the Ardennes, Belgium
In case you might still be hungry, you should also try other typical dishes from the Ardennes. The lands of the Belgian Province de Luxembourg have very rich soil which makes it easy to grow a large variety of vegetables and Northern European fruits.
The large forests gave birth to a long tradition of wild game meals and the rivers teem with fish like trout, carp, and perch.
You can't miss indulging typical Belgian food during your weekend break in Belgium.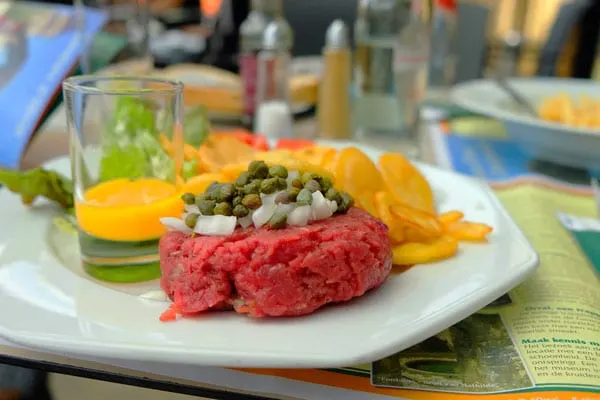 Other typical meals (some of them can be found in other parts of Belgium too) that you need to try when visiting the Ardennes region are:
French Fries: The best ones are sold in a traditional friterie. These fry shops can be anything from a small truck or established restaurant with a dining room. They also serve all kinds of other deep-fried food (frikandels, currywurst, bitterballen, chicken skewers…), but the main star of the kitchen is the crispy French fries. What makes Belgian fries so different? The perfect fry is two-fold! The potato must be soft and fried twice. You can choose among a large variety of sauces in any friterie
Boterhammen / Tartines: Slices of rustic bread and an uncovered spread, often pâté or soft cheese, typically accompanied by a glass of beer
Filet américain: One of my favorite Belgian meals. Finely minced ground beef eaten raw and cold. Usually served with fries. When served as a dinner, it is mixed with onions and capers like steak tartare, but it retains the name américain. You can optionally add chopped onions, mayonnaise, Tabasco, egg yolk, capers, salt, and a bunch of other things.
Blood sausage: Type of meat sausage mixed with blood and breadcrumbs. Even if the mention of 'blood' might scare you from this, but you should give it a try! It can be served grilled, sauteed, barbecued or eaten raw and best served with potatoes and apple sauce.
Wild game terrine with mushrooms
Pâté gaumais: Pâté with pork meat, wine and herbs
Pikes and trouts
Gratinated endives with ham and Bechamel sauce
Where to enjoy Belgian food in the Ardennes region:
More elaborated Belgian cuisine:
Le Florentin
L'Auberge de Rochehaut
Traditional Belgium food:
Friterie La Grignotte
La Vieille Ferme
Chez Betty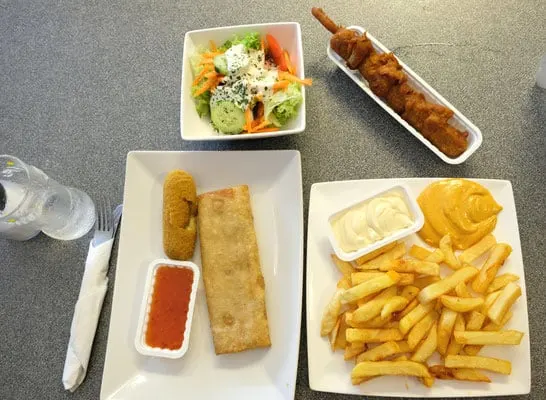 11. Visit Durbuy, the smallest town in the world
If you're looking for a short weekend break, Belgium is home Durbuy, the smallest town in the world. But don't worry, it still has some great things to do. Plus, isn't it just cool to say you visited the smallest town in the world?
The top site in Durbuy is the Castle, which seems to take up half the city and has an interesting history. There is also the nearby Topiary Park, a must for anyone who loves beautiful gardens and unique green spaces.
If you can, I recommend a visit near Christmas, as there is an abundance of things to do in Durbuy during winter, including one of the best Christmas markets in Belgium.
12. Visit the Bastogne War Museum
It's hard to imagine a weekend trip to Belgium without visiting the Bastogne War Museum. This is an essential spot in the Ardennes, Belgium for history buffs.
The museum is dedicated to the Belgian Ardennes role in WWII, and focuses on the Battle of the Bulge. In case you're unfamiliar, this was the last major German offensive on the Western Front during WWII. The Allies won and it was an important victory.
13. Go Hiking in Ourthe Valley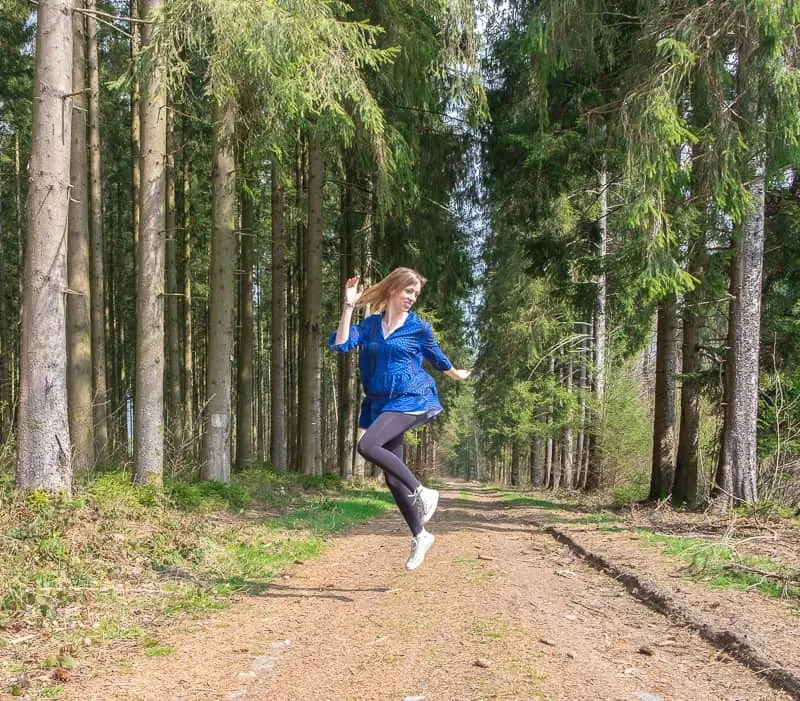 Some of the best weekend breaks to Belgium are for hiking. And hiking in Ourthe Valley is definitely a great reason to visit Ardennes, Belgium!
The Ourthe is a 165 kilometre long river that runs through Ardennes, Belgium. Naturally, the hikes along it are stunning! Of course, if hiking isn't your thing, then you can also cycle or canoe Ardennes.
No wonder that the area is considered home to some of the best hiking trails in Belgium.
14. Enjoy a Trappist Beer in Chimay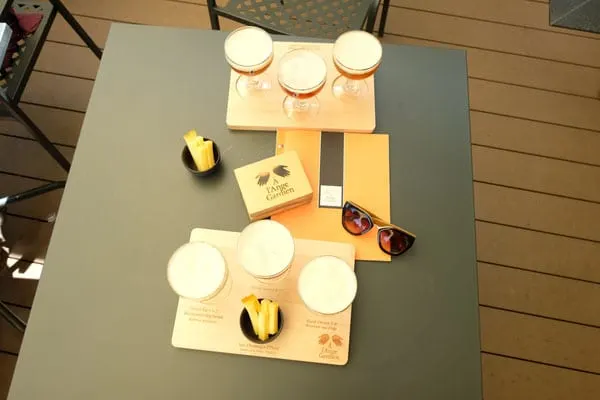 Absolutely no Ardennes, Belgium weekend break is complete without a beer tasting in Chimay. Just make sure to check into a nearby Belgian Ardennes hotel so there's no need to drive home afterwards.
The Chimay Brewery has been owned and operated by the monks as the Scourmont Abbey since 1862. However, most the local pubs and restaurants also serve Chimay. If you like cheese, make sure to ask for a Chimay cheese, as well – also made the abbey.
And yes, the monks can drink, so they know their product is worth the hype!
15. Do a day trip to Liege
A great Ardennes weekend option is a day (or overnight) trip to Liege. This city isn't for everyone, but I enjoyed my time here.
If you arrive by train, you'll be blown away by the giant, curved silver ceiling that welcomes you to Liege. From there, wander through the picturesque city center and check out some of the best things to do in Liege.
The number one must do is to enjoy a Liege waffle! Liege waffles have rounded edges, and while you can find them throughout Belgium, they originated here!
If you can, I highly recommend a visit to the High Fens Nature Reserve, a marshland area just outside of Liege in lower Ardennes.
---
Why visit the Ardennes, Belgium?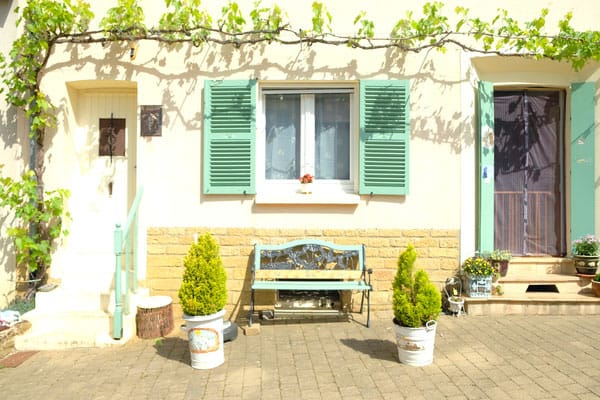 In that sense, Ardennes and the southern Gaume region, in southern Wallonia, is for outdoor and nature enthusiasts. And foodies (the common point of all Belgian regions)! If you need a short break, Belgium will impress you, and the Ardennes is ideal for weekend breaks.
Ardennes, also spelled "Ardenne", is a region of extensive forests, hills and enchanting rock creations covering most of the Belgian provinces of Namur, Liege, and Luxembourg.
It also stretches well into Germany and France. This post will mainly focus on the southernmost part of the Ardennes region: the Belgian Luxembourg province.
Where is the Belgian Luxembourg province in the Ardennes?
The main towns of the Belgian Luxembourg province, the south of the Wallonia region (le Luxembourg Belge), are Durbuy, Bouillon, Bastogne, and Arlon, the provincial capital. For this weekend break itinerary, I mostly recommend sites in the western part of the Belgian Luxembourg province.
You might wonder how the Belgian Luxembourg province ended up having the same name as the bordering Grand Duchy of Luxembourg? Well, the territory of the Belgian province used to be part of the Grand Duchy of Luxembourg until 1839.
However, the western, French-speaking region became part of a new country – Belgium, while the Germanic-speaking part became the Grand Duchy of Luxembourg.
As the Ardennes region is mostly covered by large, dense forests with the Semois and Ourthe rivers creating almost fairy-tale-like landscapes, the area is particularly coveted among outdoor and nature lovers. Tourism in the Ardennes is still small-scale and ecologically minded.
Make sure to stop from time to time in one of its countless restaurants and enjoy the food from its local producers.
I hope some of these, admittedly very personal, highlights of my visit to Ardennes Region in southern Belgium could convince you to include the region in your travel plans. Hopefully if you are considering a short break, Belgium is now on your radar!
Have you been to the Ardennes, Belgium? Did you enjoy it? I would love to hear about the things you loved (or loved less) in the comment form.
⚘ Avoid tourist traps and get the "Belgium Like a Local" itinerary. It's 9,99€ only. Get it here
---
Map: Highlights of Ardennes, Belgium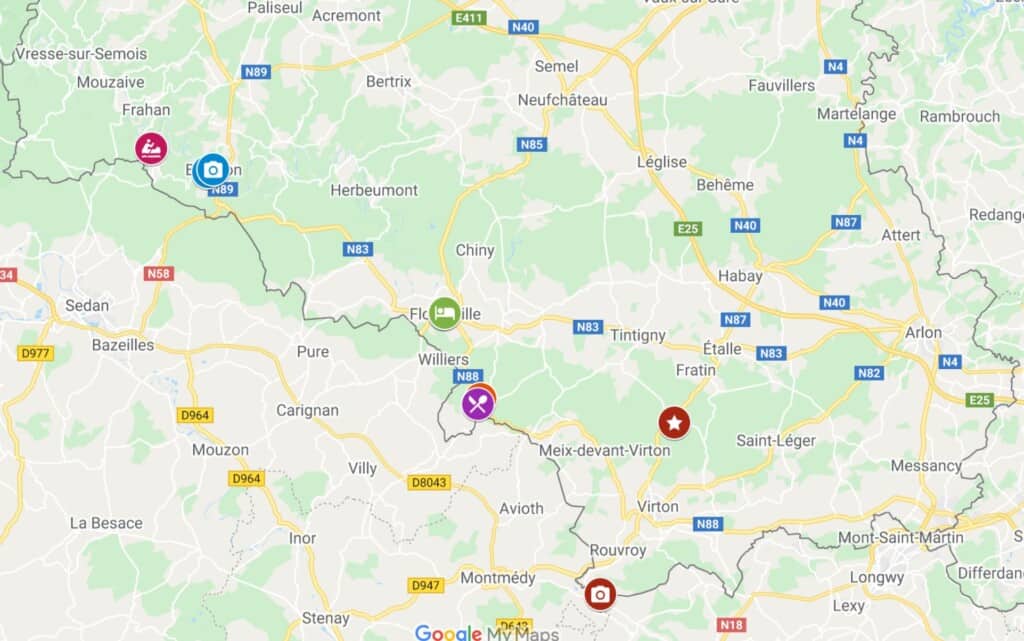 ---
---
Short FAQ
Where is Ardennes, Belgium?
It is a region of southeast Belgium, and extends into France, Germany and Luxembourg.
Where to stay in Ardennes, Belgium?
There are many great options for where to stay in Ardennes, Belgium, but my number one recommendation is Le Florentin in Florenville.
What are the most beautiful villages of Wallonia?
The Wallonia villages often listed as most beautiful are Celles, Clermont-sur-Berwinne, Crupet, Laforêt, Nobressart, Ny, Ragnies, Soiron, Sosoye, Soulme, Torgny or Wéris. My personal favorite is Torgny. Although it is technically a city, I also include Durbuy on this list as it is the size of a village!
---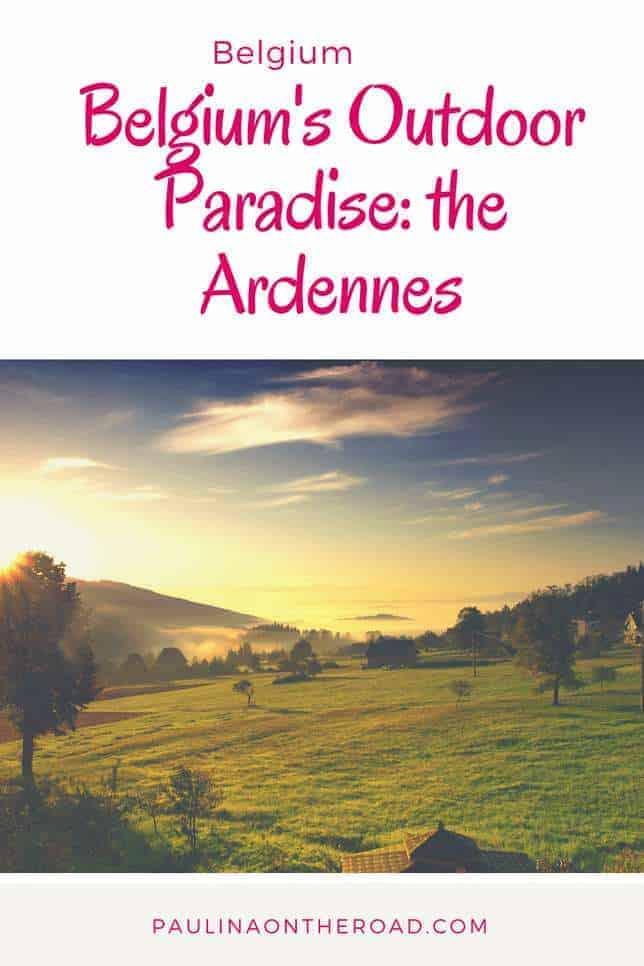 ---
Hola! I am Paulina, a fervent travelette who crossed the Atlantic Ocean by Boat HitchHiking. On my blog, you'll find all the tips to make the most of your holiday. Get ready to enjoy outdoor and sustainable travel like hiking, cycling or sailing. Let's hit the road together!