Bouillon, Belgium recently got a reason more to be a perfect destination for a weekend getaway from Brussels or a day trip to Belgium from Luxembourg. That reason is called BOM Food and Drinks, a restaurant that will make foodies' hearts sing!
Indeed, let's admit it; food always plays a crucial role in any day trip or getaway. Whereas you might think that in Bouillon, only the typical Belgian fries and hearty meat dishes will await you, well, you couldn't be more wrong!
At BOM Food and Drinks, you'll enjoy the trendiest, international food creations in a chic, upbeat setting.
Be aware; you might risk spending the entire day on the prettiest terrace in Bouillon sipping some delicious, seasonal cocktails all day long! That's basically what happened to me! Let's explore together why Bouillon is the perfect day trip to Belgium for the laid-back, fancy foodie traveler.
Book here your day trip to Bouillon
Disclaimer: I have been a guest of BOM Food&Drinks in exchange for an honest review. All my opinions, as always, are my own. This post contains affiliate links. In case you purchase one of the items, I'll receive a small commission. The price remains the same for you.
Top Resources to travel Belgium
⚘ Avoid tourist traps and get the "Belgium Like a Local" itinerary for less than 10€. Buy here

✈ Book cheap flights to Belgium with Skyscanner

✔ Book tours in Belgium with GetYourGuide

➳ Find the best hotel deals in Belgium with Trivago

❖ Rent a car with the best discounts at DiscoverCars

✎ Never leave without travel insurance. I got mine at HeyMondo. It is cheap and easy to set up.

$ Withdraw money without hidden fees and avoid exchange rates with Wise (you'll get a free card on top!)
The BOM Food and Drinks Concept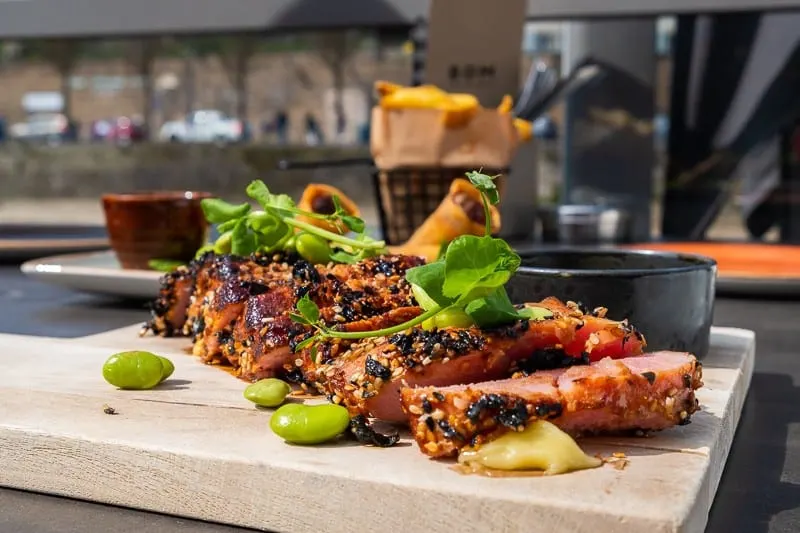 Let's not beat about the bush: the concept of BOM Food and Drinks is unique in Bouillon in the French-speaking Wallonia region! Located in the western part of the Ardennes, close to Brussels and Luxembourg, Bouillon has traditionally been a day trip destination for history buffs and hikers.
While it still is, BOM Food and Drinks ads one reason more why you should visit Bouillon. Indeed, the concept of tapas-style meals and food sharing experience is all new in Bouillon.
Paired with the best views on the castle, international main courses, and a seasonal cocktail card, BOM Food and Drinks has got it all to make you want to stay for more than just a quick sip.
Since its opening in 2017, BOM Food and Drinks is attracting a younger clientele looking for tasty food in a chic, hipster setting. Restaurant and cocktail lounge at day, and vibrant gastro-bar at night, the BOM Food and Drinks is the place to be for the traveler with "savoir-vivre".
Judging by its interior design, BOM Food and Drinks could be located in any big city. It is cutting-edge and comes with a great sense of cozy corners. It's the place where you can hang out for hours chatting with your besties.
BOM Food and Drinks wouldn't be the same without its charming manager, Celina who recently graduated with a Master's degree in Sustainability at Rotterdam University in the Netherlands.
With her 24 years, she knows exactly what she wants and created the concept of BOM Food and Drinks all on her own. To me, she's a role model of a lady entrepreneur!
Thanks to her studies, BOM Food and Drinks has a heavy focus on sustainability. Sustainability in the food and travel sector is not a trend. It's a bare necessity and BOM Food and Drinks can be considered a leading example in the region when it comes to sustainable aspects.
Getting There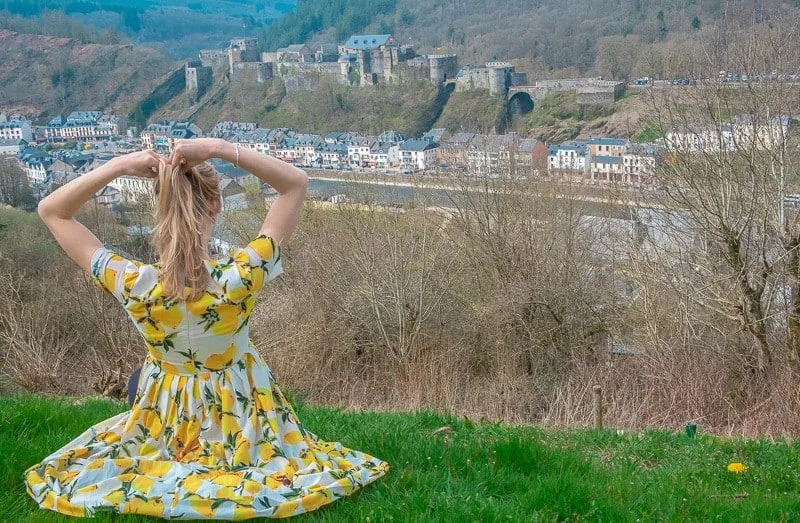 Bouillon is located in the French-speaking Walloon region at 150 km from Brussels and 110 km from Luxembourg. It is thus the perfect weekend or even day trip from Luxembourg or one of the best day trips from Brussels.
The most convenient way to visit Bouillon is by car. – Check here the best prices for car rentals
The closest train station is located at 30 km in Libramont. – Check here train prices and schedules
The bus line 8 connects Libramont to Bouillon. – Check schedules here
Book here your day trip to Bouillon
Driving Distances:
Location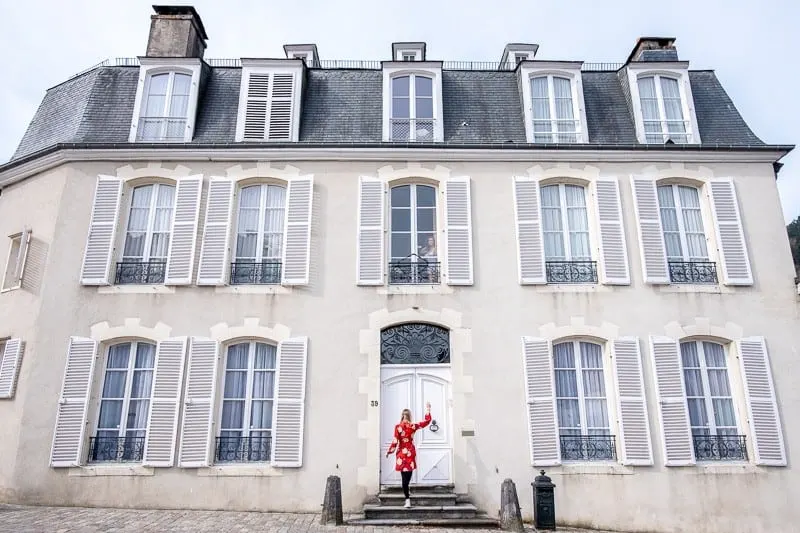 BOM Food and Drinks is located next to the emblematic Hotel de la Poste – Relais de Napoleon III **** and they share the same building. Its terrace along the riverbank of the Semois has without any doubt some of the best views on the castle and the quaint city of Bouillon.
Located just across the Liege bridge, the first bridge that was built over the Semois river, it only takes you 2 minutes to reach Bouillon city center from BOM Food and Drinks. It takes less than 15 minutes from the restaurant to the castle which thus makes it a great final destination for your hike.
You should definitely consider Bouillon for more than only a day trip!
Also known as the "pearl of the Semois river", Bouillon is one of the most important tourist attractions in the Belgian province of Luxembourg. The picturesque town lures you with its medieval setting.
Indeed, the castle of Bouillon was first mentioned in 988, and still today, it impacts by its size and good condition. In 1082, the Bouillon Castle was inherited by Godfrey of Bouillon, who sold it to the Bishop of Liège in order to finance the first crusade.
Considered one of the best castles in Belgium, it was later fitted for heavy artillery by Vauban, Louis XIV's military architect in the late 17th century. Nowadays the area is home to some of the best hiking trails in Belgium.
The castle of Bouillon is open to visitors and the entrance fee includes a falcon and owl show. A treasure hunt can be organized upon request. Visiting the Bouillon Castle is definitely a highlight of your weekend break in Bouillon. Schedules and opening times depend on the time of the year.
On a city stroll, you'll also pass along the stronghold of French-Brittany which is part of the remaining ruins of the city fortification. It is a particularly picturesque place located near the river which invites you to sit down for a moment and enjoy the place in all its beauty.
I particularly like how different each quarter of Bouillon is There's the old town, right below the castle which has vast streets and open plazas, bright colored houses.
Then right next to it, you'll find yourself in the Quartier de Bretagne (Brittany Neighbourhood) where soldiers from Brittany used to live. They were in charge of the protection of the town in the 17th century. The houses have a very particular style and it is the perfect place to relax.
If you're looking for a place to stay, I highly recommend the emblematic Hotel de la Poste – Relais de Napoleon III **** which is a refined home away from home.
Book here your day trip to Bouillon
The Property
BOM Food and Drinks shares the building of the emblematic Hotel de la Poste – Relais de Napoleon III ****. Located on the riverside with the best views on the castle and the historic city center, the building has over 300 years of history.
However, you wouldn't notice any of the historical roots when you step inside the restaurant of BOM Food and Drinks. Indeed, the restaurant was built and designed from scratch in the place where the hotel's garages used to be.
The entire concept was developed and implemented by the talented Celina and the cozy, yet sophisticated interior is the result of her collaboration with an interior designer.
Cuisine and Service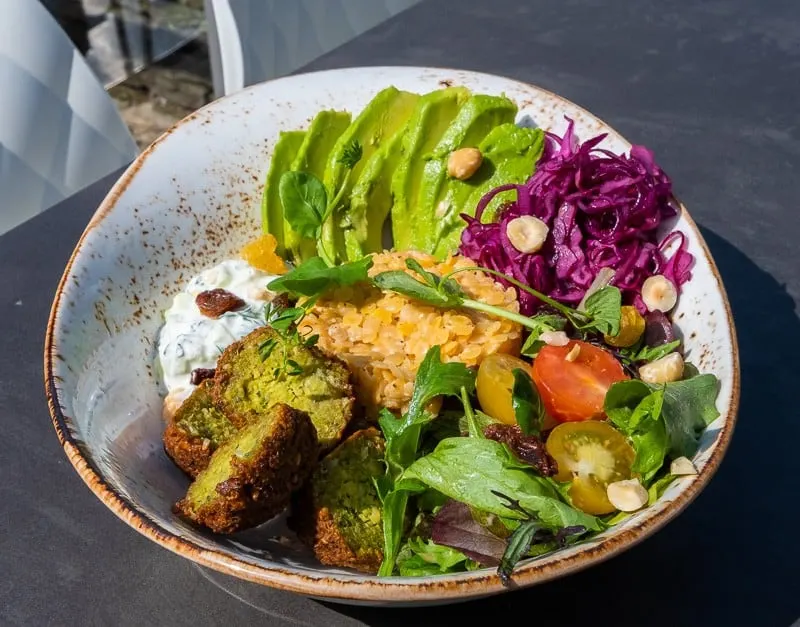 The cuisine served at BOM Food and Drinks can't be found anywhere else in Bouillon. Serving international cuisine with a strong focus on seasonal and top-quality products, BOM Food and Drinks offers main courses for lunch and dinner.
However, the highlight of their menu is the tapas which allow enjoying a food sharing experience at almost any moment of the day.
There are several tasty vegan and vegetarian options on the menu. Something that's had to find in this part of Belgium! I went for the" buddha bowl" with coral lentils, avocado, falafel, and tzatziki topping. It was a delight and healthy too!
Due to my long stay in Spain, I somehow got addicted to food-sharing. There was a time, just after moving to Luxembourg, that I couldn't eat without having tried the meal of the other people. Needless to say that I was in (foodie) heaven when having tapas in BOM Food and Drinks.
Unfortunately, many associate tapas with too small bites at excessive prices and that you'll leave the restaurant with an empty stomach. I can assure you that this won't be the case when having tapas at BOM Food and Drinks! The portions were huge! I couldn't even finish some of the tapas, which was a pity.
The tapas menu includes tasty social bites such as tuna tataki, Italian beef tartare, fresh oysters, or lamb chops.
BOM Food and Drinks is also a great location for events and parties in Bouillon. Some of the areas can be privatized and thanks to its terrace you'll enjoy real VIP views.
During summer, Celina hosts some of her legendary barbecues. That's when the place gets really crowded and a bustling atmosphere accrues.
Book here your day trip to Bouillon
Drinks in Bouillon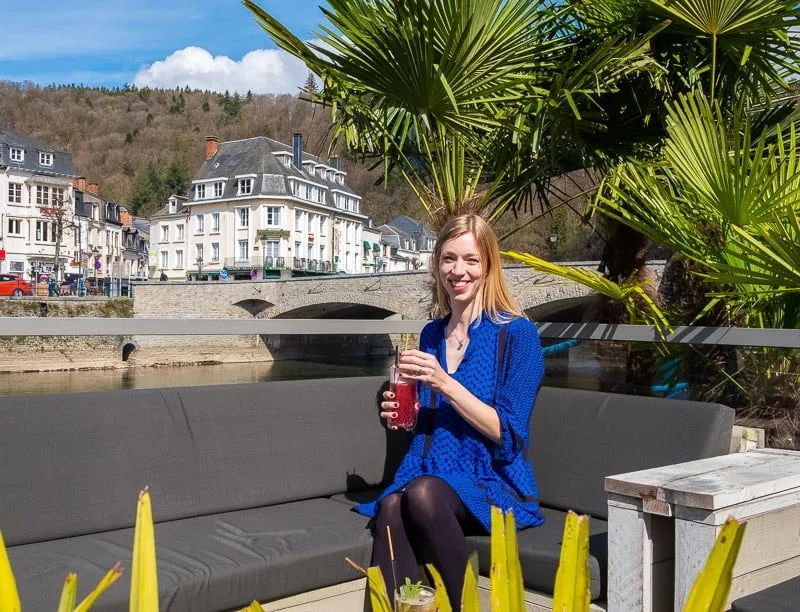 Even if you're not that hungry (although I can assure you that you'll end up falling for one of their tasty social bites!), BOM Food and Drinks is worth a visit thanks to its legendary cocktail and drinks card!
Indeed, here you'll find cocktails that cannot be found anywhere else in the region! Mixed with their home-made syrups, you'll find tasty creations like "Blackberry Mojito" or "Matcha Rose" on their cocktail card. The menu changes every season and all drinks are served with biodegradable straws.
Besides the cocktails, BOM Food and Drinks boasts an extraordinary variety when it comes to drinks! Be ready to choose among 8 draft beers, organic juices, Belgian beers, and less known Gins.
I didn't have the time to try them all, but I will definitely be back soon to have a cocktail on a warm summer night with castle views from BOM Food and Drinks.
Sustainable Aspects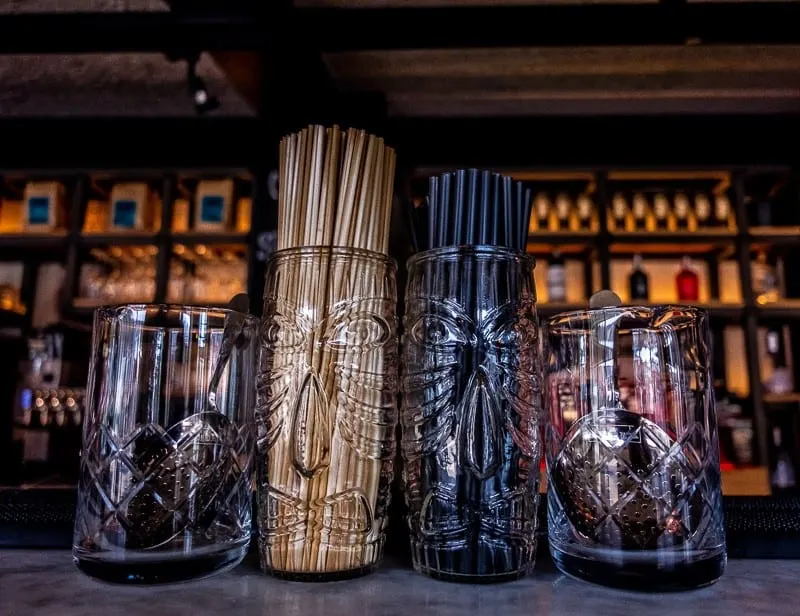 The focus on sustainability is only one of the numerous facts that will make you love BOM Food and Drinks. Celina studied a Master's degree in Sustainability and she knows her business!
With her 24 years, she's part of the generation that doesn't see sustainability as a trend anymore but as a necessity. She implemented sustainable policies in several parts of her business.
Some can be noticed immediately, some happen behind the scenes so that as a customer, you don't even realize how much effort was made in order to make BOM Food and Drinks a sustainable business.
Not only the straws are biodegradable, but all the products that are used for your meal are seasonal and come from small producers all over Europe. Like her father, the manager of the adjacent Hotel de la Poste – Relais de Napoleon III ****, Celina has a passion for food and knows that only with premium ingredients you can offer qualitative meals. And still, the courses and tapas at BOM Food and Drinks are affordable!
With BOM Food and Drinks, Celina adds value to Bouillon as a travel destination. Her business is thus sustainable in the sense that it attracts a new clientele to Bouillon.
The quaint town in the Belgian Ardennes was missing a cutting-edge place that serves international, tasty cuisine according to the latest trends.
Because of BOM Food and Drinks, younger and trend-conscious travelers will include Bouillon in their travel plans. And man, I visited during the weekend: the atmosphere was bustling, the terrace was packed and people had fun until the late hours at night!
I personally would travel now to Bouillon, only to enjoy a cocktail and tapas at her terrace!
Best features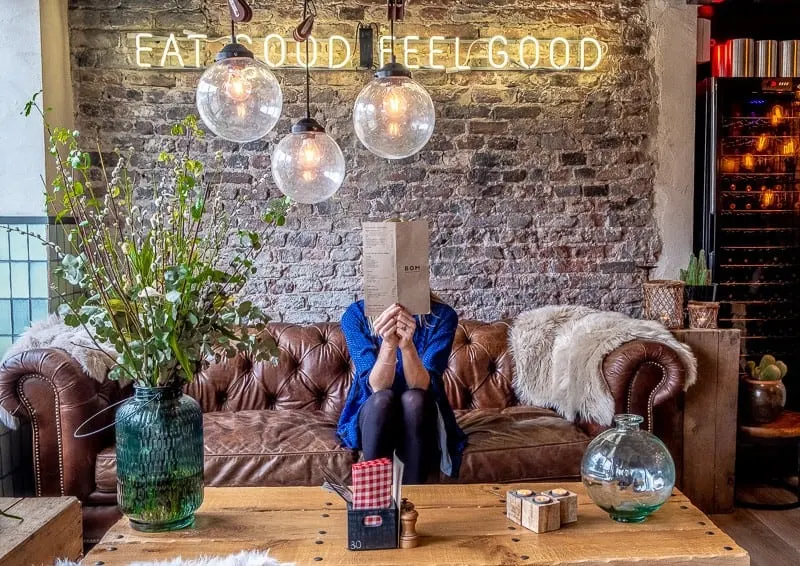 The sustainable aspects in many details
The seasonal cocktail card
The tasty food sharing experience
The home-made syrups in their cocktails
Close to some of the best hiking trails near Brussels
The Cost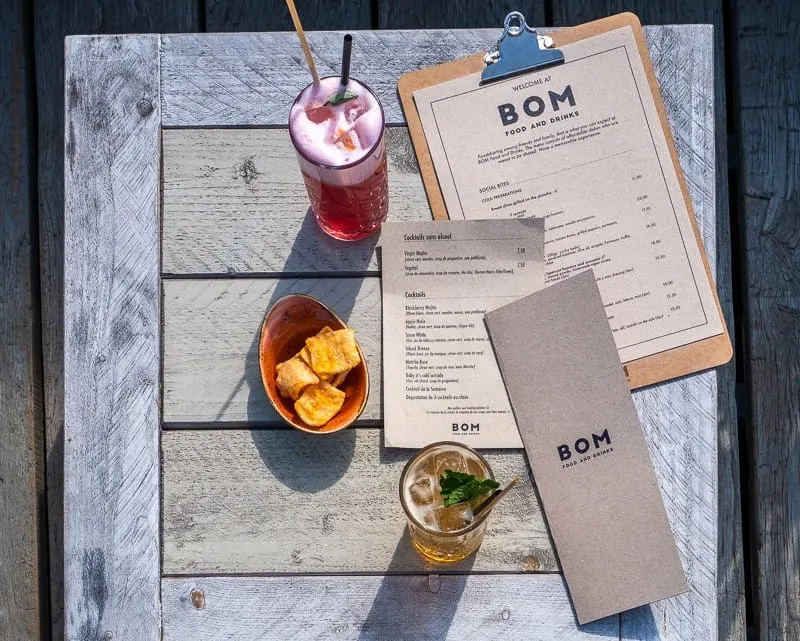 It will be hard to find a place that can beat the price-service-ratio of BOM Food and Drinks!
Because despite using only the finest ingredients from small producers, and creating very "instagrammable" meals that will make a foodies' heart melt, you don't have to drain your budget in order to enjoy a foodie day trip to Belgium!
The drinks and meals come at a wide range of different rates, thus there will be an option for any budget. For example, tapas range from 11 € to 22 €, and the price for the main course can vary from 16 € to 28 €.
Is there still something holding you back to head straight to Bouillon for a foodie getaway?
Outdoor activities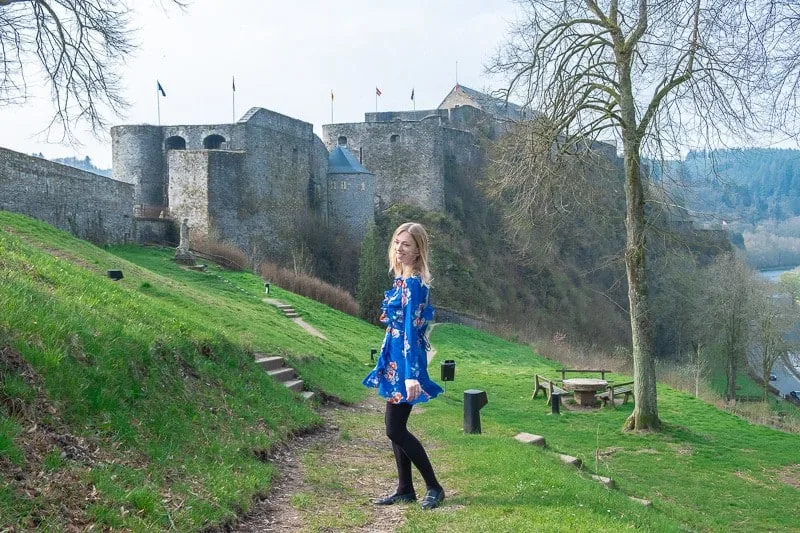 There is a wide range of activities that you can do in Bouillon. The town is surrounded by lush forests thus many visit in order to enjoy its hiking trails. I particularly like this region during spring when all the flowers are blooming and the forests are saturated green.
If you want a medium-difficult hike, I recommend hiking up the Belvedere viewpoint. From here, you'll enjoy the panoramic view of the forests, the quaint Semois river, and Bouillon's old town. You can find the best hiking trails in Bouillon here.
More fun things to do in Bouillon include visiting the castle, the Musée Ducal, and strolling on the flea market on Sundays.
During sunny days, I love to grab a kayak and paddle down the Semois river. Followed by a great Belgian beer at BOM Food and Drinks in Bouillon!
Book here your day trip to Bouillon
My Verdict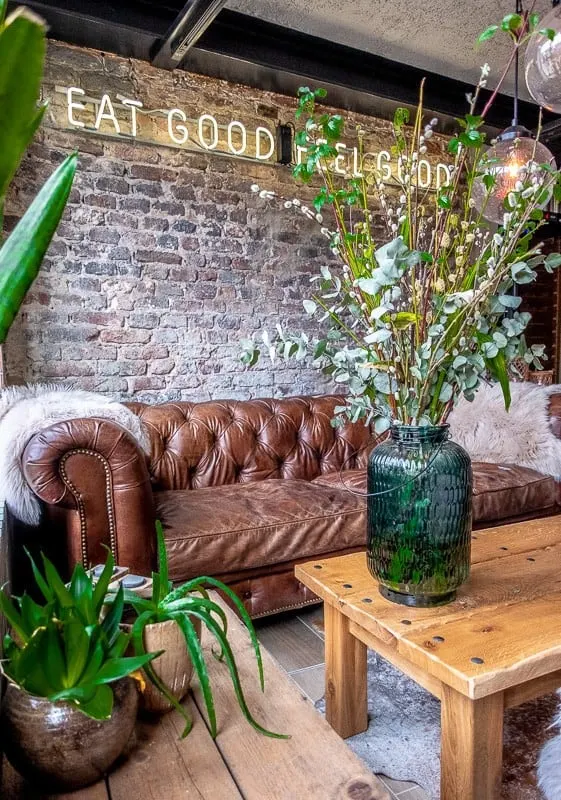 I think I have to split this part into two aspects. First, there is Celina who I admire for her lady entrepreneurship and her girl-power spreading positive energy all over the place. Secondly, there is BOM Food and Drinks as a restaurant and trend-conscious gastro bar.
When you step into BOM Food and Drinks, you won't believe that this cutting edge location is the masterwork of a 22-year old! Indeed, Celina was only 22 when she developed and designed the entire concept of the future "place to be" in Bouillon, Belgium.
Coming from a family with decades of experience in the hospitality and gastronomy sector, Celina created a reason why trend-conscious and foodie travelers should put Bouillon on their radar.
As a restaurant, BOM Food and Drinks cannot be compared to any other restaurant or bar in Bouillon that is mostly serving traditional Belgian food.
Boasting a terrace with the best views on the castle and comfortable lounge corners, it's a place where you can easily spend your entire afternoon sipping cocktails and sharing tapas with your friends.
At night, BOM Food and Drinks attracts visitors from all over the region and even across borders, in order to enjoy its upbeat and bustling atmosphere. See you soon in Bouillon at BOM Food and Drinks!
---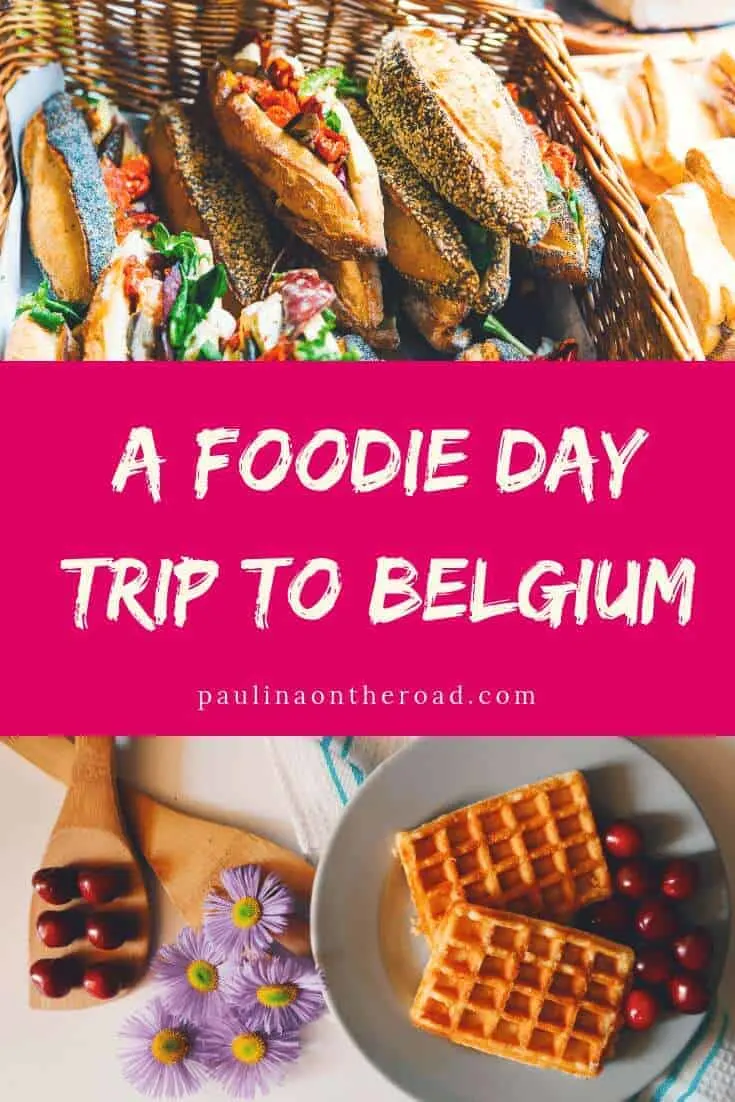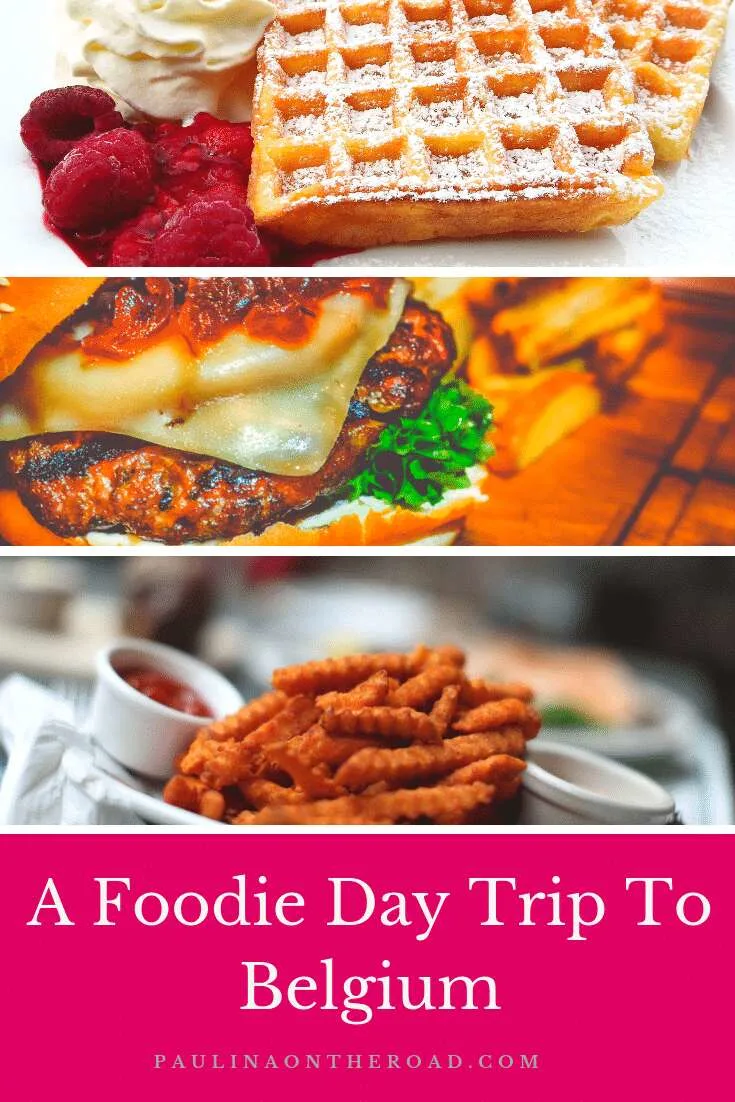 ---
Hola! I am Paulina, a fervent travelette who crossed the Atlantic Ocean by Boat HitchHiking. On my blog, you'll find all the tips to make the most of your holiday. Get ready to enjoy outdoor and sustainable travel like hiking, cycling or sailing. Let's hit the road together!