Guide to sightseeing and attractions what to do in the city of Liege, Belgium
Finally, I made it to Liege, the off-the-beaten-track town in Belgium's Far Eastern city.
From the 3 cities that we visited that weekend (including Brussels & Antwerp), it was the one that I knew the least, and I wasn't sure if there would be many things to do in Liege, Belgium.
But I was pleasantly surprised by all the wonderful places to see in Liege.
Even though it is one of the best day trips from Luxembourg, I only passed a few times through when traveling by one of my favorite means of transport: by train.
Remembering thus only its epic train station, I couldn't wait to discover what Liège is holding for avid travelers.
Indeed as Liege is still not included in most Belgian itineraries, I selected a few of my favorite things to do in Liege, Belgium.
Although it may not be known for having any of the best castles in Belgium, there are so many other Liege attractions that shouldn't be missed.
For example, it does have what I think is one of the best Belgian Christmas markets and is one of the most beautiful cities in Belgium.
Some of the best hiking trails in Belgium are also near Liege and make day trips from the city.
Before visiting Liège, a very fundamental question arises: how to name the city properly!
This blog is supported by you, dear reader. If you purchase through a link, I earn a small commission. As an Amazon Affiliate, I earn from qualifying purchases.
Top Resources to travel Belgium
⚘ Avoid tourist traps and get the "Belgium Like a Local" itinerary for less than 10€. Buy here

✈ Book cheap flights to Belgium with Skyscanner

✔ Book tours in Belgium with GetYourGuide

➳ Find the best hotel deals in Belgium with Trivago

❖ Rent a car with the best discounts at DiscoverCars

✎ Never leave without travel insurance. I got mine at HeyMondo. It is cheap and easy to set up.

$ Withdraw money without hidden fees and avoid exchange rates with Wise (you'll get a free card on top!)
What should you call Liège, Belgium?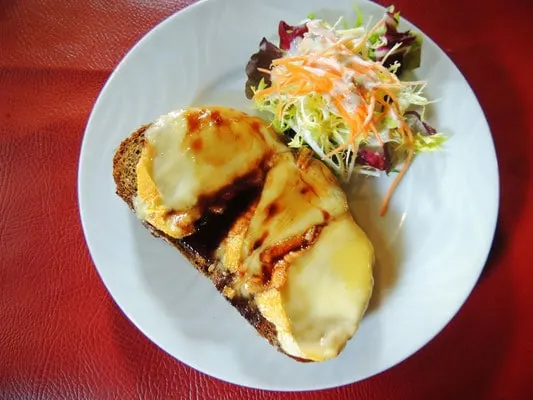 Indeed this Eastern Belgian city has 7 names that don't have much in common: Liège, Liege, Luke, Liejas, Léck, Lüttich, Luik, Belgium…(probably there are even more?)
And 3 of them are official languages in Belgium! Intriguing, isn't it?
Depending on the region where you're traveling in Belgium, people will not understand about which town you're talking about if you don't name the town in the local language.
I don't want to confuse you with "what to do in liejas' and 'things to do in Luik, Belgium.' So let's agree on calling it "Liège" as the town is set in a French-speaking area.
Although it isn't necessarily on most "To-Do"/ "Must Visit" / "Travel Bucket Lists" of travelers visiting Belgium, Liège is still a great off-the-beaten-track city.
Liege has definitely got several sights and places that make it a very "Belgian" town that shouldn't be left out when visiting this little kingdom in Western Europe.
So, here is everything I recommend for what to see in Liege, Belgium!
Be it as a day trip from Brussels or for a weekend city trip, I encourage you to stop in for some Liege sightseeing.
From here, you can also see Brussels in one day (don't forget to try these restaurants for real Belgian food in Brussels!)
Book here a day trip from Brussels
1. The epic Liege Train Station
One of my favorite ways to travel is definitely by train. It's eco-friendly and goes with my love for slow traveling.
Nothing gives you more calm, space and punctuality.
Additionally, train traveling allows you to work on your tasks or just let your mind wander while gazing at the landscapes rolling by.
Travelers arriving in Liège by train will get a very special reward: Liège's railway station named "Liège-Guillemins" is probably one of the most avant-garde and awe-inspiring ones in Europe.
It is also one of the top places to visit in Liege, Belgium.
It might surprise you that a train station is one of the things to see in Liege, but this station is something special.
Designed by the renowned Spanish architect Santiago Calatrava and officially opened in 2009, it quickly became a major reason for architecture lovers to visit Liège.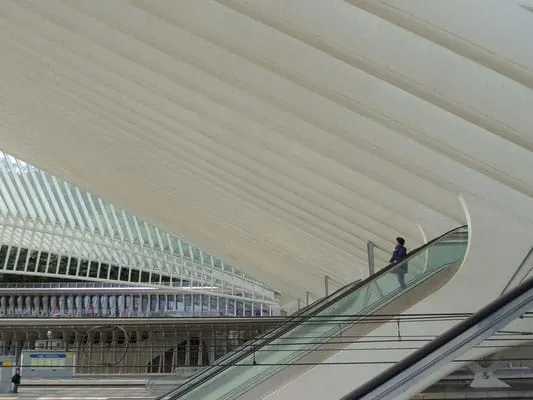 When the former train station became too small, the Belgium railway society decided to build a new one.
The train station was built with the idea of creating a new city symbol, a sight that would attract visitors from all over the globe.
Nowadays the train station of Liège has become a very popular photo motive for photographers, bloggers, journalists, and Instagrammers from around the world.
No wonder Liege is often considered one of the best towns in Belgium!
Can you guess what inspired Santiago Calatrava when designing this building? He, who calls himself an artist and not an architect?
Let me give you a little hint: women's hips…
Buy the Ultimate Guide: Experience Belgium like a local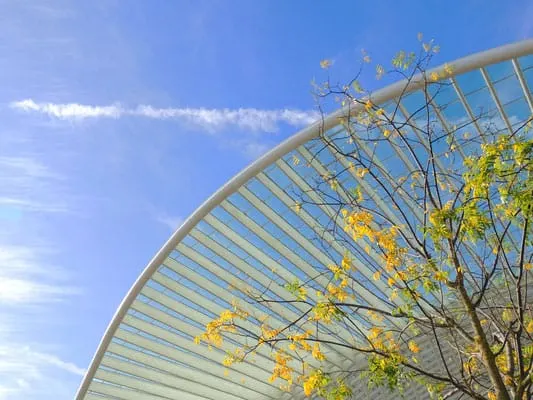 2. Belgian Waffles. Of Course.
In case you are wondering what to do in Liege, Belgium for foodies, Belgian Waffles are a must!
Indeed if you're visiting Liege or not, they are a must-thing-to-do, must-eat whatever when traveling to Belgium.
As you see, besides chocolate and beer, Belgians are experts when it comes to elaborate delicious, probably not-so-healthy treats.
And apparently, they like to offer as much variation as possible.
That's the only way how you can explain almost 1600 kinds of beer and an almost infinite number of chocolate creations.
Book here your day trip from Brussels
But there are only (!) 2 kinds of waffles.
"Gaufres de Bruxelles" (Brussels' Waffles) are made with a yeast-leavened, thin dough which makes them lighter.
Their edges are smooth and they have a rectangular form with deep holes.
These are the more popular waffle found throughout Belgium, and what most non-Belgians think of when they talk about Belgian waffles.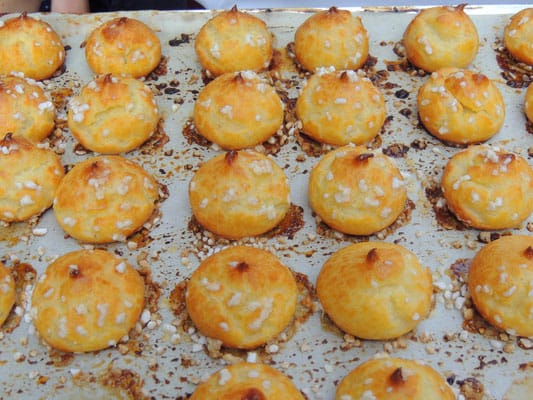 However, if you are wondering what is Liege known for, it is the city's totally unique and delicious waffles!
"Gaufre de Liège" (Liege's Waffles) are made with a thicker, bread-like dough.
The batter contains chunks of sugar that caramelize with the heat and give the waffle a golden, crunchy coating.
The edges of the Liege waffle are more uneven, its form is more round and the taste is sweeter than the Brussels' waffle.
Whereas you can get waffles at almost every corner, there are always a few secret spots in town which do a particularly good job. In Liege, this has to be the Une Gaufrette, Saperlipopette shop.
The window of the fairy tale bakery is already all too pretty: piles of golden waffles, mountains of delicious pastries, and pancakes.
This window will certainly make you veeery hungry.
And that is a good thing because if you want to know what to eat in Liège, the answer is ALWAYS waffles!
They have several kinds of waffles and one was more delicious than the other. All the ingredients are natural and only traditional recipes are used.
A bite of their waffles and you just gonna melt away. This place should definitely be part of your visit to Liege.
You can't leave without trying the best waffles in Liege at Une Gaufrette, Saperlipopette!
Where: Rue des Mineurs 7, 4000 Liège, Belgium
If you can't travel to Liege right now, I leave you the recipe on how to make Liege waffles at home:
3. Peket – Belgian Gin made in Liege, Belgium
Even though its geographical origins, Liege, are so close to my home country Luxembourg, I've never heard of Peket before.
Many regions in Belgium have their very own alcoholic spirits.
For example, Flanders is mostly famous for Jenever, the juniper-flavored traditional liquor from which gin evolved.
Whereas Peket is the juniper-favored booze that is particularly popular in Liège and an important part of the city of Liege tourism.
You can't do your Liege shopping for gifts and souvenirs without including peket!
Book here your day trip from Brussels
It is said that Peket was born when miners in Liège region decided to add juniper berries to their eaux de vie in order to make it more aromatic.
Nowadays it comes in more than 30 different flavors like cinnamon, strawberry or violette. All with different levels of sweetness.
It's even used in the regional gastronomy when preparing local delicacies like duck or quail.
I had my first Peket experience in "Maison du Peket", probably the most ancient place to get this gin version while in Liège.
It's set in the charming historic quarter of the town and its rustic interior design respects the construction style of the 18th century.
I don't have to mention that food was delicious too!
As a starter, we got the typical cheese from Liège, Herve, and as a main, meatballs prepared Belgian way. The portions were huuge and I couldn't finish it all.
That's probably when Peket comes in. Following tradition, a good eau de vie is supposed to facilitate digestion.
I had the strawberry peket and it reminded me of my childhood when I was chewing pink bubble gum all day long.
That's just to give you an idea how sweet it was.
However, having a peket and delicious Belgian food is one of the top things to do in Liege, Belgium.
I also had a try on the violette Peket, but that one not only smelled like a granny's perfume, but it was even sweeter than the previous one.
With that sugar rush, I finally had enough zeal and energy to continue the Liège city tour.
Maison du Peket
Rue de l'Epée 2, 4000 Liège
contact@maisondupeket.be
www.maisondupeket.be
Ultimate Belgium Road Trip: Travel Belgium like a local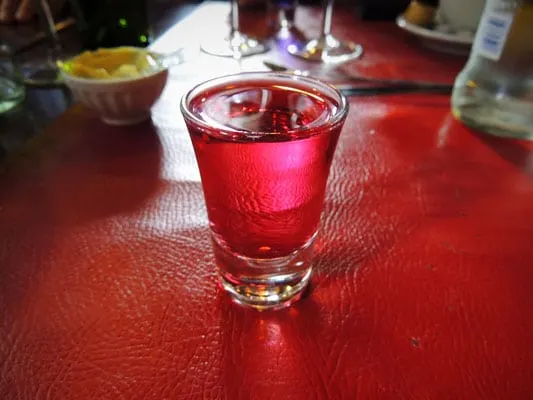 4. The Citadel of Liège
Liège's Citadelle was probably the most surprising place that we visited during our tour through Belgium's largest town in the East.
The contrast between the light white, filigrane architecture of the train station and the town's big stolid, obscure brick houses was already striking.
But the citadel enthroning the top of the city left me totally mesmerized. This is definitely a must for any Liege day trip!
The citadel shows yet another side of Liege that isn't reflected nor in its rail station or its city center: its medieval past.
The Citadelle de Liège is located 110 meters above the valley of the Meuse and its origins go back to 1255. Its massive walls made the fortress a coveted target for foreign powers.
That's how it ended up being seriously damaged during Liège's tumultuous past.
Destroyed by the French and rebuilt by the Dutch, the citadel continued in use as a barracks post.
Nowadays only the southern walls remain which were used as a prison during WW2.
There's also an impressive cemetery honoring the victims of the Nazi regime.
Buy the Ultimate Belgium Itinerary: Experience Belgium like a local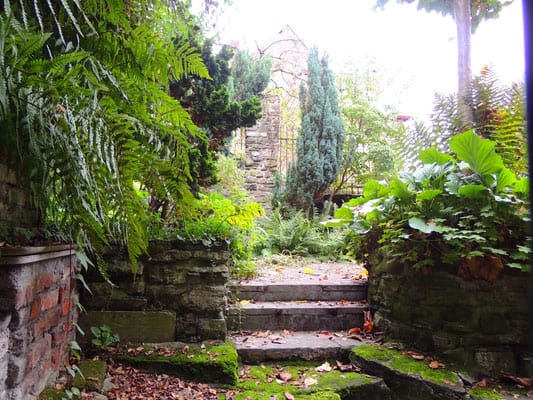 The views on Liège will be the best that you can find.
One of Liège's most eye-catching sights, the Montagne de Bueren, a 374-step staircase was supposed to connect the new neighborhoods behind the citadel with the Liege old town and city center.
And obviously to shorten the way to the soldiers.
I particularly enjoyed strolling through its narrow streets.
Every now and then a hidden corner opens up which gives you furtive glances at lush green patios and private gardens.
It was definitely one of my favorite places to visit when in Liege.
It's definitely a place where I enjoyed getting lost.
Both in time and in enchanting streets. It is not surprising this is one of the top Liege tourist attractions because it was easily one of my things to do in Liege, Belgium.
Book here your day trip from Brussels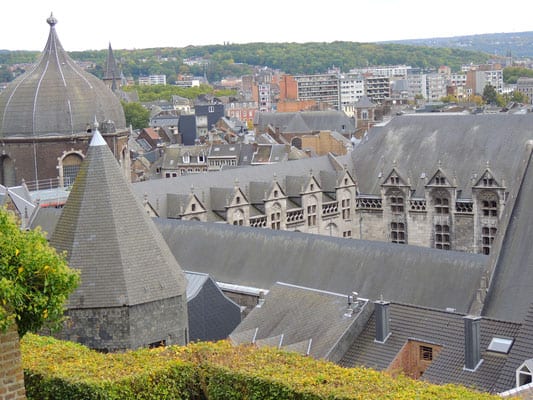 5. A River Cruise on the Meuse
For the coronation of this little trip to Liège, this pretty hidden gem in Belgium's East, we had a little cruise on the river that goes through Liege: the Meuse.
Although we were not very lucky with the weather, it allowed us to discover some of Liège's most pretty sights from a different perspective.
And it was still one of my favorite things to do in Liege, Belgium!
You'll cruise along with impressive, historic buildings like the Aquarium et Musee de Zoologie and modernist architecture near Pont Albert 1er.
The cruise takes off at the before mentioned Aquarium-Museum and the ride will cost you 8€ per person.
After, the boat will leave you at the Pont Albert 1er from where I recommend you to visit one of Liège's most enchanting parks: Parc de la Boverie.
You shouldn't miss its rose garden and the pergola.
Little ponds with ducks surrounded by weeping willows created an almost fairytale-like atmosphere.
In the middle of the park, you'll see a rather monumental building: The snow-white building dating back to 1905 stands in contrast with the modern artworks it hosts.
The river cruise on the Meuse is definitely a lovely way to spend your afternoon in Liège irrespective of any season and one of the top things to do in Liege.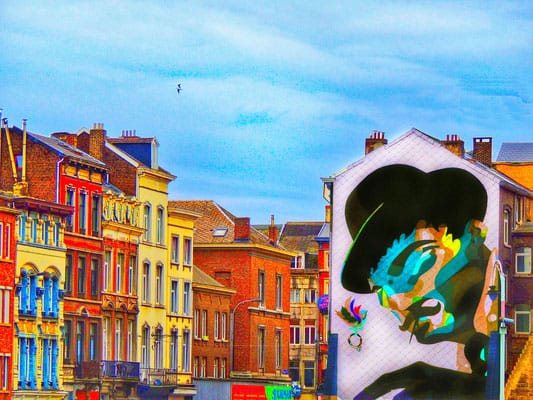 6. Explore Liege's Beautiful Historic Buildingsold town liege belgium
As you might have already acknowledged, Liège is like candy, especially for architecture lovers.
In fact, if you are wondering what is Belgium known for besides food, architecture definitely comes to mind, and the beautiful places to see in Liege are no exception
I already mentioned examples like Santiago Calatrava's filigree architecture at Liège-Guillemins rail station and Liege's citadel from the 19th century.
But I don't want to withhold some of the prettiest buildings in Liège's city center.
Here's what to see in Liege if you love architecture:
"Belgium Like a Local" Guide: Travel through Belgium like a local
Liège's town hall
Also known as "La Violette" while referring to the colorful facade of the previous building.
The building dates back to the 18th century and it's located at the central Place du Marché.
Palace of the Prince Bishops
The Palace of the Prince Bishops is another eye candy that shouldn't be missed when visiting Liège.
The original palace was built about 900 years ago, but unfortunately, it couldn't be preserved.
However, it contains a stunning interior patio inspired by the Italian Renaissance.
The palace is centrally located in old town Liege, Belgium.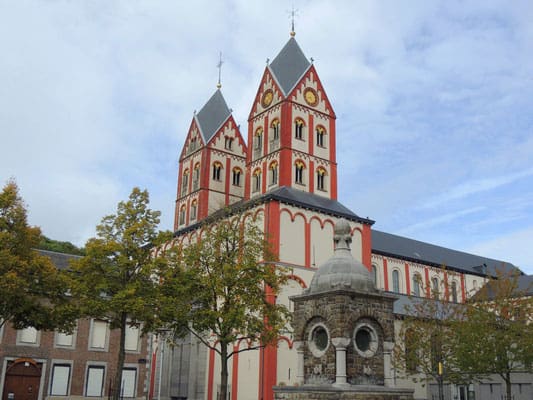 Victor Hugo said about its interior patio: "Nowhere have I seen a construction so remarkable, serious and grandiose at the same time".
This should be reasons enough to include the palace in your Liège city tour.
Eglise Saint-Barthélemy
In case you still didn't get enough of remarkable architectural gems, you'd need to visit the bright red/white church Eglise Saint-Barthélemy.
And don't miss the Cour Saint-Antoine, an inner courtyard with houses from the 17th – 19th century standing next to postmodern buildings.
These buildings are not only lovely photoshoot locations but also have a remarkable symbolic and historic value for the city.
I am sure that those are not Liege's only architecture gems and best places to visit, so if you've got some, please share them with me in the comment
Book here your Brussels day trip
7. The enormous Bueren Staircase of Liege!
The huuuge staircase in the city center of Liege's old town, the Montage de Bueren was probably the most striking sight.
It is also one of the top Liege tourist attractions.
Unsuspectingly you'll just turn at the corner and then you end up standing in front of an ENORMOUS staircase! With 374 steps, to be precise.
The versions of its origins defer, and everyone is eager to share the story.
I've been told that the staircase was supposed to shorten the way from the citadel to the town center so that the soldiers living in the citadel didn't have to pass along dangerous alleys…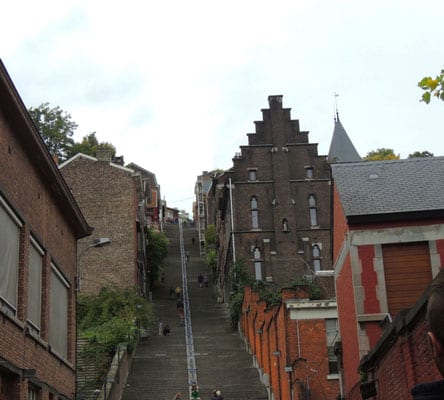 On the other hand, there's the version that the staircase had been built in 1881.
In this version, it was built toremember the 600 soldiers that died in a battle during the 15th century by naming the staircase after their commander Vincent de Bueren.
Finally, it was also supposed to connect the new neighborhoods behind the citadel with the city center of Liège.
Today it became not only one of the biggest city of Liege attractions but also an emblematic place where festivities or sports events are being held throughout the year.
It should definitely figure on your places to visit in Liege, Belgium.
In 2013 the staircase at Montagne de Bueren even ranked #1 at Huffington Post's Most Extreme Staircases.
I am still grateful to the guide that we didn't have to get all these stairs up!
Book here your day trip from Brussels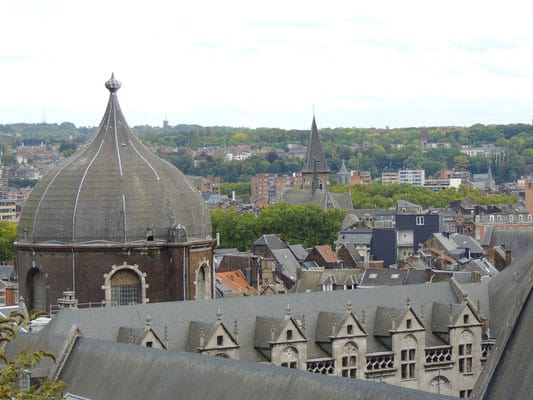 8. Learn About Art at the Grand Curtius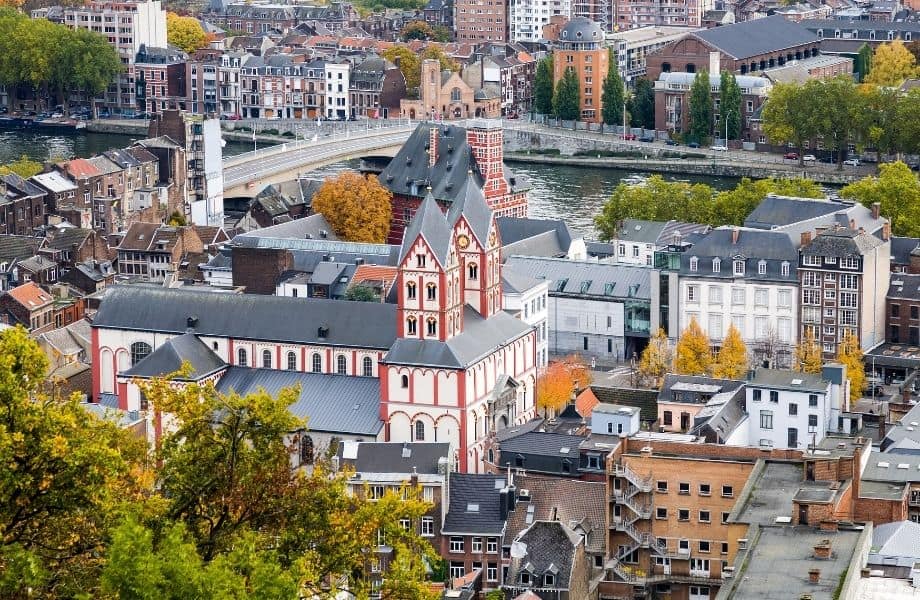 Wondering what to visit in Liege for art and history lovers? You must visit the Grand Curtius!
Opened in 2009 to the public, the museum is named for the man for whom it was originally built between 1597 and 1610, Jean Curtius.
Curtius was a rich gunpowder and arms dealer with a monopoly on trading with the Spanish army, and he was from Liege.
Today the museum is dedicated to art and archaeology, including impressive weapons and glass collections.
The art collection is predominantly focused on decorative arts, but there is also a large amount of Mosan regional art and religious art.
Book here your day trip from Brussels
9. Musee Des Beaux Arts de Liege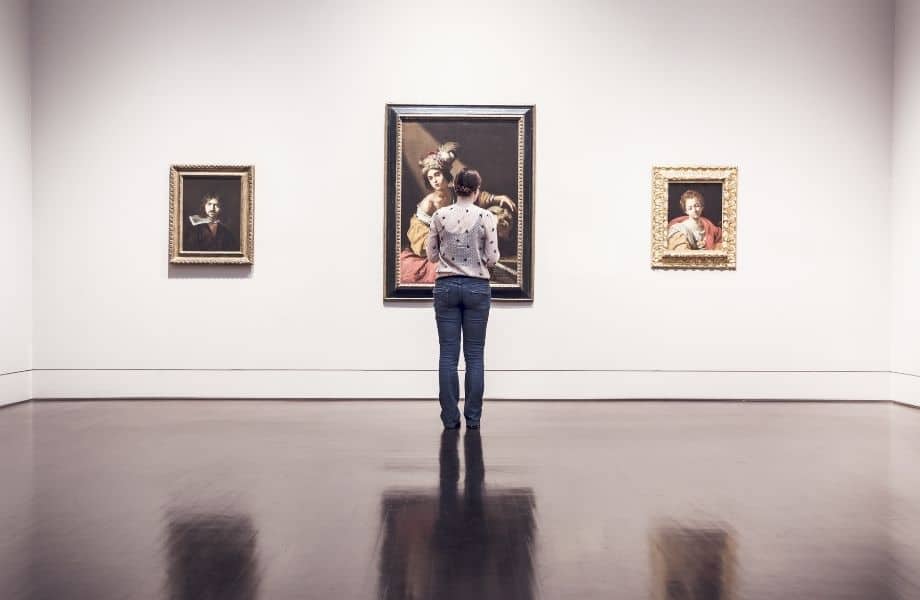 Another one of the best places to see in Liege for art lovers is the Musee Des Beaux-Arts de Liege.
There are around 40,000 pieces within the museum, including 3,000 paintings and sculptures, with dates from the 16th century to modern day.
Most of the art within the museum was donated from three places: The Museum of Modern and Contemporary Art of Liège, The Museum of Walloon Art, and The Cabinet of Prints and Drawings of Liège.
Each of these collections brings its own expertise and specialness to the museum, and will delight different people.
This is why the Musee Des Beaux Arts de Liege is one of the best things to do in Liege for art enthusiasts, as there is something here to love for everyone.
"Belgium Like a Local" Guide: Travel through Belgium like a local
10. Archeoforum of Liege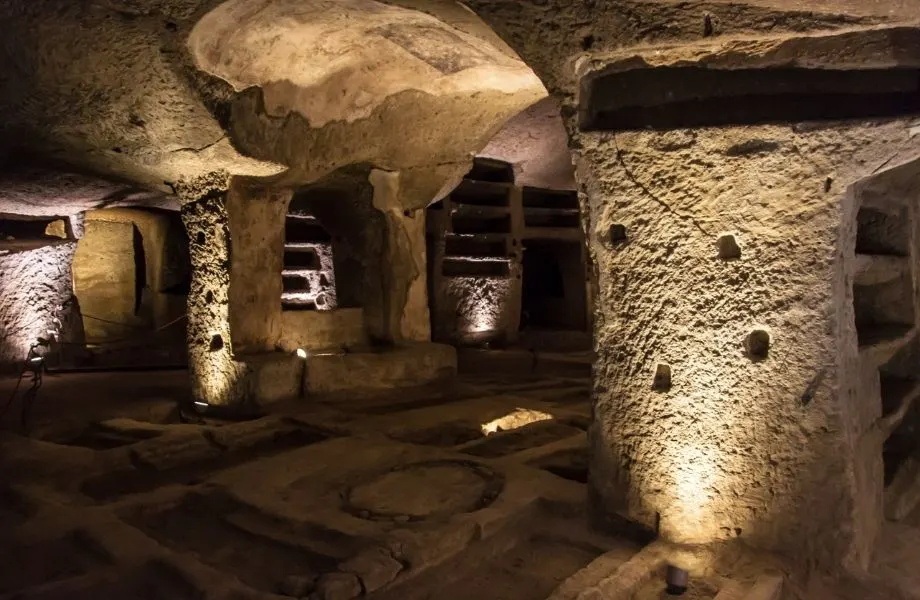 This stunning archaeological site buried beneath the Place Saint-Lambert is one of the best Liege, Belgium tourist attractions.
Walk through history as you discover historical artifacts that date all the way back to prehistoric times through to the modern era!
The Archeoforum is one of the best things to do in Liege for the whole family.
History lovers, of course, will love it here, and kids will enjoy the fascinating old tools and weapons, and getting to explore underground.
If you are looking for fun and unique things to do for one day in Liege, you can't miss the Archeoforum of Liege.
Book here your day trip from Brussels
---
Where to stay in Liège, Belgium
---
General Info to Visit Liege
Geographic situation: Major Walloon city in Eastern Belgium and municipality and the capital of the Belgian province of Liège. Liège ranks as the third most populous urban area in Belgium, after Brussels and Antwerp.
Language: French. English is spoken as well.
Currency: EUR
How to get there: By airplane to Airport Brussels Zaventem or Brussels South Charleroi Airport. Liege has an airport connecting it to a few main holiday destinations.
By train from Brussels, Luxembourg, Cologne, Aachen. Liège is well-connected to the long-distance bus network Omio.
Inhabitants: Liégeois
---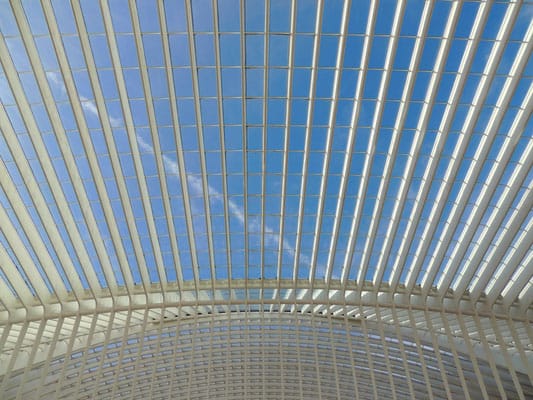 ---
I hope some of these, admittedly very personal, highlights of my favorite things to do in Liège, Belgium could convince you to include this surprising town in your travel plans when visiting Belgium.
It will definitely be worth it… I will only mention Wafffffles… 😉 Even if you visit Liege on a day trip from Brussels.
Get here my ultimate Belgium Like a Local Itinerary
---
Have you been to Liege, Belgium? What was your impression? I would love to hear about the things you loved (or loved less) in the comment form below.
---
Map: Highlights of Liège, Belgium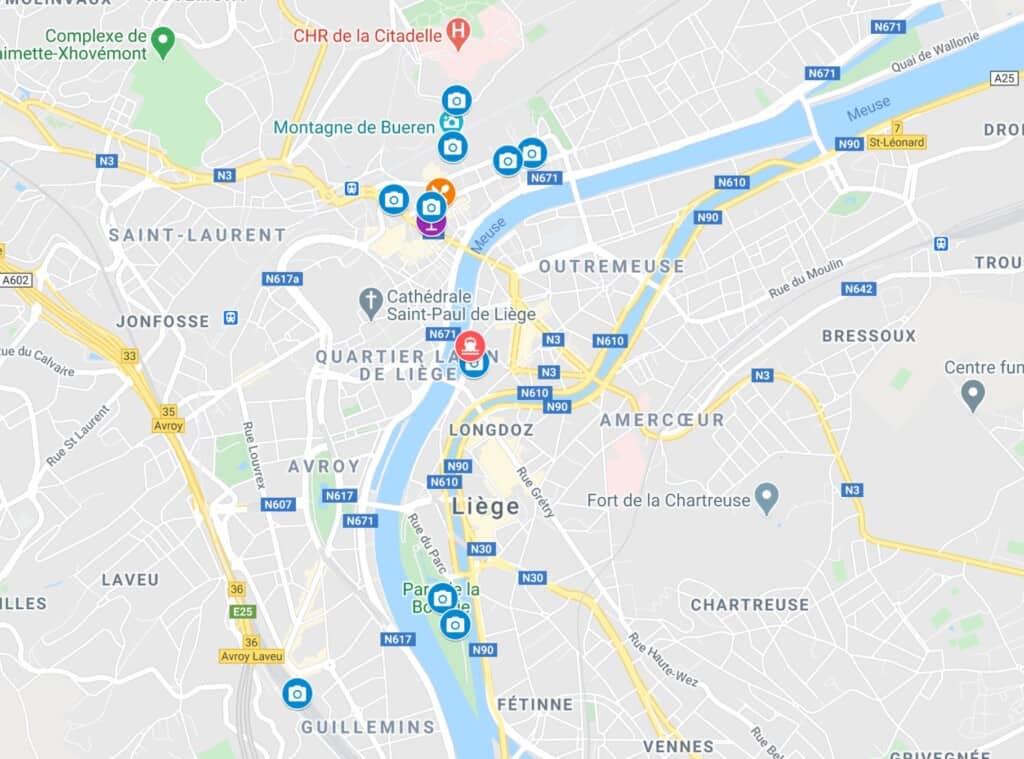 ---
Short FAQ about things to do in Liege
Is Liege worth visiting?
Absolutely! There are a surprising number of things to do in Liege, Belgium, which makes it one of the best day trips you can take from Brussels!
Where is Liege, Belgium?
Liege, Belgium is located in the Wallonia part of Belgium in the Eastern part of the country.
What is a Liege waffle?
Liege waffles can be found throughout Belgium, but originated in Liege, Belgium. What makes a waffle specifically a Liege one is that it has rounded edges AND it tends to be thicker and sweeter due to the way they are made.
What is Liege famous for
Waffles! Liege is most famous for its unique style of waffles!
What are the top attractions to visit in Liege?
There are many great things to do in Liege, Belgium, but my favorite site is the Citadel of Liège! I also love all the art museums and just walking around admiring the beautiful architecture.
---
Like it? Pin it!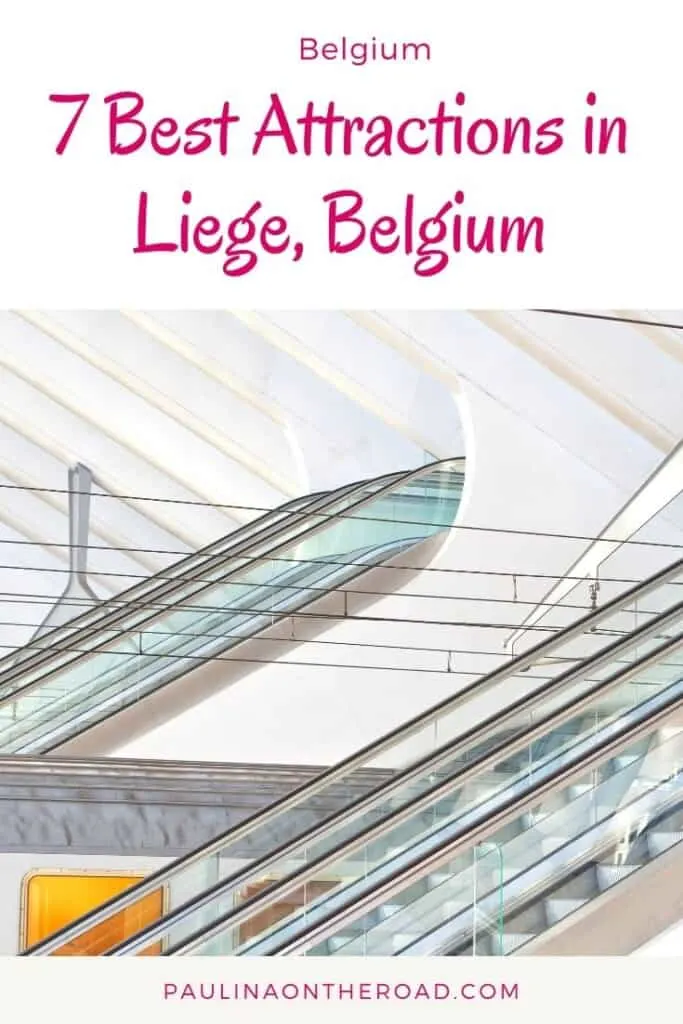 ---
Disclaimer: I have been a guest of the Tourism Board of Belgium. All my opinions, as always, are my own. This posts contains affiliate links. In case you purchase one of the items, I'll receive a small commission. The price remains the same for you.
Some of these pictures have been taken by the talented Laurie Dieffembacq
Hola! I am Paulina, a fervent travelette who crossed the Atlantic Ocean by Boat HitchHiking. On my blog, you'll find all the tips to make the most of your holiday. Get ready to enjoy outdoor and sustainable travel like hiking, cycling or sailing. Let's hit the road together!