Oh Durbuy! You're already one of the most beautiful towns in Wallonia, (Belgium) but during Christmas time your winter atmosphere cannot be described in words!
Durbuy, supposedly the smallest city in the world, is picture-perfect all year round and it remembers you of the villages lost in time that you only see in movies: narrow streets paved with cobblestones, picturesque corners, an 18th-century chateau inhabited by a count,…
But during winter, Durbuy gets a very special charm when it becomes the coziest town in the region and a hotspot for foodies due to its Christmas market. You'll feel the Christmas vibes at every corner of the town.
Let me take you on a winter fairy-tale weekend getaway to Durbuy, in the Ardennes region of Belgian Wallonia.
Read more about the best day trips from Durbuy
---
General Info
Geographic situation: Walloon city and municipality located in the Belgian province of Luxembourg. South Belgium. About one and a half hours south of Brussels by car.
Size: Smallest town in the world? The historic center only counts 50 inhabitants. If you include the inhabitants living outside the old town, Durbuy reaches 350 inhabitants.
Language: French
Currency: EUR
How to get there: Very remote location. The easiest way is by car. The closest train station to Durbuy is in Barvaux. (train line connection Liege to Marloie). Get train tickets here. You can either a)walk 6km following the Ourthe river to Durbuy or b)catch a shuttle to Durbuy or c) the bus line Bus TEC no 10/2 between Remouchamps and Barvaux stopping in Durbuy.
Closest international airports: Brussels – Zaventem, Brussels-Charleroi, Luxembourg-Findel. Get the best flight deal here.
Where to stay in Durbuy
The Guest House: a historic guest house in the old city center. It looks so inconspicuous from the outside, but once you step in, it will catch your breath and you'll not want to leave this homely place. I just mention the chimney in winter and a HUGE bathtub in a medieval, but fully renovated and re-decorated setting. Thumbs up to the interior designer who managed the gap between a medieval, avant-garde, absolutely stylish accommodation.
La Caléche ***: Located in the city center, La Calèche, Hotel & Restaurant boasts 13 modern rooms. I particularly liked their winter chalet, where you can enjoy the finest Belgian cuisine next to a fireplace in a very cozy, romantic setting.
Budget
Hotel La Librairie **
Adventure Valley Sporthouse **
Mid-Range
Hotel La Calèche ***
Hotel Eau de Roche ****
Wellness
Azur en Ardenne ****
Durbuy is the perfect day trip from Brussels, Liege or Luxembourg.
We spent 2 nights in the smallest city in the world which was enough to discover the city itself. But there are plenty of attractions in the immediate surroundings of Durbuy and day trips from Durbuy that I can't wait to write about.
Hotel beds are limited in the historic center of Durbuy, thus I recommend to make your booking as early as possible. (Especially during the Christmas Market and New Year's Eve, Durbuy is very coveted.)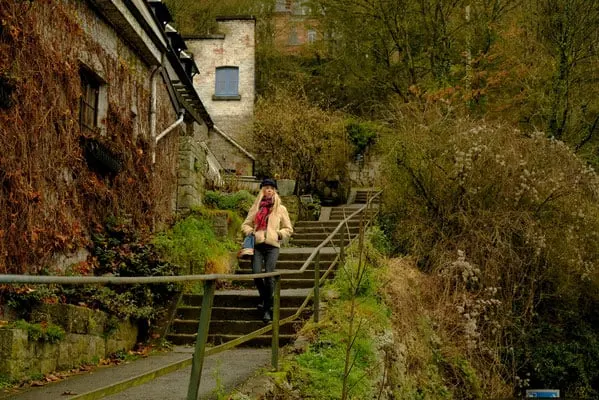 1. Durbuy Christmas Market
Dates of Durbuy Christmas Market in 2019:
From Friday 22 to Sunday 24 November 2019.
From Friday 29 November 2019 to Sunday 05 January 2020.
The Christmas Market of Durbuy is one of the most famous ones in the Ardennes area. No wonder, the medieval town itself is one of the mandatory stops when visiting Belgium, among Bruges, Ghent and Brussels.
Because of its scenic Christmas Market, Durbuy is often considered one of the most beautiful towns to visit in Belgium.
But during Christmas time, when the quaint chalets of the Christmas market are nestling in its narrow streets, all festively decorated, Durbuy becomes a town out of this world. It is without any doubt one of the most magical Christmas Markets in Europe. The Christmas Market attracts people from the bordering countries and regions i.e Flanders, Luxembourg, and France.
As it might get crowded during the weekends in December, I recommend to visit Durbuy's Christmas Market during the week and enjoy the silent Christmas magic.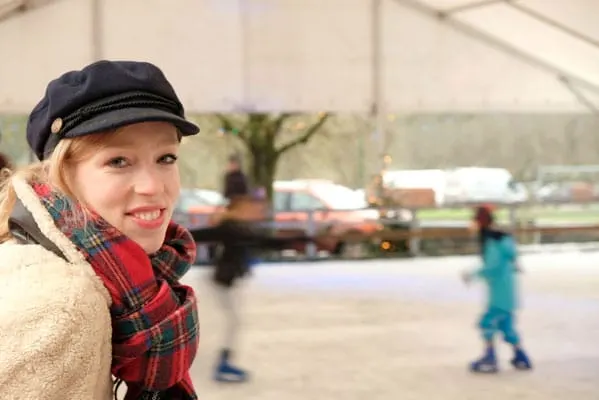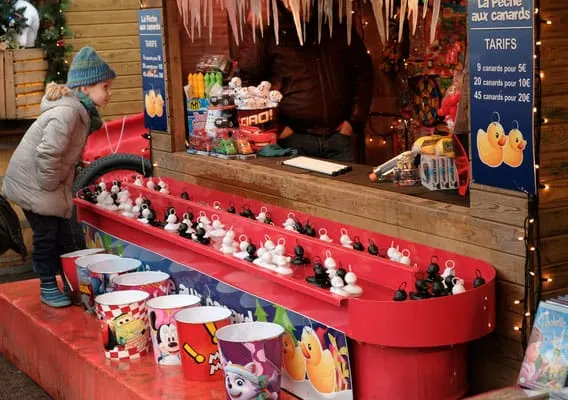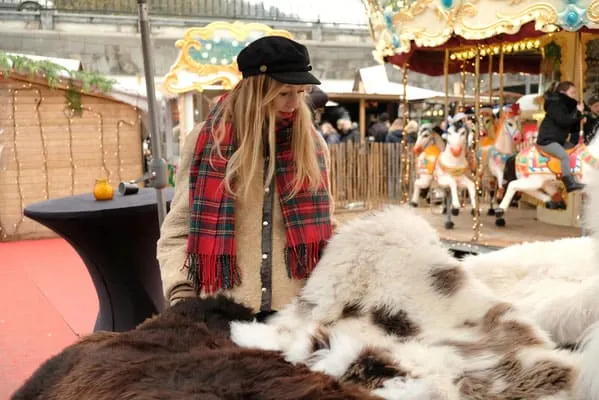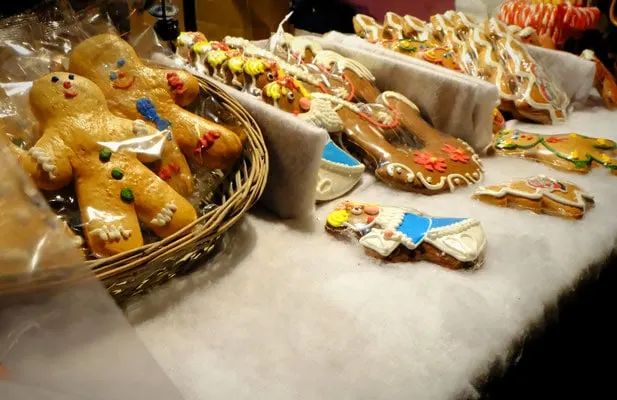 2. Special Food on Durbuy Christmas Market
As on most European Christmas Markets, Durbuy's Christmas Maket is all about eating out! Trust me, you'll eat too much of everything, because all the food stands look so treating and most of the food is artisanally made. Thus, no need to feel too guilty!
Many stands serve traditional, artisanal Belgian food such as sausages from Ardennes, waffles, fries, fruit fritters, regional sweets like cuberdons etc. But you'll notice the French influence too: oysters, foie gras on hot potatoes, champagne chalets etc. It's heavens for foodies and comfort food lovers. In case you want to get rid of some of the calories: there is a skating-rink at your disposal.
The Christmas Market of Durbuy is also the perfect opportunity to get your Christmas shopping done. Artisans from Wallonia and France are selling their best products during the entire Christmas period. You'll be spoilt for choice when it comes to leather goods, earthenware, knitwear and much more…
My favorite place to be was the "Foie Gras on Hot Potatoes" chalet under the bridge Fond de Vedeur. The concept is unique in the region and is much responsible for the international fame of Durbuy's Christmas Market. La Patate au Foie Gras sells its artisanal foie gras on hot potatoes (for only 3€ each) all day long.
During the evening it becomes Durbuy's party place par excellence. Instead of ordering a mug of hot wine you'll go for a bottle of sweet wine or artisanally brewed beer. The staff ensures a great atmosphere, including costumes and dancing performances. This place is legendary!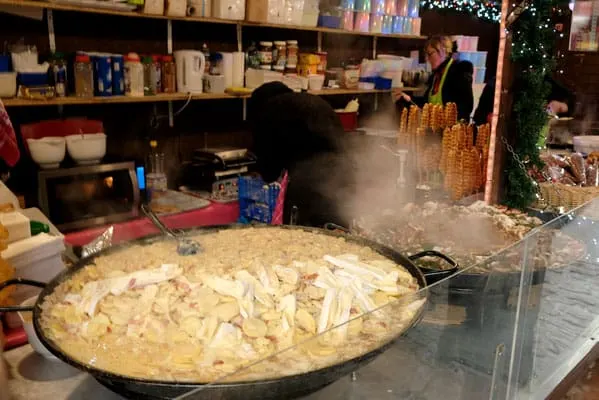 3. The historic center of Durbuy – the smallest town in the world?
Durbuy claims to be
the smallest town in the world
. It remains to be officially confirmed whether it's the smallest or not, but Durbuy is definitely
very
small.
During medieval times, it perfectly could be considered as a town, but today the historic center only counts 50 inhabitants. If you include the inhabitants living outside the old town, Durbuy reaches 350 inhabitants. In 1977, Durbuy amalgamated with 40 surrounding villages. As of January 2017, the total population was a little more than 11,000.
For me personally, a lot of Durbuy's attractiveness comes with its remoteness. You need to drive along winding roads, through mesmerizing woods in Wallonia's Luxembourg Province until you can finally spot the first medieval houses.
When you first spot the impressive castle all of a sudden, you feel like having traveled in time to reach fairy tale Durbuy. Indeed, the castle is considered one of the best castles in Belgium. As we visited in winter, I can only dream about the bright colored autumn foliage or the lush green colors in summer.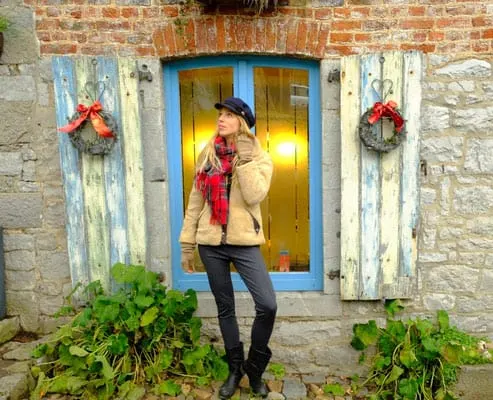 The best way to discover Durbuy is by strolling through its narrow streets paved with cobblestones. I could have spend hours daydreaming about life in such a medieval town. Durbuy boasts numerous shops which sell artisanal food, antique and fashion stores and quirky bars like the Tortuga Bar – Rhum Bar.
One of the most prominent artisanal food shops belongs to Philippe, who sells the famous Durbuy jam, waffles, pâtés, the regionally crafted "Durbuy Z" beer, in one of the quaintest streets, rue Alphonse Eloy.
Durbuy is homely inside out: you shouldn't miss its cozy bars serving hot Belgian chocolate drinks, home-made pastries and pancakes. Is there anything better than getting wrapped up in a soft blanket near a crackling wood fire and treat yourself with hot drinks and fine sweets?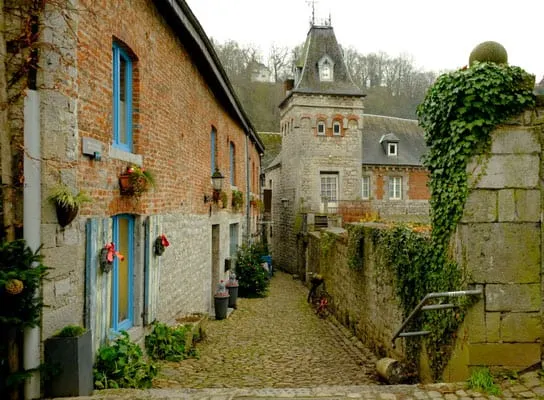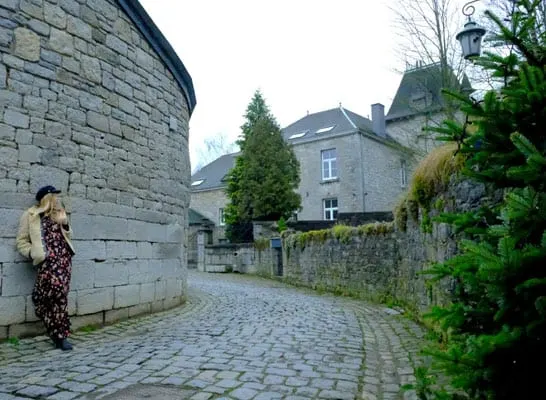 4. Durbuy's Famous Jams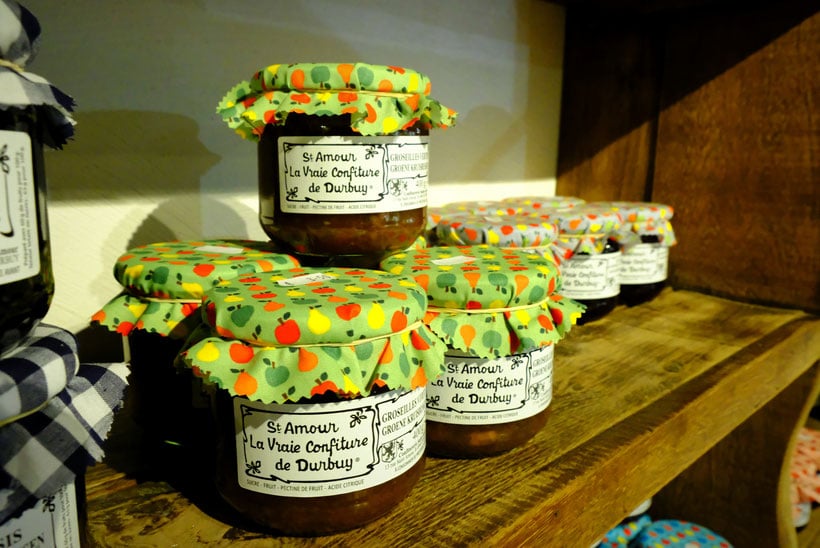 As mentioned, Durbuy is world famous for its
jams
. I've been told that especially the Japanese visitors rave about
the dandelion jam,
the local specialty. Durbuy is a mandatory stop for many Japanese tour organizers and apparently they are stocking up with jams when visiting the smallest town in the world.
In case you want to get a glimpse behind the scenes, I recommend to visit the quaint jam factory of Confiturerie Saint-Amour. Monsieur Philippe Bartholomé runs the family business for 30 years and he starts preparing jams as early as 6 am. He prepares his jams in large, rustic copper bowls following the ancestral recipes and methods.
The workshop is open to the public and they take great care to use seasonal and local products that can be found in the groves, woods and gardens of the Ardennes region.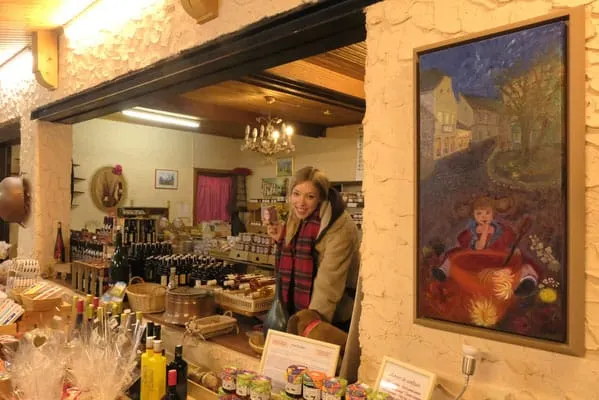 In their little shop you can buy all kind of locally artisanal jams, but also a wide range of personal care products: honey, condiments, specialty beers, aperitifs, liqueurs, sweets, bread of spices, herbal extracts and herbal teas, body care products. They also make massage oils and marigold balm.
Needless to say that I stocked up in beauty products, spices, elderberry syrup and, of course, dandelion jam.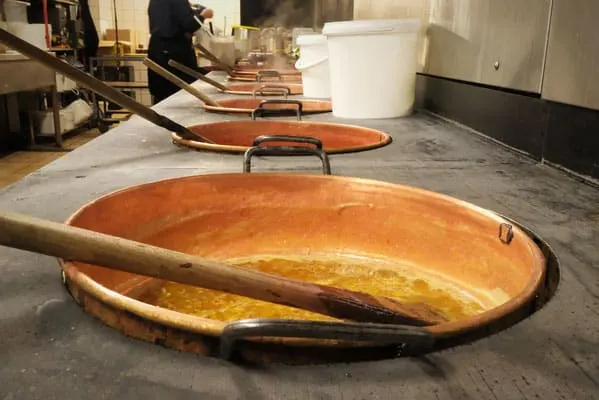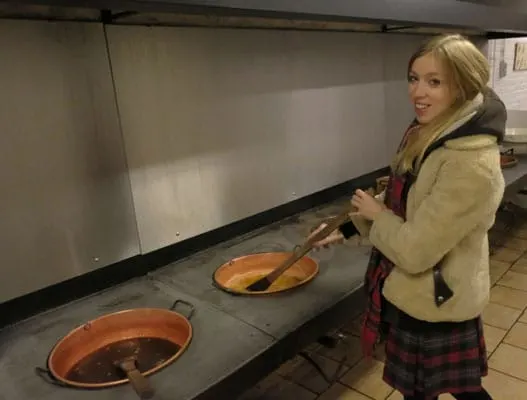 5. Beer in Durbuy
What's a Belgian town without chocolate or beer? That's hardly imaginable! If you're a real foodie, you should also visit Durbuy's local brewery and the Defroidmont chocolate shop.
Can you believe that the smallest town in the world boasts three regional, local brews? The first (and only true) local beer is Marckloff. The amber beer is fermented in the bottle and is unfiltered.
It is truly traditional beer, produced on-site and only sold here. The brewery offers guided tours.
The second 'local' beer is Durboyse but despite its name, it's actually not brewed in Durbuy. Durboyse has been brewed since 1986 at the Brasserie Lefèbvre in Quenast, 100 km from Durbuy.
Finally, the Durbuy-Z beer is brewed by the Lupulus Brewery, 40km away from Durbuy.
Read more on Belgian food in Brussels.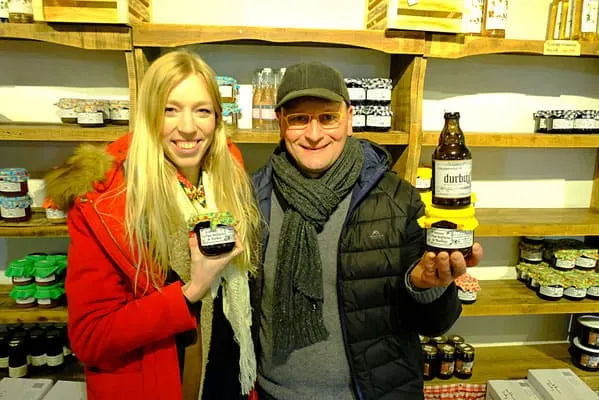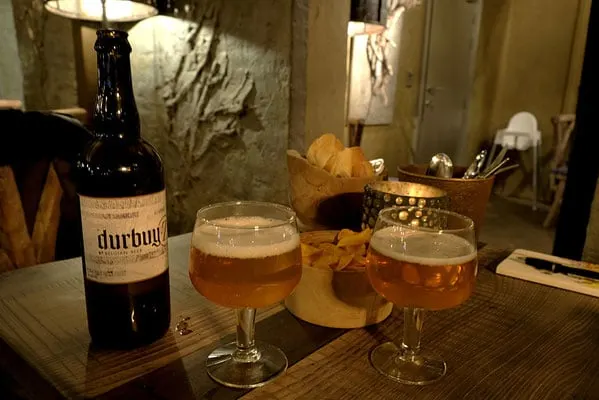 6. Chocolate in Durbuy
A visit to a Belgian town is never complete without stopping by a chocolate shop and tasting the finest
Belgian chocolate delicacies.
The only real chocolate maker from Durbuy is La Chocolaterie de la Ferme des Oliviers.
Another prominent chocolate shop in Durbuy is "Chocolatier Defroidmont" who also owns shops in Amsterdam and Erezée, where the chocolate is made. In Durbuy, their shop is located in one of the quaintest streets of the town rue Alphonse Eloy where you can do chocolate tastings and get information on the artisanal process of chocolate making.
Some of the most inviting treats are dry fruit chocolate blocks, filled sticks with hazelnut praline or almond cream and the ballotins, a high-quality assortment of pralines with fruity, spiced or caramelized notes.
7. Durbuy's Anticline
Besides great food, cobbled streets and cute shops, Durbuy is well-known for its anticlinals. An "anticlinal" is a geological term applied to a U-shaped rock formation. The visible folds were the accumulation of the sea sediment over million of years containing calcium carbonate. More than 50% of the limestone deposited on the granite.
Durbuy's dome-shaped folds are 300 million years old (!) and its summit is the highest point of the town. You should definitely approach the biggest anticlinal, also known as Roche à la Falize or Homalius' Rock, and enjoy mother nature's magnitude.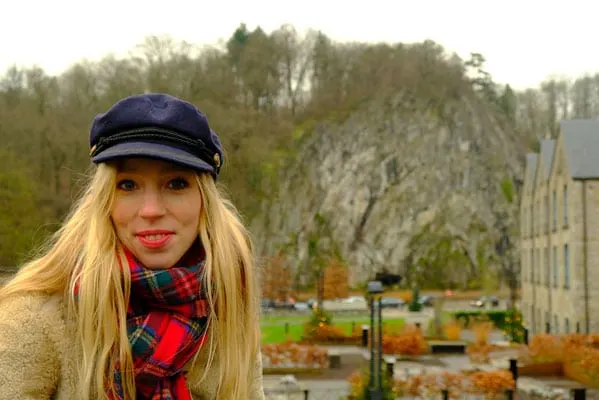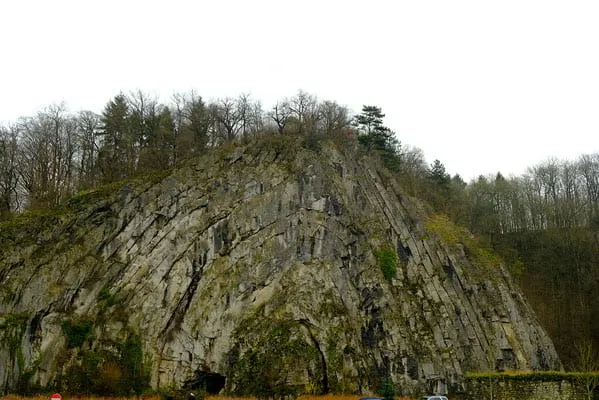 8. Durbuy's Topiary Garden
The Topiary Park is located a short 5-minutes walk from the old town. I absolutely recommend a visit, not only because topiary art is a quirky topic that I knew nothing about, but the garden also has the best views on Durbuy's castle and the surrounding old town. Thus it's the perfect location for photographers.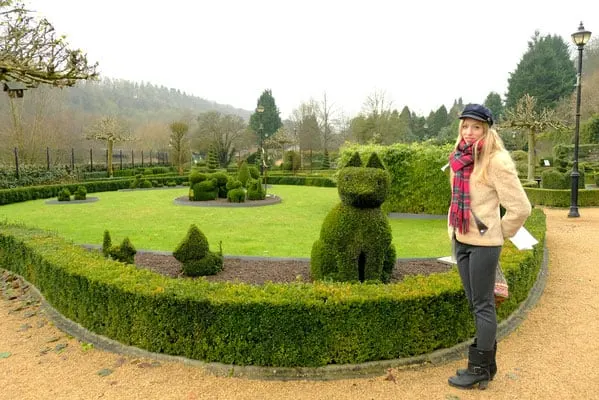 Durbuy's Topiary Garden is dedicated to the art of pruning trees into complex shapes. The majority of the topiaries are box hedges, laurel and cypress. The shapes range from birds and animals to people and abstract shapes. You'll see more than 250 topiaries in the garden. My favorites were a giant duck, the playing dogs and the green Mannekin Pis. Admission is 4.50€.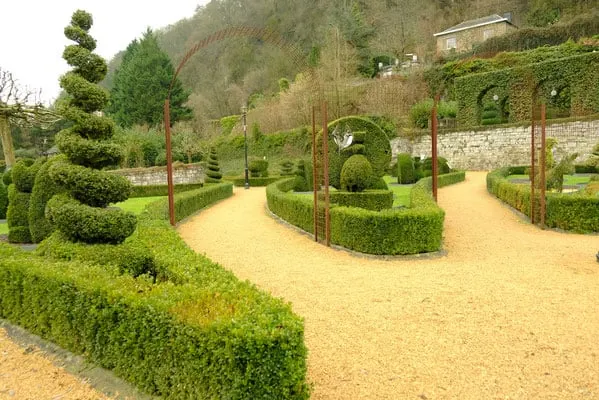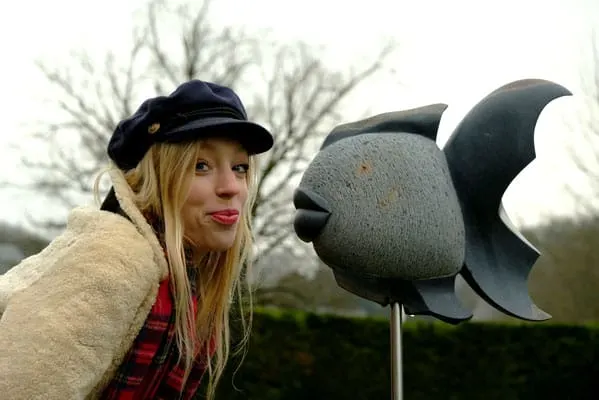 9. Wandering next to Ourthe River
The Ourthe river flows through Durbuy and is much responsible for its charm. Don't you think that water, a river always makes a town or a village always so much prettier?
The Ourthe River is 165 km long and runs in the Ardennes region. Strolling along the Ourthe river will provide you with some of the best views and pictures of Durbuy. It's just a stunning background where you can play around with your photography skills.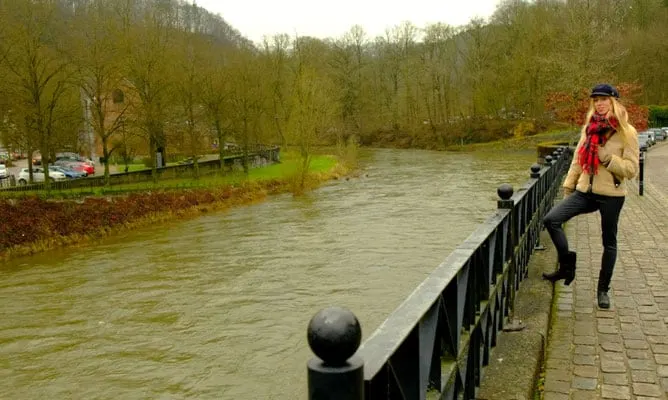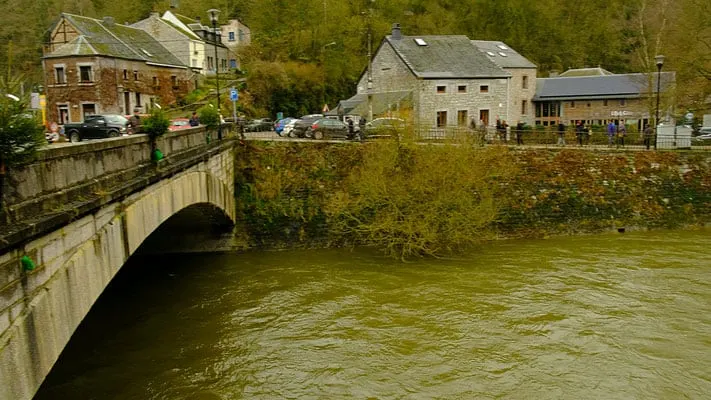 10. Eating Out in Cozy Restaurants
Durbuy boasts an incredible gastronomic offer despite its very limited size. You'll be spoilt for choice!
Obviously, there are restaurants serving typical Belgian dishes like Filet américain, meatballs Liège style or vol-au-vent which you can enjoy at places like Le Grand Café Durbuy.
The surrounding region of Durbuy, the Ardennes, also has a major influence on the menu cards of the smallest town in the world.
People from all over Belgium and beyond travel to the Ardennes region to enjoy the finest dishes of wild game such as rabbit with prunes, young wild boar stew, or venison.
Frankly, I am not a huge fan of wild game dishes, but my travel mate enjoyed them very much. You can enjoy wild game at restaurants like Saint Amour or Le Parc Durbuy.
But avant-garde cuisine is also represented in Durbuy. At La Bru'sserie by Flemish chef Wout Bru, it's all about tapas and sharing food with flavors from around the world.
Set in a trendy, very atmospheric setting, the cooks are preparing the meals in front of you.
We had the Hamashi ceviche with a pumpkin, lime, and passionfruit dressing, poached egg with truffle potato espuma and Iberian ham; followed by Nobashi Tempura with Curry and cod carpaccio with lemon gel and brown butter sauce. Definitely one of the places in Durbuy to have a gastronomic experience.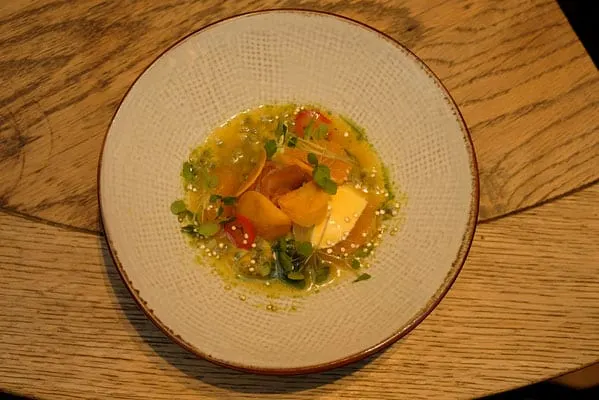 My two favorites were Saint Amour and Sept By Juliette.
Sept By Juliette is also about tapas, but incorporates mostly Belgian influences. Thus their suggested menu starts with a selection of Franco-Belgian delicacies such as country terrine, smoked salmon bruschetta, mushroom cappuccino, sea scallops a la plancha and camembert potato.
This was only to start with and it made me realize once more that Belgian food always comes in large portions. As tradition demands, the main was a deer stew…. Which I couldn't even finish! The setting is absolutely cozy, the staff super attentive and we simply had a lovely dining experience in the heart of Durbuy's old town.
If you love homely, warm-hearted places in winter, Restaurant Saint Amour is made for you!
Saint Amour means as much as "holy love", the place combines utmost romantic comfort and conviviality with delicious food. The restaurant is managed by two sisters, Colette and Chantal, who will take great care of you.
I suggest getting your aperitif at their cozy winter chalet and enjoying the Christmas-winter vibes. We started with a salmon tartar, lobster bisque and Ardennes terrine followed by young wild boar stew, duck steaks and fish symphony.
The food quality and the presentation were impeccable. Again portions were huge! And we still hadn't made it to the deserts… We got treated with Belgian chocolate mousse, and pineapple carpaccio with basil sorbet…
It was definitely the best place to finish our christmassy visit to Durbuy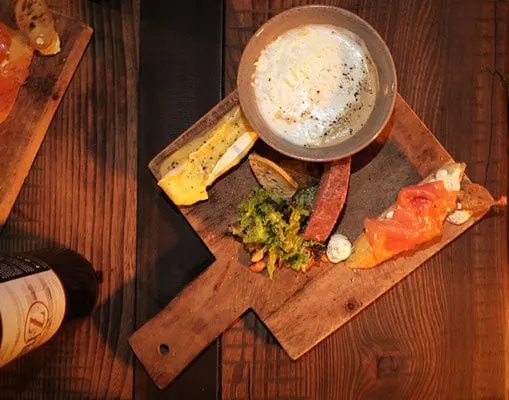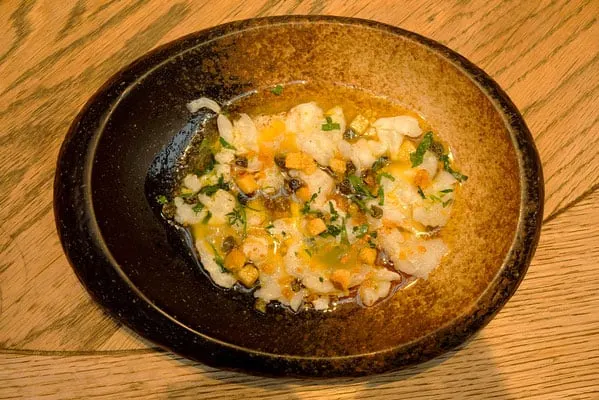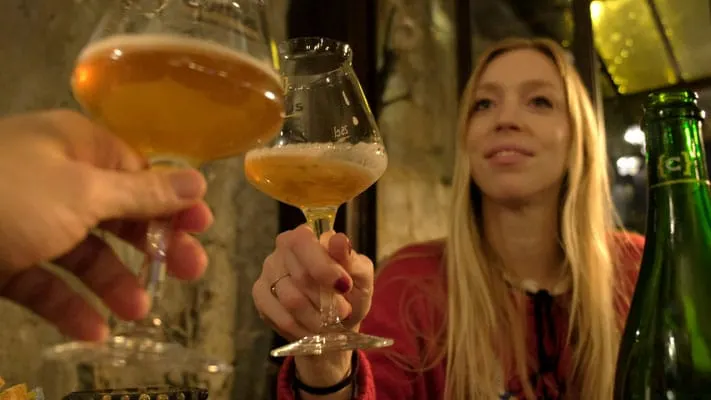 ---
Durbuy and the surrounding area are a great destination for eco aware and sustainable travelers. The Ardennes region boasts hundreds of hiking trails in Belgium and in most restaurants in Durbuy, you can find local and seasonal products.
---
Map of Durbuy, Belgium
As you see there's plenty of things to do in the smallest town of the world. If you'd ask me for my favorite, I'd definitely go for the
cozy bars
and
Durbuy's warm-hearted people
. They have this ability to make you feel instantly at home and I had a few good laughs with them. The
Belgian sense of humor
paired with their candor is just unbeatable.
Have you been in Durbuy (Belgium)? How was your experience? I would love to hear about it in the comment form.
---
---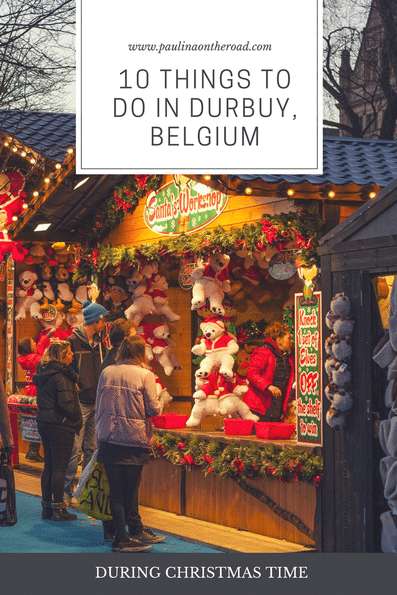 ---
In order to get more information on tourism in Durbuy, I recommend the site of Tourism Board of Durbuy
---
Disclaimer: I have been a guest of the Tourism Board of Durbuy. All my opinions, as always, are my own. This posts contains affiliate links. In case you purchase one of the items, I'll receive a small commission. The price remains the same for you.
---
Hola! I am Paulina, a fervent travelette who crossed the Atlantic Ocean by Boat HitchHiking. On my blog, you'll find all the tips to make the most of your holiday. Get ready to enjoy outdoor and sustainable travel like hiking, cycling or sailing. Let's hit the road together!