Post written by Amy Alton
Our home all alone in Beveridge Reef
In 2009 my dad took my future husband, David, out sailing.
This bonding trip planted the seed in my husband's mind that would eventfully become the idea to sell off my business, quit his job, and buy a boat, Starry Horizons, taking off for a 6-year circumnavigation.
Although David and I were both well traveled prior to this trip, having a sailboat has opened us up to an entirely new way to travel that we have fallen in love with.
---
---
1. Your Sailboat is somewhere between a Suitcase and Real Estate

Look at all those floating homes in Nuku Hiva French Polynesia
Bringing luggage onto the plane is getting more complicated every year. Between luggage sizes and checked bag fees, most travelers are restricting themselves to one carry on bag and one checked bag.
On the opposite side of the spectrum, the average size of a house in America is 2,687 square feet. Think about how much stuff we are putting in these homes!
Sailboats, while significantly smaller than homes on land, allow us to bring a lot of items with us on our travels.
A good portion of our boat is stocked with sailing-related items such as spare parts and safety gear, but beyond that, we can travel with a full wardrobe of clothes, the comforts of home, and all the trapping for our favorite hobbies such as dive gear or photography.
2. A sailboat can take you to remote places impossible to reach via plane
Amy and David meeting the 90 year old chief of Fulaga
In our three years of travel, we've been fortunate enough to experience a handful of locations that are incredibly remote, even as far as 150 miles to the nearest airport.
Beveridge Reef is 150 miles from Niue, and is a small atoll in the Pacific Ocean.
There's no land here, just a reef creating a protected barrier from the surrounding Pacific Ocean. The water is crystal clear with a sandy bottom, perfect to anchor all by yourself for a few days.
Fulaga is a small island in the south east of Fiji. The nearest airport is Lakeba, 65 miles to the north. The villagers are connected to the outside world through a satellite link at the village school and a supply ship that comes irregularly. Visiting yachts are given a host family, which provides a connection to the village and welcomes them into the culture of the village – local food traditions, wood craving, and kava ceremonies.
There are dozens of other examples of spots cruising boats frequently visit that have infrequent contact with the outside world.
3. The Cruising Social Life is easy
Watching sunset with friends in New Caledonia
When coming into a new anchorage, it is
easy to make new friends.
The common bond of cruising ensures that conversation never runs dry, as topics run from boat design, memorable passages, notes on the local produce market, to directions to the nearest coral reef.
Sundowners is the honored sailing tradition of imbibing a cold beverage as the sun sets with your new best friends.
4. Experience the Vastness of the World
Starry Horizons out in the middle of the Pacific Ocean
While out on passage, we often spend days (or even weeks) not seeing another soul.
It's nothing but blue sky and deep blue ocean as far as the eyes can see.
The lack of light pollution makes passages ideal for spotting pinpricks of light like the milky way above us or the tiny luminescent organisms in the water that light up our wake below us.
5. See Nature in the Wild
Amy swimming with humpback whales in Tonga
Thanks to the remote locations we visit and the fact that we are literally ON the water, we encounter amazing marine wildlife.
In Tonga, we swam with humpback whales, watching a baby whale learn to breach over and over again, splashing, playing, and showing off for us.
Manta rays swam under our boat in French Polynesia, feeding on the tiny sea life attracted by our lights.
We've seen more dolphins and flying fish than we can count. Snorkeling is usually just a quick dive off the boat and gets us close encounters with octopus, sea turtles, and a plethora of rainbow reef fish.
6. Pick up New Skills
These two delicious tuna gave us over 48 servings of meat
It takes a baseline of boating skills to be able to set out on an adventure like cruising.
Without an understanding of navigation and boat safety, the lives of the persons onboard are at risk. However, once you have the baseline skills and feel comfortable with your vessel, the learning doesn't stop!
Learning sailing never stops no matter how long you've been sailing, as there are always new scenarios that come up and new challenges to overcome.
There are also a lot of skills to be learned outside of sailing. Electrical systems, diesel engine maintenance, and knot work are all tangential, but how about fishing, bird identification, and learning new languages?
7. Slow travel is Comfortable
Swimming with sea turtles in New Caledonia
There's no need to put your seat backs and tray tables in the upright and locked position.
While moving from place to place, we may sacrifice time, but we are spared the panic of traveling on a schedule other than our own. We don't rush to get to the airport or deal with traffic.
The only constraints on our schedule is the wind and our visas.
Furthermore, a lot of the places we have been to are pretty cheap once you arrive.
Anchoring is free, and not having to cover the costs of accommodations means a trip to a country like Fiji for 4 months is financially feasible.
---
---
About the author…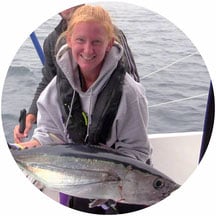 It's been 3 years since we took off sailing in our boat, and our lives have taken on a surreal quality since then. So often we turn to each other and remark how wonderful traveling by boat has been for us.
You can follow our adventures at OutChasingStars.com, or on Facebook or YouTube .
Thanks for reading! – Amy
Hola! I am Paulina, a fervent travelette who crossed the Atlantic Ocean by Boat HitchHiking. On my blog, you'll find all the tips to make the most of your holiday. Get ready to enjoy outdoor and sustainable travel like hiking, cycling or sailing. Let's hit the road together!