5 Heavenly Locations to Enjoy Real Belgian Food in Brussels (Belgium)
I am just back from a longer weekend in Belgium and I must say, Belgian people know how to eat well and A LOT. Even days after my 3 days stay, I can still feel the tensioning sensation of my belt…
Many of you might think that Belgian food is just about fries, beer, and chocolate. Well, you are not totally wrong but don't commit the mistake to think that the Belgian world of fries, beer, and chocolate is plain and simple. Nothing less than that!
Let me take you on a foodies tour through Brussels where the art of beer brewing and chocolaterie is raised to a new level. Read on to find a selection of my favorite places where to eat Belgian food in Brussels.
About being Sustainable Foodie Traveler
You might think about how a post about food and restaurant goes along with my topic of eco-friendly and slow outdoor travel? Well, first of all, gastronomy is for me a crucial part of a culture. As I always try to get to know a foreign culture in all its facets, food plays an important role as it tells you a lot about the history and "character" of a society.
Secondly, all the featured locations in this post focus on slow cooking or using local and/or seasonal products. If not possible, all of them try at least to investigate the origins and production standards of their prime material. None of them does mass fabrication of their products.
Indeed a complex, creative and even scientific world hides behind each of the famous Belgian food topics. The masterminds behind fries, chocolate & beer are true scientists and experts in their niche whose creations have nothing in common with the industrial mass production that we, who devour chocolate in ordinary mortal countries, are used to eat.
Today I want to share with you my favorite must-eat places to eat in Brussels. All of them don't only serve top-notch creations, but they mostly stand and fall with the creative and passionate minds behind them.
Without any doubt, the creative brains behind the recent chocolate and beer creations, are fervently looking to innovate and liven up the traditional Belgian food segment. Even if you only have 1 day in Brussels, you need to taste its food! Before, read these tips for a food travel experience.
Whereas some of the featured locations are real Belgian institutions, others were only created recently and already gained fame all over the globe.
Don't miss other foodie cities in Belgium like Antwerp or Liege, the city with the 5 names.
General Info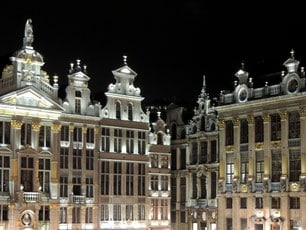 Geographic situation: Brussels, capital of Belgium is the geographic and political heart of Belgium. Also known as one of the European capitals as it hosts numerous European institutions
Language: Bilingual French & Flemish (similar to Dutch). English is widely spoken
Currency: EUR
How to get there: By airplane to Airport Brussels Zaventem. By train from Luxembourg, Paris, Cologne or the Netherlands. Recently long-distance buses are connecting Brussels to other large cities in Germany and France.
Inhabitants: Bruxellois or Van Brussel (large expat community though)
I recommend to get your Brussels Card to enjoy free access to 30 museums in Brussels, get free use of the public transport system and much more
Where to stay in Brussels
1. Chocolatier Laurent Gerbaud
Laurent Gerbaud is one of Brussel's chocolatiers that is determined to extend the classic image of fine Belgian chocolate to a creative and innovative level. Monsieur Gerbaud's shop is located close to some of Brussel's most popular sights like the Musée Magritte or the Royal Square. From the outside, his place looks rather inconspicuous, but as soon as you step in, you'll realize you're in chocolate heaven.
Monsieur Gerbaud doesn't only sell exotic chocolate creations, but he also holds workshops in the atelier right next to the shop. Here he explains in his passionate way, why chocolate is much more than the mass production that we are used to devouring day by day.
We experienced a real voyage via our sense of taste through the complex but fascinating world of chocolate. Monsieur Gerbaud's lays a focus on the importance of knowing the origins of what you eat and challenges your traditional ideas of how chocolate has to be by indulging you with creations including ginger, dried fruits or exotic nuts. Of course the orangette, a Belgian chocolate classic cannot to be omitted.
Laurent Gerbaud's innovative understanding of chocolate can't be understood without his expat experience in China. After studying Medieval Studies (!), he went to China because he was madly fascinated with Asian culture. But the Asian taste was totally different from what he was used to eat Belgium. There was no dessert culture (at that time), they hardly ate any butter or sugar…
What a trauma for a young student coming from a country with the finest chocolates in the world!
Needless to say that Monsieur Gerbaud was missing the Belgian chocolate culture.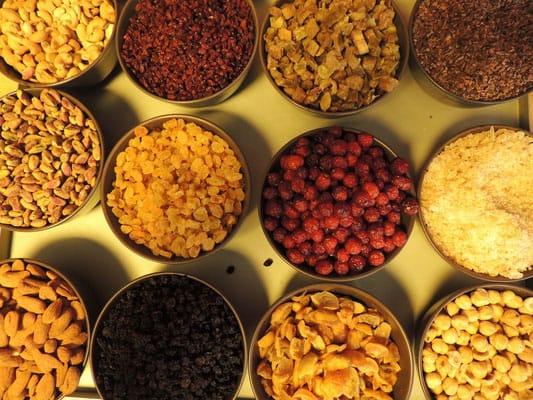 He started elaborating his very own chocolate in his student apartment and selling his creations to expats and embassies. His tasteful chocolates became more and more successful until he decided to return to Belgium and open up his little paradise for chocolate lovers. Thus many of his creations, even his logotype, reflect his Chinese legacy: low fat, as little sugar as possible, daring ingredient combinations…
For all those who want to get a deeper insight into the intricate world of Belgian chocolate and slow food, experiencing a chocolate workshop with Monsieur Laurent Gerbaud is a must!
Where: 2d, rue Ravenstein – 1000 Brussels- Belgium
Contact: +32 2 511 16 02 – [email protected]chocolatsgerbaud.be – www.chocolatsgerbaud.be
---
---
2. The Brussels Beer Project
Of course, you must include a beer stop in your visit to Brussels since beer is as inseparable from Brussels as chocolate. You'll be spoilt for choice between fruit beers, dark beers or abbey beers. All of them have something in common: they have a very long historical background. Some even go back to the 15th century.
Do you want to taste a beer that represents today's cosmopolitan Brussels? Then, head to the Brussels Beer Project!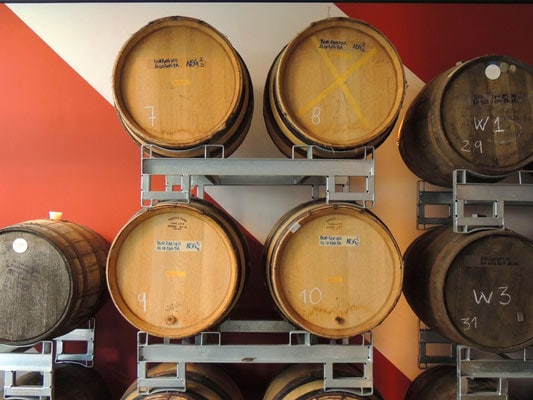 The idea of innovating and spicing up the traditional Belgian craft beer brewing scene could come to life thanks to crowdfunding. They opened up their headquarter in the heart of Brussels including a bar, a shop and the brewery. You can actually enjoy your beer right next to the brew kettles.
The Brussels Beer Project aspires to reflect the bold and vibrant character of Brussels today. They produce only a limited quantity but in a variety ranging from Pale Ale to Double Chocolate Salted Imperial Stout. I mean, have you ever tried Oyster Stout with Oysters from Brittany?
Or an Aztec Dry Stout infused with Chipotle Chile & Cocoa Nibs?
The project lays a special focus on the communal aspect: everybody can participate in the selection of the brewery's best creations by promoting one recipe that was particularly popular. They also organize private beer tasting sessions where you can immerse in the fascinating world of bold beer brewing.
I especially liked their idea of recycling old bread to create a new beer. There is even the ambitious project of making bread with the residues of freshly brewed beer, which would perfectly close the beer/bread circle. What a ground-breaking concept! The vibrant colors of their beer labels particularly stole my heart.
Where: Dansaert 188 – Brussels – Belgium
Contact: [email protected]beerproject.be – www.beerproject.be
3. L'Ecailler du Palais Royal
L'Ecailler du Palais Royal (in English: who scales the fish or opens the oysters at the Royal Palace) is literally hidden behind imposing brick walls on one of Brussels' oldest squares: Le Sablon. But from the moment you enter the dining room, you'll feel how, little by little, the cozy atmosphere will conquer you. This ease will not release you until the very end of this culinary experience.
Warm blue colors in combination with dark wood and turquoise velvet-covered bench seats give the interior a snug club comfort. The dedication and affectionate service of a well-coordinated team let you forget about all your worries and just care about the real pleasures in life: treating yourself with the freshest seafood, elaborated local fish menus and crustaceans.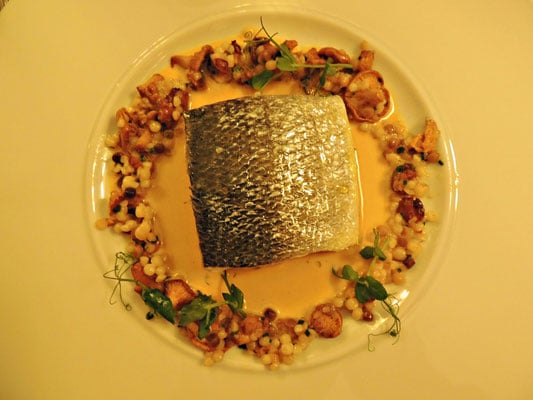 L'Ecailler du Palais Royal is a real institution in the gastronomic scene of Brussels as it combines refined cuisine with a tranquil setting since 1967. Since then it welcomed royal families, politicians and celebrities alike in its 17th-century house.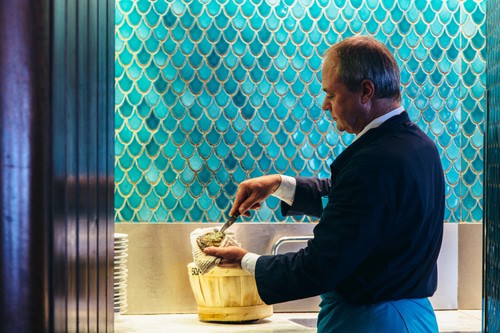 During my dining experience, they served exquisite creations with enchanting names such as "Red Tuna Bonbon with Crab Meat and Guacamole" or "Bream in creamy chanderelles sauce". It would be a cardinal sin to skip the desserts! I went for the "Passion et Chocolat Intense" joined by a sweet "Grenache" wine … and I was the happiest chocolate girl in the world!
As I am a huge tea lover, I was really amazed to choose from their extensive tea menu card. Without any doubt, this is one of the best places to eat in Brussels, especially for fish lovers.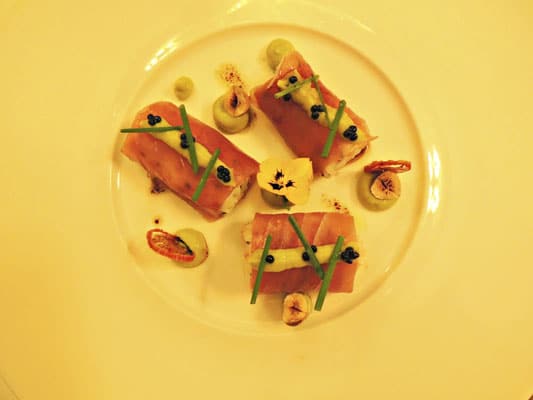 It's the perfect place for those who want to experience a more refined version of Belgian cuisine especially as the Belgian classics like shrimp croquettes and baby soles from Zeebrugge also figure on the menu of L'Ecailler du Palais Royal.
Where: Rue Bodenbroek 18, Brussels, Belgium
Contact: +3) 2 512 87 51 – www.lecaillerdupalaisroyal.be
4. Brasserie Taverne du Passage
Taverne du Passage inside the Galeries Royales. Photo by Taverne du Passage
Well protected under Brussels' prettiest glazed shopping gallery, Galeries Royales Saint-Hubert, Brasserie Taverne du Passage is a real institution in Brussels' gastronomic scene. Its art-déco interior design will immerse you in past times. It also reminded me a bit of the typical brasseries that you expect to see in Paris.
The staff was very attentive and seasoned with a good sense of humor. It's easy to see why Brasserie Taverne du Passage seems to be popular especially among the local population: you're in Brussels' city center but protected from the tourist crowds. And its warm-hearted atmosphere lets you feel like in a cozy living room.
During our visit, we shared the dining room with elderly couples, who seemed to come here on a regular basis. In my eyes, there is no better evidence for long-lasting quality than a grandma who knows where to get the best food!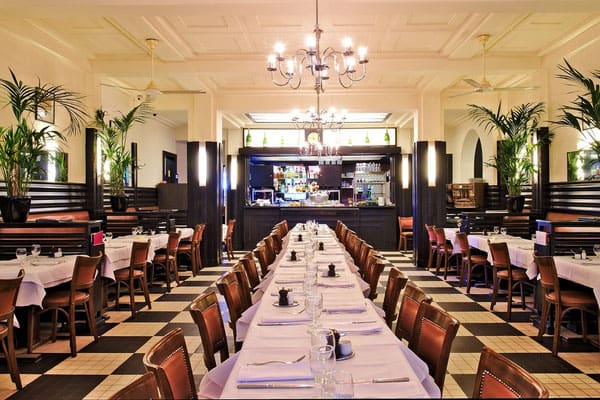 Apparently, even Angela Merkel, the German chancellor, enjoys dining in Brasserie Taverne du Passage when she is in town. Nothing better than some real Belgian fries to disconnect from a hectic EU summit and meeting schedule, right?
Traditional Belgian and French plates are the specialty of Brasserie Taverne du Passage. They also seem to be adept of serving quantity in the plate: pots full of fresh mussels, huge shrimp croquettes and the most creamy mousse au chocolat ever. Soulfood but with premium and local ingredients.
If you want to get the authentic, "good old Brussels" dining experience in an art-déco setting, then you'll love Brasserie Taverne du Passage.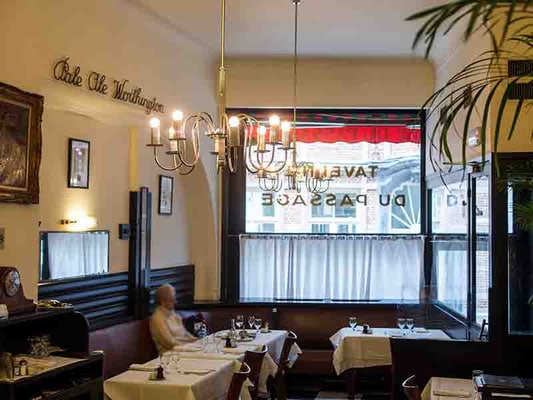 Book here your table at La Brasserie du Passage

Where: Galerie de la Reine 30 – 1000 Brussels
Contact: 0032 2 512 37 31 – www.taverne-du-passage.be
5. Restaurant Rooftop Musical Instruments Museum
View on the Grand-Place from the restaurant Museum of Musical Instruments
The Museum of Musical Instruments is set in Brussels' emblematic (and also probably most beautiful) building: the legendary "Old England" House, in the heart of Brussels. I know, I might use a lot of superlatives in this post, but that's because we only got to see the best that Brussels has to offer. 🙂
The Museum of Musical Instruments is one of the cultural institutions that form together with the Mont des Arts, Brussels' Museum district. Get your fast track ticket to the Museum of Musical Instruments.
The restaurant is located on the rooftop of the Museum from which you'll enjoy the best view all over the historic center of Brussels. The Grand-Place seems to be at a stone's throw, the Royal Palace as well and on sunny days you can even spot the Atomium or the emblematic Koekelberg church.
This place already seems to be very popular among tourists, thus if you want to get one of the few window seats, you better book in advance.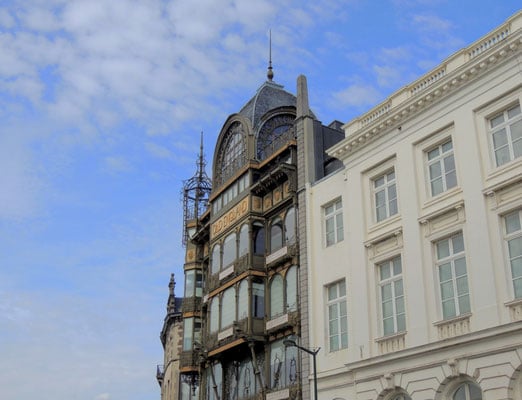 The cuisine serves traditional Belgian and international dishes at reasonable prices. The menu changes according to the seasons. I went for the Filet Américain, which is a must when you visit Belgium. It is basically raw meat seasoned with several spices, vinegar, eggs, onions, a pinch of garlic, capers, Tabasco, mayonnaise… There is no fixed Filet Américain recipe and it can be seasoned to everybody's liking.
The rooftop terrasse of Brussels' Museum of Musical Instruments is also the perfect place in case you want to disconnect from the sightseeing and the tourists crowds. Enjoy a glass of cava while allowing your thoughts to fly away over Brussels' sky.
Where: 2, Rue Montagne de la Cour – 1000 Brussels
Contact: +32 2 502 95 08 – www.mim.be
Extra: WAFFLES in BRUSSELS!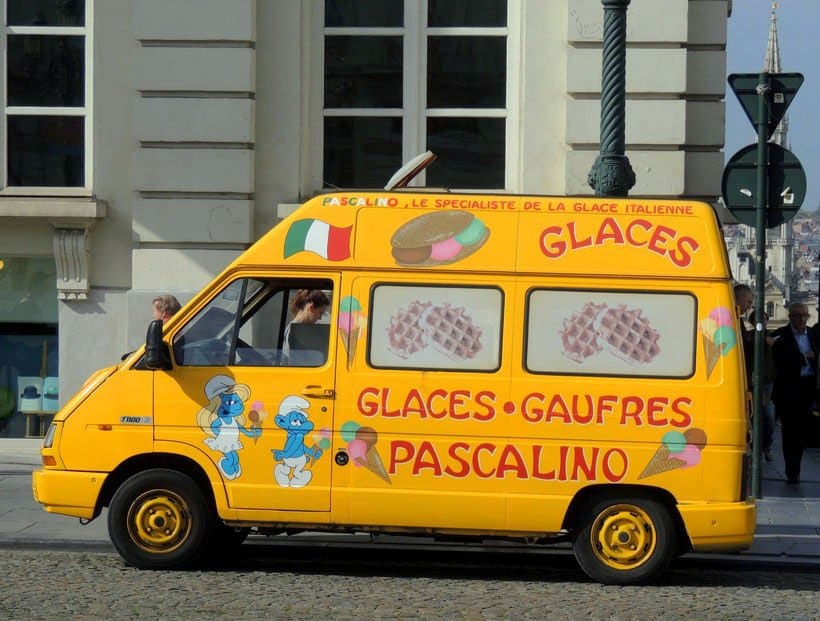 Of course, you can't leave Brussels without having a waffle (or many more as in my case)!
There are 2 kinds of waffles, the ones from Brussels and the ones form Liège (a town in eastern Belgium).
The ones from Brussels are thin, with yeast-leavened batter which makes them lighter. The waffles from Liège have a batter that is similar to bread dough. Chunks of sugar are hidden inside the dough of Liege waffles which caramelize with the heat and give the waffle its golden color. The Liege waffle is chewier whereas the Brussels waffle is a little bit more crispy.
Luckily you can get Liege waffles in Brussels too!
Whereas every Bruxellois might have its favorite spot to get the best waffles in town, I really like to get mine at the little yellow food trucks. You can smell them miles away! On top, they remind me of my studies in Brussels, when the best reward of a long linguistic course, was a delicious warm waffle.
Have you tried waffles in Belgium? Which one did you prefer? Brussels waffle or Liège waffle?
---
More Foodie Activities in Brussels
Map: Where To Eat Belgian Food in Brussels, Belgium
---
[/fusion_text]
[/fusion_builder_column][/fusion_builder_row][/fusion_builder_container]
---
Have you been to Brussels? What were your favorite foodie hot spots to enjoy real Belgian food? I would love to hear about them in the comment form!
***
You're a foodie and you're totally convinces that you HAVE to visit Brussels to treat yourself? Well, here are 99 reasons more why you should consider traveling to Belgium: Belgium, Uniquely Phenomenal
***
In order to get more information on tourism in Brussels, Belgium, I recommend the site of Tourism Board of Brussels.
---
Disclaimer: I have been a guest of the Tourism Board of Belgium. All my opinions, as always, are my own. This posts contains affiliate links. In case you purchase one of the items, I'll receive a small commission. The price remains the same for you.
---