10 Things To Do on Knokke Beach, Belgium
A travel guide to the best places in Knokke, incl. beaches, restaurants and hotels in Knokke

For most of the Luxembourgish people, the Belgian coast is the place where they spent all their holidays during their childhood. Therefore, some might despise it for being too simple, too average or not exotic enough. Well, there are plenty of things to do in Knokke Beach, Belgium!
I have to admit that I visited Knokke, also known as Knokke-Heist, with the same expectations. I've been to the Belgian coast several times and I plead guilty for thinking that getaways to the Belgian coast are all about being lazy and hanging at the beach. Thinking to myself "What's a better location to relax than a place where you've seen it all anyway?".
Well, it all came differently and I ended up discovering the Northern part of the Belgian coast with new eyes. Let me take you on a long walk on Knokke's (Belgium) vast beaches, foodie heavens, and its fancy shopping miles!
The photos of this post are not edited as I wanted the natural beauty of Knokke's beaches to come out and at the end of the post, you'll find a map with all the mentioned sites in this article.
Disclaimer: This post contains affiliate links. In case you purchase one of the items, I'll receive a small commission. The price remains the same for you.
Top Resources to travel Belgium
⚘ Avoid tourist traps and get the "Belgium Like a Local" itinerary for less than 10€. Buy here

✈ Book cheap flights to Belgium with Skyscanner

✔ Book tours in Belgium with GetYourGuide

➳ Find the best hotel deals in Belgium with Trivago

❖ Rent a car with the best discounts at DiscoverCars

✎ Never leave without travel insurance. I got mine at HeyMondo. It is cheap and easy to set up.

$ Withdraw money without hidden fees and avoid exchange rates with Wise (you'll get a free card on top!)
What makes Knokke different?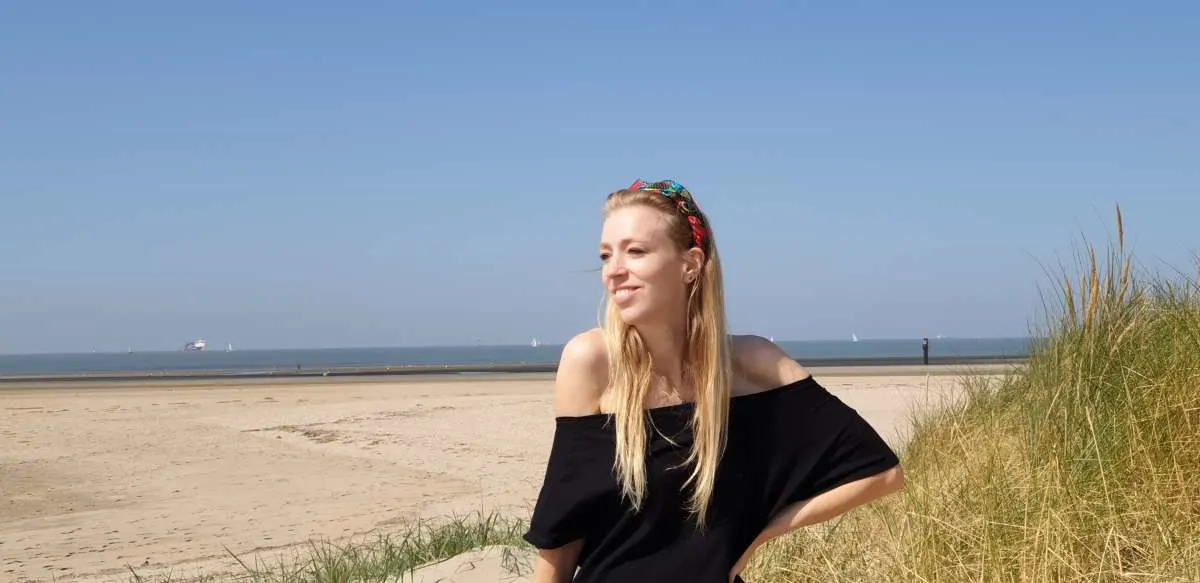 The Belgian coast has several beach resorts and each one has a different image and visitors profile. Nieuwpoort is for nature lovers, Ostend is for the large crowds and Blankenberge and De Panne are very popular among families.
Knokke and particularly it´s neighborhood "Le Zoute" is the beach resort for the rich and (semi-) famous. However, Knokke also holds many surprises for those who travel on a budget. In order to make the most of your trip, consider the Ikea Packing Cubes.
On one hand, it means that you'll walk along shops of luxury brands such as Louis Vuitton, Gucci or Prada when you get your "croissants" in the morning. Streets are filled with fancy colored cars such as Porsches, Ferraris and Bentleys.
Don't be surprised when youngsters wear fur in late August (I've seen them!). 4 € for a cup of tea and 7 € for acup of ice-cream, are you kidding me? Well; welcome to the glitzy part of Belgium, a country that usually has a rather down-to-earth reputation.
On the other hand, you'll be very close to tremendous beaches (such as the pristine beaches of Zeeland, Netherlands), great food, and natural reserves. Thus a paradise for nature lovers!
In this post, I will give you tips on how to visit Knokke, Belgium without draining your budget and how to enjoy Knokke without spending your time in luxury boutiques.
Best Hotels in Knokke
Budget Hotels in Knokke
Ibis budget Knokke **
Hotel Ter Polders **
Hotel Welkom **
Mid-Range Hotels in Knokke
HuysHoeve ***
Hotel Adagio ***
Hotel Villa Verdi ***
Luxury Hotels in Knokke
Hotel Binnenhof ****
Hotel Manoir du Dragon ****
Marie Siska Boutique Hotel ****
1. Visit Knokke beaches
My favorite part of Knokke is definitely its golden sandy beach. It invites for looong walks and in the summer months, the sea is even warm enough to go for a swim.
Trust me that I am super sensitive to cold, but nothing will let you feel more healthy and awake than a swim through the waves of the North Sea.
The beaches of Knokke seem to come straight from a pastel painting: pale beige sand, light green dunes, pastel-colored beach huts, and blue/white striped windbreakers. And the beaches of Knokke are so vast and wide! It's thus the perfect place to unwind.
In the last years, several beach clubs opened up and it's just a great way to finish your day with a cocktail on the beach while enjoying a spectacular sunset.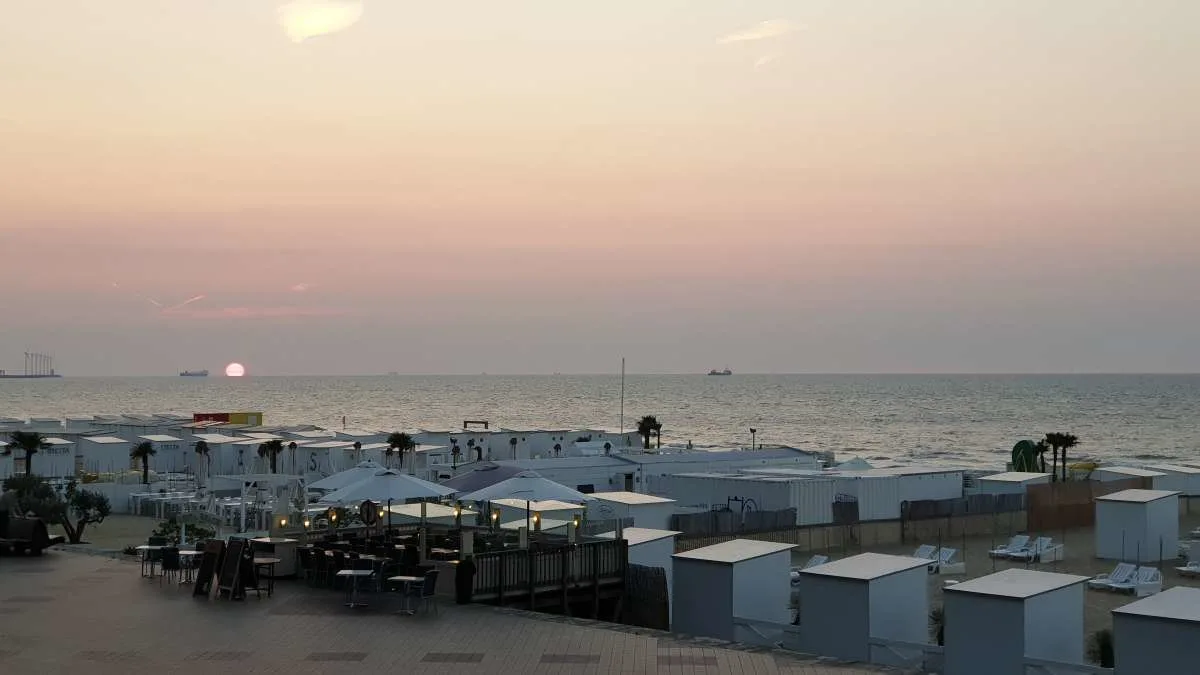 Some of the most popular beach clubs in Knokke:
2. Indulge in Seafood & Ice cream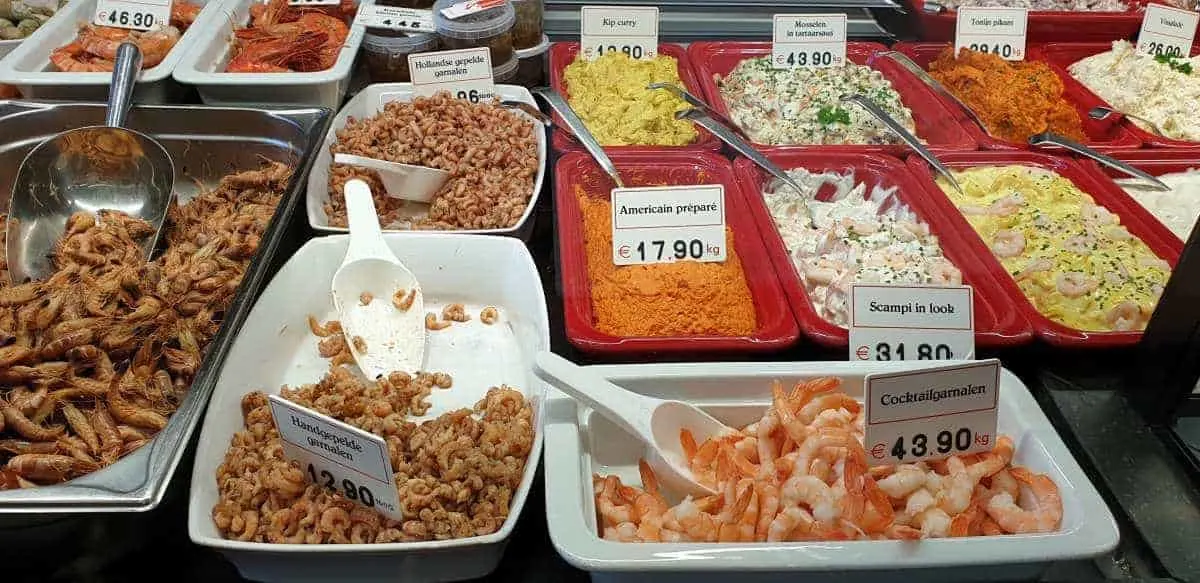 You know that I am obsessed with Belgian food. Especially when it comes to seafood. Well, you can't get any fresher seafood than on the Belgian coast itself.
You will be spoilt for choice when it comes to restaurants, bistrots, and snack huts. Rubens Restaurant is a real institution in Knokke and serves traditional Belgian food in a very elegant setting.
If you are staying in an apartment, you can easily prepare the best fish meals at home. You can choose among a wide range of fishes at "traiteurs". It are (gourmet) caterers that prepare typical Belgian food that you only need to heat up at your place.
"Traiteurs" seem to be very popular in Knokke (here you can find a list with over 50 caterers in and near Knokke) as most people rent a holiday home and want to eat "at home" without using the kitchen too much.
They do not only sell the freshest fish, but they also prepare delicious seafood meals with the catch of the day.
For the sweet tooths among you, I recommend Patisserie Demaré. It was my favorite pastry shop and bakery to get bread rolls and heavenly croissants in the morning.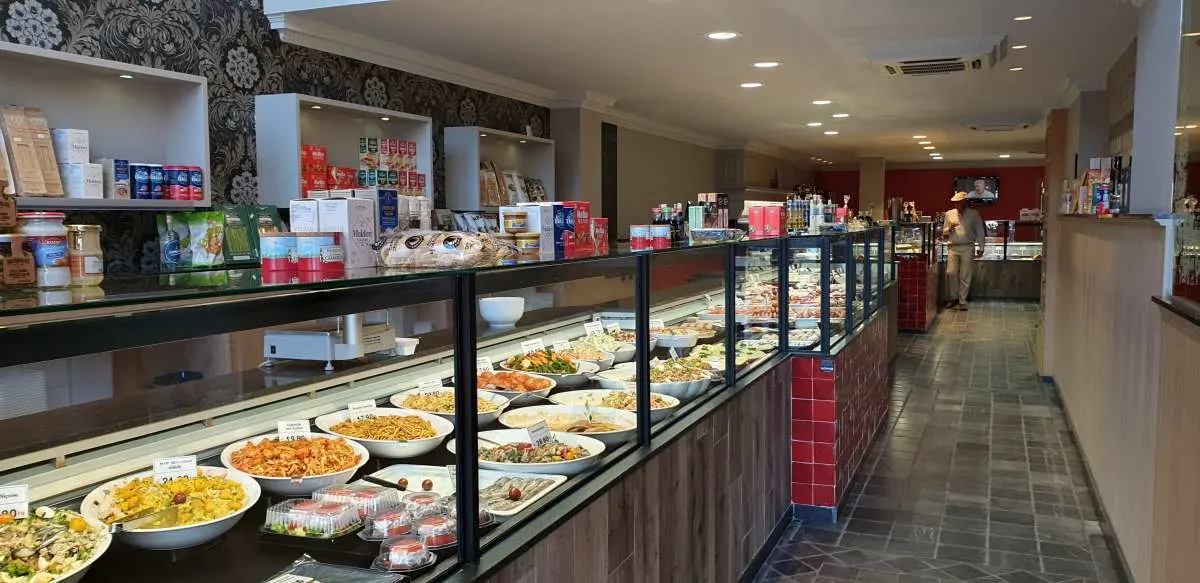 For the best ice-cream in Knokke, I recommend Glacier de la Poste. They have over 50 kinds of homemade ice-cream, for 2 € each. The gianduia and chocolate brownie were to die for!
Best places to eat in Knokke:
The best traiteurs (caterers) in Knokke:
3. Fancy Shopping in Knokke-Heist
If you love shopping, you'll have a great time in Knokke. Even if the town is packed with luxury boutiques and high-end shops like Louis Vuitton, Rolex, Donna Karan and more, you'll also have more affordable options.
I loved to pop in the little shops managed by small entrepreneurs. At my surprise, you have a large offer of very bohemian, even hippy clothing and accessories. My absolute favorite was "Mer d'Ocre". They just have the ideal mix of elegant hippie chic clothes that I love.
Whereas all the luxury boutiques are located near "Le Zoute", the most expensive neighborhood in Belgium, the Lippenslaan hosts shops for the average earner.
If you're into interior design, you'll love Couleur Locale and Metamorfoza. They import gorgeous handmade items from all over the world and sell them in their flagship store in Knokke. The entire shop looks like straight from a perfect Pinterest pin.
One of my favorite shops is "Akabeet" (located in the middle of the Lippenslaan) for colorful bike accessories and original gifts. They have so many quaint items like bamboo cups or flamingo purses. I could have spent hours exploring here.
This shop is all about positive and colorful vibes.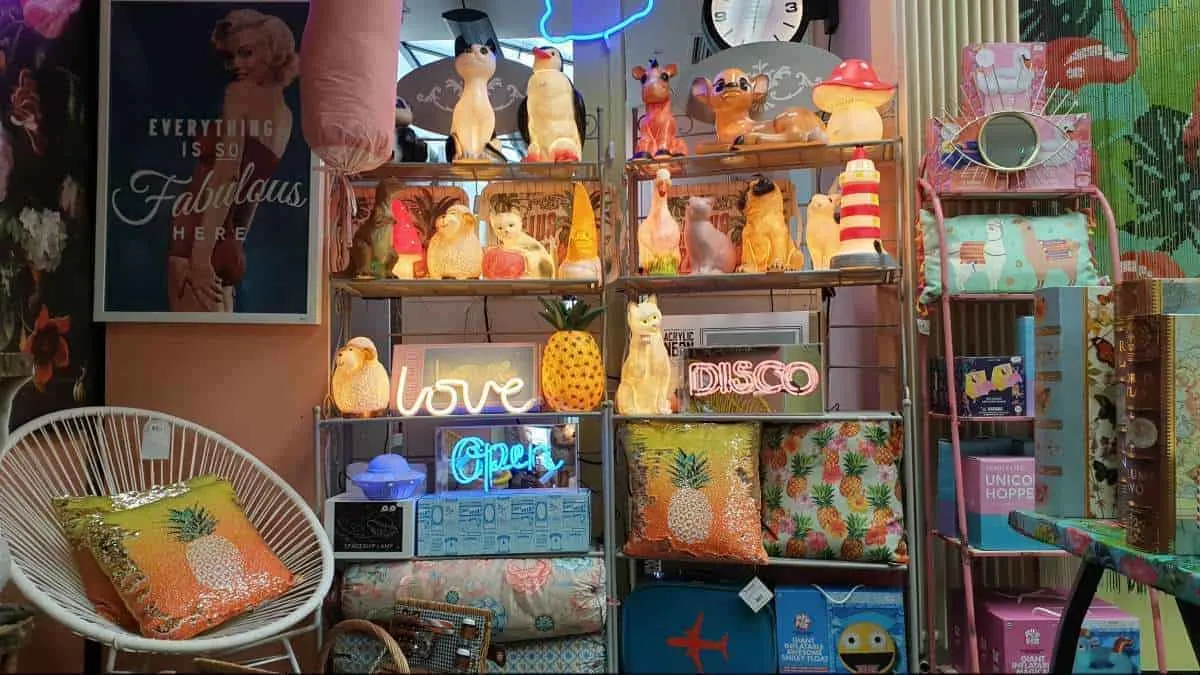 My favorite shops in Knokke, Belgium
4. Take a bike ride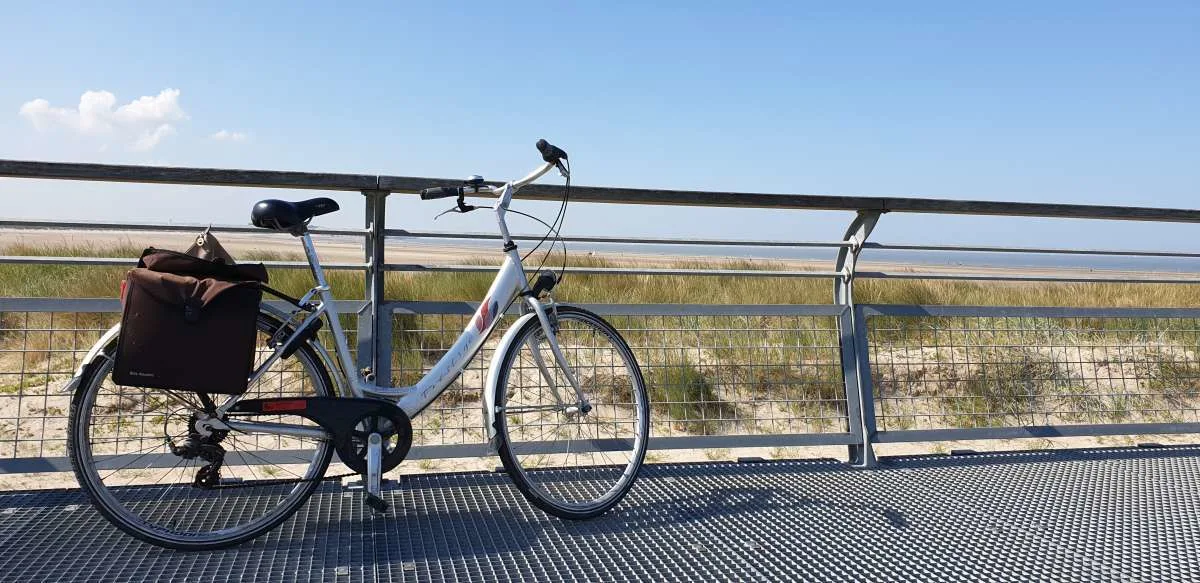 One of my favorite things to do on the Belgian coast (well, on any coast), is to rent a bike and go for long rides. It is just a fabulous experience to feel the wind in your hair while you never lose the sea out of sight.
The big advantage of the Belgian coast is that it is mostly flat. So you can easily cycle for 20 km without feeling tired. However, be aware when you come back as you might have the wind against you. Sometimes, it can be really hard to cycle back.
There are many cycle paths departing from Knokke, either in direction of the Netherlands or De Panne and Oostende.
You can easily rent a bike at one of the many rental shops on the beach boulevard. Here, you can read more about renting a bike in Knokke and cycling routes from Knokke.
I rode to Zeebrugge Bad where I discovered the most beautiful beach I have ever seen on the Belgian coast. It is only a 15 min bike ride away from Knokke and it was totally empty!
The scenic coastline makes Knokke one of the most beautiful towns in Belgium which can also be explored by a day trip from Brussels.
5. Visit Zeebrugge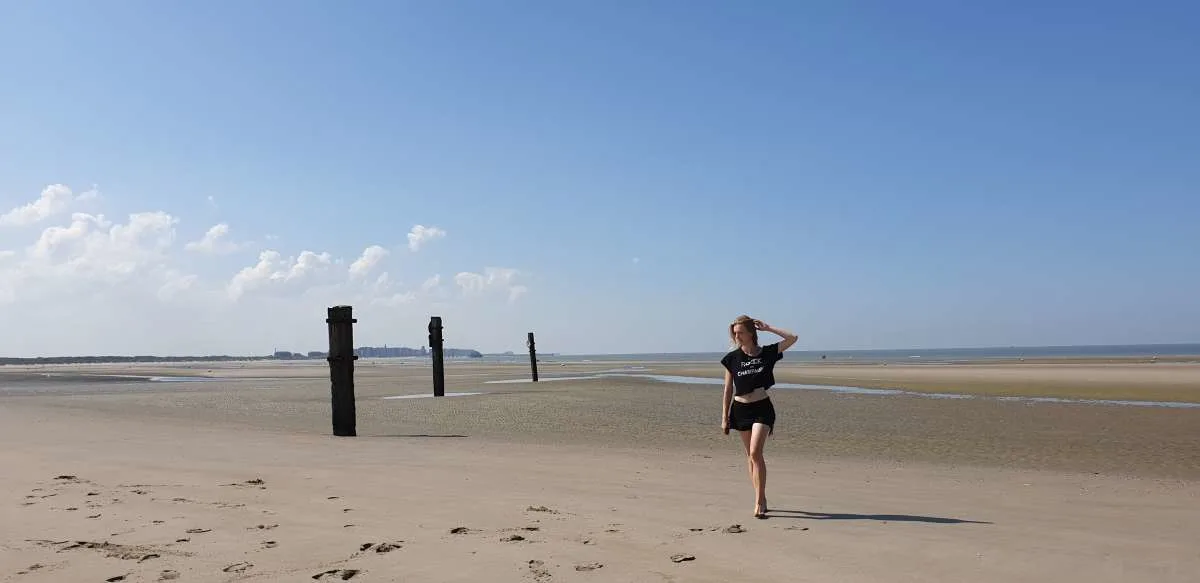 My friends didn't understand why I wanted to visit Zeebrugge, as anyway, "There's nothing to see there". Well, as you know me, this couldn't push me more to go and explore.
Indeed, Zeebrugge is a great day trip from Knokke-Heist. You can either get there by foot (walking the 8 km from Knokke) or go by bike.
I went by bike and visited the harbor where I was reminiscing about my boat hitchhiking adventure in 2017. Time flew since then and I would love to reconnect with the sailing world. I hope that I´ll manage to take some sailing lessons anytime soon as my visit to Zeebrugge marina got me all nostalgic.
Did you know that you can also visit a former Russian submarine? It lays in the harbor of Zeebrugge. Visiting an old submarine is definitely a highlight in case you travel with kids.
If you continue your ride from Zeebrugge harbor towards Ostend, you'll get to Zeebrugge-Bad which has the most beautiful beach I have ever seen at the Belgian coast. It reminded me of the beaches from Normandy that you often see in movies.
Did you know that you can even cycle from Knokke to Bruges? As the Venice of the North is located at only 18 km from Knokke, it is a great day trip, either by cycling or by car.
Read more about the best photo locations in Bruges

6. Go surfing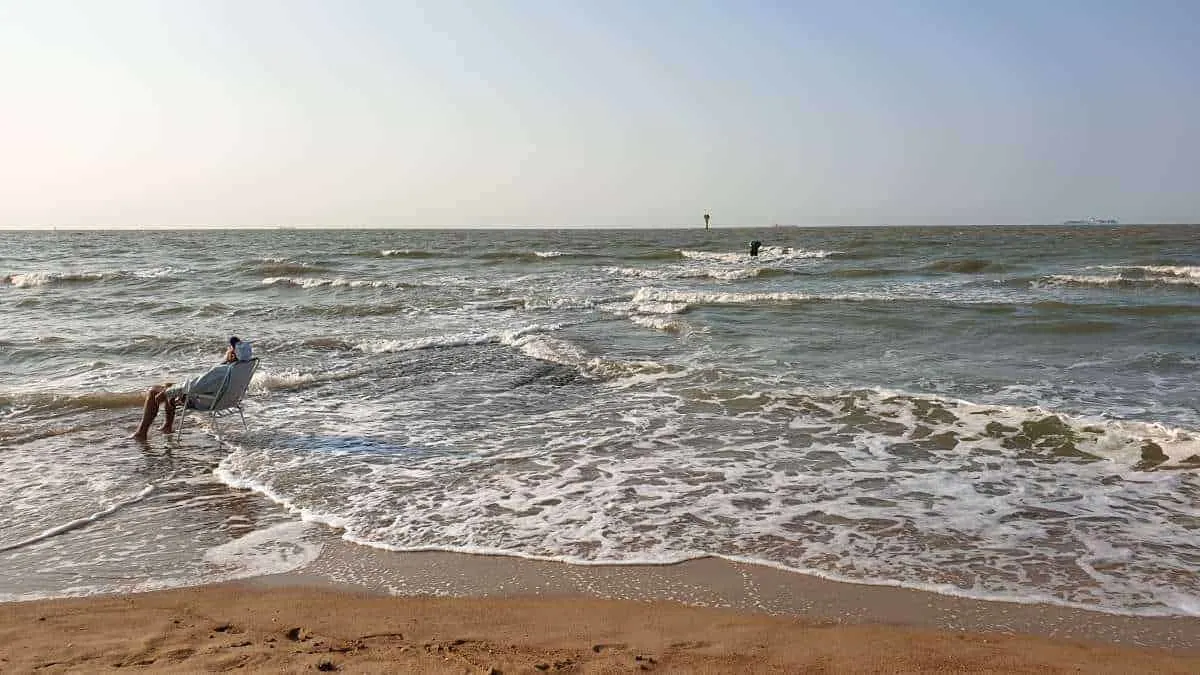 Well, the Belgian coast is not really known for its huge waves. However, it is a great place to take a lesson or to improve your surfing skills. As a beginner-intermediate surfer, I appreciated it a lot as the waves were not too intimidating.
One of the few surf clubs close to Knokke-Heist is Surfer's Paradise. Here, you can rent any kind of surfing material, book a surfing lesson or just enjoy a drink in their laid-back beach bar.
The rental of a wetsuit and surfboard will cost you around 17 € and a 1-hour lesson will be around 50 €.
7. Make Paper Flowers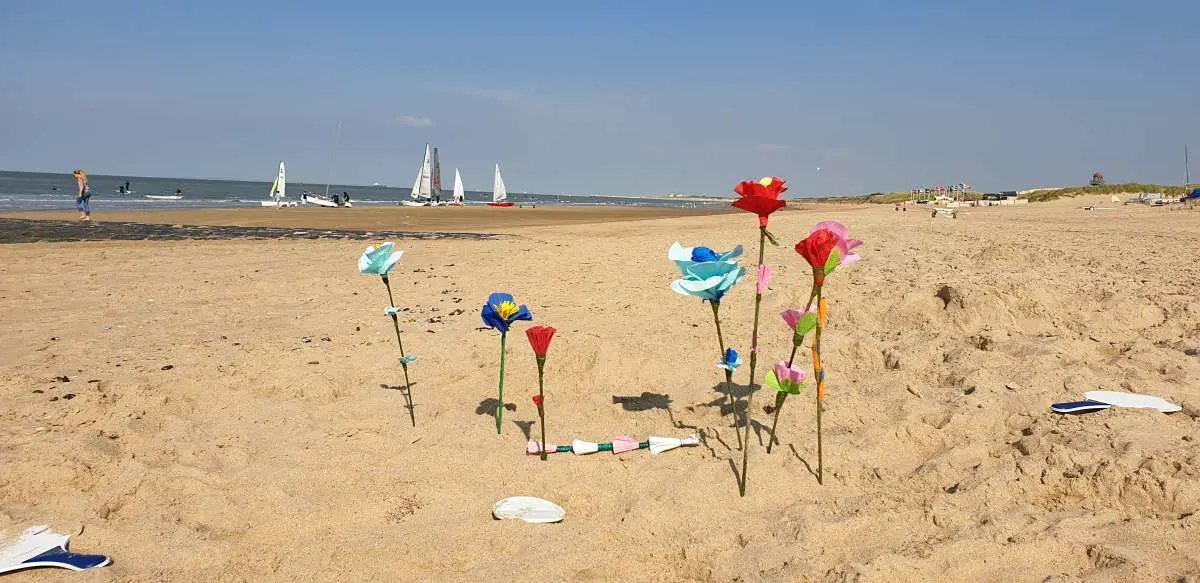 Making paper flowers and selling them for shells is a tradition in Knokke that has been cherished for several generations. Even though paper flowers can also be found on the beaches of other Belgian coast resorts, I never saw so many as on the beaches of Knokke.
Kids prepare colorful flowers with crepe paper or tissue paper and decorate them with anything they can find. Then they take them to the beach and put them in the sand waiting for other kids to buy them… for shells!
Kids pass by and can buy those flowers in exchange for shells. Colorful flowers are "more expensive" than the plain ones and delicate, rare shells have a higher value than simple mussels. It's such a cute tradition!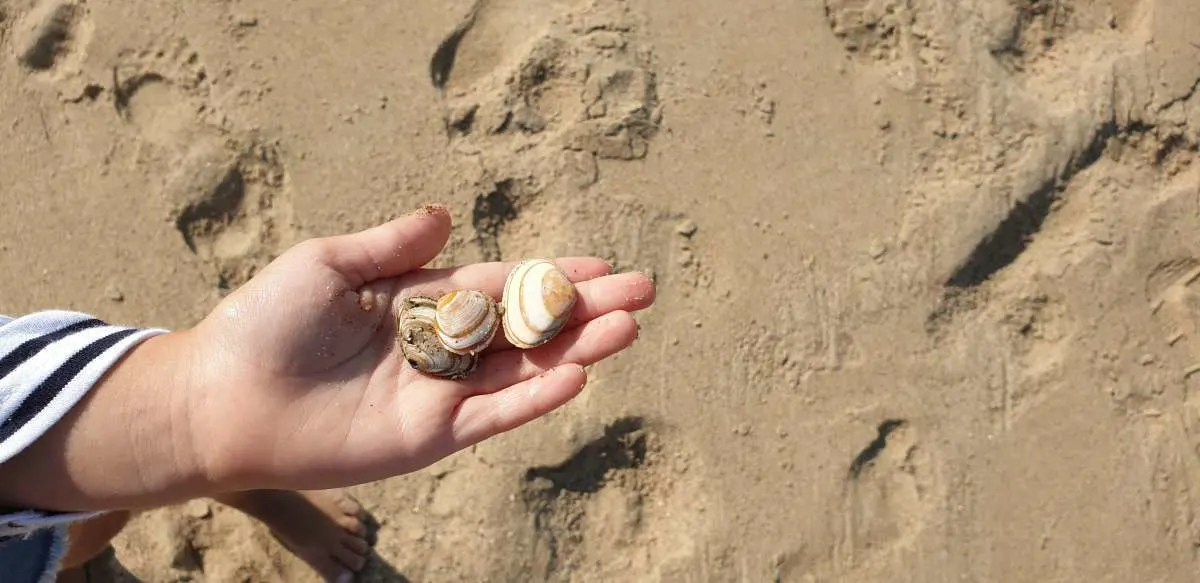 8. Explore the Zwin, the Natural Reserve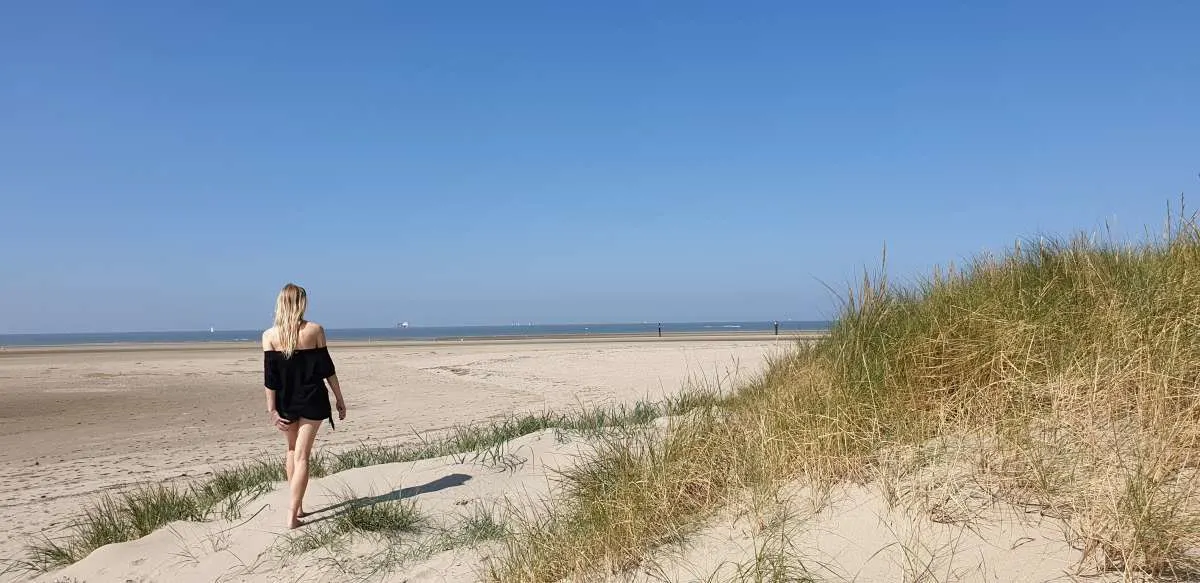 The natural reserve Zwin Natuur Park separates the Belgian coast from the Dutch province Zeeland. It's lush green and invites for long walks. It consists of a former tidal inlet that used to reach 15 km inland.
Over time, it became a coveted spot for birdwatchers as the natural reserve holds many species that cannot be spotted anywhere else.
The salt-resistant fauna is protected in the Zwin and the observation center will give you plenty of information on why the Zwin, Knokke is a special place for nature lovers.
If you love long walks and you don't want to spend all the time on the beach in Knokke, the Zwin is a great alternative. Indeed, the Zwin Walk is considered one of the best hiking trails in Belgium.
9. Day Trip to Sluis, Netherlands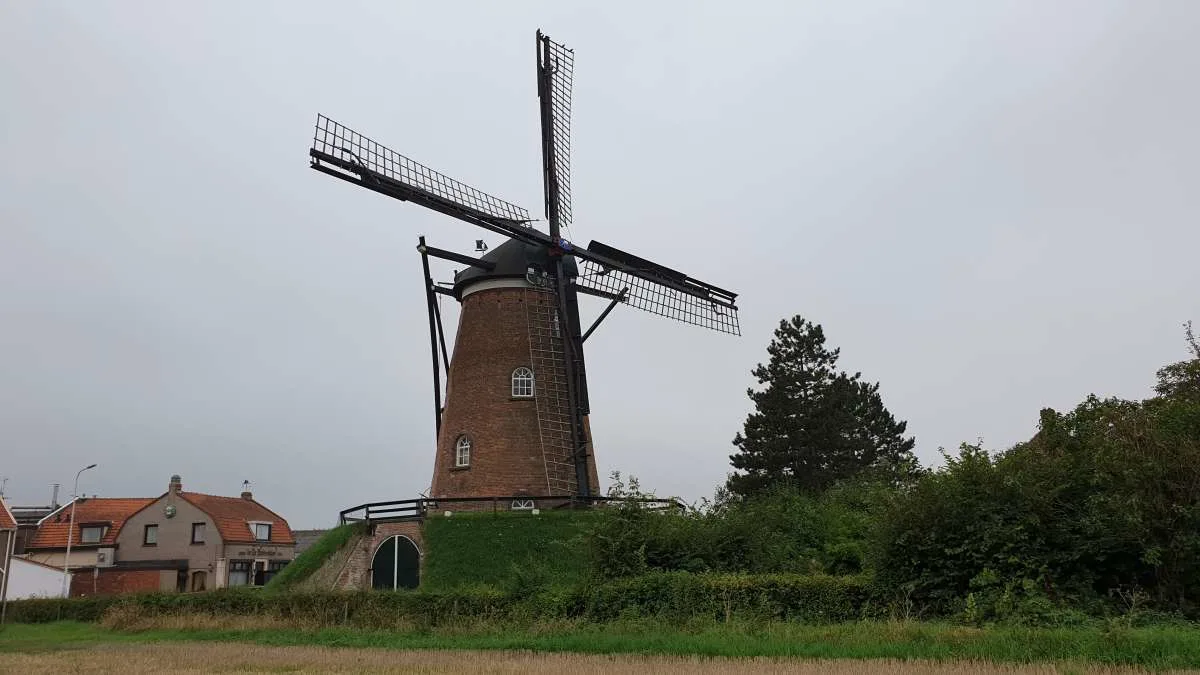 A day trip to Sluis, Netherlands is one of the loveliest things to do when spending a longer time in Knokke, Belgium. Sluis, a cute picturesque town in the Netherlands, is only a short drive away and will allow you to breathe the typical Dutch atmosphere.
Sluis is cut off from the sea but connected by an intriguing canal system. Did you know for example that Sluis was the last port of Bruges?
Sluis was largely destroyed during WWII, but the city center has been fully renovated. Even though many travelers come in order to enjoy the shops of Sluis, the cute town has several historical monuments that make it more than just a shopping day trip.
I recommend visiting the Belfry, which is one of the last of its kind in the Netherlands. The fully renovated windmill has been converted into a restaurant and it's one of the most scenic places to have lunch.
For some reason, Sluis has dozens of shops selling XXL bottles of shampoos, cremes, hair conditioners, etc. This must be a thing here in Sluis!
I rather took the opportunity to stock up on Dutch cheese: Gouda!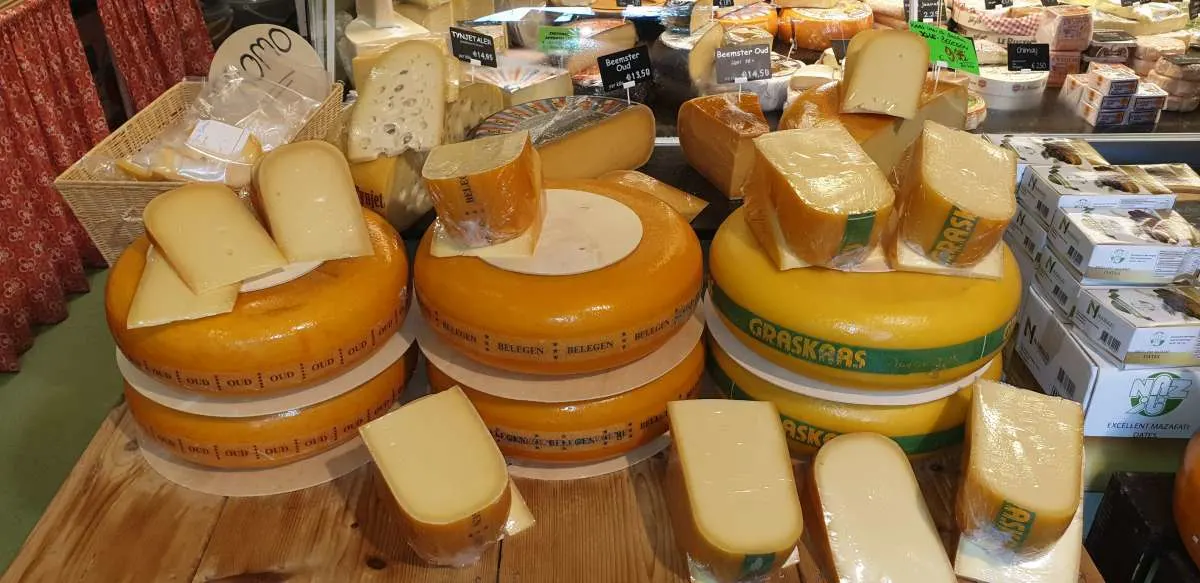 10. Day Trip to Cadzand, Netherlands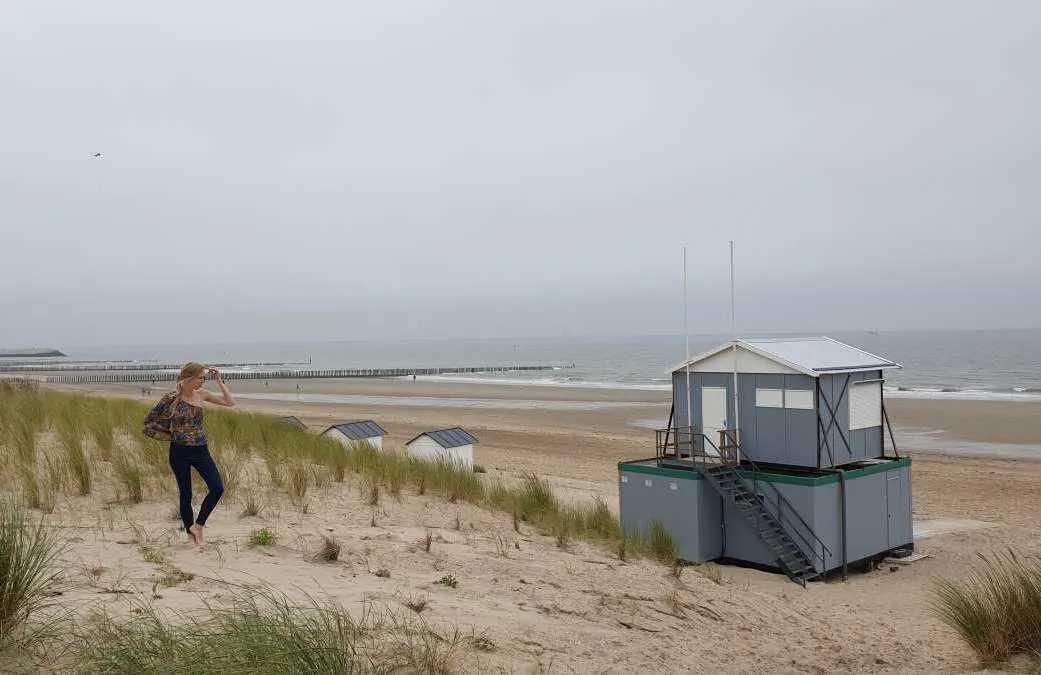 I really like the Netherlands. The Dutch always seem so relaxed, smiley and unworried. No wonder that I take every opportunity I get to visit the Netherlands.
When you're in Knokke and you want to make another international day trip, I recommend visiting the Dutch beach resort of Cadzand. Located less than 1 h drive from Knokke, Cadzand (and its seaside Cadzand-Bad) is a sleepy coastal town that gets lively during the weekends.
However, the main reason, for me, to visit is its vast, endless beach. The sands are white and the entire landscape looks so pastel colored as if you'd put a desaturated Instagram filter on it.
There are a few beach bars along Cadzand beach that invite for a hot chocolate on cold, rainy days. During warmer days, the terraces fill up and everybody wants to enjoy the beauty of the Dutch coast.
You cannot leave the Netherlands without enjoying some of its most typical food such as a herring, "bitterballen" and of course Gouda cheese.
I hope you liked these tips on how to spend a getaway to Knokke beach in Belgium. Have you been? Let me know your experience in the comment form.
---
Knokke, Belgium Map
---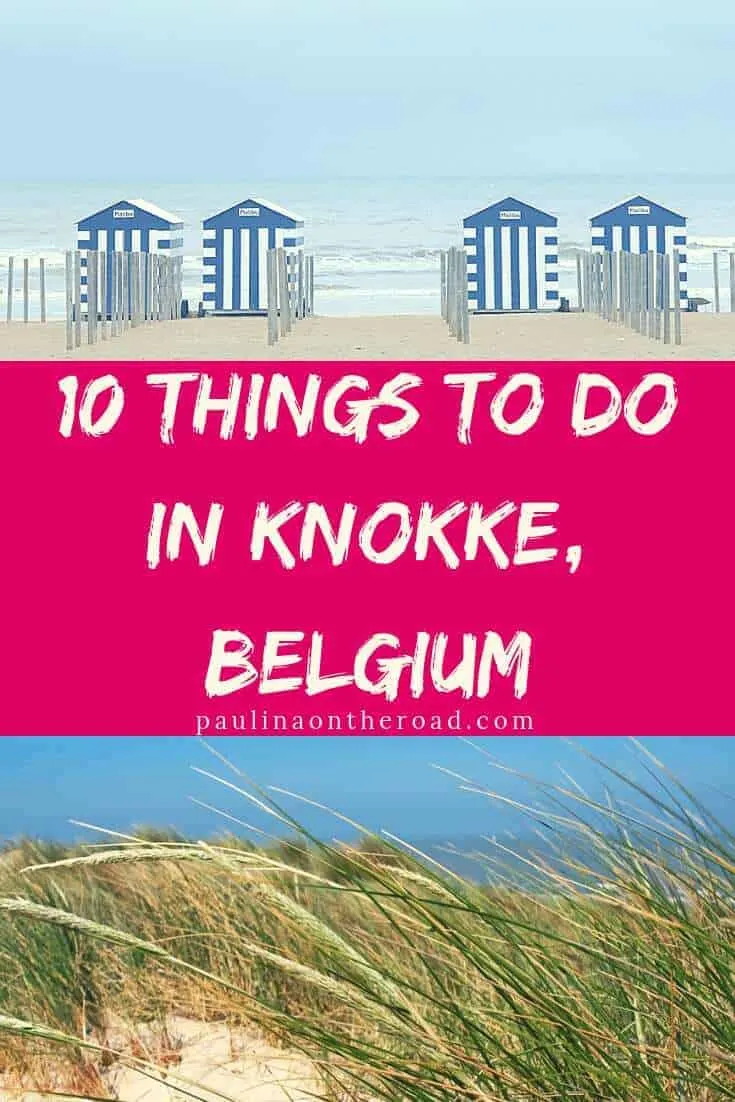 ---
Before You Go: Top Tips for your Trip
Before You Go: Top Tips for your Trip
To make the most of your trip, I recommend Lonely Planet Belgium
---
---
Hola! I am Paulina, a fervent travelette who crossed the Atlantic Ocean by Boat HitchHiking. On my blog, you'll find all the tips to make the most of your holiday. Get ready to enjoy outdoor and sustainable travel like hiking, cycling or sailing. Let's hit the road together!