Boat HitchHiking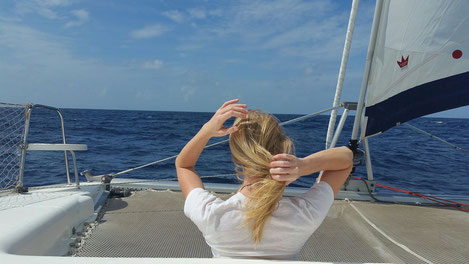 One lazy couch evening in Madrid, a crazy idea came into our minds: let's cross the Atlantic Ocean by boat hitchhiking! That was about one year before my boyfriend and I actually headed out.
At that point, we had zero experience in sailing. Nada. We didn't even know if one of us was seasick.
We just knew that we wanted to leave Madrid and settle down in Luxembourg. But before we wanted to do something a bit crazy. That's how we ended up boat hitchhiking our way from the Canary Islands to Cape Verde and finally to Barbados.
Retrospectively everything seems very clear. But while we were planning this thing, we were full of doubts. Boat hitchhiking… does that really work? Or is it just another Social Media hype just like that "Quit your job and travel the world!" thing?
How do you get started? Do you just approach boat people and talk to them until they say "Oh yes, join me on my cruise"? Why should they take you with them? Do we have to pay? If yes, how much? And do we need to "work" for them? I heard that scrubbing the deck was an awful thing to do…
By chance we got to read the adventures of several travel bloggers, like Tomislav Perko, who had successfully managed to hitchhike a boat in different parts of the world. Some of them had even crossed the Atlantic ocean or had turned boat hitchhiking into their lifestyle like Suzanne with her blog 'TheOceanpreneur.com'
From the first moment I read their posts, I knew that I wanted to do the same! Did you ever had this feeling? You don't know how you'll achieve something but you are a 100% sure that you'll get it no matter what?
Luckily my boyfriend is an adventurous kind of guy too and after a few hesitations, we decided to do this adventure together. Although it meant to leave people that had become our friends and abandon a comfortable lifestyle in Europe's liveliest capital, Madrid.
But dreams do not fulfill themselves only because you are dreaming them. If you want them to become real, you need to take decisions actively and be ready to make sacrifices. Nothing is only fluffy and sweet, mostly a lot of work is required to make your dreams come true.
In this section I want to assist you in your boat hitchhiking plans and pass on all the valuable information I gained during this adventure of a lifetime. On a boat.
---
Boat HitchHiking: The Video
---
All you need to know about Boat HitchHiking…