I got bombed with questions after returning from my boat hitchhiking adventure that brought me from Tenerife to Barbados via Cape Verde.
How did you do this? Why did you do this? How much did this cost?
Would it not be easier to just get a plane? Were you very seasick? (Oh yes, I was!)
For all planning to start there own Boat HitchHiking adventure, I listed below some of the most frequently asked questions.
I gathered them from close friends and family, Facebook, and outdoor groups.
In case you are still in the preparatory and planning phase of your sailing adventure, this article on How To Get Started with boat HitchHiking might come in handy.
The in-depth ABC guide will provide you with the most useful terms and tips about boat hitchhiking.
---
Frequently Asked Questions About Boat HitchHiking
Sailing Preparatory Phase
1. Why did you do this?
That is a very good one!
Why do you spend one month going each day to the marina? To lock you up in a very limited space with two-three people that you have never met in your life before ?
Well, there were a few reasons.
I was leaving Madrid and about to move to Luxembourg. As I had everything packed and no obligations, I thought to myself that it would be the perfect moment to do something crazy. When else can you travel without any time limit and without any return date;
I love the ocean;
I love challenges;
I wanted to try something that a "normal mind" would qualify as "impossible"!
---
2. Who was the original genius of the concept?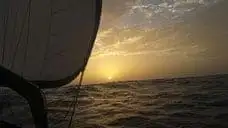 I do not know who invented the concept of boat hitchhiking, but it is probably older than we all might think.
For hundreds of years, merchant vessels or battleships took a crew from the marina they were docking. They would, either get paid a salary, or work in exchange for food and accommodation.
The idea that you pay as a boat hitchhiker just came when sailing became a leisure sport. As it is relatively expensive and you do not have to do work as hard as on a merchant vessel or a battleship, boat owners generally ask for a daily rate.
A major inspiration for me personally, was Suzanne from The Oceanpreneur. She crossed the Atlantic twice by boat hitchhiking and is now committed to make a positive impact on the preservation of the oceans.
I devoured her blog posts when I was still in Madrid and planning to leave everything behind. Actually, she still is a very inspirational person to me as she continues living the lifestyle of boat hitchhiking and sailing.
---
3. How many boats did you negotiate in all so that you could reach your final destination?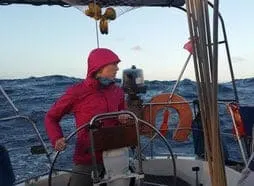 In total, I sailed with two different boats.
I did the first leg from Tenerife to Sal, Cape Verde with a young French couple on a monohull vessel at the beginning of November 2016. I did the second leg from Mindelo, Cape Verde to Barbados with a French-Canadian couple and the captain his godson on a catamaran.
I can not give an exact number with how many boats I negotiated until I finally found "the" boat.
Taking into account only the boats in the marinas of Tenerife, Las Palmas de Gran Canaria, Sal and Mindelo, Cape Verde, I must have talked with about 40-60 different boats.
If you add the people that I reached out via the crew-finding webpages, it is highly probable that I talked to almost 80 different boat owners!
Some might be luckier and find a boat straight away. But you need to be aware that boat owners will be more reluctant to take you on board if you are traveling as a couple. They rather prefer to take one person instead of two.
---
4. What best advice can you give to someone who wants to enjoy boat hitchhiking?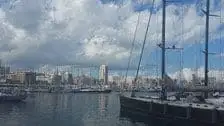 As mentioned in the ABC of Boat HitchHiking, for me, the key to successful hitchhiking a boat is perseverance and patience!
It took me almost one month to find a boat in Tenerife and another month in Cape Verde to find a boat to cross the Atlantic to Barbados.
That is a very long time, where you will be tempted many times just to give up. Indeed, it can easily become very frustrating to go down twice a day to the marina (in my case, during one month!), talk to boat owners, and let them know about your endeavors. Most will tell you that they are not interested, and you will need to find the motivation to keep ongoing.
Thus my first advice would be: never give up! Every "No" brings you closer to a definite "Yes"!
During the time you are looking for a boat, your only goal in the day might be to find captains that might potentially take you on a cruise. But that would mean that you would also miss about 80 % of the fun of boat hitchhiking.
Actually, you will meet so many interesting people along the road, and there are so many hidden gems of the destination that you are staying at, that it would be a real pity to spend all your days in the marina, only focusing on how to get on a boat.
Enjoy the pleasures along the road: meeting new people and discovering new places.
Fun Fact: On both occasions, I found my boat when I actually decided to have some time off! I just left my CV in the marina and got called to join the captain on his journey! Life is what happens while you are making plans!
---
5. How hard or easy was it to negotiate with people to allow you on their boat?
It was not that hard to negotiate.
The hard part was getting up every morning and knowing that you will spend your day in the marina talking to boat owners. As many would let you immediately know that they are not interested, you could easily be tempted to lose faith.
Thus, the hardest part was keeping your head high and trusting that you would find your boat soon.
---
6. Were you traveling alone or by group?
I did the first leg from Tenerife to Sal, Cape Verde with a young French couple that had sailed out somewhat unpreparedly. It definitely was a very intense experience as they were nearly the same age as I was and had only one year of sailing experience.
I had a huge responsibility on board and not the best weather conditions. I remember that we had waves that were higher as the level of the boat, and that it was impossible to sleep in my cabin.
Thus, I had to alternate and have little naps in the common area for eight days!
After arriving in Sal, I was even doubting if I would like to put myself through the rest of the Atlantic crossing!
Luckily, the second leg compensated for everything! I still can not believe how lucky I was to meet and sail with such generous and highly inspiring people! Even now, almost one year after the crossing, I am still in touch with them.
Am I allowed to list some of the best parts about the crew from my second boat?
They were sailing with a cat;
The captain's wife, from Canada, is a marketing professional, art and book lover, a fitness addict (she even did her exercises in the middle of the ocean!), best banana bread maker ever, and tireless fighter for the acceptance of peanut butter and maple syrup on board! Thus, all in all, a lady that you can look up too;
The captain himself is a French gourmet, passionate painter, and with an impressive career in IT. With the crossing of the Atlantic ocean, a dream of his childhood came true, and he passed on his profound nautical knowledge and sailing passion to all of us;
The captain's godson, probably the most talented French comedian and comic illustrator ever;
They were sailing on a catamaran, thus I could actually sleep in my cabin as the movement of the boat was rather comparable to the movement of a cradle;
They had done most of their food supplies in Spain. That means the unique chance of enjoying jamón, turrón and lomo ibérico but also the finest French cheeses in the middle of the ocean! After one month in Cape Verde, you appreciate such things 1000 times more!
---
The Atlantic Crossing
1. How long did it take?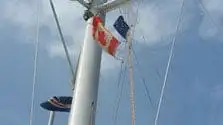 The entire adventure lasted from 12 October 2016 – 2 February 2017.
The first leg from Tenerife to Sal, Cape Verde took me eight days.
The second leg from Mindelo, Cape Verde to Bridgetown, Barbados took me eighteen days.
---
2. How long was the stretch from your starting point to your final destination?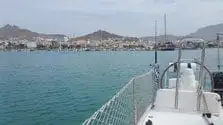 The exact calendar of my boat hitchhiking adventure 2016 – 2017 would be looking like this:
First Leg: Tenerife – La Gomera – Sal, Cape Verde
12 October 2016
Flight to Tenerife
12 October 2016 –
1 November 2016
Reaching out to boat owners in the marina of Santa Cruz de Tenerife
2 November 2016
From Tenerife to Las Palmas de Gran Canaria by ferry
3 November 2016
I found a boat! A young French couple send me an email that they need crew to sail from Tenerife to Sal, Cape Verde
3 November – 5 November 2016
Enjoying Las Palmas de Gran Canaria. With the ferry back to Tenerife
6 November 2016
Grocery shopping and sailing from Tenerife to La Gomera
7 November – 9 November 2016
Visiting La Gomera and sailing lessons
10 November 2016
Leaving La Gomera
15 November 2016
Arrival in Sal, Cape Verde during the night.
Second Leg: Mindelo, Cape Verde – Bridgetown, Barbados
| | |
| --- | --- |
| 16 – 22 November 2016 | Enjoying Sal, Cape Verde |
| 23 November 2016 | Flight from Sal to Mindelo, São Vicente |
| 23 – 27 November 2016 | Searching for boats in the marina of Mindelo, São Vicente. Hanging up my sailing CV |
| 27 November 2016 | Crossing from São Vicente to Santo Antão, Cape Verde's green, pristine gem |
| 27 November – 6 December 2016 | Enjoying Santo Antao. With the ferry back to Sao Vicente |
| 7 December 2016 | Returning to Mindelo, Sao Vicente as I got contacted to work as crew on a boat sailing to Brazil. Total failure! |
| 8 December – 15 December 2016 | Helping onboard to get the vessel ready to cross the Atlantic Ocean to Brazil. |
| 16 December 2016 | I was forced to leave the boat as their motor had a gasoil leaking but the captain thought that I was too fussy and picky! They sailed out the same day that made me leave the boat. One week of hard work onboard for nothing! In February 2017, they ran aground in Brazil and had to give up the boat. As said: karma is a bitch! |
| 17 December 2016 | I am about to give up and return to Europe. I decide to send an email to a Franco-Canadian couple that I met in Tenerife. And miracles happen! They are still in Sal but they are looking for crew to cross the Atlantic ocean. I am more than excited and looking forward to meet them in Mindelo. |
| 24 December 2016 | Christmas in the marina of Mindelo, Cape Verde with the Franco-Canadian couple and their friends |
| 31 December 2016 | New Year's Eve in the marina of Mindelo, Cape Verde with the Franco-Canadian couple and friends. Lobster and paella for dinner. |
| 5 January 2017 | Leaving Mindelo, Cape Verde |
| 23 January 2017 | Arrival in Bridgetown, Barbados |
---
3. Were you afraid?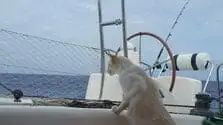 Of course, but only a bit!
First, I was afraid that I would not find a boat to make my dream of the Atlantic crossing come true.
Considering the crossing itself, I felt really safe during the second leg from Mindelo, Cape Verde to Bridgetown, Barbados. The captain had a lot of experience, and the catamaran was a very spacious and safe boat.
I did not feel safe during the first leg from Tenerife to Sal, Cape Verde though. First, the boat was really small (36 feet), I had rough weather with very high waves, and I sailed with a captain that did not have a lot of experience. Thus, it was also quite challenging on an interpersonal level.
But at some point, you just tell yourself that everything is gonna be alright and that in fact, there are hardly any boats sinking during an Atlantic crossing.
---
4. Sailing is costly. How much did it cost you?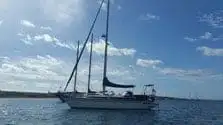 I can assure you that boat hitchhiking is actually less expensive than you might think!
It is definitely more expensive for the boat owner than for you as a boat hitchhiker. And on top, the boat owner will give up parts of his privacy sphere in order to give you a ride. This is something you should always bear in mind!
Okay, I guess you do not want the "blabla" but the real money talk, right?
Here it goes:
I left Madrid with 3000 € that I saved up for less than one year. The plan was to travel as long as I had money. There was no flight bought in advance nor a return date. Nor did I had plans to make money or work during my trip;
A lot of money went to accommodation while I was looking for boats in Santa Cruz de Tenerife, Las Palmas de Gran Canaria, Sal (Cape Verde) and Mindelo (Cape Verde);
I enjoyed the trip to the fullest! That means that I did not skimp on excursions, adventure activities, epic parties in Tenerife, or car rentals in the Caribbean. Now and then, I even gave myself a little treat like a lobster dinner in Mindelo or a pre-carnival party in Trinidad and Tobago. I could have saved much more and thus have traveled longer, but I made wonderful memories and had unique experiences that can not be measured in money;
The actual sailing part was rather "cheap" in comparison with my expenses on land;
Sailing from Tenerife to Sal, Cape Verde: 150 €, including food, accommodation and docking;
Mindelo, Cape Verde – Barbados: 250 € including food, accommodation, and docking. The best sailing experience that I could have ever imagined! They even had a cat on board!
---
5. Where you seasick?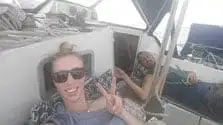 Oh yes, I was definitely very seasick in the beginning!
But it only lasted one day each time. But during that one day, I really felt like the most miserable person ever! I could not eat and everything was turning around!
I each time took medicine the first days when I was on board. Then, I gradually stopped as my body usually adapted really quickly to new environments. I guess my body knew that it was not going to get off that boat in only a few hours.
In order to prevent seasickness, rest as much as you can and eat, even when you are not hungry. Seasickness comes easier when you are tired and hungry.
---
6. Have you encountered pirates, and how did you negotiate with them?
Probably the biggest fear of my family!
It is very unlikely that you will meet pirates during your Atlantic crossing, as pirates usually navigate close to the coast. On top, the areas where pirates can be found are very well documented so that you can avoid them as much as possible.
Nevertheless, I heard a few scary stories from sailors that had to deal with pirates for example near Venezuela or Senegal. The only time I had to deal with crime was in Mindelo, where a few boats got robbed because they were mooring outside the marina.
---
7. How do immigration and customs work when you are sailing?
I have a European passport, thus I could stay on the Canary Islands for a longer time free from care.
When you are sailing out, the captain is in charge of you. I heard that in some cases, he/she is even allowed to withhold your passport until you reach your destination! This should prevent mutiny during the crossing.
When you finally find a boat to sail out, before you depart, check the regulations of the countries that you plan to visit.
When you arrive at a new port, the captain goes with your passports to the immigration office on the same day you arrive. Theoretically, you are not allowed to leave the boat until he has done the clearance!
While in some countries visa requirements are fairly clear, in others, the situation concerning yachts is confusing. Foreign nationals arriving on a yacht can be treated basically in three different ways by the immigration authorities. It always depends on the country that you are visiting.
They are treated the same as ordinary tourists arriving by other means of transport, in which case the usual visa requirements apply;
Special visa requirements are applied to those arriving by boat, which means that in some countries, visitors arriving by boat are treated differently to those visiting the country as ordinary tourists. This may mean that some countries which are happy to grant visas on arrival to tourists arriving by air, will insist that anyone arriving on a yacht must have obtained their visa in advance. This is often because tourists arriving by plane must have an onward ticket to be given a visa while arriving by boat is not always regarded as a guarantee of one's ability to depart by the same means;
Sailors are sometimes given special treatment by being allowed to enter a country without a visa, which is required from tourists arriving by other means of transport. Sometimes, visas are granted on arrival and occasionally are dispensed with altogether. However, in these cases, such special concessions are usually given only for a limited time, and may be restricted to the duration of the yacht's stay in port, or while cruising certain areas. It may be necessary to obtain an ordinary visa to travel to other parts of the country, or to leave the country by other means.
For countries where a visa is required, this should be obtained in advance, although one should make sure that the visa will still be valid when one arrives in the respective country, as some countries stipulate that the entry must take place within three months of the visa being issued.
In my case, in Cape Verde and Barbados, clearance went really quick and I was allowed to stay longer in both countries as I had arrived by boat. Ordinary travelers arriving by plane could only stay for a shorter time.
But again, all this depends on the country that you are planning to visit.
---
Lessons Learned
1. What most important takeaway did you get from your sailing adventure?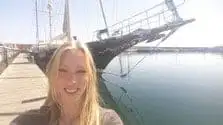 I definitely learned a lot during the crossing itself and my "boat searching" experience!
Of course, I learned a lot about sailing and the nautical world, which is fascinating. But I think that I learned even more about myself and my perspective on life than anything else.
Indeed, I realized that a lot of my behavior or reactions during the process of looking for a boat or while being on the boat, reflects my attitude towards life, and how I am living so far.
This might sound very abstract, but concretely speaking this would narrow down to:
Enjoy the present moment, and never let your "final goal" dominate all your thoughts and behavior;
The most remember worthy souvenirs are those that happen unplanned and spontaneously;
Leave space and time that these "unplanned things" can actually happen. Do not focus solely on the ultimate goal;
Everything will work out as long as you give your best and have good intentions;
Be always ready to reach out to people;
Develop a genuine interest for people, their background, and their story;
Be always ready to learn;
Karma is definitely a bitch! (In the Boat HitchHiking ABC, I tell you the story behind this lesson learned.)
---
2. Are you open to having another adventure like this?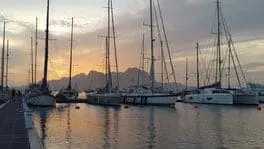 If you would have asked me right after arriving in Barbados, and seeing nothing but salty water for eighteen days, I would probably have said a clear "No"!
But only a few weeks after spending some time in the Caribbean, I started missing life onboard. In the end, we had become a family. I shared so many memorable experiences and I was really missing them.
Now that I am back in Luxembourg, I am missing the nomadic lifestyle more than ever. But after being five months on the road/boat non-stop, I also needed some time to come down and think about what is next.
But yes, I am definitely open to another adventure like this!
And there is still a Pacific ocean to be crossed!
---
3. Which countries did you visit?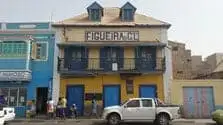 During this trip, I visited 4 countries: Spain, Cape Verde, Barbados and Trinidad and Tobago.
I decided to start my journey in Tenerife, Spain as it's the season of the ARC sailing Rallye, and many boats cross from the Mediterranean to the Caribbean in the winter months.
I did not really care to which country I would cross, thus as I was proposed to sail to Cape Verde, I just went all in. A lot of sailors went directly from the Canary Islands to St. Lucia, Martinique or even Brazil.
From Cape Verde, I sailed to Barbados as it is the first island in the Caribbean archipelago when coming from Cape Verde.
Barbados is super expensive and was draining my budget. That is why I decided to get the cheapest flight to wherever and ended up in Trinidad and Tobago, which is one of the most fascinating countries I have visited so far due to its Hindi culture and natural, pristine setting.
---
Are you going to start a boat hitchhiking adventure? Or do you have further questions on how to get started? I am looking forward to reading your comments in the form!
---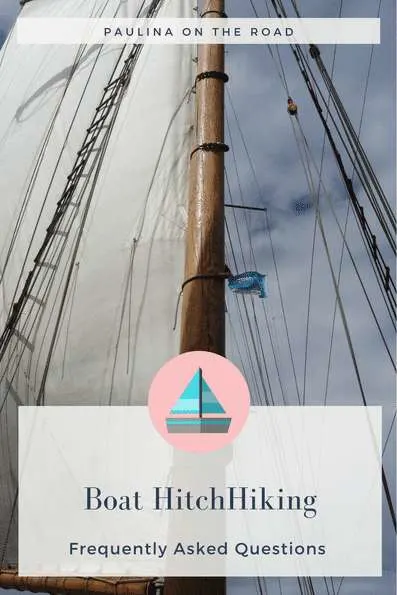 ---
You might also like…
---