A tourist guide to the best attractions in Mindelo, Sao Vicente including airport information, hotels and best restaurants
I made it to Cape Verde's most important marina: Mindelo! Since I was unable to hitchhike a boat from Sal to Sao Vicente, I decided to continue my trip the easy (and more expensive!) way: by plane from Sal to Sao Vicente.
After the barren wasteland of Sal and its cultural desert, I'm really looking forward to getting a closer look at the true Capeverdean culture. In Sal, I got an approximate idea, but in the tourist stronghold Santa María, it was simply impossible to imbibe the Capeverdean spirit!
Also known as the cultural capital of the archipelago, I couldn't wait to explore more of Cape Verde. After living in Mindelo for more than one month and returning twice, I put together this list of the best things to do in Mindelo, Cape Verde.
In order to make the most of your time, check the Ultimate Cape Verde Travel Guide Book filled with local, hidden gems.
Useful Information about Mindelo, Cape Verde
Book cheap flights to Cape Verde with Skyscanner.com

Book holiday and vacation rentals in Cape Verde with HomeAway

Find the best hotel deals in Cape Verde with TripAdvisor

Get the best tours and activities in Cape Verde with Viator

Don't leave without a travel guide. Be prepared and get the Ultimate Cape Verde Travel Guide Book

Get the best discounted outdoor gear (outlet) at REI.com

Never leave without a travel insurance. I get mine at HeyMondo. It is easy to set up, reliable and cheap.

Skip the line at airport and get a Cape Verde visa in advance with iVisa
How to get to Mindelo, Sao Vicente
By Boat: from Praia, Santiago with CV-Interilhas. Check the ferry Sao Vicente – Praia schedules here
By flight: from Santiago, Sal or Boa Vista to Sao Vicente airport – Check here the flight rates
Wondering whether you need a visa for Cape Verde? Read the full guide here.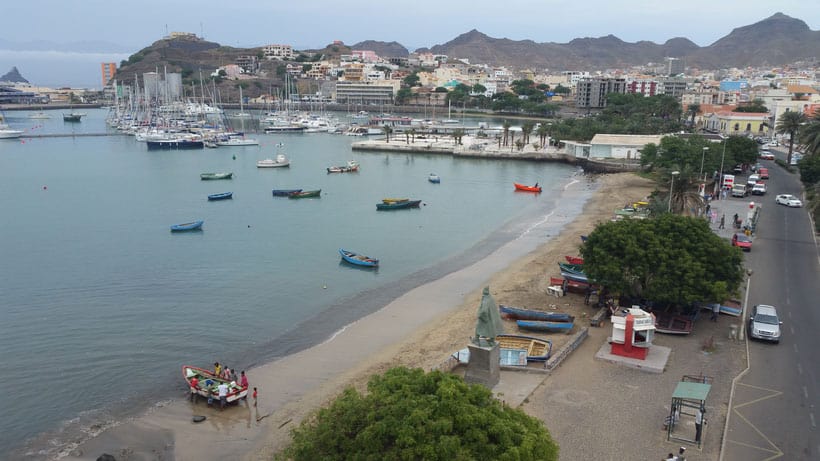 Where to Stay in Mindelo, Sao Vicente
Budget
Laginha Beach Guest House
Hostel Mindelo
Simabo's Backpacker's Hostel (By staying here, you'll also support their animal association!)
Mid Range
Hotel Alto Fortim ***
The Don Paco Hotel ***
Family-Friendly
Eco-Friendly
Luxury
Prassa 3 Boutique Hotel ****
Casa Branca ****
Pont d'Agua Hotel ***
Oasis Porto Grande ****
Read: The Ultimate Guide on Where to stay in Cape Verde
Is Mindelo, Cape Verde safe?
Despite all the affinity, I felt for Mindelo and its liveliness, it gets a little minus due to its safety issues. Often, the Capeverdean boys tried to get my attention as a girl.
When walking alone, I got harshly stopped in the streets. Boys shouting after me or staring at me as if I'd be a pink elephant were part of daily life.
At some point, it just got annoying! In several situations, I felt unsafe, i.e. when youngsters were running at me to ask for some escudos and were too insistent. By that time, I just learned to ignore them and move on. The best strategy is just not to pay them any attention and continue your path.
1. Follow the Footsteps of Cesaria Evora
Due to its most important citizen, Cesaria Evora, Mindelo reached worldwide fame for being the cradle of morna, the traditional Capeverdean music genre. Many singers from Sao Vicente popularized morna all over the world.
But none of them reached the status of the legendary "Barefoot Diva", the queen of morna. Many singers following in her footsteps are from Mindelo and made it a hub for Capeverdean culture.
Next to the major pink building at Avenida Lisboa, you'll find the Cesaria Evora museum. It's located in her house and you'll most likely meet some of her relatives. I was lucky enough to meet her daughter, and I consider this encounter remarkable still today.
For more insights into Mindelo's cultural scene, check the Ultimate Cape Verde Travel Guide Book filled with cultural insights.
2. Enjoy Mindelo's Music Scene
The city is full of music bars, art galleries, and creative ateliers (CapVertDesign+Artesanato, Art d'Cretcheu, Ponta d'Praia Gallery, etc.). Lampposts are packed with posters announcing cultural activities
Almost every weekend, you can attend a concert by a major Capeverdean singer coming back to his home place in order to sing for his people.
I truly enjoyed the mixture of a lively art scene and simple street life. At every corner, market women are selling fish, and caring containers with fresh herbs and sweets on their heads. Others sell their hand-made African dresses.
3. Go Shopping at the Markets in Mindelo
Despite being a quite smelly affair, alone the fish market is worth a visit. You'll hardly get this full immersion to authentic Capeverdean life anywhere else. The same happens in the city market.
In all there are 3 markets in Mindelo:
The old market building
the fish market
the open market on Praça Estrela
Set in a photogenic building, the market ladies will try to sell you, in a sometimes a bit forceful way, their homemade banana and papaya jams.
Or some coco ponche, one of the most traditional foods to enjoy when in Cape Verde. Prices are not as low as you might expect since everything needs to be imported from the neighboring island Santo Antão.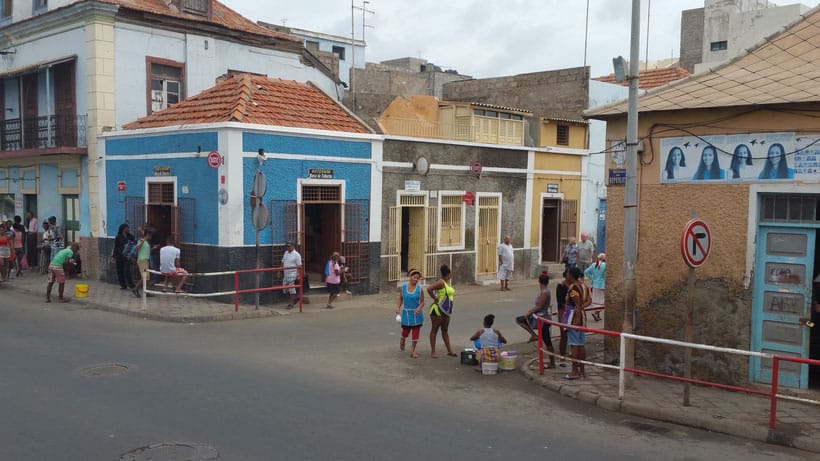 4. Go Loud at Mindelo's Carnival
The city center of Mindelo can easily be discovered in a few hours. The colorful house fronts and their colonial style will let you feel a step closer to tropical Brazil.
Sao Vicente has something else in common with Brazil: The Carnival of Mindelo is supposed to be the best of the Capeverdean archipelago! It's one of the top things to do when visiting Mindelo.
Carnival in Mindelo starts right after New Years' when the Mandinga groups take over the streets on Sunday. The official groups prepare their parade, and music and drums can be heard in the streets of Mindelo almost every night.
The Tuesday of Carnival, four groups battle for the title in the amazing parade competition with thousands of spectators along the route.
It's an amazing party that you shouldn't miss when you happen to be in Mindelo during January or February. It's a highlight of any Cape Verde winter holidays.
5. Go Party at Mindelo Nightlife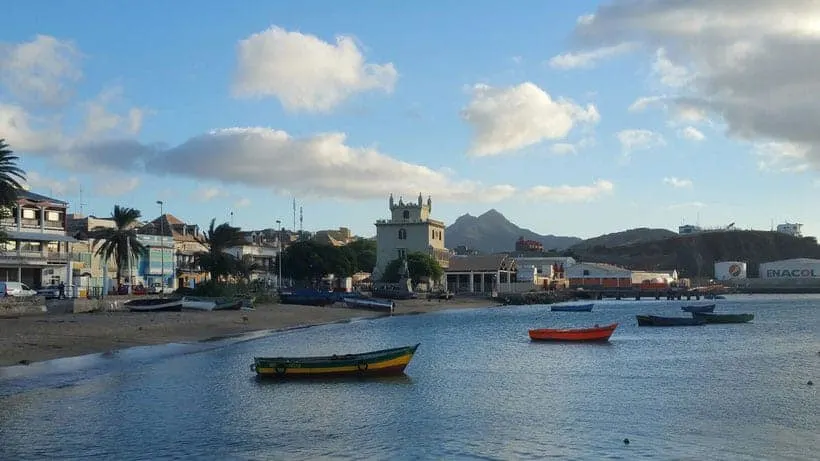 They say that Mindelo's nightlife can compete directly with Praia's. But many locals told me that it has changed a lot in the last few years. Poverty increased and there's hardly any night bar where locals and tourists mingle.
I tried to access some local clubs, but I went through a few awkward situations to get there. Many are located in dark side streets. Since then, I desisted from the idea of clubbing in Mindelo.
But if you're up to a more quiet night out, Mindelo has plenty of options. I enjoyed the creative atmosphere at Livraria Nho Djunga. The guitarist of Cesaria Evora frequently gives concerts here and it's the only place where I saw Capeverdean people mix with tourists to listen to some authentic Morna.
Another option is Casa da Morna. It belongs to famous singer Tito Paris who often stops by to give a gig. To start the night, I recommend having some passion fruit or kiwi caipirinhas at Elvis – Restobar. They are simply the best!
6. Enjoy Cape Verdean Food in Mindelo, Sao Vicente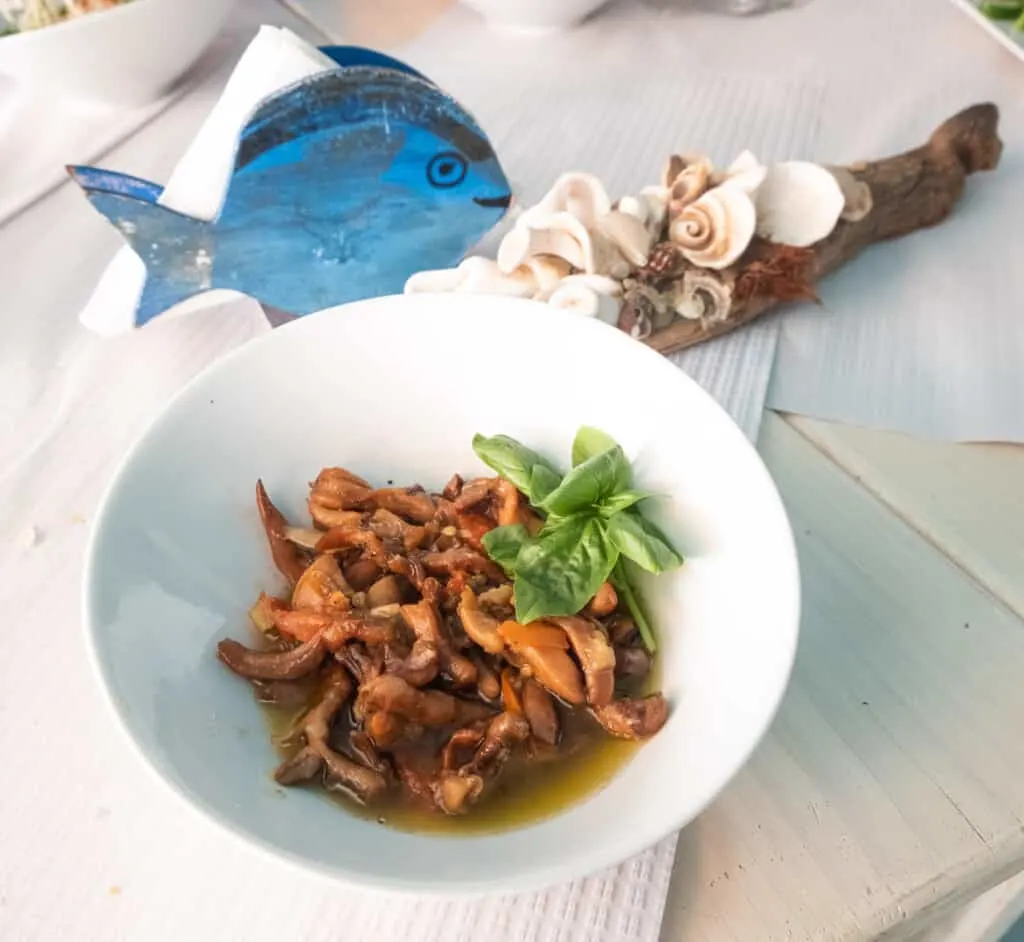 When traveling to Cape Verde, enjoying the local food is a must! The traditional Cape Verdean food is a great mix of influences from Europe (particularly Portugal), the African continent and Brazil.
However, more and more you can spot international cuisine in Mindelo too. The most popular food from Cape Verde is without any doubt cachupa, a slow-cooked stew of corn, beans, cassava, sweet potato, fish or meat
To eat the traditional cachupa, Cape Verde's most famous dish, I recommend Dokas. Set right next to the ships of the marina, its cachupa is always fresh and at an unbeatable price of 1,50 €!
Read more: typical food in Cape Verde
7. Go Souvenir Shopping in Local Shops
Are you looking for some unique souvenirs for your beloved ones at home?
The good news is that Mindelo hardly boats any shops selling souvenirs "made in China" that you could basically buy anywhere.
There are plenty of artisan shops where you can purchase locally made, artisan goods. This is one of the best ways to practice sustainable tourism in Cape Verde since you are directly supporting the local community.
Indeed, supporting small businesses is vital since they are the backbone of any economy!
The best small, independent shops in Mindelo, Cape Verde:
8. Do a Guided Tour with a Local
Do you want to get a unique glimpse into the Cape Verdean culture? Often, it's hard to do when you don't speak the language.
That's why it's a great idea to do a guided tour with a local guide who'll show you the best-hidden gems of the city. On top, you'll learn a lot about local culture and history.
Have a look at the guided city tours in Mindelo here.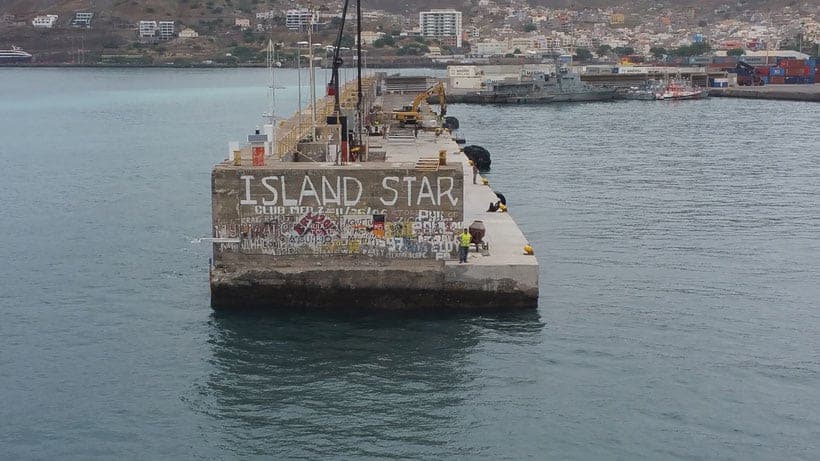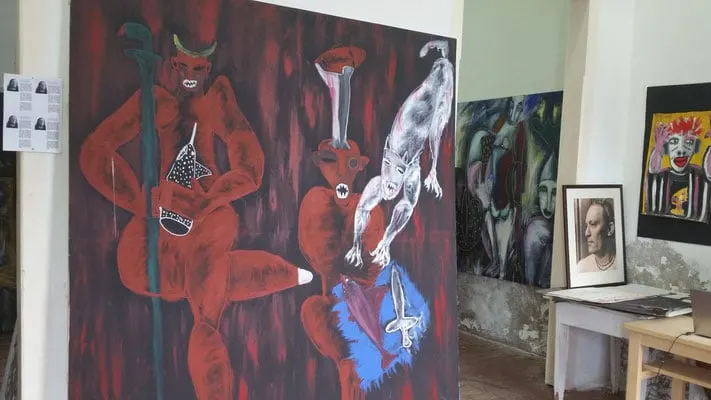 9. Visit the Best Buildings in Town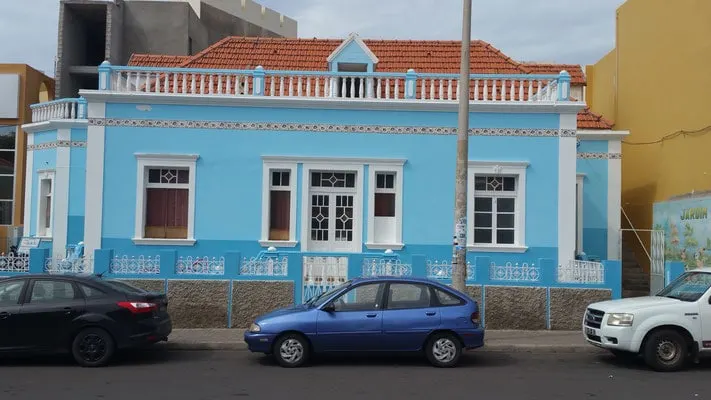 Mindelo boasts an incredible history and during many decades, it has been one of the most important harbors in the world. Even though its role slowly declined, you can still witness plenty of the town's former wealth.
Many of the prettiest buildings in Mindelo have been inspired by Portuguese architecture and can be qualified as colonial style.
However, what I like best about them are their colorful, often pastel-colored housefronts. They make such great photo motives!
Here are some of the buildings that are a must on any Mindelo itinerary:
Tower of Belem
Mindelo Cultural Center
People's Palace
Townhall
In order to discover the best that the city has to offer you, book here your guided walking tour of Mindelo.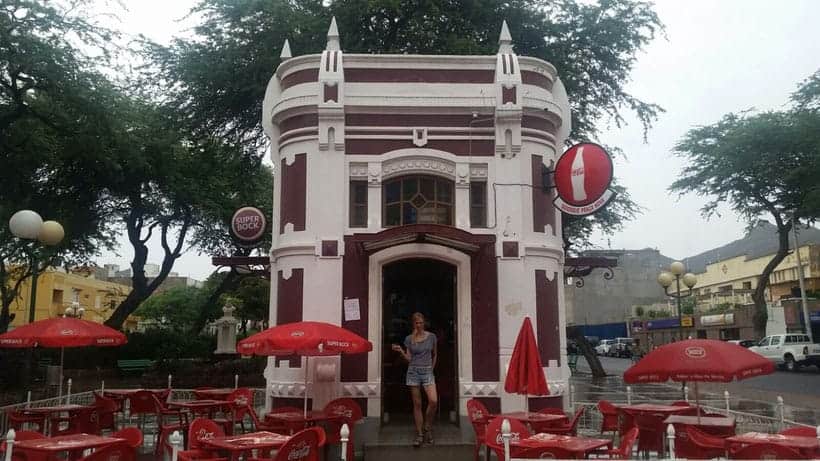 10. Relax at Praia Laginha
If Mindelo seems the dooryard of Brazil, Laginha Beach must be the Capeverdean version of Copacabana! With its white sandy beach and turquoise water, it's not only a popular photo motive but also one of the prettiest city beaches I've seen so far!
Indeed, hitting the most famous beach of Mindelo, Praia Laginha is a must on any Mindelo visit.
It's here where the locals meet in order to exchange the latest gossips, where the girls show their newest bikinis, and where men are trying to impress the ladies.
If you're not in the mood for a swim, there are plenty of beach bars to choose from. I recommend having a caipirinha with grogue and for a second, you'll think that you're in Brazil!
Read here about the best beaches in Cape Verde
11. Hiking Monte Verde and Monte Cara
Mindelo is a great destination to stay for a few days. If you need a break from the city, I recommend a hike to Monte Verde or Monte Cara.
You might not have expected that Mindelo is a great place for outdoor lovers too! Well, there are plenty of easy and intermediate hikes waiting for you on the island. Most of them can be done in half a day.
One of my favorite ones is definitely hiking about Monte Verde since it provides the best views on the island.
The trail is somewhat hard to find, thus I recommend having a look at guided hikes in Sao Vicente here.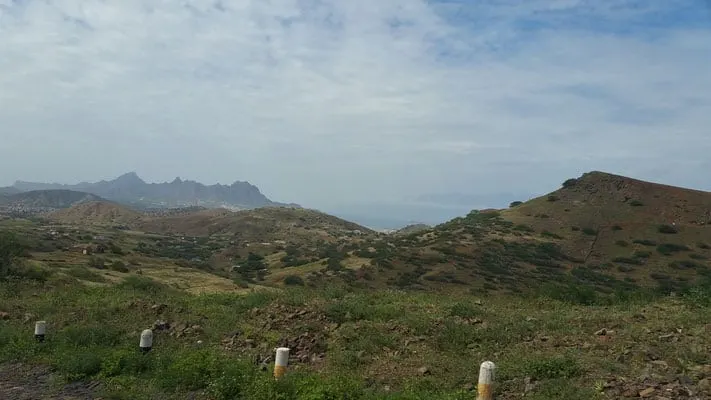 12. Do an Island Tour of Sao Vicente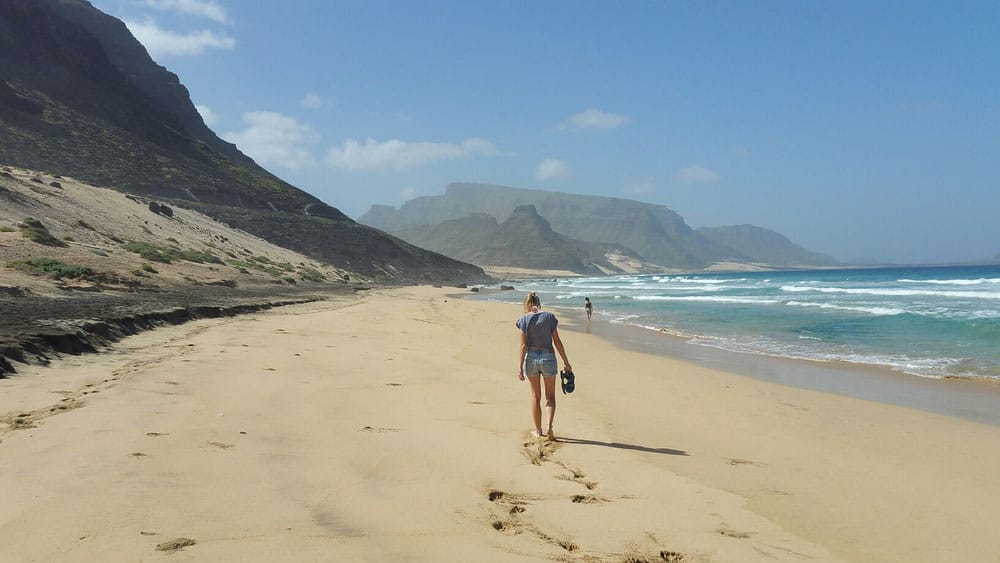 It would be a pity if you would only stay in Mindelo and not visit its gorgeous backcountry. Indeed, Sao Vicente can be a great surprise since the island hosts some of the best beaches in Cape Verde, boasts gorgeous hiking trails, and is home to extremely beautiful villages.
An island tour will show you the hidden gems of Sao Vicente such as its remote villages, turtle nesting sites, or the gorgeous beaches of Calhau, Bahia das Gatas or Sao Pedro.
On top, almost any tour includes a traditional lunch thus you'll get a unique glimpse into Cape Verdean cuisine too!
13. Do a Day Trip to Santo Antao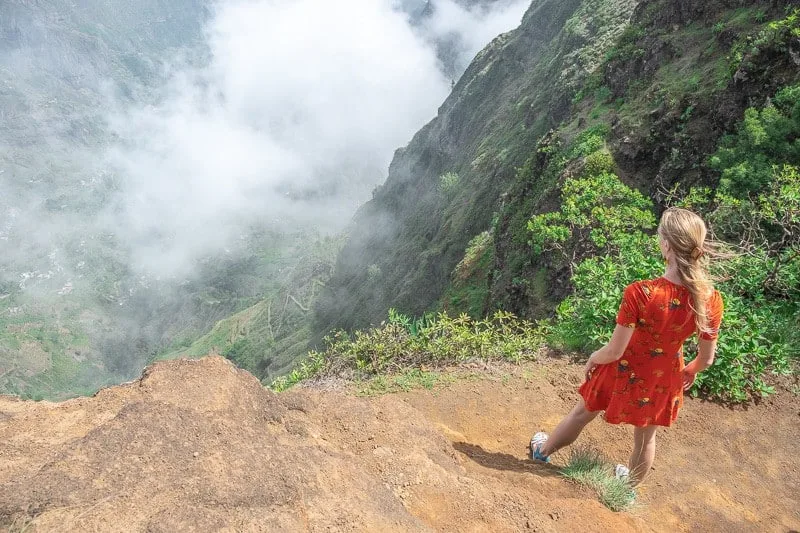 After enjoying Cape Verde's city life to the fullest, you should definitely consider a day trip to Santo Antao!
Indeed, the green island whose impressive silhouette amazes you from Sao Vicente: Santo Antao is considered one of the best islands in Cape Verde for hikers!
Already from Mindelo, you can only dream about the dramatic landscapes that are awaiting you.
The steep paths and breathtaking scenery of Santo Antao will make you fall in love! There are plenty of hiking trails in Santo Antao that are awaiting you, thus I recommend staying at least for several days.
If you are limited in time, I recommend booking a day trip to Santo Antao in order to make the most of your time.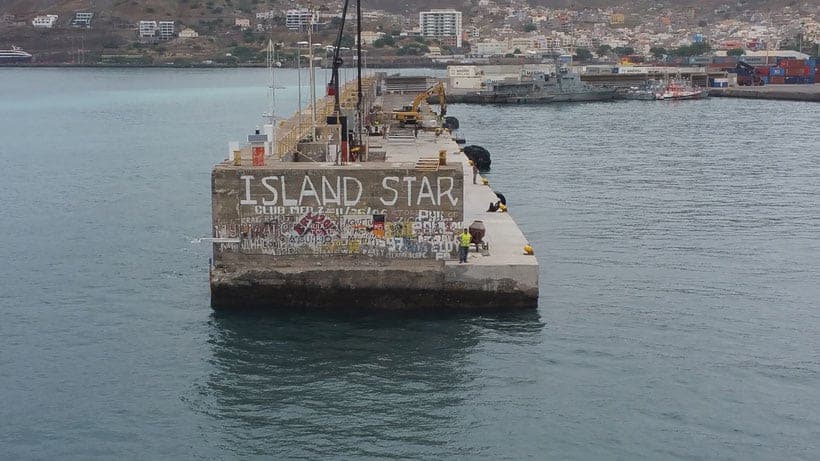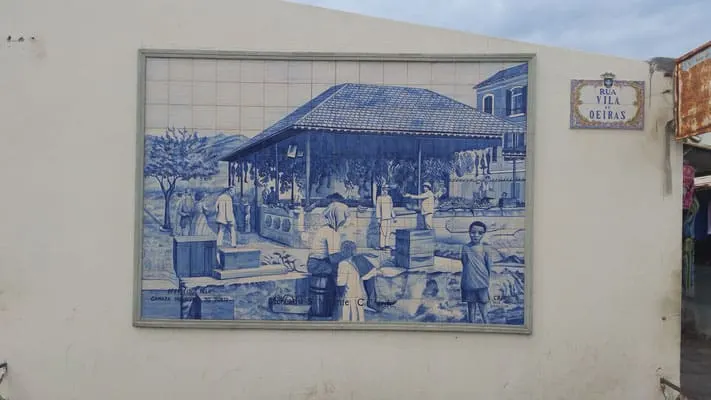 ---
I stayed at Simabo's Backpackers' Hostel, a hostel managed by the Association for the Protection of Animals and the Environment.
Mindelo is also a great place to do a day trip to Santo Antao. Read more about how to spend a weekend in Santo Antao.
For more information about tourism in Sao Vicente, Cape Verde I recommend the following webpage: Tourism in Sao Vicente, Cape Verde.
---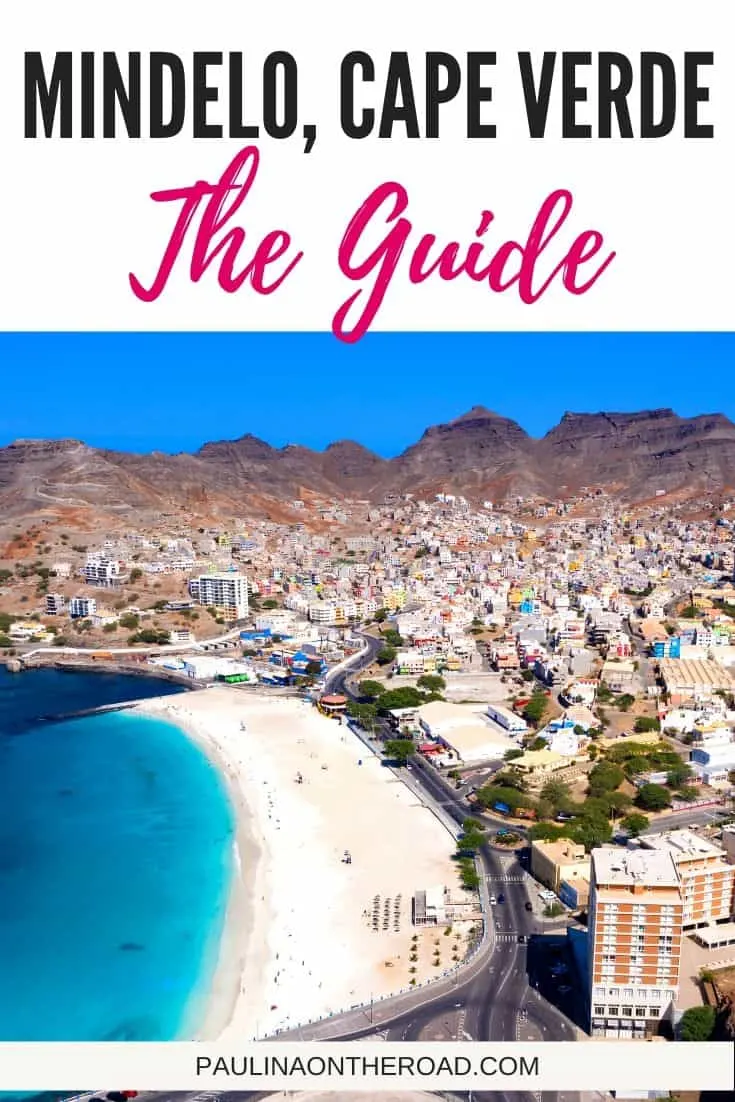 ---
Hola! I am Paulina, a fervent travelette who crossed the Atlantic Ocean by Boat HitchHiking. On my blog, you'll find all the tips to make the most of your holiday. Get ready to enjoy outdoor and sustainable travel like hiking, cycling or sailing. Let's hit the road together!