Where to go for Sustainable Holidays in Cape Verde
An Insider Guide to Small, Independent Businesses to enjoy Sustainable Holidays on Cape Verde Islands
Tourism on the islands of Cape Verde is growing at an incredible speed. New hotels, restaurants and large resorts are growing like trees. Especially on the islands of Sal and Boa Vista.
This leads to new challenges and radical changes in the society of Cape Verde: extremely scarce water resources, young people forced to leave "peripheral" islands, only limited benefits for the local community, mostly all-inclusive type of tourism, etc.
After traveling several times to Cape Verde and visiting almost every island, it became a mission of mine to show the beauty of each Cape Verdean island.
This blog is supported by you, dear reader. If you purchase through a link, I earn a small commission. As an Amazon Affiliate, I earn from qualifying purchases.
Top Resources to Travel Cape Verde
⚘ Don't leave without a travel guide. Be prepared and get the Ultimate Cape Verde Travel Guide Book

✈ Book cheap flights to Cape Verde with Skyscanner

✔ Book the best tours in Cape Verde with Viator

➳ Find the best hotel deals in Cape Verde with Trivago

❖ Get the best car rental deals with DiscoverCars

☘ Get the best discounted outdoor gear (outlet) at REI.com

✎ Never leave without travel insurance. I get mine at HeyMondo. It's easy to set up, cheap, and reliable.

✔ Skip the queue at the airport and get your Cape Verde visa in advance with iVisa

$ Withdraw money without hidden fees and avoid rubbish exchange rates with Wise (You'll get a card for free!)
Why do we need to think of a different form of holidays in Cape Verde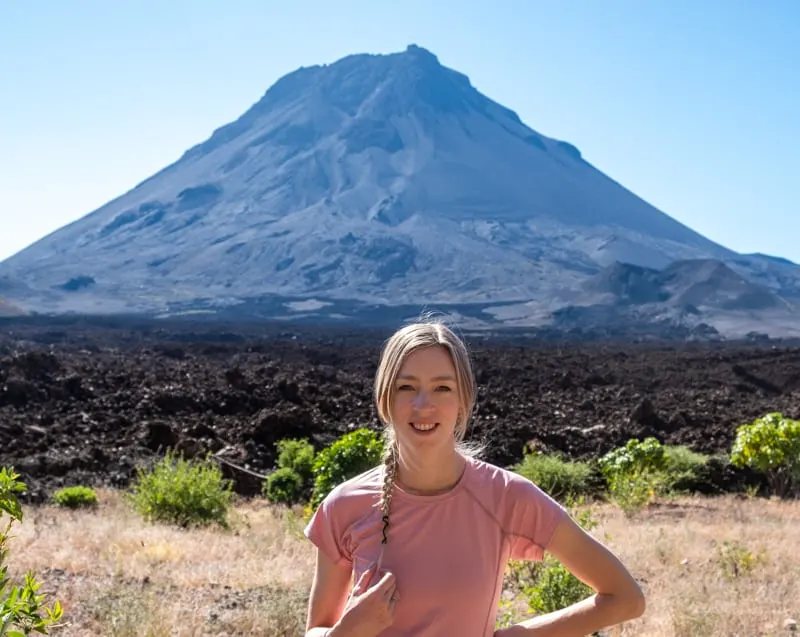 Most visitors that are looking to spend holidays in Cape Verde, immediately think of Sal or Boa Vista.
However, there is so much more to see than the international, anonymous resorts in Sal or Boa Vista. Because, if you want it or not, supporting this kind of tourism in these two islands that are totally desert is doing no good to anybody!
There are several points that you need to keep in mind when you opt for beach holidays in Sal or Boa Vista:
Besides some exceptions, most hotels are managed by foreigners or/and large hotel groups.
Most resorts are all-inclusive resorts, which means that the money stays within the resort. Tourists hardly leave their accommodation as everything has already been paid for. Thus, the local restaurants don't profit from tourism as they should.
Sal and Boa Vista are desert islands. It's surreal and revolting to see hotel fortresses with hundreds of hotel rooms and tourists taking endless showers. In some cases, the water of the local population is even being cut off so that the tourists can take their showers!
Showing the wrong idea of the Cape Verdean culture. When I stayed in Sal, I noticed that the entertainment program of many hotels consisted of "local dance shows". I saw young girls and boys dancing in Tarzan costumes with leopard prints! First of all, Cape Verde is not Africa! Second, even if it was, in Africa, people don't wear Tarzan outfits! Cape Verde's culture is a unique mix of European and African influences. However, its cultural wealth is not shown at all in the anonymous resorts.
The emigration. Young people from the poorer islands such as Fogo, Brava, Santo Antao, and Maio are leaving their homes to work in Sal or Boa Vista for supposed better working conditions. The results are deserted landscapes and societies.
The living conditions. Cape Verdeans have to pay extremely high rents to live in the back-country of Sal or Boa Vista. As every single fruit, vegetable, or any other product has to be imported, the cost of living is extremely expensive. The prices for fresh fruit are similar to the prices in Europe. That means that even if those people earn a little bit more money when they work for an international hotel group, they spend most of it in extremely expensive rents and living costs. On top, many of them are supposed to send money to their families on a regular basis.
A threat to nature. Large hotels are often built on preserved beaches that boast rich biodiversity and are turtle nesting sites.
When thinking about it, you may wonder how this is even possible. In my humble and innocent opinion, I think that the lack of regulation is partly responsible. In Europe, this kind of tourism would never be allowed!
I guess that you can see now why it's so important to diversify tourism in Cape Verde. The good news is that it's very simple! You can change everything with your decision!
You may spend some days in Sal or Boa Vista but then, take a plane or a ferry and explore how different each island is. Explore the vertiginous valleys of Santo Antao, the natural wonder of Mount Fogo, the cultural scene of Mindelo, and the untouched beaches of Maio.
There are so many more things to do in Cape Verde than staying locked in a resort in Sal or Boa Vista!
What to do to support sustainable tourism in Cape Verde?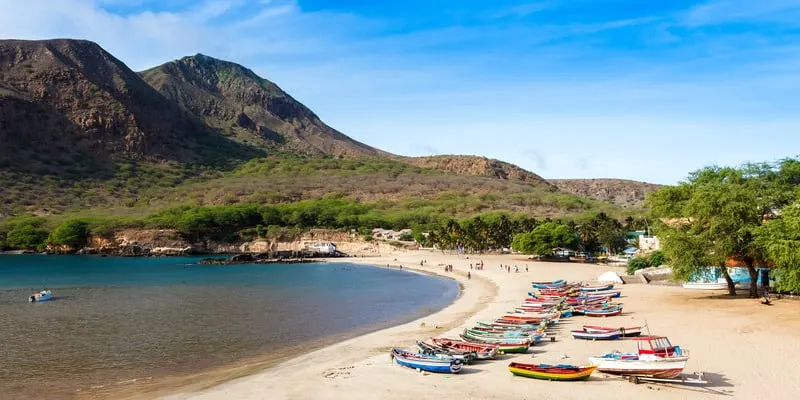 The first step is acknowledging that you can make a difference! But it will cost a little effort. It means that you'll need to go beyond the obvious and question your purchases, dinners, and hotels.
Unfortunately, in Cape Verde, local shops, restaurants and hotels managed by locals are often hard to find or to identify. Often, they are not featured on Booking, TripAdvisor or Viator.
These local businesses have been there long before the large hotel groups came and there was simply no need to invest or even think about marketing. In many cases, they simply don't have the resources to pay large commissions to online platforms.
I discovered most of the places listed in this article by talking to locals and wandering around. Sometimes, you wouldn't even know if you enter a private house or a shop, but you end up buying a fabulous t-shirt created by a local designer!
As a matter of fact, it is very hard to find small, independent businesses in Cape Verde. In order to facilitate the task, I listed for you every sustainable, local business I stumbled upon during my travels through Cape Verde.
Main criteria for being listed here as sustainable Cape Verde holidays
Businesses managed by the local community
Showcasing the Cape Verdean culture
Being as eco-friendly as possible
Preserving Cape Verde's biodiversity
READ: Best Hotels in Cape Verde
1. Sustainable Cape Verde Holidays in Sal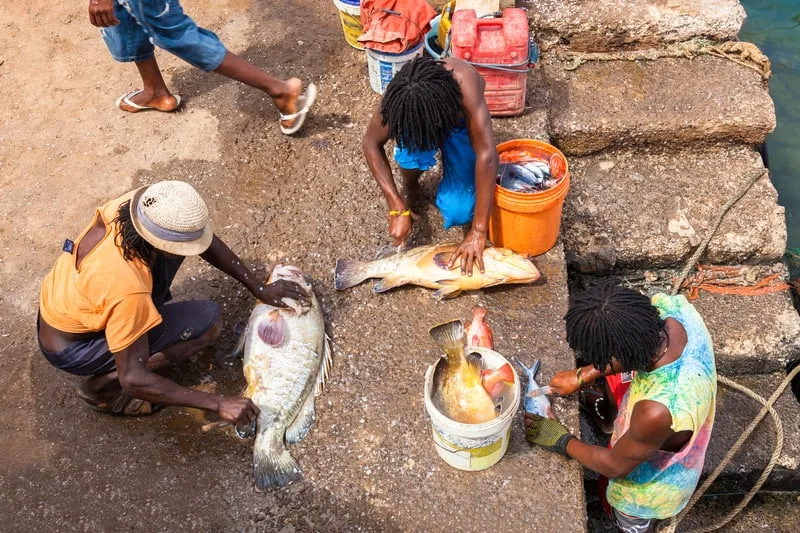 Along with Boa Vista, Sal is one of the main hubs for mass tourism in Cape Verde. Most resorts concentrate in Santa Maria, located in the southern part of the island.
Logging prices have risen a lot so that locals are pushed out from Santa Maria and have to relocate to the interior towns like Espargos.
However, your actions can make a difference and make sure that the local community can profit more from tourism.
Where to stay for Sustainable Cape Verde Holidays in Sal
It can be hard to find sustainable hotel alternatives in Sal. Most accommodation options are large hotels, managed by international groups.
Thus, if you want to be on the sustainable side, I'd recommend staying at smaller hotels, managed by local families. Even though you'll maybe need to make a few compromises when it comes to comfort, I think that supporting a local family compensates for it all.
Hotels in Santa Maria, Sal for sustainable travellers: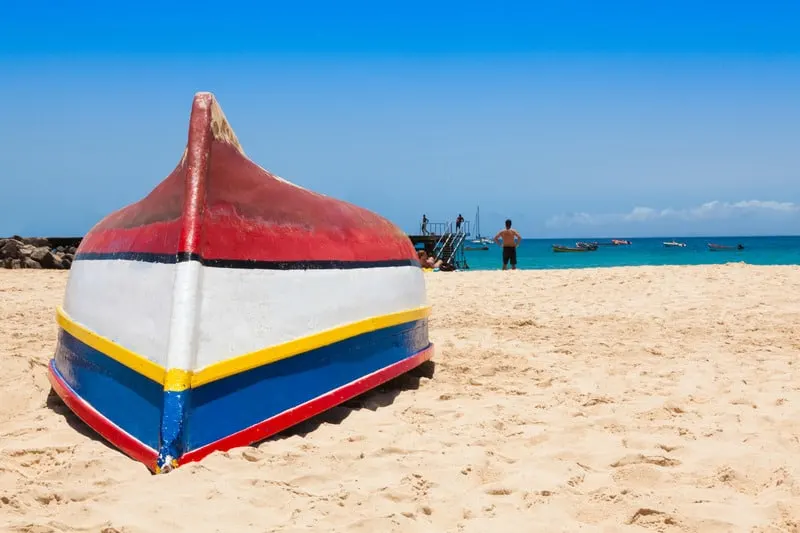 Local Shops in Sal
Mercado Municipal Santa Maria (on the main market in Santa Maria. I recommend looking for tailor-made dresses by the Senegalese tailors.)
Djunta Mo Art (products made in Cape Verde)
Art Hands
Local restaurants in Sal
Local guides in Sal
Malu Turismo (maluturismo.comercial@gmail.com)
Rotas Cruzadas (+2382422030)
Morabitur Viagens e Turismo (+2382422070)
Beni Teodoro Excursions & Transfer (+2389505161)
How to support local culture in Sal
It's well worth it to go out of your resort and walk in the streets behind the main boulevard of Santa Maria. It's here where you'll still find some of the local, original daily grinds. However, even here, the Cape Verdean population is slowly moving out due to the rising logging prices.
Concerning restaurants, I usually eat where locals are sitting on the terrace. You can get a very tasty meal for as little as 5 €!
For shopping, I absolutely recommend heading to the local market hall in order to support small, local merchants.
It's also well worth taking an aluguer (collective taxi) and head to Espargos or Palmeira. Here, you'll still find plenty of small shops and bars managed by the local population.
READ: Best Things To Do in Cape Verde
2. Sustainable Cape Verde Holidays in Boa Vista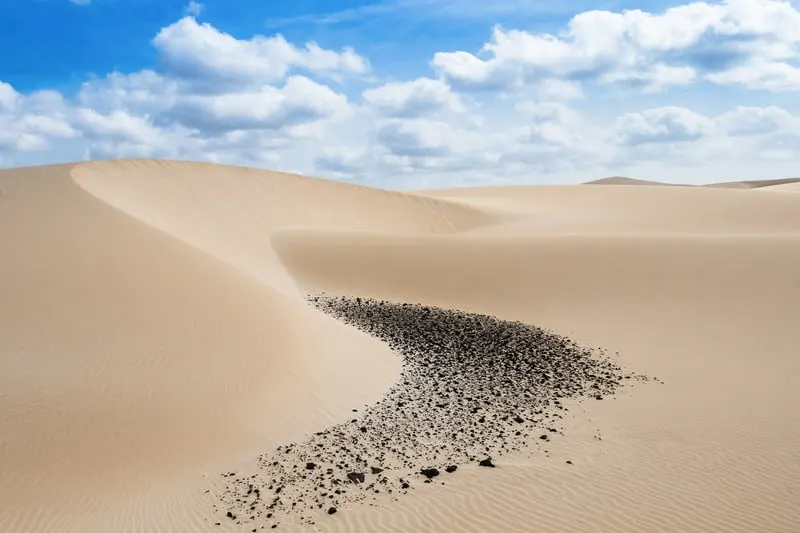 Boa Vista is the other tourist hub of the Cape Verdean archipelago. The vast beaches and immense dunes are attracting people from many European countries. Extremely well connected to major European airports, Boa Vista is one of the most popular places for Cape Verde winter holidays as well.
Larger than Sal, in Boa Vista you can still enjoy a certain sensation of emptiness and pristine state.
Most tourist resorts are located next to Sal Rei and managed by some of the largest hotel brands in the world. Walk the extra mile and you'll stumble upon the legendary morabeza, the Cape Verdean hospitality!
Where to stay for Sustainable Cape Verde Holidays in Boa Vista
Luckily, there are still plenty of smaller hotels in Boa Vista that are managed by local families. If you're looking for a warm welcome and learning about the Creole culture, staying at a smaller hotel is one of the best ways to do so.
Spingueira Ecolodge *** is a pioneer when it comes to sustainable hotels in Boa Vista and has excellent reviews. It's easily one of the best hotels in Boa Vista, Cape Verde!
Terra Kriola is putting a strong focus on reducing water waste.
Hotels in Boa Vista for Sustainable Travellers:
Local Shops in Boa Vista
There are two local markets in Sal Rei where you can buy handicrafts from Cape Verde and the West African coast.
There are plenty of souvenir shops selling items "Made in China", but the further you go from the sea, the more likely you'll find the local merchants.
Local restaurants in Boa Vista
Local guides in Boa Vista
Melitour (+2382511885)
Morabitur (+2389187309)
Morena (+2382511445)
Verdemundo (+2382512118)
3. Sustainable Cape Verde Holidays in Santo Antao
The green island of Santo Antao attracts a totally different type of travelers than Sal or Boa Vista. As the island has only very few beaches which are hard to access, mostly hikers and outdoor lovers visit Santo Antao.
As a result, there are not many large, international hotels. Most accommodation options are managed by the local community. Surprisingly, there's a large number of eco-friendly hotels and lodges.
You may also consider bringing your vegan hiking boots. They are a great alternative since they are completely cruelty-free.
Where to stay for Sustainable Cape Verde Holidays in Santo Antao
For hiking holidays in Santo Antao, I recommend staying either in Ribeira Grande or Ponta do Sol, as you'll be close to the most important trails.
However, if you want to get a sense of remoteness and the extraordinary beauty of Santo Antao, then op for a few nights in the mountains.
If you want to include some days at the beach, head to Tarrafal. The access road is difficult but definitely worth it! There are several guesthouses to accommodate you.
Local Shops in Santo Antao
Local restaurants in Santo Antao
Local guides in Santo Antao
Edson, my all-time favorite guide! (edsondal@live.com.pt)
How to support local culture in Santo Antao
In any larger municipality of the island, you'll find small, cute shops with Cape Verde souvenirs based on hand-made jams, grogue, or liquor.
But increasingly, you'll also stumble upon hand-made jewelry made from raw materials such as seeds or banana leaves.
One of my favorite places to enjoy the local culture is the center of FESTIVAL SETE SÓIS SETE LUAS in Ribeira Grande.
It's the cultural hub of the island where you can enjoy exhibitions, concerts, and local cuisine. It even has a cute shop where you can buy local goods.
4. Sustainable Cape Verde Holidays in Sao Vicente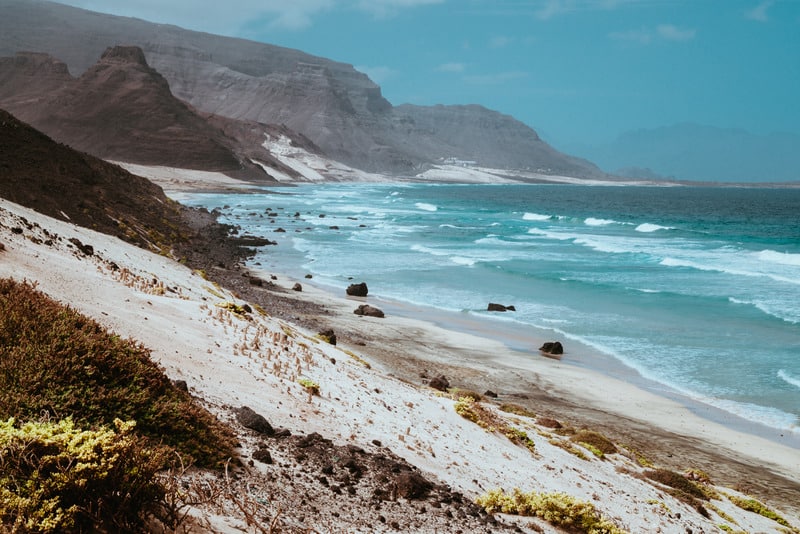 To me, Sao Vicente has the evenest mix of beaches and hiking. There is the legendary Laginha Beach, Salamansa Bay, and the stunning Praia Grande of Calhau. Hiking lovers will find heaven there to hike up Monte Verde!
However, it's mostly the cultural and musical scene that Sao Vicente, and more specifically Mindelo, are famous for. Home to the legendary singer Cesaria Evora, Mindelo is without any doubt one of the most bustling towns in Cape Verde. Plenty of music bars and local shops are awaiting you!
Where to stay for Sustainable Cape Verde Holidays in Sao Vicente
While there are several larger hotels in Mindelo, recently, many smaller, family-run businesses have opened their doors. It's thus a great occasion to support the local businesses!
If you're looking to escape the bustle of Mindelo, I recommend staying at Sao Pedro or Calhau Beach which both boast a gorgeous bay.
Where to stay in Sao Vicente for sustainable travel
Local Shops in Sao Vicente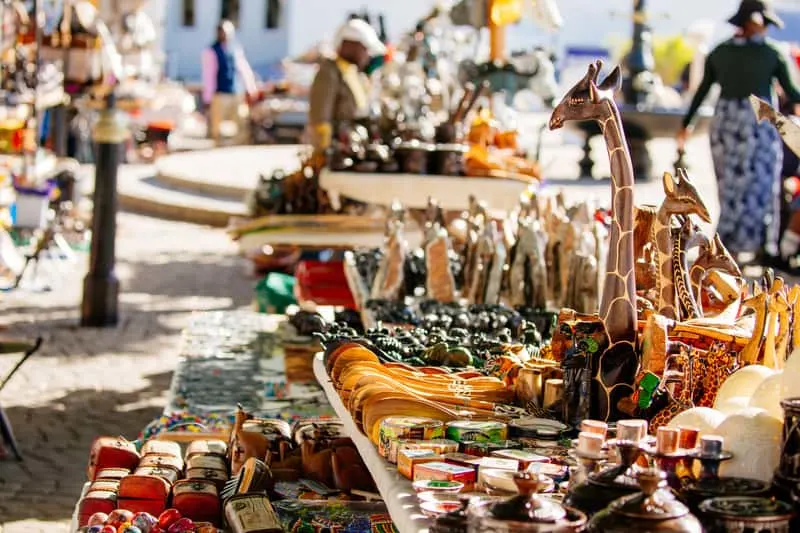 Local restaurants in Sao Vicente
Local guides in Sao Vicente
Cabetur (+2382323847)
Cibertur (+2382325610)
Djambai Tours (djambaitours@gmail.com)
5. Sustainable Cape Verde Holidays in Santiago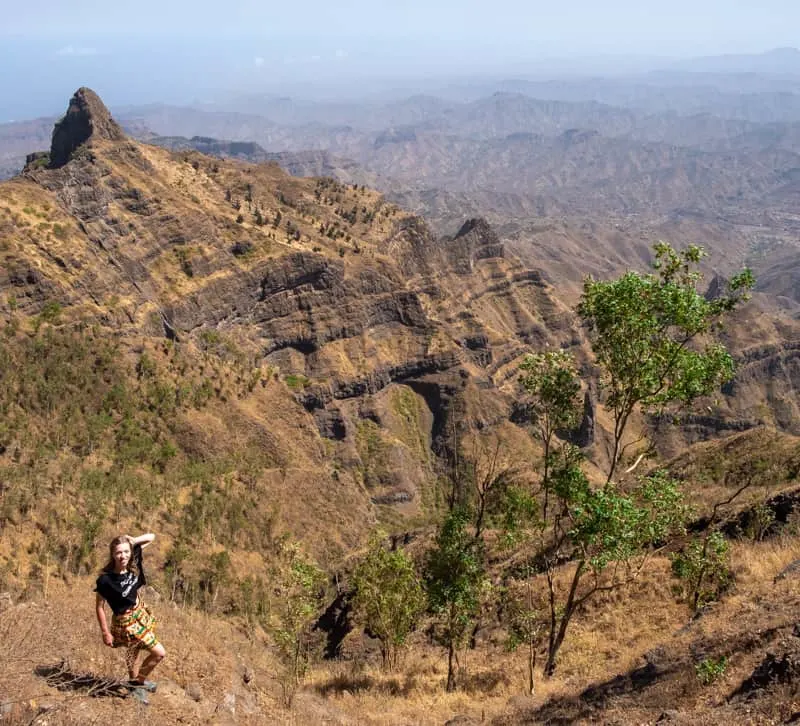 I compare Santiago a bit to Sao Vicente: plenty of cultures, gorgeous beaches, and hiking trails. However, the hiking trails of Serra Malagueta, in the heart of Santiago island, are much more impressive and really will give you the sensation of being away from the world.
Not to mention that you have Cidade Velha, one of the oldest, colonial towns that was once the main hub for the slave trade.
Santiago island preserved its authentic flavor, and boasts a gorgeous architecture in the "Plateau" district of Praia, and stunning nature.
Where to stay for Sustainable Cape Verde Holidays in Santiago
For those who follow me a little longer, you know that I am a nature girl. I liked to spend a few nights in Praia just to get the feel of it and to indulge a bit in "western luxury".
However, it's in the interior of the island and in Tarrafal beach, in the north of the island where Santiago shows all its beauty.
Sustainable, small hotels in Santiago
Local Shops in Santiago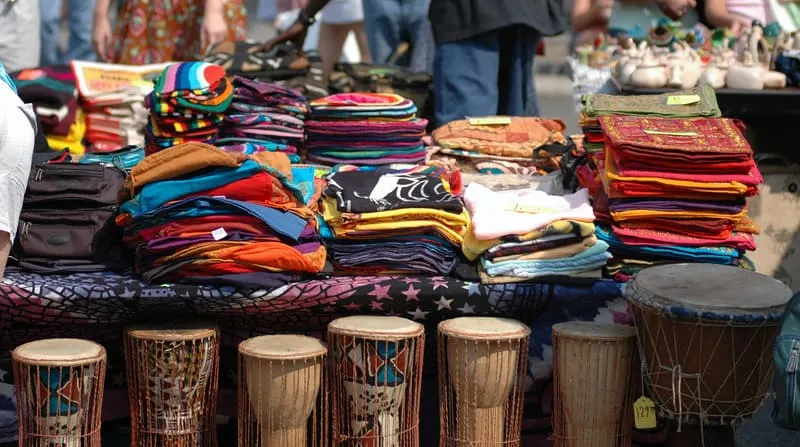 Local restaurants in Santiago
Local guides in Santiago
6. Sustainable Cape Verde Holidays in Fogo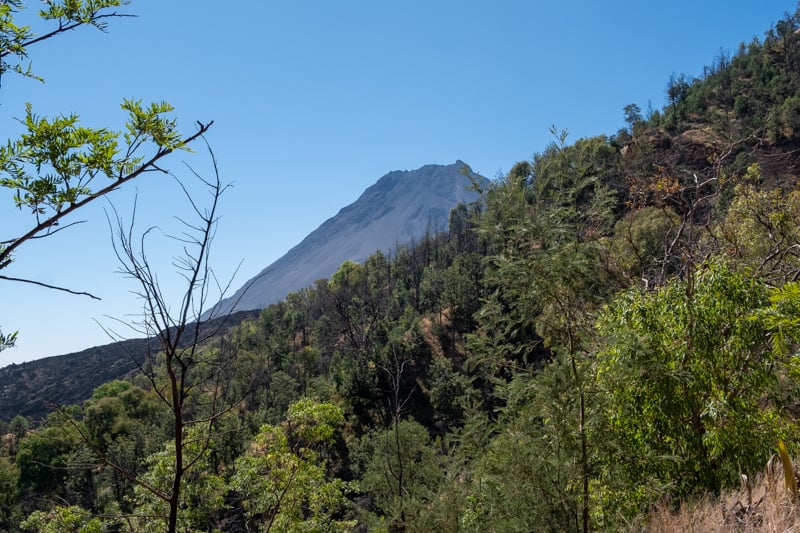 Fogo is unlike any other Cape Verdean island. With the colorful houses of its capital Sao Filipe, the austere village Chã das Caldeiras set in the volcano crater, and the lush green coffee plantations near Mosteiros, Fogo is extremely diverse to say it with one word.
Whereas plenty of new hotels and restaurants have been opened by foreigners, you can still find some purely local businesses.
When it comes to hiking the volcano, make sure to only go with official guides. I strongly recommend contacting Alcindo from casa alcindo to organize your hike.
Where to stay for Sustainable Cape Verde Holidays in Fogo
If you visit Fogo, you can't leave without visiting Cha das Caldeiras. I'd recommend spending 2 nights in Sao Filipe and a minimum of 2 nights in Cha das Caldeiras. Both villages are extremely laid-back, to say the least, but have their unique vibe.
Cha das Caldeiras is for me a place out of this world. Destroyed by the volcano eruption of 2015, the local community is slowly coming back and rebuilding their houses from scratch.
By staying overnight in Cha das Caldeiras, you are supporting their initiative of rebuilding their village. It's a marvelous place and it has the most incredible starry sky!
Small, independent hotels in Sao Filipe:
Small, independent hotels in Cha das Caldeiras:
Local Shops in Fogo
Local market
Local supermarkets (to stock up on the local Fogo vine, and organic coffee)
Souvenirs shops (souvenirs made with volcanic stone from Cha das Caldeiras)
Dja'r Fogo (artisan coffee from Fogo)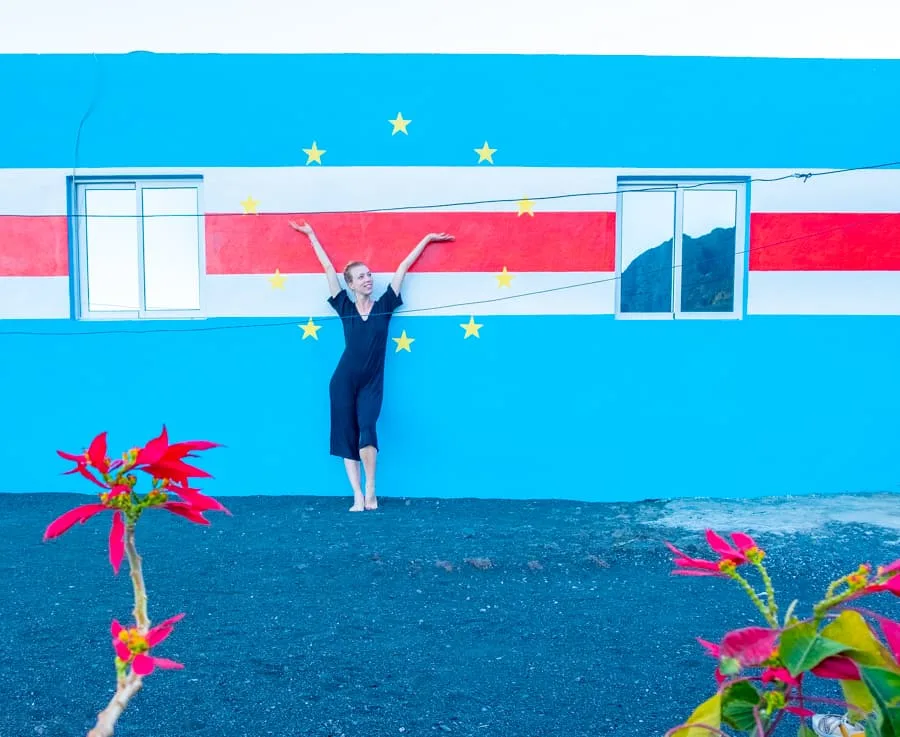 Local restaurants in Fogo
In Fogo crater:
casa alcindo (delicious meals!)
Bar David Fernandes Montrond (serving home-made manekon wine!)
Local guides in Fogo
Alcindo and his brothers (the official guides, contact Casa Alcindo)
Qualitur (for round-the-island trips!)
7. Sustainable Cape Verde Holidays in Brava
Brava is without any doubt one of the most remote islands of Cape Verde. That's first due to the ferry connections and the fact that there is no airport. Secondly, the sea to Brava can be very rough!
During centuries, it was really difficult to reach the island. That's why Brava preserved a unique heritage and a very united community.
If you decide to visit Brava (and you definitely should!), you'll get to experience the somehow pristine, unspoiled Cape Verde. Alone the fact, that you take this long trip to Brava, will be a great sign of support to the local community.
Where to stay for Sustainable Cape Verde Holidays in Brava
There are two main towns to stay when traveling to Brava. Nova Sintra, the enchanting capital of Brava and Fajã da Agua, famous for its gorgeous swimming pools.
Both towns are perfect departure points for long hikes that are the best way to explore the "Island of Flowers".
Best small, independent hotels in Brava:
Local Shops in Brava
The 7Sois7Luas Center in Nova Sintra has a beautiful shop with crafted items.
There are some shops in Nova Sintra selling traditional embroidery, cloth, and lace dolls. In the villages, some artisans sell basketwork and stone carvings.
Local restaurants in Brava
Bar Mansa (+2382851222)
Pôr-do-Sol (Faja d'Agua)
PONTO de ENCONTRO (+238 285 16 23)
Local guides in Brava
How to support local culture in Brava
Brava is also one of the islands that has one of the most important rates of emigration towards the USA. Thus, your visit and decision to support the local businesses will give the people a reason to continue investing in this pristine island.
I also recommend getting in touch with the cultural association of 7Sois7Luas who supports guides and organizes concerts on a regular basis.
READ: Do I need Travel Insurance for Cape Verde
8. Sustainable Cape Verde Holidays in Maio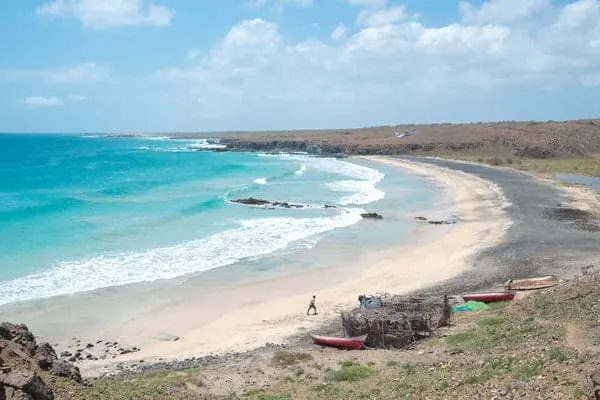 There are 3 beach islands in Cape Verde. 2 of them, Sal and Boa Vista have been "spoiled" by mass tourism. Luckily, a third one is left: Maio. In my opinion, Maio is just on the edge of becoming a new tourist destination. Thus, there are still plenty of options to support local, small businesses!
Maio is synonymous with virgin beaches where you won't cross anybody for hours! To me, it's home to the best beaches in Cape Verde! It's synonymous with a friendly, peaceful community and nature in its pristine state.
It's a gem that hopefully will learn from the errors committed in Sal and Boa Vista when it comes to tourism.
Where to stay for Sustainable Cape Verde Holidays in Maio
Most tourist accommodation sites are located in Vila do Maio, also known as "Porto Ingles". However, if you're looking for absolute peace and tranquility, head to Morro or Calheta where you'll have vast beaches all for your own!
If most of the recommended places here are not on Booking, it's simply because of the unawareness or the lack of funds to pay a high commission.
Best small, independent hotels in Maio
Local Shops in Maio
Info Artesanato (Main Esplanade, Porto Ingles)
Cheese Factory (Ribeira Dom Joao)
Senegalese Tailor (behind the 7Sois7Luas center)
Salt Mine Museum Shop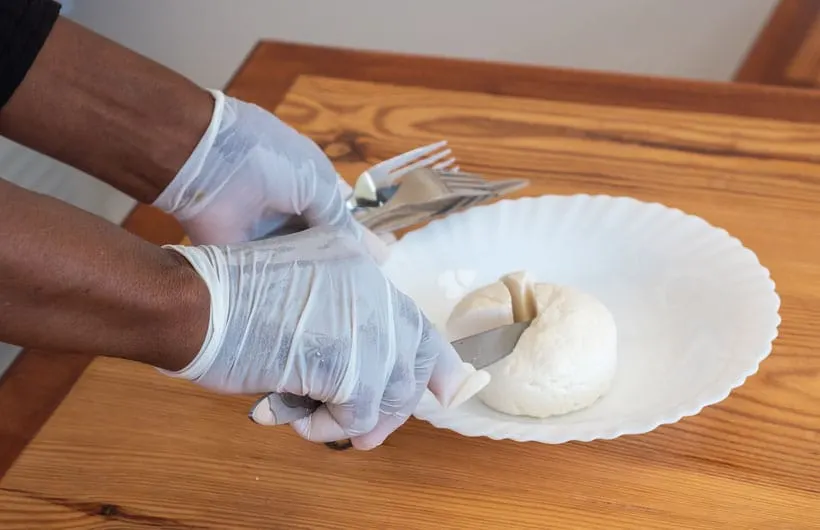 Local restaurants in Maio
7Sois7Luas (best views on the beach!)
Bar Tibau (managed by the legendary singer Tibau Tavares, Main Avenue, Porto Ingles)
Bar Tropikal Maio (Beach Porto Ingles)
José Contina Reis (home-made, Cape Verdean food for 4 €!)
Horace Silver Lounge Bar (best cocktails in town!)
Mar i Sol (best fried moreira (eel) in town, behind the7Sois7luas Restaurant)
Bar Garage (for coffee and home-made yogurts, near the post office)
Local guides in Maio
How to support local culture in Maio
The best way to support the local culture and sustainable tourism in Maio is by staying and eating out at the local businesses. There is plenty of traditional Cabo Verde food you absolutely should try.
It's not that I have anything about hotels or restaurants managed by foreigners! I'm just deeply convinced that also, if not mostly, the local population should have its share from the benefits of the growing tourism industry!
Yes, eating out or staying at a Cape Verdean hotel is different from a European hotel! But then still, what's the purpose of traveling when you want the same things than back at home? Thus, give local businesses a chance to see that it's worth investing in tourism and give them the hope to be able to grow!
During the week, Maio is relatively quiet. However, during the weekends, you can enjoy plenty of live music in 7Sois7Luas, Horace Silver Lounge Bar or in Bar Tropikal.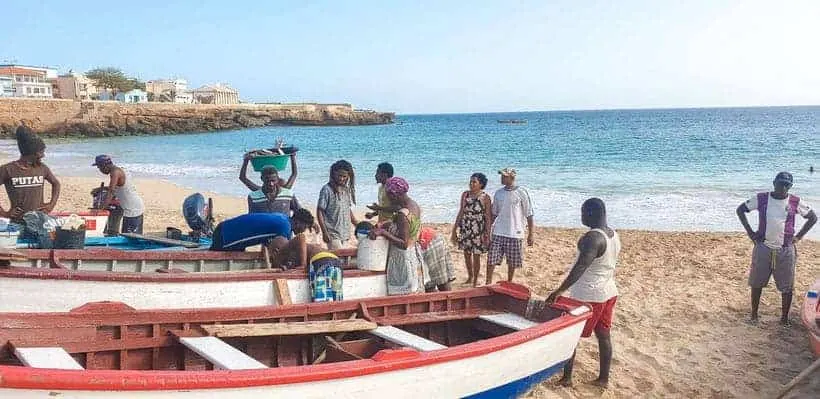 ---
Final Note
I hope that this list was useful for your travel plans to Cape Verde. I will do my best to keep this article as updated as possible. However, things are changing fast in Cape Verde, especially in the tourism industry. If you notice that any of the here-mentioned businesses have been closed, please feel free to drop me a message.
Did you discover a cute, small shop, hotel or restaurant that isn't featured yet on this post? Feel free to let me know your discovery and I will update the article so that they can benefit from the exposure on this blog.
---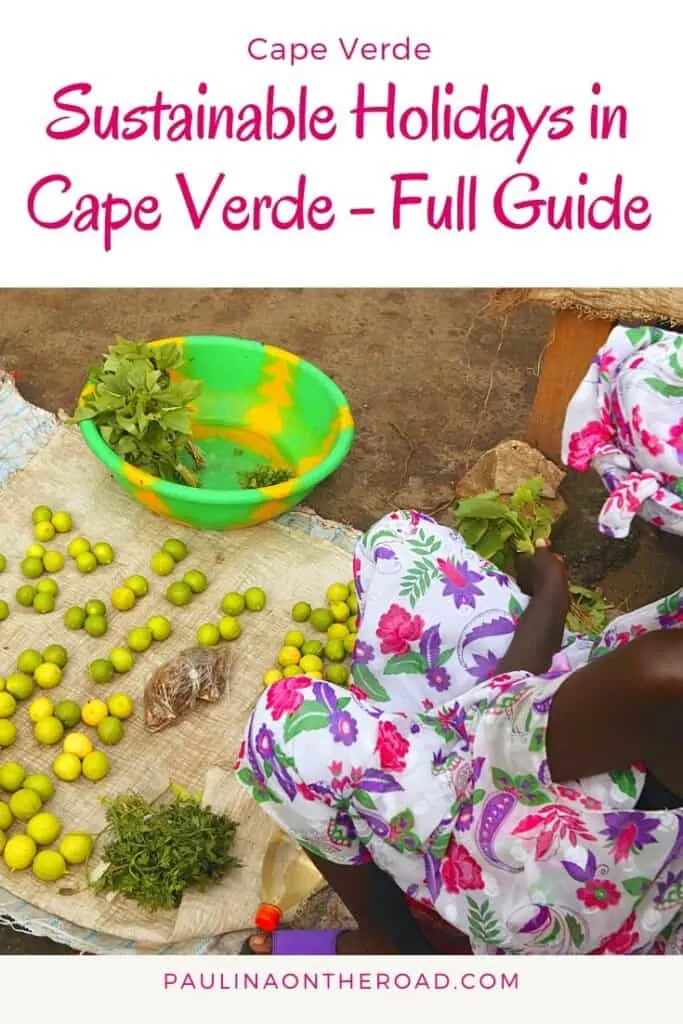 Quick FAQ
Is it safe to holiday in Cape Verde?
Yes, it is very safe to holidays in Cape Verde. However, you need to be a bit more cautious when traveling to the outskirts of Mindelo or Praia.
Where to go on holiday in Cape Verde?
It depends on your likings. If you enjoy hiking, then Fogo and Santo Antao are the best places for holidays in Cape Verde. If you want the beach, Maio, Sal and Boa Vista are the best places to stay in Cape Verde.
What language do they speak in Cape Verde?
The main language is Cape Verde kriol. However, everybody speaks Portuguese too. In more touristy places, people speak French and English as well.
---
Hola! I am Paulina, a fervent travelette who crossed the Atlantic Ocean by Boat HitchHiking. On my blog, you'll find all the tips to make the most of your holiday. Get ready to enjoy outdoor and sustainable travel like hiking, cycling or sailing. Let's hit the road together!