Are you looking for an exotic and off-the-beaten-track destination that offers unique beauty, culture, and activities?
Travel Cape Verde! Located in the Atlantic Ocean, this small archipelago of nine islands is a hidden gem full of adventure-seeking opportunities.
From its tropical climate with rugged terrain to its year-round sunshine and breathtaking views—the country's diverse natural attractions provide endless exploration possibilities.
And let's not forget about all the Cape Verde food made from freshly caught seafood washed down by locally crafted beer.
After living on the archipelago for a year and visiting numerous times (more Paulina on the road here), it's time to share my favorite insider tips about Cabo Verde!
Whether you're an avid hiker or more into lounging on sun-kissed beaches listening to music (or both!), there's something for everyone when traveling Cape Verde.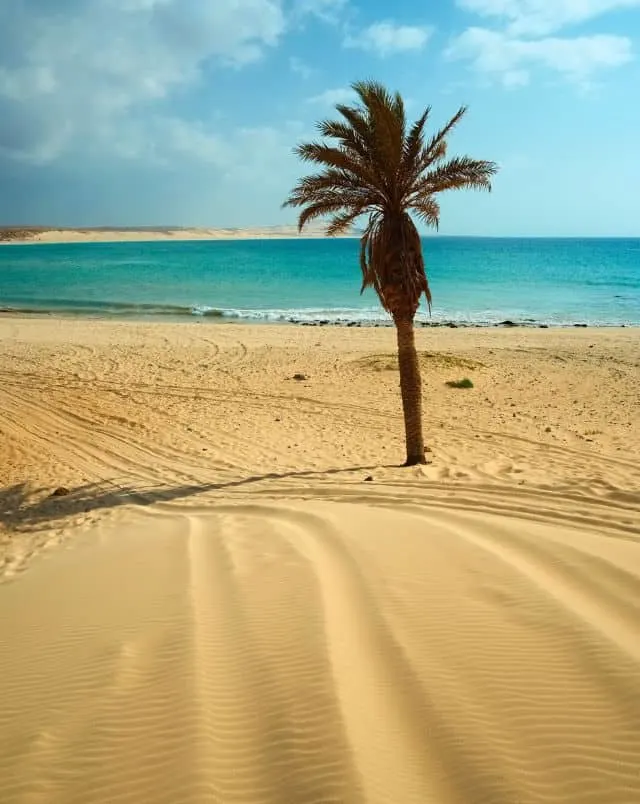 The island nation of Cabo Verde, located off the coast of West Africa, is a true hidden gem for travelers seeking beautiful weather, breathtaking landscapes, and a unique cultural experience.
From the colorful colonial architecture of Mindelo to the stunning beaches of Sal, there's no shortage of sights to discover.
Plus, the friendly locals are always happy to share their love for music, dance, and delicious local cuisine.
Top Resources to Travel Cape Verde
⚘ Don't leave without a travel guide. Be prepared and get the Ultimate Cape Verde Travel Guide Book

✈ Book cheap flights to Cape Verde with Skyscanner

✔ Book the best tours in Cape Verde with Viator

➳ Find the best hotel deals in Cape Verde with Trivago

❖ Get the best car rental deals with DiscoverCars

☘ Get the best discounted outdoor gear (outlet) at REI.com

✎ Never leave without travel insurance. I get mine at HeyMondo. It's easy to set up, cheap, and reliable.

✔ Skip the queue at the airport and get your Cape Verde visa in advance with iVisa

$ Withdraw money without hidden fees and avoid rubbish exchange rates with Wise (You'll get a card for free!)
Where to stay in Cabo Verde
This archipelago nation located off the west coast of Africa is a hidden gem waiting to be explored.
Not only will you be greeted with crystal-clear waters and picturesque beaches, but you will also experience the rich culture and history of the islands.
Beach Holidays:
Odjo d'Agua Hotel (Sal)
Royal Horizons Boa Vista (Boa Vista)
Casa Evora (Maio)
Hilton Cabo Verde Sal Resort (Sal)
Hiking Holidays:
Tiduca Hotel (Santo Antao)
Djabraba's Eco-Lodge (Brava)
Casa Alcindo (Fogo)
Biosfera Amor do Dia (Santo Antao)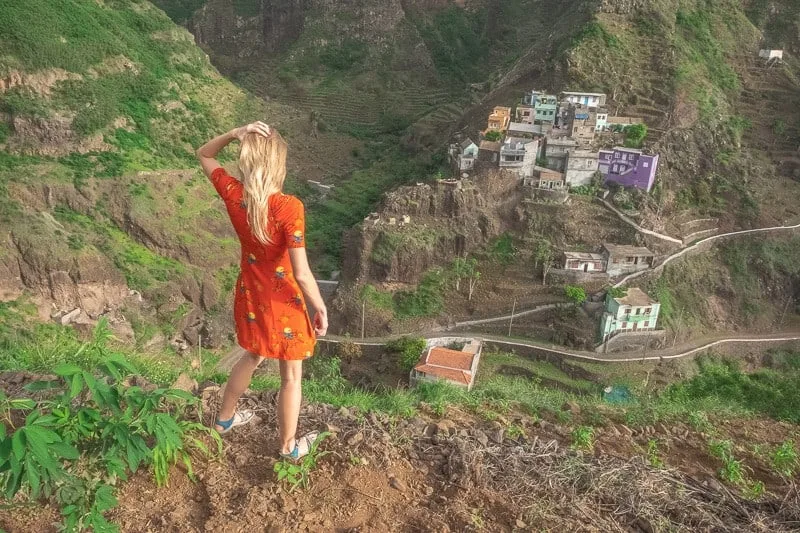 And with direct flights from major cities, getting there has never been easier.
I called Cape Verde my home for a year (yes… I spent my COVID lockdown on a remote Cabo Verde island). The country and its people truly hold a special place in my heart.
I can't recommend visiting Cape Verde enough – and if you travel with an open heart, you'll want to return repeatedly.
Things to do in Cape Verde
Cape Verde is the perfect destination for both adventurers and relaxation seekers alike.
With so many things to do in Cape Verde, it's hard to know where to start!
You can explore the rugged landscape, go surfing or kiteboarding off the coast, take a boat tour to see whales and dolphins, or simply relax on one of the many gorgeous beaches.
The rich local culture and music scene are also not to be missed.
With so much to see and do, Cape Verde is a vacation destination that won't disappoint.
Cape Verde Holidays resources
Cape Verde resorts
If you're looking for an exotic escape that's off the beaten path, look no further than Cape Verde resorts.
Whether you're looking for a romantic getaway with your partner or a fun family vacation, Cape Verde resorts have something for everyone.
And with warm temperatures year-round, you can soak up the sun and surf to your heart's content without worrying about winter blues.
What is the best time to visit Cape Verde?
The ideal time is from November to May when the temperature is a pleasant 24-28 degrees Celsius.
During this period, visitors can indulge in various outdoor activities such as kite-surfing, beach bumming or hiking the stunning mountain ranges.
The locals are warm and hospitable, which adds a personal touch to your vacation experience.
Whatever time you choose to travel, Cape Verde will impress you with its stunning scenery, delicious cuisine, and warm hospitality.
Where is Cape Verde?
Cape Verde, officially known as the Republic of Cape Verde, is an archipelago located in the central Atlantic Ocean.
It is situated off the west coast of Africa, approximately 570 kilometers (350 miles) west of Senegal.
Cape Verde consists of 10 main islands and several smaller islets, with Praia being its capital and largest city.
The ultimate Travel Cape Verde Guide Book
Find all hidden gems in the Ultimate Cape Verde Travel Guide Book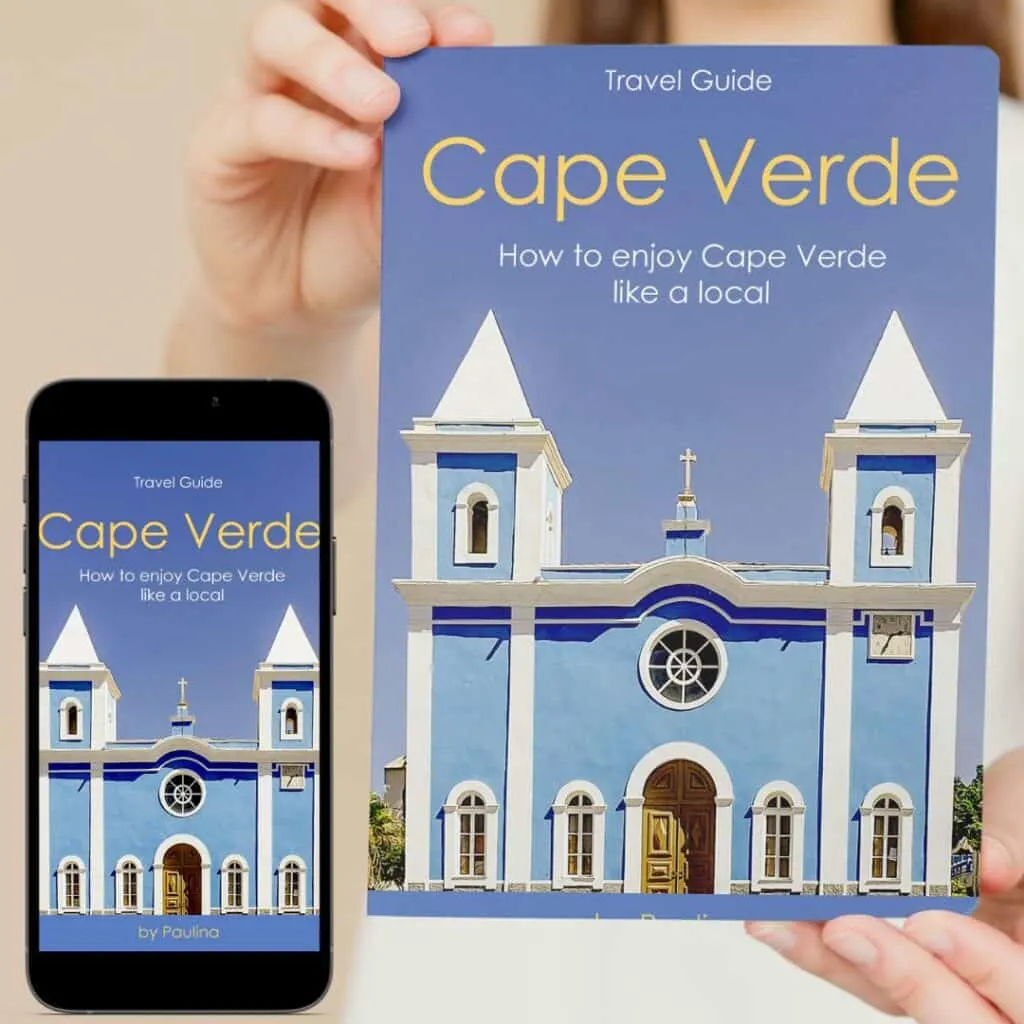 Cape Verde Souvenirs
If you can't go shopping in Cape Verde, have a look at these gorgeous pieces: