2 Day Itinerary for Hiking Weekend in Santo Antao, Cape Verde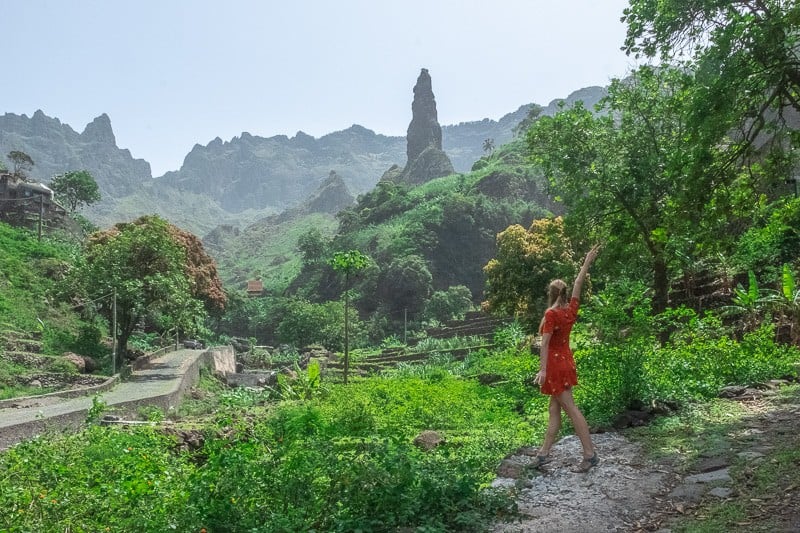 You probably know already that I had an immediate "coup de foudre" – love at first sight-moment – for the island of Santo Antao, Cape Verde. On our boat hitchhiking trip we were lucky enough to spend more than 1 month on Sao Vicente and thus decided to explore the neighbor island Santo Antao. We stayed for 10 days, hiking every single day.
I absolutely fell in love with the staggering heights, deep valleys, kind people and nature's breathtaking beauty. I left the island with a bittersweet taste in January 2017, thinking that I would never make it back. Well, guess what? Destiny (and Festival 7Sois/7Luas) took me back to Santo Antao to share more travel tips with you.
I never saw an island like Santo Antao before. Protected by a brave sea, its mountainous heights were already luring me when still in Mindelo, Sao Vicente. Santo Antao is an island of extremes: the west part has beaches whereas the east has staggering mountains, deep valleys, lush green, terraced farmlands producing fruits and vegetables for the entire CapeVerdean archipelago.
Short Introduction to Santo Antao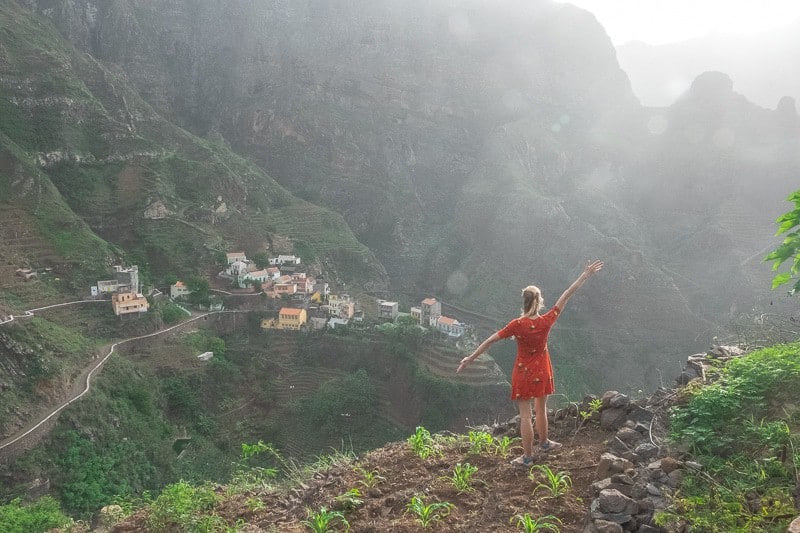 The best of Santo Antao is its mere infinite trekking and hiking possibilities. The former "caminhos vecinais" that used to interconnect villages and move the cattle are nowadays increasingly used by hikers and trekkers.
That being said, tourism is growing on Santo Antao, but not to an extent where it is unbearable. Several trails have been signalized in the last years and guides are being trained to provide qualitative services. I highly recommend Edson from Lima Walking Tours who offers guided visits in several languages. ([email protected])
In case you only have limited time to spend on Santo Antao island, I just put this 2-day itinerary together. Having only 2 days at your disposal, I highly recommend booking a guide and a transfer in advance in order to enjoy the island stress-free and make the most of your time.
Feel free to contact Edson and he will take care to help you onsite. We went with the driver Galinha (Tel.: 00238.993.1306) and he was great!
The adventurous travellers might like to rent a car in Porto Novo, at Pegaso's, located 300m from the ferry arrivals.
How to get to Santo Antao
There are 4 ferries per day departing from Mindelo, Sao Vicente. The ride takes 1 hour. I recommend buying the tickets 1 day before departure at the ferry dock in Mindelo (along Avenida Marginal). Schedules vary thus I recommend getting to the office the day before departure and check.
Where to stay in Santo Antao:
Read more about where to stay in Cape Verde
Where to Eat in Santo Antao
Day 1
Arrival in Porto Novo and Old Street
You can reach Santo Antao by ferry only from Mindelo, Sao Vicente. There used to be an airport in Ponta do Sol. However, it had to be closed down after a tragic accident. I recommend taking the first ferry from Mindelo in order to make the most out of your time.
Arrival in the harbor of Porto Novo might be overwhelming as dozens of "aluguer" (public taxis) drivers are trying to catch your attention. That's why I recommend arranging your transfer in advance.
In Porto Novo, you can opt between the Old and New Street to the east part of the island with towns like Ribeira Grande or Ponta do Sol. The Old Street is more expensive and more winding but has the BEST, VERY BEST views. The New Street, along the coast, is cheaper but doesn't provide the same spectacular views.
Indicative prices:
Old Road: 4500 escudos to Ribeira Grande
New Road: 400 escudos to Ribeira Grande
I ABSOLUTELY recommend to take the Old Road by aluguer. It is an experience on its own! The Old Road used to connect the harbor of Porto Novo to Ribeira Grande and was built in the 60s. The mountains were just too steep to build a road along the coastline.
Paved with cobblestones, it will take you to some of Santo Antao's most emblematic sites such as the Cova Crater, o Delgadim (Delgadinho) and several viewpoints.
Book here your car tour in Santo Antao
Cova Crater – Paul Valley
Cova is a volcanic caldera and on its highest point, it reaches 1500m. Its diameter is about 1km and is used as fertile farmland and pastureland. There is even a small village in the caldera which boasts particularly fertile soils due to high precipitation values carried by trade winds.
I recommend to walk down from the Old Road to the crater, the path cannot be missed. It leads you to the top of the edge and from here you will have the most BREATHTAKING view ever on Paul Valley. Sometimes it might be clouded, but the 1 hour trail from Old Street to the crater's edge will be totally worth it!
In case it is clouded, just enjoy the movement in the clouds… you'll feel like in a cloud!
Biosfera do Amor
Biosfera do Amor is one of my favorite places to stay in Santo Antao. It is completely isolated thus it is perfect for travellers that are seeking peace or that want to be close to several hiking trails.
Biosfera do Amor is a hostel offering private rooms as well. My favorite part is breakfast: they do their own bread, served with homemade butter and jams! A delight! When you do the Old Road, I recommend to stop by for a quick coffee or herbal tea.
On a sunny da,y Biosfera do Amor has the best views on the neighbor island Sao Vicente.
From the Biosfera do Amor you drive 10 minutes to the next village from which you can hike up to the top of Pico da Cruz. With its 1580 metres, it is the second highest of Santo Antao.
Book here your stay in Biosfera do Amor
Delgadim – Delgandinho
View this post on Instagram
Delgadim or Delgandinho is one of Santo Antao's most emblematic sites. You'll reach the mountain ridge after 30 minutes from Cova crater. Feel free to park the car on the left side (coming from Cova) and enjoy a spectacular view on 2 valleys.
The Delgadim separates the valley of Valle Ribeira Grande and Valle Ribeira da Torre. The street is incredibly narrow and I felt dizzy when imaging that 2 trucks have to pass each other.
Delgadim is definitely a must do when traveling to Santo Antao.
Book here your car tour of Santo Antao
Ribeira Grande
Ribeira Grande is the largest municipality of Santo Antao and also my favorite base to explore the rest of the island. The town, also known as "Povoacao", is the main settlement of Santo Antao since its discovery.
Even though many of Ribeira Grande's buildings are new, you can still spot several quaint examples of Portuguese architecture. One of my favorite things to do in Ribeira Grande, Santo Antao, is chasing mural art.
Sponsored by the prestigious 7Sois7Luas Festival, artists from all over Europe come to Ribeira Grande to make its streets more colorful. Just take a stroll through its backstreets and you'll find several mural gems.
When in Ribeira Grande, Santo Antao, you can't miss the 7Sois7Luas Center. It is the main cultural hub on the island, providing a supporting platform for local artists. You can spend the night in one of the center's guest rooms or organize a musical event. Indeed a private music session with traditional Cape Verdean music can be organized upon request.
Contact Hamilton to arrange a musical performance or learn more about Cape Verdean music. ([email protected] or +238.911.9978 )
Xoxo
Don't spend too much time in Ribeira Grande. There are still plenty of things to do and you'll try to see as much as possible during your 2 days on Santo Antao.
I love XOXO just for the sake of it 🙂 Pronounced "sho-sho" and only 5km from Ribeira Grande, Xoxo forms the end of the magnificent Valle Ribeira da Torre. I invite you to take some time to marvel at the impressive setting of the village and if you're motivated you can hike it up! I loved watching the daily grind when I was in Xoxo in 2017.
Before you reach Xoxo, you'll pass along a waterfall, which might be a rewarding refreshment after all your discoveries.
In case you need to fuel up on energy, I recommend to stop at "Melicia" and have a calda, fresh sugar cane juice. It had the same effect on me like 2 cups of coffee. Don't have too much of it as you might end up with diarrhea! If you're very hungry, you can also have lunch here.
Lunch Time in Lombo Branco
I bet you're very hungry after marveling at so much beauty! Well, I will tell you a secret spot, that only very few tourists might visit. Tell your driver or guide to take you to Lombo Branco to eat at Casa da Sonia (it is mandatory to book in advance at 00238.979.5212).
The street is uneven and narrow, thus I really recommend to go with your driver (I loved Galinha – 00238.993.1306) or with an aluguer.
From Lombo Branco village you'll enjoy beautiful views on the sea, whilst enjoying the warm climate of Paul Valley.
Besides cachupa, the typical food you should try in Cape Verde is igname, sweet potato, garoupa, and grogue, the local sugar cane alcohol. As Santo Antao is the most fertile island of the Cape Verdean archipelago, don't be surprised to stumble upon avocado mousse for dessert, mango or passion fruit! Ingredients always vary with the seasons.
Book here your private villa in Lombo Branco Village
Hike to Fontainhas
Fueled up with energy, you might be ready to hike a bit, right? After all, Santo Antao is known as the paradise for hikers of any level.
Besides the 3-5h long trail across Paul Valley from Cova Crater to Cidade das Pombas, the trail hike from Ponta do Sol to Fontainhas is one of the best hiking trails in Santo Antao.
Just drive to Ponta do Sol and leave your car there. I would never drive to Fontainhas village unless you're going with a professional driver. The road is extremely narrow and very high up!
Fontainhas has been elected the most beautiful village of Cape Verde (I hope this provides you enough motivation to take this trek!). The hike takes about 1-2 hours from Ponta do Sol.
Buy here you Santo Antao Trekking Guide
Go up to the cemetery of Ponta do Sol, pass along the pigsties and off you go! Just follow the trail until you reach Fontainhas. I am sure you'll fall in love with the pastel-colored houses as much as I did.
They say that Fontainhas has been discovered by Francis Drake himself. And that he is the main reason why you can spot so many people with green or blue eyes in Fontainhas.
Please walk down to the village and enjoy the vibe of this very remote place. I highly recommend visiting Tchu, form Bar Tchu. This place will make you feel at home immediately. Tchú usually serves one daily menu made by ingredients of the surrounding gardens. I also recommend his self-made fruit juices.
Every other ingredient that doesn't grow in the fertile valley, he gets it from Ribeira Grande. Consequently several days a week, he walks all the way to Ribeira Grande to get the beers and Cokes he serves in his bar. At (too) cheap prices. With a heavy heart, we say goodbye to Tchú and hike back home the same way we came from Ribeira Grande.
That's it for DAY 1, I recommend to return to your base and enjoy the Cape Verdean night. Why not with a concert at 7Sois7Luas Music Center? (Contact Hamilton – [email protected] or +238.911.9978 )
DAY 2 will be filled with adventures again!
Day 2
Whether you wake up in Ribeira Grande or Ponta do Sol, a day packed with adventures, hikes and spectacular nature is awaiting you! You can choose if you prefer to do one of the top hikes in Santo Antao or explore the island's east part with a driver like Galinha (Tel.: 00238.993.1306).
Valle Ribeira Grande
After exploring the Valley Ribeira da Torre, it's about time to discover the Valley of Ribeira Grande. You'll drive along the stream bed of the river and lush vegetation with fruta do pao (bread fruit), mango, avocados etc.
The road will take you to Coculi, one of the major towns of Santo Antao. From here we took the road to make a short detour to Chã de Pedras. Indeed the long and thin palm trees give the village quite a picturesque entrance.
I loved to spot all the banana trees and actually, our guide explained to us that banana leaves were used to drink water and as a plate. There is no other alternative to plates than a banana leaf.
Boca De Coruja
The views are getting more spectacular with every mile! We went back from Chã de Pedras to Coculi and took the main road again to Boca do Coruja and Boca das Ambas Ribeiras. The road took us below a former bridge, Ponte do Canal, which is no longer used.
As you continue to Lombo Santa, 10 km from Ribeira Grande, you'll enjoy some breathtaking views. From here you can spot the former "caminhos vecinais", serpentine trails connecting the villages.
Garça
Garça is nestled on top of a steep valley that you'll cross with the main road from Ribeira Grande. Our main motivation to reach the village was the little supermarket, "mercearia", where you can buy traditional products such as grogue, mango jam or homemade cookies.
Lunch Time in Forador
After your expedition to the Vale da Ribeira Grande, it's time to have lunch. Even though you can stop at any village and have a snack, I recommend Casa Maria in Forador.
You'll have lunch in their garden next to a water reserve which will give you a pleasant refreshment. The views were just unbeatable and the meal we had was sooo delicious. Maria really showcased the best that Santo Antao island has to offer: sweet potatoes, corn, igname, fresh fish, fresh passion fruit juice (!!)… It was a great finale for our 2 days in Santo Antao.
Back to Porto Novo
If you have only 2 days in Santo Antao, it's, unfortunately, already time to head back to the harbour in Porto Novo.
From Forador you'll drive back to Ribeira Grande and take the New Road to Porto Novo harbor.
But even though you might be a bit sad that your stay in Santo Antao is already coming to an end, I recommend several stops on the New Road that will protract your departure for a bit.
Book here your 1 Day Tour from Sao Vicente
Sinagoga
First stop would be Sinagoga. The name of the village comes from a Jewish community that got ex-pulsed from Portugal and found a new home in Santo Antão. Nowadays you can still see the impressive ruins of the synagogue.
After the Jewish community extinguished, the building was used as a sanatorium to help leprosy patients. Despite the macabre historical background, the ruins are a great photo motive. Behind the ruins, you'll be spoiled with some of the best natural pools in Santo Antao.
Paul
Next stop is Paul or Cidade das Pombas which is located at the end of the Natural Park Paul Valley. It's a quaint, lively town with several hostals and a great base to explore the hiking trails of Paul Valley, one of the most fertile ones in Santo Antao.
Janela
Next stop on the New Road to Porto Novo is Janela. Janela, window, got its name from the rock formation reaching into the sea. Indeed there is a hole in the rock forming a window to the sky and the ocean.
Before crossing the tunnel, you might want to stop at the lighthouse which has been fully renovated by a Spanish company and will provide you stunning views on the rocky coastline of Santo Antao.
After Janela the landscape becomes flatter and drier. It is such a contrast to the lush green valleys of the east part.
Buy here your Santo Antao Trekking Guide
When you reach Porto Novo it will be already time to leave beautiful Santo Antao. But I am sure that the island didn't leave you indifferent and that you'll be back very soon!
---
Santo Antao Map
---
---
Before You Go: Top Tips for your Trip
You'll be snapping tons of photos during your trip. Rather than relying on your mobile phone to capture the sights, upgrade to an actual camera for higher quality photos. I travel with a FUJI XT2 (mirrorless, takes amazing photos) and Action Camera GoPro HERO7 (takes beautiful photos in the most extreme situations, slim & lightweight). All of the cameras are WiFi enabled so you can share your trip pics to social media in real time!.
To edit photos and answer emails while traveling, I usually take my Touchscreen 2-in-1 Business Laptop with me.
When spending a lot of time on the road, I love to wear my trekking sandals.
Travel insurance is essential! If you haven't already obtained travel insurance for your trip, travel protected against all odds with World Nomads.
---