15 Top Hikes in Santo Antao, Cape Verde
A guide to Santo Antao, Cape Verde, the best hiking trails and where to go hiking in Santo Antao
Santo Antão, the second-largest island of the Cape Verdean archipelago, is a paradise for hikers and trekkers. Breathtaking views, monumental valleys, houses built in almost vertical valley sides, vertiginous trekking trails, etc.
All of this surrounded by still intact nature and agriculture nourishing the entire Cape Verde. The trails are well maintained and often used on a daily basis by locals.
Don't be surprised when a granny carrying a big basket full of vegetables will overtake you on your trek. Most trails connect several villages and are well indicated.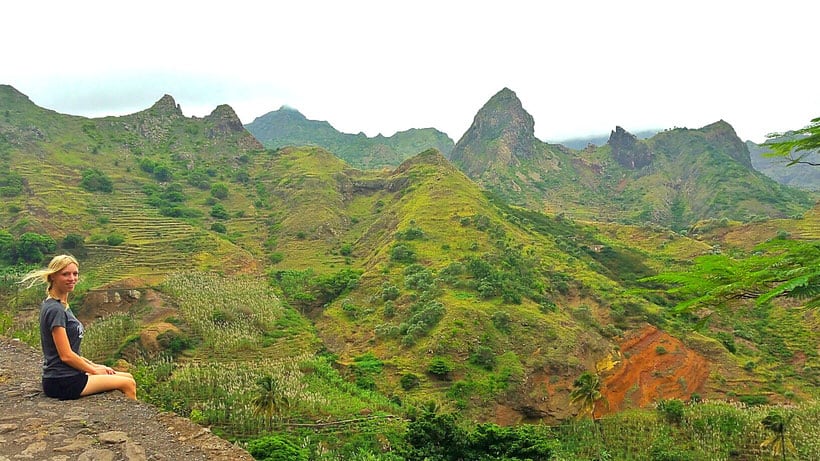 In case you get lost, just ask locals mentioning the name of the village that you are heading to. Some of these 8 Cape Verdean creole phrases might be very helpful as well.
The number of hikes that you can do on Santo Antão seems to be infinite. After staying 10 days, I've only seen half of the island and there were still some trails left that I would like to explore. Here, my selection of Santo Antão's most spectacular hikes and trails!
In order to make the most of your time, check the Ultimate Cape Verde Travel Guide Book filled with local, hidden gems.
This blog is supported by you, dear reader. If you purchase through a link, I earn a small commission. As an Amazon Affiliate, I earn from qualifying purchases.
Top Resources to Travel Cape Verde
⚘ Don't leave without a travel guide. Be prepared and get the Ultimate Cape Verde Travel Guide Book

✈ Book cheap flights to Cape Verde with Skyscanner

✔ Book the best tours in Cape Verde with Viator

➳ Find the best hotel deals in Cape Verde with Trivago

❖ Get the best car rental deals with DiscoverCars

☘ Get the best discounted outdoor gear (outlet) at REI.com

✎ Never leave without travel insurance. I get mine at HeyMondo. It's easy to set up, cheap, and reliable.

✔ Skip the queue at the airport and get your Cape Verde visa in advance with iVisa

$ Withdraw money without hidden fees and avoid rubbish exchange rates with Wise (You'll get a card for free!)
Where to stay in Santo Antao?
Budget
Mid Range
Casa Cavoquinho
B&B Coração Ponta do Sol
Family-Friendly
Lombo Branco Village
Ribeira Grande Country House
Something Special
Biosfera Amor do Dia
casa xoxo
O Passaro Livre (Holiday Home)
Luxury
Tiduca Hotel ****
Casa Santa Barbara Deluxe
How to get to Santo Antao?
There is no airport in Santo Antao (anymore). That means that you need to pass via Sao Vicente.
Luckily, Sao Vicente boasts an international airport. – Check here the flights to Sao Vicente.
The next step is getting by ferry from Mindelo harbor to Porto Novo, Santo Antao. There are 3 ferrys per day. Please, inform yourself at the harbor as schedules may vary.
How to get around in Santo Antao?
Once you arrive in Porto Novo, hundreds of taxi drivers will wait for you. I recommend taking a step aside and having arranged your transfer already upfront (for example via Edson from Walk Santo Antao).
You'll have 3 options to get from Porto Novo to the scenic part of Santo Antao (Ribeira Grande or Ponta do Sol):
By collective taxi: The cheapest option. Get in a van and wait until it's full. It's about 400-500 escudos.
By private taxi, coastal road: The quickest way to reach your destination.
By private taxi, mountain road: The most expensive option. However, I strongly recommend it. The landscapes are jaw-dropping and it's considered one of the most spectacular roads in Cape Verde. Cost: 40 €.
READ: How to spend 2 days in Santo Antao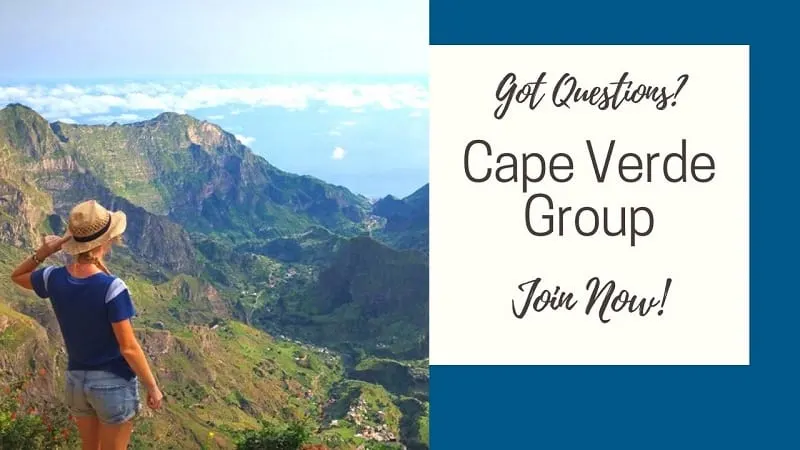 1. Valle de Paúl: Cova – Cidade das Pombas
Difficulty: Medium – Duration: 6 h
Where to Stay: Biosfera Amor do Dia
If, for whatever reason, you choose to do only 1 hike on Santo Antão, then Valle de Paúl is the one! The trail leads you from the Cova crater through the fertile Valle de Paúl to Cidade das Pombas.
Get to Cova early in the morning by aluguer (4 €, departing from Ribeira Grande) and take up forces in Biosfera Amor do Dia. The hostel is run by an Italian guy and they serve breakfast with self-made bread, jam, and natural juices.
Only the views on neighbor island São Vicente are worth to step in for a bite. The Cova crater is about 10 minutes away and at the beginning, you'll be in the company of some milk cows. The trail leads you out of the lush green crater.
This is the only ascending inclination of the entire hike, just until you reach the crater's edge. From here, you'll have the best and the most breathtaking view ever! The immense Paúl valley is at your feet and you can already spot Cidade das Pombas next to the sea.
Now, the dizzying part of the hike begins. This part of the trail is really not meant for those who are afraid of heights because it goes down steeply. The trail ends at a larger paved road that leads you through picturesque farmer villages until you reach Pombas.
On your way, you'll pass along coffee plants, mango and avocado trees, countless banana plants and coco palms. Most of the island's fruit and vegetables exports come from this valley. It is particularly fertile due to its micro-climate.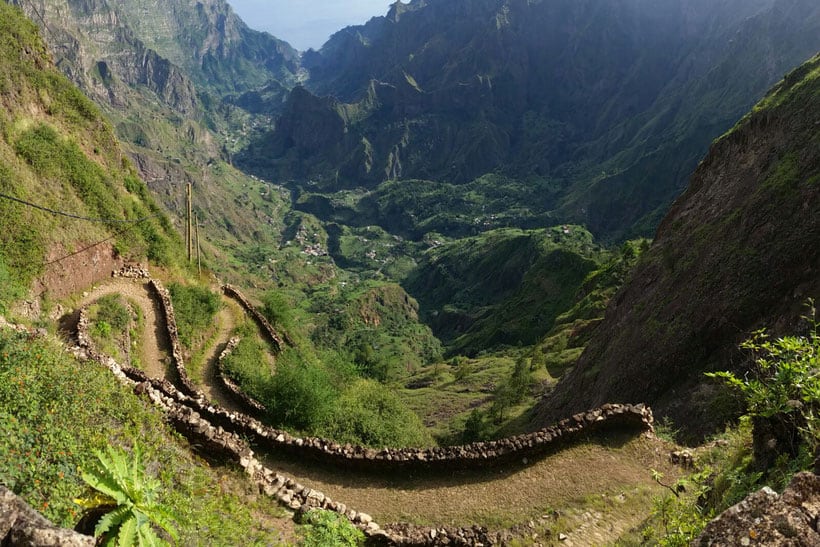 As a short stopover, I recommend O Curral in Cha de João Vaz. The place is owned by an Austrian couple producing their own grogue (sugar cane brandies) and food with ingredients grown in their garden.
While you're enjoying a local fruit salad with natural yogurt, you can watch how the workers get the ingredients for the day's lunch.
Although the place is a bit pricey, with every bite, you'll taste their freshness and "savoir-faire".
When you keep walking on, you'll be surrounded by papaya and passion fruit trees. The only direction is downwards, it's impossible to get lost. For those who want to fill up their minibar at home, visit the grogue factory in Cidade das Pombas.
If you are looking for a good lunch option in Cidade das Pombas, I recommend Casa Maracuja. The restaurant is located on a rooftop with gorgeous views to the valley and serves fresh seasonal food from Cape Verde. Many of their meals are based on passion fruit. You have to try the self-made passion fruit ponche! It's delicious!
I loved the restaurant's interior design using passion fruit plants to cover the terrace and the chill-out area. All the furniture is "passion fruit-yellow". But the heart & soul of this place, it's Hetty, a cheerful woman who seems to speak any language.
After the descend in Paúl valley, I felt the pain in my knees for several days. It's really a strong descend for several hours. But this trail is definitely worth it! In Cidade das Pombas you get aluguers to any other larger village on the island.
Hiking in Cape Verde can be dangerous as there are no hospitals close by. That's why I recommend getting a Cape Verde travel insurance before visiting. I got mine with HeyMondo. It is super easy to set up and cheap too!
2. Ponta do Sol – Chã de Igreja
Difficulty: Medium (very long) – Duration: 6-7 h
Where to Stay: kasa Tambla
This hike is one of the most popular ones on the island. It goes along the Northeastern coast and passes through villages with no access to paved roads. The views on the valleys and cliffs are some of the most impressive on the island.
This hike is medium/difficult. It doesn't have a lot of increase, but it is quite long.
Due to the last raining season, the trail is damaged at some parts. Be prepared that it will be hard to find an aluguer in Chã de Igreja. You may organize your transport in advance or you take one of the taxis from Chã de Igreja back to your hotel.
With some fellow hikers that I met on the trail, I got organized and shared the costs of a taxi. Many hikers pass the night in Chã de Igreja.
The trail starts in Ponta do Sol, the most touristy village of Santo Antão and a stronghold of French emigrants. For those who don't want to start their hike with an empty stomach, I recommend Hotel Miranda & Miranda, a hotel specialized on hikers.
On its wall, it has a large map with the most popular treks of the island. The staff will be glad to share their valuable hiking knowledge with you.
The path leads you along the graveyard and further on along pigsties. After 1 hour, you reach Fontainhas, Cape Verde's most picturesque village. After descending sharp serpentines, you reach Corvo. Here, you have a bar if you want to refresh.
I continued on the trail to Formiguinhas ("little ants"). On my way, I met cobblestone producers and youngsters accompanied by their fully charged donkeys.
I reached Forminguinhas and it was the perfect place to have lunch. You have the choice between Sonia's and Isabel's bar.
Sonia's bar serves lunch (better reserve in advance) and offers very spare rooms as well for those who don't want to continue until Cha de Igreja. Sonia cooks traditional basic Cape Verdean food and she is such a friendly lady. I just didn't want to leave!
Calculate 2-3 hours from Formiguinhas to Cha de Igreja. From Formiguinhas, you'll have no rest points until Cruzinha (2 h walk). Make sure to carry enough water or stock up in Formiguinhas.
The trail leads you in sometimes dazzling heights to the Aranhas valley. By now, it is abandoned and serves as a pasture ground for the herds of the surrounding villages.
The house ruins give the landscape a very particular atmosphere. The lush green color of the Aranha valley contrasted with the rocky coasts I had seen seen so far.
On the way to Cruzinha, the next village, you'll walk along several beaches. Although a bath seems very tempting, you shouldn't even set a foot on them! Tights and drifts are extremely strong and easily underestimated! Every year, tourists become victims of the sea because they didn't want to renounce on a refreshing bath!
After 1 hour, I reached Cruzinha, a small fishermen village with breathtaking views on the coast and the ocean.
Cruzinha has a few accommodation options as well. Just before you reach Cruzinha, drivers already await you at the end of the trail to offer you their taxi services.
Don't hesitate to negotiate the price with them in case you don't want to continue walking until Cha de Igreja.
Cha de Igreja is set in a fertile valley and it felt so good to be back among civilization after 6 hours hiking. The center of the village is very well maintained and holds a lot of lovely photo motives.
I loved the relaxing atmosphere of this place. From Cha de Igreja, I got back by aluguer to Ribeira Grande (25 €). Don't hesitate to ask the driver to stop during the ride, since the valley of Cha de Igreja holds some spectacular views for you.
Check here the prices on guided hikes in Santo Antao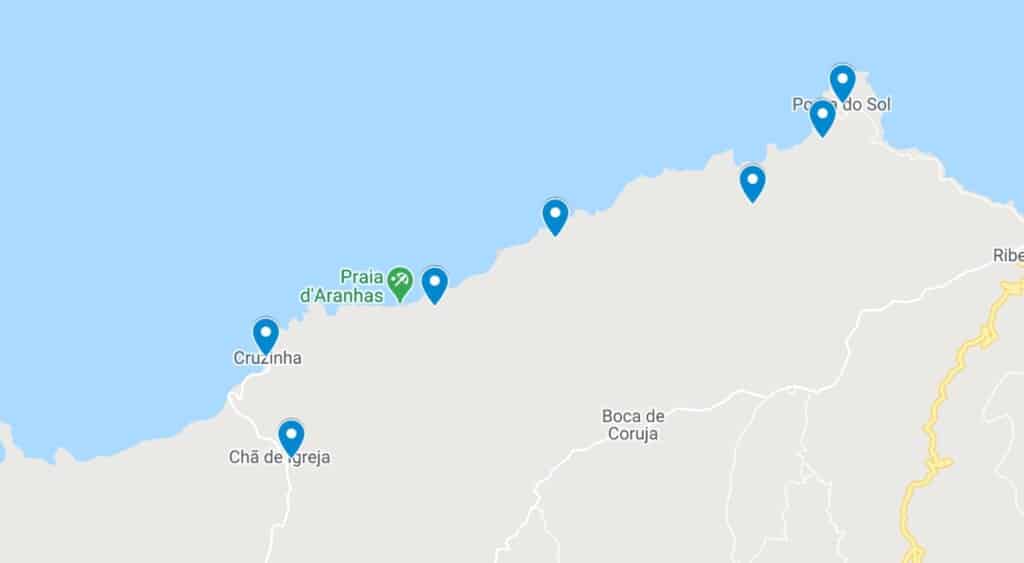 3. Ribeira Grande – Fontainhas
Difficulty: Easy – Duration: 3 h
Where to Stay: Cantinho da Amizade
Since I was based in Ribeira Grande, I wanted to do a hike that didn't include any public transportation.
Ribeira Grande is one of the larger villages of Santo Antão and is a great starting point to discover the island. It's not as touristy as Ponta do Sol. Aluguers are easy to take and the town has several good restaurant options.
A part of this hike is done on the asphalted road connecting Ribeira Grande to Ponta do Sol. The views on the rocky coast and the valleys are tremendous. Before reaching Ponta do Sol (1h30 from Ribeira Grande), you pass along a poor settlement of tile makers.
As I was approaching, kids run to me, asking for pencils. Unfortunately, I didn't have any, but I promised myself to get some at the next village. That's how I ended up buying 20 pencils in Ponta do Sol and handed them out on my way home to Ribeira Grande.
I've never seen happier kids and I'd hear their jolly shouting even after leaving the settlement. In many more villages that I hiked through, kids approached me asking for pencils. Since then, I always carry pencils in my backpack.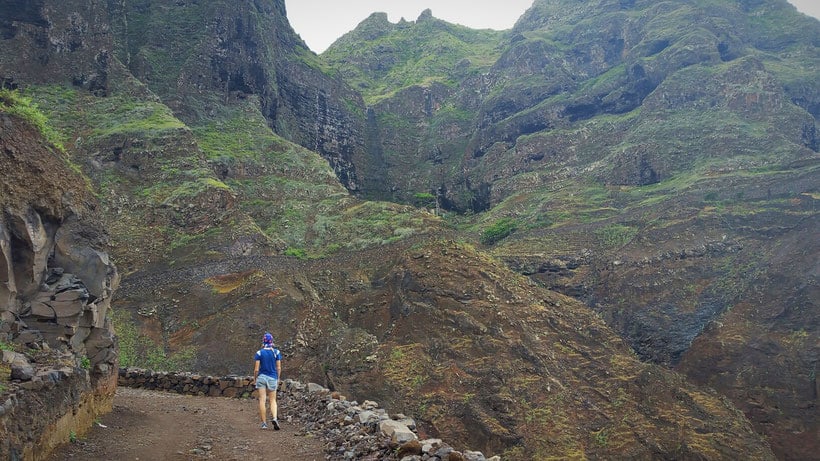 For those who want to recover a bit in Ponta do Sol, I recommend Residencial Sinanton Trekking. Using the same trail as at the beginning of the hike from Ponta do Sol to Chã de Igreja, the path goes along the graveyard.
After 1h30, you reach Fontainhas. Due to its unique setting in the mountains above a fertile valley, Fontainhas is a very popular postcard motive.
For many, it's Cape Verde's most picturesque village. And if you want to visit only 1 village of Santo Antão, then go for Fontainhas. It's just impressive how the houses are enthroning on the giant cliff. During the rain season, the waterfalls make the setting even more dramatic.
I loved to soak up its particularly calm atmosphere. The colorful house fronts, people working on their fields in breathtaking heights, now and then a cock crow and the distant sound of the waves, etc.
The best place to forget about time is Bar Tchú. The owner makes this a uniquely welcoming place. With his big smile, you'll feel at home from the moment you step in. Tchú usually serves one daily menu made by ingredients of the surrounding gardens.
I also recommend his self-made fruit juices. Every other ingredient that doesn't grow in the fertile valley, he gets it from Ribeira Grande. Consequently, several days a week, he walks all the way to Ribeira Grande to get the beers and soft drinks he serves in his bar. At (too) cheap prices.
With a heavy heart, I said goodbye to Tchú and hiked back home the same way I came from Ribeira Grande.
Check here the prices on guided hikes in Santo Antao
4. Corda – Coculi
Difficulty: Difficult – Duration: 6-7 h
Where to Stay: Residencial Luatur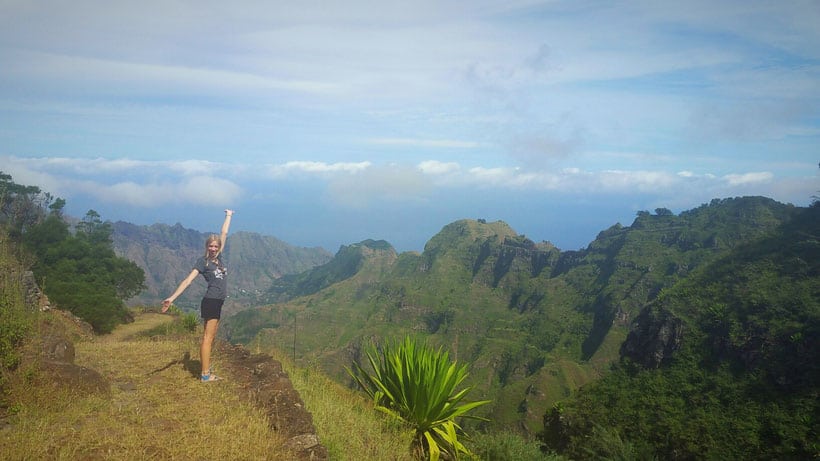 I chose this trail upon the recommendation of a Swiss hiker I met in my hostel. Although this is a very tough one, I never regretted my choice to hike from Corda to Coculi.
The views on unsettled valleys and the blue ocean as a background will leave you speechless for several moments.
The trail leads you through villages that are not used to see tourists. On the fields, you see the authentic Cape Verdean life of Santo Antão.
Get an aluguer to Corda (departing from Ribeira Grande). The trail starts at the school of Corda whose inhabitants are glad to show you the direction.
Following the trail, you walk along the fields of intensive terrace cultivation and small wooden huts. You see plenty of guayabas, papaya, and breadfruit trees.
Following the beaten track, you'll be all of a sudden in front of a gorgeous panorama view of a lush green valley. The trail goes along a wall and it's definitely nothing for those who are afraid of heights. Soon, you'll catch sight of Coculi, down in the valley.
But it is still a very long and steel way down. The path descends in sharp serpentines and after 2-3 hours, I finally reached a first village: Figueira.
This place is full of sugar cane and papaya trees. It's definitely one of the remotest places I've been so far. There's just one little shop selling water and fruit juices.
I was impressed by the terrace cultivation and how people were not afraid to cultivate their fields or carry heavy baskets in dizzying heights. Finally, I got on a paved road again!
Here, I met an 82-year old lady who told me that in her youth, she did the trail to Corda (ascending!) in 1-2 hours. I needed 3-4 hours to descend! In her flip-flops, she overtook me laughing out loud.
It got strenuous but luckily, I met a lot of people during my hike. Cape Verdeans use to greet everybody (Tud drett?). When I finally reached Coculi, surrounded by a myriad of palm trees, I was starving.
The city has good infrastructures (hospitals, supermarkets, etc.). I had a delicious lunch/dinner at one of the only restaurants in town. In those places, you usually can't choose from a menu card.
You'll eat the "Prato do dia" (daily menu) or nothing. From Coculi, you'll get back to Ribeira Grande by aluguer or by foot.
Corda – Coculi was definitely one of the longest hikes I had, but also one of those that marked me the most: the remote village, the sharp serpentines, plenty of fruit trees, … Simply mind-blowing!
Check here the prices on guided hikes in Santo Antao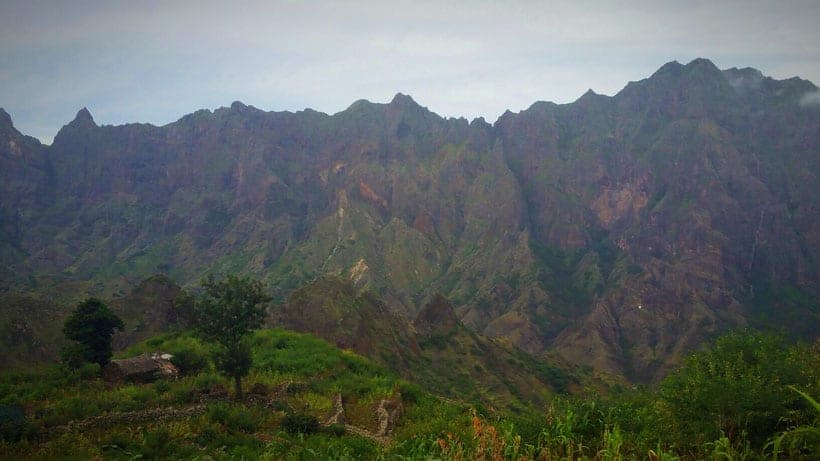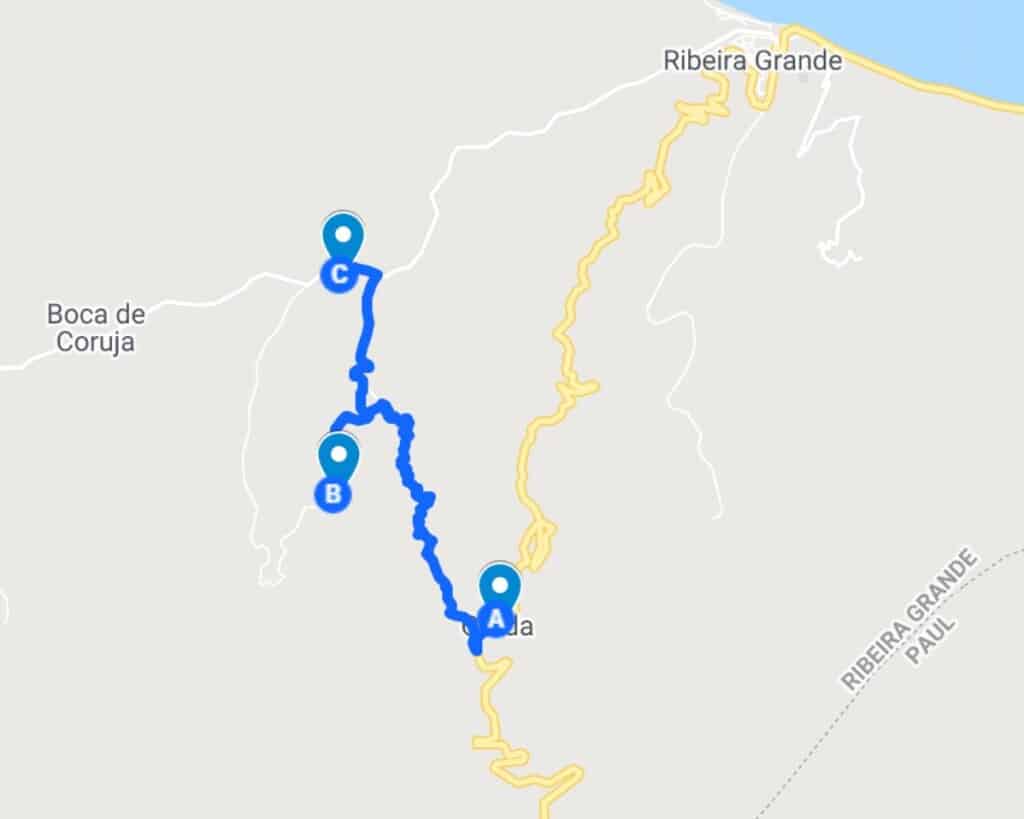 5. Ribeira Grande – Xoxo
Difficulty: Easy – Duration: 3 h
Where to Stay: Casa Xoxo
If you're looking for a short hike with great views in a short distance from Ribeira Grande, then Xoxo village might be the right one for you. Although my main reason for this hike was the funny name of the village.
By aluguer, I got to Xoxo. It's set in the slope and the trail through the village takes about 1-2h until you're on the top.
Xoxo preserved its authentic charm and again, I was impressed by the elder ladies who carried their heavy baskets on their head.
Or children carrying gas bottles. Obviously, the people of Santo Antão are used to steep hillsides. Whereas we foreigners are just watching them out of breath.
From the top of Xoxo village, you have an amazing view of the valley of Ribeira Grande. The trail goes further upwards but I decided that I'd rather go back. My feet were just hurting too much from my previous hikes.
On the way back, on the right, just after leaving Xoxo, you pass close to a gorgeous waterfall.
If you walk for half an hour more, you'll finish in front of a lovely tiny restaurant whose terrace has a stunning view on the mountains surrounding Xoxo.
Again, there are no menu options. You'll just have one "prato do dia" (daily menu). It was incredibly delicious and cheap. And again, I was overwhelmed by the kindness of the people of Santo Antao.
In case you want to enjoy the gorgeous surroundings of Xoxo for a longer time, I recommend a stay in the lovely country house Casa Xoxo.
From the center of Xoxo, it's still about 1 hour to get back to Ribeira Grande. Which I did by hitch-hiking. My feet were just hurting me too much.
EDIT: The Waterfall of Xoxo might be dried out during the dry season. As an alternative, you can swim in the natural swimming pools in front of restaurant Melicia. Many thanks to Samer and his blog for the update!
6. Ribeira Grande – Sinagoga
Difficulty: Easy – Duration: 2 h
Where to stay: Casa das Ilhas
Santo Antão is not particularly known for its beaches. The tides are very strong and the waves often very high. You'll basically always be surrounded by the sea, but you can't swim in it.
Despite the hot temperatures. The greater was my joy when I heard about the natural swimming pools in Sinagoga.
As usual, you get there by aluguer or you can walk along the road connecting Cidade das Pombas with Ribeira Grande. In Sinagoga, you have a few bars and a "mercearia" (little shop) where you can stock up on water and snacks.
The name of the village comes from the Jewish community that got expulsed from Portugal and found a new home in Santo Antão. Nowadays, you can still see the impressive ruins of a former hospital.
After the Jewish community extinguished, the building was used as a sanatorium to take care of the leprosy patients. Despite its macabre historical background, the ruins are a great photo motive.
Read here about the best beaches in Cape Verde
The natural swimming pools are a bit hard to find. When you come from Ribeira Grande, you turn left after a huge rock, following the sign "Beach Bar", before you even enter the village.
If you can't find the path, ask the locals. They'll be happy to help you out.
The path leads you down towards the ruins of the synagogue and the swimming pools.
If you continue on the same path, you get on a large beach which is very popular among (experienced!) surfers. Be careful! Here as well, the tides are very strong and will just swallow you!
That is why I just got into the water until my hips and contented myself by watching the surfers. Nevertheless, the views on the cliffs are impressive and the sunset was just amazing. In all, Sinagoga is the perfect place for a "take-it-easy" day.
Update Feb 2020: A new restaurant, "Oasis", has opened in Sinagoga. The octopus is a delight and Oasis boasts gorgeous views over the ocean. Certainly a place to stay longer!
Check here the prices on guided hikes in Santo Antao
7. Hiking to Monetrigo de Tarrafal – Beach
Where to stay: Kasa Ladera
Tarrafal lies in the South-Eastern part of Santo Antão island. It's much flatter and it boasts some of the best beaches on the island. If not the only ones. The beaches in Tarrafal area are the only ones that can be used without any worries.
But still, here, be aware! The Atlantic Ocean is very powerful!
Read here about the best beaches in Cape Verde
The beaches of Tarrafal have black sand and are several hundred meters long. It's magical indeed.
The route from Porto Novo to Tarrafal takes approximately 1 h by car. First, on an asphalt road, then, on a cobbled road, and finally, taking a dirt track.
From here you can start hiking. It's the most beautiful part of the route, where one can admire a breathtaking landscape.
Along the road, you'll probably meet some shepherds with their goat herds. Thanks to the abundant spring water, a large variety of fruits and vegetables can be cultivated: mango, banana, papaya, bread-fruit, sugar cane, yam, manioc, maize, beans, etc.
It is a perfect place for trekking, swimming, snorkeling, fishing and unwind.
This hike is considered one of the least known hikes in Santo Antao, thus it's perfect for those who want to get a priviledged insight in the Cape verdean daily grind.
Related: The Ultimate Travel Guide to Cape Verde
8. Lagoa – Matinho – Caibros – Mouth of Both Streams
Difficulty: Medium – Duration: 5 h – Distance: 14 km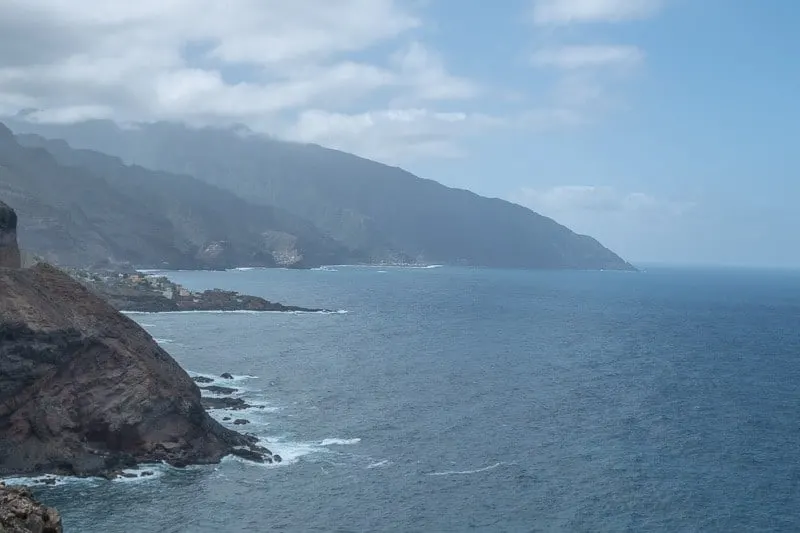 Little known but of great interest, crossing sometimes desert, sometimes volcanic craters and sometimes green streams, including high slopes.
There are three possibilities for an overnight stay in Chã de Igreja, but the reservation should be made in advance.
The population is dedicated to cattle raising, dry farming, irrigation, producing cheese, brandy, horticultural produce and fruit.
Until Matinho, the circuit is completely the same as the RG04. From there, there is a sign indicating the direction to take.
The footpath between the slopes to Caibros is a bit difficult, so this circuit is recommended for more experienced hikers. From Caibros, the circuit can be done on foot or by car.
9. Pico da Cruz – Péro Dias – Silvão – Ribeira de Penedo – Janela
Level: easy – Duration: 4 h – Distance: 8 km
Where to Stay: Cantinho da Amizade
There is a stunning viewpoint. According to the popular saying, an Englishman, passing by and thinking it was the sea, plunged back and forth into an abyss completely filled with flakes of white cotton clouds.
Narrow side roads open snake access through mountain ranges and small valleys, where the highest altitude is around 1,500 meters at Pico da Cruz.
You will be impressed by the great altitude and the flora dominated by conifers that make the region one of the most beautiful of the island.
The climate is under-moist, with possible precipitation during the night. You will also find a great variety of plants.
In Ribeiro de Penedo where there is a strange inscription dating from the time of the Corsarios, the morphology of the land is reminiscent of Janela which, according to researchers, had determined the choice of the name of Janela to designate the region.
A variant of the circuit would be to follow the route Lombo de Tanque, Bordeira da Fajã, Janela and Penedo. Janela is an area rich in fish and crustaceans. There, it is possible to practice sport fishing but you have to reserve in advance.
10. Água das Caldeiras – Rabo Curto – Lombo de Pico – Xôxô – Ribeira da Torre – Vila da Ribeira Grande
Level: Difficult – Duration: 5 h – Distance: 12 km
Where to Stay: Cantinho da Amizade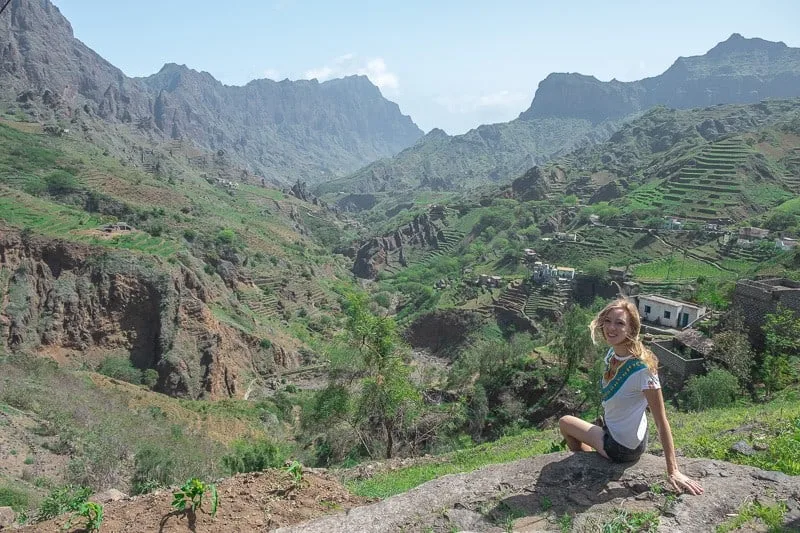 When reaching the highest point of the Ribeira Grande/Porto Novo road, there is a bifurcation in the road on your left side, and where there is a gate that is normally locked, because it is the access area to Pedra Rachada, where communication systems are located.
At this point, the gate is bypassed and the paved road is followed. At a certain point, there is a bypass on the left, which you must follow. Passing through the forest, you will find the beginning of the circuit.
From there, follow the footpath through the slopes to Rabo Curto. Along the circuit, you can enjoy unique landscapes.
The last part of the circuit can be done by car, for a distance of 6 km, through Ribeira da Torre.
In the beginning, you can enjoy the beautiful landscape of the Planalto Leste (Eastern Plateau), at more than 1,200 meters of altitude, with weak and scattered human concentration, of undulating morphology by loins and hills in a length that is lost from sight.
The region's flora varies according to altitude and humidity, with multi-colored shrub formations of pine, eucalyptus, acacia, cypress, gravel, medicinal plants and more than a hundred endemic plant species.
Such as the gestiba sarcostema dalotni, commonly known as alevatão, which is a greenish-yellow carpet, especially during rainy seasons, the carved from the mountains throughout the circuit, and almost the entire island.
Ribeira da Torre has a high human concentration, and water can still be found flowing in the riverbed.
The population is dedicated to the cultivation of sugarcane, fruit trees, horticultural production and small trade.
11. Lagoon – João Afonso: Contrast between green and wild
Level: Medium – Duration: 4 h – Distance: 10.7 km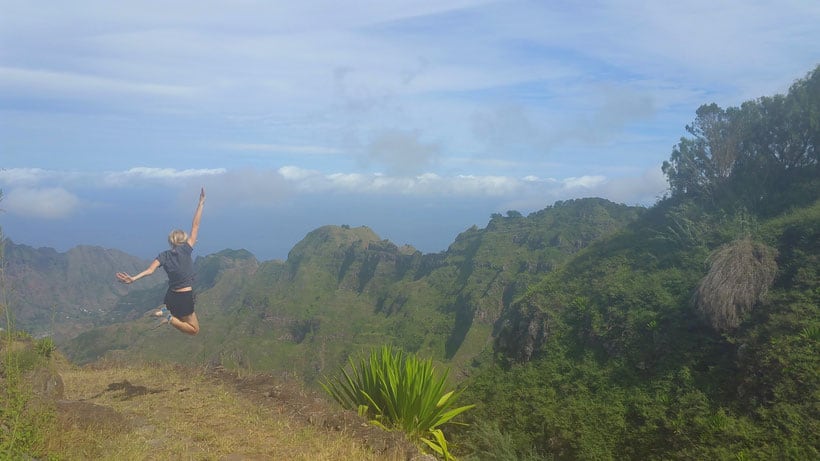 A challenge to the visitor, through mountains and small valleys, in a pleasant visibility between the sky, rocks and green spaces.
To start the circuit, you must follow the road that connects Ribeira Grande to Porto Novo, until the area called Esponger, at an altitude of +/- 1,100 metres. From there, you will travel along the dirt road that leads to Lagoa, at a distance of 1,200 metres, until you reach a large community cistern.
After this point, you follow the footpath, pass a small stream and reach the starting point of the circuit. From this point, the circuit is always descending through the mountainous slopes.
The trajectory is possible by foot, by dirt tracks, and by side trails between rocks and mountains. The circuit has a pronounced degree of difficulty, especially during the rainy season when the route becomes complicated and sometimes even impassable.
The path is in good condition. The difficulty is greater from Fajã dos Bois and/or Fajã dos Cumes. The opposite route is very steep and not recommended.
In the period of low fog, it is possible to take beautiful photographs of the top and valley of João Afonso and Chã de Pedras. When passing through Fajã dos Cumes, you will be able to find brandy production mills.
Afterwards, you can choose between continuing the tour by foot or taking a car to go to Ribeira Grande where the restaurants and accommodation are located.
The distance between João Afonso and Ribeira Grande is about 10 km and the route is on a dirt road that crosses valleys.
12. Ribeira Grande – Xoxo – Lombo do Pico – Melicia Bar
Level: Medium – 4-5 hours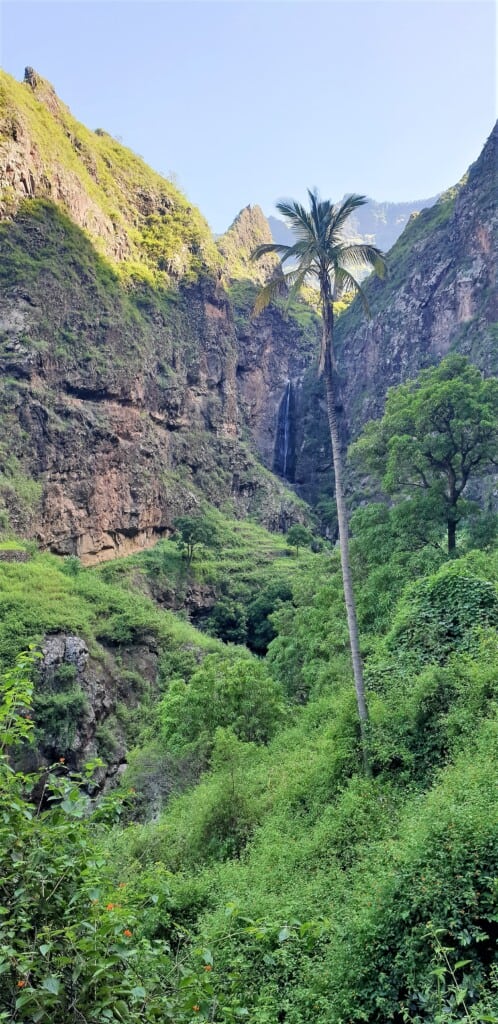 I did this hike in October 2020 and absolutely loved it for the absolute highlight: a stunning waterfall!
First you walk from Ribeira Grande to Xoxo (can also be done by colectivo). Once you arrive in Xoxo village, hike up, until you reach a bifurcation of the trails 202 and 203.
One of the trails goes left (coming from Xoxo) and goes to Cova. We follow the right path which brings us up to Lombo do Pico.
From here I went with a guide to find the waterfall. You can ask around in the village for someone to take you. Please ask upfront for the price and if they say they'd do it for free, leave at least a generous tip.
From Lombo do Pico you walk on farmer's trails until you reach a panoramic view of the emblematic Xoxo rock.
From here you continue your walk to the waterfall. It's absolutely stunning and majestic. I didn't make the last 100m to the waterfall, since I am too afraid of heights…argh!!
Following along farmer trails next to fields of manioc, igname, coconut trees, almond trees, papayas, mango trees etc. you walk down to the Bar Melicia, famous for its calda (sugar cane juice).
This hike goes up to 700m of altitude and down again.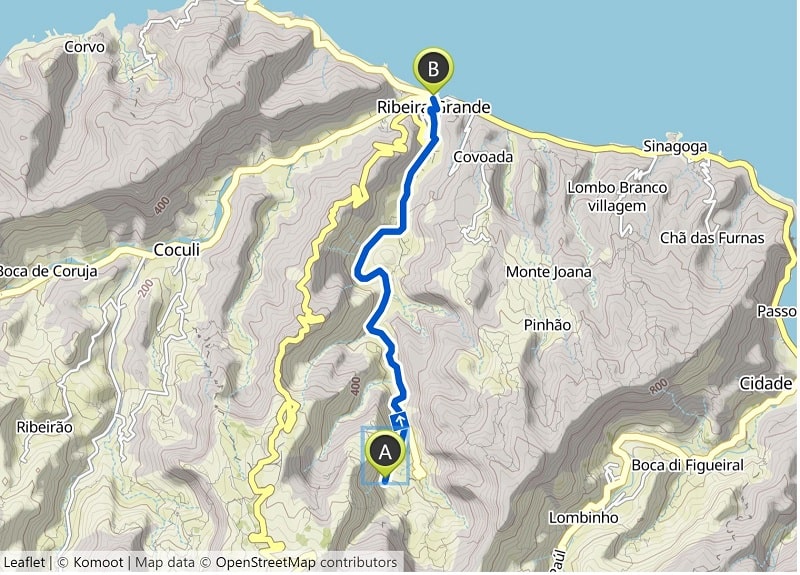 13. Morrador – Vinha – Fajã de Cima – Chã de Mato – Corda
Level: Difficult – 3-5 hours
Where to eat: Cuzinha de Bento, Corda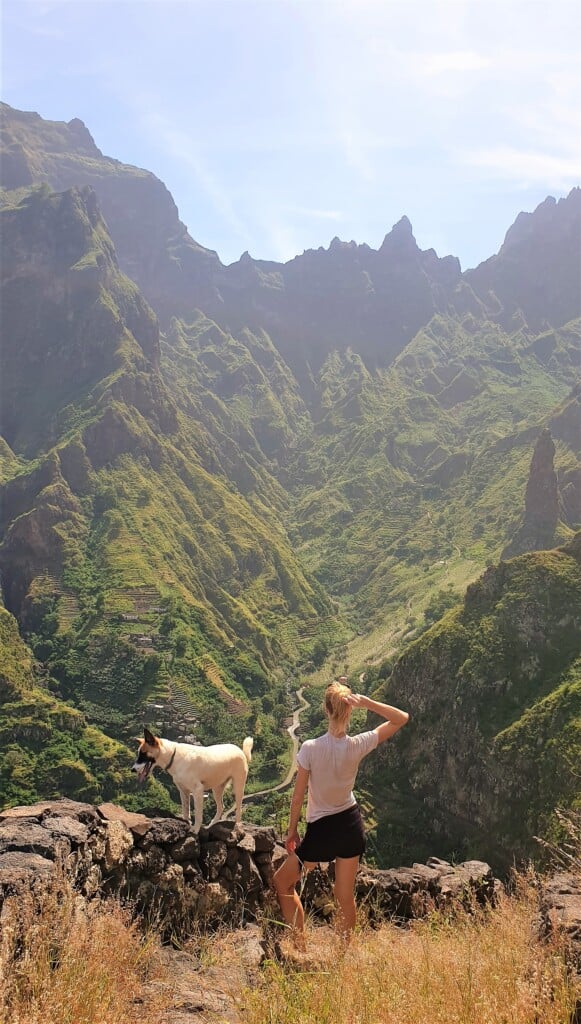 This is quite a challenging hike but also one of the most spectacular ones that I've done so far in Santo Antao. Starting just next to Xoxo, from the Bar Melicia it takes you up to 1300m to Chã de Mato.
You'll walk zigzagging paths along abandoned villages, others that have only 5 inhabitants left (Fajã de Cima).
You'll be rewarded with jaw-dropping views into the dazzling depths of Xoxo valley and Ribeira de Torre valley. It's merely incomprehensible how people can create agriculture in this setting.
When arriving in Chã de Mato, I had tears in my eyes. It wasn't an easy hike, it just goes up, up and up. But oh so worth it!
From Châ de Mato you follow Corda street down to Corda. Here, make sure to stop at Cuzinha de Bento to enjoy their legendary Dutch apple tart along with a self-roasted coffee. The managing couple is the sweetest!
From here you can walk down to Povoação (2h) or hitchhike a car.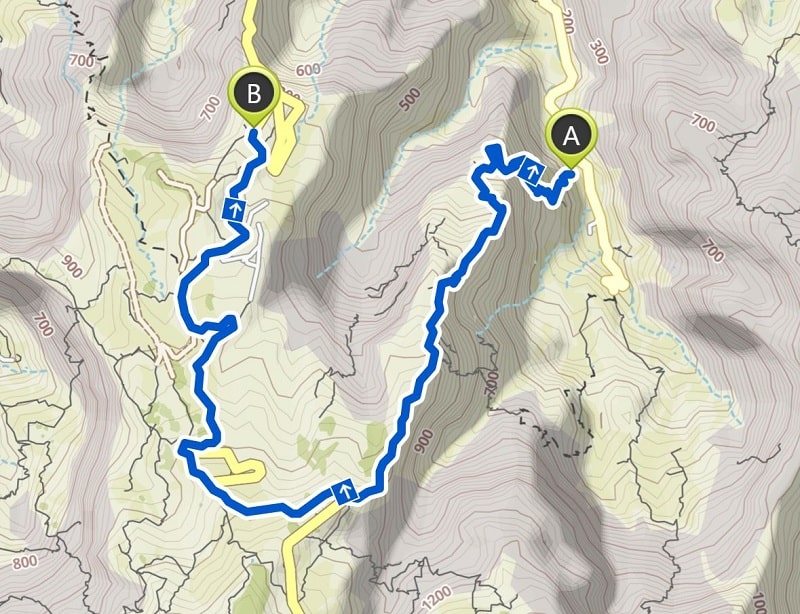 14. Cidade das Pombas – Boca de Figueiral – Antenna – O Curral – Cidade das Pombas
Level: Advanced – Duration: est. 5-6 hrs
Where to stay: Aldeia Jerome
This is a great hike to do if you've already trekked the Cova-Paul trail. Indeed this trail will allow to explore Paul Valley off the beaten track and will provide you with some truly breath-taking views.
That said, you shouldn't do the hike if you're too afraid of heights and not without wearing proper hiking boots. I did this hike in trekking sandals and regretted not bringing my sturdy shoes.
The hike starts in Cidade das Pombas and from here to hike up to Boca de Figueiral, a small village. From here you follow a caminho vecinal on the left, don't follow the main route. If in doubt, just ask the locals.
From here you'll climb up to 700m and the agricultural terraces as getting more spectacular with every step. You'll pass along some really remote villages, often just consisting of a few houses.
There is only one direction: UP! It's sometimes very steep but the views are getting better and better. Finally, you'll reach the bar "Chez Sandra" which provides a jaw dropping 360° panorama view over Paul Valley. It's the best place to have a fresh fruit juice. Without any doubt, one of the best bar views I've seen in Santo Antao.
Now the dazzling part begins and it lasts for about 15 min walk. You'll walk over the ridge until you reach the Antenna. The views are truly amazing but please be careful when walking down. It's incredibly steep and narrow!
From here, keep walking down until you reach the main Paul street. From here it's only 2 minutes to the restaurant "O Curral", famous for its organic food and juices.
After fueling up, it's about time to walk down to Cidade das Pombas. If you're looking for a well-deserved refreshment, make a stop at "Passagem" which is almost halfway between O Curral and Cidade das Pombas. You'll be able to choose among several swimming pools or the river to cool down.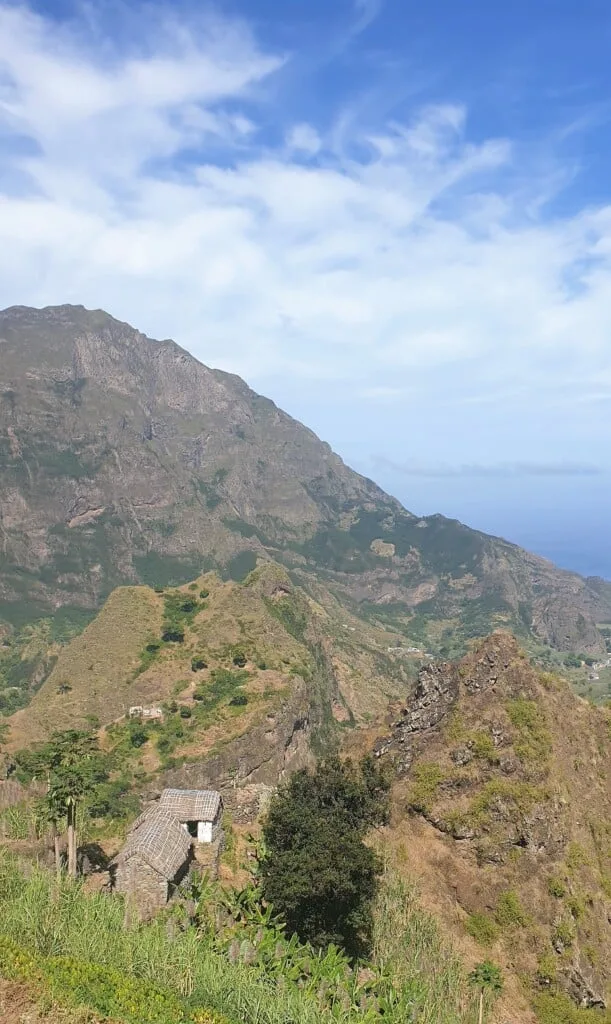 15. Espongeiro – João Afonso – Coculi
Level: Easy-Moderate – Duration: est. 4-5 hrs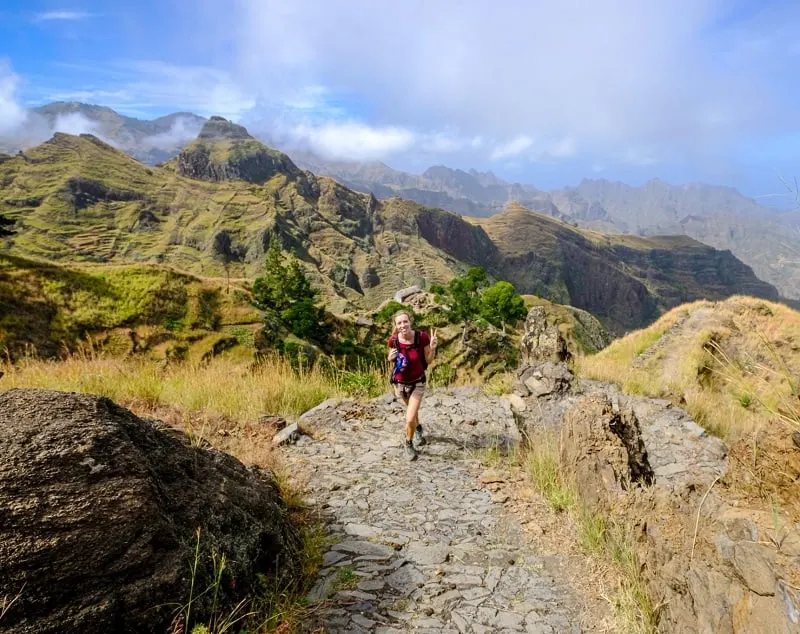 I really enjoyed this route because of 3 reasons:
You get to take the spectacular Corda road to get up to Espongeiro
You'll discover sceneries of Santo Antao that are very different from Paul and other hiking hotspots
You'll get some of the typical, jaw-dropping views of Santo Antao
I did this hike with Edson from Lima Tours and couldn't have been happier to have had him as a guide. I had so many questions about life in Santo Antao, the flowers, the traditions etc… And he answered them all! Don't hesitate to get him for your visit of the island, he speaks great English and so enjoyable to hike with.
First, you need to drive up to Espongeiro (1400m) via the spectacular Corda street. From Espongeiro, you'll make your way all the way down through the valley.
I really enjoyed the first landscapes of this hike. The rolling hills were so different from the rough valley and peaks of Paul or Cruzinha area.
You'll pass villages and single houses, but there is only one direction: down! If you get lost on the way, ask for the village of João Afonso!
From João Afonso, you'll hike along the main road to Coculi. The area has great coconuts! Make sure to get one before jumping on a colectivo back to Ribeira Grande town.
Please be aware that there are no restaurants on the trail until you get to Coculi, but you'll come across several mercearias (small shops).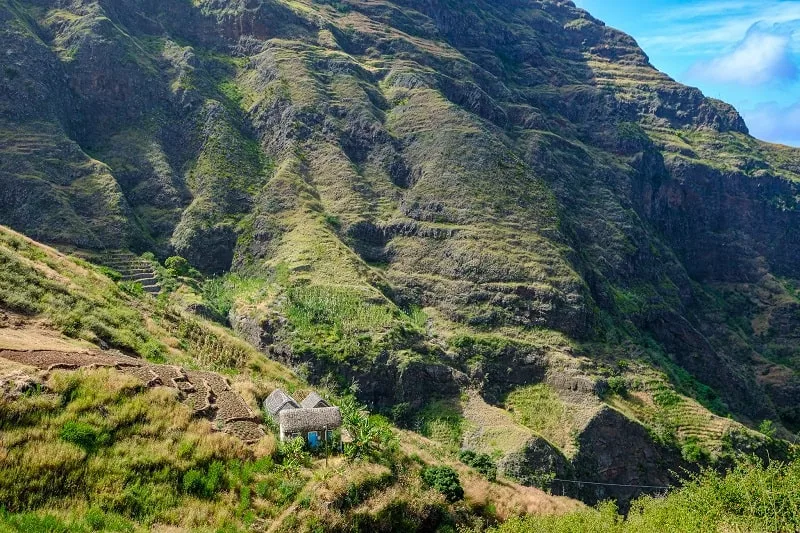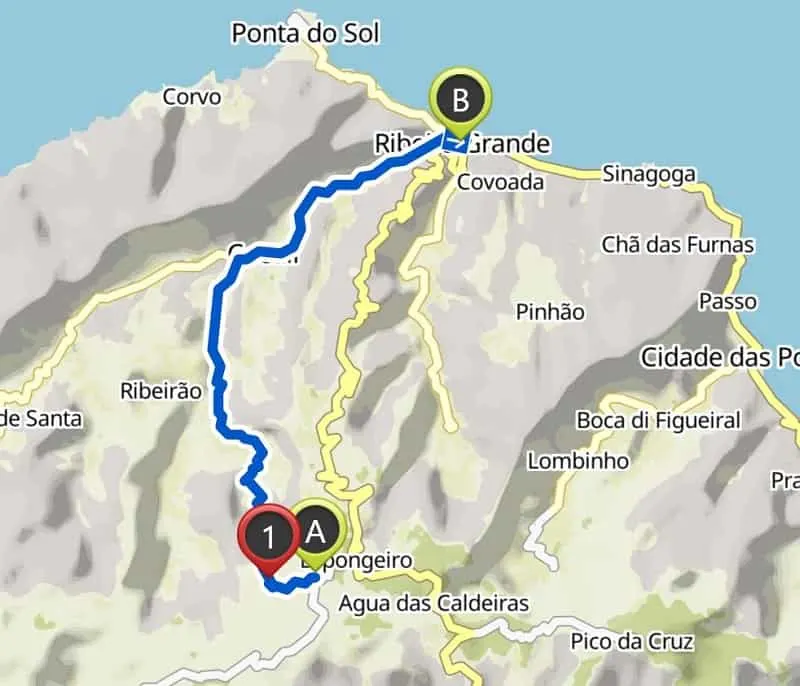 ---
Before You Go: Top Tips for your Trip
---
Are you looking for a guide in Santo Antao?
If yes, Edson from Walk Santo Antao is your man! He's a local from Santo Antao and can guide you on any of the recommend trails in this post.
Besides, he also knows the hidden gems of the island that only a local can know. Feel free to reach out to him at edsondal@live.com.pt
---
Have you ever visited Santo Antão? Can you recommend any hikes? I'd love to read about them in the comment form.
Related: The Ultimate Travel Guide to Cape Verde
---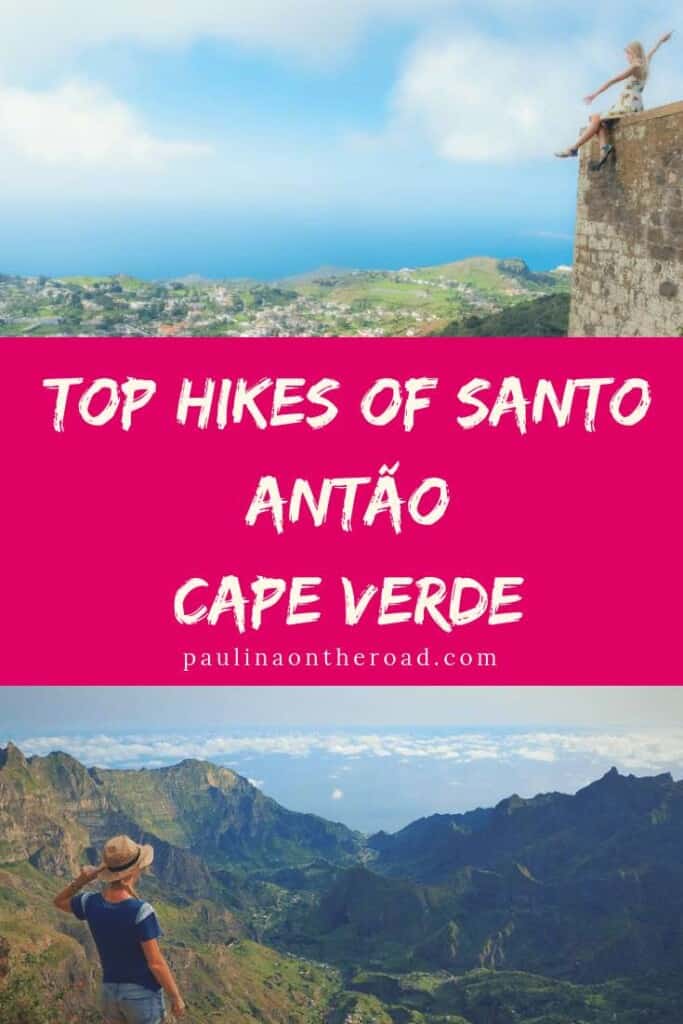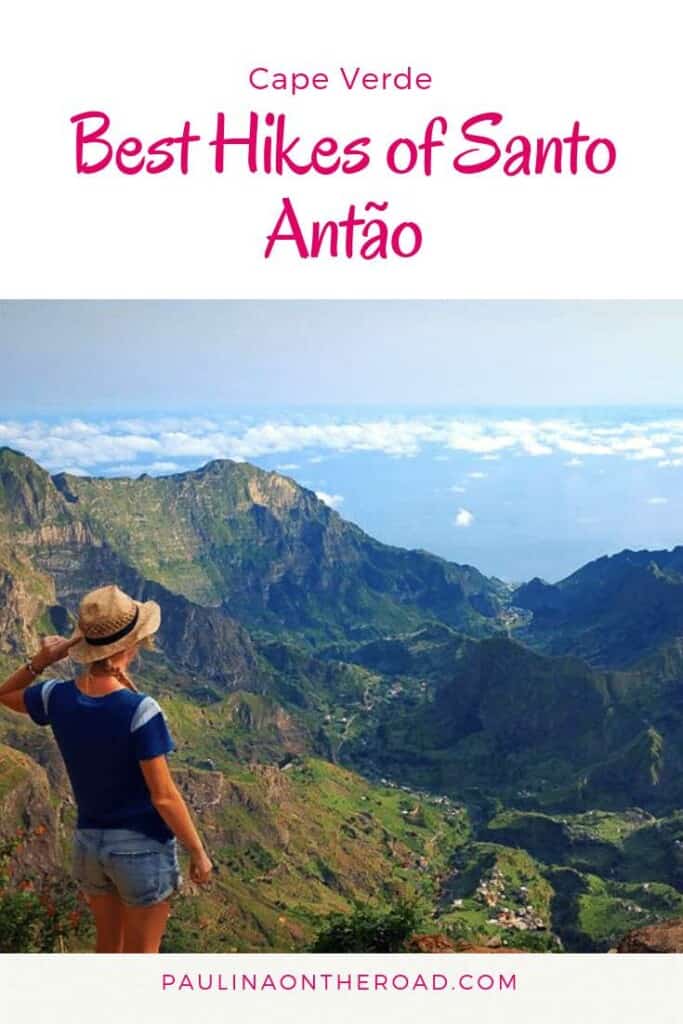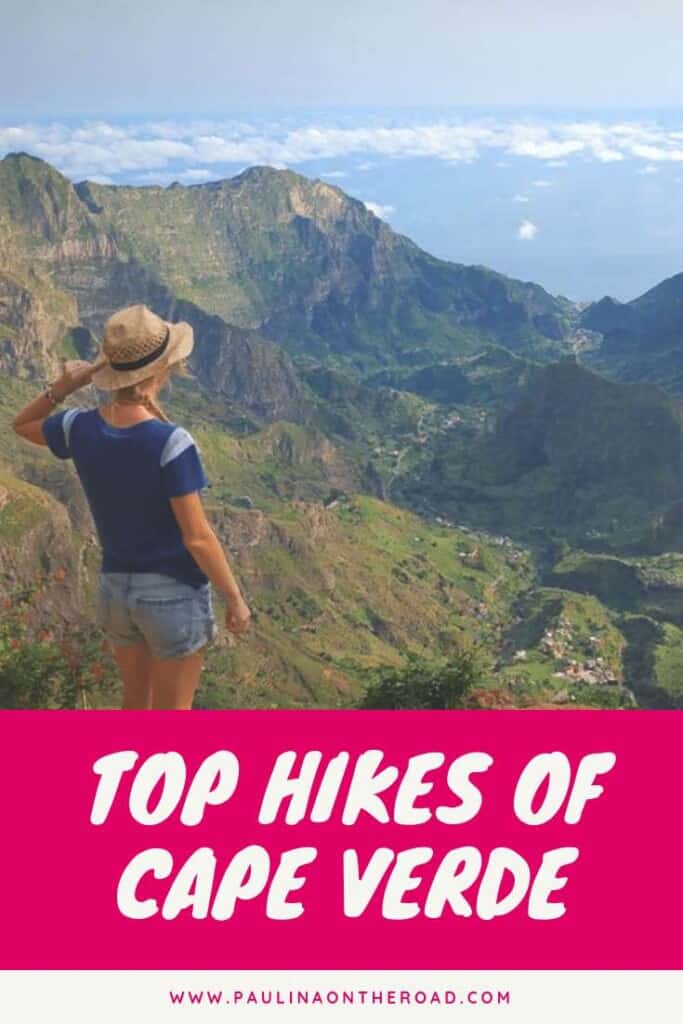 Hola! I am Paulina, a fervent travelette who crossed the Atlantic Ocean by Boat HitchHiking. On my blog, you'll find all the tips to make the most of your holiday. Get ready to enjoy outdoor and sustainable travel like hiking, cycling or sailing. Let's hit the road together!