A practical travel guide on how to visit Cape Verde and how to move between islands incl. flights and boats
After dedicating each island in-depth articles about things to do in Cape Verde islands and the best places to stay in Cape Verde, I thought it would be about time to share valuable information about all the organizational stuff you need to know before traveling to Cape Verde.
Indeed, it is nothing easy to find flights and ferries between islands, ferry schedules, visa requirements,… Time schedules change constantly, several flight companies connect the Cape Verde islands.
In this post, I will give you ALL the practical information that you need to know about flights, resorts and the unmissable things to do on each island. Let's fly away to the beautiful islands of Cape Verde!

I visited the Cape Verde islands twice and stayed on every island, except Sao Nicolau and Boa Vista. In total, I stayed a period of 2 months on the Cape Verdean archipelago.
That time provided me a deep knowledge about tourism in Cape Verde and it made me realize that it is really difficult for visitors to find information on how to plan their Cape Verde holidays.
Ultimate challenge: move between islands!
Ferry time schedules are almost nonexistent or change constantly, several flight companies fly between the islands… and what about visas? Before traveling to Cape Verde I had a hard time figuring all these things out. However tourism to Cape Verde is growing a lot and there is a real demand, to sum up all the practical information.
I also get asked a lot: "What is the best island of Cape Verde"? Well, every single one is very different and represents a small paradise on its own.
In this post, I will also give you a brief sum-up of the best things to do on every single Cape Verde island.
If you want to make the most of your time, check the Ultimate Cape Verde Travel Guide Book filled with local, hidden gems.
Useful Information about Cape Verde
⚘ Don't leave without a travel guide. Be prepared and get the Ultimate Cape Verde Travel Guide Book

✈ Book cheap flights to Cape Verde with Skyscanner

✔ Book the best tours in Cape Verde with Viator

➳ Find the best hotel deals in Cape Verde with Trivago

❖ Get the best car rental deals with DiscoverCars

☘ Get the best discounted outdoor gear (outlet) at REI.com

✎ Never leave without travel insurance. I get mine at HeyMondo. It's easy to set up, cheap, and reliable.

✔ Skip the queue at the airport and get your Cape Verde visa in advance with iVisa

$ Withdraw money without hidden fees and avoid rubbish exchange rates with Wise (You'll get a card for free!)
Read more: Why you must take Cape Verde travel insurance!
Read here about the best islands to stay in Cape Verde
Read here about the best beaches in Cape Verde
How to get to Cape Verde
There used to be a time when Cape Verde was one of the most remote places in the world. It was hard to get there and many today still don't know where the Cape Verde islands are.
Luckily, those times will quickly belong to the past. Cape Verde has been elected several times as the best upcoming travel destination for beach and trekking holidays.
With Flights to Cape Verde
Flight connections to the archipelago are also getting better and better. Lisbon is the main gate to fly to Cape Verde.
Book cheap flights to Cape Verde with Skyscanner or Kayak
Cape Verde has 4 (!) international airports: Praia (Santiago Island), Sal, Boa Vista, and Sao Vicente. Sal and Boa Vista airports often have surprisingly cheap flights with the tour operators, whereas traveling to Santiago or Sao Vicente can be more expensive.
My essential tips to visit Cabo Verde:
Try to find cheap flights to Sal or Boa Vista and discover the other islands from here
Book your Cabo Verde activities and tours in advance with Viator.
You can withdraw money in the local currency at Praia, Sal, and Sao Vicente
Buy a local SIM card at the airport (wifi connection hard to find if you're not in Sal or Boa Vista). When arriving in Praia, 2 companies offered their SIM cards for free! We went for the CV Movel: it has the best coverage, very affordable and 2GB was enough for one week.
To make the most of your Cape Verde trip, I recommend The Ultimate Cape Verde Travel Guide Book.
Travel insurance is essential! If you haven't already obtained travel insurance for your trip, travel protected against all odds with HeyMondo.
What about Cape Verde Visa?
A tourist visa for up to 30 days is required in Cape Verde. If your stay is longer than 30 days, the visa can be prolonged there. The passport must be valid at least 6 months. – Get your online visa here
Travel to Cape Verde with a tour operator: they usually include the visa application process and fees in their procedure. However, better ask them if the visa is included in the travel package.
If you only bought a flight, you can choose between these 3 options to get your visa for Cape Verde:
Skip the line at airports and travel hassle-free: get your Cape Verde visa in advance. – Check rates here
The Cape Verde embassy or consulate in your own country. For children under 12 years, the visa is free of charge. Calculate enough time in advance to order your visa. Speed up the process and get your visa in advance with iVisa.
Buy the visa at the international airport (Sal, Boavista, Santiago or Sao Vicente): this is the cheaper alternative. After getting off the plane, move quickly to the queue to buy your visa. (Queue is usually long and moves slowly!) The costs per visa are around 25 €. You can pay with euros or with a credit card.
Notes: The first time I arrived in Cape Verde by boat, I didn't need a visa and the fee (paid by the captain was much cheaper). The second time I purchased my visa directly at the airport of Praia. Make sure to be the first at customs
Flights and Ferries between islands
I still remember (when I arrived the first time to Sal, Cape Verde by boat hitchhiking) how I racked my brains to find flights or ferries to other Cabo Verde islands. Some locals literally advised me to "go to that xxx village, to the red house, at xxx o'clock and talk to the guy with the blue t-shirt" in order to purchase ferry tickets in Cape Verde.
I couldn't find any ferry schedule from Sal!
Luckily things have changed a bit, however, it is still not easy to travel between islands of Cape Verde. For those who don't speak Portuguese, traveling between islands in Cape Verde might be a logistical nightmare.
Every island has an airport, except Brava and Santo Antao. I highly recommend taking the plane, if you can, and not the ferry. Brava and Santo Antao can only be reached by ferry. Their respective airports had to be closed down.
Flights
The islands of Cape Verde are connected by two airlines: TACV and Binter airlines. Whereas TACV is only operating from Cape Verde, Sal and Santiago, TACV also connects Cape Verde to the US, Paris, and Brazil. Binter airline will be your best friend to move between islands.
Check here the best prices for flights between Cape Verde islands
Taking a flight is the best way to exit the islands of Sal and Boa Vista (there are hardly any ferries!).
I really liked Binter to move between islands due to its user-friendly website and app. – Check flights here
Ferries
Taking ferries between the islands of Cape Verde is a world on its own. For some islands, it is extremely hard to find connections, whereas the ferry schedules between Sao Vicente and Santo Antao are easy to find. To exit the islands of Sal and Boa, I strongly recommend taking a flight.
Paulinaontheroad.com cannot be made responsible for any changes or delays in the ferry schedule. Except for the Sao Vicente-Santo Antao ferry, ferry schedules are rather a suggestion of the departure time.
Sao Vicente – Santo Antao
Two companies connect the islands: Mar de Canal and InterIlhas. Boats run 4 times per day and the ride takes about 1 hour. ~ 800 escudos, buy your tickets 30 min in advance at Mindelo harbor. Ferry schedules are 99% reliable!
Sao Vicente – Sao Nicolau
1-2 times per week.~2000 escudos, 4-hour ride, buy your tickets in Mindelo in Polar agency, Polar, Avenida Baltazar Lopes da Silva (Palacio), Mindelo.
I really recommend taking the 15 min flight with Binter airlines from Praia to Maio.
The ferry is not reliable and it's a nightmare to get tickets. Here the info for the adventurous among you: 3 rides per week with Polaris company.
Please check this Facebook page in advance for timetables. Ferry tickets can be bought in Praia at Polar Lda, Rua Andrade Corvo nr 6, Plateau, Praia, Santiago.
Schedules are often changing and depending on the sea, you might experience delays.
Sometimes the ferry doesn't depart at all. 2-4 times per week. 5 hours from Praia to Fogo. +1 hours from Fogo to Brava. I recommend taking a flight from Praia to Fogo. Otherwise, contact the agencies Qualitur or Zebra Travel to help you with schedules and prices.
Schedules are often changing and depending on the sea, you might experience delays.
Our ferry from Fogo to Brava had a 4 hours delay. 1hour ride, 4-5 times per week. It is mandatory to buy your tickets in advance (not at the boat or the harbor!) at a travel agency like Qualitur on the main square of Sao Felipe, Fogo.
I also recommend purchasing your return ticket in advance, as selling agencies are difficult to find in Brava. The sea between Fogo and Brava can be very rough.
What about public transport on the islands?
There are no buses on the islands. The transfers are made by aluguers (public taxis, with 12-15 seats) or taxi (an aluguer with 12 seats for you alone). Aluguers are cheaper and there is no set schedule.
They depart when they are full. The bus stops are not recognizable, you better ask your hotel/hostel where the main aluguer stop is.
What is the best month to go to Cape Verde?
Due to the ocean winds, the weather on Cape Verde is milder than on the African mainland. The islands are divided into two groups:
in the north the Barlavento or Windward Islands (Santo Antão, São Vicente, Santa Luzia, São Nicolau, Ilha do Sal, and Boa Vista), which have a more arid climate,
Brava and Santo Antao are mountainous islands and have lush green vegetation, with a rainy season from July to October. Sal, Boa Vista, and Maio have a flat landscape and arid climate.
Rain is becoming very scarce, even absent and is usually concentrated in the period August to October (and sometimes in July), which is also the warmest time of the year.
However, there are also years where there may be heavy rainfall, usually concentrated in a few days (or even just one). This may result in landslides and flooding, also because of the scarcity of vegetation.
Concerning the temperature, there is a hot period from July to November and a more temperate and dry period from December to June. During the coolest season, from January to March, daytime temperatures are around 22/23 °C (72/73 °F) on the Barlavento islands and around 25 °C (77 °F) in the Sotavento.
In Cape Verde, the weather is rarely very hot. However, the temperature can sometimes reach 35/37 °C (95/99 °F) from May to October.
Cape Verde is thus perfect for a winter sun holiday! …and, why not, a warm Christmas!
Is it safe to go to Cape Verde?
Yes, it is absolutely safe to go to Cape Verde!
Besides the outskirts of Praia and Mindelo, there are no safety problems in Cape Verde. Boa Vista and Sal have noted some crime incidents with the rise of tourism.
However, islands like Maio, Santo Antao, and Brava are so idyllic that you think you're in an ideal world. People leave their doors open and welcome you with open arms.
As a solo female traveler, I strongly recommend staying in the town center of Praia and Mindelo. Don't go to the outskirts. All the other islands are great for solo female travelers.
Things To Do in Cape Verde: A Best Of
Sal, Cape Verde
Sal and Boa Vista are the emblematic islands of Cape Verde for beach holidays. You'll find all the international hotel brands here, large resorts, many of them have all-inclusive formulas.
Sal Island is thus perfect for those who want to spend an easy-going holiday on the beach or for those who are traveling with kids.
Despite its gorgeous beaches, Sal doesn't offer a very sustainable form of tourism. Water is really scarce on the island and hotel employees earn ridiculous wages.
On top, you'll not really interfere with the local community as all the resorts are located in Santa Maria, south of Sal which became really expensive for the locals. Read more about the best beaches in Cape Verde.
Even though Sal has a lot to offer to its visitors like the salt mines, turtle watching, best kitesurfing possibilities, and a great beach, there is much more to see in Cape Verde.
Boa Vista
Boa Vista Island is surprisingly similar to its neighboring island Sal. Boa Vista mainly consists of deserts and beaches. The island is famous for its dunes and is a hub for all-inclusive resorts and family travelers.
The most popular things to do in Boa Vista are driving a quad in the dunes, diving and turtle watching. If you visit Boa Vista, an excursion to Sal Rei city is a must.
If you are looking for beach holidays in Cape Verde, Boa Vista will be the best island for you.
Read my full guide on the best hotels in Boa Vista, Cape Verde to find the right fit for you.
Maio
If you want beach holidays to Cape Verde, but in a sustainable and environmentally-conscious way, I highly recommend to visit Maio island. Maio has the most beautiful beaches I have seen in Cape Verde and the local community is really warm-hearted.
Even if tourism in Maio is growing, you'll still enjoy some of Cape Verde's best beaches and an authentic experience close to the local community.
There are no large resorts, only small family-run businesses. I highly recommend to visit the cheese factory in Ribeira Dom Joao and to go turtle watching with eco-conscious association Maio Biodiversity.
Maio is famous for its qualitative salt and it's one of the very few islands that's actually suited for cycling. Maio can be easily reached from Praia, Santiago. This makes Maio one of the best places for winter holidays in Cape Verde or Cape Verde at Christmas.
Sao Vicente
Sao Vicente is perfect for those who want a mix of hiking, beaches and city vibes. The island is one of the largest in Cape Verde and it is home to the "cultural capital" Mindelo.
World-famous morna singer Cesaria Evora is from here and many other famous artists like Bau, Tito Paris,
and Fantcha… as well. Don't be surprised to cross some of them in the streets of Mindelo. Btw that's how I met Cesaria's grand-daughter.
Book here your Mindelo City Tour
Besides Mindelo, you'll want to enjoy the beautiful beaches of Sao Vicente.
Even though they cannot be compared to the ones in Maio, you'll get a slice of "Copacabana" feeling at Laginha beach in Mindelo. Go for windsurfing in Sao Pedro or enjoy the vast beach of Calhao. For hiking, I recommend the Monte Cara and Monte Verde.
Santo Antao
Santo Antao is my favorite island for hiking (besides Brava)! Even though the island is quite big, the best hiking trails are all in the area of Paul, Ribeira Grande, and Ponta do Sol. The dramatic scenery of Santo Antao will not leave you indifferent for sure.
You'll experience the volcanic landscape first hand and the dramatic cliffs falling into the sea. On top, Santo Antao is home to the most beautiful village in Cape Verde: Fontainhas.
Book here your Santo Antao Day Tour
I spent 10 days in Santo Antao and even after going for a different hike every day, I still didn't manage to explore the entire island. However, don't expect beaches in Santo Antao: the sea is rough and even dangerous!
Santiago
Santiago is probably the island that I know the least. That being said, it is the only island that boasts a big city, Praia, thus if you want town life in Cape Verde, you should definitely include Praia in your travel plans.
Praia boasts a few gorgeous hotels and I particularly liked the music and creative scene of Praia. Santiago is also particularly well suited for those who want to go hiking and learn more about Cape Verde's dramatic historical background when it comes to slavery.
Indeed, the Cidade Velha, close to Praia, is the oldest settlement of the archipelago and was once a hub for the slave trade. – Book here your tour to Cidade Velha
The setting remains mostly untouched and original. Some of my friends also highly recommended the beaches of Tarrafal, Santiago where you can enjoy relaxing beach holidays. To sum up, Santiago seems to have it all!
Book here your Santiago Island tour
Fogo
Fogo is different from all the other Cape Verdean islands. It is shaped by the rough, spectacular volcano in the center of the island. The surroundings of the volcano are lush green, thanks to the fertile soil.
Many visit Fogo thus climbing the volcano and hike some of the numerous hiking trails that you can find on the island. However, there is much more to see and do in Fogo.
Book here your volcano climbing tour
A winery is located at only 10 minutes drive from the volcano. Wine from Fogo is known all over the archipelago and a coveted souvenir. Visiting the winery will provide you a great insight on how to make wine under such rough conditions.
Sao Felipe, the capital, is not only a great place to stay but also one of the prettiest colonial towns that you can find on the Cape Verde archipelago.
It's colorful house fronts and the sea views make it a great place to unwind and relax. Make sure to visit the cultural Center 7Sois7Luas which hosts concerts, exhibitions, and restaurants.
Brava
To me, Brava is the remotest island of all Cape Verde Islands. But all visitors will be rewarded with the kindness of its inhabitants, lush green pasture lands and great hiking trails.
Oh, did I mention that Brava boasts the prettiest natural swimming pools of Cape Verde? The piscinas of Faja d'Agua have crystal clear, tempting water. Surrounded by a gorgeous mountainous backdrop, you'll get the ultimate refreshment.
The sea around Brava is very "brave" – unpredictable – that's why I don't recommend swimming from a beach.
My favorite part of Brava is really the feeling of being in a very remote place, everything is quiet and easy-going. There's no noise, no stress, … unless you're in Furnas where all the ferries arrive.
Nova Sintra, the capital of Brava, is very picturesque and hosts the cultural center of 7Sois7Luas organizing exhibitions and concerts with local artists. The music band of Brava gives concerts all around Europe and you can assist a performance here.
---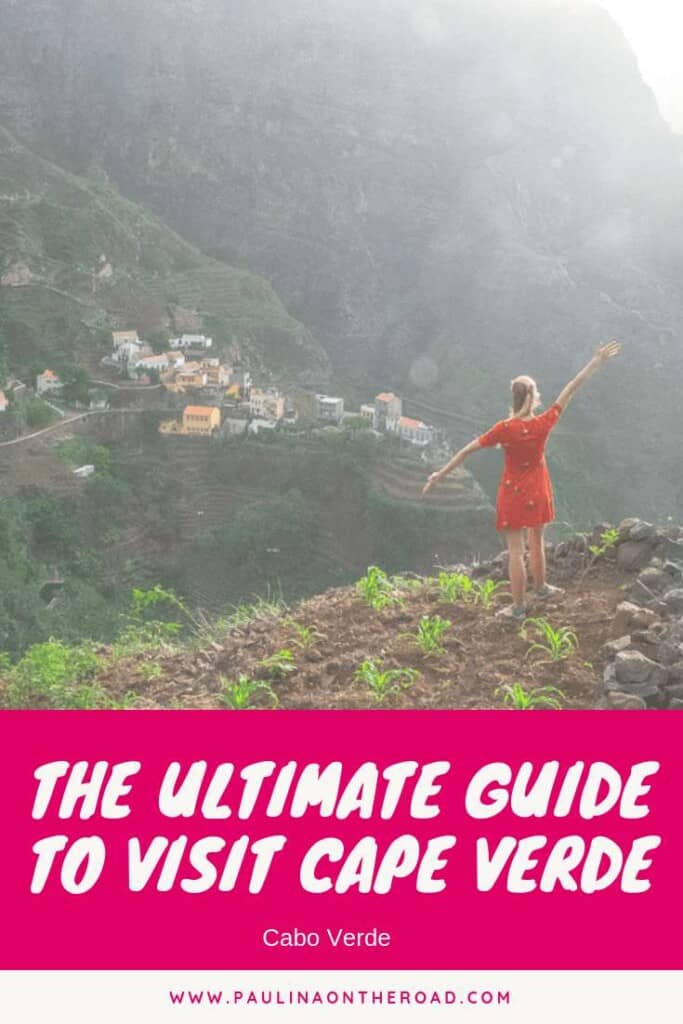 ---
Before You Go: Top Tips for your Trip
You'll snap tons of photos and I love to take my GoPro in order to shoot even in extreme situations.
Make sure to wear comfortable hiking shoes and hiking sandals when traveling to warm countries.
Sunscreen is key! I always take with me my eco-friendly sunscreen by Thinksport.
I always carry a light rain jacket, just in case.
Travel insurance is essential! If you haven't already obtained travel insurance for your trip, travel protected against all odds with HeyMondo
To make the most of your trip, I recommend The Ultimate Cape Verde Travel Guide Book filled with local, hidden gems.
Hola! I am Paulina, a fervent travelette who crossed the Atlantic Ocean by Boat HitchHiking. On my blog, you'll find all the tips to make the most of your holiday. Get ready to enjoy outdoor and sustainable travel like hiking, cycling or sailing. Let's hit the road together!