Guide to the best Boa Vista, Cape Verde hotels, including luxury, budget, family-friendly and more
Boa Visa is the third largest island in Cape Verde, just under 30 km long, and with irresistible white beaches and clear blue water, it is popular amongst tourists.
And the hotels in Boa Vista, Cape Verde are committed to making you feel like you're staying in one of the most relaxing places on Earth.
Despite its small size, there are a small but healthy number of hotels on Boa Vista to choose from.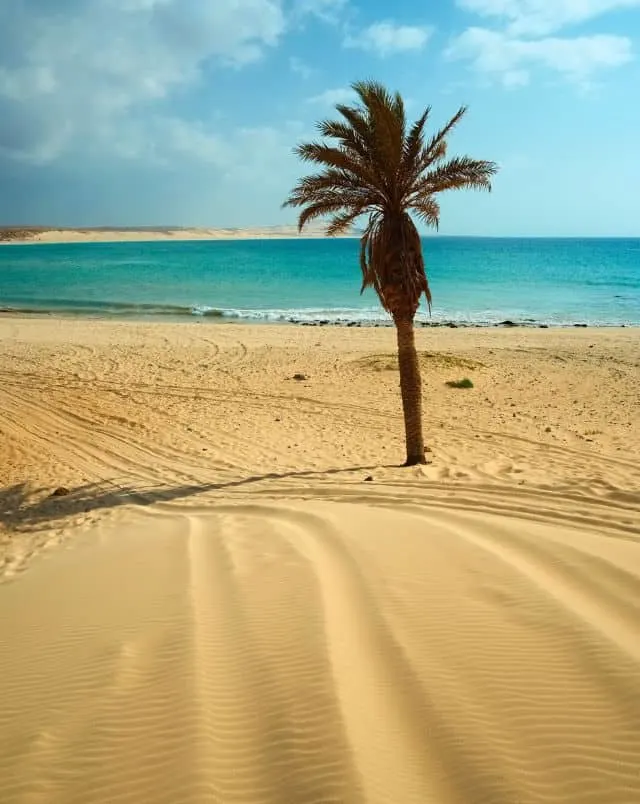 Since I used to live there, I have put together the best hotels Boa Vista Cabo Verde has to offer, including options for a mixture of needs, from the height of luxury to cheap hotels in Boa Vista.
Read on to discover the best Boa Vista hotels for your next visit!
"Paulina on the Road" is supported by you, dear reader. As you buy through my links, I earn a small commission. As an Amazon Affiliate, I earn from qualifying purchases. Thank you for your support
Useful Information about Cape Verde
⚘ Don't leave without a travel guide. Be prepared and get the Ultimate Cape Verde Travel Guide Book

✈ Book cheap flights to Cape Verde with Skyscanner

✔ Book the best tours in Cape Verde with Viator

➳ Find the best hotel deals in Cape Verde with Trivago

❖ Get the best car rental deals with DiscoverCars

☘ Get the best discounted outdoor gear (outlet) at REI.com

✎ Never leave without travel insurance. I get mine at HeyMondo. It's easy to set up, cheap, and reliable.

✔ Skip the queue at the airport and get your Cape Verde visa in advance with iVisa

$ Withdraw money without hidden fees and avoid rubbish exchange rates with Wise (You'll get a card for free!)
Overview: Top 3 Hotels in Boa Vista, Cape Verde
Best hotel for a family-friendly stay: Hotel Riu Palace *****
Best hotel for a romantic getaway: Hotel Riu Karamboa – All Inclusive – Adults Only *****
Best hotel for a sustainable stay: Spinguera Ecolodge ***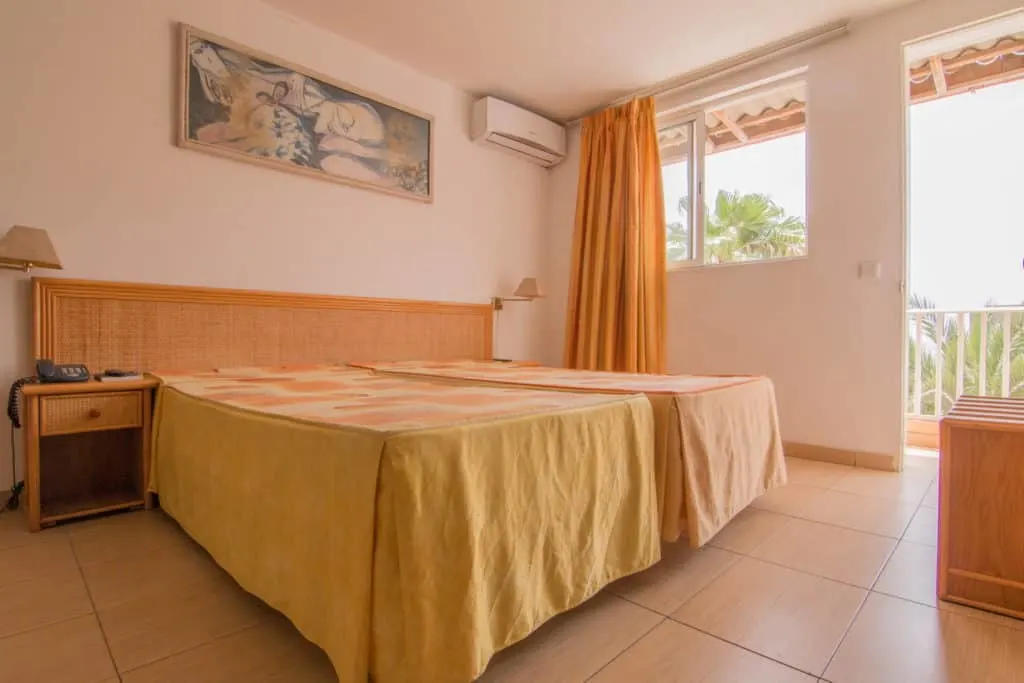 Where: Sal Rei
Highlights:
Three-star hotel combining luxury and budget
Designed for convenience
Family rooms are available
Visiting relaxing locations like Boa Vista is made even better if you choose a hotel that makes your life easy.
Ouril Hotel Agueda is a Boa Vista hotel that helps you relax in a beachfront location.
Moreover, it has an airport shuttle that will take you to and from the nearby Aeroporto Internacional Aristides Pereira.
All this means you won't need to worry about hiring a car or public transport, and can focus on rejuvenating.
The convenience of Ouril Hotel Agueda can also help you to experience more of the best things to do in Cape Verde.
You can use this hotel's location to experience island hopping in Cape Verde – just take the ferry in Sal Rei to the other islands for convenient day trips or hotel stays on other islands.
Ouril Hotel Agueda is also more than just a base for your trips as there is plenty to enjoy on-site, including a fitness center and table tennis tables.
Due to its location, you'll also find it easy to buy all your Cape Verde souvenirs from Sal Rei.
Where: Sal Rei
Highlights:
Restaurant serving European and African cuisine, and daily breakfast
Town center location
Shared lounge and bar to meet other travelers
Even though Boa Vista is known as a relaxing place to travel, there is still little to do.
With its excellent location, B&B Salinas Boa Vista is amongst the best hotels in Boa Vista, Cape Verde if you want an active holiday with plenty to do.
This B&B is located in the heart of Sal Rei and is close to some of Boa Vista's best attractions, including the Nossa Senhora de Fátima Chapel where you can discover the island's religious heritage.
The nearby Cabo Santa Maria Shipwreck is also a great location to visit if you are interested in Spanish history.
It was a Spanish boat shipwrecked on the Costa Boa Esperanca nature reserve in 1968 carrying gifts from the dictator Franco to his sponsors.
The ship even once held luxury sports cars, clothing, and more!
After a hard day's exploring all the amazing things to do in Boa Vista, this hotel is a fantastic place to refuel.
B&B Salinas' on-site restaurant features authentic African cuisine, so you can fill your belly with delicious local delicacies.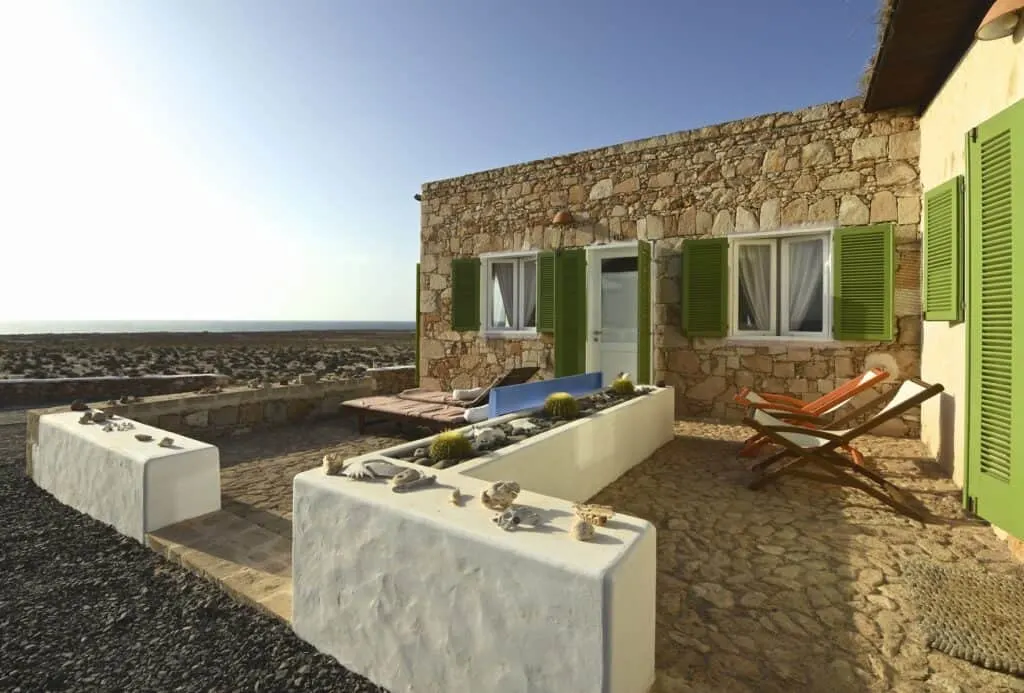 Where: Espingueira
Highlights:
The sustainable option
A small hotel with just 12 rooms
Homemade and locally sourced food is served
My next chosen hotel is brilliant if you want to explore sustainable holidays in Cape Verde.
The clue is in the title for Spinguera Ecolodge, one of the few hotels in BoaVista, Cape Verde that has been built with the environment in mind.
This stunning beachfront hotel allows you to get back to basics, reconnect with nature, and explore Boa Vista while fulfilling your social responsibility.
One of my favorite features of the Spinguera Ecolodge is that you are able to rent a 4×4 at their on-site shop.
You can drive yourself or hire a driver to show you the best attractions in Boa Vista.
This hotel also features the fantastic customer service and comfort you would expect from luxury hotels in Boa Vista, Cape Verde.
When I stayed at Spinguera Ecolodge, I found it extremely clean and comfortable and the staff was incredibly friendly and helpful with any questions I had.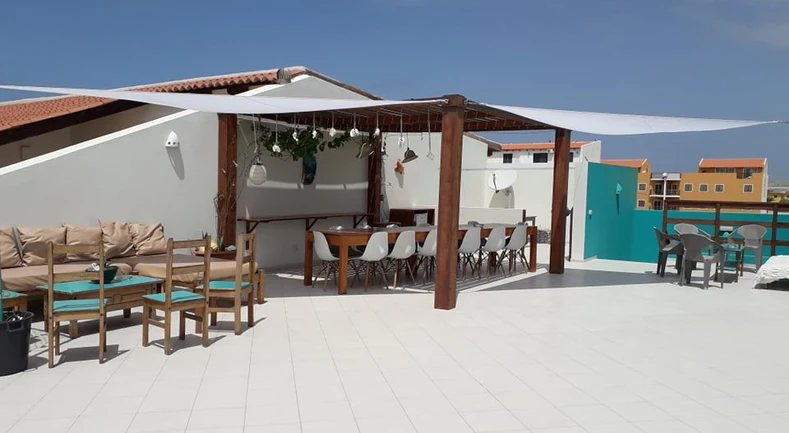 Where: Sal Rei
Highlights:
Sea-themed decor
Some rooms feature a kitchenette
A range of options at the buffet and continental breakfast
B&B Sereria Azul Boa Vista is another of the Boa Vista hotels located just to the south of Sal Rei.
It gives you access to the best beaches in Cape Verde, including Praia de Estoril, Bahia Beach, and Praia de Diante, where you can relax in the clear blue waters and participate in watersports.
You will be just 200m from the sea in this wonderful Boa Vista B&B, as well as just a few minutes walk into the center of Sal Rei.
Here, you can spend your evenings getting familiar with Cape Verdean food and visiting the local bars to find out how Cape Verdean's party.
All these features are guaranteed to give you a great holiday, but the owners, Laura and Kevin, make this hotel worthy of a spot on a list of the best hotels in Boa Vista, Cape Verde.
They are known for their helpfulness and local knowledge, and some guests even report that the owners welcomed them as they got off their ferry.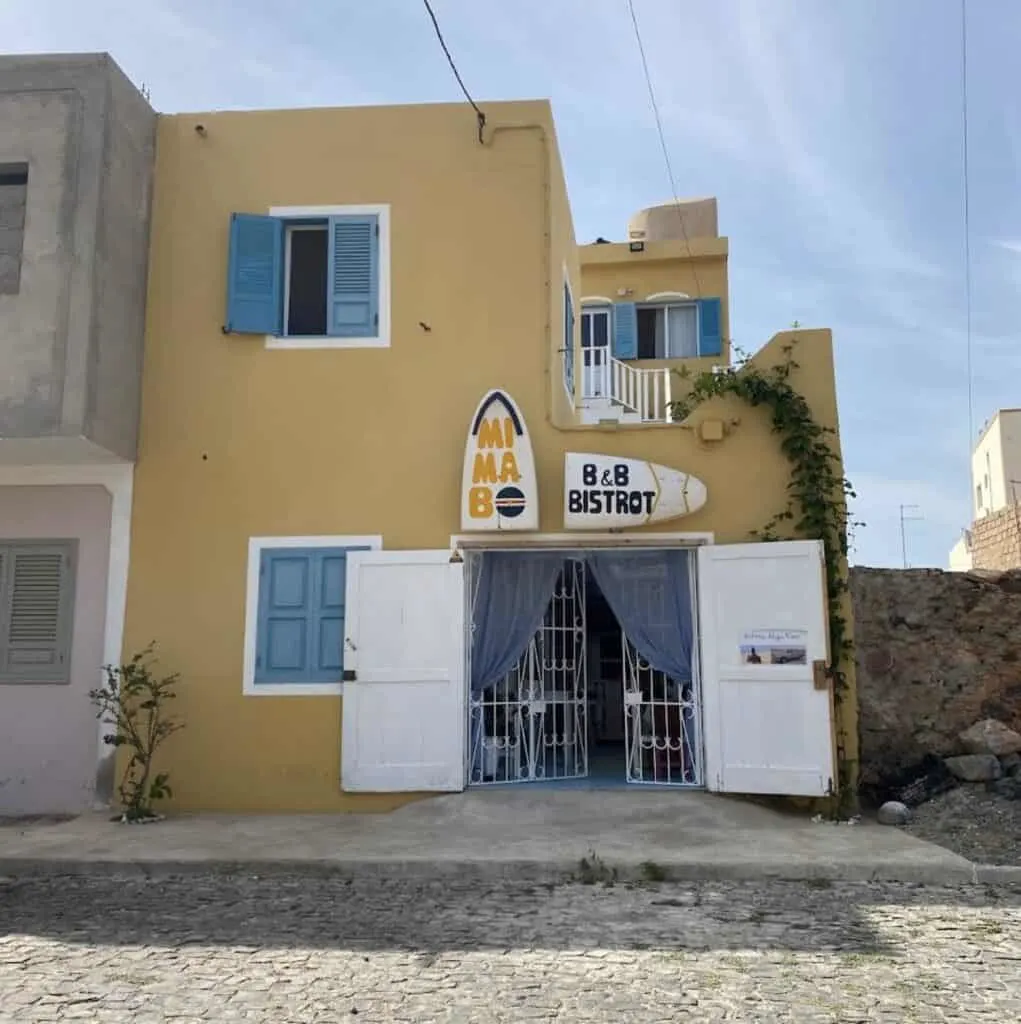 Where: Sal Rei
Highlights:
Genius discount eligible on booking.com
Free bikes are available for cycling in the area
Partnership with a local car rental company
B&B Mi Ma Bo is one of the most recognizable Boa Vista hotels because of its beautiful purple flowers adorn its balconies.
It is a tranquil place to spend your holiday with views over the city and surrounding countryside.
If you like what you see, the B&B has bicycles you can use for free to explore the area.
This B&B is also unique to the hotels in Boa Vista, Cape Verde, because of their partnerships with local businesses.
The owners of B&B Mi Ma Bo can help you hire cars and enjoy excursions from companies they trust to offer excellent service.
The B&B also offers a shuttle service to the airport for your convenience, however, unlike some of the hotels Boa Vista offers, it is not included in your accommodation.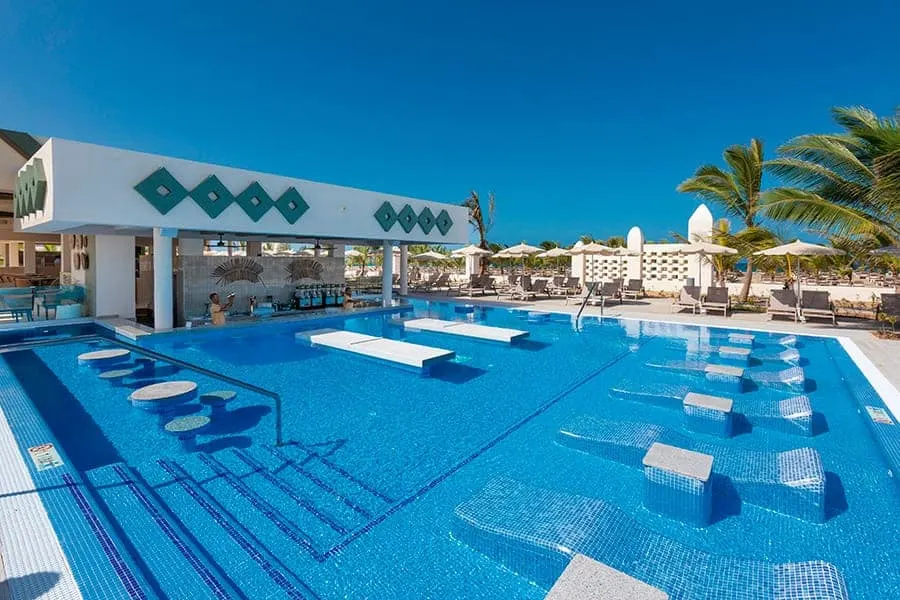 Where: Sal Rei
Highlights:
Adults only hotel
Self-contained and all-inclusive resort
Swim-up rooms available
Boa Vista can be popular amongst families whose children love building sandcastles on stunning beaches.
Many hotels in Boa Vista, Cape Verde, aim to cater to this audience which can worsen the experience for guests who do not have children.
Hotel Riu Karamboa is one of few hotels in Sal Rei that do not buy into this market and help people without children to enjoy their holiday.
Without noisy children, you can relax in the five-star luxury, spending days soaking up the sun, in the spa, or enjoying the six on-site restaurants.
When the sun sets, Hotel Riu Karamboa turns into a social venue.
You can find on-site live performances and nightclubs open each night.
What's more, because this is one of the Boa Vista, Cape Verde resorts, you can enjoy everything included in the price of your room.
Hotel Riu Karamboa is another Boa Vista hotel Cape Verde offers with seafront access.
On the beach, you can enjoy kayaking, snorkeling, surfing, windsurfing, and bodyboarding.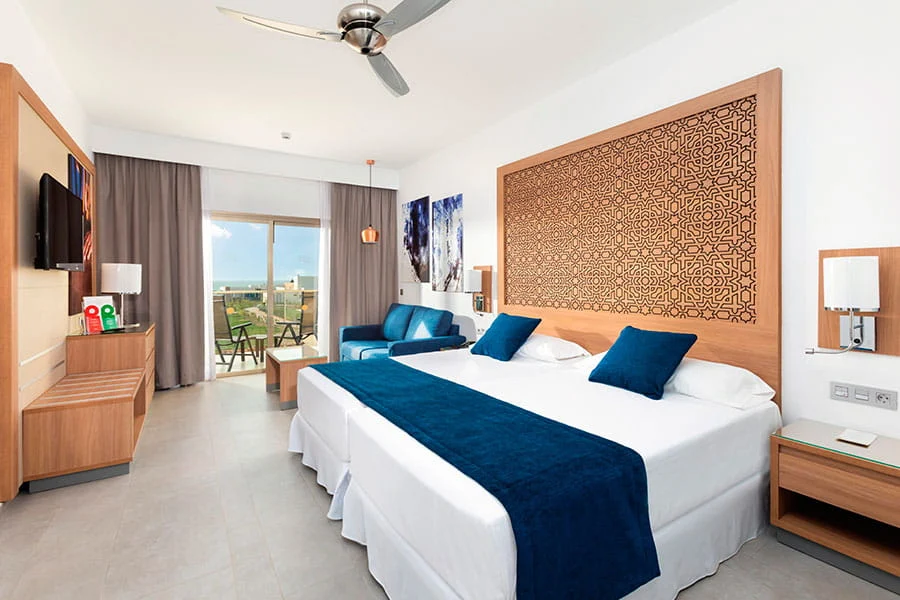 Where: Salina
Highlights:
Five-star luxury by the sea
Multiple restaurants serving fresh local cuisine
Family-friendly
All-inclusive resorts are not only for adults without children, and fortunately, if you want a luxury family hotel, Boa Vista, Cape Verde delivers in spades!
There are several all-inclusive hotels in Boa Vista, Cape Verde, that are family-friendly to choose from, and Hotel RIU Palace is one of the biggest with 505 rooms.
Uniquely, the entire site is smoke-free, so you can visit in confidence that your children's health won't be risked.
This Boa Vista hotel's beachfront location also allows you to have once-in-a-lifetime experiences.
You can enjoy scuba diving, a chance to see the beautiful colors of the local tropical fish up close.
As it is located away from major towns, Hotel Riu Palace may not be the best option if you want to explore the island, and a rental car will likely be necessary.
While Praia de Chave beach is within walking distance, you must drive to Estoril Beach and Praia de Cruz.
The main cultural sites in Boa Vista, Cape Verde will also only be accessible by car.
The Chapel of Our Lady of Fatima and the Curral Velho historical village are both just under a 30-minute drive.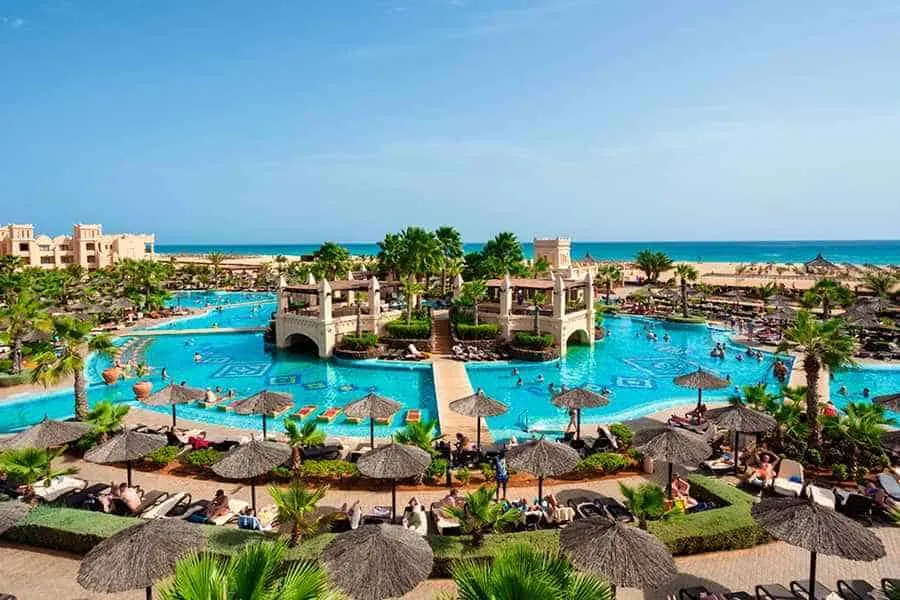 Where: Santa Monica
Highlights:
1151 luxury rooms available
On-site spa with treatments available
Concerts and live shows are included
Awarded a Travelife environmental and cultural sustainability award
When deciding where to stay in Cape Verde, it's easy to see why so many people pick a stay in Boa Vista when they have options like Hotel RIU Touareg.
Despite its size, Hotel RIU Touareg keeps ahead of the Boa Vista hotels by maintaining an excellent quality of service.
Multilingual front desk staff are knowledgable and helpful, able to assist in any inquiry.
They also take your health seriously, practicing constant disinfection of all surfaces and encouraging social distancing.
Your experience at Hotel RIU Touareg can perfectly balance relaxation and enjoyment.
There are three poolside bars and a swim-up bar so that you can relax in the sun with your favorite drink.
Multiple activities are available to keep you occupied, including beach volleyball and aerobics classes.
In the evening, you will have a lot of entertainment, such as concerts and a nightclub with live DJs.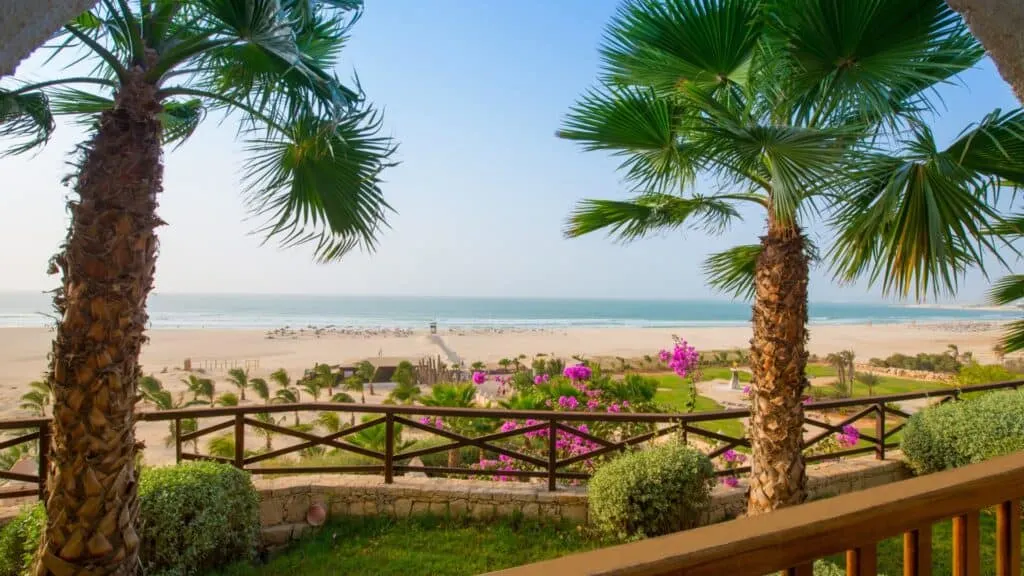 Where: Sal Rei
Highlights:
Has taken the UNESCO Sustainable Travel Pledge
Spa and hot tub facilities
Minimalistic, stylish, and comfortable rooms with views over the resort
Iberostar Club Boa Vista is one of the best Boa Vista hotels that are all-inclusive as it offers an excellent standard of five-star service.
This hotel is also a chance to reconnect with nature and your social responsibilities.
Every room has a rainfall shower and eco-friendly toiletries which are kept hygienic with eco-friendly cleaning products.
These steps are part of Iberostar's commitments under the UNESCO Sustainable Travel Pledge.
While staying at Iberostar, you should feel comfortable that your experience is not harming the local environment or communities.
I think its smaller size also allows Iberostar to think outside the box more than other Boa Vista hotels and resorts.
One example is that the two on-site restaurants which offer beachfront dining are partially supplied by vegetables grown on-site.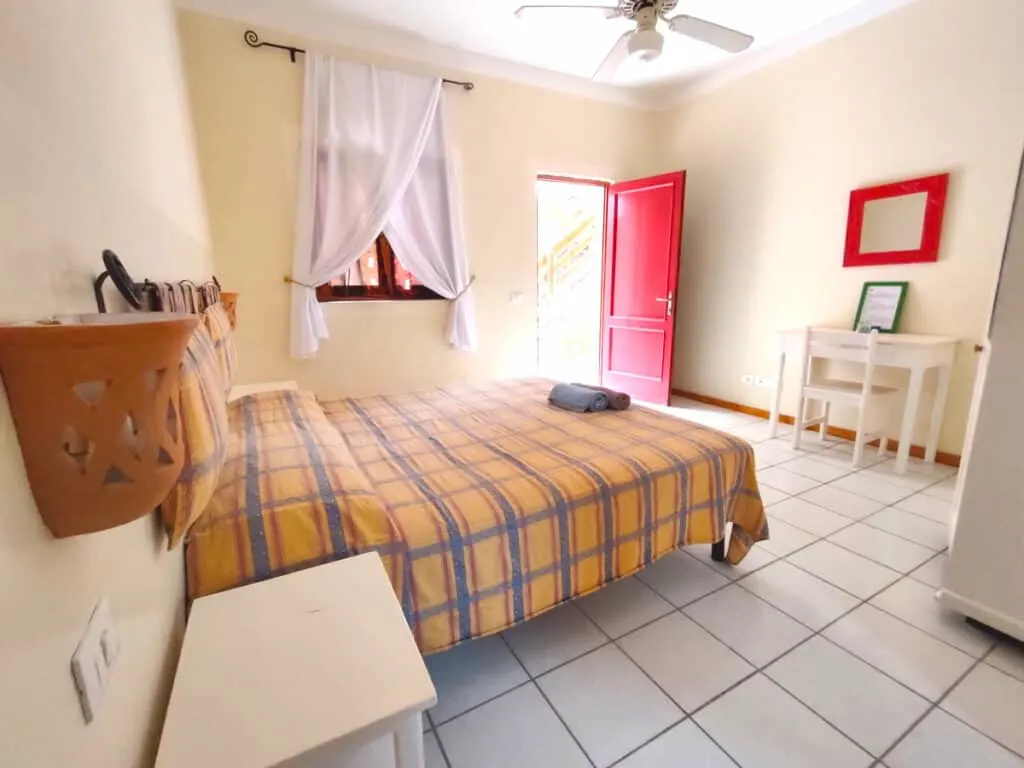 Where: Praia de Estoril, Sal Rei
Highlights:
A unique mixture of apartment and hotel experience
Quiet location to the South of Sal Rei
Features a shared garden to relax in
If you're looking for something a little different from the standard hotels in Boa Vista, Cape Verde, check out the Estoril Hotel Apartments.
Choosing an apartment can help you to explore beyond the tourist hotspots and experience what real life is like on Cape Verde's third biggest island.
It also gives you the freedom to cook your own meals, and more space to feel like a home away from home.
Located in Sal Rei, the Estoril Hotel Apartments have a kitchen area, including a fridge and cupboards to store your food.
However, if you want to treat yourself, you can also use room service to return to a more luxurious experience.
This Boa Vista accommodation also has a wonderful location on the quiet outskirts of Sal Rei, with access to beaches frequented by local people.
It is also just 0.4 miles from the popular Santa Isabel church, a grand Catholic church that is loved for its bright and unique blue colors.
---
Short FAQs About Hotels in Boa Vista, Cape Verde
What are the best hotels on the beach in Boa Vista?
What are the best resorts in Boa Vista for families?
How many hotels are there in Boa Vista Cape Verde?
According to booking.com, there are 153 hotels in Boa Vista Cape Verde. However, these are not all hotels, many are holiday rentals. And, of course, not all Boa Vista Hotels are listed on the site. I cannot say for certain just how many hotels there are in Boa Vista, but certainly a couple dozen, at least!
---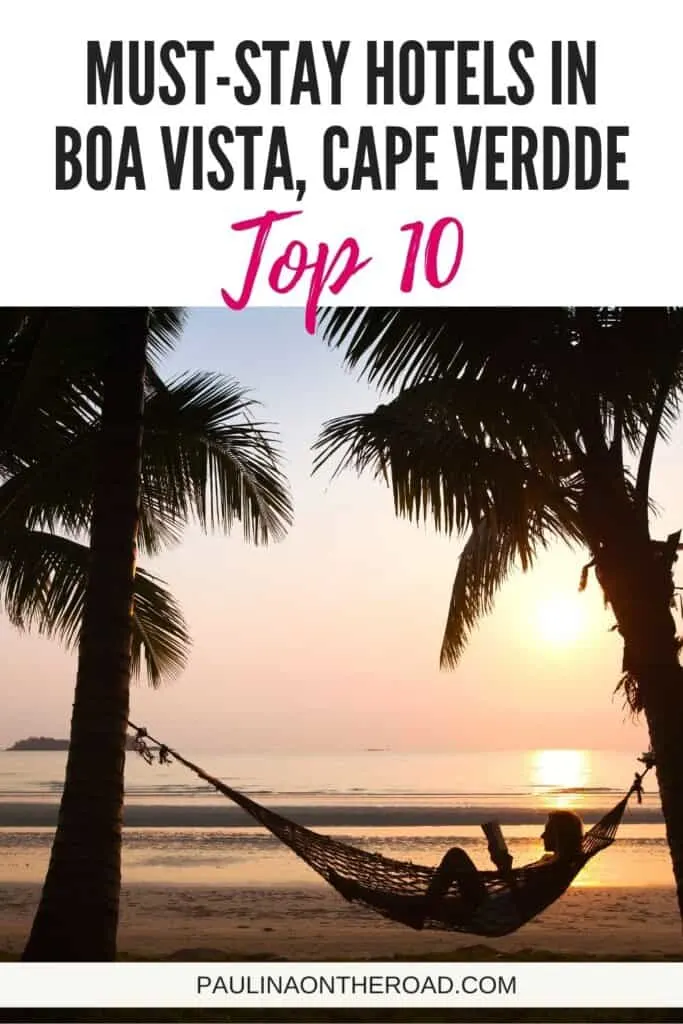 ---
Hola! I am Paulina, a fervent travelette who crossed the Atlantic Ocean by Boat HitchHiking. On my blog, you'll find all the tips to make the most of your holiday. Get ready to enjoy outdoor and sustainable travel like hiking, cycling or sailing. Let's hit the road together!