A guide to the best Cape Verde gifts and things to buy in and from Cape Verde
Cabo Verde is special! After living on the beautiful archipelago for a little more than 1 year (counting all the 3 stays together), I must admit that I've lost a part of my heart to this gorgeous country.
I don't think that it's a coincidence that almost every traveller I've met and that has been to Cabo Verde, felt in love with the vibe of these 10 islands.
Is it that it's still not very touristic? Is it because of the kindness of its people? The fact that every island seems to be a world on its own? Its world-famous music? Its remote geographic location?
It's probably a mix of all of this.
For all of those who can't get enough of Cabo Verde, I decided to create this gitft guide with the best things to buy from Cabo Verde.
Please note that I couldn't include such remarkable products as the wine from Fogo or grogue from Santo Antao, since I haven't found any company offering international shipping. That's why some typical products from Cabo Verde may be missing.
The products that are featured in this gift guide come directly from Cabo Verde, are made from Cape Verdean expats, or just creative people that absolutely love the 10 islands.
If you ever come across a brand or a product that's closely linked to Cabo Verde, feel free to contact me! I'd love to include them!
This blog is supported by you, dear reader. If you purchase through a link, I earn a small commission. As an Amazon Affiliate, I earn from qualifying purchases.
What to Know about Shopping in Cape Verde
If you want to make the most out of your Cape Verde shopping experience, you should buy locally made or grown products.
Some of the popular local things you can buy include Fogo wine, cheese, coffee beans, and creative handcrafts. These are some typical products that are made locally in Cabo Verde. You can find these in lively markets throughout the country.
The island lacks the presence of natural resources, hence you will see the shops displaying wares made from locally available substances.
These result in beautiful handicrafts that include locally woven baskets and clothes, pots and animated figurines created using Island clay, and rustic carved wood items.
Shopping in Cabo Verde also offers some tropical fruits grown on the island. These include papaya, mango, coconut, and guava. You can find plenty of homemade jams in the markets and shops.
All these items like the artisans, hand-woven clothes, and the fruits can be excellent Cabo Verde gifts for your beloved ones. You can buy all the stuff from the local markets in the country.
One of the popular places to shop in Cabo Verde is Sao Filipe, Fogo. It is an ideal place to shop locally produced goods like cheese and coffee.
The shops also sell wine crushed from the grapes grown on the slopes of Pico do Fogo and jams made from local, fresh exotic fruits.
And now let's dive right into the best souvenirs from Cape Verde!
1. Cape Verde Books
There is no better way to learn about Cape Verdean history and culture than books!
Here below I've curated a list of my favorite Cape Verde books. Please let me highlight 2 tht are very close to my heart:
Jewelry from Cape Verde
There is no better way to carry Cape Verde close to your heart with some amazing jewelry from or related to Cabo Verde.
Everytime I visit the islands, I promise myself that I won't shop! I always fail! There are so many talented creators on the island that make it very hard to resist.
On top, it seems that many visitors get inspired by Cape Verde and as a result they create their very own jewelry with a Cabo Verde theme.
I do have a very favorite piece of Cape Verde jewelry: my golden Cape Verde Coin Necklace from Etsy. – Check prices here
If you can't go shopping in Cape Verde, have a look at these gorgeous pieces:
Shopping Cape Verde Foods
What's the best way to travel without getting on a plane or bus? Eating traditional and typical food from your favorite country!
Whilst it's very difficult to get some typical Cape Verde food outside the archipelago, I curated a list of some of the essentials of Capeverdean cuisine.
I'm sorry, but I couldn't find any online shop that sells & ships Fogo wine or coffee from Cape Verde. If you know where to get some, please let me know here.
Cape Verde Clothes
There's no better way to show your love for Cape Verde to the world then by wearing Cape Verde apparel. There's a huge offer out there, no matter whether you're looking for men or women's apparel.
They do not only make a great Cape Verde souvenir but also show your connection to the beautiful 10 islands.
I particularly love this "Island Girl" tshirt, since you can choose which Cape Verdean island you want to have printed. I'd get Maio for sure!
The choice is vast that's why I curated a refined selection of Cape Verde themed clothes.
Music from Cape Verde
A good friend of mine once said that if GDPs would be measured in "music" units, then, Cabo Verde would be one of the richest countries in the world. He's definitely not mistaken since the country boasts an incredibly wide range of musicians and music styles.
The best way to bring a flavor of Cabo Verde to your home is by putting a CD of Cape Verdean musicians.
There is a whole lot to choose from: from evergreens from Cesaria Evora, film music written by Bau, or newer artists such as Elida Almeida or Mayra Andrade.
If you're looking for a great introduction to Cape Verdean music, "Cabo Verde" from Putumayo and Viva Musica do Cabo Verde are a great choice!
If you're looking for something special, have a look at this disk from Tibau Tavares from Maio.
Cape Verde Prints
If you want to decorate a room or any other part of your home, prints from Cabo Verde are one of the best ways!
No matter whether you're looking for beautiful Cape Verde maps, flags or printed Cape Verde photographs… they all are a great way to display your love for Cabo Verde.
Shop all prints from Cabo Verde here.
Cape Verde Souvenirs
If after this extensive list of Cape Verde prints, Cape Verde food and clothes from Cabo Verde, you still haven't got enough of the archipelago…then I have here below a quick selection of ultimate Cape Verdean memorabilia.
I get you…once you're obsessed with a place, you want to collect everything about it. Or just be constantly remembered about it… that's where this list of Cape Verde Souvenirs comes in!
From Cape Verde shot glasses, to mugs, phone cases, or even Cape Verdean pillows…this is the selection for the very hadcore Cabo Verde fans!
---
It's a wrap!! It has been my wish forever to create a guide to the best souvenirs from Cabo Verde and some inspiration when you go shopping in Cape Verde. I hope you get lucky and find your favorite Cape Verde piece.
This list is an ongoing project… if you know any Cape Verde brands that ship internationally, are featured on Amazon or Etsy: message me and I'll update this guide!
Obrigada!
---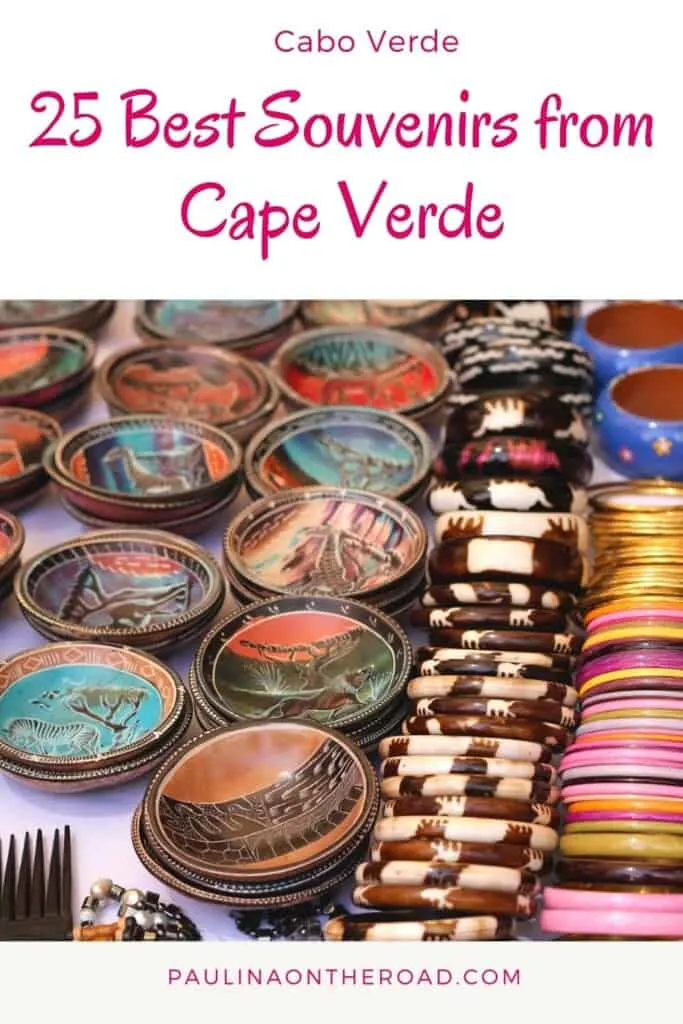 ---