Top Things To Do on Fogo Island, Cape Verde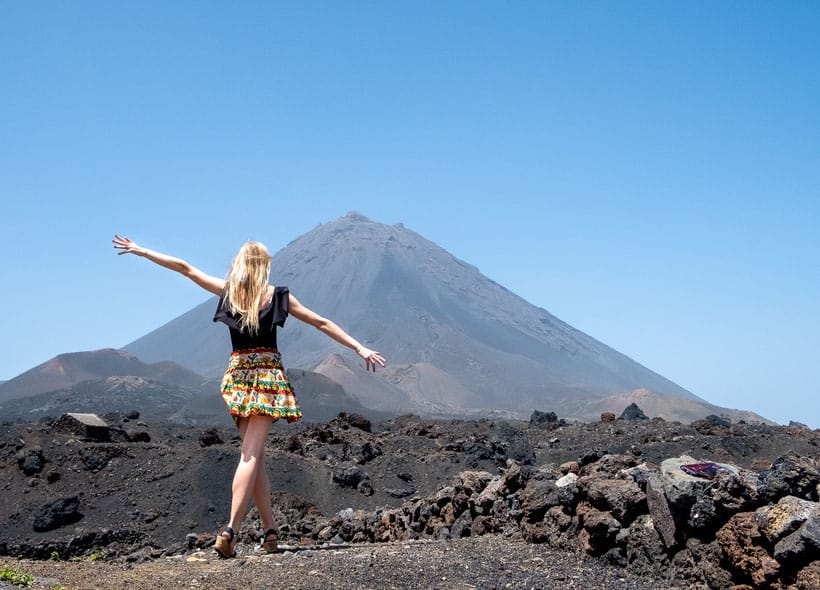 The landscape of Fogo island, Ilha do Fogo, is one of the most dramatic ones of the Capeverdean archipelago. The entire island is dominated by the imposing volcano Pico do Fogo: not only when it comes to the landscape but the highly active volcano even has a strong impact on agriculture, lifestyle and the daily grind. Indeed life under the threat of a volcanic eruption can be extreme.
With its 2829 meters, Fogo island does not only have the highest peak of the Capeverdean archipelago, but it is also one of the highest islands in the world. The Pico do Fogo, the volcano's peak, is also one of the most active volcanoes on this planet: its last eruption dates only back to 2014. Living under the threat of a volcanic eruption obviously shapes daily life and even the local's sense of humor (according to our guide).
During the last eruption in 2014, the village of Chã das Caldeiras, built inside the volcanic crater on black sand, has been entirely destroyed. However, the people from Chã have such a deep connection with this area, that they decided to go back to the crater and rebuilt the village from scratch. Some even built their new houses on top of their former, now destroyed ones.
The "lost" village of Chã das Caldeiras is thus an absolute must on your trip to Fogo island, Cabo Verde.
Even though Fogo island only has a diameter of only 25km, it is extreme when it comes to height.
Read more about the most dramatic landscape in Cape Verde and about the 10 top things to do on Fogo Island
General Info about Fogo, Cape Verde
Geographic situation: Fogo, one of the southernmost islands, located between Santiago and Brava island. Last volcanic eruption goes back to 2014.
Language: Criol and Portuguese. Limited English or French is spoken.
Currency: escudo caboverdiano
How to get there:
By airplane to Fogo airport from Praia airport. If you travel internationally, you might want to check (often very cheap) flights to Sal or Boa Vista islands and take a national flight to Praia. – Check flights to Fogo
By ferry: from Brava or Santiago island. The ferry to Fogo from/to Brava costs around 10€. Check ferry schedules and rates here.
Airport Transfers: Taxi from the ferry port to Sao Filipe is around 400 CVE (3.70 EUR/4.20 USD) and from the airport 300 CVE (2.70 EUR/3 USD). Prices may vary.
Rent a car: to rent a car, feel free to contact one of the local agencies: Qualitur, Zebra Travel, ONG Cospe
Public Transport: "Aluguer", collective taxis are departing from Sao Felipe (Francisco Assis square) to all major towns on Fogo
Even though it might be hard to get around on the other Capeverdean islands, please do visit the periphery islands, don't stay in Sal or Boa Vista all the time. Every island is very different and has its own charm.
---
---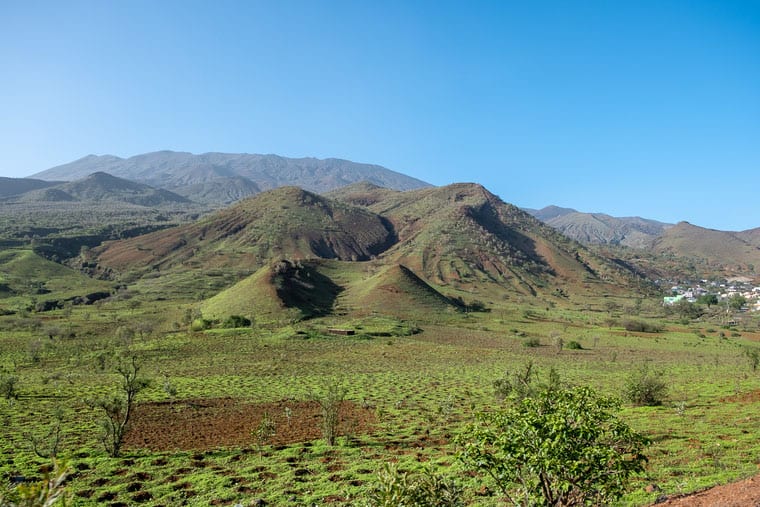 Note on Traveling to Cape Verde as Solo Female Traveller
You don't need to be worried to travel to Cape Verde as a solo (female) traveller when it comes to the peripheral islands. I just had a few concerns in Mindelo (Sao Vicente) and in Sal island at night, in the offbeat streets of Santa Maria. All the people we met were genuinely kind and I often had the impression that some were even "timid" like on Brava o Maio island.
---
1. Hike Pico do Fogo Volcano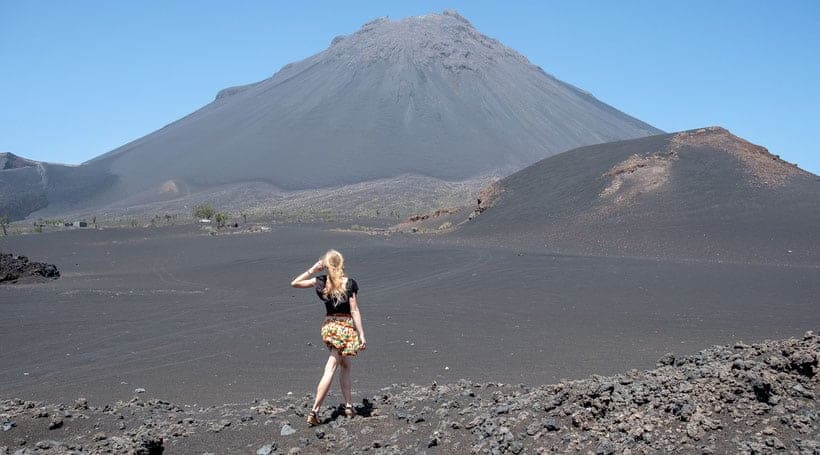 The Pico do Fogo volcano dominates the entire island and obviously it is a must when visiting Fogo island, Cape Verde. Whereas the coast of Fogo island is very fertile and with lush green vegetation, the immediate surroundings of the volcano are deep black and either composed of lava or sand.
The moonscape and colossal shape of the Pico do Fogo will impact you from the first moment you spot it. The contorted lava flows will let you feel very, very tiny. Indeed I never felt as small as in Fogo… The imposing power of the peak, the crater and lava flows were absolutely overwhelming.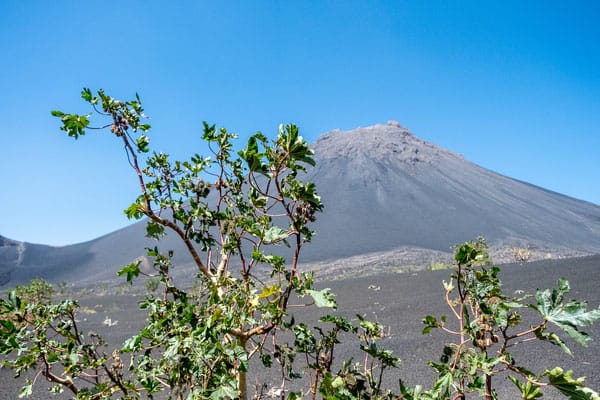 The Fogo Natural Park is about 45min drive from the colorful capital of São Felipe. If you want to hike up the volcano, I recommend to contact Alcindo Silva, our guide at (Alcindo6@gmail.com – 00238 9921409). He lives in the volcanic village of Cha das Caldeiras and knows the volcano like his pocket. His knowledge about Fogo's endemic plants and his kindness do the rest. (Btw he offers guest rooms as well! – Book your stay here)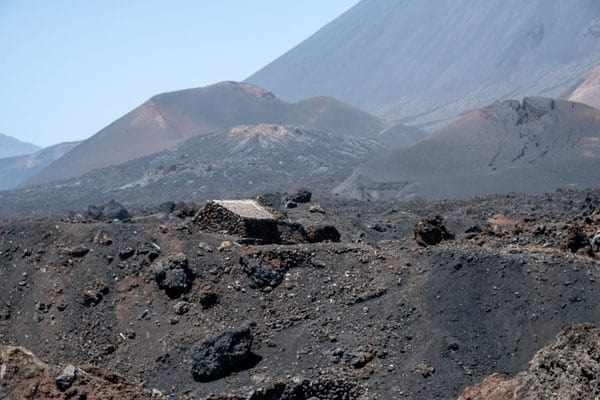 Hikes to the volcano usually start very early (~5am) as there is no shape during the entire trail. The hikes can even be done my beginner/medium hikers. It takes about 3-4 hours to get up to the top and only 30min to get down. It is great fun to run down in the volcanic sand.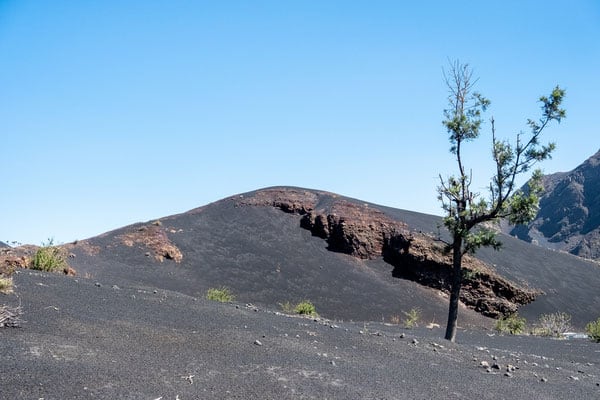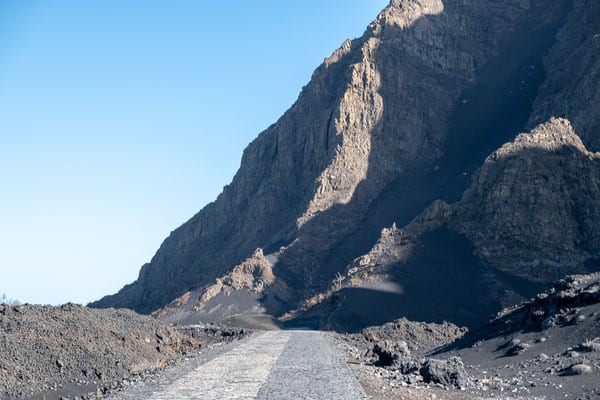 2. Wine Tasting in Chã das Caldeiras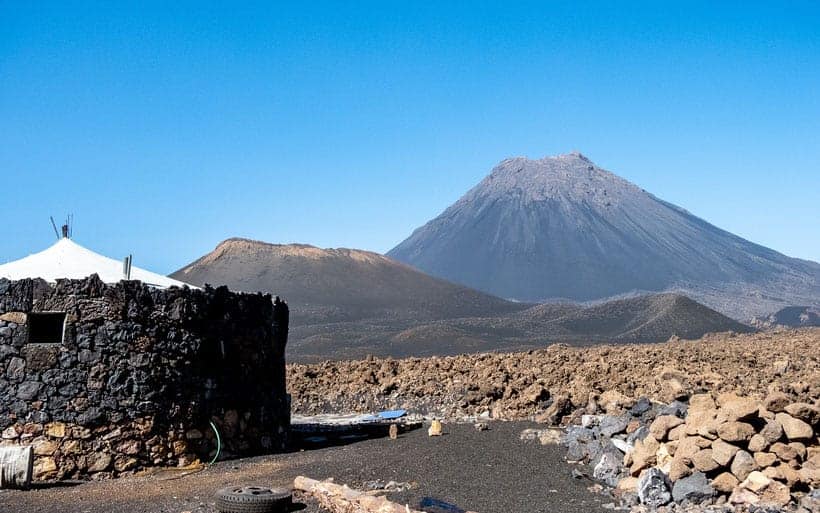 The village of Chã das Caldeiras (Plain of the Calderas) is truly unique in the world. With a community of only 700 inhabitants, the village is located in the black crater of the volcano Pico do Fogo. It is the highest village of Cape Verde and it's the only area in Cape Verde which produces a large quantity of qualitative wine.
The village has been totally destroyed during the last volcanic eruption in 2014. However the locals have a very strong connection to this very unique place. They came back and re-built the village from scratch. Alcindo told us that some people re-built their homes on the lava covering their former homes.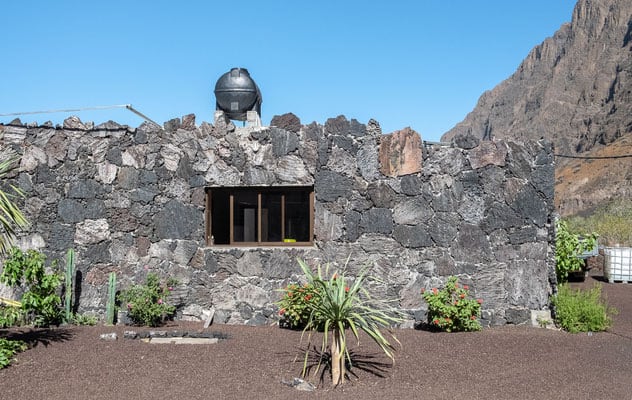 In that sense, Chã das Caldeiras is a very special experience, even only to roam around and spot thy typical round houses. However you can't leave this unusual place without visiting the cooperative and doing a wine tasting.
Indeed Chã das Caldeiras is one of the very few places producing qualitative wine (however it is only exported to other CapeVerdean islands, not internationally), a tradition that is more than 100 years old.
The wines of
Chã
are full-bodied and rich in color. The
Associaçao
(the cooperative) produces white, red and rosé wines. You should definitely try the
vinho passito
, a sweet, moscatel like wine. The wine from
Chã
is a 100% organic product as
no insecticides or pesticides
are used. Only rain water is used for irrigation.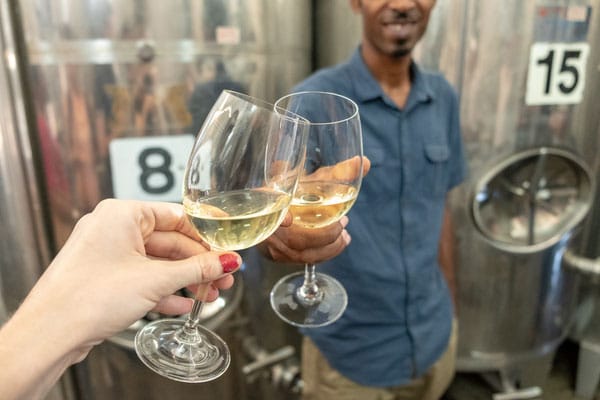 It might be surprising that wine (and apples, cactus fruit…) grow in this bare, black landscape. However the cool and humid nights and hot, dry days are perfect for viticulture. The volcanic soils are particularly rich.
The Associaçao has rooms for guests, offers guided tours of their wine cellar and organizes wine tastings. It's definitely a must and a highlight when visiting Fogo Island. The wine cellars are located on your left when coming from Sao Felipe and after passing the Pico do Fogo.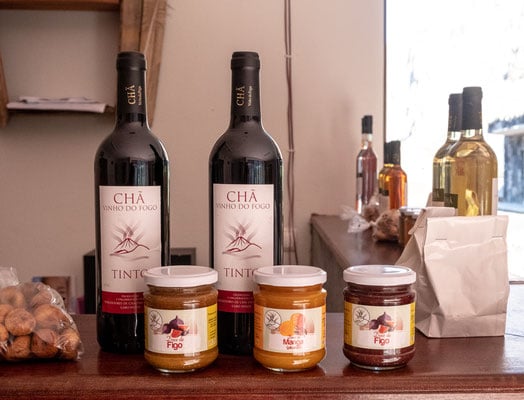 3. Capeverdean Food Tasting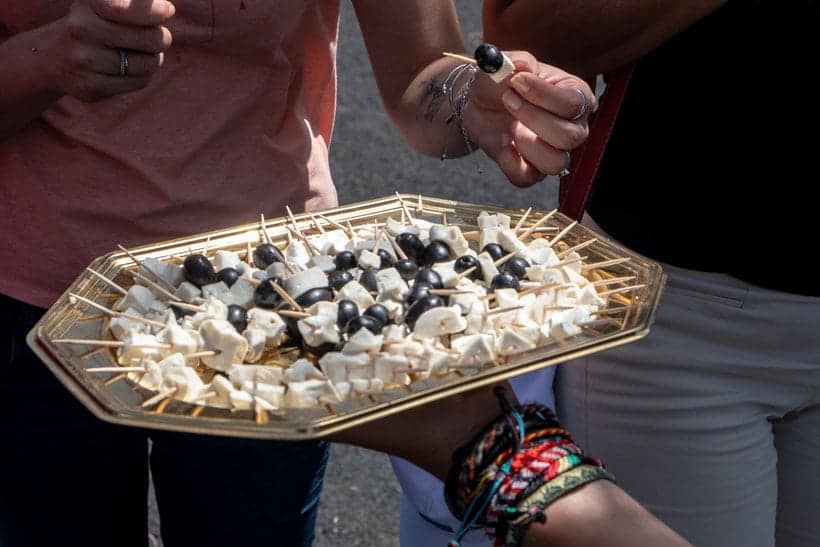 Even if it might sound contradictory, the dark black land of Fogo island has one of the richest soils on the Capeverdean archipelago. Indeed the volcanic soil is particularly fertile and it's the main reason why people take the high risk to live so close to the crater.
But not only the soil of the crater is particularly suited for wine production (including apples and quinces), but also the verdant splendor and fertility of the surrounding the main crater.
This richness manifests itself mainly via the large variety of food.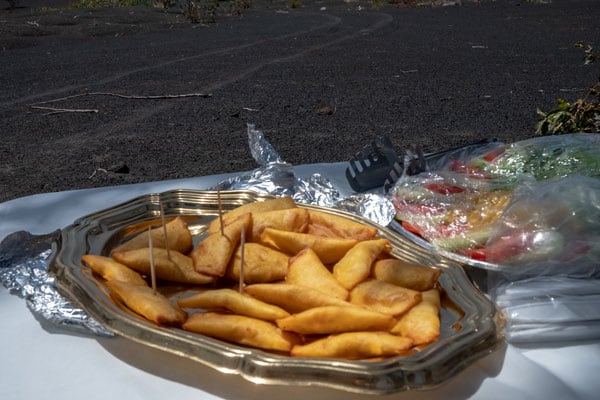 Each of the 3 municipalities is famous for a particular product. The capital of Sao Felipe and the surrounding villages are famous for goat cheese, the town of Santa Catarina is well known for wine and goat cheese and Mosteiros is the fruit garden of the island. Here you can find all kinds of fruits like mango and the town produces most of Fogo's coffee exports.
One of the most typical dishes of the island is, besides cachupa, Djagacida made of corn, fish and beans and pastel de milho (corn cake). When it comes to drinks you can't miss to try bissap (a fruit juice made of hibiscus flower) and calabaceira, a juice gained from the baobab fruit.
Upon demand at typical lunch can be organized in the volcano crater (!). Just call Rosa Avelino ("para almoço na cratera do vulcão" (lunch in the volcano crater) – 00238.987.1589)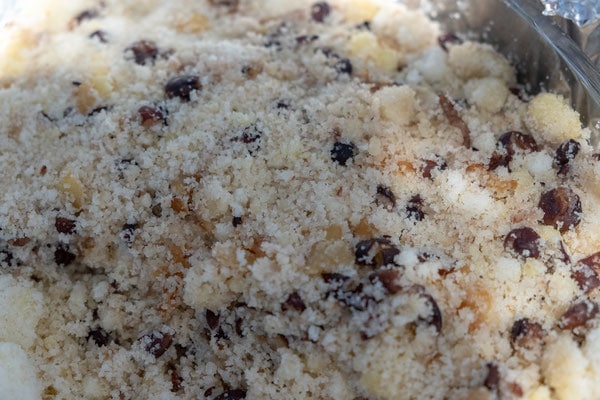 You can also enjoy a typically Capeverdean meal in Sao Felipe. Here I recommend the Center 7Sois7Luas, contact the manager Tatiane via tatianebrasileira@gmail.com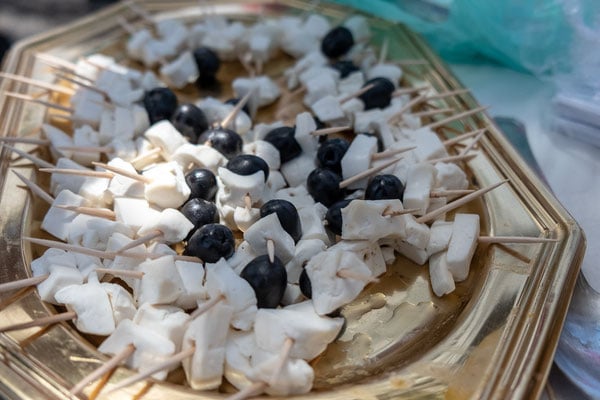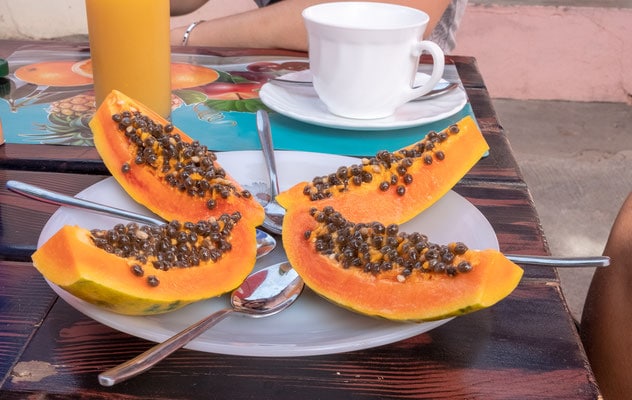 4. Visit São Felipe Capital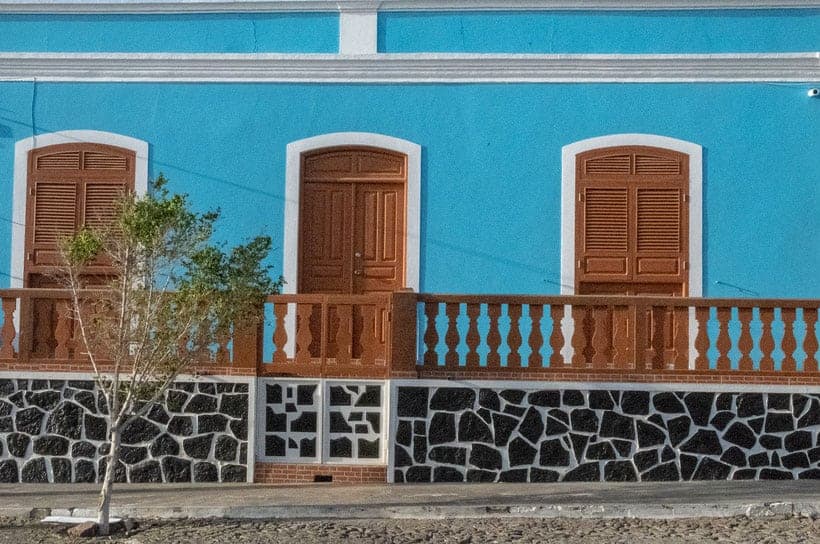 The capital of Fogo, São Felipe, will lure you with its colonial charm. It's the largest municipality of the island and it's easy to fall in love with its relaxing vibe. It is also the perfect base to explore the island. On top, São Felipe is only 20 minutes away from the airport and 10 minutes from the harbor which connects Fogo to Praia and Brava.
São Felipe is considered to be the second oldest town on the CapeVerdean archipelago. During the 19th century, São Felipe was particularly wealthy due to its cotton, wine and coffee exports. Still nowadays 70% of the existing houses in São Felipe date back from this golden age.
My favorite part of São Felipe were the soft, pastel-colored housefronts and the quaint plazas. Since 2000 many of the houses have been carefully renovated. I was lucky enough to meet the mayor of São Felipe and I was blown away by his energy and innovative projects he is developing for São Felipe. Due to its vast renovations, the colonial city center of São Felipe (also known as Bila Baixa) now reminds you of colonial town like La Laguna, Tenerife or Granada, Nicaragua. Some of the house fronts have been decorated with colorful streetart.
The wooden balconies, richly decorated house fronts and colorful squares are creating a particularly picturesque scene. The most emblematic square is the Praca 12 de septembro with its wooden pavilion and the majestic city hall. Another site you can't miss is the light-blue church of Nossa Senhora da Conceicao and the busy market hall.
The square of Francisco de Assis is key as it hosts the most important bus stop and the post office.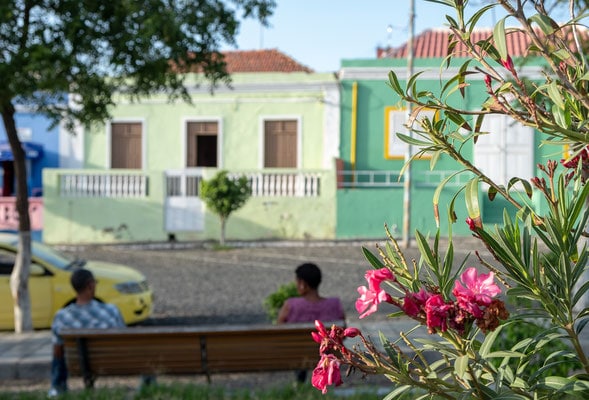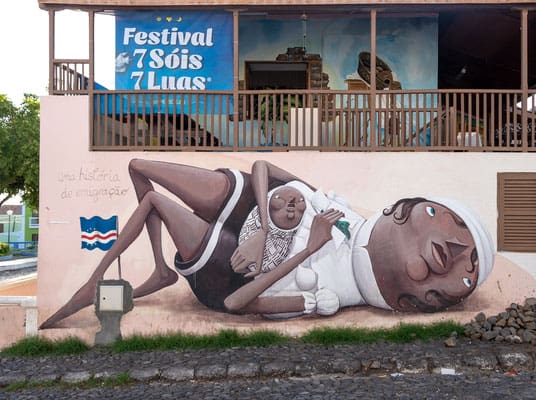 5. Enjoy CapeVerdean Music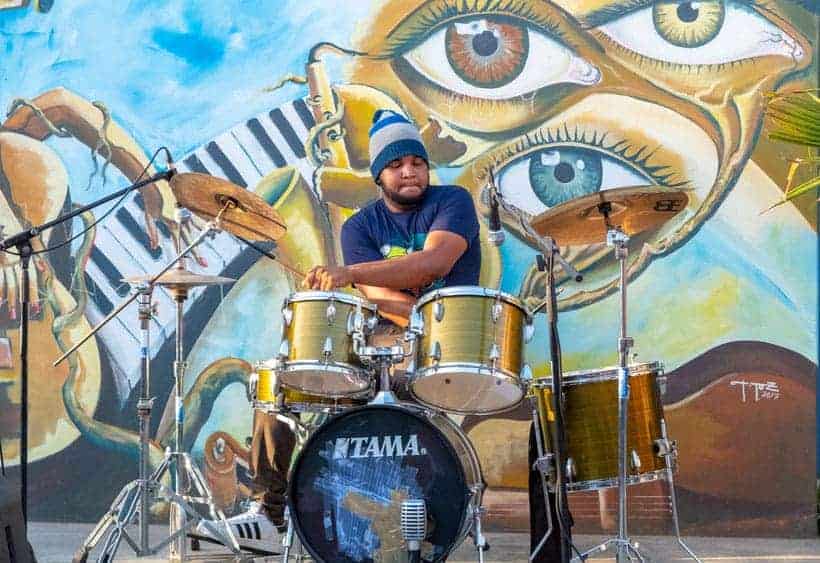 São Felipe is also home to the Center of 7Sois7Luas, a cultural hub supporting local musicians and painters. The center does not only serve typical Capeverdean food, but also organizes many events throughout the year. It's a vital place to promote and support local artists.
Indeed the local cultural scene is threatened by emigration to other islands or the US. As salaries might be more attractive abroad, many artists from Fogo choose money over the local art scene. The Center of 7Sois7Luas wants to counterbalance this trend and offer a perspective to local artists and musicians.
An absolute highlight is to organize a social event with
Cape Verdean music
: you'll not only get an authentic insight to Cape Verdean hospitality, but you'll also support the local community. It's thus a perfect example for sustainable travel. Feel free to contact Carlos (00238.977.9565) to organize an unforgettable evening in São Felipe
(estimated cost: 100€)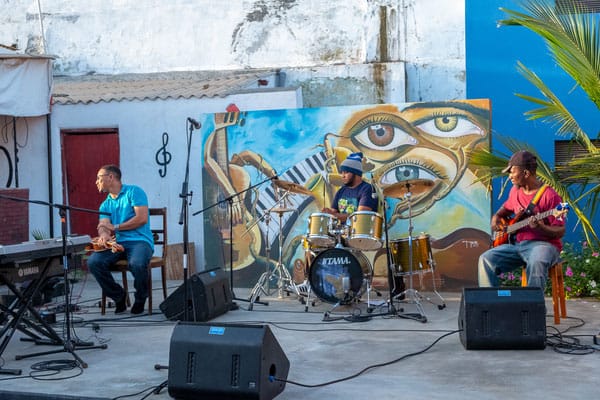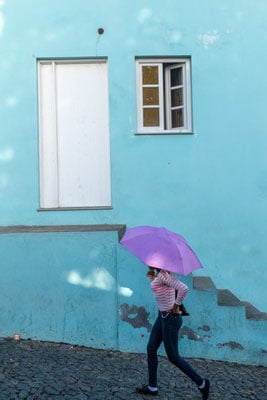 6. Taste Goat Cheese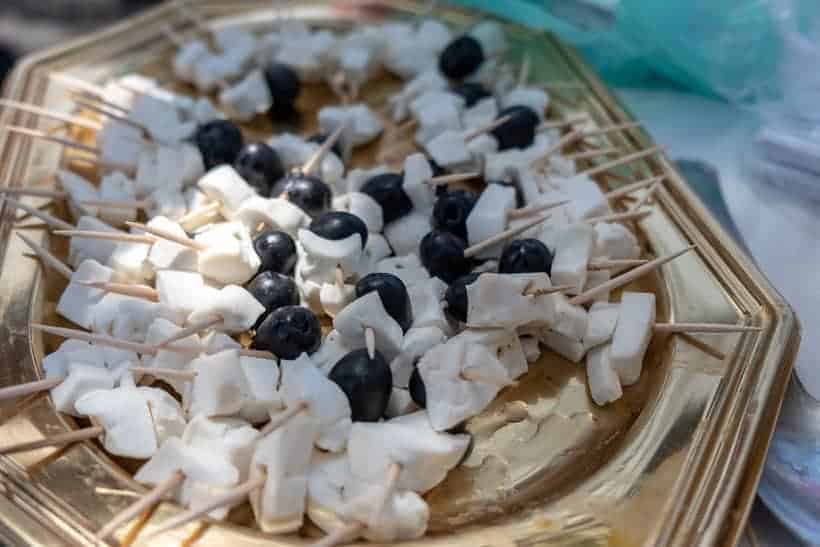 Ilha do Fogo is synonym to goat cheese when it comes to food. Even though goat cheese is produced on many Capeverdean islands, the cheese of Fogo island is particularly famous.
Goat cheese is a production process with a long tradition. No additives besides milk and the fermentation trigger (a liquid gained of baby goat's stomach) are used. The cheese that you buy is often only 24-48 hours old.
You can easily but goat cheese on the little farms along the road… just stop at "queijo" signs.
7. Around the island tour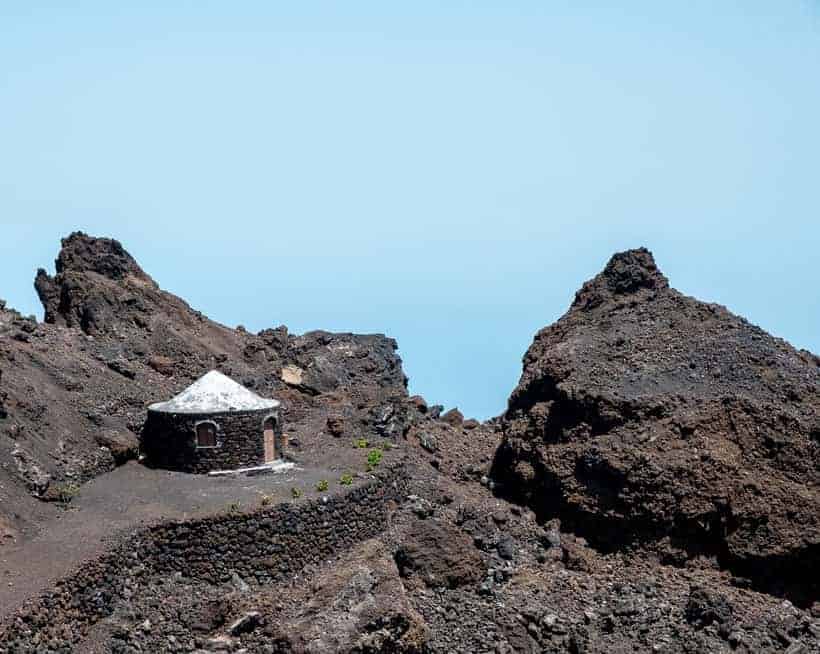 Thanks to the circular road, you can easily do a around-the-island tour. It will be a spectacular trip, as you'll appreciate the diversity of the island ranging from vibrant green plantations, dark lava soil or lovely countryside with farm houses.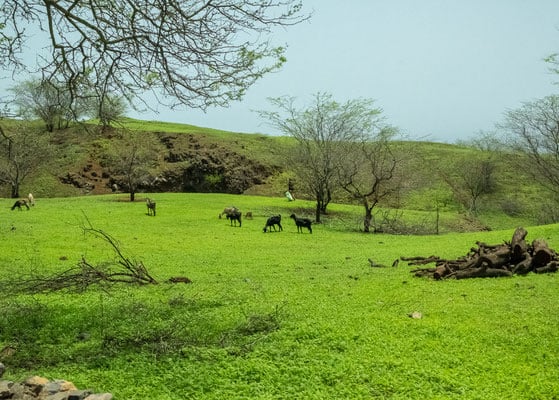 You can either ask one of the local tour agencies to organize a trip or ask your host if she/he knows somebody who could take you around. Local agencies are Qualitur, Zebra Travel, ONG Cospe – some of their offers include packages to Santo Anto and Brava.
Some of the unmissable stops during your island roundtrip are Mosteiros and Sao Lourenco which offers a great view on neighbor island Brava.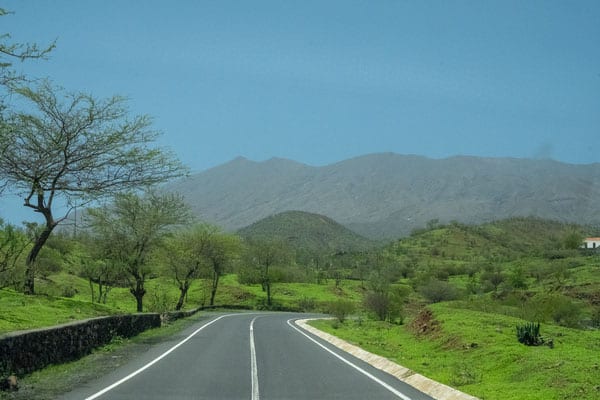 8. Hike from Cha das Caldeiras to Mostreiros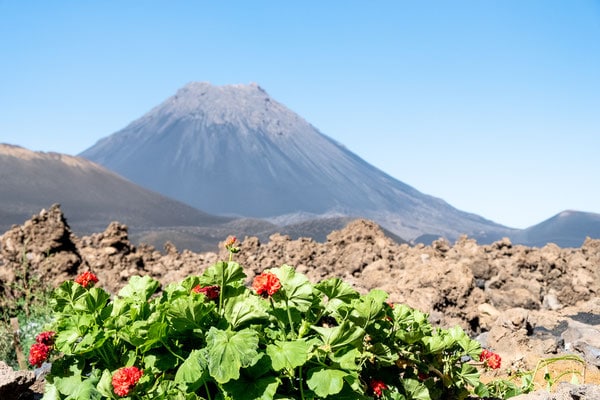 If you think that hiking up Mount Fogo volcano would be the only hike to do on Fogo island, you couldn't be more wrong.
There is another spectacular trail waiting for you from Cha das Caldeiras to Mostreiros.
I particularly liked the extremely saturated green colors of Mother Nature. They seem even brighter after experiencing the baren, black sands of Fogo crater.
The hike takes 5h and is intermediate level. Ask your host in Cha das Caldeiras to bring your luggage to Mostreiros.
A taxi from Mostreiros – Sao Filipe costs 6000 escudos.
9. Visit Beaches on Fogo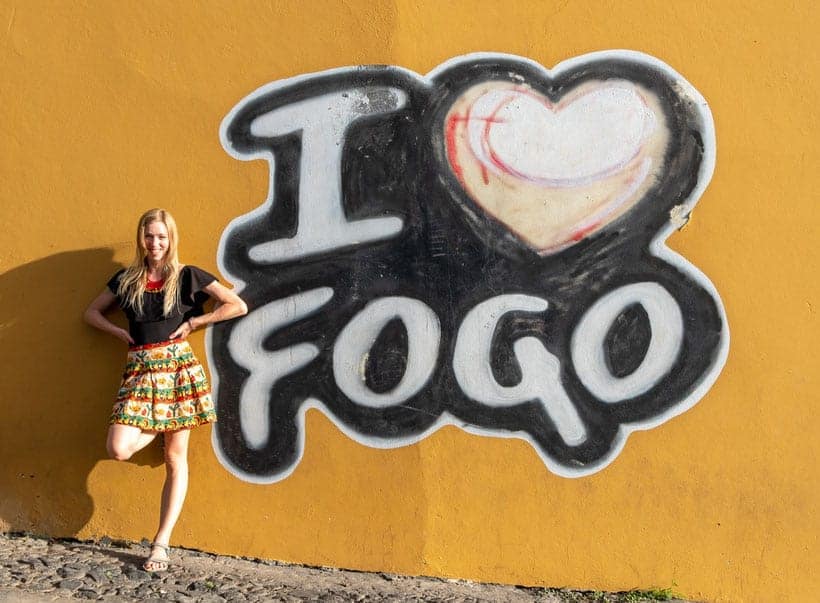 Even though Fogo island is not particularly famous for its beaches, you don't have to abstain from a refreshing bath. If you are based in Sao Felipe, you'll be tempted to go to the small beach Praia da Bila, located below the emblematic Praça Serpa Pinto square, consisting of black sand.
However the locals prefer the beach at the harbor Porto de Vale de Cavaleiros, about 4 km in the north of Sao Filipe which is the island's westernmost point. In spite of the harbor, the water is cleaner and the sea is not so rough. The most popular beach of the island is Ponta da Salina in São Jorge.
It can be reached on the Sao Jorge aluguer – ask to be dropped off there and check what time the aluguer is returning.
---
I hope some of these, admittedly very personal, highlights of my visit to Fogo Island, Cape Verde could convince you to include the beautiful north in your travel plans.
Have you been in Fogo, Cape Verde? Did you enjoy it? I would love to hear about the things you loved (or loved less) in the comment form.
---
Map: Attractions of Fogo Island
---
Before You Go: Top Tips for your Trip
To make the most of your trip, I recommend Lonely Planet Cape Verde (get -10% off with code "PAULINA10")
---
Disclaimer: I have been a guest of 7Sois7Luas Festival. All my opinions are, as always, my own. This posts contains affiliate links. In case you purchase one of the items, I'll receive a small commission. The price remains the same for you.
---