Typical food from Cape Verde that you must try or do at home with the cachupa recipe
If you want to experience the flavors and aromas of island life, look no further than Capeverdean cuisine.
This unique fusion combines African and Portuguese influences that create some truly tantalizing dishes.
From fresh fish pulled from the warm waters off the coast to spices imported from around the world – a dinner while you travel Cape Verde is sure to be unforgettable.
Whether you are passing through as a traveler or settling down for an extended stay, it's worth making time for sampling the best Cape Verdean food!
Hey! Don't forget to download my free Cabo Verde Foodie Checklist!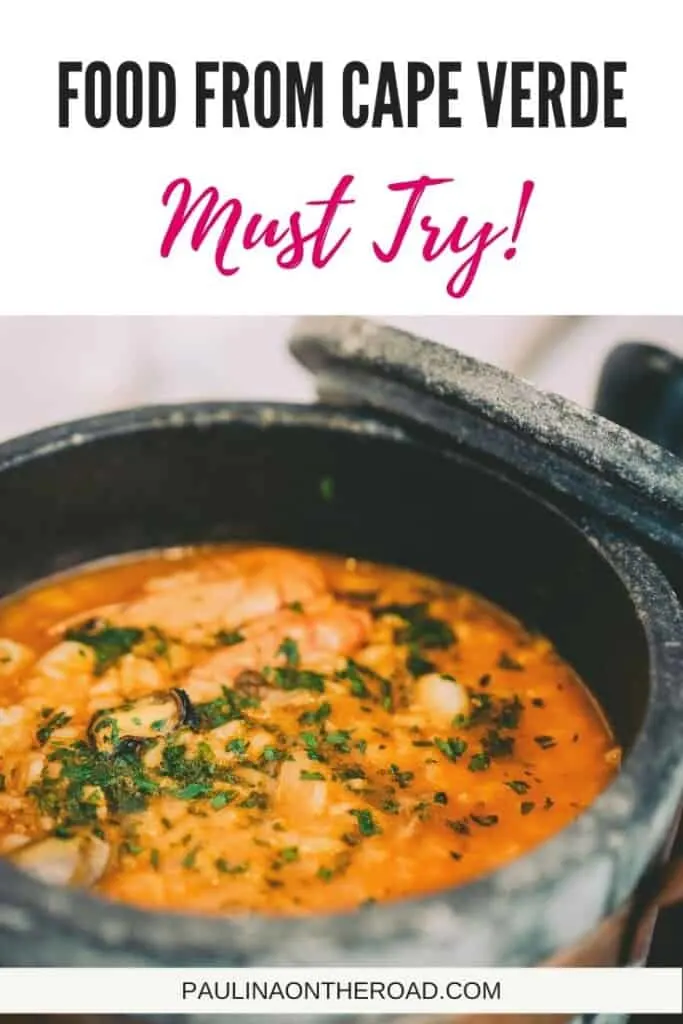 Pssst…!!?? You can't get enough of Cabo Verde? Have a look at my other posts I wrote during my time on the islands:
This blog is supported by you, dear reader. If you purchase through a link, I earn a small commission. As an Amazon Affiliate, I earn from qualifying purchases.
Best Cape Verdean Foods & Drinks to try at least once!
1. Cachupa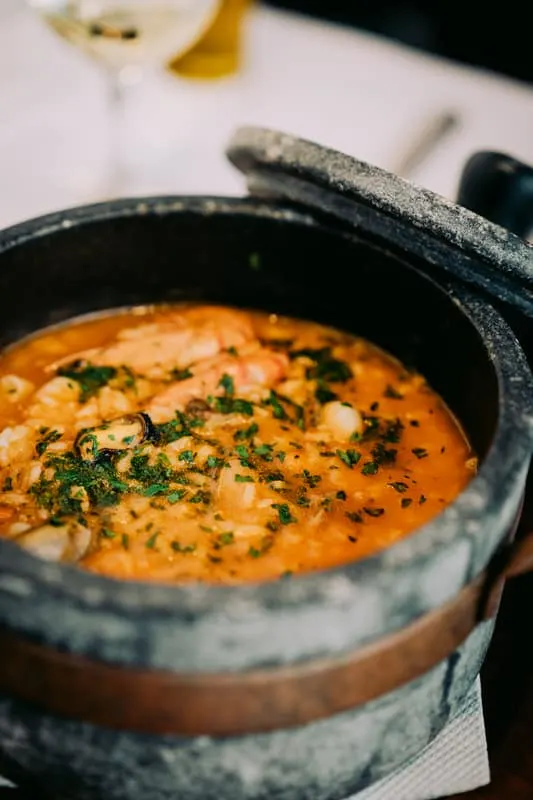 A staple of Cape Verdean culture, cachupa is more than just a national dish.
Proudly prepared by locals for the most various occasions, this hearty stew can easily be defined as the Cape Verdean comfort food par excellence.
Born as "food for the poor", cachupa can surprise your taste buds in many different ways.
Nowadays, most restaurants, such as the Quintal da Musica – 5al da Musica in Praia (which is the most famous eatery in Cape Verde for cachupa) propose the cachupa "rica" (the "rich" version), prepared with various meats and sometimes even tuna.
The cachupa "pobre" (the "poor" version) is still the one you can taste in most homes. Locals prepare it with pork fat, rather than meat, in order to keep the costs low.
No matter what variant you decide to prepare, cachupa refogada makes up for an exquisite lunch.
This variety of cachupa is made from either "rica" or "pobre" leftovers and is usually served with fried eggs and sausages.
The Cape Verdean cachupa is time-consuming to prepare. Traditionally, it's made on Saturdays, and many restaurants around the islands only serve it once a week.
But if you don't get a chance to taste it while in Cape Verde, here is an easy recipe to try at home.
2. Buzio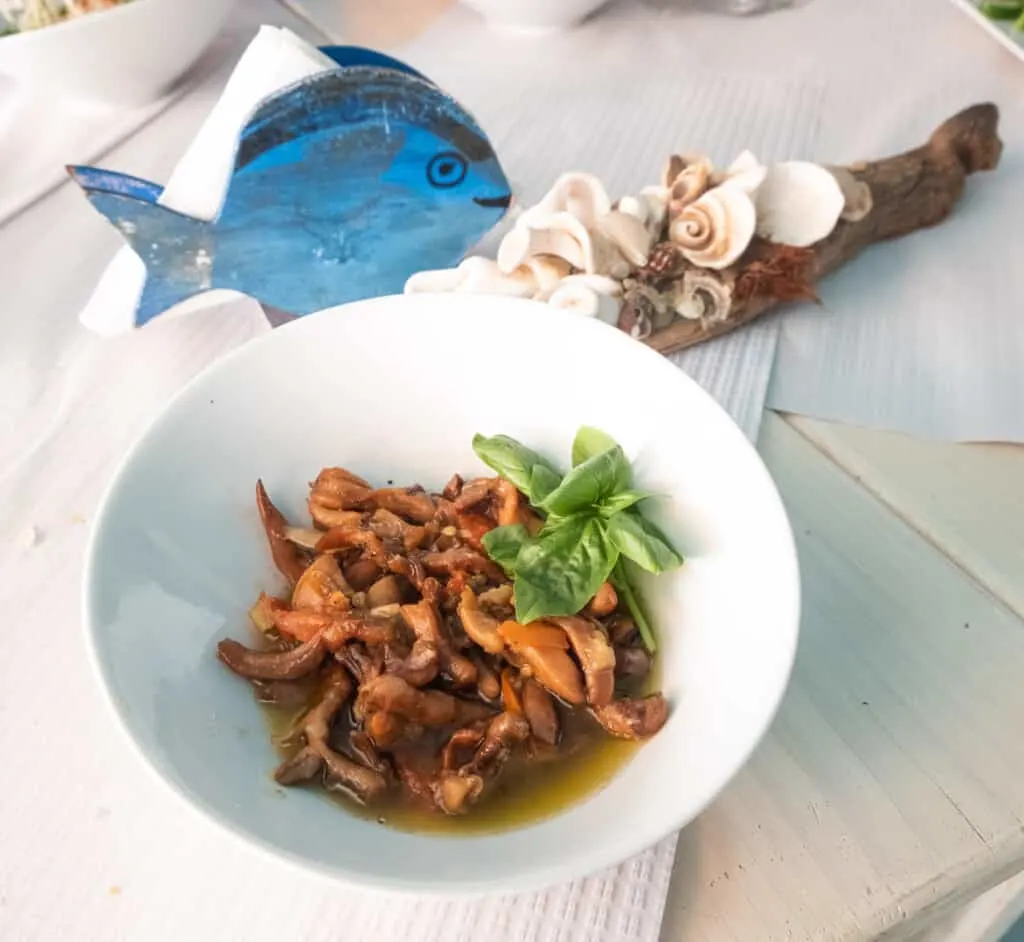 If you like fish and seafood more than meat, then buzio is definitely a dish to try in Cape Verde.
This slow-cooked food is typically made with mussels (although other shellfish can also be used), and soy sauce.
Not as hearty as the Cape Verdean cachupa, buzio is a better choice for a lighter lunch or dinner, as well as for a festive meal.
3. Morreia – Fried Moray Eel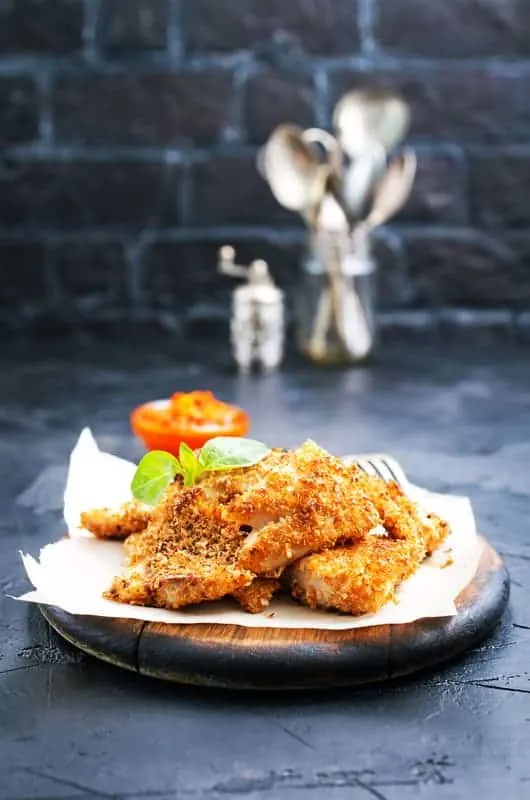 Morreia (fried moray eel) is one of those dishes that stand as proof of the strong Portuguese influences the Cape Verdean culture had over the decades.
A staple of Portuguese cuisine, morreia is one of the most popular dishes in Cape Verde too.
The secret here is to briefly brine the eel, then cut it into small portions and fry it until crispy.
On the menu in most restaurants and bars in Cape Verde, the fried eel is ideal for lunch or dinner and also a delicious snack to enjoy with cocktails.
Having morreia frita with friends during a warm summer night is definitely one of the best things to do in Cape Verde.
4. Bol of Cus-Cus
While its name might remind of the Maghrebi couscous, the Cape Verdean bol of cus-cus is an entirely different dish. It's usually served for breakfast and ideal for anyone with a sweet tooth.
Made with cornmeal, sugar, and cinnamon, this is the type of food you either love or hate.
Regardless of the outcome though, this is definitely a dish to try if you want to immerse yourself completely into the culture of the Cape Verde islands.
5. Goat Cheese With Papaya Marmalade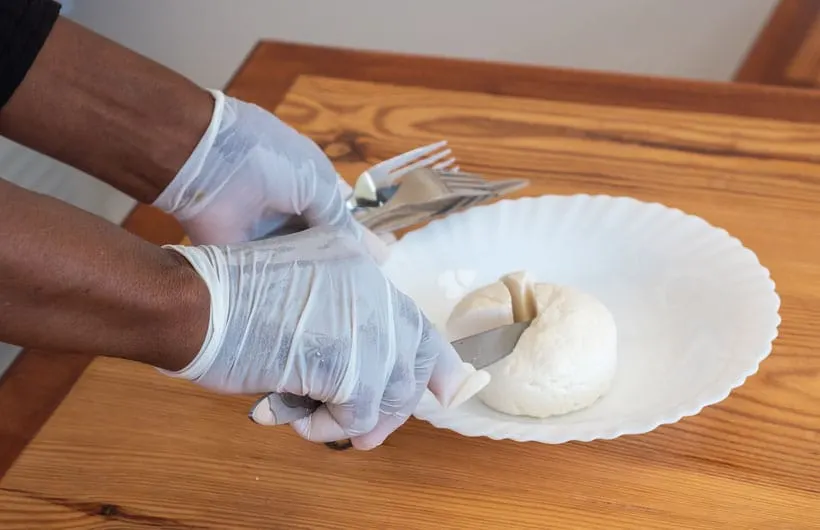 Who doesn't love cheese? It is a staple all over the world, and Cape Verde has its famous cheese too. On its islands, goat cheese is not only appreciated by locals, but it's also a true delight for its visitors.
This type of fresh cheese has a soft, silky texture, fine taste, and creamy consistency.
The best is produced by farmers in the small villages located high up the mountains of Santo Antão, as well as on Fogo, but you can easily find it all over Cape Verde.
Thanks to its delicate flavor, the Cape Verdean goat cheese is perfect for both sweet and savory dishes. Locals usually pair it with papaya marmalade. You can easily get it at Amazon.
You could also enjoy their tasty cheese pudding, a delicious dessert praised by Cape Verdeans and tourists alike.
6. Percebes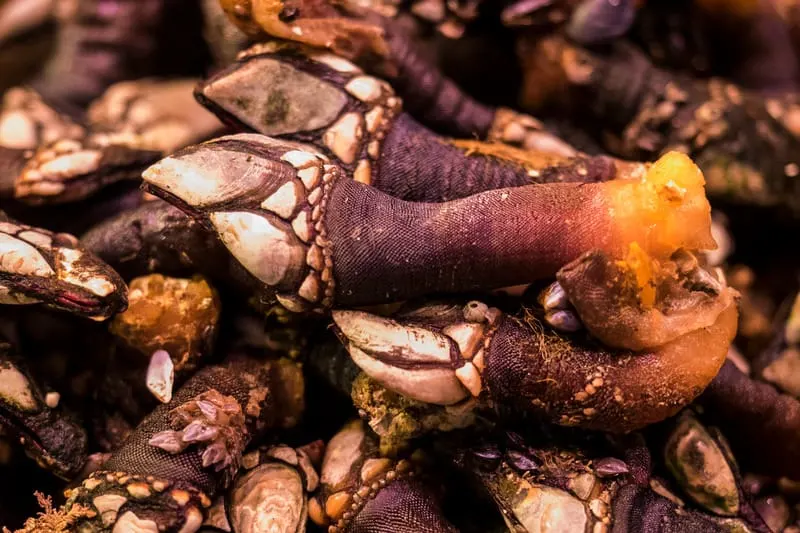 In Cape Verde, seafood lovers are undoubtedly spoilt with choices. From lobster to shellfish, there are quite a few options to choose from.
One of them is percebes, a small crustacean that lives in colonies on the seabed rocks.
Despite their rather peculiar look, percebes are absolutely delicious. According to the Portuguese tradition, they are often served with buttered toast and pair wonderfully with a glass of draft beer or a grogue, the national Cape Verdean spirit.
For an authentic experience, you must try this dish in one of the many beach bars or terraces that dot the coastal landscape of all islands.
7. Jagacida – Rice & Beans Stew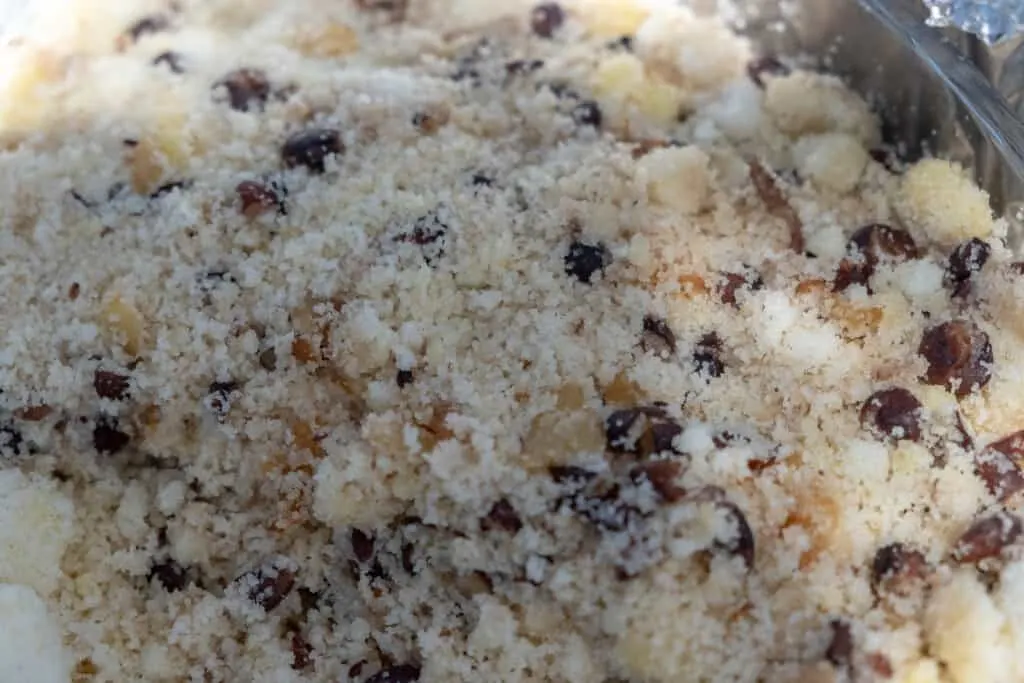 Food in Cape Verde is often based on so-called "poor" ingredients, but this doesn't mean it's not tasty.
If you're a soup or stew lover, jagacida is an unmissable dish to try. Like cachupa, jagacida has many regional varieties, but in essence, it's a Portuguese-style rice and beans stew.
Depending on what you like to put in it, jagacida makes for a great lunch or dinner. It can be served as a side for sausages or grilled octopus.
No matter how you serve it, rest assured you'll be impressed by this authentic Cape Verdean recipe. It's a must when looking for traditional Cape Verdean food.
8. Fishes of Cape Verde
One thing you'll find out quickly when visiting Cape Verde is that there are so many fish or seafood Cape Verdean recipes that you'll be spoiled with choices when ordering your lunch or dinner.
Besides the fried eel I already mentioned, Cape Verde is mostly famous for its delicious tuna cooked in a variety of ways.
This fish is so delicious that some even prepare the traditional "rich" cachupa with tuna steaks instead of meat.
Serra, bonito, as well as esmoregal are served in many eateries across Cape Verde, while octopus and groupers cooked in a variety of ways are served both as appetizers or mains.
Cape Verde is also popular for its spider crabs and bufio, a "rubbery"+ shellfish that's a regular on most plates.
While fish can be cooked in many ways, one of the best Cape Verdean food recipes you must try is caldo de peixe, a traditional fish soup.
It's a typical Cape Verdean soup that is particularly popular in Sao Vicente.
9. Xerém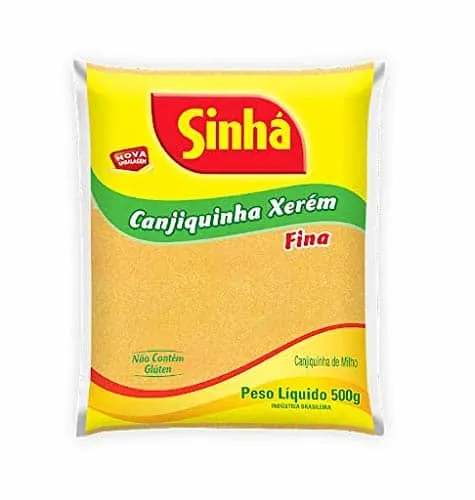 Xerém is another Cape Verde food derived from the country's Portuguese heritage. It is popular in Portugal, Cape Verde, and Brazil. However, each country has a traditional recipe that makes it unique.
In Cabo Verde, xerém is more or less the savory alternative to the sweet cuscus. It is prepared from corn wheat mixed with water, butter, salt, and bay leaves.
While you can taste many regional varieties, the most popular is xerém de festa, a festive dish prepared with pork, fat, onions, beans, bay leaves, spices, and tomatoes.
Most restaurants serve it at least once a week.
If you're after an authentic Cape Verdean experience, you should taste xerém during the drum festival on the island of Brava, one of the most beautiful Cape Verde islands.
Good news! You can get the original Xerem at Amazon! – Get it here
10. Frango Assado – Grilled chicken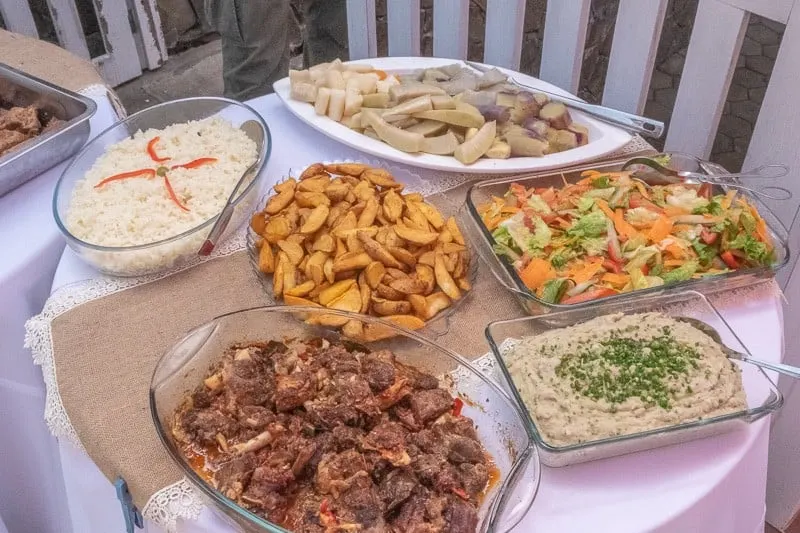 There is nothing quite like enjoying a nice spicy chicken after soaking up the sun for the whole day.
After all, the West African peri peri grilled chicken is famous throughout the world for a reason.
While this amazing dish can surely lift you up on a cold winter day, it can also restore your energy levels and get you ready for a night out in Cape Verde.
Known as frango assado, Cape Verde's grilled chicken is really delicious and one of the most popular Cape Verdean foods.
Obviously, what makes it special is the traditional peri peri spice. So, if you like your food a little spicier, you surely have to taste the original, while exploring your favorite Cape Verdean island.
Related: Ultimate guide to plan your trip to Cape Verde
11. Lapas -Limpets
I can't emphasize enough how many exquisite seafood dishes Cape Verde has, and among them, one you have to try is lapas.
It is the Portuguese name for limpet, a species of shellfish that is usually grilled and served with garlic and butter.
Hardcore seafood lovers may also appreciate it raw, with a squeeze of lemon juice on top. You can even find lapas in some fish soups and stews.
12. Pastel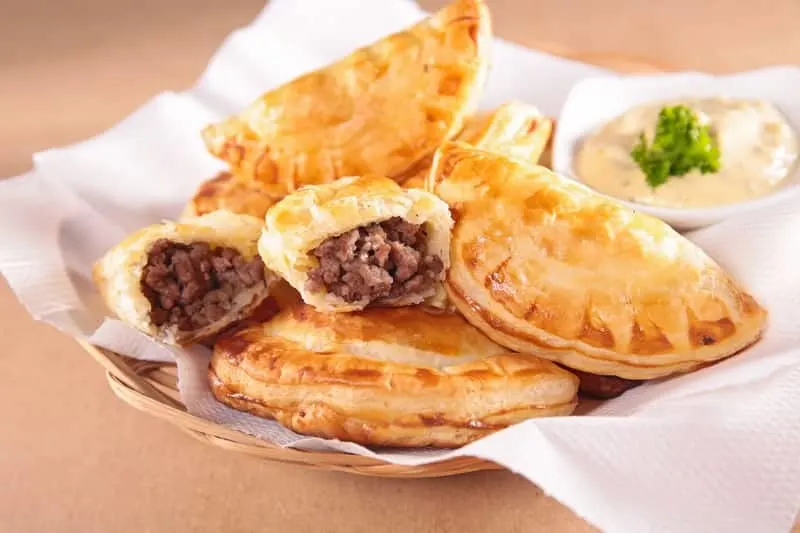 If there is one thing the Cape Verdean people can brilliantly do, it's to merge the West African flavors with the Portuguese ones in tasty combinations.
The Cape Verdean pastel is one of the most popular fusion recipes, and definitely a food you must try while visiting the islands. It is often sold in small streets of larger towns in Maio, Fogo, and Brava.
Unlike the famous pastel de nata (the famous Portuguese dessert), the pastels in Cape Verde are more similar to the Argentinian empanadas, a savory delight.
Often called pastel com diabo dentro ("pastel with the devil inside"), this spicy food is typically made with tuna fish, garlic and chili.
The filling doesn't necessarily have to be hot and you can find all kinds of fish pastels in restaurants or also in food stalls in the local markets.
If you don't really like tuna, know that this devilishly tasty pastel can also be prepared with white fish (usually sea bream or halibut), while some even propose varieties with meat.
They are easy to carry, so why not bring some home as a souvenir from Cape Verde?
13. Kavala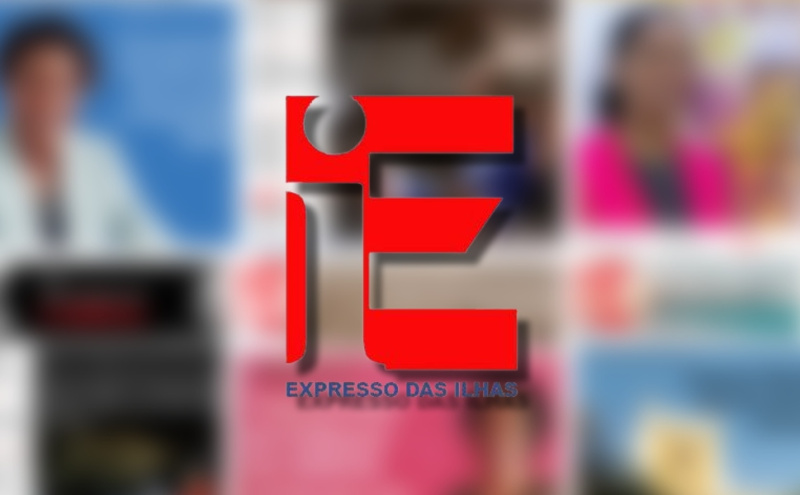 While the official Cape Verde language is Portuguese, most locals speak Cape Verdean creole. And something you'll hear the street vendors scream in this beautiful dialect is "kavala fresk" ("fresh kavala").
In Creole, kavala means mackerel, but it's also the name of a dish made with rice and fish.
Not only is this one of the most popular Cape Verdean foods, but an annual festival is also held in June or July to celebrate mackerel in all its forms.
Related: Photos that inspire to visit Cape Verde
14. Typical fruits from Cape Verde
Besides its delicious dishes, Cape Verde is also popular for its exquisite fresh fruits.
All it takes is a stroll through one of the colorful markets on the main islands to find an abundant offer of mangoes, bananas, coconuts, avocado and other tropical fruits you can eat as a snack or dessert.
15. Pudim de Leite – Milk Pudding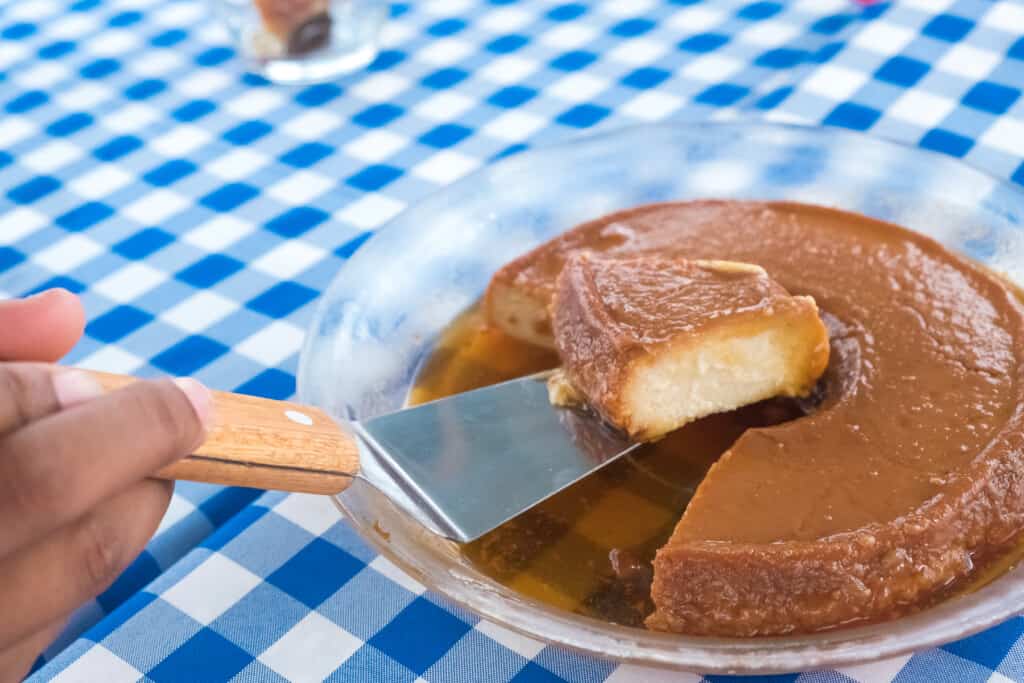 Moving on from savory to sweet dishes, know that there are many Cape Verde recipes that can satisfy your sweet tooth. The Pudim de leite is one of the most popular sweets in Cape Verde.
Similar to the Spanish flan, this milk pudding topped with caramel can melt even the toughest hearts.
It's also very easy to make, so you can have a taste of Cape Verde without getting out of your home.
16. Doce de Coco – Coconut Candy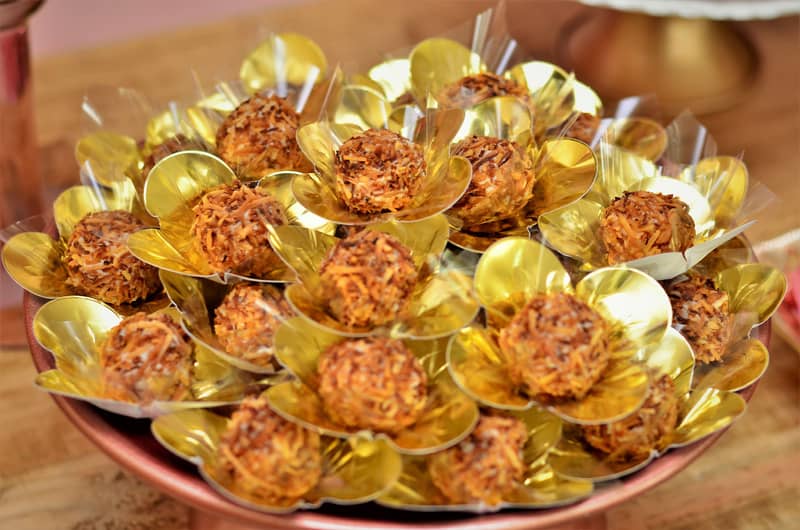 Doce de coco is a Cape Verde traditional food you have to try while visiting the islands.
This simple sweet is made with butter, sugar, and coco, and cooked for hours until it transforms into tasty chunks.
Not only do most restaurants serve it, but you can also find it at street food stalls.
17. Grogue and pontche
Eating delicious food is only part of an exquisite lunch or dinner. Drinks matter too, and Cape Verde spoils you with choices. The traditional drink here is grogue, a type of spirit distilled from sugar canes and very similar to rum.
Due to artisanal production, there are various grogue qualities on the market. If you aim to taste the best, head to Santiago or Santo Antão.
Pontche is the traditional Cape Verdean cocktail, made with grogue, lime, and molasses. Somewhat similar to a mojito but sweeter, this is undeniably a drink to try in Cape Verde.
18. Wine from Fogo
Africa has a strong presence on the world's wine map, and some of the best wine in West Africa comes from Cape Verde.
Produced in the small village of Cha das Caldeiras on Fogo, the Cape Verdean wine is praised for its superior quality.
A unique terroir (constituted by volcanic soils) and a perfect microclimate create the perfect conditions for the proper development of the vines.
The grapes here have high sugar content, an essential requisite for the production of high-quality dry or sweet red, rosé, and white wines.
If you are wondering where to stay in Fogo in order to explore its famous volcano, I recommend the village of Cha das Caldeiras.
19. Caipirinhas Cape Verdean style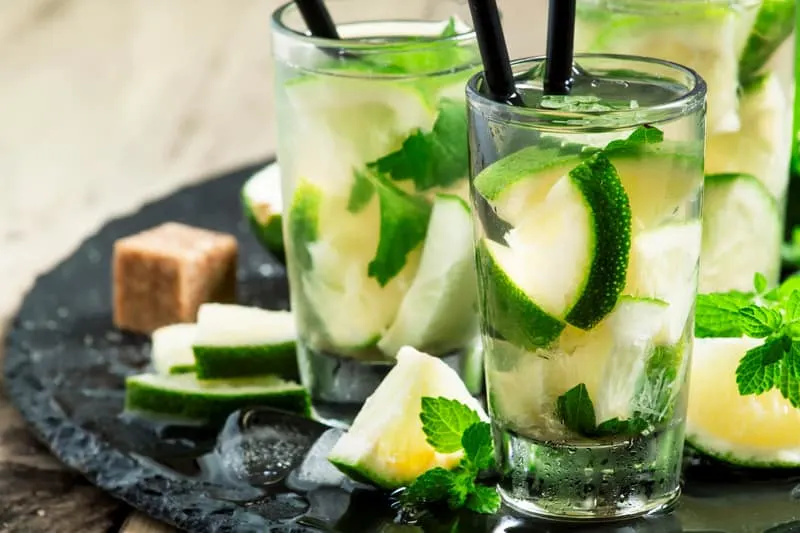 Last but not least, drinking a good cocktail is a must while visiting Cape Verde. Pontche apart, the islands are also known for their caipirinhas.
Like the Brazilian ones, caipirinhas here come in all styles, made with either lemon, passion fruit, pineapple or other tropical fruits.
The main difference between the Cape Verdean caipirinhas and all others is the use of grogue as spirit. Thus, you can expect a unique burst of flavors you won't be able to find elsewhere.
20. Calabaceira – Baobab Juice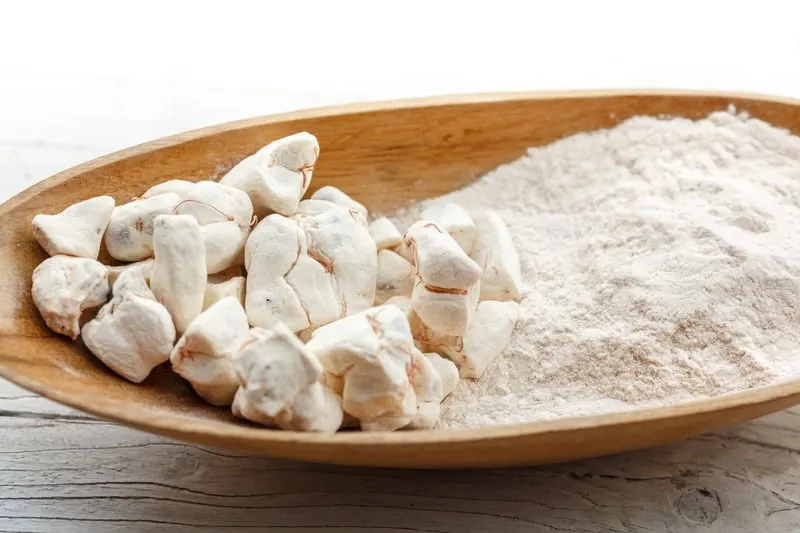 When looking for traditional drinks from Cape Verde, you can't skip Calabaceira, Baobab juice! You can drink it at almost every bar or restaurant in the country.
If you don't add too much sugar to it, Babobab juice is one of the healthiest drinks out there. Indeed it comes with plenty of Vitamin C (more than an orange), minerals and natural fiber.
The good thing is that it is very easy to make at home. It took me less than 30 min. All you need is Baobab powder and water.
Luckily you can order (organic!) Baobab powder at Amazon. – Get it here
21. Bissap – Hibiscus Juice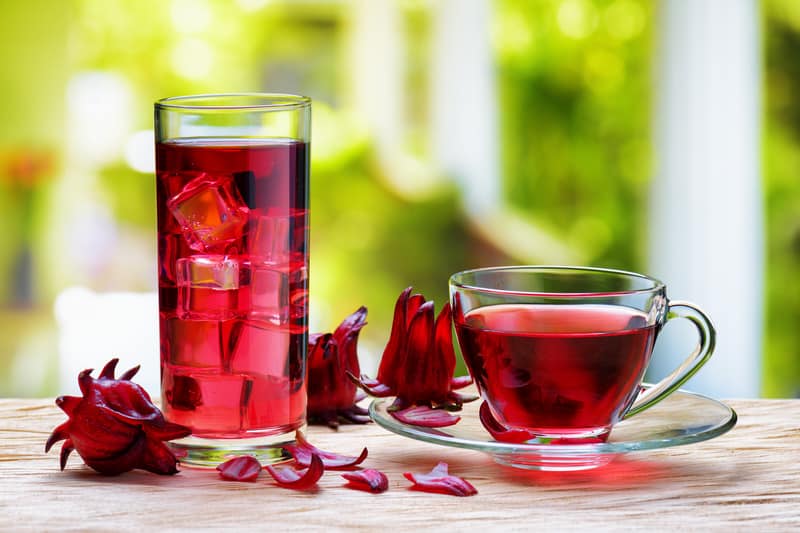 One of my favorite drinks from Cape Verde is without any doubt "bissap", hibiscus juice. On hot days, it's extremely refreshing.
It's a typical drink from West African countries, but you can also find it in Caribbean or Asian countries. I loved the diversity of recipes!
You can find bissap juice in almost every bar in Cape Verde. It's often served with sugar but you can always request that you want it served without sugar.
Another reason why I love hibiscus juice from Cabo Verde so much is its almost infinite health benefits. It's jam-packed with antioxidants and it was also found that consuming hibiscus tea lowered blood pressure in people at risk of high blood pressure.
You can serve hibiscus juice hot or iced.
It's super easy to make! All you need is water and dried hibiscus flowers. Luckily you can order (organic) hibiscus flowers on Amazon. – Get them here
---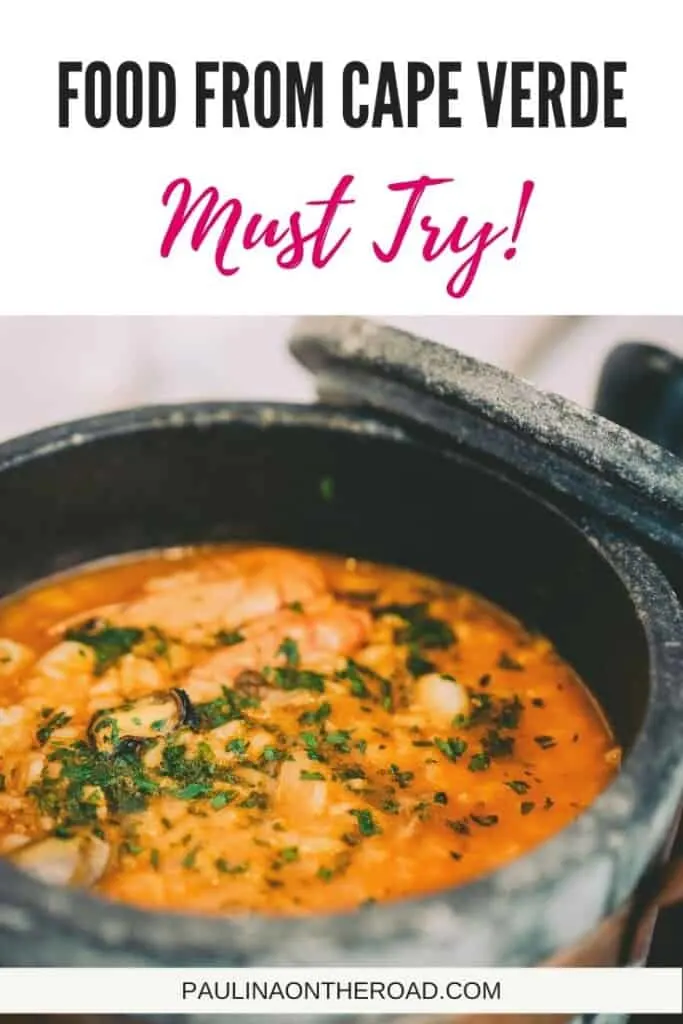 ---
A short FAQ about Cape Verde food
What is traditional Cape Verdean food?
Some of the most traditional Cape Verdean food is cachupa, grogue and pontche. Other typical Cabo Verde foods are pastel and buzio.
How to make cachupa?
Pour three-four tablespoons of olive oil into a cooking pot and sauté the onions and garlic. Add the tomatoes, seasonings, and meat cut in larger dice. Stir well, then add water to cover all ingredients. Add the vegetables, as well as the beans and the hominy (dried maize kernels that have been treated with an alkali), and then give it a stir to mix all ingredients. Cover and simmer for at least two hours, until the stew reaches the desired consistency. If you like it denser, the cooking time is about three and a half hours.
What fruit is from Cape Verde?

The following fruits are from Cape Verde: papaya, mango, banana, guava, pineapple and coconut.
Can you drink alcohol in Cape Verde?
Yes, you can drink alcohol in Cape Verde. Make sure to drink enough water as well and only enjoy alcohol in moderation.
What is the local drink in Cape Verde?
The local drink in Cape Verde is called "Grogue" (also spelled "Grog") and is made from sugarcane. Another local drink only found in Cape Verde is pontche which is a dessert drink with condensed milk, flavors and grogue.
What is the local beer in Cape Verde?
The local beer in Cape Verde is called "Strela". This light lager beer brewed on-site has become an island favorite amongst both locals as well as visitors.
Can you drink the water in Cape Verde?
While locals drink the water in Cape Verde, I recommend to visitors and tourist sto stick to bottled water.
Make sure to check out my Web Story about Cape Verdean food too.
---
Hola! I am Paulina, a fervent travelette who crossed the Atlantic Ocean by Boat HitchHiking. On my blog, you'll find all the tips to make the most of your holiday. Get ready to enjoy outdoor and sustainable travel like hiking, cycling or sailing. Let's hit the road together!