20 Best Things To Do in Sal, Cape Verde
A guide to Sal, Cape Verde with the best things to do on Sal, Cape Verde, hotels and tours

Olá from Cape Verde! More precisely from Ilha do Sal (Salt Island). After sailing the Atlantic Ocean for 5 days, I'm happy to find some rest and just disconnect from the world. Despite its limited size, there are plenty of things to do in Sal, Cape Verde.
Sailing is much harder than I expected and those night shifts just killed me!
Sal is supposedly the most touristy destination of Cape Verde and a good start if you're all new in the Cape Verdean archipelago. For my part, I can't wait to just check-in in a nice hotel and enjoy beach life, for some time only!
Read here about the best beaches in Cape Verde.
Ilha do Sal, mostly composed by desert, will definitely conquer you by its warm-hearted people and colorful stains sprayed all over the island.
Basically, it got me excited to discover and get to know more of Cape Verde. I can only recommend visiting this laid back part of the archipelago before it becomes fully exploited by mass tourism.
So, here they go; my favorite things to do on Sal, Cape Verde.
In order to make the most of your time, check the Ultimate Cape Verde Travel Guide Book filled with local, hidden gems.
Useful Information about Cape Verde
✈ Book cheap flights to Cape Verde with Skyscanner or Kayak

✔ Book your tours in Cape Verde with Viator

➳ Find the best hotel deals in Cape Verde with TripAdvisor

⚘ Don't leave without a travel guide. Be prepared and get the Ultimate Cape Verde Travel Guide Book

❖ Get the best car rental deals with DiscoverCarHire

☘ Find the best discounted outdoor gear (outlet) at Rei

✎ Never leave without a travel insurance. I get mine at HeyMondo. It's easy to set up, cheap and reliable.

✔ Skip the queue in the airport and get your Cape Verde visa in advance with iVisa

$ Withdraw money without hidden fees and avoid rubbish exchange rates with Revolut. (You'll get a card for free!)
Personal note:
For some, Santa Maria Beach might seem an artificial tourist hub. Which it totally is! Locals get their water cut off so that tourists can take long, warm showers, on a desert island! Thus, if you want to get some of the real Cape Verdean atmosphere, I recommend, either to stay in Palmeira and/or visit other islands such as the green gem Santo Antao, the cultural hot spot of Mindelo in Sao Vicente, etc.
Don't mistake Cape Verde for being only about beach holidays & sun, which is the main theme of Sal. Cape Verde has a million more things to offer!
Read more about other Cape Verdean islands and How to go on sustainable holidays in Cape Verde
Best Hotels in Sal, Cape Verde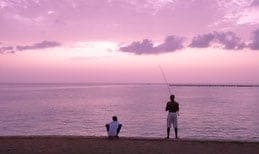 What To Do in Sal, Cape Verde
1. Visit Palmeira, the capital
By boat, I arrived in Palmeira, home to the main port of Ilha do Sal. With the size of a fishing village, you can easily visit the main spots in a few hours.
But first, I needed to get my visa at the local police station and that's where I realized that Cape Verde goes on a different rhythm. Here, 5 minutes mean at least 1 hour! For a "quick" coffee, calculate 30-40 min! No wonder that "No Stress!" is the unofficial mantra of the archipelago.
That being said, Palmeira is a great place to enjoy the relaxing, Cape Verdean vibe first-hand.
Afterward, I realized that Palmeira is, with Espargos, the most authentic city of Sal. Santa María, in the south, is on the best way to become a tourist stronghold. What I liked most about Palmeira was its colorful housefront front which transmitted an almost Caribbean feeling.
Furthermore, prices were half as high as in Santa María.
Visit Palmeira with a full day tour or half-day excursion from Santa Maria.
2. Road Trip From Palmeira to Santa Maria
It takes you 40 min. to get from Palmeira to Santa María. Take an aluguer (a bus with no fixed schedule leaving when it's full) to Espargos (0,50 €) and then another one to Santa María (1 €).
Indeed, it is a fun ride to enjoy the wind breeze in your hair and watch the desert landscape of Santa Maria. I had quite an adventurous feeling.
If you are looking for things to do in Sal, a road trip by aluguer or a guided tour, is definitely a must.
Book here your full-day tour or half-day excursion from Santa Maria.
3. Hang out at Santa Maria, Cape Verde
Santa María, the end station of Sal's main road, is a bubbly and colorful village and on the way to becoming a major tourist destination. Big hotels are in construction and tour operators increase their volumes every season.
Prices are high, comparable to Northern Europe.
The fantastic sandy beach with turquoise water and the perfect conditions for kitesurfing are its main attractions.
Read here about the best beaches in Cape Verde
Nevertheless, you can still see at any corner tracks of the African-Creole atmosphere like at the Mercado Municipal where you can buy local fruits and crafts.
Please visit the tailor from Senegal. It´s a true artist! I couldn't resist to order him a tailor-made dress with cloth from Guinea-Bissau. In a few hours, he tailors you any model from your favorite fashion magazine!
Here, tourism can support a local craftsman. – Book here the best tours in Sal, Cape Verde
4. Visit Pedra de Lume Salt Mines
Sal's
major attraction is, guess what? The s
alt mines!
You easily get there by any island tour from Santa Maria (25 €) or by
aluguer
to
Espargos
and by taxi to
Pedra-de-Lume village
. This place seems to be a personified ghost town. A place where
ships come to die
.
The "village" has gone from the richest place on the island to an almost godforsaken spot. 100 years ago, the salt mines gave the island international fame until they became unprofitable.
Nowadays, you visit them for 5 €. I loved the sensation of floating in the salty water. Even when you're standing on both feet, you're still not sinking! Its mud will get you a baby skin again and all my skin blemishes just vanished!
For me, the salinas of Pedra Lume are definitely a must-do when visiting Sal and also one of the best things to do in Cape Verde.
5. Visit Espargos, Sal, Cape Verde
In Espargos, you'll imbibe the
authentic Capeverdean life
. T
ake your time for a coffee and
popcorn on the main square and watch life passing by. Indeed, most locals do not live in Santa Maria, but in Espargos or Palmeira.
The administrative capital has the most important viewpoint of the island: a hill obscured with satellites controlled by the US, and from which you can oversee the entire island (only 216 km²!).
Visit Espargos with a full day tour or half-day excursion from Santa Maria.
6. Turtle Watching in Sal, Cabo Verde
Did you know that Cape Verde is recognized as the third most important nesting area for loggerhead turtles in the world?
Between May and October, you'll have the opportunity to assist turtles nesting and laying their eggs, as well as baby turtles hatching and making it for the sea.
The activity is carried out at night and you should always keep your distance to the turtles. Be a respectful traveler and listen to your guide!
Keep in mind that it's forbidden to go to the hatching areas on your own! But you can go with a guide. Some of the beaches are even closed during the breeding season.
Book here your turtle watching experience in Sal, Cape Verde
7. Chill at the Beach, Santa Maria
The beach of Santa Maria, southern Sal, Cape Verde, is one of the main reasons why travelers visit Sal. Indeed, the sand is golden and very fine. The turquoise colored water will remind you of the Caribbean. It is just the perfect place to relax.
There are several bars and restaurants where you can enjoy a drink or a meal with a sea view.
Sal boasts a few beaches, but the one at Santa Maria is definitely the most famous and most beautiful one. This makes Sal one of the best places for your winter sun holidays in Cape Verde.
8. Try Kitesurfing on Kite Beach, Sal
The second beach of Sal, also very close to Santa Maria is known as the "Kite Beach". You can either reach it by aluguer or by walking 20 minutes from the center of Santa Maria.
From far away, you'll already spot dozens of colorful kites.
Read here about the best beaches in Cape Verde
Sal is a hub for kitesurfers and hosts several championships throughout the year.
You can easily take a kitesurfing lesson at Kite Beach where you can also rent the equipment.
9. Scuba Diving in Sal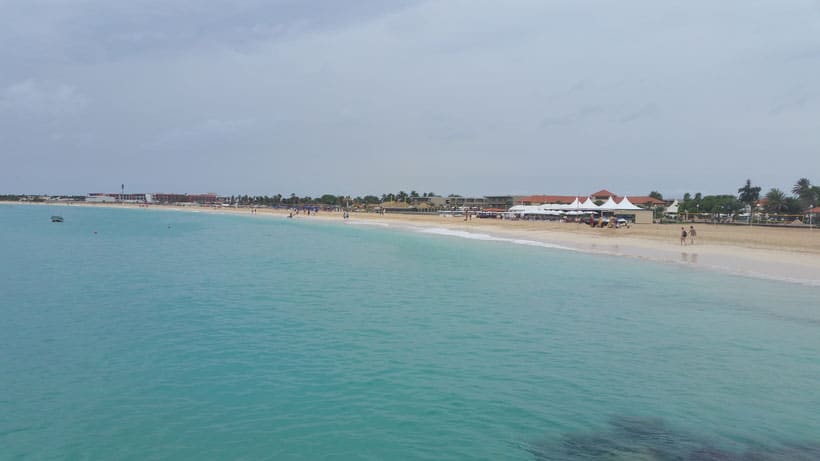 Sal is a great place to go scuba diving because the waters surrounding the island are home to a vivid underwater life. Whether it will be your first time doing a SCUBA dive or if you are already a half-pro, you'll love the experience.
Some of the animals that you'll see are for example turtles, pufferfish, and little sharks. (They don't do anything though.) If you are super lucky, you'll even spot some whales!
Please remember to be respectful when you do a scuba immersion! Don't take anything out from the sea, only memories!
Fully in love with Sal's colors
10. Explore the Island by Car Hire
Colorful housefronts in Palmeira
One of the best ways to explore the island is by renting a car in Santa Maria and just visit the island on your own. This way of traveling is particularly interesting for those who are more adventurous and don't necessarily want to follow a guide.
An island tour with a rental car can be done in half a day. However, if you really want to enjoy the local vibe and get to know the local grind, I recommend taking your time and spread out the tour throughout the day.
Please note that you shouldn't drive off-road as you might risk getting stuck and you might destroy the (sparse) local vegetation.
Check here the car hire deals in Santa Maria with Kayak.com
11. Go Snorkeling
You always wanted to get started with snorkeling? Or you already have plenty of experience when it comes to snorkeling?
Your vacation in Sal, Cape Verde might be the perfect moment to do a snorkel tour in Santa Maria. The underwater fauna of Sal is extremely colorful and intriguing. It's definitely one of the best things to do in Sal!
The good thing about snorkeling is that you can always come on the surface again. That's why I often prefer snorkeling over scuba diving.
In order to see the most colorful sites, I recommend taking a boat tour with a snorkeling experience in order to make the most of your time.
12. Have traditional Cape Verdian food
Tuna carpaccio at the salt mines
During your trip to Sal, Cape Verde, you can't miss indulging in local food from Cape Verde.
Of course, there are plenty of international options such as pizza, ice-cream and more. However, I recommend making the most of your stay and explore the beautiful Cape Verdean hospitality and tasty gastronomy.
The most famous dish is without any doubt catchupa. It's a stew of hominy and beans with fish or meat. Sometimes, they even add a fried egg or a linguiça (local sausage) on top. Every home and every restaurant has its own recipe.
Some of the best restaurants in Santa Maria, Sal are:
Find more places to eat in Sal, Cape Verde in the Ultimate Cape Verde Travel Guide Book filled with hidden gems.
13. Do a day trip to Boa Vista
Depending on how long you stay in Sal, the island can quickly become very small for you. Indeed, the main tourist hub is Santa Maria, in the south of the island, is not that big.
As a result, you might want to change the setting and explore another island of Cape Verde. Why not hop on to Boa Vista, the neighboring island?
Boa Vista is a beach island particularly famous for its Viana Desert. Another highlight of any day trips from Sal to Boa Vista is a visit to the shipwreck.
The best way to get from Sal to Boa Vista and any other Cape Verdean island is by plane.
14. Go Shopping in Santa Maria, Sal
My favorite place to shop in Sal is the local market.
Here, you cannot only find plenty of fruits and vegetables, but also lots of local, artisan shops. My favorite one is definitely the atelier of a Senegalese tailor. I got myself an African-themed dress and it was ready in less than 2 days.
It's definitely one of the best souvenirs from Cape Verde I could think of.
I love to approach the street stalls with local fruits and sweets run by African women. You'll never know what they'll hold for you. In November, it is the high season for papaya and bananas.
But also here, prices are comparable to North Europe. Sometimes, they sell delicious sweets with coconut and brown sugar. Yummy!
Related: The Ultimate Travel Guide to Cape Verde
15. Do a sailing tour from Santa Maria
After my boat hitchhiking adventure across the Atlantic ocean, I am definitely hooked to life on a boat. To me, it is some of the most relaxing ways to travel and on top, it is one of the most sustainable ways to travel too!
Another advantage of going on a sailing tour in Sal, Cape Verde is that you'll get to know fellow travelers and that you'll enjoy different views on the coast of the island.
Most of the boat tours in Sal, Cape Verde include hotel pick up, drinks and even lunch.
Check here the best Sal Cruises
16. Visit Buracona – Blue Eye Lagoon
The "Blue Eye" also known as the Buracona lagoon in the north of Sal, is one of the highlights of every Sal round tour.
Included in almost every day tour, the lagoon is considered to be one of the top things to do in Cape Verde. The entrance fee is 6 € but swimming here is a delight!
But what makes Buracona lagoon so special? It's the magic of the light! Indeed, this beautiful underwater cave turns magic blue and turquoise by the sunlight.
Check here the rates and review the island tours including the Buracona lagoon
17. Enjoy grogue and ponche
After enjoying all the beauty of Sal, Cape Verde, it is about time to taste some of the most famous drinks from this Cape Verdean island.
Indeed, you cannot leave Sal, without trying a grogue or a ponche. Available in most, local Cape Verdean bars, grogue and ponche are a great after-dinner drink.
Considered as the national drink of Cape Verde, grogue can be compared to rum as it is distilled from sugar cane with an alcohol rate of 40%.
Grogue is the basis for ponche: a cocktail with molasses and different fruits. My favorite one is honey ponche and passion fruit ponche!
18. Do a hike for panoramic views
First, Sal is not the best Cape Verdean island for hiking. You might be better off visiting Santo Antao, Fogo or Brava.
However, if you are a hiking lover, and you absolutely want to explore the island on foot, I recommend hiking to the Serra Negra Natural Reserve.
Located next to Murdreira, the natural reserve is the highest point of Sal with 104 m. You can find the area between Ponta da Fragata in the south and Ponta do Morrinho Vermelho in the north.
The natural reserve is considered as an important site for birdwatching.
19. Do a quad tour
One of the most fun ways to explore Sal is by quad. Even though it is not a sustainable way to travel, renting a quad bike in Santa Maria, Sal is becoming one of the most popular ways to discover Sal.
Be aware that the island is often very dusty and that you'll end up covered in dust and sand!
Prices for renting a quad or doing a guided island tour on a quad range 70-90 €.
Check here the rates and reviews
20. Do a tour with a local guide and explore secret places in Sal
Going on a tour with a local expert is the best way to explore the hidden and secret places to see in Sal, Cape Verde. I love exploring new places with a guide as you get to know so much more about a place.
Because behind the shiny resorts and fancy bars of Santa Maria, there lays the beautiful creole culture that is absolutely worth exploring.
On top, a local guide will easily provide you insightful answers about the Cape Verdean language, history and culture.
Check here the rates and reviews
---
---
Some Photographic Impressions from Sal, Cape Verde: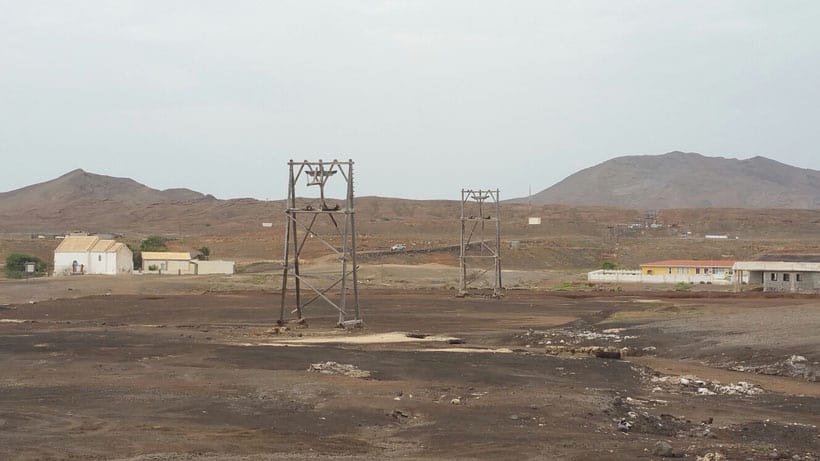 Scenery of Pedra-de-Lume
Salt Mines
Wood artists in Santa María
---
I stayed in Ocean Suites. Located at Santa María's main square, this hotel counts 6 carefully decorated suites, named by famous Cape Verdean singers.
---
Like it?Pin it!
Like it?Pin it!
---