Written by SV Delos Crew

Hey, we're SV Delos, four adventure-seeking souls exploring our diverse planet by the power of the wind! What started as a journey of pure self-discovery and exploration, has now evolved into a venture focused on showing the world as the incredible place it is, both above the water and below.
We are exceedingly passionate about sharing our journey and have created over 230 episodes of our travels sailing around the world, spanning six continents, 45 countries, and 75,000 nautical miles.
Through our unparalleled production quality and cinematography, we have become leaders in our field, with 360.000 YouTube subscribers and a monthly social media reach of over 2 million people. Our videos have inspired countless viewers from around the globe, to step out of their comfort zone and follow their dreams.
READ: How To HitchHike Across the Atlantic
1. We Can Harvest the Sun's Rays and the Winds Energy to Power our Lives
Power generation on a cruising yacht is a huge deal. One of the perks of living in your own floating home is the fact that you are self-sufficient. Delos is equipped with ingenious technology to help harness the power of mother nature. With a large array of solar panels and a substantial battery bank, Delos can capture the sun's energy and store it to be used at a later stage.
Our inverter takes the DC energy we have accumulated in our battery bank and converts it to AC power that can be used to charge laptops, run a coffee machine, power our reading lights, or even heat our electric stovetop. Another power generating devices we have onboard is a wind generator.
The blades spin 24 hours a day (assuming there is wind) and put power straight into our batteries. Being entirely self-sufficient power-wise means, we can live off the grid while still running a successful YouTube channel.
2. We Can Make Our Own Water
Water shortage is an issue that many countries are now facing. To ensure we are not impacting the locals in the remote places we visit, we have an onboard desalination unit that can turn seawater into drinking water. This system is fundamental in allowing us to sail to the most remote and far-flung locations on the planet.
It's also convenient and economically friendly, not to mention reduces plastics, because we no longer have to buy water. Some of the islands we visited in the Caribbean (like Dominica for example) were hit by "category 5" hurricanes Irma and Maria in 2017.
When we visited these islands, we were able to see firsthand the challenges the locals were dealing with. It would not be possible to visit places like this to offer aid, if we could not bring our own resources, like fresh drinking water, with us.
READ: 7 Reasons to avoid the plain and just sail
3. Sailing Allows us to Give Back
SV Delos has been extremely fortunate to have the support of our online followers. Through YouTube and Patreon, we're entirely crowd-funded and not beholden to the pressures of advertisers or corporate sponsors.
Giving back to the communities we visit, ensures that the many generations to come can enjoy the unique beauty these destinations have to offer. We try to minimize the negative impacts of tourism, and if we can use our social media presence in assisting with that, it can only be a good thing. I think that in our current world of social media, people like to show the highlights of a place.
They like to show themselves having a drink on the clean, well-kept beaches. They want it to appear like wherever they have visited is a wonderland, that their life is perfect, and flying around to travel the world will solve all of their problems.
READ: How to travel sustainably
But behind that well-kept street are often local homes that are filled with garbage, hungry or uneducated kids and maddened people who are kept in their place by an unjust and corrupt government. It doesn't feel fair to visit these places in the world and tell only the positive, light side of the story. It doesn't feel fair just to take, whether it is resources, a photo or a memory.
Every country, every community, has its battles and many of them have too limited resources to deal with them appropriately.
By sailing into these communities, I believe we are not only lessening the burden we place on them (compared to those who arrive via other forms of transport), we are also able to educate and inform by raising awareness through YouTube and social media.
4. We are Propelled by the Wind
The most obvious perk of living on a yacht is the ability to use the power of the wind to propel you to your destination. Delos has a variety of sails for all conditions and can comfortably push us along at six or seven miles per hour, day and night, for weeks at a time.
Although yachts lack the speed of modern airplanes, under sail, they are a zero-emission transport platform. Delos has crossed thousands of miles with only the sound of the wind in her sails and the waves against her hull. It's truly a surreal experience offshore, sailing in the middle of an ocean.
When we do need to fire up our diesel engine, the onboard generator, or our dinghies outboard, it's usually only for a short time. We like to make the most of what nature can provide, and often we can go without until the sun comes out or the wind decides to blow.
There is no denying it; sailing is an extremely low carbon footprint form of transport, doesn't produce any fossil fuel at all and has a minimal impact on the environment.
5. We Can Catch Our Own Food
There is nothing like the feeling of catching your own dinner. Fishing is something that Delos has had a lot of luck with. From Barracuda to Mahi Mahi, Wahoo to Tuna, we have caught some of the most sought-after species of fish the ocean has to offer.
Eating a fish caught and prepared during the same day is the epitome of fresh. Sushi melts in your mouth, Mahi Mahi burgers are so tender that they almost fall apart, and tuna sashimi so tasty that it doesn't even can be compared to the store-bought stuff.
It's also a great way to eat healthily. While we love eating fish, we are also mindful of the environment and ensure we only keep what we can eat. We are also very aware of avoiding overfished species and areas.
When at all possible, we too do what we can to help the environment by catching invasive species such as Lionfish. Lionfish are harmful to our reefs and other sea life, but they are also delicious, so it's a win-win for all.
6. Living on the Water Makes Us Happier and Healthier
It's never hard to find something fun to do when you live on a yacht. The places we visit are usually diving hotspots, and with our onboard dive compressor, we can fill our tanks for a fraction of the cost on land. Snorkeling, beachcombing, hiking, kitesurfing, and paddleboarding are all ways to enjoy ourselves in a new place.
These outdoor hobbies keep us fit and allow us to interact with the local people. They are also the perfect way to enjoy the environment in which we live without spending a fortune or contributing to irresponsible tourism.
Spending time in nature is healthy for both our bodies and our minds and research has shown that living on the water reduces depression and anxiety.
Therefore, we are making healthy life choices, thus avoiding the need for medical intervention from an already crippled system. We also carry our own medication and very rarely visit doctors or hospitals.
READ: FAQ Boat HitchHiking
7. Reduction of Garbage
There is nothing like living on a boat to make you aware of just how much waste there is in modern-day society. There are no garbage disposals in the middle of the ocean, and often small islands can't deal with the added burden of sailor's rubbish.
For that reason, we ensure that we bring as little waste as possible onto the boat, reuse what we can and dispose of it in the most environmentally friendly way we can.
Depending on where we are, we can often dispose of the green waste straight overboard, and we buy fruit and vegetables straight from local markets to eliminate packaging and plastic bags. We also bake our own bread and make our own soap, laundry liquid and sunscreen (see Instagram for recipe).
That way, we know exactly what ingredients we are putting on our bodies and, as we can buy the ingredients in bulk, we save on packaging and single-use plastics.
READ: Boat HitchHiking with a Mission
8. Mother Nature Provides Us with Endless Footage
One of the most rewarding things about living on a boat is our ability to work in an "office" with a view, with all the perks of the modern world, but with a very low carbon footprint. Our boat is our home, our home is our workspace, and the world is our playground.
What keeps this lifestyle sustainable is that mother nature provides endless beauty, and we are lucky enough to share it on YouTube with the available technology. Our impact on the places we visit is minimal, as we are not drawing on the support of the local communities.
Many of the resources we need to power our business and therefore continue cruising, are renewable, provided by nature, and have a low impact on the environment.
Part of the way we ensure our lifestyle benefits the areas we visit is to get involved in local marine conservation. Delos is currently working with scientists from the Ocean Research Project who track and record environmental and fish migration research, providing data from our onboard acoustic fish tracking device.
Sustainable travel means visiting countries and leaving them in the same condition as when you arrived. Our floating home has all the accommodation we need, and on 53 feet, eight people can sleep comfortably.
We think we've found the absolute best way to travel, not only for the environment and the reasons I've mentioned above but also because who else can travel around the world but sleep in their own bed every night!
Meet the Crew of SV Delos
Brian
…is the Captain of Delos and the brainchild behind the whole crazy idea of buying a yacht and sailing around the world. With a background in electrical engineering, Brian started his own software company at the age of 26 and spent his days wearing tailored suits in boardroom meetings.
Unable to shake the feeling that something was missing, it was a book that changed the course of his life forever. He sold his house, cars, worldly possessions and saved tirelessly towards his newfound goal of buying a boat.
In 2008, he set eyes on Delos for the very first time, and it was love at first sight. In 2009, he pushed off from Seattle, with a plan of sailing to New Zealand over the course of 18 months. Eleven years later, Brian is still sailing the world aboard SV Delos. While he'll always be a software nerd at heart, Brian is the cornerstone of SV Delos and radiates an aura of confidence and composure. Brian has become a salty sailor, and a captain admired by many.
Karin
…grew up in the Arctic Circle, in the northernmost part of Sweden. She joined SV Delos in New Zealand in 2011 after Brian invited her to go sailing for the weekend, which turned into a lifetime of exploration.
She quickly fell in love with Delos, the sustainable way of life and the idea of breaking away from societies expectations. She thought Brian was pretty great too! After eight years aboard Delos, Karin has become a seasoned sailor, videographer and adventurer. She has also grown as a person in more ways than she could have ever imagined.
Her systematic and thought-out nature has helped turn Delos from a lifestyle into a successful sailing business. Though small in stature, Karin is big on personality and is a role model for women hoping to live life differently.
Brady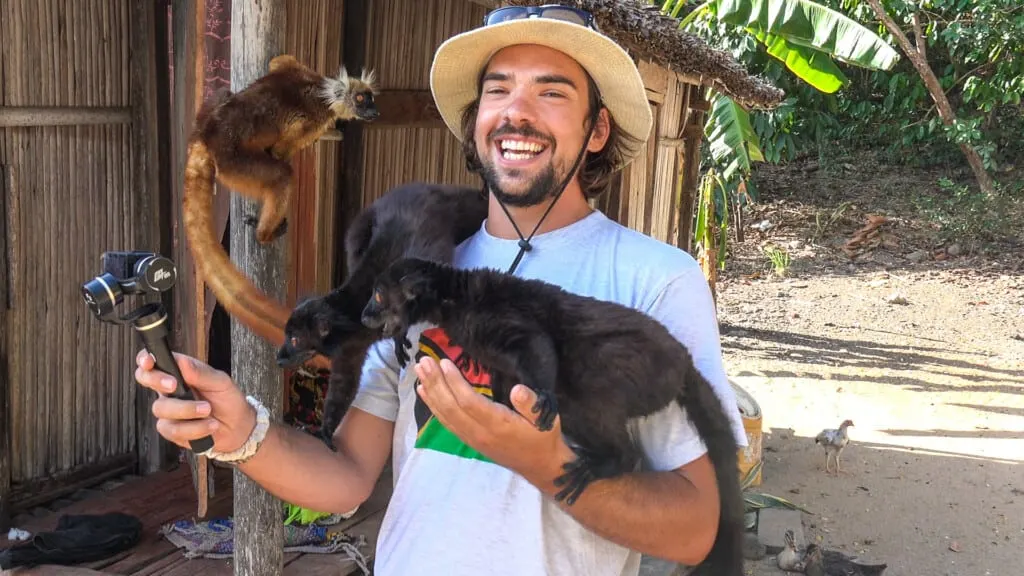 …Joining Delos for what was meant to be a three-week break from university in 2010, Brady's adventure evolved into a 9-year long education in the school of life aboard SV Delos. Brady brings an essential element to the Delos crew. With his easy-going vibe, cheeky smile and quick wit, he ensures that laughter and love are felt by all those around him.
Originally from Florida, Brady has always had a love for the water. As a kid, he enjoyed messing around in small boats and obtained his captain's license when he was 20. While studying environmental engineering at college, Brady paid a visit to SV Delos and decided to transition to full-time sailing instead.
He's never looked back. Today, his skills in marketing and video editing, along with his qualifications as a divemaster, dive instructor and rescue diver, have played a huge part in keeping SV Delos in the top echelon of YouTube sailing channels. With infectious enthusiasm and positivity, Brady is passionate about inspiring others to live a life that makes them smile.
Alex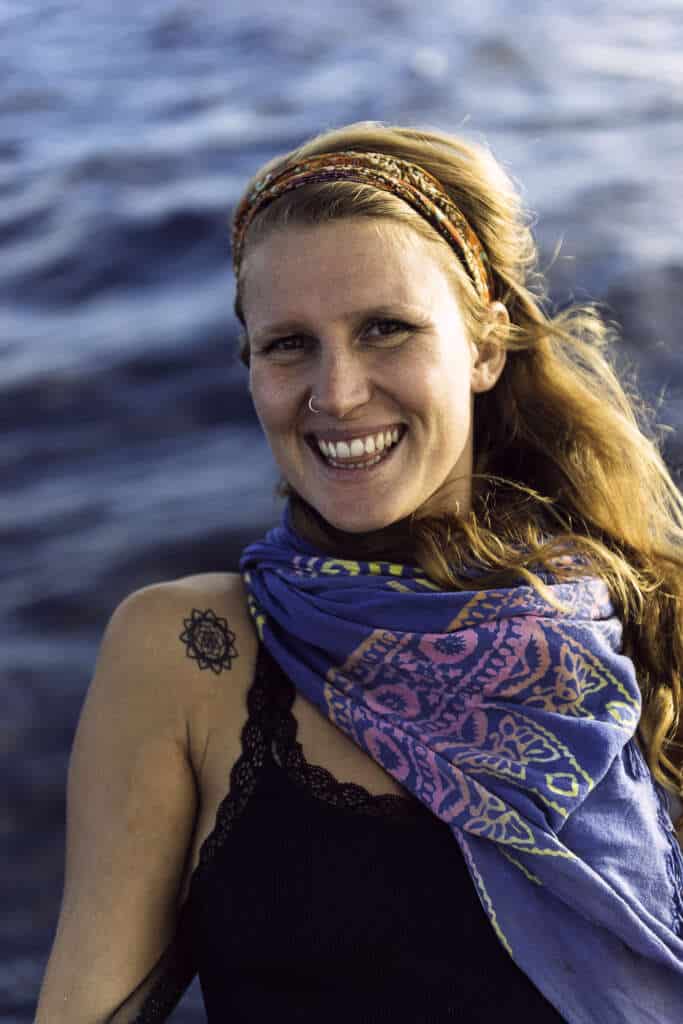 … Alex Blue is originally from California. As an incredible photographer, videographer, and filmmaker, Alex has a rare gift for showing the world in all its technicolor glory. In fact, it's rare to see Blue without her camera in hand.
Joining Delos in 2017 for what was meant to be one ocean crossing, Alex has since become an accomplished sailor after crossing two oceans and traveling 15,000 nautical miles. With a love of all things oceanic, Alex feels at home both on and under the water. The ocean is where her true passion for storytelling through photography and videography comes to life.
Alex is also a talented writer and has inspired many through her posts on the popular SV Delos blog. She is passionate about the environment and creating awareness for the state of our planet. She has a never-ending kindness that is felt by all who are lucky enough to meet her and an attitude that inspires people to go for it.

Follow the road of SV Delos on their blog, Facebook, Instagram and Youtube!
---
Like it? Pin it!
Like it? Pin it!
Like it? Pin it!
Like it? Pin it!
---
Hola! I am Paulina, a fervent travelette who crossed the Atlantic Ocean by Boat HitchHiking. On my blog, you'll find all the tips to make the most of your holiday. Get ready to enjoy outdoor and sustainable travel like hiking, cycling or sailing. Let's hit the road together!