1. Investigate the destination
Investigate your destination on the web or buy guides in a bookstore.
Are there sites, cultural elements or characteristics that you want to know? What information is essential to know before traveling to your destination? What could be considered offensive?
Prepare a basic vocabulary to interact with local people. It should include at least "good morning", "thank you" and "see you later".
Follow the local news of the destination where you are going to travel.
2. Consume local products and services
Support local businesses and tourism businesses. In the case that this is not possible, find out what the big companies are with ecological and sustainable initiatives.
You, as the consumer have the power and decide who & what you want to support with your money. It is thus very easy to go green with everyday choices.
Do not hesitate to ask questions to the representative of the company: Where does the product come from? Who made it?
Make sure that the benefits of your purchase are shared directly or indirectly with the workforce. Find out more about the best ways to support small business.
Find out about local prices and adapt prices. Leaving a tip of 5€ in a country where a worker takes € 0.30 per hour destabilizes the local economy.
3. Never stop learning
Learn! Not only in advance and as much as possible, but also once at your destination, keep learning and be willing to expand knowledge about the country you're visiting.
Search or create opportunities to learn about cultural aspects such as language(s), traditions, gastronomy, customs, national heritage, values …
Make sure you know what social norms you have to respect.
Learning should not be one-sided but mutual. Exchange stories and knowledge with local people and other travelers.
4. Preserve and Protect
Make sure that the products and services you consume at the destination of your trip are sustainable.
Activities and sustainable products should respect the habitat of the flora and fauna of the area, avoid the destruction of the environment and avoid the mistreatment of animals and human beings.
Of course, you can never have all the information of a tourist product, so do not hesitate to ask all the questions you consider necessary to ensure that your money is well spent.
Collaborate with the rules and regulations regarding sanitation and cleaning programs.
5. Consume responsibly
Choose, as much as possible, services, activities and tourism products that guarantee the responsible use of natural resources such as water, energy, etc.
Especially in dry and hot destinations, avoid excessive consumption of water. That includes reusing towels at your hotel, showers that do not exceed 15 minutes.
Opt for sustainable or public transport. The bike is ideal because it allows you to discover the destination "slowly" and without leaving a carbon footprint. Book here your train and bus tickets to travel Europe.
I always try to bring along my bamboo straws that reduce plastic waste.
Also when preparing for your trip and buying the necessary travel gear, make sure to investigate the sustainable background. From backpacks made from recycled materials to sustainable swimwear brands, so many companies have decided to make eco-friendliness one of the main values.
On top, adhering to a sustainable lifestyle doesn't mean that you have to drain your budget. There are plenty of affordable eco-friendly clothing brands that fit every budget.
6. Respect Diversity
Avoid stereotypes and offensive comments. Diversity is wealth. Diversity is what unites us as human beings.
Be aware that some groups have different needs due to their mobility or communication skills or requirements.
Pay attention to the barriers that limit genuine interaction based on religion, gender, sexual orientation or economic situation. Read more about the impact of sustainable tourism.
7. Support Innovation
Support products, experiences and services that integrate innovation such as new technologies or new methods.
Not only will you support the innovation of the destination, but also help to save and the intelligent use of resources and information.
8. Respect the cultural heritage
Pay special attention to the conservation of the tourist sites of the destination. Respect the norms and their cultural value.
Try to recognize how the infrastructures of the destination you are visiting are managed in terms of transport, housing, buildings and public spaces.
9. Do a Staycation
Doing a staycation is one of the best ways to lower your footprint and avoid traveling by plane. You might wonder, what is a staycation? Well, first, it is great fun and it is all about exploring your home city or your home region with new eyes.
That means that you'll finally eat out in that new, fancy restaurant you always wanted to try. You take a dance class with you beloved one which is one of the best staycation ideas for couples.
In all, it means that you finally get the time to do all the things you always wanted to do…. but you were too busy to do them. Get inspired to plan your vacation at home with these staycation quotes.
In some cases, you just need to fly, but then, I strongly recommend checking the carbon offset of the flights you take.
---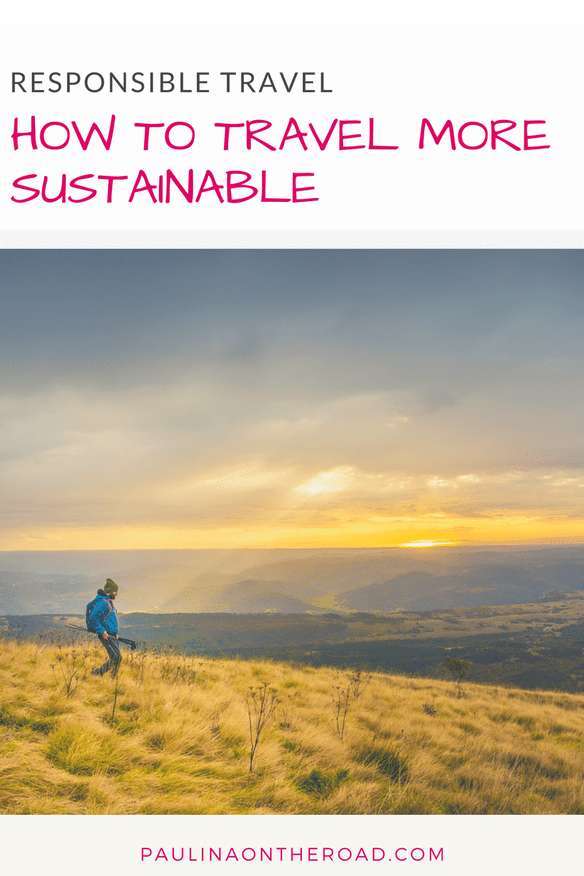 Like it? Pin it!
---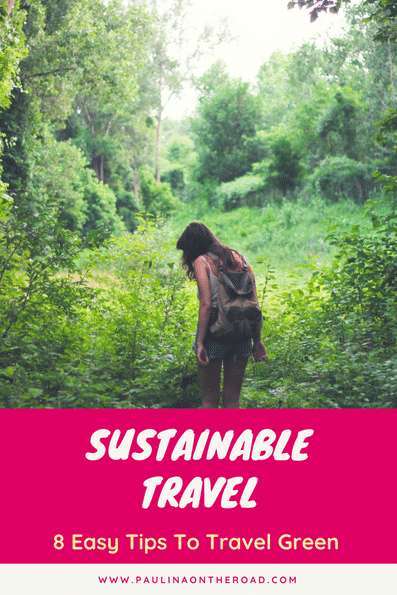 Like it? Pin it!
Hola! I am Paulina, a fervent travelette who crossed the Atlantic Ocean by Boat HitchHiking. On my blog, you'll find all the tips to make the most of your holiday. Get ready to enjoy outdoor and sustainable travel like hiking, cycling or sailing. Let's hit the road together!