25 Inspirational Staycation Quotes You'll Love
Staycation quotes to inspire you for your best staycation yet
Have you ever wondered whether to do a staycation? There might be plenty of reasons or motives why you decide to do a staycation.
One thing is for sure; you'll not only save a lot of money, but you'll also end up being more grateful for what you have.
As I am doing a staycation in Cape Verde, I want to share with you the 20 most beautiful staycation quotes that reflect the mindfulness and joy of a staycation at home.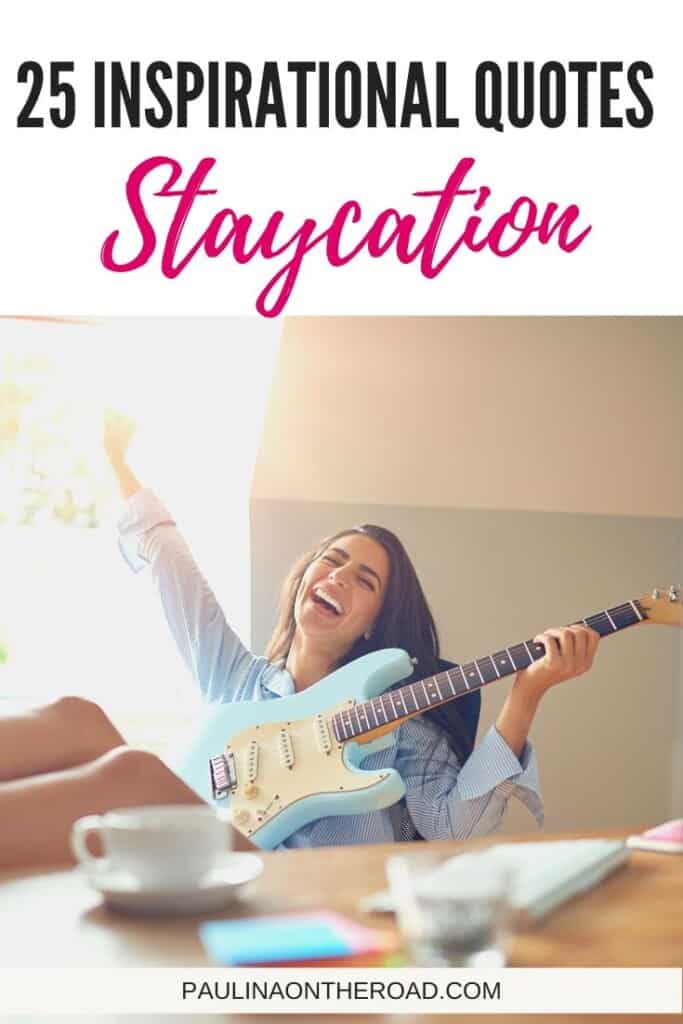 What's the meaning of staycation?
Also known as holistay, a staycation is a time in which you stay home as a couple or with your family. However, that doesn't mean that you don't do anything all day long.
No, there are plenty of staycation ideas that are active and fun. During a staycation, most things to do are located within driving distance of your home and do not require overnight accommodations.
A staycation can last for a few days or just be a weekend staycation in your hometown.
Whether you are planning to do a staycation for couples or a staycation for family, they all have one thing in common: discover your home town through new glasses.
And if you can't get enough of wanderlust quotes, have a look at these vacation travel quotes. Some of them are perfect when looking for inspirational Instagram captions.
And why not, display your wanderlust with these beautiful travel coffee table books?
The following inspirational quotes reflect the beauty of staycation holidays near you. What's your favorite? Let me know in the comments!
Here they go; 25 inspirational staycation quotes that you'll love:
1. "My goal is to build a life I don't need a vacation from." – Rob Hill Sr.
2. "Going nowhere, staying home is the grand adventure that meaning to everything else"
3. "If your work requires to travel, you will understand that there is no vacation destination like home" – Park-Chan Wook
4. "Be happy in the moment, that's enough. Each moment is all we need, not more." – Mother Teresa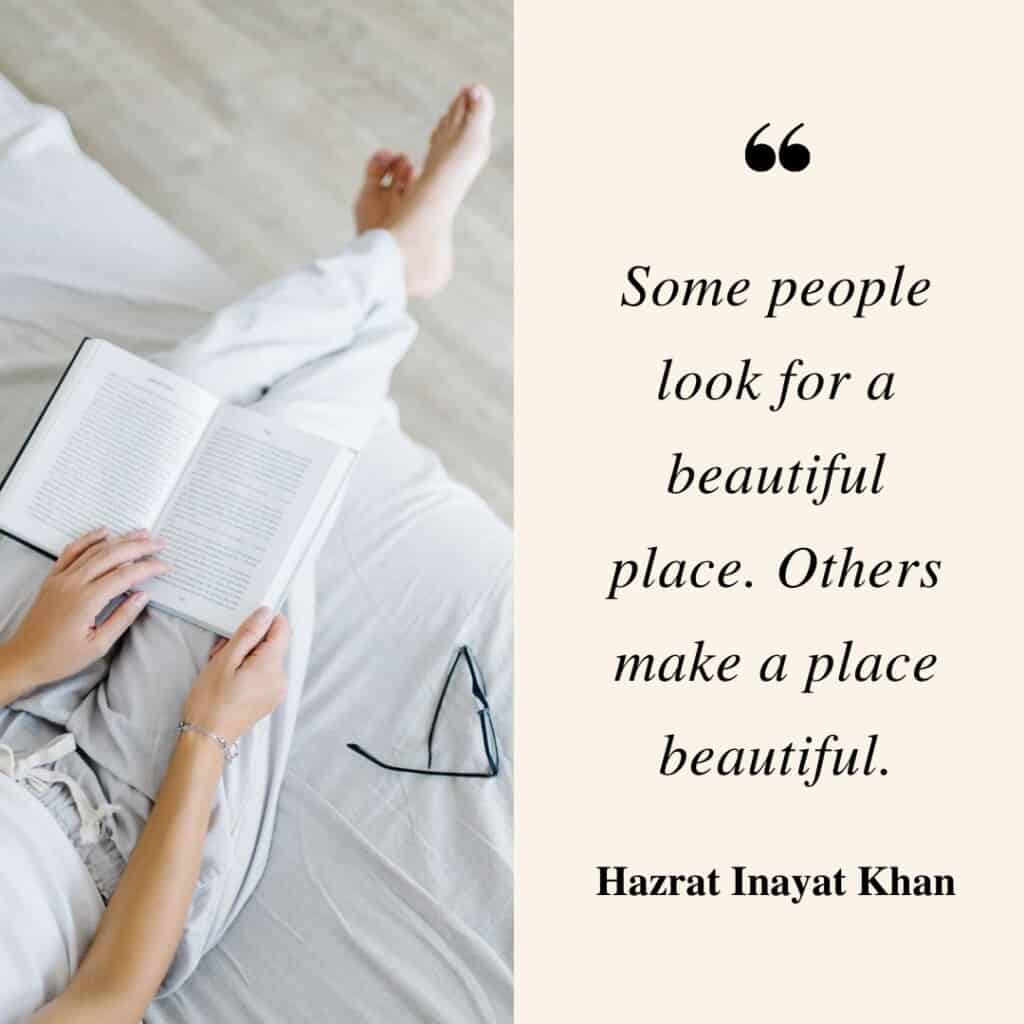 5. "Some people look for a beautiful place. Others make a place beautiful." – Hazrat Inayat Khan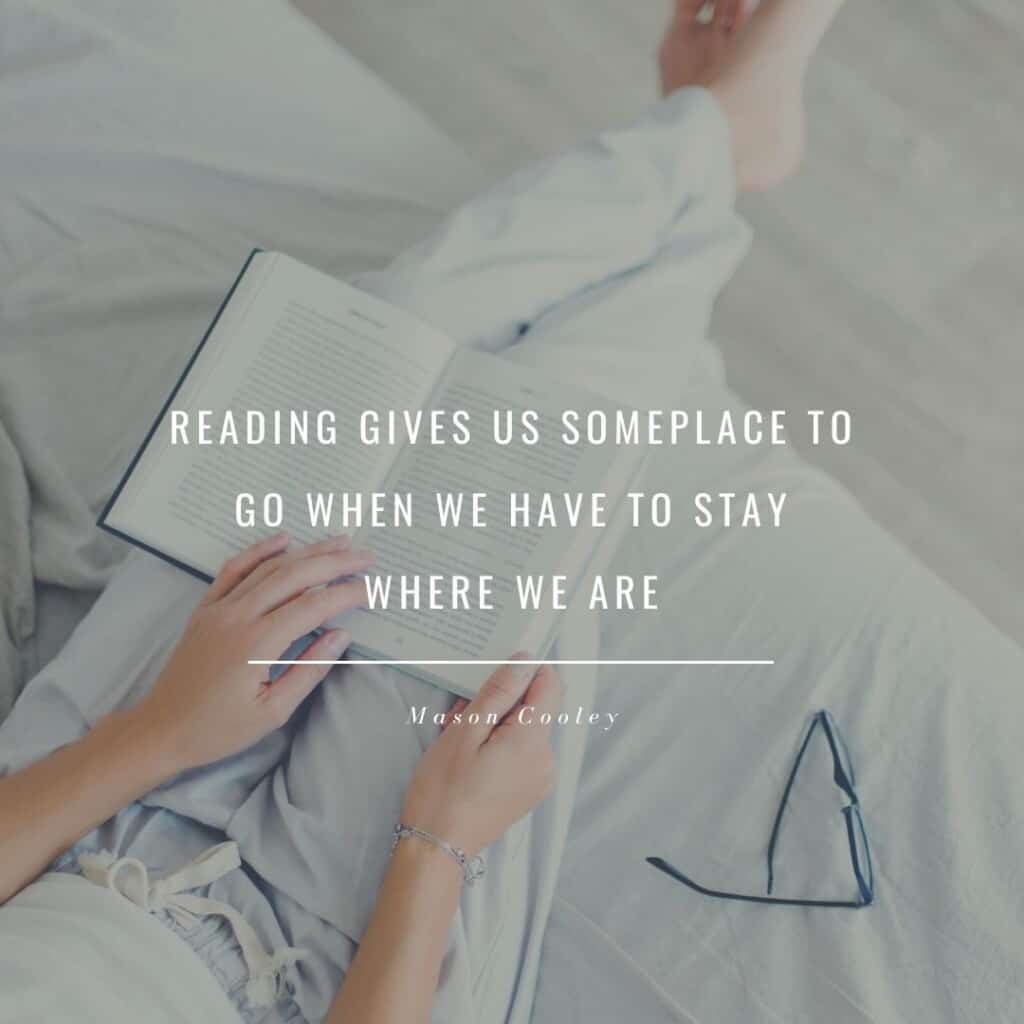 6. "Reading gives us someplace to go when we have to stay where we are." – Mason Cooley
7. "Home should be an anchor, a port in a storm, a refuge, a happy place in which to dwell, a place where we are loved and where we can love." – Marvin J. Ashton
8. "Home is a shelter from storms-all sorts of storms."- William J. Bennett
9. "Home is where one starts from." – T.S. Eliot
10. "If you cannot do great things, do small things in a great way." – Napoleon Hill
11. "If you go anywhere, even paradise, you will miss your home." – Malala Yousafzai
12. "The quieter you become, the more you are able to hear." – Rumi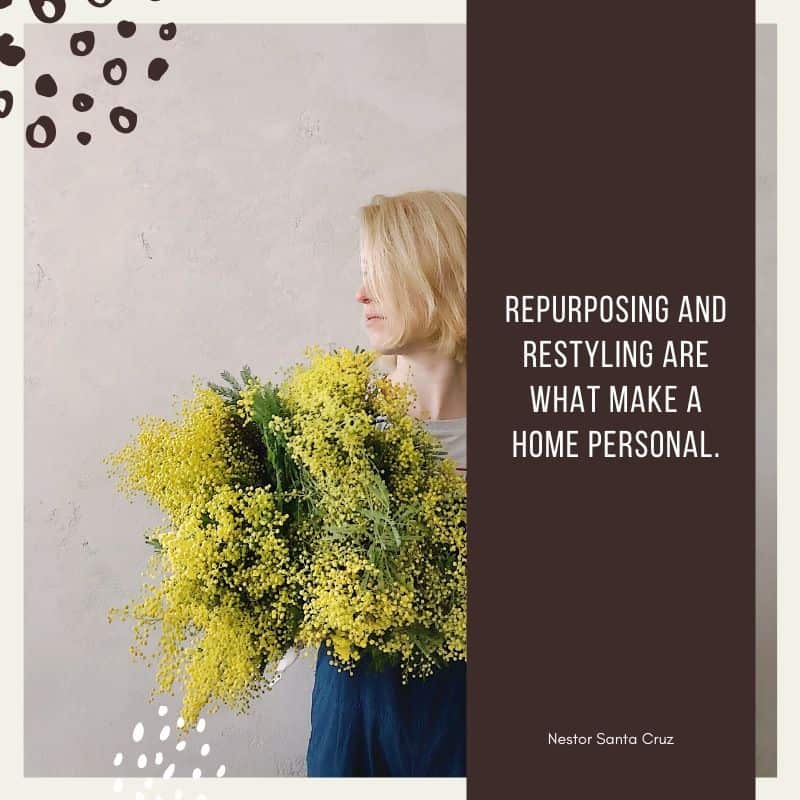 13. "Repurposing and restyling are what make a home personal." – Nestor Santa Cruz
14. "I like to stay in bed. It's too peopley outside." – Unknown
15. "A man travels the world over in search of what he needs, and returns home to find it." – George Moore
16. "Home is where the heart can laugh without shyness. Home is where the heart's tears can dry at their own pace." – Vernon Baker
17. "A staycation is having nothing to do and all day to do it at home"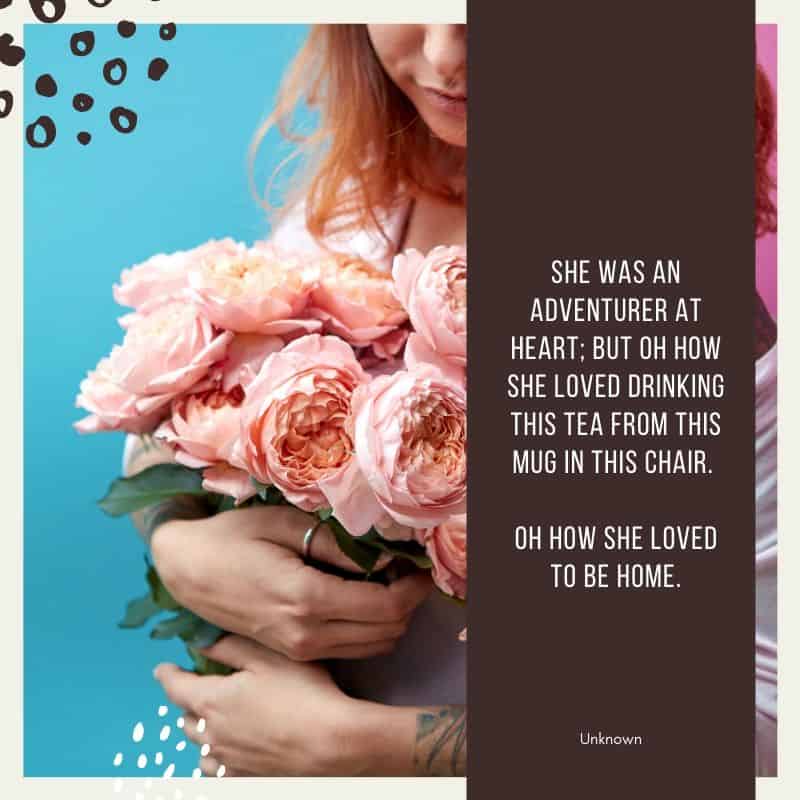 18. "She was an adventurer at heart; but oh how she loved drinking this tea from this mug in this chair. Oh how she loved to be home." – Unknown
19. "Taking time off is the best you can do for your peace of mind."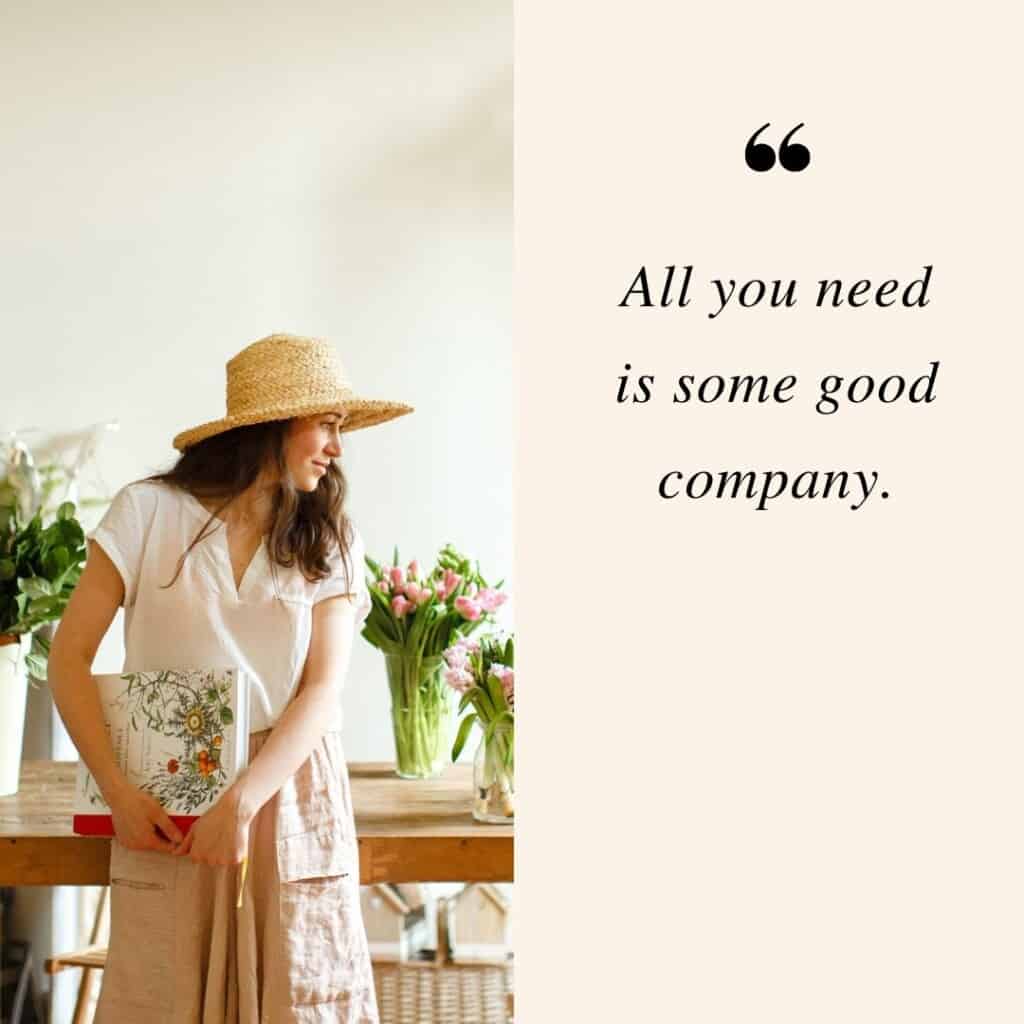 20. "All you need is some good company."
21. "Laughter is an instant vacation" – Milton Berle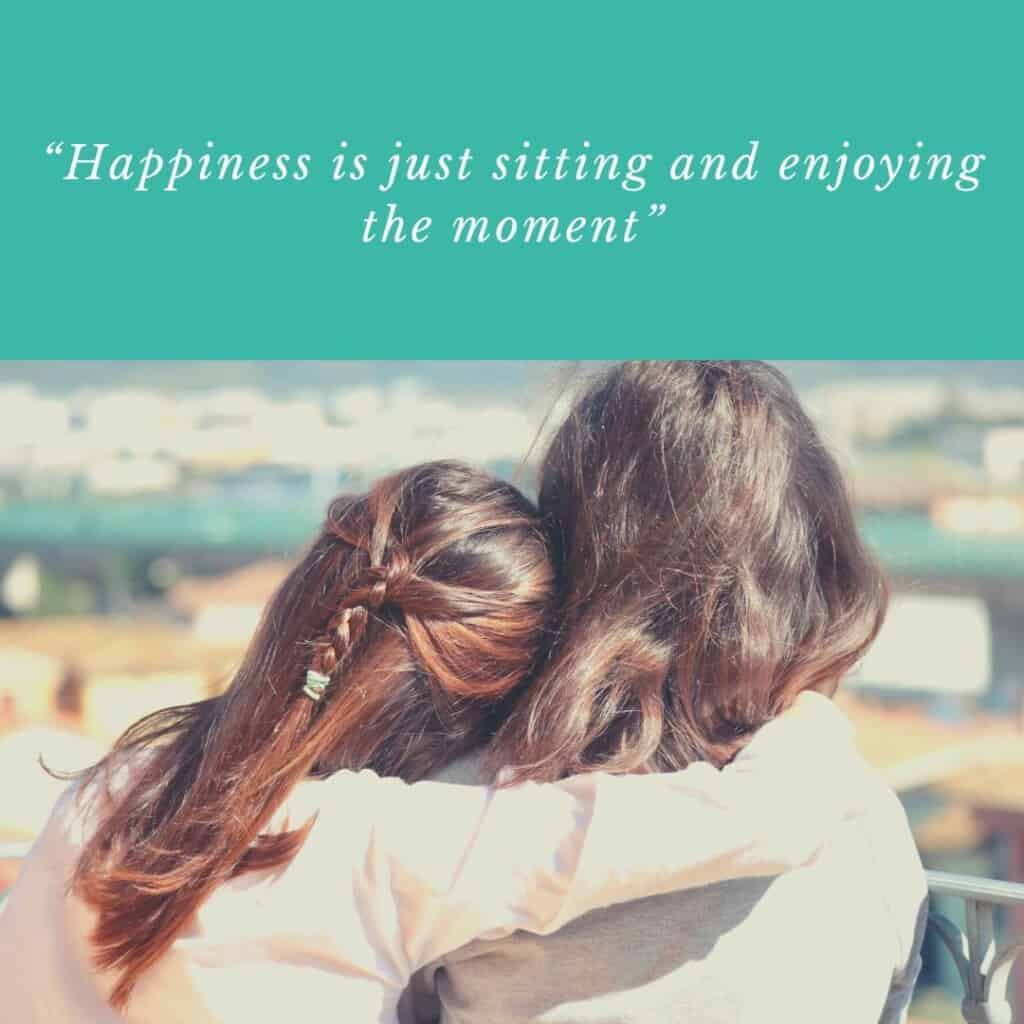 22. "Happiness is just sitting and enjoying the moment"
23. "Sometimes you just need to disconnect and enjoy your own company"
24. "Sometimes a break from your routine is the very thing you need."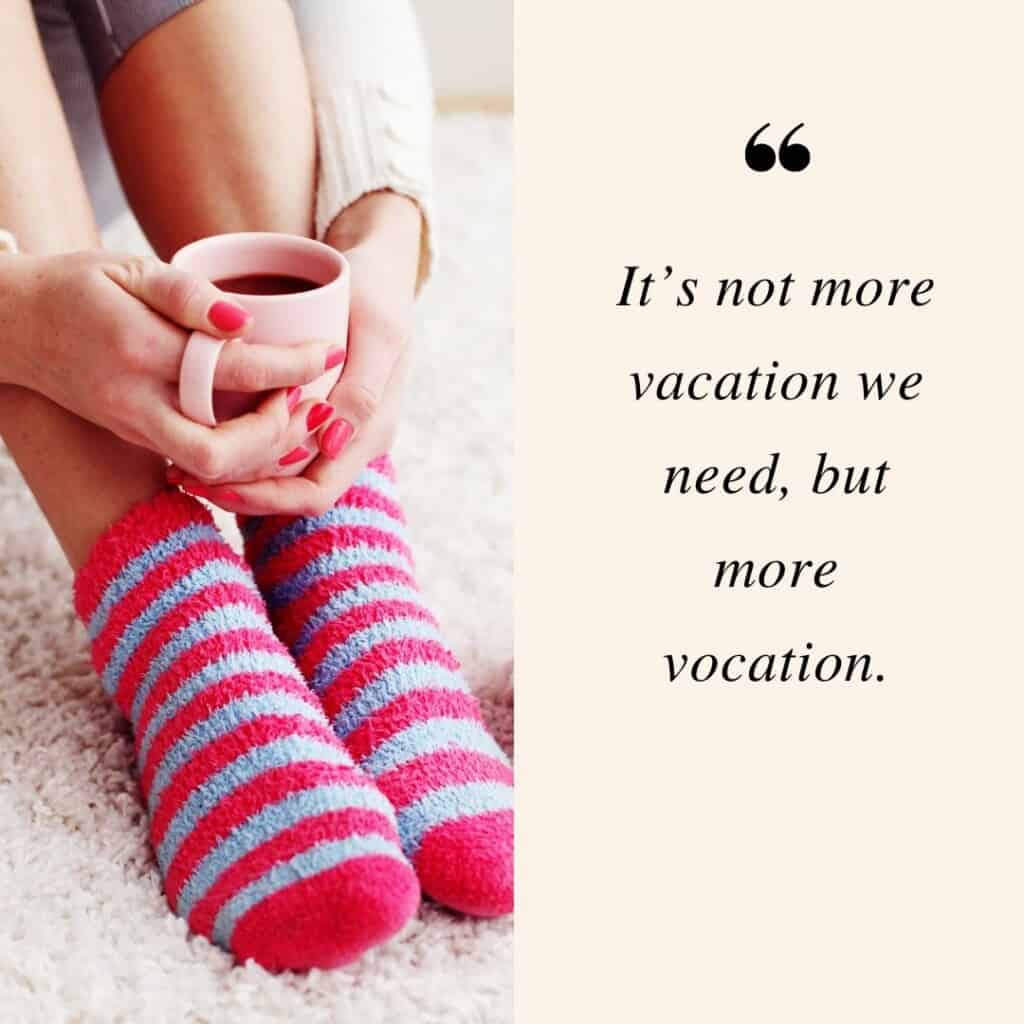 25. "It's not more vacation we need, but more vocation."
I hope that you liked these quotes…and the graphics 🙂 I put my heart into them and please feel free to share them on Pinterest.
Are you still planning your best staycation yet? What are you up to? Which of these staycation quotes is your favorite? I would love to hear about it in the comments.
If you are planning to do vacation at home with your beloved one, I am recommending some great staycation ideas for couples here.
---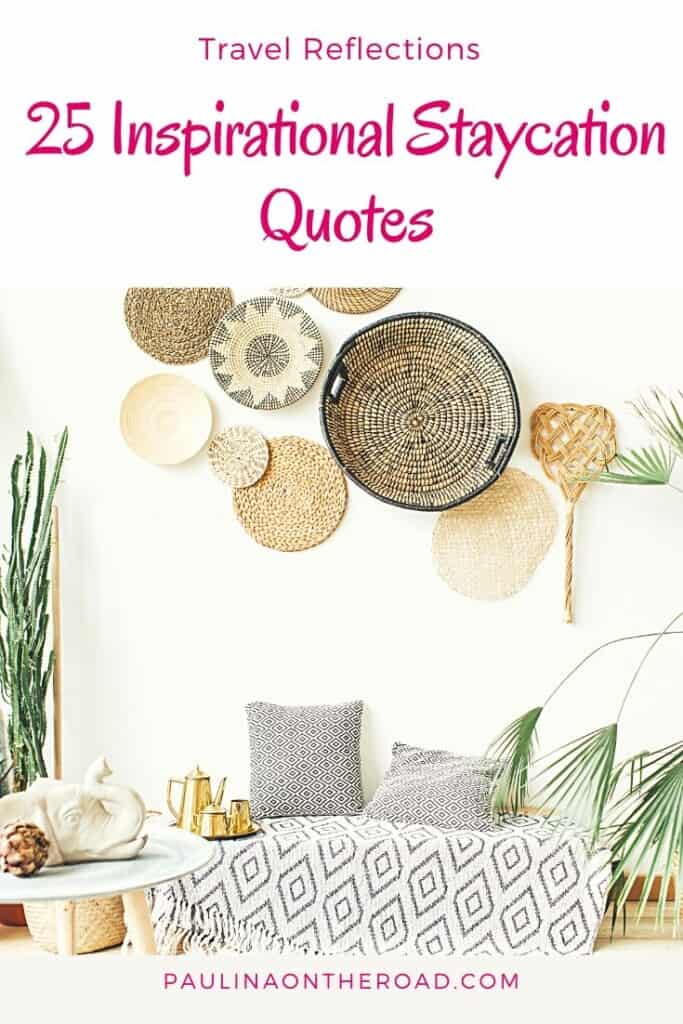 ---