One of the reasons why I love Madrid, Spain so much is that it offers countless opportunities when it comes to day trips. Whether you like hiking, you're a foodie, or a history buff, you'll easily find a destination for a day trip from the Spanish capital.
One of my all-time favorite tours from Madrid is a day trip from Madrid to Segovia.
Indeed, the Castilian town is not only attractive for those who want to visit one of Spain's most emblematic castles, but also the perfect destination for foodies and trekkers.

It's thus one of the most popular day trips from Madrid. I also recommend having a look at these 3 unusual, secret escapes from Madrid.
I visited Segovia, Spain several times and can't wait to share with you my favorite things to do in Segovia along with some practical information like getting from Madrid to Segovia.
Book here a Viator day trip from Madrid to Segovia
Useful Travel Information About Madrid
⚘ Avoid tourist traps and get the customizable "Spain Like a Local" itinerary. – Get it here

✈ Book cheap flights to Madrid with Skyscanner

✔ Book tours in Madrid with GetYourGuide

➳ Find the best hotels in Madrid with Trivago

❖ Rent a car with the best discounts with DiscoverCars

☘ Get the best outdoor gear (outlet) with REI.com

✎ Never leave without travel insurance. I get mine at SafetyWing. It is easy to set up, cheap and reliable.

$ Withdraw money without hidden fees, and avoid exchange rates with Wise (you'll get a free card on top!)
How to get to Segovia from Madrid
How far is Segovia from Madrid
Segovia is 97 km away from Madrid.
There are 3 ways to get from Madrid to Segovia (and back).
From Madrid to Segovia by Car
You can rent a car and drive from Madrid to Segovia. You can leave Madrid from the Gran Via or from the M30 and gain direct access to the A6 which leads to Segovia. You can also take the scenic route at M601 to Navacerrada.
There is a toll road from Madrid which is worth to get in order to avoid the traffic crossing the mountain. If you go in winter, make sure to have winter tires as you'll drive through the mountains surrounding Madrid. Rent here your car in Madrid.
Rent a car with the best discounts at RentalCars.com
From Madrid to Segovia by Bus
There are 1-2 buses per hour that bring you from Madrid to Segovia. Buses depart at Moncloa station and leave you at Segovia bus station close to the city center.
The bus ride takes 1h20 and is the cheapest option.
Tickets: Book here your Madrid to Segovia bus
From Madrid to Segovia by Train
Wondering how to get to Segovia from Madrid by train?
Madrid is connected to Segovia by a high-speed train also known as the AVE train Madrid to Segovia. The train ride takes 1 h and departs in Madrid Chamartín. The train from Madrid to Segovia is the fastest way to travel to Segovia but is a bit more expensive than the bus.
The end station is the Segovia train station of Segovia-Guiomar Station where you can take the bus to the Aqueduct or to the central bus station for 2 €.
Tickets: Book your train tickets from Madrid to Segovia and check train schedules
The Segovia map at the end of the article will provide you a better overview of Segovia's points of interest.
Combined Day Tours from Madrid
You can also easily visit Segovia with an organized day tour from Madrid.
If your time in Madrid is limited and you want to visit more surrounding towns of Madrid like Avila or Toledo, you might want to have a look at the following day trips:
Are you short in time? Don't worry as even with a half-day trip from Madrid to Segovia, you'll get to see plenty of things.
Where to Stay in Segovia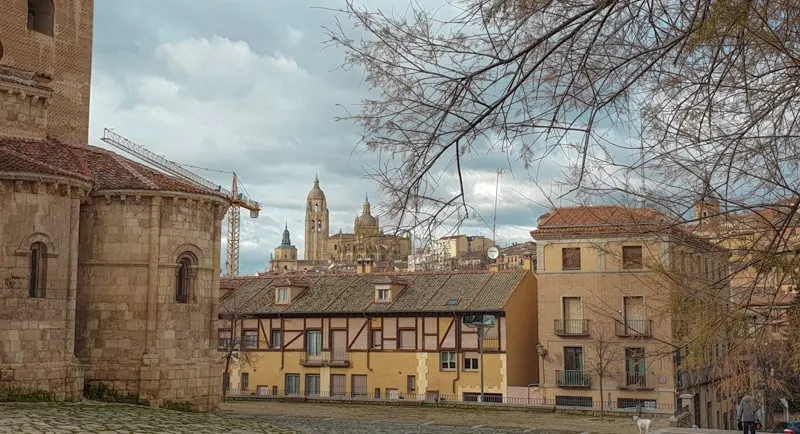 I highly recommend staying in Segovia for more than only one day. At night, the town's atmosphere changes completely and it is pure bliss to wander through its narrow streets. During the day, I had the impression that Segovia is a rater quiet, a bit touristy town.
However, at nightfall, all the families go out and socialize on the terraces of the plazas. It's then when you realize that Segovia managed to preserve the charm of a Spanish provincial town.
Luxury Hotels in Segovia
Eurostars Convento Capuchinos *****
Hotel Real Segovia ****
Palacio San Facundo ****
Mid-Range Hotels in Segovia
Hotel Don Felipe ***
Hotel Infanta Isabel ***
Hotel Cándido ****
Budget Hotels and Hostals in Segovia
Hotel Apartamentos Aralso **
Hotel Corregidor **
San Miguel **
Related: Best Neighborhoods to stay in Madrid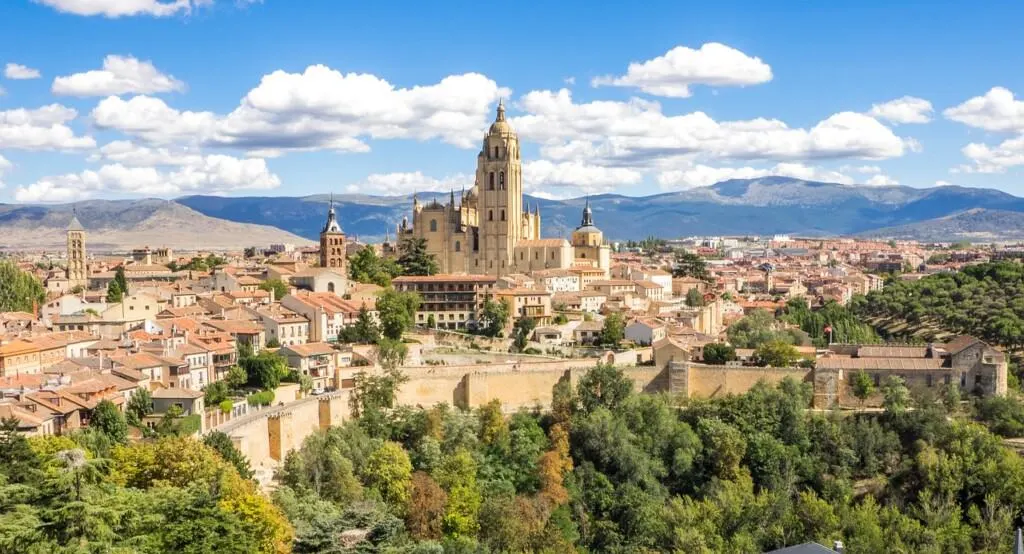 Things To Do on a Day Trip from Madrid to Segovia

Most of the recommended things in this post can be visited with an organized day tour from Madrid. If you travel independently, make sure to leave early from Madrid and to take a good pair of walking shoes with you.
There are plenty of things to see in Segovia and you'll definitely be lured by the fairytale-like charm of this town. Indeed, Segovia is considered one of the most beautiful places in Spain.
Travel tips: bring warm clothes if you travel in winter as Segovia has a colder climate than Madrid.
Book here a day trip from Madrid to Segovia
Visit the Segovia Castle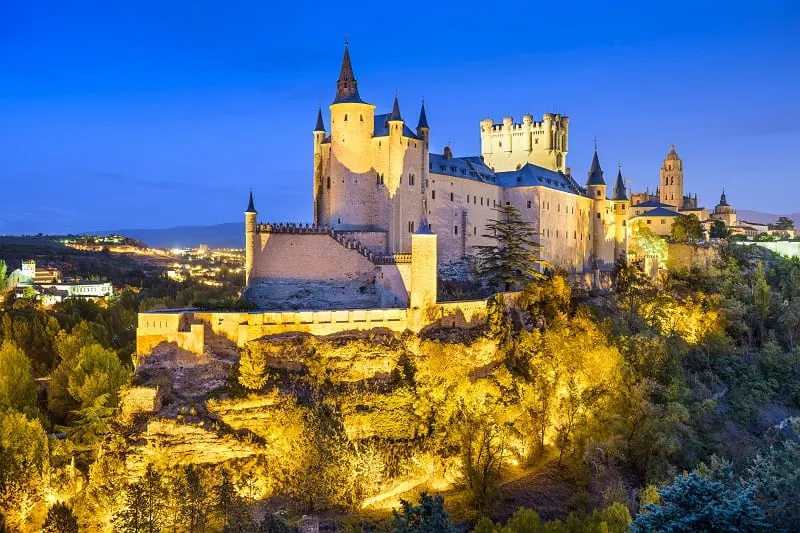 One of the absolute must-dos is the Alcázar of Segovia, also known as the castle of Segovia. You'll only see the castle when you make your way until the end of the town. When arriving at the train station or the bus stop of Segovia, I could hardly imagine finding such an impressive building in this little town.
Segovia's most prominent attraction attracts visitors from all over the world and used to be the typical cover for travel guides in the 60s and 70s. Still nowadays, I have the impression that many travel guides love Segovia's Alcazar as a cover.
Located on a rocky crag, the castle towers majestically above the city and the surrounding valley. The views from the castle are impressive and made me think of Don Quijote riding through the vast Spanish lands.
Built in the 12th century, the Segovia Alcázar was a Royal residence and also had an important military purpose. As a visitor, you get to see several rooms of the castle and can even climb the tower which has one of the best views on Segovia. I was mesmerized by all the details of the castle's rooms. Several details even reminded me of the Alhambra in Granada.
You should calculate at least 1 hour to visit the castle.
If you want to get THE picture of the castle, I recommend the viewpoint of Pradera San Marcos or the Mirador del Alcazar y de los Dos Valles. Calculate at least 1 hour to make it to these viewpoints.
Opening times:
April 1 to October 31: from 10:00 AM to 8:00 PM.
November 1 to March 31: from 10:00 AM to 6:00 PM.
Take a photo at the Roman aqueduct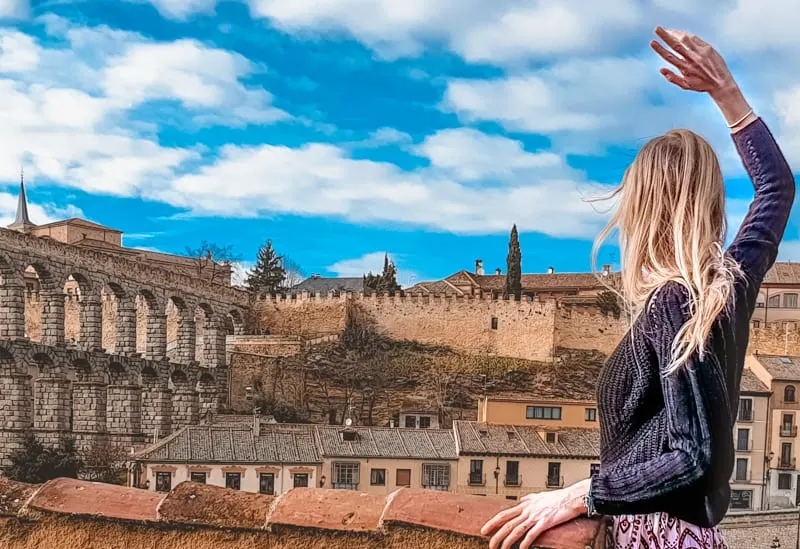 It is impossible to visit Segovia and miss the Roman aqueduct. Even after visiting Segovia 3 times, this massive structure just leaves me speechless every single time.
Located at the ancient outskirts of Segovia, the Roman aqueduct is a UNESCO World Heritage and one of the largest Roman constructions in Spain.
The aqueduct was built in order to channel water during 17 kilometers from a fertile valley to the city. Can you believe that the structure consists of over 20.000 granite blocks holding together without any cement? There are 167 arches which are still preserved exactly like they were built during Roman times.
The best place to enjoy the magnificent beauty of Segovia's aqueduct is the Plaza del Azoguejo where the structure reaches 28 meters.
Eat Suckling Pig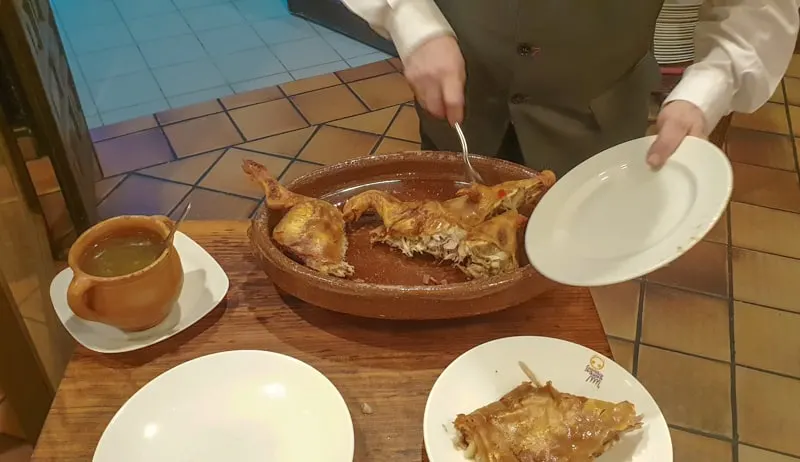 One of my favorite things in Spain is that each town, or even village, is famous for a particular dish, sweet or natural produce. No matter the size of the municipality, there is always an option for passionate foodies.
Suckling pig (cochinillo asado) is the most famous dish from Segovia (besides the dessert ponche de Segovia – a maricpan covered cake). It's a usual thing that los madrileños travel all the way to Segovia on Sundays just to eat suckling pig. However you can also get suckling pig in the Spanish capital where it is considered one of the best food to try in Madrid.
The criteria for restaurants and pigs are very strict. The pigs need to be milk-fed only, maximum 3 weeks old, weigh 5 kg and the feeding mother needs to follow a strict diet. No wonder that the cochinillo from Segovia is famous all over Spain.
Often described as a gastronomic miracle, the chefs participate annually in competitions about the softest roasted suckling pig in Segovia. The chefs proudly display their awards in their traditional restaurants.
Another curiosity about the star dish from Segovia is that the roasted suckling pig is cut with plates in order to showcase the meat's tenderness.
You can eat cochinillo asado in almost every restaurant in Segovia. The restaurants vary by price and quantity of served meat.
I enjoyed suckling pig in Restaurante José Maria. The atmosphere is great: very Castilian and with loads of historical decoration. The meat was very tender, a bit pricey however for what it was (+/- 27 €). Usually, Spanish waiters are the most attentive you can imagine, but in Restaurante José Maria, they seemed to be a bit too used to tourists. The service was (too) quick and lacked personality. However, I loved their huge dessert card and their cheese platter.
The best restaurants to eat suckling pig in Segovia are:
Read restaurant reviews here
Have a vermouth at the Segovia cathedral square
A Segovia tour from Madrid cannot be complete without a refreshing glass of vermouth on the cathedral square. The aperitif is the favorite drink of Madrid region and dates back several centuries.
Vermút is a bitter-sweet wine that has been infused with herbs and spices likes cinnamon or cardamom. Each brand has a different mix and the beverage is drunk all year around.
The Plaza Mayor has plenty of terraces that offer the best views on one of the last truly Gothic cathedrals in Spain. It took over 50 years to finish this impressive construction.
I didn't visit the interior… as the exterior part was so pretty already!
Opening times of the Segovia Cathedral:
If you want to visit the interior of the Segovia's Cathedral, you can do so from 9:30 AM until 5:30 PM at a cost of 3 €.
Free admission on Sundays from 9:30 AM until 1:15 PM
Wander in the Jewish quarter
La Judería, the Jewish Quarter of Segovia, is one of the prettiest attractions when doing a Segovia Day Tour. The neighborhood can be found right below the cathedral.
I loved wandering through its narrow streets and learn more about the history of Jews in Spain. There are several quaint shops, cute restaurants and even old synagogues.
If you want to dig even deeper, I recommend visiting the Jewish museum.
I recommend accessing the Jewish quarter by the Gate San Andrés as it is the last remaining gate of 7 former gates.
Visit the Ramparts (Muralla)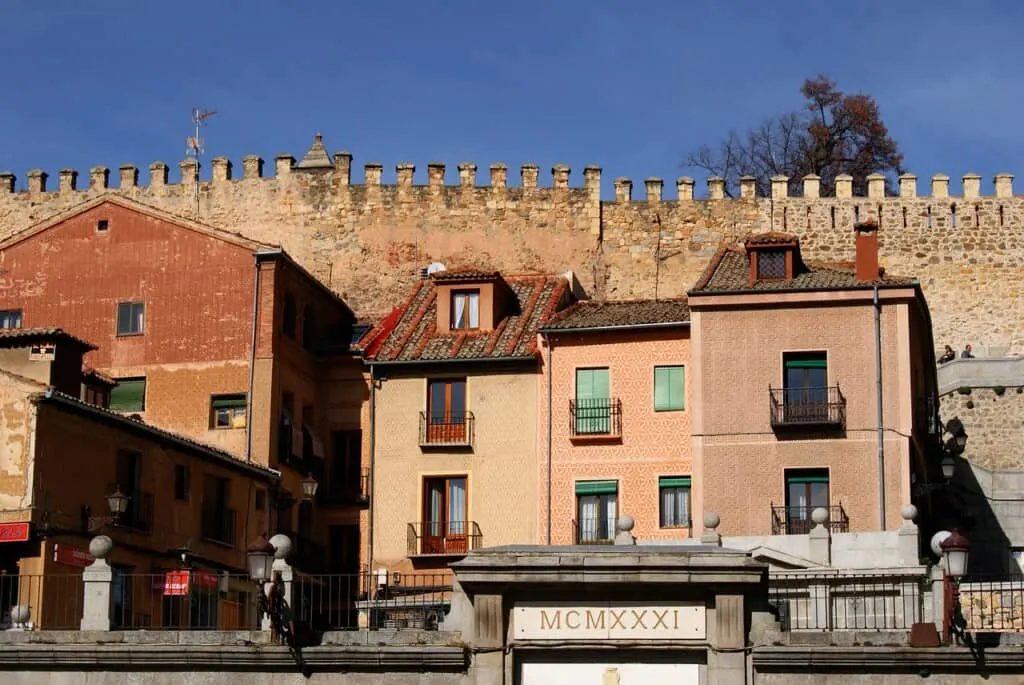 Visiting the old fortification walls is a must for any Segovia day trip itinerary. Apart the ramparts of Avila, Segovia's muralla is one of the best maintained in Spain.
Even though Segovia's city walls underwent several transformations, the original layout of the 11th century has been maintained.
I also enjoyed walking along the city walls but from the outside. There is a park with several benches where you can sit and enjoy the views on the ramparts.
As you're close to Gate San Andrés, you can easily buy tickets to climb the ramparts of Segovia. The City Wall Interpretation Center sells you the tickets.
Do a Walking Tour
Walking through the old, narrow streets of Segovia's city center is an experience of its own. The main street, Calle Real, fills up at nightfall with Spanish families and during day, you can go shopping for local goods or, why not, shoes made in Spain.
Calle Real leads you from the Aqueduct, through the Alcázar and the old part along palaces of the 15th and 16th century. It will also take you along Casa de los Picos which is famous for its house front covered with pyramid-formed granite stones.
Halfway Calle Real, just before reaching the Cathedral, you'll reach the Plaza de San Martin and the Plaza de Medina del Campo. Both plazas are surrounded by aristocratic palaces.
If you are in the mood for walking, I highly recommend to go beyond the city's fortification walls. You can do so by exiting via the San Andrés gate or by taking the steps next to the Alcázar. It's then when you'll get the best viewpoints and photographs of Segovia.
What to see outside the Segovia fortification walls: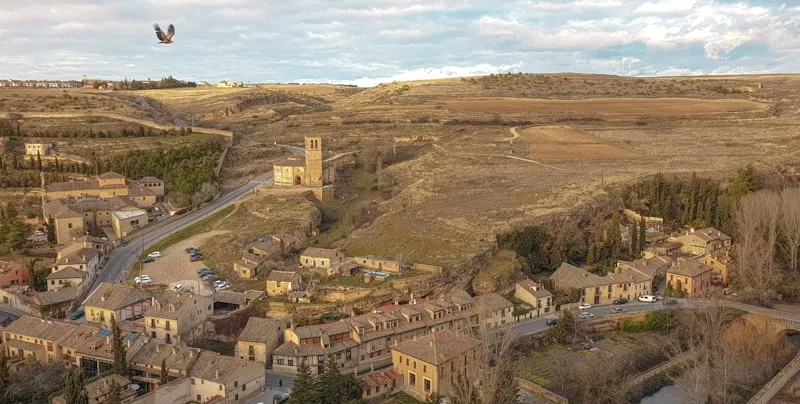 Outside the murallas, the ancient Iglesia de la Vera Cruz, and the Monasterio del Parral will await you. On top, the best viewpoints (miradores) like the Pradera de San Marco and the Mirador de los Dos Valles are located outside the historic city center. It's the best way to make the most of your day trip to Segovia from Madrid.
What to eat & buy in Segovia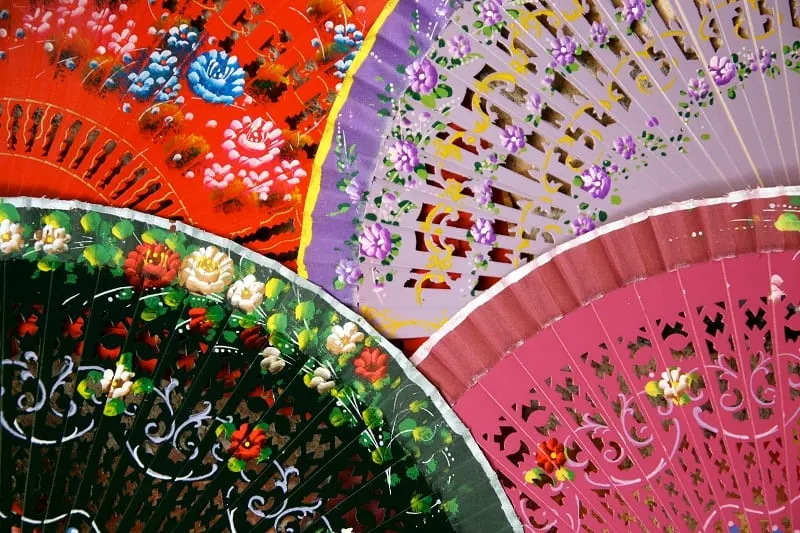 When in Spain, I love to stock up on local goods and products. The variety of pastry and food in Spain is just unbelievable! Each town in Spain, it doesn't matter the size, seems to have its typical dish and produce.
This also applies to Segovia. Besides being famous for its cochinillo asado (suckling roasted pig), Segovia is also known for its sweet treat called Ponche de Segovia. It's a (not so light) dessert with cake and custard cream covered by marzipan.
The lands surrounding Segovia, Spain are vast so that there is plenty of space to grow animals. No wonder that the sausages from Segovia boast national fame. I highly recommend to buy some lomo embuchado and some chorizo.
If you want to enjoy even more local food from Spain you can order Judiones de la Granja, a hearty stew with white beans, chorizo and morcilla blood sausage.
For the fish lovers out there: the natural surroundings of Segovia have plenty of rivers. Thus, don't be surprised to find trout (trucha a la Segoviana) on many menus.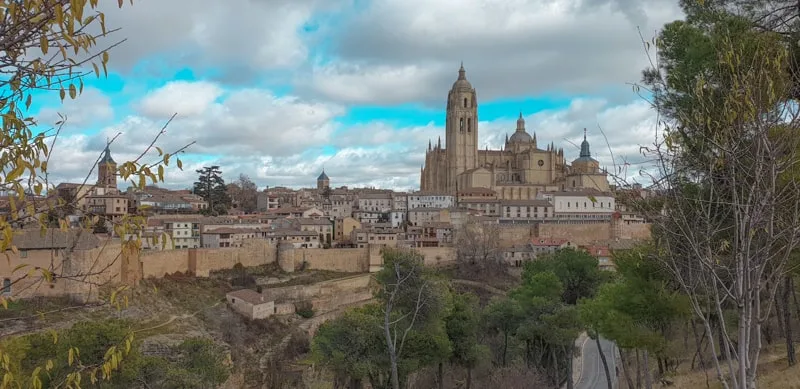 ---
Before You Go: Top Tips for your Trip
---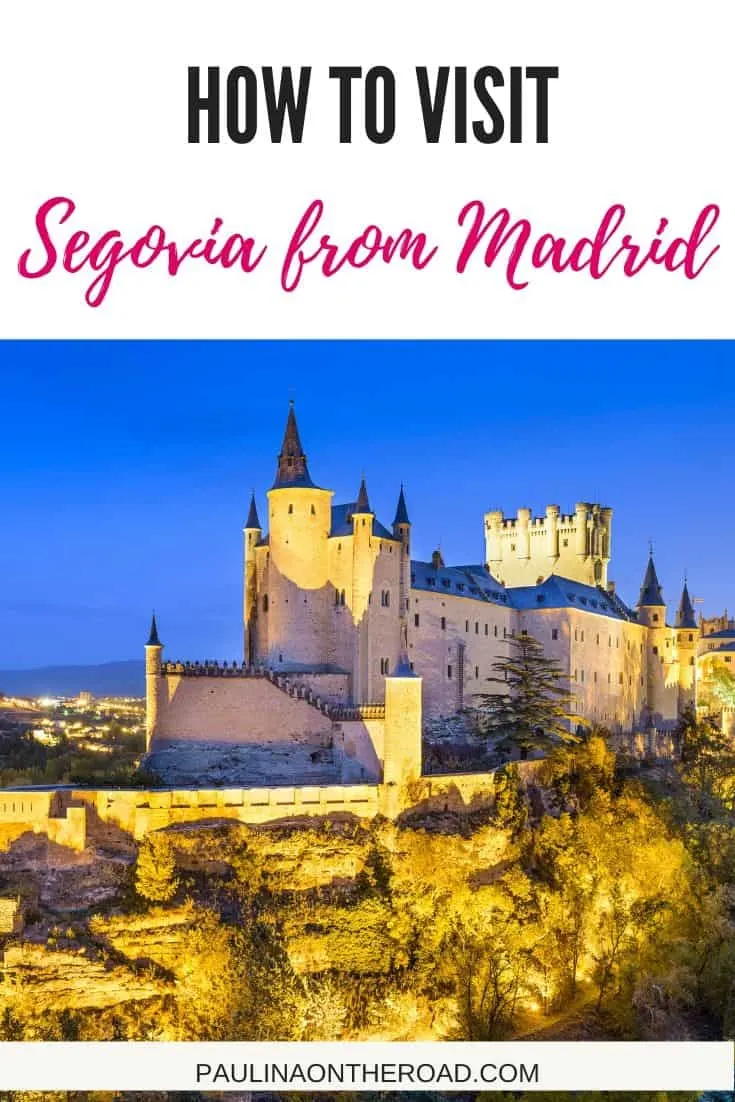 ---
Hola! I am Paulina, a fervent travelette who crossed the Atlantic Ocean by Boat HitchHiking. On my blog, you'll find all the tips to make the most of your holiday. Get ready to enjoy outdoor and sustainable travel like hiking, cycling or sailing. Let's hit the road together!