Everybody knows the most touristy things to do in Madrid and the "must-do" day trips from Madrid. I am talking about excursions to Toledo, Cuenca or a daytrip from Madrid to Segovia.
These day trips are absolutely worth it since they take you to some of the most beautiful places in Spain.
However, I strongly recommend taking at least one day trip to a less known place near Madrid.

Indeed, there is no better way to live in tranquility and peace far away from the Spanish capital. On top, in most cases, you'll get a unique glimpse into the Spanish rural landscape.
Cities like Siguenza, Medinaceli, and others have preserved intact architecture and in some moments you feel like you traveled back in time.
That's why I strongly recommend foreseeing more than 24 hours in Madrid to go beyond the obvious touristy attractions.
Get ready for 3 secret escapes from Madrid and explore a less known side of the modern, bustling capital of Spain.
Useful Travel Information About Madrid
⚘ Avoid tourist traps and get the customizable "Spain Like a Local" itinerary. – Get it here

✈ Book cheap flights to Madrid with Skyscanner

✔ Book tours in Madrid with GetYourGuide

➳ Find the best hotels in Madrid with Trivago

❖ Rent a car with the best discounts with DiscoverCars

☘ Get the best outdoor gear (outlet) with REI.com

✎ Never leave without travel insurance. I get mine at SafetyWing. It is easy to set up, cheap and reliable.

$ Withdraw money without hidden fees, and avoid exchange rates with Wise (you'll get a free card on top!)
Related:
1. Secret Escapes Madrid: Medinaceli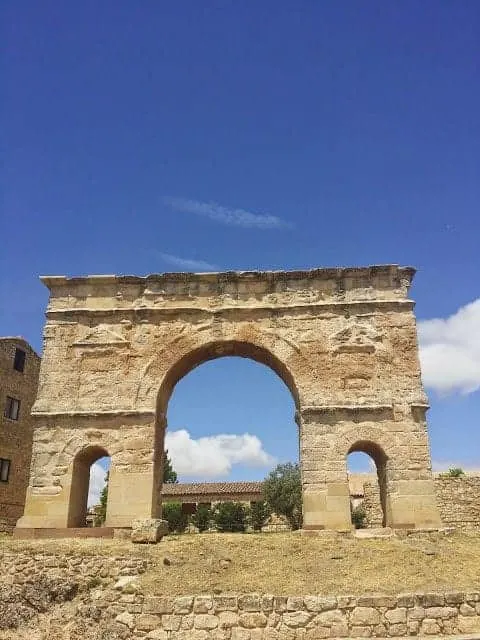 How to get there:
By bus – Buy bus tickets here
By car – Check cheap car rental deals here
Only a 1h30 drive from Madrid and we are in the ancient village of Medinaceli. I went on a weekday so I almost had all the village for my own!
Only a few people crossed my way. The village has a rich Arab, Roman and Celtiberic heritage… a great setting to get lost in history!
I recommend taking at least 1-2 hours to stroll through the village and let yourself be captivated by its rich history.
For more information on tourism in Medinaceli, feel free to visit the following link: Medinaceli tourism and map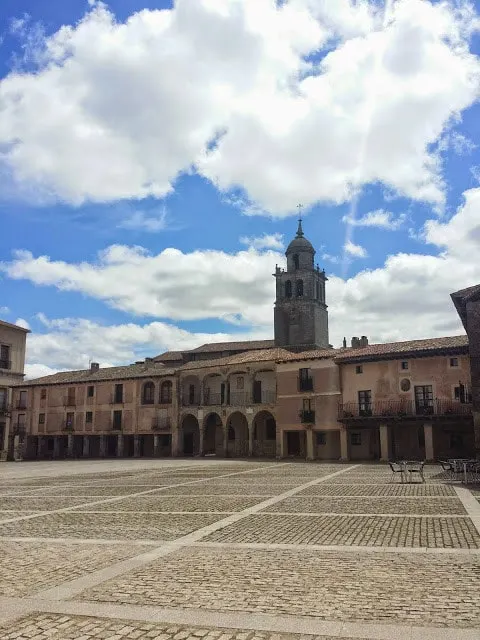 2. Secret Escapes Madrid: Siguenza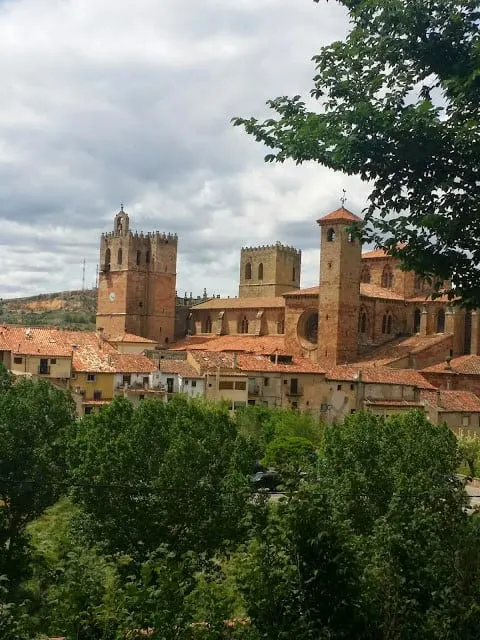 How to get there:
By bus – Buy bus tickets here
By car – Check cheap car rental deals here
Sigüenza, a small town that will impress you for sure! Only one hour away by car from Madrid, this medieval town has all the sights to make your visit unforgettable…
An Arab castle, an impressive cathedral and lots of narrow streets to be discovered.
Must do: The young nobleman in the cathedral is the symbol of this charming town and is well-known all over Spain. I recommend taking at least 2-3h to stroll around the city. Take the loop road around the castle to eye it up from every perspective!
For guided visits and excursions departing from Sigüenza, I recommend Turismo en Sigüenza: they even support you in the planning of your wedding in Sigüenza!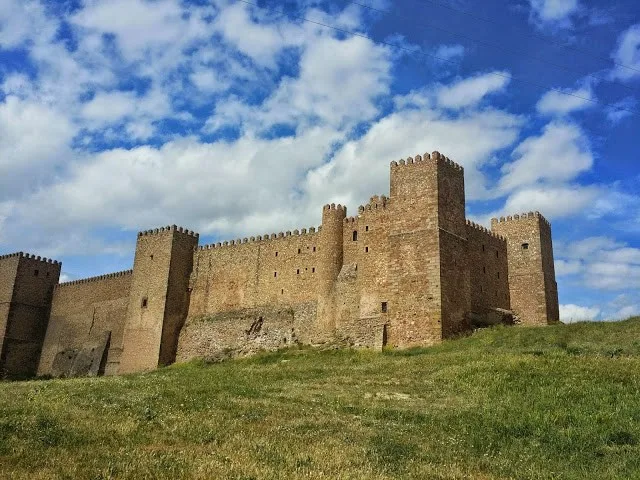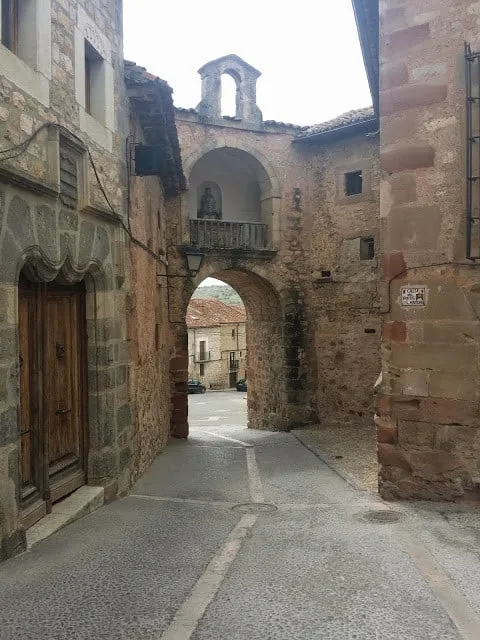 3. Secret Escapes Madrid: Soria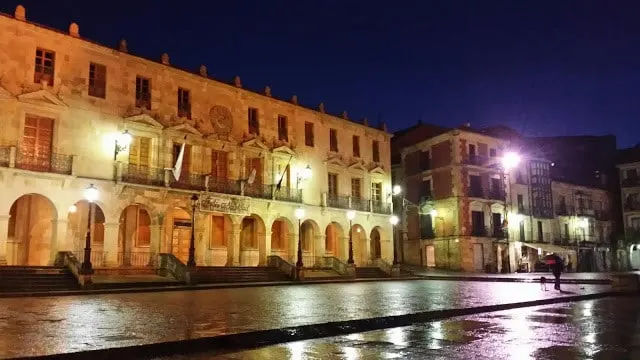 How to get there:
By bus – Buy bus tickets here
By car – Check cheap car rental deals here
Without any expectations, I went from Madrid to Soria in a 2h drive. And as in many cases when you don't know what to expect, you'll be more likely to be surprised!
The city where the famous Spanish poet Antonio Machado used to live, is fully packed with sights: a castle, a river, an ermitage…
I made my way from downtown to the upper castle from which you have a gorgeous view of the mountains and the surrounding river Duero.
A luxurious hotel, Parador de Soria, is ubicated in a lush park surrounding the former fortress of Soria. You should cross the river and make your way to the ermitage San Saturio!
It's a curious sight constructed inside a rock.
Must do: try the torreznos (fried pig grease… hello diet!), limonada de Soria (wine with sugar and fruit juice..hello again diet!) and tortilla rellena (filled Spanish omelet with ham and cheese)…
3 excellent dishes for less than 6€, was definitely worth it! I stayed one night in Soria, which gives you time enough to discover the hidden charms of this small city.
For more information on tourism in Soria, feel free to visit the following link: Tourism in Soria (English)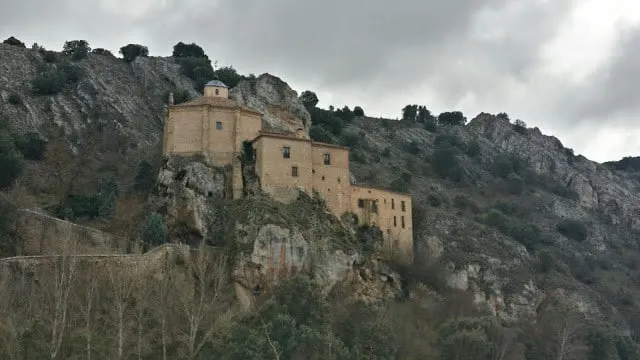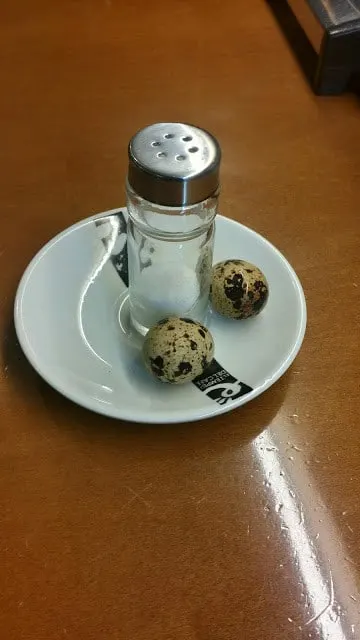 4. Ribera del Duero
Madrid is a great city to explore, but why not break the routine and take an unusual day trip from here? Ribera del Duero is one such destination that deserves special mention.
Located about two and a half hours away from Madrid, this region boasts of some of the best scenery in Spain, with vineyards stretching as far as the eye can see.
No matter what your preference is, there's something to entice everyone – if wine tasting is your thing, indulge your palate around Ribera del Duero's wineries while its historical buildings will quench your thirst for Spanish culture.
Unusual activities like hot air balloon rides and go-karting are also available when you need a bit of excitement during this trip!
5. Aranda de Duero
Looking for an unusual day trip from Madrid? Head out to Aranda de Duero!
Located in the province of Burgos, Aranda de Duero is a small city and municipality known for its many vineyards and wine cellars. Make sure to try some of their local wines while you're there!
Famous landmarks in the area include the Manolo Plaza Castle and the Church of San Juan Bautista.
The picturesque town center with cobbled streets is definitely worth exploring. In the summer months, don't miss out on some of the festivals held in Aranda de Duero like Semana Cultural and La Feria del Vino.
6. Royal Palace of La Granja de San Ildefonso.
Madrid is a great place to explore, but if you're looking for something different, why not take an unusual day trip to the Royal Palace of La Granja de San Ildefonso?
It's located in the hills outside of Madrid and offers a unique look at Spanish royal history. The palace grounds are impressive, with lush gardens featuring more than 190 kinds of trees and ornamental plants.
You can learn about European royalty in the galleries, chapels and libraries inside the palace and admire the sculptures throughout the world-famous Parterre Garden.
Finally, be sure to make time for a visit to Fuente de Neptuno, which is said to have been built as part of King Philip V's personal dedication to his new wife.
Unforgettable sights await those who venture out from Madrid on this extraordinary day trip!
7. Pedraza
If you're looking for an offbeat way to spend a day around Madrid, the small town of Pedraza is a great option.
Unusual and unique in its own right, Pedraza has centuries-old architecture and cobblestone streets that make it especially picturesque.
It's just a 1.5 hour drive from Madrid, but you could also hop on a train to get there quickly and easily.
Aside from meandering through the narrow cobblestone streets, there are plenty of activities to choose from.
You can explore the castle ruins located atop a hill, visit one of the many local bodegas offering tasting sessions, or take in some of the many cultural performances held in the village square each week.
8. Consuegra
Madrid is a great destination for those who love culture and history, but if you're looking to take an off-the-beaten-path day trip, Consuegra is the ideal spot.
Located an hour and a half outside of Madrid by train, Consuegra offers plenty of activities and scenery that make it worth the trip- like the 12 castle towers set on soaring hills amidst olive groves, or the Los Molinos windmills that make up a Unesco Heritage Site!
---
I hope you like these 3 unusual, secret escapes from Madrid.
Have you been to one of these? What was your favorite? I can't wait to hear from you in the comment form.
---
Before You Go: Top Tips for your Trip
You'll snap tons of photos and I love to take my GoPro in order to shoot even in extreme situations.
Wear comfortable walking shoes and hiking sandals when traveling to warm countries.
Sunscreen is key! I always take with me my eco-friendly sunscreen by Thinksport.
I always carry a light rain jacket, just in case.
Travel insurance is essential! If you haven't already obtained travel insurance for your trip, travel protected against all odds with World Nomads.
To make the most of your trip, I recommend Lonely Planet Madrid (get -10% off with code "PAULINA10")
---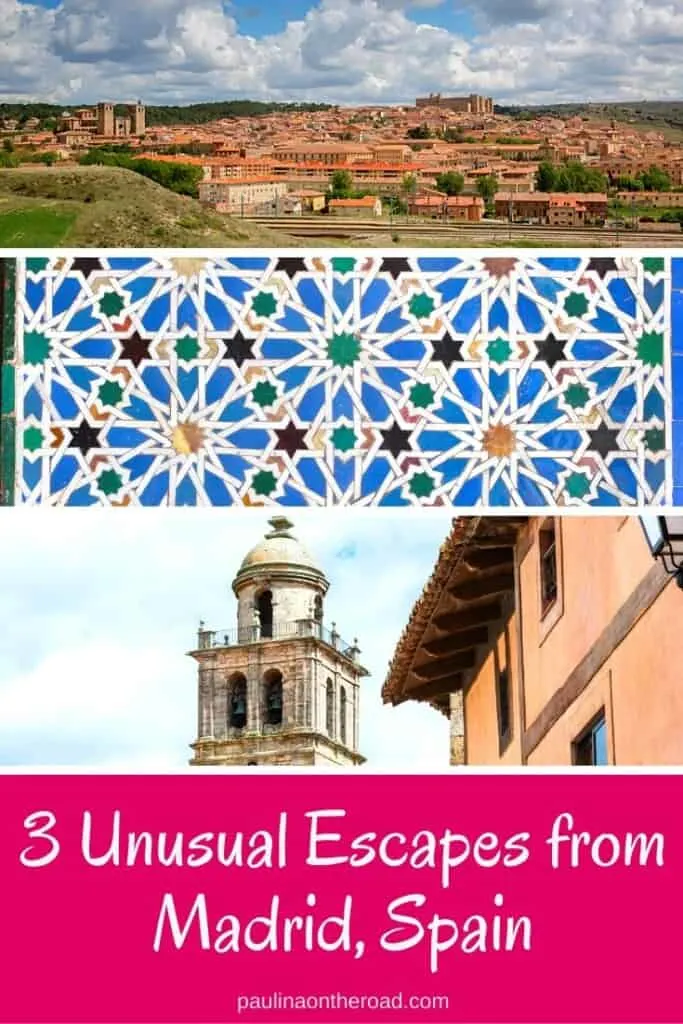 ---
Hola! I am Paulina, a fervent travelette who crossed the Atlantic Ocean by Boat HitchHiking. On my blog, you'll find all the tips to make the most of your holiday. Get ready to enjoy outdoor and sustainable travel like hiking, cycling or sailing. Let's hit the road together!