Everybody knows the most touristy things to do in Madrid and the "must-do" day trips from Madrid. I am talking about excursions to Toledo, Cuenca or a daytrip from Madrid to Segovia. These day trips are absolutely worth it since they take you to some of the most beautiful places in Spain. However, I strongly recommend taking at least one day trip to a less known place near Madrid.
Indeed, there is no better way to live the tranquility and peace far away from the Spanish capital. On top, in most cases, you'll get a unique glimpse into the Spanish rural landscape. Cities like Siguenza, Medinaceli, and others have preserved an intact architecture and in some moments you feel like you traveled back in time.
That's why I strongly recommend foreseeing more than 24 hours in Madrid, in order to go beyond the obvious touristy attractions.
Get ready for 3 secret escapes from Madrid and explore a less known side of the modern, bustling capital of Spain.
Practical Travel Information for Madrid
Book cheap flights to Madrid with Skyscanner or Kayak

Book buses and trains to/from Madrid with Omio.com

Find the best Hotel Deals in Madrid with TripAdvisor Hotels – Spain

Best tours and activities in Madrid with Viator

Rent a car with the best discounts at RentalCars.com

The best discounted Outdoor Gear at REI.com – Outlet

✎ Never leave without travel insurance. I get mine at WorldNomads

⚘ Get a travel guide in order to prepare your trip. I recommend Lonely Planet Guides (get -10% off with code "PAULINA10")
Related:
1. Secret Escapes Madrid: Medinaceli
How to get there:
By bus – Buy bus tickets here
By car – Check cheap car rental deals here
Only a 1h30 drive from Madrid and we are in the ancient village of Medinaceli. I went on a weekday so I almost had all the village for my own! Only a few people crossed my way. The village has a rich Arab, Roman and Celtiberic heritage… a great setting to get lost in history!
I recommend taking at least 1-2 hours to stroll through the village and let yourself be captivated by its rich history.
For more information on tourism in Medinaceli, feel free to visit the following link: Medinaceli tourism and map
Main square – Plaza Mayor
Roman Arch Medinaceli
Entrance door to the ancient city
View from the Moorish castle
Panorama view from the old town
2. Secret Escapes Madrid: Siguenza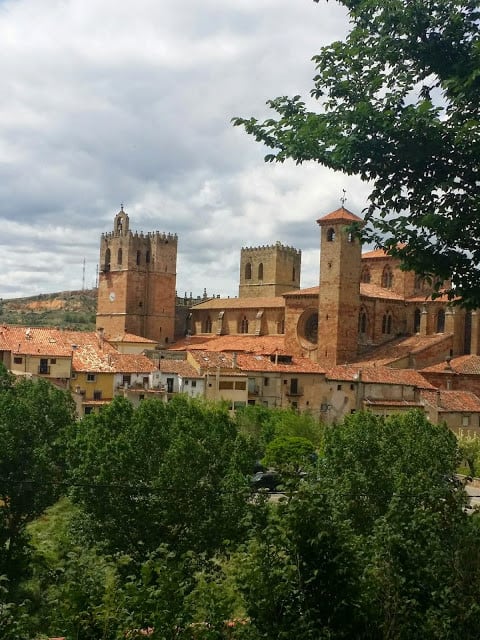 How to get there:
By bus – Buy bus tickets here
By car – Check cheap car rental deals here
Sigüenza, a small town that will impress you for sure! Only one hour away by car from Madrid, this medieval town has all the sights to make your visit unforgettable… An Arab castle, an impressive cathedral and lots of narrow streets to be discovered.
Must do: The young nobleman in the cathedral is the symbol of this charming town and is well known all over Spain. I recommend taking at least 2-3h to stroll around the city. Take the loop road around the castle to eye it up from every perspective!
For guided visits and excursions departing from Sigüenza, I recommend Turismo en Sigüenza: they even support you in the planning of your wedding in Sigüenza!
Entrance to the old town
Old City Gate
The young knight of Sigüenza

Panorama view
Cathedral of Sigüenza
3. Secret Escapes Madrid: Soria
How to get there:
By bus – Buy bus tickets here
By car – Check cheap car rental deals here
Without any expectations, I went from Madrid to Soria in a 2h drive. And as in many cases when you don't know what to expect, you'll be more likely to be surprised! The city where the famous Spanish poet Antonio Machado used to live, is fully packed with sights: a castle, a river, an ermitage…
I made my way from downtown to the upper castle from which you have a gorgeous view of the mountains and the surrounding river Duero.
A luxurious hotel, Parador de Soria, is ubicated in a lush park surrounding the former fortress of Soria. You should cross the river and make your way to the ermitage San Saturio! It's a curious sight constructed inside a rock.
Must do: try the torreznos (fried pig grease… hello diet!), limonada de Soria (wine with sugar and fruit juice..hello again diet!) and tortilla rellena (filled Spanish omelet with ham and cheese)…
3 excellent dishes for less than 6€, was definitely worth it! I stayed one night in Soria, which gives you time enough to discover the hidden charms of this small city.
For more information on tourism in Soria, feel free to visit the following link: Tourism in Soria (English)
City view
Bridge over the Duero river
Students on their way home
Autumnal park next to the castle
Tapas in Soria
Castle ruins at city park
I hope you like these 3 unusual, secret escapes from Madrid. Have you been to one of these? What was your favorite? I can't wait to hear from you in the comment form.
---
Before You Go: Top Tips for your Trip
You'll snap tons of photos and I love to take my GoPro in order to shoot even in extreme situations.
Make sure to wear comfortable walking shoes and hiking sandals when traveling to warm countries.
Sunscreen is key! I always take with me my eco-friendly sunscreen by Thinksport.
I always carry a light rain jacket, just in case.
Travel insurance is essential! If you haven't already obtained travel insurance for your trip, travel protected against all odds with World Nomads.
To make the most of your trip, I recommend Lonely Planet Madrid (get -10% off with code "PAULINA10")
---
Like it? Pin it!
Like it? Pin it!
---