The complete guide to unique and unusual things to do in Madrid, Spain from a local
So the end of my 3-year long stay in Madrid is coming closer and closer… It has been an amazing time with great people and a lot of traveling. As a happy Madrid ciudadano, I discovered many alternative things to do in Madrid.
There are a lot of amazing things to do in Andalucia, but living in and exploring all the amazing alternative things to do in Madrid was definitely a highlight of my life so far.
Getting to visit cool cities for a living is the best part of having a travel blog. Madrid is easily one of the coolest cities I've ever lived in because of this blog.
Thanks to affiliate links, I pay my bills. If you make a purchase through them, I may receive a small commission at no cost to you. As an Amazon Associate I earn from qualifying purchases. All opinions are always mine. Merci!
Useful Travel Information About Spain
⚘ Avoid tourist traps and get the customizable "Spain Like a Local" itinerary for less than 10€. – Get it here

✈ Book cheap flights to Spain with Skyscanner

✔ Book tours in Spain with Viator

➳ Find the best hotels in Spain with Trivago

❖ Rent a car with the best discounts with DiscoverCars

☘ Get the best discounted outdoor gear (outlet) with REI.com

✎ Never leave without travel insurance. I get mine at SafetyWing. It is easy to set up, cheap and reliable.

$ Withdraw money without hidden fees and avoid exchange rates with Wise (you'll get a free card on top!)
Do you want to get active in Madrid? Then this selection of the best tours and activities in the Spanish capital might come in handy.
If you're wondering where to stay when not exploring all the awesome alternative things to do, check out my ultimate guide on the best neighborhoods in Madrid. For long term stays, you should consider booking an Airbnb in Madrid.
Book here your skip the line tickets for the best Madrid attractions
Why Bother about Alternative Things to do in Madrid?
If you read any Madrid travel blog, they'll tell you visit the Royal Palace, or the Museo Nacional del Prado, and those places are must sees, but crowded.
That's why I want to share my favorite alternative things to do in Madrid with you. These are all the hidden gems you won't find on a typical one day itinerary for Madrid, but they are still worth your time!
Don't get me wrong, I love so many cities in the Andalusian part of Spain, especially the captivating city of Malaga. I spent enough time to find all the best places to stay in Malaga, where to eat in Malaga and the most delicious food in Malaga. But nowhere comes to close to being as magical as Madrid.
I feel really fortunate to have lived so many positive experiences. Of course, there have been some negatives too, but you should only keep the best of it! Before leaving I wanted to share with you some hidden jewels of the Spanish capital I discovered in the last months.
Do you know them all?
This post includes all the best hidden places in Madrid, and even a few unusual facts about Madrid. It really is an amazing city, but with so many tourists, it can be overwhelming. I hope you enjoy these hidden gems Madrid has to offer as much as I do!
Madrid is a very safe city (beware of the pickpockets though in the metro) and there are no areas to avoid in Madrid center.
Of course, if you need a break from exploring all the cool secret places in Madrid, consider taking a day trip. That way you can check out all the cool things to do in Malaga, or the relaxing things to do in Marbella. Another great option is doing a day trip from Madrid to Segovia.
If you're still in the planning process and looking for further inspiration for your trip, I also recommending watching some of the best movies set in Spain!
Let's dive right into the most alternative things to do in Madrid.
---
1. Dehesa de la Villa
Dehesa de la Villa is a huge park, located in the north of Madrid and a likeable alternative to the always crowded and touristy Retiro Park. Only 30 minutes away from city center "Sol", it invites to relaxing walks with views on the mountains.
Taking a stroll through the shady park is one of my favorite unusual things to do in Madrid.
Open-air sports activities are organized by many groups: Pilates, Yoga, running and fitness by Running Park are only a few. With a bit of luck, you'll see squirrels or parrots! But the best is still its Chiringuito, La Paloma!
It is one of the best places to eat in Madrid while being surrounded by nature. Here you'll find some of the best traditional food to try in Madrid. If you're lucky you'll even be able to order some Boquerones Fritos.
Its chilly terrace covered by treetops offers release from Madrid's suffocating heat in summer. You have to try the highlight of their menu: the charcoal-grilled meats!
The area around la Dehesa de la Villa is also one of the best places to live in Madrid.
Book here the best ham and wine tour of Madrid
2. Faro de Moncloa
The Faro de Moncloa ("Moncloa Lighthouse") is one of Madrid's new tourist sights. But this 92 m high view point is not only appealing to tourists, but also to long-standing ex-pats and Madrileños.
It is absolutely perfect for some Madrid sightseeing because the view is stunning and makes you realize how green the Spanish capital is. From here you can see the snow-capped mountains of Sierra de Guadarrama in the north and the biggest urban park Casa de Campo in the East embrace the city from two sides.
The interior of the Faro gives useful data and background information on architecture and urbanization. It's also the perfect place for visitors to discover not so touristy buildings such as the Cuatro Torres Business Area (4 Towers Business Area).
Entrance fee to the Faro is only 3 € and a nice leisure option if traveling with children or for a lazy Sunday afternoon.
Paulina on the road… asks just for one thing: please open soon a rooftop bar in Faro de Moncloa! These views are screaming to be enjoyed with Chocolate con Churros and Café con Leche!
Book here a tapas walking tour of Madrid
3. Winter Sports in the Mountains
Yes! Madrid has mountains!
Yes, it snows in Madrid Region!
And yes, you can actually enjoy winter sports in Madrid! In fact it's one of the best alternative things to do in Madrid during the winter season.
Many people are indeed surprised that the mountains surrounding Madrid have facilities for winter sports and first-class hiking options. Most important ski stations are Puerto de Navacerrada and Valdesqui, both a 1 h drive away from the Spanish capital.
You can rent all the necessary material for skiing, snowboarding or snowshoe walking (even gloves!) directly at the stations. If you plan on making it a regular activity, consider buying some comfortable ski gear that will make the experience more enjoyable.
The slopes are not comparable to the Alps, but the breathtaking views and the short distance to one of the most exciting European capitals, make the Sierra a valuable leisure option. Hiking in Madrid Club is the best option for your hiking tours in Madrid: every Sunday a group of international people meets to conquer Madrid's mountains.
During summer, the mountains of Madrid are a great recreation area and appreciated escape from the suffocatingly hot temperatures in Madrid. It's one of the more unusual, almost secret escape from Madrid.
The restaurants in the mountains of Madrid serve some of the best food in Madrid.
Since winter sports are not always covered by standard travel insurance, make sure to check out the most affordable travel insurance options for Spain.
Explore Spain like a local with this amazing guide
4. El Bar Andalú at Plaza Mayor
If you want to give your city trip to Madrid an Andalusian touch, then Bar Andalú is THE place! An overload of "Spanish" decoration of bullheads, shocking bullfighting photos and shiny matador kitsch suppose to make this bar representative of Andalusian culture.
Actually, on all my travels to Andalusia, I never saw a bar that was THAT Andalusian!! Nevertheless Bar Andalú is a curious and entertaining place to have a coffee directly on Plaza Mayor. Have it on the bar, since the price triples if you have it on the terrace!
Even if you only have 24 hours in Madrid, Bar Andalu is convenient to reach as it's located on the central Plaza Mayor.
Book here your wine tour in Madrid
4. Old School Cinema: Pequeño Cine Estudio
When I first moved here I asked a few Madrid travel bloggers for the best secret places Madrid has to offer, the Pequeño Cine Estudio came up a few times, so I knew I had to visit.
And it didn't disappoint. This became one of my favorite alternative things to do in Madrid. I watched quite a few cool films here.
The Pequeño Cine Estudio ("Little Movie Studio") is a paradise for true cinephiles and movie nostalgics!
Besides the famous Ciné Doré in the city center, Pequeño Cine Estudio is the place to be for those who know to appreciate the seventh art. This cute movie theater near Quevedo Station will let you experience a night out in the cinema like in the old days.
It is hard to believe that this jewel hidden in a residential block, was once the Eldorado madrileño for moviegoers. Indeed in the 70's and 80's Pequeño Cine Estudio was a pioneer in the Spanish capital when it came to launching movies in their original version.
That's why this cinema with its 104 seats still is a favorite movie place for expats in Madrid. Nowadays it is mainly specialized in low budget, art-house and documentary movies from all over the world. Many of the films shown here, can't be seen anywhere else in Madrid!
Do you want to relive again this pleasant intriguing anticipation when you enter a cinema? Then you need to visit Pequeño Cine Estudio! And the best is, you can even rent it for private viewings and events!
Buy here your essential Spain Like a Local Guide
5. Belgian Chocolate Shop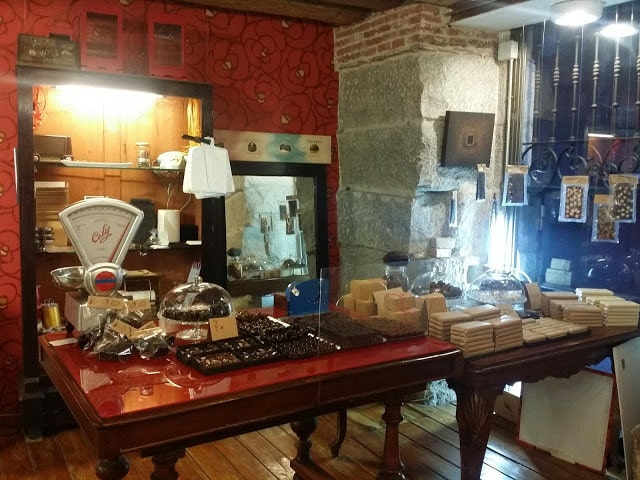 A chocolate shope like in a fairy tale! – Una chocolatería como en un cuento!
After Barcelona, Madrid is Spain's Chocolate Capital! Chocolate tasting is one of the best unique things to do in Madrid.
Besides the superfamous Spanish chocolaterías "Valor" or "San Ginés", there is a very cute and small shop next to Plaza Mayor which sells delicious Belgian chocolate products!
Chocolala Belga in Calle del Bonetillo 1 is famous for its hot chocolate for 1.50€ with a slight bitter touch… an evident sign that it has a very high cacao percentage!
Unlike the Spanish chocolate, this one is not thick but liquid. Besides its excellent hot chocolate, they sell delicacies like caramelised oranges covered with dark chocolate or sparkling wine-cacao truffles…
During the time you try to make your very hard choice, you can watch the owner preparing new goodies in his magical atelier. After you experience this part of hidden Madrid, you'll never want to wake up from this delicious chocolate dream!
Book here the best tapas walking tour in Madrid
6. Naval Museum of Madrid
Only a lucky few know this hidden treasure in the heart of the Spanish Capital: the Naval Museum of Madrid. Located inside the Spanish Navy's Headquarters at the famous Paseo del Prado, aka the "Avenue of Art", this place will captivate you for hours!
Before I visited, I thought the museum would be busy, but it wound up being one of Madrid's best kept secrets. If you have any interest in naval history and want some cool places to visit in Madrid, you will love the Naval Museum.
Its collection is fascinating indeed: it hosts weapons, maps, navigation instruments and, of course, many ship models. It is easily one of the best museums in Madrid.
It documents the eventful history of the Spanish Navy since the Catholic Kings up to now. The most interesting part surely is one of the Discoverers! It's simply unbelievable how these brave men could cross Oceans in such tiny boat-nutshells!
The most fascinating item of the museum is the earliest preserved map of the American continent made by Juan de la Cosa.
The building alone is worth a visit! Boat parts are perfectly blended with the architecture for the building.
The gem of the treasure surely is the monumental staircase of the Navy's headquarter built-in Marmara marble and covered by a colorful and artistic glass roof.
Book here tours and tickets for Madrid museums
7. The Turtles of Atocha Train Station
Have you ever seen a tropical garden in a train station? If not, you need to come to Madrid to see this with your proper eyes! This is definitely one of the top hidden gems in Madrid.
When you enter Atocha, Madrid's main train station, you'll be blown away by the combination of a lush tropical garden with a filigree metal 19th-century structure built by a collaborator of Gustave Eiffel. The glass and metal structure make one of Spain's busiest traffic hubs a modern and relaxing greenhouse.
In its garden, you'll discover 260 different species from Asia, Australia, and America. In total several thousand plants call Atocha their home!
You shouldn't leave without having said 'Hello' to the concierges of the tropical garden: a couple of dozen turtles!
Book here the best Madrid tours
8. Adelita Market (Malasaña)
I always love visiting local markets because, and Adelita Market is one of the best hidden gems in Madrid.
This is really a flea market, and it's perfect if you want to pick up some fun and fashionable clothes at a great place. I've managed to find some super cute vintage jackets for cheap.
It's also a great way to practice your Spanish, and learn some useful shopping phrases!
Adelita Market is open the third weekend of every month.
Buy here the best insiders guide to Spain
9. Museo de America (Moncloa)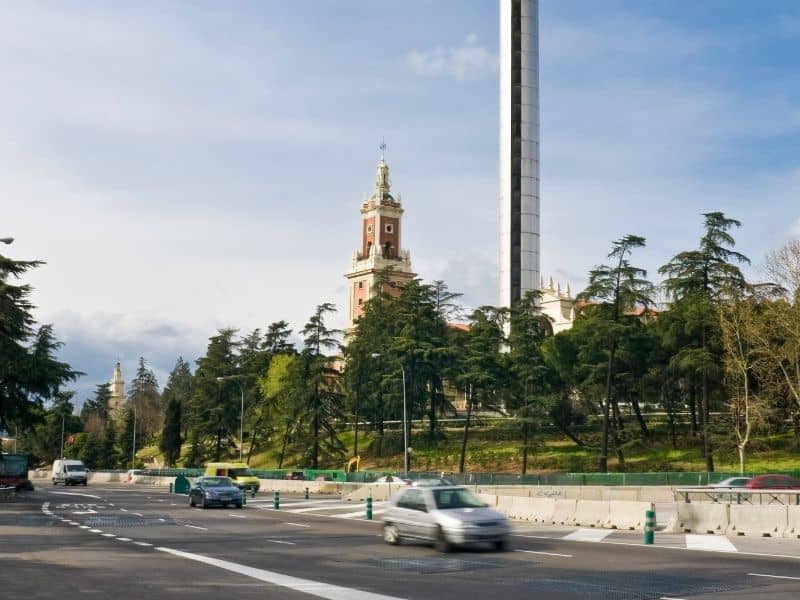 One of the top cool places to visit in Madrid for history buffs is the Museo de America. This museum is dedicated to the history of the Americas, including both North and South America. It is a celebration of the cultures throughout the Americas.
There are over 25,000 objects within the museum mostly collected from archaeological digs.
Through these items, visitors can learn all about the colonization of Latin and South America, and the cultures that pre-dated the Spanish.
Book here the best Madrid museum tours and tickets
10. Capricho Park (Barajas)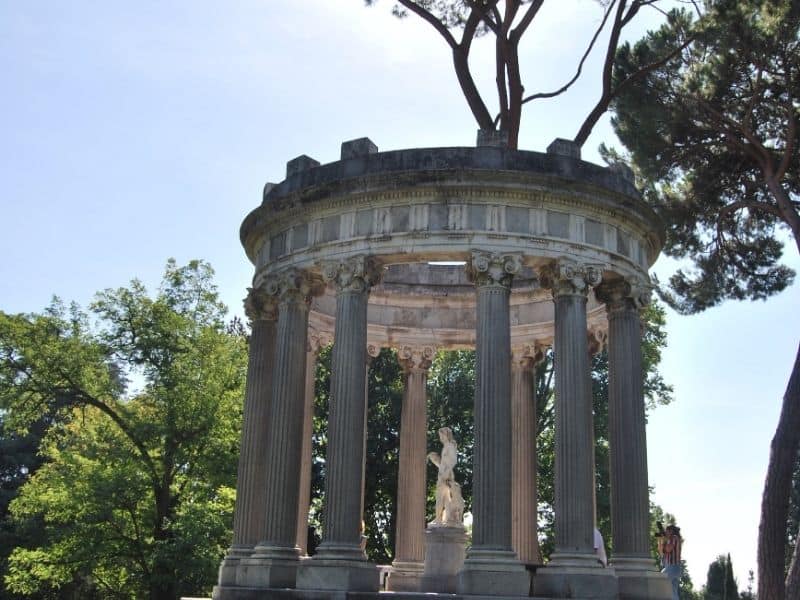 Despite being one of the city's most impressive parks, Capricho Park remains one of the best kept secret places in Madrid. The park was built in 1784 by the Duke and Duchess of Osuna, and a popular spot for artists throughout the 1700s.
However, the park sadly fell into disrepair after their deaths. Fortunately in the 1970s, the Madrid City Council began restorations on the park and reopened it to the public in 1999.
Now it is one of the most unique things to do in Madrid. Visitors can walk through the labyrinth, or admire the beautiful gardens and carved statues throughout the park.
Pack a picnic and stroll through, or relax in the park after a long day of Madrid sightseeing.
Book here the best walking tours in Madrid
11. Visit Quinta de los Molinos Park
Like Capricho Park, this is a somewhat hidden Madrid park. Very few tourists know it exists, so you'll mostly see locals enjoying the greenery.
The biggest appeal of Quinta de los Molinos Park is the various species of trees.
Throughout the park, you can find eucalyptus, olive, pine, and more. And, if you are able to visit between mid-February through March, you can even see the almond trees in bloom, which is an absolute must!
If you love nature, this is one of the best alternative things to do in Madrid. Come during the week, and you might even get the park to yourself for a bit!
Skip the line for all the best Madrid sites
12. Enjoy Street Art Near La Tabacalera de Lavapies
In Madrid secret places are aplenty, and one of the coolest is the former tobacco factory and the surrounding area. This whole neighborhood is overflowing with amazing street art!
Although previously a tobacco factory for nearly 200 years, the factory was closed down in 2000, before being bought by Spain's Ministry of Culture in 2003. Since then it has become a beacon of art and culture for Madrid.
If you love street art and want to explore hidden Madrid, you could spend days exploring every inch of this neighborhood. There are so many pieces here, as well as underground concerts and exhibitions!
Lavapies is also one of he best neighborhoods to stay in Madrid, so if you enjoy alternative things, you'll love saying here.
Book here the best Airbnbs in Madrid
---
Is this list of alternative things to do in Madrid complete? Of course not! Tell me about your favourite secret places in Madrid in the comments!!
---
Before You Go: Top Tips for your Trip
---
Short FAQ about Alternative Things to do in Madrid
1. What are some unusual facts about Madrid?
Madrid is the financial capital of Spain, and is not only the third largest city in Europe, but it is also considered both a city and a state. Madrid was founded in 860 CE, and has its own mountain range.
2. What are unusual things to do in Mardrid at night?
Many associate Madrid's nightlife with clubbing and bars, but one of my favorite alternative things to do in Madrid at night is head to the Pequeño Cine Estudio. Here you can watch movies like in the old days. They mostly show art house and indie films. If you want to check out the bar scene but with less people, I recommend El Bar Andalú at Plaza Mayor.
3. What are non touristy things to do in Madrid?
Madrid is a big city, and there are a lot of fun and unique things to do in Madrid. One of the best ways to get off the beaten path is to head to the parks. There are several secret parks in Madrid, including Dehesa de la Villa and Capricho Park. Another great thing to do is searching for street art near La Tabacalera de Lavapies.
---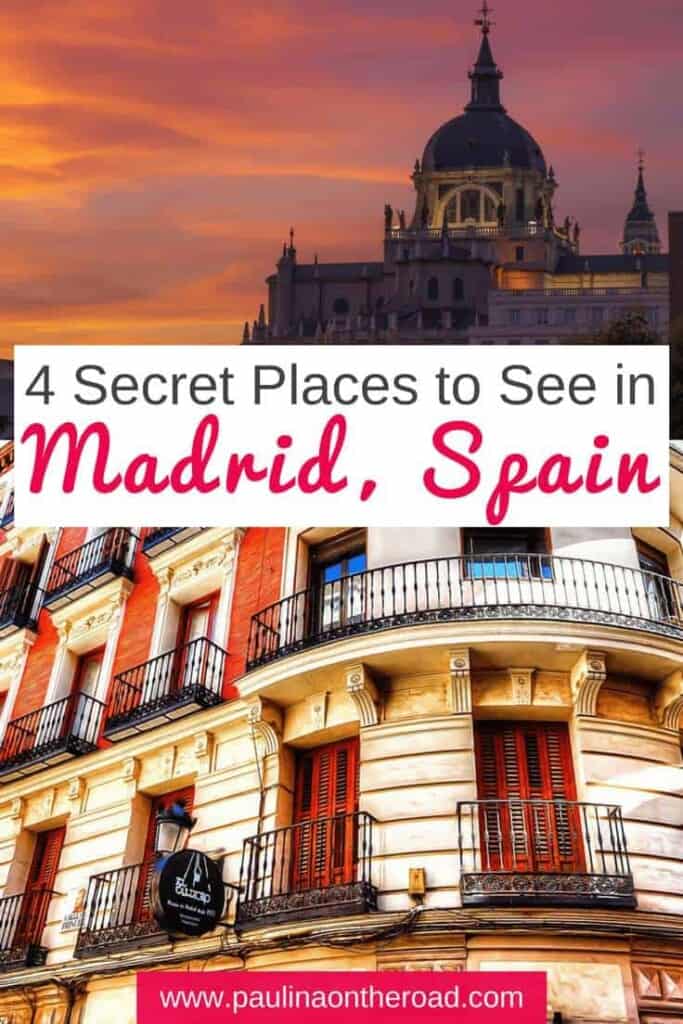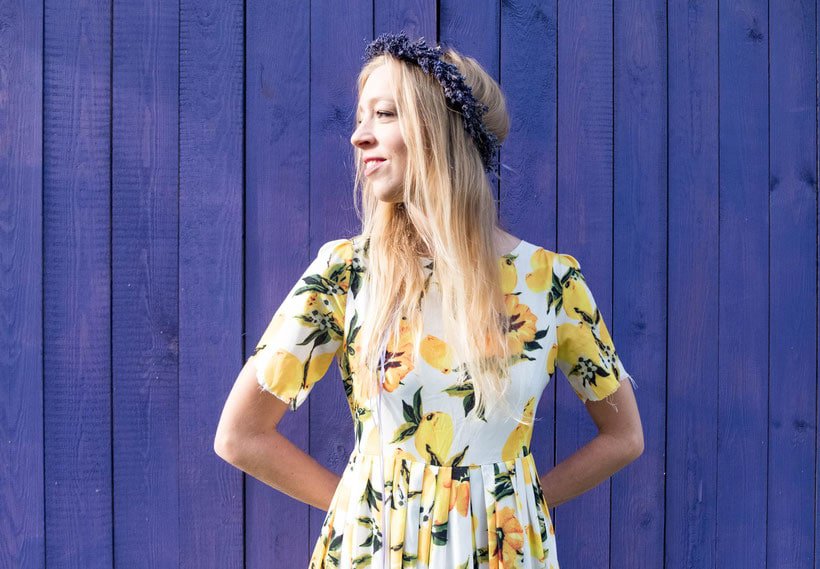 Hola! I am Paulina, a fervent travelette who crossed the Atlantic Ocean by Boat HitchHiking. On my blog, you'll find all the tips to make the most of your holiday. Get ready to enjoy outdoor and sustainable travel like hiking, cycling or sailing. Let's hit the road together!