Guide to the typical food of Madrid, including street food and where to eat tapas in Madrid, Spain
Are you ready to explore the flavors of Madrid? With its unique and delightful cuisine, this vibrant Spanish city has something for everyone, from traditional tapas to innovative fusion dishes.
From street food to sophisticated gastronomic experiences, if you're looking for a culinary adventure, Madrid is waiting!
Join me on an exploration of where to find some of the best food in Madrid — I guarantee you won't be disappointed.
So grab your appetite and let's dive into some deliciousness!
Pssst…!!?? You can't get enough of Madrid? Have a look at my other posts I wrote about the Spanish capital:
This blog is supported by you, dear reader. If you purchase through a link, I earn a small commission. As an Amazon Affiliate, I earn from qualifying purchases.
1. Suckling Pig
Suckling pig (cochinillo) is one of my favorite dishes to eat in Madrid. Even though it is a typical dish from the small villages in the surrounding mountains of Madrid, you can also get it in the capital itself.
You can get the best one in Segovia, where the preparation of suckling pig is a local tradition and competition. If you have the time, I recommend a day trip from Madrid to Segovia.
Suckling pig is slowly cooked for several hours which makes the meat very tender and the skin very slim crisp crackling.
If well prepared, the luscious meat just drops from the ribs when you want to cut it.
The rules are very strict: the pig should only be milk-fed and shouldn't be older than 2-3 weeks. It's some of the most traditional food to try in Madrid. In case you are wondering what to eat in Spain, suckling pig is definitely a must!
Top restaurants in Madrid to eat suckling pig:
2. Spanish Omelette (Tortilla)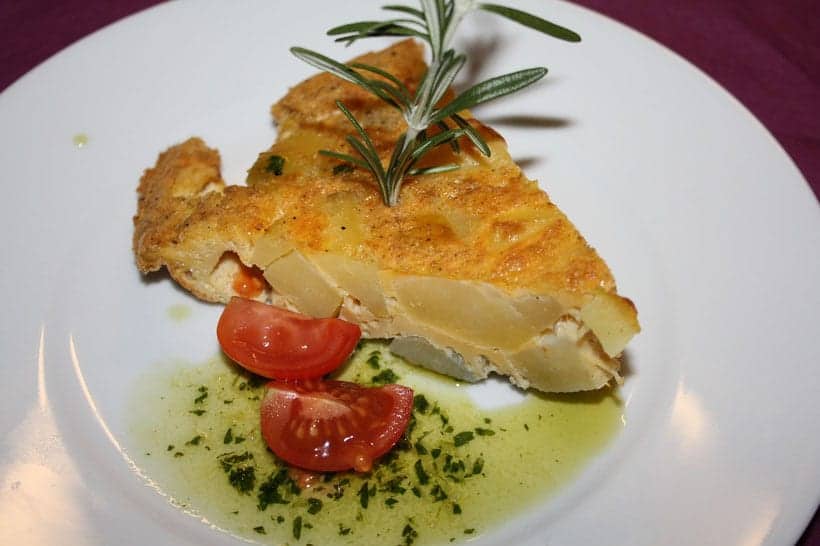 You can't leave Spain or Madrid without having tasted a pincho de tortilla (also known as Spanish omelet).
Even though it is one of the simplest dishes you can have, every bar or restaurant in Madrid has a different way of preparing it. If you want to eat in Madrid, you can't skip tortilla.
The tortilla española shouldn't be confused with the tortilla Francesa (French omelet) which comes without the fried, thinly-sliced potatoes.
Opinions differ whether the real tortilla has onions or not. At some places, you get tortilla with spinach, peppers, chorizo, and other varieties.
A really good tortilla needs to be golden brown and firm at the outside, and a bit liquid inside. It can be served either hot or cold.
Tortilla can be eaten in a sandwich or as a pincho to join your beer. When looking for famous food in Madrid, it doesn't get anymore traditional then with having a tasty tortilla.
Best places to eat in Madrid for Spanish omelet (tortilla):
3. Churros
Of course, there must be something sweet! The most popular food to eat in Madrid, Spain for anyone with a sweet tooth is chocolate con churros. The fried-dough pastry can be eaten at any time of the day, but it's particularly appreciated at the merienda (afternoon snack at 6 pm) or as morning breakfasts on Sundays.
Wikipedia lists churros as breakfast, lunch, dinner, AND snack! Anytime is churros time.
I particularly loved having churros after visiting the museums in Madrid and it's no wonder that churros are considered one of the best snacks from Spain.
Churros (the thicker version is called Porras) are crispy on the outside and spongy inside. I like them hot, directly from the fryer and dipped in a thick hot chocolate. In opposite to other countries, hot chocolate in Spain is thick like a pudding.
For me, there is nothing better to have chocolate con churros after clubbing or a long night out. I am convinced that it's the best way to prevent a hangover.
Churros are definitely one of the tastiest Spanish food to try in Madrid.
Where to eat in Madrid for churros con chocolate:
4. Meat and Chickpea Stew (Cocido madrileño)
Cocido madrileño (meat and chickpea stew) is a hearty, substantial stew that is usually eaten during the winter months (You'll not want to eat Cocido Madrileño when it's a burning 35°C outside…).
The dish is based on chickpeas and is prepared with meat and vegetables like cabbage, carrots, turnip and potatoes.
Cocido madrileño is usually served in 3 different courses: first the broth with thin noodles (fideos). Then, the chickpeas (garbanzos) and vegetables, finally followed by the meat.
And then, it's definitely time for a long siesta!
Top restaurants in Madrid to eat Cocido Madrileño:
5. Tripes Madrid-style (Callos a la madrileña)
Madrid-style tripe (Callas a la madrilena) is, like the Cocido madrileño, a dish with humble origins.
Its recipe goes back to 1599 and consists of a stew including chickpeas, beef tripe, blood sausage, and chorizo. Regarding vegetables, it comes with garlic, tomato and bell peppers.
The stew is cooked for long hours and is usually eaten on Sundays when you're sitting together with your family.
Best places to eat in Madrid for Callos a la madrileña:
6. Calamari Sandwich (Bocadillo de Calamares)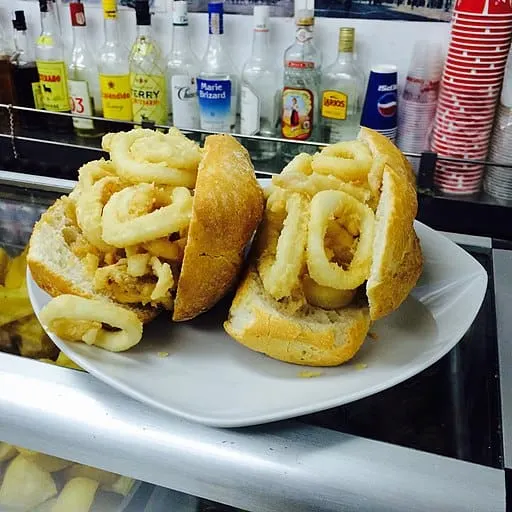 The bocadillo de calamares (calamari squid sandwich), is yet another must-eat food in Madrid.
The bocadillo de calamares is a bread roll filled with olive oil fried squid rings.
I really liked it but I was missing a sauce like mayonnaise or tartare sauce to make it easier to eat. However, that's the traditional way to eat some of the best food in Madrid.
It's usually eaten with a small beer (a caña) and you can have it at any time: lunch, dinner or afternoon snack (merienda).
Again, this typical Madrid food is all you can wish for after clubbing in Madrid's best clubs. It's one of the most popular snacks in Spain.
Even though Madrid has no access to the sea, it has some of the freshest fish and seafood in Spain.
This is because the latest catch from the shores is first delivered to Madrid before being shipped throughout Spain.
Best restaurants in Madrid to eat a bocadillo de calamares (calamari sandwich):
7. Broken Eggs (Huevos Estrellados or Huevos Rotos)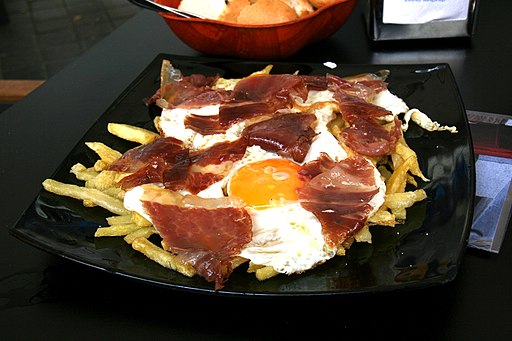 Can you believe that broken eggs (huevos rotos) are a local specialty from Madrid and that you can easily prepare them at home?
Well, the broken eggs from Madrid are nothing else you've seen or tasted so far.
Huevos rotos or huevos estrellados (starry eggs) are one of the dishes to try when traveling to Madrid. They are usually served on a bed of French fries, Iberian ham, chistorra (sausage) or chorizo.
You can eat this delicious meal at almost any bar or restaurant in Madrid. However, the most famous place to have huevos rotos (even the King's having his broken eggs here!) is Casa Lucio.
Best places to eat in Madrid for huevos rotos (broken eggs):
8. Snails Madrid-Style (Caracoles a la Madrilena)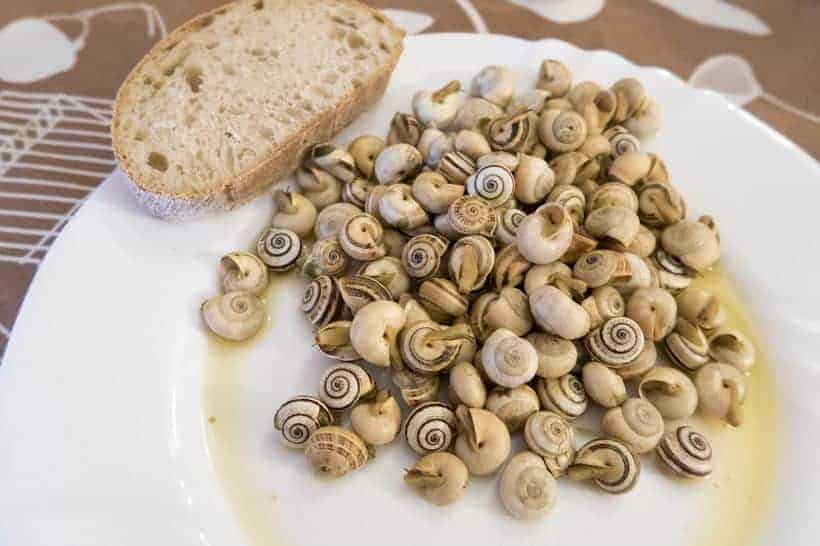 Snails Madrid-style are a Madrid traditional food to try in the city's bars and taverns. They are yet another legacy of Madrid' humble origins.
Did you know that eating snails goes back to Roman times?
Snails are usually served in a clay pot as a tapa or a pincho, together with a beer or a red wine.
The secret of this meal lays definitely in the sauce.
It's cooked for long hours and is based on a meat broth made of chorizo, Iberian ham, wine, and onions and has a spicy touch.
Top restaurants in Madrid to eat caracoles a la Madrileña (snails Madrid-style):
9. Rosca Madrileña
Rosca Madrileña is a traditional dish from Madrid which is hard to find nowadays.
Rosca is the Spanish word for donut and roscas (cakes) are usually served for Christmas or for Three Kings Day. It's the typical traditional food of Madrid of that time.
However, the rosca Madrileña is all about meat served in a donut form. It consists of pork and veal meat, mixed with ham, bacon, flour, and eggs and backed with a thick mushroom sauce.
As it takes a very long time to prepare, the dish is hard to find in Madrid's bars.
Best Madrid restaurants to eat Rosca Madrileña:
10. French Toast (Torrijas)
The tradition of eating and preparing torrijas in Spain goes back to the 14th century. Torrijas are mostly eaten during the Semana Santa (the Holy Week before Eastern).
Known as French toast, torrijas were a way to use old bread leftovers. It's super easy to prepare. All you need to do is soaking bread slices in warm milk with sugar and cinnamon.
Add some batted eggs and deep fry the slices in butter or virgin olive oil. Cover them with brown sugar just before serving.
Best restaurants in Madrid to eat torrijas (French toast):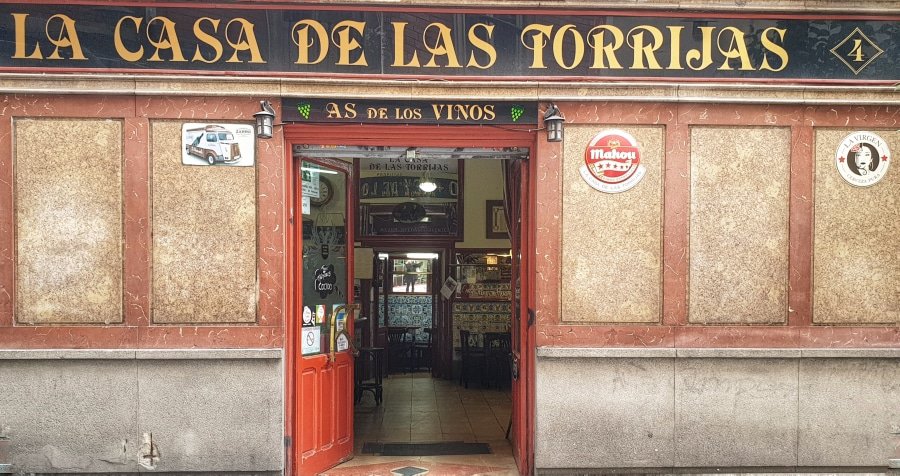 11. Patatas Bravas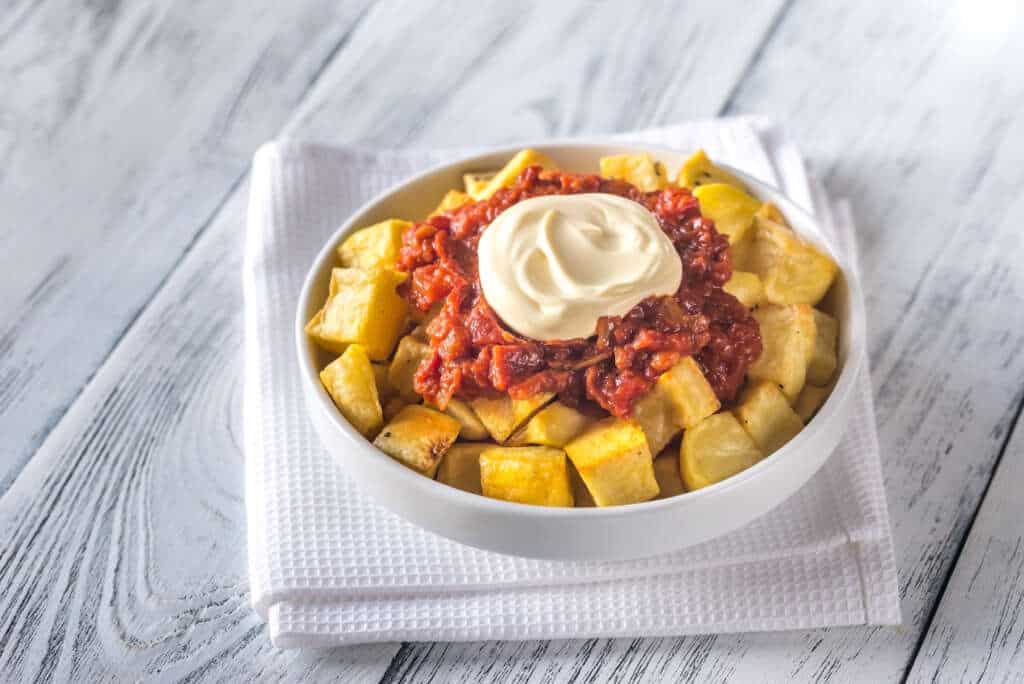 Who doesn't love some fried potatoes? The best thing about them is probably that they are always prepared in a different way, depending on where you travel.
If you are used to Belgian fries, you'll be astonished when you order patatas bravas in Madrid, the Spanish version of fried potatoes. Unlike their Northern counterpart, they are cut in cubes.
You can have patatas bravas as tapas or during your main course as a dish to share. Their firm, fired skin and warm inside make everybody melt immediately.
Patatas bravas are usually served with a hot, spicy tomato sauce to dip. Some restaurants add a scoop of tasty alioli garlic sauce to it. A delight!
It's an all-time favorite whether you're a tourist or a local.
Patatas bravas is not only one of the most traditional dishes of Madrid but also one of the best things to eat in Madrid when you're travelling on a budget.
Top restaurants in Madrid to eat patatas bravas:
12. Orejas a la Plancha
When I tell people there was so much delicious food to eat in Madrid, they of course want to know what food is Madrid famous for.
They're not normally expecting to hear about orejas a la plancha (grilled pig's ears), which is some of the most unique food to try in Madrid.
Because it is made from a pig's ear it's also often called oreja de cerdo (pig's ear).
The dish is found all over Spain, but is one of the popular foods in Madrid. It is typically served as a tapas dish served with bravas (spicy tomato sauce) and squeezed lemon.
Best restaurants in Madrid eat orejas a la plancha
13. Jamón Ibérico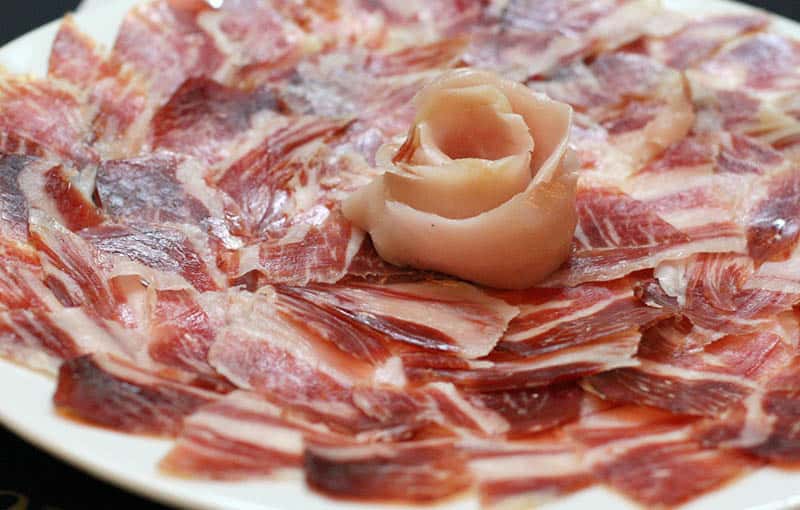 Jamón Ibérico is found throughout Spain and Portugal, and is some of the most popular food in Madrid. It is a type of dry, cured ham and comes from Black Iberian pigs.
The regulations are very strict for classifying and the pigs must be at least 50% Black Iberian to use the name.
In comparison to other hams, Jamón Ibérico has a considerably higher fat content. Due to this, the ham typically has a lot of white marbling in it from the fat.
If you're wanting to try this famous ham, take a food tour in Madrid. Any tour guide will be able to tell you the best places to get Jamón Ibérico and where to eat in Madrid.
Book here your Iberico Ham & Spanish Wine Tour
Where to get Jamón Ibérico as recommended by food tours in Madrid
14. Mushrooms in Garlic Sauce (Setas al Ajillo)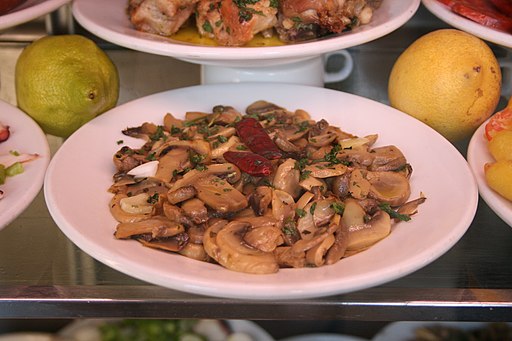 This is one of the most famous foods in Madrid. The mushrooms are sautéed with garlic and parsley. Be careful if you don't like spice, sometimes chilli flakes are added to give it a kick!
Typical food in Madrid comes with alcohol (wine, beer, etc) and setas al ajillo is no exception. This dish is best served with red wine!
Setas al ajillo is some of the best food in Madrid, Spain for vegans. Yes, this dish is totally vegan-friendly!
As you can see, a lot of traditional Spanish food is very meat heavy, so if you're wondering what to eat in Madrid that's meat-free, this is the dish for you!
Where to eat tapas in Madrid and get Setas al Ajillo:
Mesón del Champiñón (the mushroom tapas here is different from most setas al ajillo, but it is their speciality and so good it is a must for food to try in Madrid!)
15. Gallinejas y entresijos
If you're looking for an authentic taste of Madrid, look no further than Gallinejas y entresijos.
This traditional dish is made from the small intestines of lamb or beef, which are then fried alongside other organ meats like lungs and stomach.
While the preparation may sound unappetizing to some, it's a beloved staple of Madrid's culinary scene with a history dating back to the 19th century.
The dish has a deep cultural significance in Madrid, with locals often enjoying it as a late-night snack or paired with a cold beer or local drink, such as vermouth or cider.
For a truly authentic experience, head to Casa Pedro in the La Latina neighborhood, which is one of the most famous places to try this dish in Madrid.
Or if you're looking for a more modern take on the classic, try El Sur in the Chueca neighborhood. No matter where you try it, make sure you pair it with a glass of local drink, like vermouth or cider, for the full experience.
16. Tostas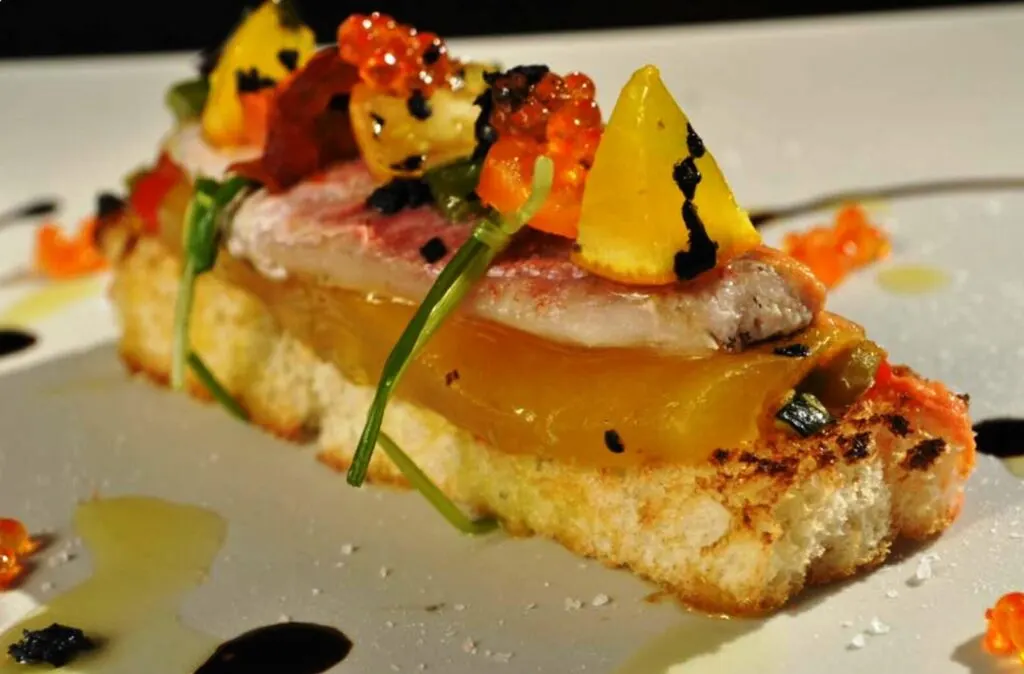 Tostas are a popular dish in Madrid, and with good reason. A tosta is essentially a piece of bread that has been toasted and topped with various ingredients such as cured meats, cheese, tomatoes, and other vegetables.
They are usually served as an appetizer or snack, but can also be enjoyed as a light meal. Tostas have been part of the local cuisine for centuries, and remain one of the most beloved dishes in Madrid today.
When it comes to finding the best tostas in Madrid, there are plenty of options to choose from.
Where to eat tostas in Madrid:
Restaurante Tostas & Bacalao offers a unique twist on traditional recipes by combining seafood with their tostas.
Bar Las Tostas is known for its creative toppings like chorizo and mushrooms.
El Capricho Extremeño. This tiny take-away spot serves up some of the best tapas around, including their signature Spanish tostas which come loaded with all sorts of goodies like olives, anchovies, and peppers.
17. Gambas al ajillo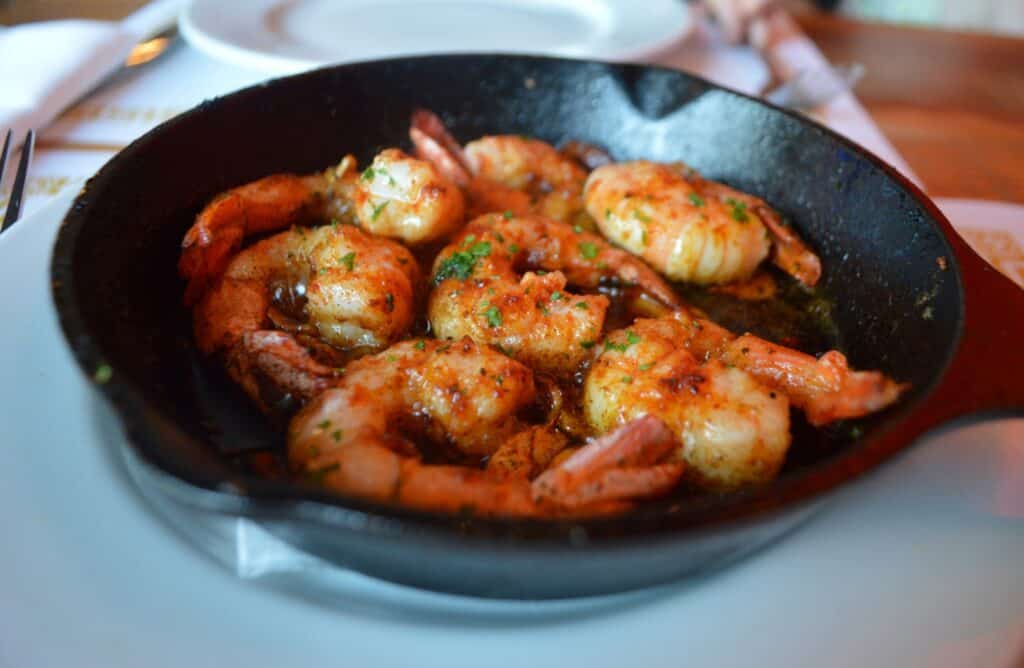 If there's one dish you must try when visiting Madrid, it's the gambas al ajillo.
These sizzling garlic prawns are a staple in the city's culinary scene, and for good reason. The tender prawns are cooked to perfection in an infusion of olive oil, garlic, and chili peppers, creating an explosion of flavors in your mouth.
Pair this dish with a glass of local wine and some crusty bread, and you'll have a meal fit for a king.
Trust me, I've had my fair share of gambas al ajillo during my time in Madrid, and it never disappoints.
So if you're wondering what to eat in Madrid, make sure you don't leave without trying this delectable dish.
18. Vermut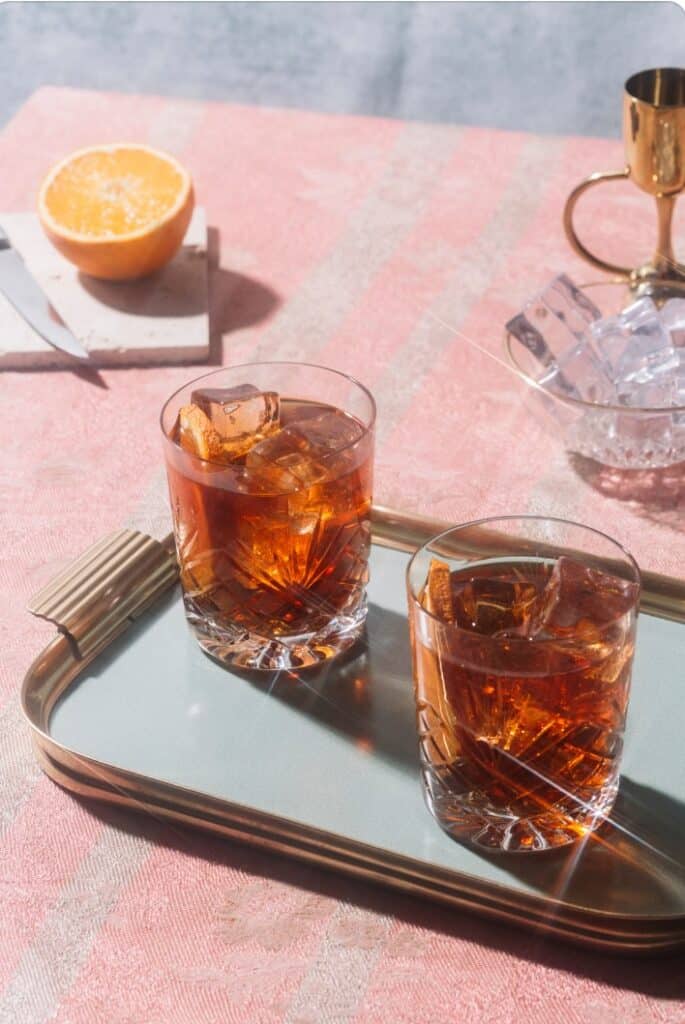 When it comes to experiencing the rich and varied food scene in Madrid, one cannot overlook the quintessential local drink: vermut wine.
This fortified wine is a staple at many traditional bars and tavernas throughout the city, served over ice and often garnished with a slice of orange and an olive or two.
But what makes this particular beverage so special? For many, vermut is not just a drink, but a symbol of Madrid's vibrant social culture – a way to slow down and savor the moment while enjoying some of the city's best tapas.
Its complex flavor profile, with hints of herbs and spices, perfectly complements the bold and savory snacks from Spain.
Where to drink vermut in Madrid:
Casa del Vermut
La Hora del Vermut
La Fisna
Casa Mono
19. Yemas de Santa Teresa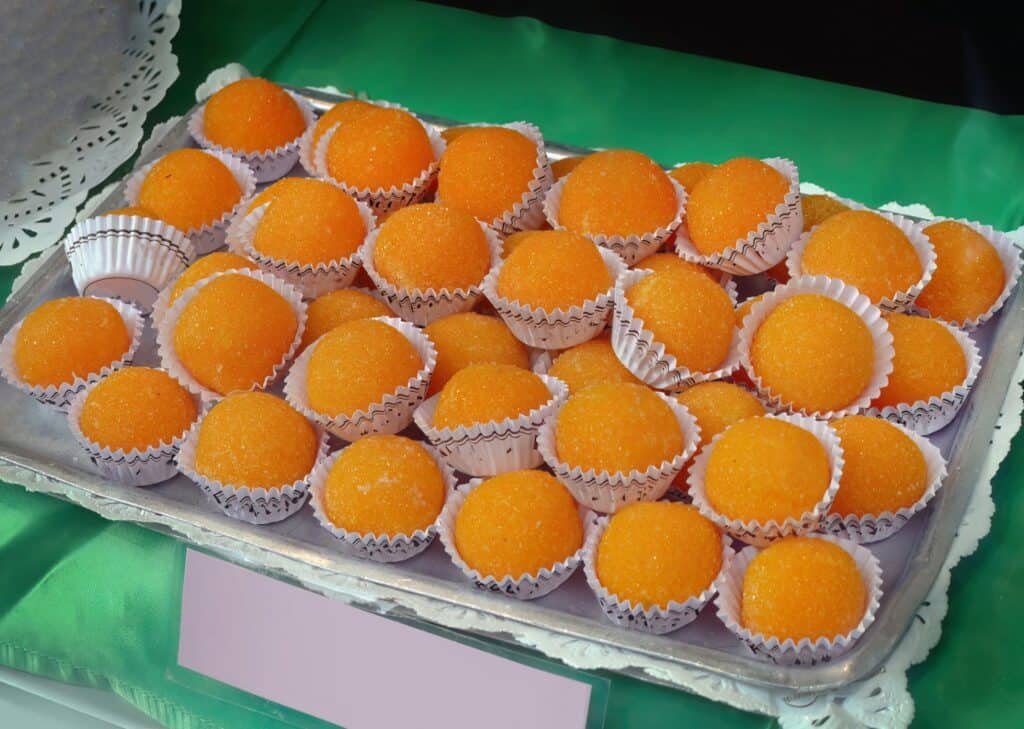 If you're a foodie and you haven't tried Yemas de Santa Teresa, then you're missing out on one of the sweetest treats in Madrid!
These traditional sweets, named after Saint Teresa of Avila, are made from egg yolks and sugar, resulting in a creamy and delicate texture that melts in your mouth.
The story goes that they were created by nuns who used leftover yolks from their daily bread-making, and eventually became a popular dessert throughout Spain.
As a dessert aficionado, I couldn't resist trying them on my recent trip to Madrid, and let me tell you, they did not disappoint.
Where to eat Yemas de Santa Teresa in Madrid:
La Violeta: Selling traditional Spanish sweets since 1915
Antigua Pastelería del Pozo: Charming bakery in the Malasaña neighborhood
Pastelería El Riojano: Open since 1855 and is known for its traditional Spanish sweets and cakes
Horno de San Onofre: Operating in Madrid since 1880, definitely an alternative thing to do in Madrid.
20. Pisto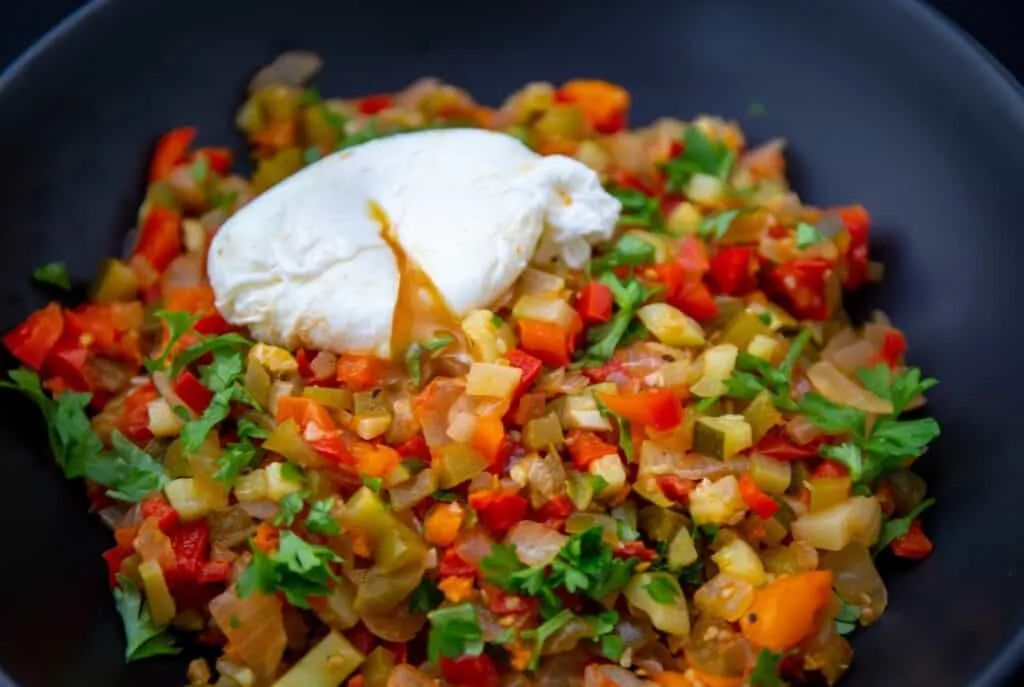 If you're looking for a traditional dish to try in Madrid that's also vegetarian-friendly, you can't go wrong with pisto manchego.
This hearty dish is a flavorful combination of sautéed vegetables, including tomatoes, peppers, onions, and eggplant, all cooked to perfection in olive oil.
Usually served as a main course, pisto manchego is a beloved staple of Spanish cuisine and can be found at many local restaurants throughout the city.
I appreciate how filling and nourishing this dish is, and I love how it highlights the fresh and vibrant produce that's available in Madrid.
Definitely a must when wondering what to eat in Spain!
---
Extra: Tapas in Food Markets
One of my favorite things to do in Madrid is going for tapas in Madrid's food markets. The old market halls can be found in the different neighborhoods of Madrid.
Several of them have been remodeled and refurbished like Mercado de la Cebada or Mercado de Barceló.
Other ones like Mercado de San Ildefonso, Mercado de San Anton and Mercado de San Miguel have been converted in hip gourmet markets where you can eat delicious tapas in a cool setting.
You can either go for grocery shopping or enjoy freshly prepared meals or tapas at the market stalls. It's a must, even if you only have 24 hours in Madrid.
Mercado de San Miguel is the most popular one (touristy and expensive), whereas Mercado de Santo Anton or Mercado de San Ildefonso are located in Madrid's hipster neighborhoods Chueca and Malasaña.
I also really like the Mercado de la Cebada as dance sessions are organized on Sundays. Is there a better mix than dancing and enjoying tapas? It's the perfect blend of enjoying traditional food in Madrid with a modern twist.
Even though Madrid is famous for its ham, meat and sausages, there are plenty of vegan options in Madrid too!
---
When to eat in Madrid?
Lunchtime in Spain is usually between 2 pm and 4 pm. However, in Madrid, restaurants are becoming more and more flexible regarding their opening hours. The Spanish cuisine of Madrid can be very hearty.
Thus during summertime, I recommend going for the lighter dishes and keep the heavier ones for winter or eventually for dinner time.
Even though Madrid is a large city, it managed to preserve many traditions and some neighborhoods feel like nothing has changed in 50 years. Madrid traditional food is often based on recipes that are hundreds of years old.
My restaurant and bar recommendations are based on my own experience of having lived in Madrid for 2 years and having worked in the Spanish tourism sector where I've gotten the chance to visit a high number of restaurants and hotels.
Please, feel free to ask me for any personalized recommendation in the comment form.
---
Where to stay in Madrid City Center
Budget
Woohoo Suites Madrid **
Hostal Silserranos **
Mid-Range
Intur Palacio San Martin ****
Emperador ****
Vincci Via – 66 ****
Luxury
NH Collection Madrid Palacio de Tepa *****
Urso Hotel & Spa, a Small Luxury Hotel of the World *****
Find the perfect accommodation in Madrid in this Ultimate Guide on the Best Neighborhoods to Stay in Madrid
---
I hope some of these, admittedly very personal, highlights of my stay in Madrid could convince you to try some of Madrid's local specialties.
Have you been in Madrid? Did you enjoy it? I would love to hear about the things you loved (or loved less) in the comment form.
---
Before You Go: Top Tips for your Trip
To make the most of your trip, I recommend Lonely Planet Madrid
---
Short FAQ about what to eat in Madrid
What food should I try in Madrid?
Suckling Pig, Patatas bravas, churros, Meat and Chickpea Stew (Cocido madrileño), and Tripes Madrid-style (Callos a la madrileña) is some of the food you should try in Madrid.
What is some local food to try in Madrid, Spain?
Most of the food in Madrid can be found throughout Spain. But two dishes that are local to Madrid are Calamari Sandwiches and Huevos Rotos.
What are the best street foods to try in Spain?
The best street foods in Madrid are Churros, Pincho de Tortilla, Huevos Rotos, and Bocadillo de Calamares.
What food is Madrid known for?
Madrid is known for its diverse and vibrant food culture, with several signature dishes and foods that the city is particularly known for. Some of the most famous dishes include Cocido Madrileño, Huevos rotos, Churros con chocolate, Bocadillo de calamares, Callos a la Madrileña, Patatas bravas, Bocadillo de jamón, Tortilla de patatas, Gambas al ajillo, and Cochinillo asado.
---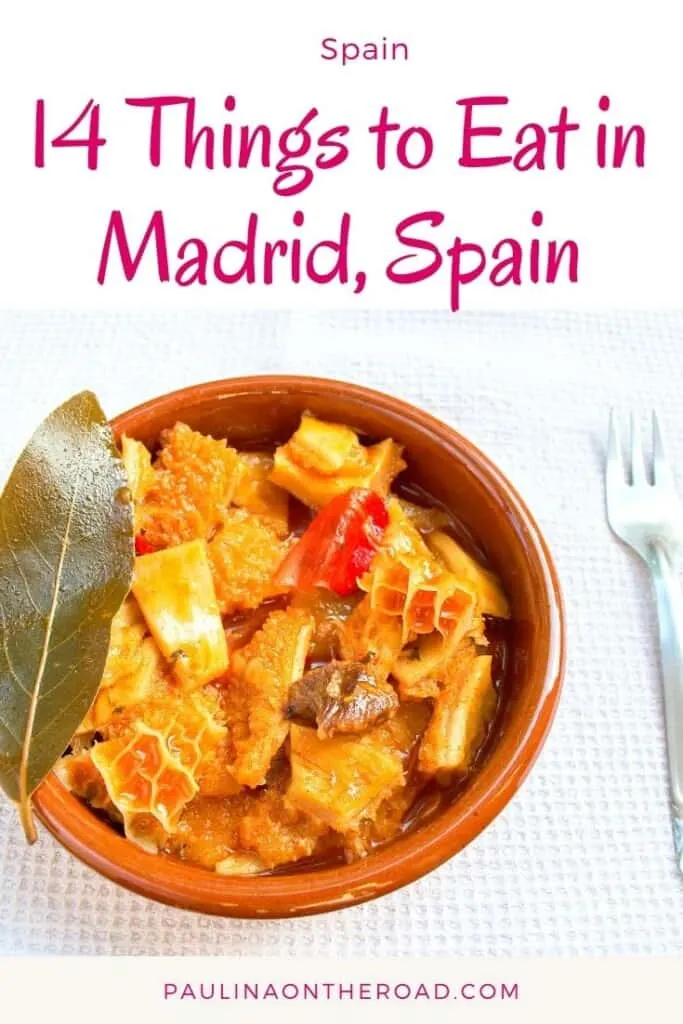 Hola! I am Paulina, a fervent travelette who crossed the Atlantic Ocean by Boat HitchHiking. On my blog, you'll find all the tips to make the most of your holiday. Get ready to enjoy outdoor and sustainable travel like hiking, cycling or sailing. Let's hit the road together!