A foodie guide on snacks from Spain and about the best snack food to try in Spain
Are you ready to make your taste buds dance with excitement? Spain is known for its unique and delicious flavors, which makes it no surprise that its snacks will have you coming back for more.
From sweet turrón nougat to salty jamón serrano, there's something here to satisfy everyone's cravings.
Whether you're looking for something light and easy while exploring tourist spots or a snack that tastes like a home-cooked meal, I provide the best picks of snacks from Spain that are sure to become one of your favorites!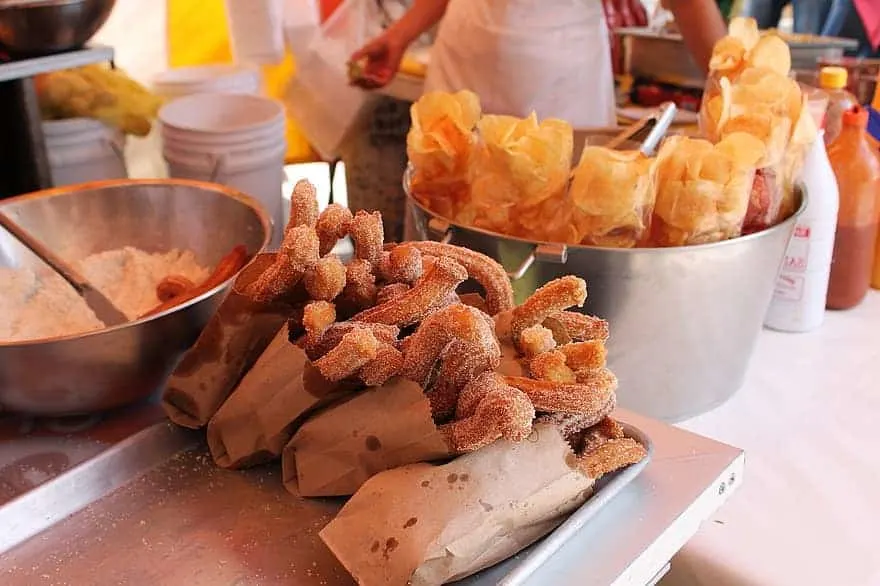 Pssst…!! Looking for more food from Spain? Have a look at my other posts:
"Paulina on the Road" is supported by you, dear reader. As you buy through my links, I earn a small commission. As an Amazon Affiliate, I earn from qualifying purchases. Thank you for your support
Best Spanish Salty Snacks
1. Tortilla de Patatas – Spanish Omelette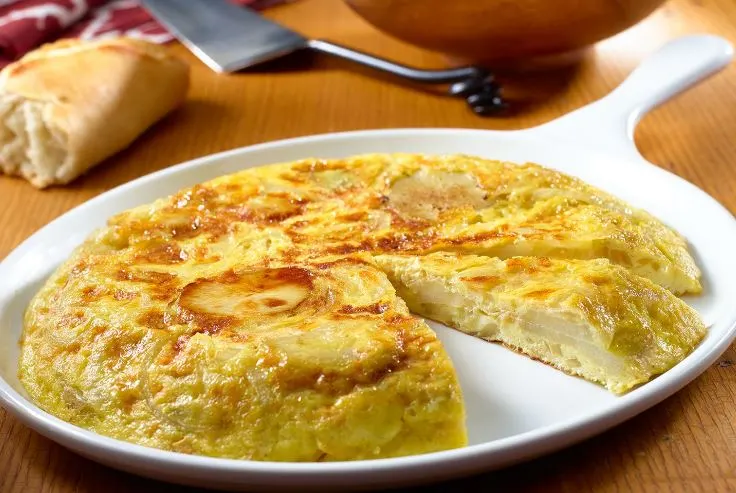 Tortilla de patatas (Spanish omelette) is one of the signature tapas in the whole country. It has several other names such as tortilla de papas or tortilla Espanola, but it is the same thing.
The basic ingredients are eggs and potatoes, but if served with a baguette and some salad, it can also be enjoyed as breakfast or dinner.
If you are ever wondering what to eat in Spain, this dish is your good-to-go option.
2. Pintxos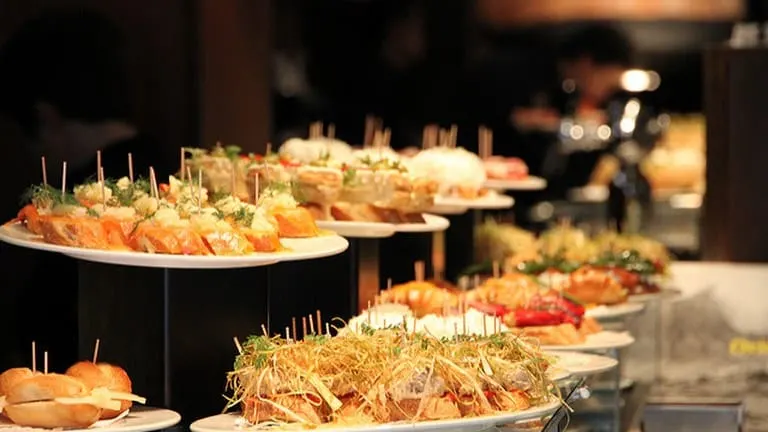 If you wonder what food is Spain famous for, try a snack from the Basque region known as pinxtos. It is usually eaten after work, commonly in bars.
Pintxos are actually skewered, and they are almost exclusively served as snacks that go excellently with a good wine.
It is the most famous food of San Sebastian, and you can even book your pintxo tour, one of the most popular attractions in San Sebastian.
The ingredients include baguette slices covered with smoked salmon, tuna, cheese, etc. These flavorful bites are one of the most famous snacks in Spain.
3. Bocadillo de Jamon – Ham Sandwich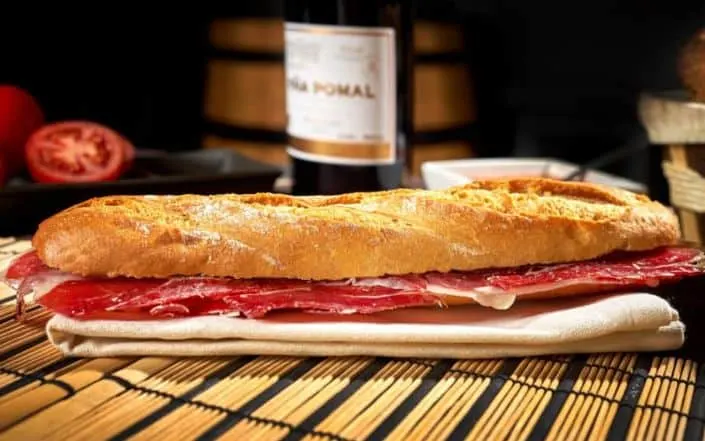 Bocadillo de jamon (ham sandwich) is made from Spanish bread, and the main ingredient of this sandwich is either Iberian or Serrano ham.
Another common name for this snack is bocata de jamon, and except previously mentioned parts, this sandwich is often filled with cheese, tomatoes, and olive oil.
You're not in Spain? No problem, you can get Jamón Iberico at Amazon too! – Check prices here
4. Boquerones al Limon – Anchovies with Lemon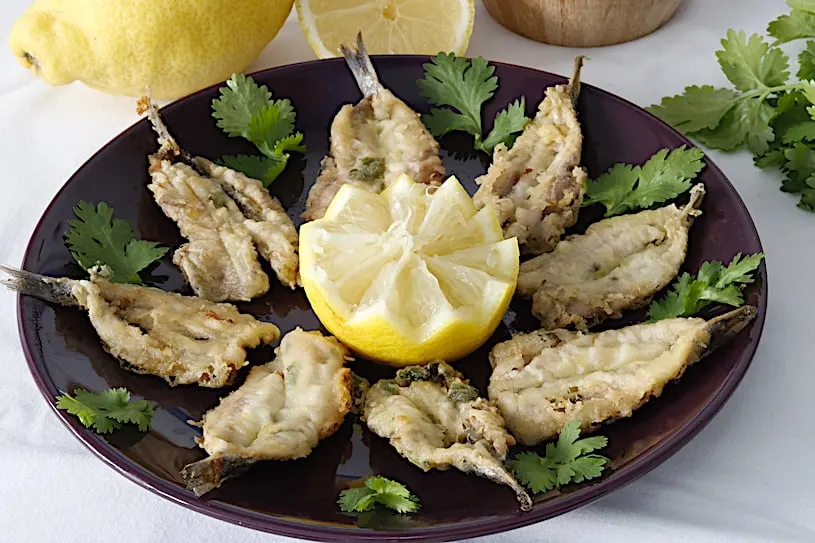 If you decide to visit Malaga, you will have the chance to try one of the best-known Andalusian snacks; fried anchovies marinated in lemon. Malaga is famous for its winter sun and makes it a great place for winter holidays in Spain.
Boquerones al limon are particularly tasty in Marbella, thus make sure to include them in your Marbella itinerary.
These tapas are a very popular food in Spain and can be found in almost all beach bars all over the province. You can even enjoy the best beaches in southern Spain and try the local cuisine there.
Since fish is a big part of the Spanish food culture and especially in this whole region, it is not strange that the fish nicknamed boqueron by locals is one of the most popular ingredients.
Fun fact is that there are over 140 species of boqueron in the Alboran Sea, and they can be prepared and marinated in several ways.
5. Espetos – Sardine Skewers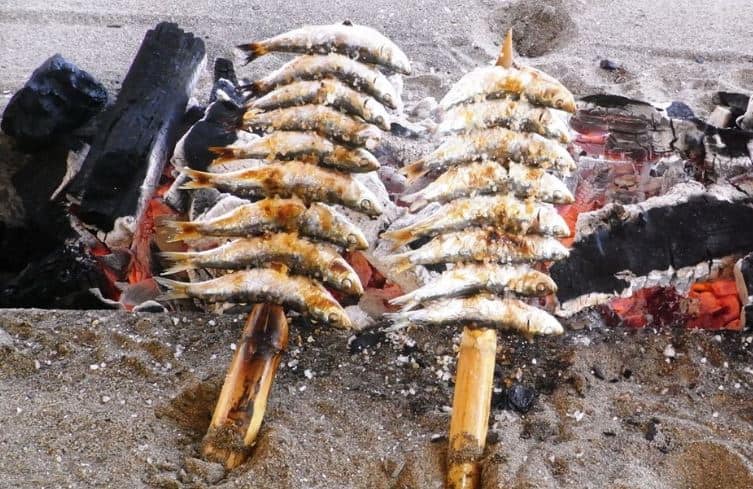 This is another famous Andalusian snack, enjoyed by both locals and tourists. Espetos (grilled sardines) are the best when prepared between July and September since that is the period when the sardines are fatter than usual.
The taste increases even more if they are served with soft drinks or beers.
However, it is interesting to know that the sardine skewers tradition originates from the 19th century's and hasn't changed since.
It is one of the simplest, yet tastiest snacks in that part of the country.
If you want another taste of Spain, have a look at my favorite funny Spanish phrases.
6. Pan Tumaca – Tomato Bread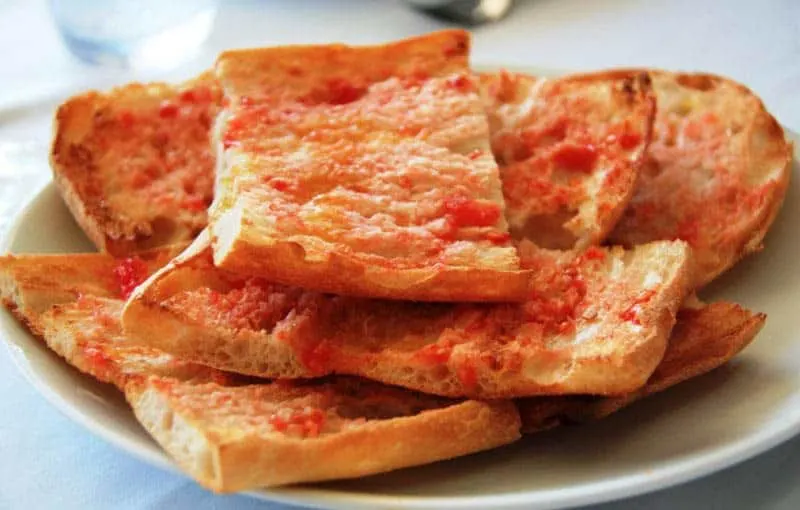 The best way to describe pan tumaca is to say that it is a snack made from tomato and bread. It has a few other names, and the most frequent ones are pa amb oli or pa amb tomàquet.
It is very easy to make since it has only five ingredients (most of them you have in your home regularly) and it only takes about 5-7 minutes to prepare it.
Pan tumaca is originally from the Catalonia region and thus if you visit wineries near Barcelona, you'll always be served pan tumaca. Also if you visit Barcelona, it's an absolute must-do, even if you have only 48 hours in Barcelona.
If you are seeking a perfect and affordable appetizer for your guests, this can be a quick and ideal choice.
7. Croquetas de Jamon – Ham Croquettes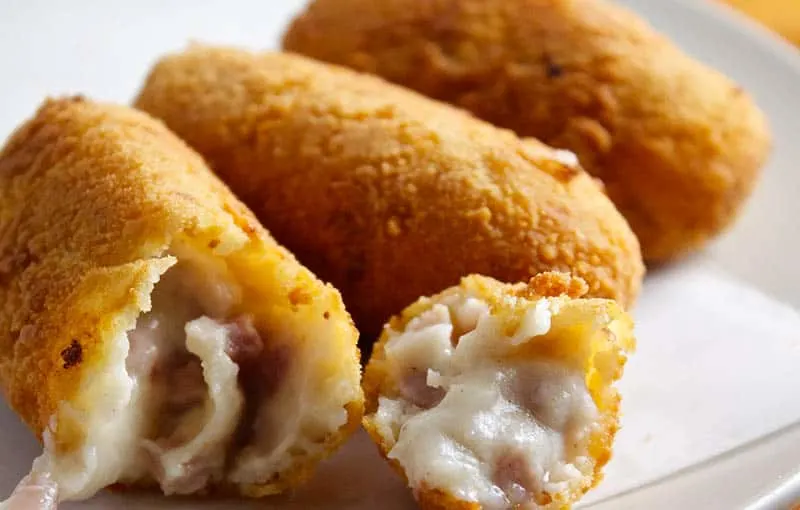 I don't know a person who tried croquettes and didn't like them! It is a snack for everyone since it has an option for those who eat meat and for those who don't.
However, in Spain, the most popular croquettes are croquetas de jamon and the secret of their divine taste lies in a special type of ham; the Serrano jamon.
8. Patatas Bravas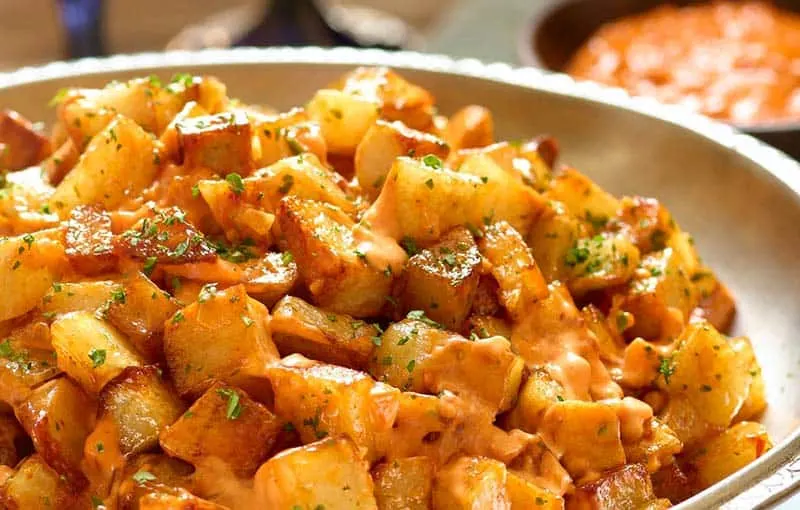 Patatas bravas are probably the most addictive snacks among all other Spanish tapas, and another good example of typical foods of Spain.
They have a great golden color, and their flavor is intensified with salsa brava (a red, spicy sauce) that will make you want more.
It is one of the most frequent appetizers in Barcelona (and the whole Catalonian region). The best part is that patatas bravas are simple enough to make at home.
9. Empanadas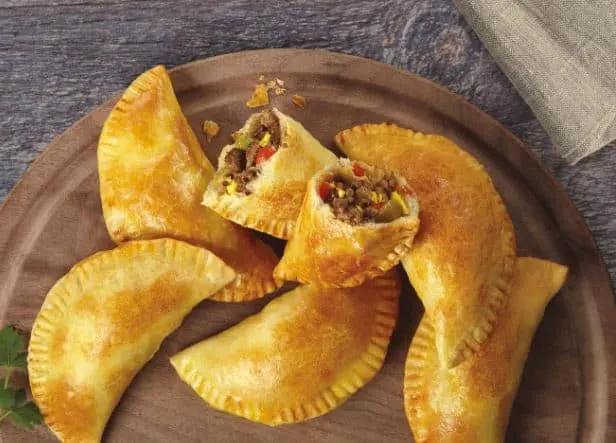 Empanadas can be seen as one of the most famous Galician snacks in Spain.
Since this autonomous Spanish community mainly uses seafood, it is not strange that their empanadas (bread pies) usually consist of fish, shellfish, and meat such as pork.
Empanadas can be served as dinner, but they are more often eaten in between meals.
10. Aceitunas – Olives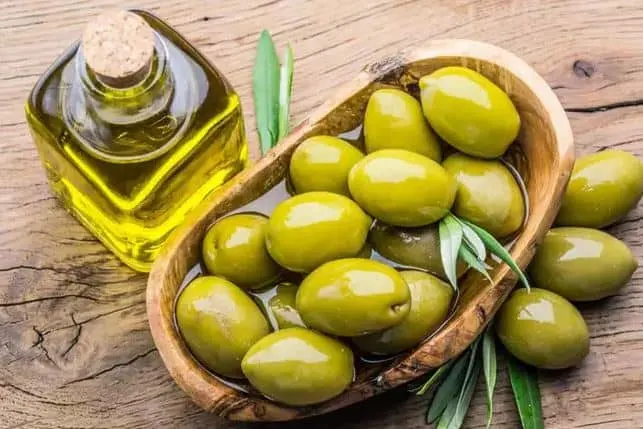 When it comes to salty snacks, olives, and Spain are a classic combination. To be more accurate, this is over a 3,000 years long combination when the first olives were brought to the country.
If you look carefully, you will see that all the famous dishes from Spain are made with olive oil.
Moreover, aceitunas are the most frequent bite in every bar, and they are often served as a free snack throughout the whole country.
Are you craving Spanish olives right now? You can get them at Amazon! – Check prices here
11. Tortillita de Camarones – Shrimp Fritters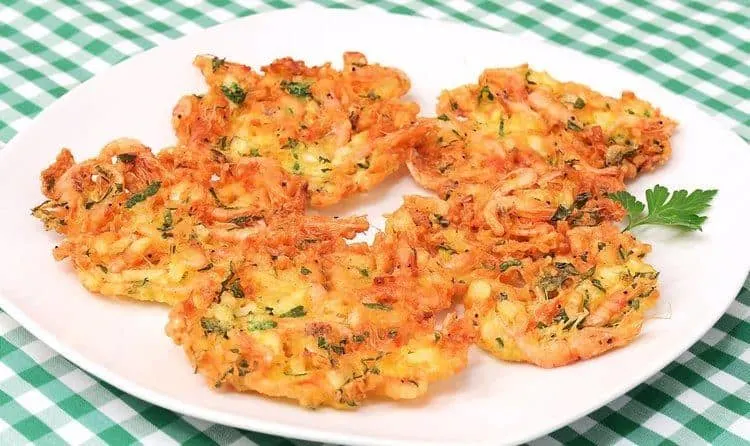 Since Barcelona is one of the most visited tourist destinations in the world, it is no wonder why many popular foods from Spain come from this city.
Tortillita de camarones (shrimp fritters) are no exception. These crispy and tasty tapas are great to enjoy during warm summer days without being in the kitchen for too long.
Read: 30 Romantic Spanish Phrases
12. Chopitos Fritos – Fried Cuttlefish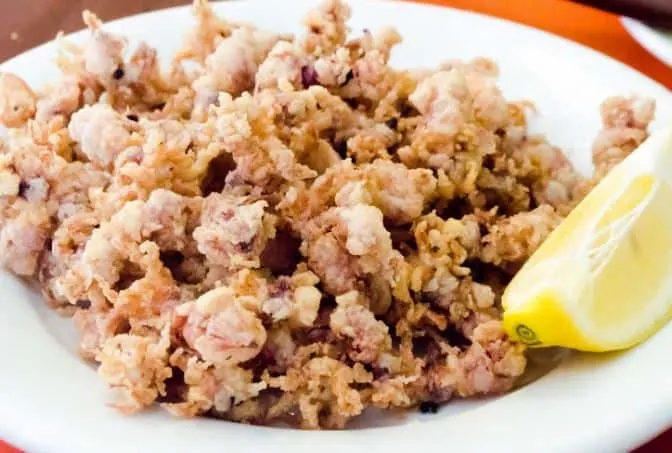 If you love fried cuttlefish, you will be happy to know that in Spain, you can try tapas known as chopitos fritos.
To get truly flavorful chopitos fritos, they need to be fresh and small. And to make them crunchy enough, you should light batter and quick fry them.
13. Jamon Iberico – Iberian Ham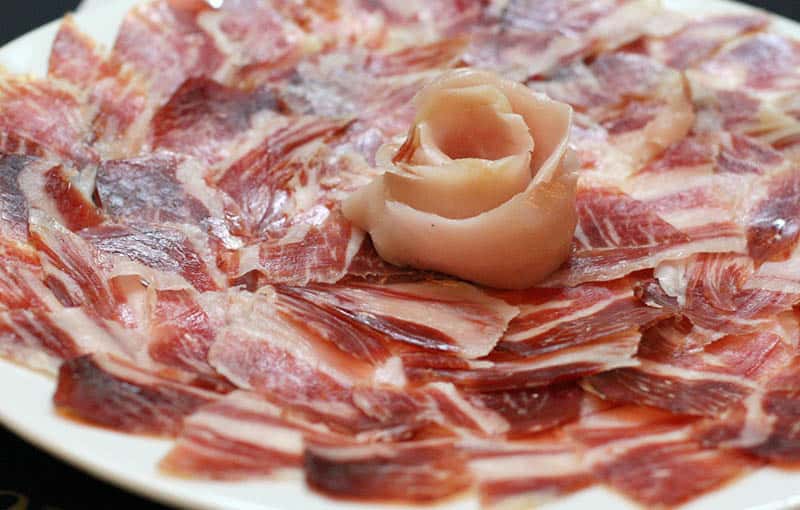 When speaking about the most famous food brands from Spain, I can't skip one of the best (some even argue that it is the best!) ham worldwide!
Jamon Iberico (Iberian ham) is royalty in the world of ham, and not only it is used in all kinds of recipes, but it is also served as an appetizer all over the country.
Iberian ham is one of many signature foods in Spain, and luckily for us, it is exported to other parts of the world. You also need to know how to eat Spanish ham.
Do you want to taste a bite of Spanish flavor? You can get real Jamon Iberico at Amazon! – Check prices here
14. Ensalada Rusa – Russian Salad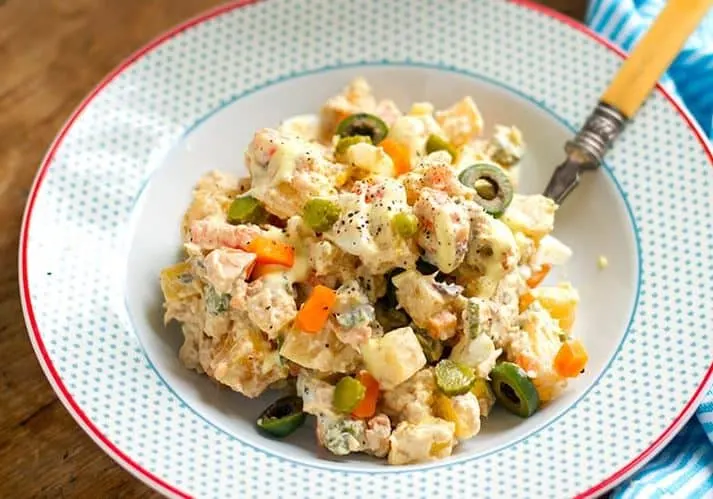 Ensalada Rusa, otherwise known as "Spanish potato salad" is a refreshing and delicious dish made from mayonnaise, potatoes, boiled eggs, carrots, peas, and tuna.
Many other countries have their own versions of this salad, and they are all served as an appetizer or as a part of some bigger meal. It can be a good choice if you want to prepare food from Spain for kids, they will love it!
15. Caracoles – Snails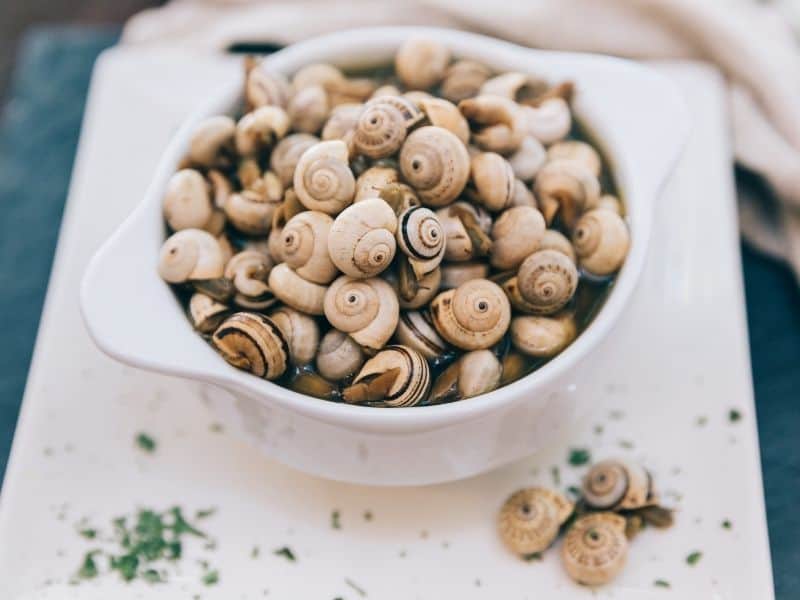 If you ever decide to visit Seville, make sure you try their caracoles (snails). If you are a seafood addict, you can even try a beach day trip from Seville and head to Cadiz.
Although caracoles are not everyone's first choice, if used correctly, they can be a great addition of exotic flavor to your dishes.
I must stress out that not all snails are edible, and if you decide to prepare them at home, double-check before you buy!
16. Queso Manchego – Manchego Cheese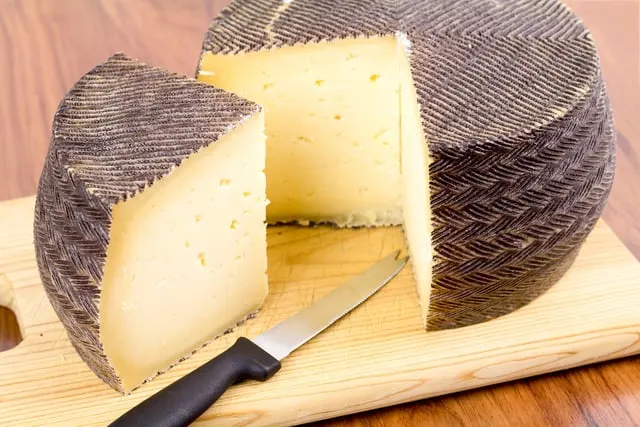 Queso manchego (Manchego cheese) is served as a typical snack in the La Mancha region.
As its name suggests, the cheese is made from the milk of Manchega sheep, and it is one of the most authentic products from the area, protected by multiple international organizations.
This semi-hard cheese suits all types of tapa plates and is widely praised for its taste and structure. No wonder it is one of the most popular snacks from Spain.
Are you craving Manchego cheese? You can get it at Amazon! – Check prices here
Best Spanish Sweet Snacks
17. Horchata with Fartons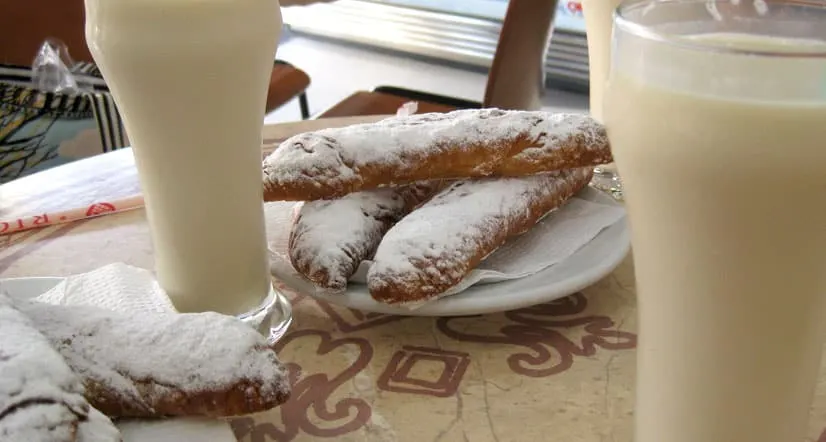 When it comes to sweet snacks in Spain, Valencia should be on your priority list.
One of its signature sweet soft drinks is horchata, and when you mix it with bread-type fartons, you get one of the best and most traditional horchatas in the town.
Like all others, this drink is served very cold which makes it ideal for hot summer days.
If you are planning to visit Valencia, have a look at my 1 day in Valencia or 3-Day Valencia itinerary.
Do you want to make Spanish horchata at home? You can order it at Amazon! – Check prices here
18. Churros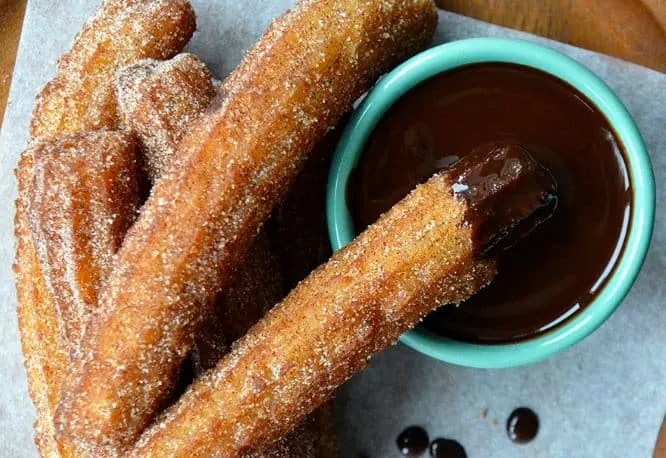 One can imagine many things, but visiting Spain without trying churros is none of them!
Churrerias are the pride of the Spanish central region, and there are numerous people all over Madrid waiting in lines to try their products. Churros is a must eat & food to try in Madrid!
Churros are a real must on any Madrid itinerary!
Moreover, you can make churrerias in the comfort of your own home with a few simple ingredients and about 30 min of your free time.
19. Bunuelos de Viento – Nun's Puffs
Bunuelos de Viento (nun's puffs) is one of the fluffiest things you'll have the chance to try while in Spain. Even the name is translated as ''light as air'' in English.
It is a typical Spanish Christmas sweet, and since it is made from simple dough covered with a variety of toppings, most of Spanish families make it regularly.
This food is typical of Madrid which is one of the best places in Spain when looking for a foodie trip.
20. Palmeras – Palms
These sweet pastries are ideal snacks for coffee breaks. Palmeras are alternatively served as a light breakfast, and if you want to enjoy them as locals, dip them in hot chocolate.
They are known as the ''it will melt in your mouth'' type of tapa. Consequently, these easily made delicacies are popular in all Spanish regions.
21. Torrijas – French Toast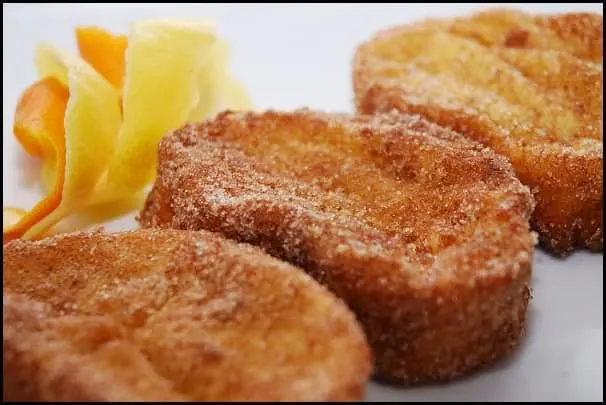 This is another popular recipe, especially for those who are fond of two things: toast and cinnamon. There are several variations of torrijas, but the most common ones are toasts covered with either cinnamon or honey.
This dish is basically from Madrid, which is among others the setting for some beautiful movies set in Spain.
The simplest way to explain a torrija is to say that it is the Spanish version of French toast. Despite being a great snack, it is not uncommon to serve it as a breakfast.
22. Tortitas de Aceite – Olive Oil Biscuits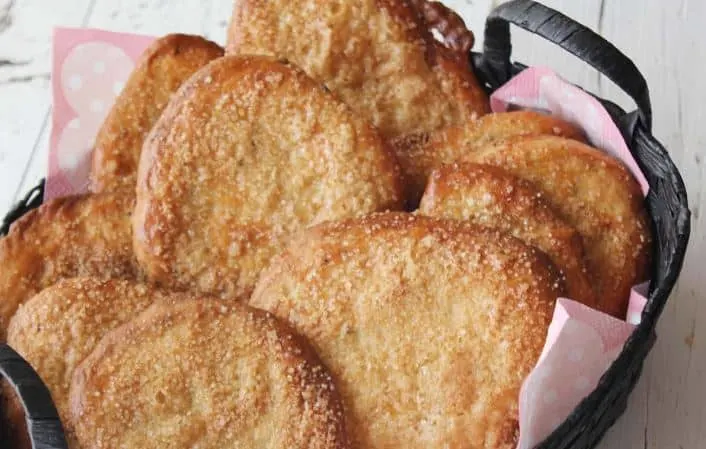 A traditional sweet olive torta is a must in every Spanish city. If you decide to make it at home, know that it takes about 50 minutes to prepare
There are stories that tortitas de aceite are sometimes referred to as tortas del virgin and that the name was given by Spanish nuns.
Nowadays, you can find these tortitas in many shops, not only in Spain but all over the world.
If you don't want to bake, you can get them at Amazon too! – Check prices here
23. Turron – Nougat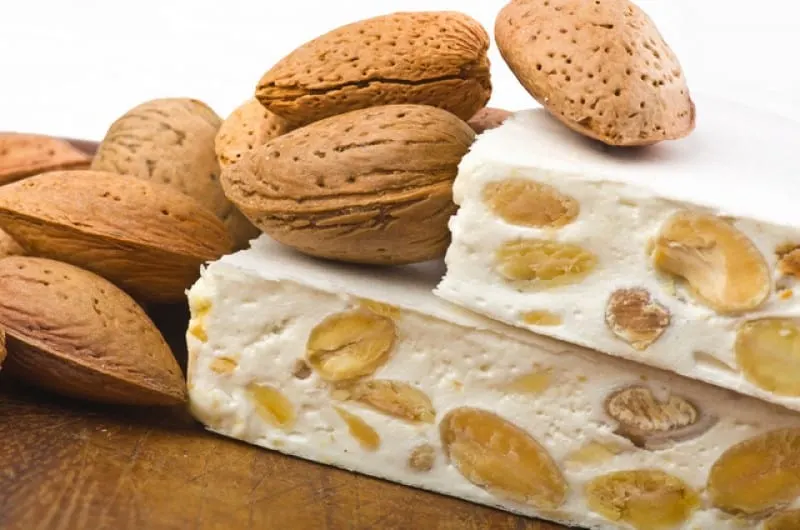 Turron (nougat) is a well-known Spanish style sweet. This tapa can be served as both dessert and pastry.
Turron has multiple variations depending on the region, and the most popular ones are turron de Alicante and turron de Jijona. These delicacies are often made and given during holidays.
It's one of the most famous dishes in Spain during the holiday season!
If you can't travel to Spain, you can order turron at Amazon! – Check prices here
24. Flan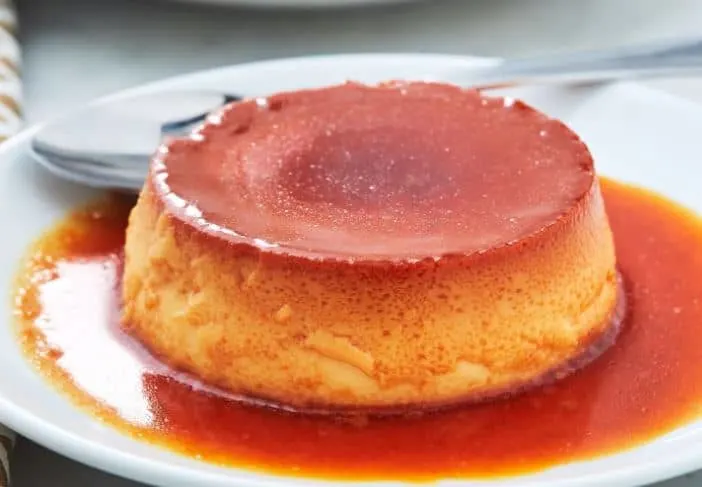 Flan is a traditional Hispanic cold dessert that has a characteristic creamy and smooth taste. The best thing about flan is that you can experiment with adding different flavors and still get to eat a refreshing and flavorsome snack.
This is another easy-to-make recipe suitable, even for those who are not kitchen masters.
25. Leche Merengada – Meringue Milk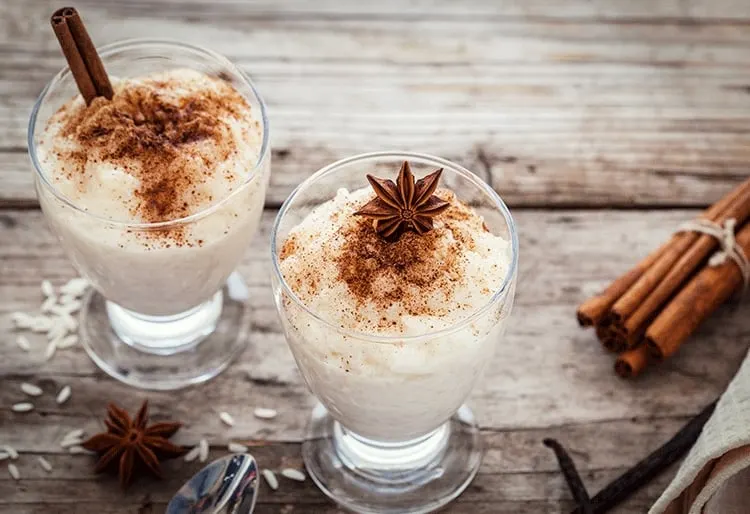 If you are looking for a milkshake variation, leche merenguada (meringue milk) is the sweet drink for you! It can be found in almost all ice cream shops in Spain, and it is one of the classical Spanish desserts for kids.
It is so famous that it even has its own song "Tengo una vaca lechera" that most of the children in the country know!
---
Why Snacks from Spain are different!
Tapas are the best-known, typical foods from Spain. They are usually served as snacks, but they can also be served as a meal (larger portions). They are then called raciones.
Many interesting historical anecdotes are told about tapas and their origin. Its tradition is the strongest in areas such as León, Extremadura, Ciudad Real, and Andalusia.
If I should define a tapa, the most accurate description would probably be that it is "a small portion of food, usually served with a drink before or after a meal". Making a good tapa is considered to be an art! The purpose of tapas, and snacks in general, goes beyond popular foods in Spain.
It is all about the experience that includes eating in bars that have the same owners for generations, loud conversations with friends or locals, and so on.
Tapas are a culture for itself, and consequently, the thing that makes Spanish snacks different from all other food.
Insider Tip: I love to enjoy refined versions of Spanish food in the Paradores of Spain. They create amazing blends between modern and traditional Spanish cuisine.
---
Short FAQ about the best snacks from Spain
What are the best Spanish appetizers?
Patatas bravas, croquetas, and gazpacho are the best Spanish appetizers to have.
What is a Spanish snack?
There are several famous Spanish snacks which you must try like croquettes, boquerones and olives.
What are Spanish sweet snacks?
Spanish sweet snacks which are really tasty are turron, mantecados and flan. These are sweet delicacies you can have and which will pamper your sweet tooth.
---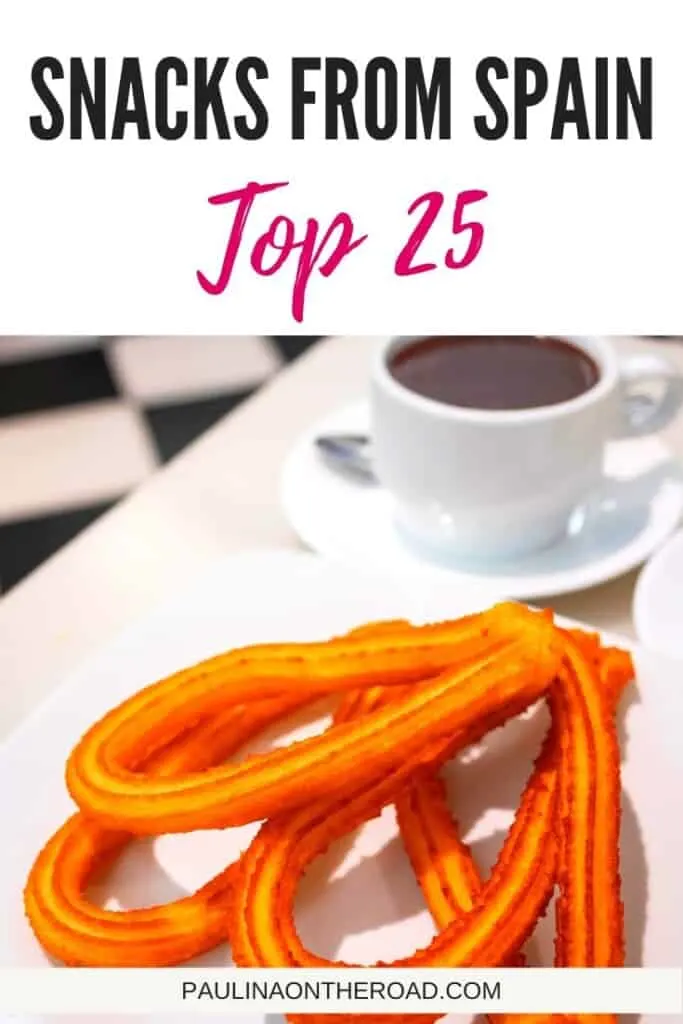 ---
Hola! I am Paulina, a fervent travelette who crossed the Atlantic Ocean by Boat HitchHiking. On my blog, you'll find all the tips to make the most of your holiday. Get ready to enjoy outdoor and sustainable travel like hiking, cycling or sailing. Let's hit the road together!