How to spend 1 day in Madrid and what to see in Madrid in 24 hours
After having lived for a little more than 2 years in Madrid, some of the most frequent questions I often get are about "How to spend one day in Madrid?" or "What to do if I only have 24 hours in Madrid?". My standard answer always is: "24 hours in Madrid… only?!".
Indeed, you can easily spend up to a few days in Madrid without seeing all of Spain's vibrant capital. It took me 2 years and I still haven't seen all of Madrid!
I put this guide together in order to make the most out of your stay in the Spanish capital when you're limited to 24 hours in Madrid, Spain.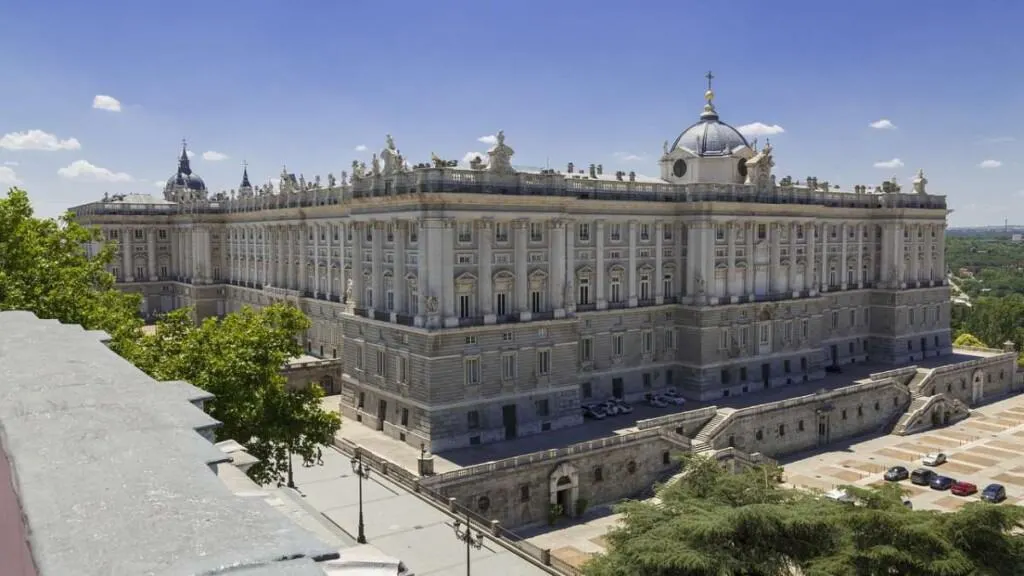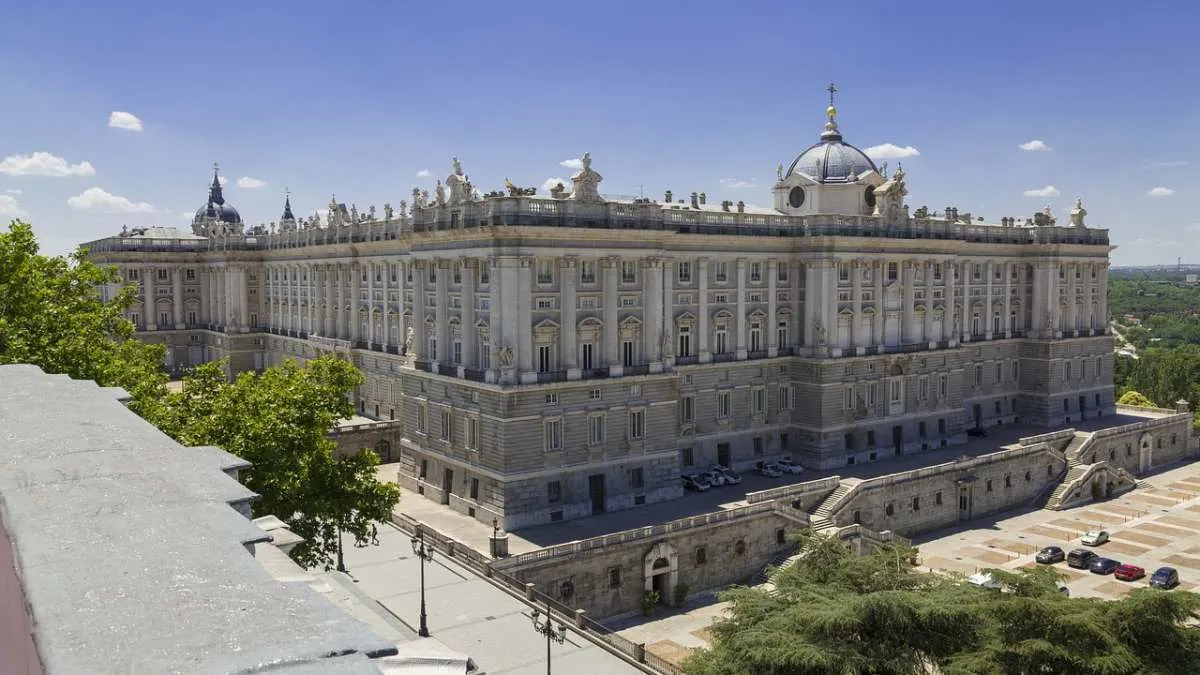 Because a good thing is that the most important sites are relatively close together and can be reached by foot. However, be aware and take comfortable walking shoes as you'll walk a lot!
This one day Madrid itinerary includes all the must-dos and must-visit places in one day in Madrid. If you stay longer than only 1 day in Madrid, I strongly recommend having a look at some less known attractions in Madrid or all the museums to visit in Madrid.
Madrid has a continental climate, which means that summers (June-September) are extremely hot and winters (November-February) can be really cold. Spring and autumn are the best months to visit Madrid. Please dress accordingly and bring enough water in the summer.
If you are limited in time, book here your walking tour in Madrid or travel by hop-on-hop off bus.
Are you still looking for where to stay in Madrid? This guide gives you the best neighborhoods to stay in Madrid.

How to get there
I recommend starting your 24 hours in Madrid in the city center, that means at the Puerta del Sol. Did you know that this square is even known as the "center of Spain"?
Here the instructions to get to the "Puerta del Sol" when arriving by:
Plane: By Metro to "Sol" station, airport transfer or bus.
Train: from Atocha or Chamartin train station. Take the metro to "Sol" station.
By bus from the bus stations: take the metro to "Sol" station or the bus.
Where to stay in Madrid
For your Madrid one day trip, I recommend the following places to stay.
The best Places To Stay in the City Center of Madrid are :
Budget
I Love Madrid Hostel
Hostal Met Madrid
Mid Range
Petit Palace Plaza del Carmen ****
Eurostars Casa de la Lírica ****
Family-Friendly
Eurostars Madrid Gran Via ****
NH Collection Madrid Gran Via ****
Luxury
Gran Melia Palacio de los Duques – The Leading Hotels of the World *****
Hyatt Centric Gran Via Madrid*****
24 hours in Madrid: the morning
I love mornings in Spain and particularly in Madrid! Mornings in Madrid are lively, busy and vibrant. You can truly feel the energy of the city in the early hours of the day. Businessmen are on their way to the office, traditional shops are getting their new stocks, elderly ladies meet up for coffee,…
During the summer, the early hours in Madrid are full of life as people want to get most of their stuff done before the heat breaks in.
1. Start with a traditional Spanish breakfast
In order to acclimate and to soak up the atmosphere of the Spanish capital, I recommend starting with a Spanish breakfast. When you visit, it will probably be sunny thus I recommend heading to one of the terraces at Plaza Santa Ana, Plaza Dos de Mayo or Plaza Chueca.
A traditional Spanish breakfast consists of a tostada con tomate (toasted bread with grated tomato and eventually garlic), a fresh orange juice (is there anything better than Spanish oranges?) and a café con leche (coffee with milk). It's a healthy breakfast that will give you plenty of energy to explore Madrid.
Here some of my favorite places to enjoy breakfast in Madrid:
2. Visit the most important sites in the city center
After your tasty breakfast, it's time to hit the road and explore the most important sites in Madrid. Luckily, the most famous attractions in Madrid are located in the city center and can be visited in one day.
Even though most of them are in walking distance, I recommend taking comfortable walking shoes and eco-friendly sunscreen as you'll be exposed to the Spanish sun.
I placed Madrid's most important sites in the most logical order to visit them.
Puerta del Sol
The Puerta del Sol is the nevralgic center of Madrid. It's a central square where all the streets of Madrid come together. As a result, it is very lively and bustling with energy.
There are 2 massive fountains that are coveted spots to meet up.
At the Puerta del Sol square, you'll spot 2 of Madrid's most important attractions: "el oso y el madroño" (the bear with the strawberry tree) statue which is the symbol of Madrid and the "kilometro zero", which marks the starting point of all major highways across Spain.
When standing on the "kilometro 0" at the Puerta del Sol, Madrid, you'll be literally standing in the center of Spain.
There is always plenty of entertainment at the Puerta del Sol. You'll spot street artists, musicians, dancers and more. There are also a few traditional shops at the Puerta del Sol that are worth a visit.
The most famous is probably "Casa de Diego" which is specialized in fans and umbrellas. Their window is one of the prettiest in Madrid and if you're looking for a qualitative and authentic souvenir from Madrid, "Casa de Diego" is the place to go.
Plaza Mayor
From the Puerta del Sol, it is only a short walk to probably the most famous square in Madrid: the Plaza Mayor. The Plaza Mayor used to be the center of "Old Madrid" and was built during the Habsburg era under Philip II. His statue is still towering in the center of the square.
The Old Madrid was all about narrow, winding streets… as those that are leading towards the Plaza Mayor. Did you know that originally, Toledo was the capital of Spain? Only during the 15th century, Madrid became the capital and headquarter of the Spanish king.
That's why still nowadays, the winding streets around the Plaza Mayor rather remind you of a small village than a prestigious big city.
There are plenty of bars, terraces, and souvenir shops at the Plaza Mayor. One of the quirkiest cafés is probably "El Bar Andalu" which, I think, is one of the less known highlights of Madrid.
If you are wondering what to do in Madrid for one day, the Plaza Mayor must be on your list.
Teatro Real – Opera
The Teatro Real, also known as "opera", is only a short walk away from the Plaza Mayor. The way leads you along picturesque plazas and through narrow streets.
The Teatro Real is one of the major opera houses in Europe and hosts large productions. It was first built in 1850 and went through several refurbishments.
The Teatro Real also has an interesting shop where you can buy souvenirs related to Spanish music and theatre.
Buy here your entrance tickets to visit the Teatro Real
Palacio – Royal Palace
Again, a short walk will take you from the Teatro Real (opera house) to the Palacio Real (Royal Palace). The Palacio Real is actually just facing the opera.
You'll walk through a beautiful park until you reach the front of the Royal Palace. However, nowadays, the Spanish royal family doesn't live anymore in the Royal Palace. The venue is rather used for official visits and the royal family lives in the El Pardo Palace.
If you have time, I recommend visiting the Royal Palace. I was amazed by how big and luxurious this building is. I am not often impressed by buildings, but the interior of the royal palace is breathtaking. It is one of the best museums to visit in Madrid.
Book here your tickets to visit Palacio Real
Almudena Cathedral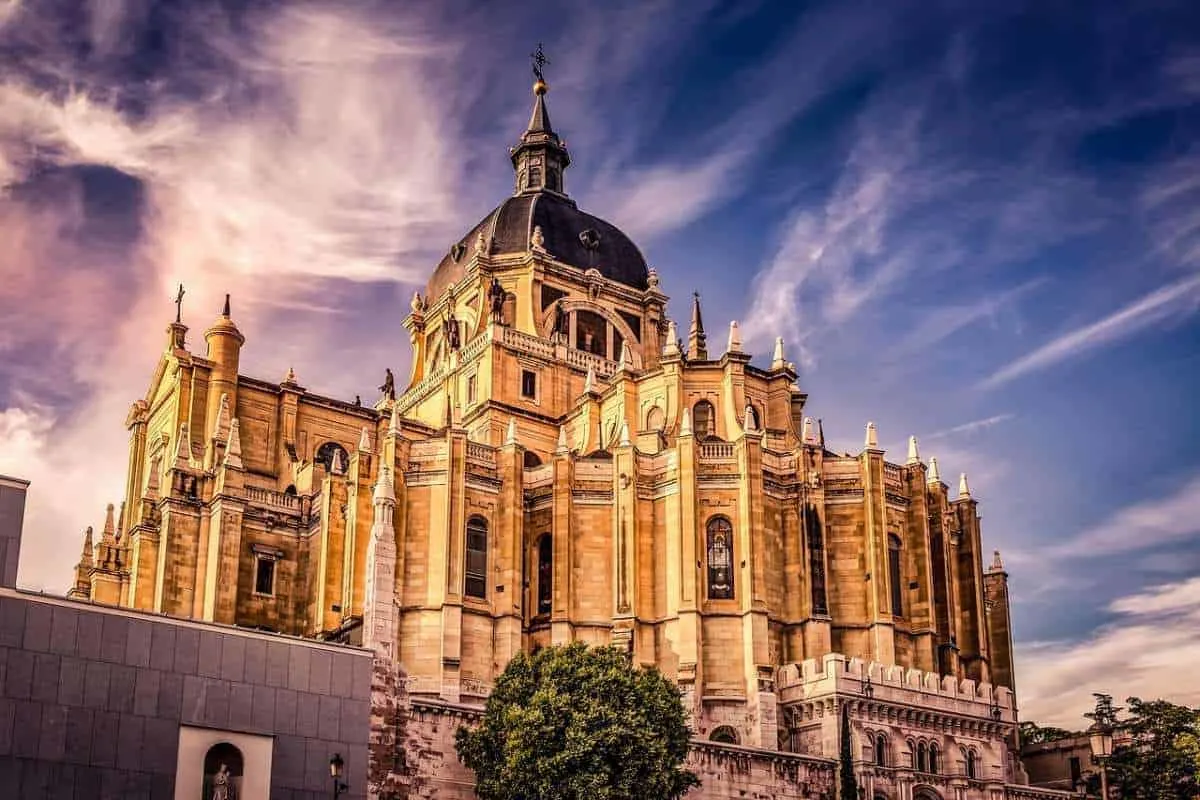 Right next to the Royal Palace, you'll find the Almudena cathedral. It's facing the Royal Palace and at the end of the plateau, you'll have a beautiful view on Casa de Campo park. It's one of the largest parks in Europe and 5 times the size of Central Park.
Make sure to visit the Almudena cathedral as it is one of the most important churches in Spain after la Sagrada Familia in Barcelona.
The roof of the cathedral is surprisingly colorful.
If you still have time left and are motivated to continue your walking tour of Madrid, I recommend strolling through the gardens of Sabatini which are the royal gardens behind the palace.
If you're still motivated, walk to the Parque del Oeste (about 15 min from the Royal Palace) and you'll spot an original Egyptian temple, the Templo de Debod. It is one of my favorite (free) attractions in Madrid.
3. Aperitivo time in Mercado San Miguel

Now, it's definitely about time to enjoy some tapas as an appetizer! There is no better place to do so than in the Mercado San Miguel. It's located only 7 minutes walk away from the Royal Palace.
Even though the Mercado San Miguel is a bit pricey and mostly very crowded, I think that it is a must-visit when you only have a limited time in Madrid.
The building is beautiful and Madrid food is extremely tasty! On top, you can also find food and tapas at moderate prices.
The mercado (market) has food stalls that offer the best of Spanish cuisine, whether from Northern Spain or Andalucia.
The building was one of the first covered markets in Madrid and opened only in 1916. Nowadays, it has passed from a place where you do your grocery shopping to a place to enjoy a bite, tapas or drinks among friends.
Book here your Madrid tapas tour
4. Lunchtime in Madrid
After having some tapas in Mercado San Miguel, it is about time to get lunch! I recommend having lunch in the La Latina neighborhood or in the Barrio de las Letras. Both are only a short, scenic walk away from the Mercado San Miguel.
Whereas La Latina is more laid-back and informal, the Barrio de las Letras neighborhood is a bit more "upscale" but still very cool!
Here, my restaurant recommendations for lunch in La Latina or Barrio de Las Letras:
La Latina
Barrio de las Letras
24 hours in Madrid: the afternoon in Madrid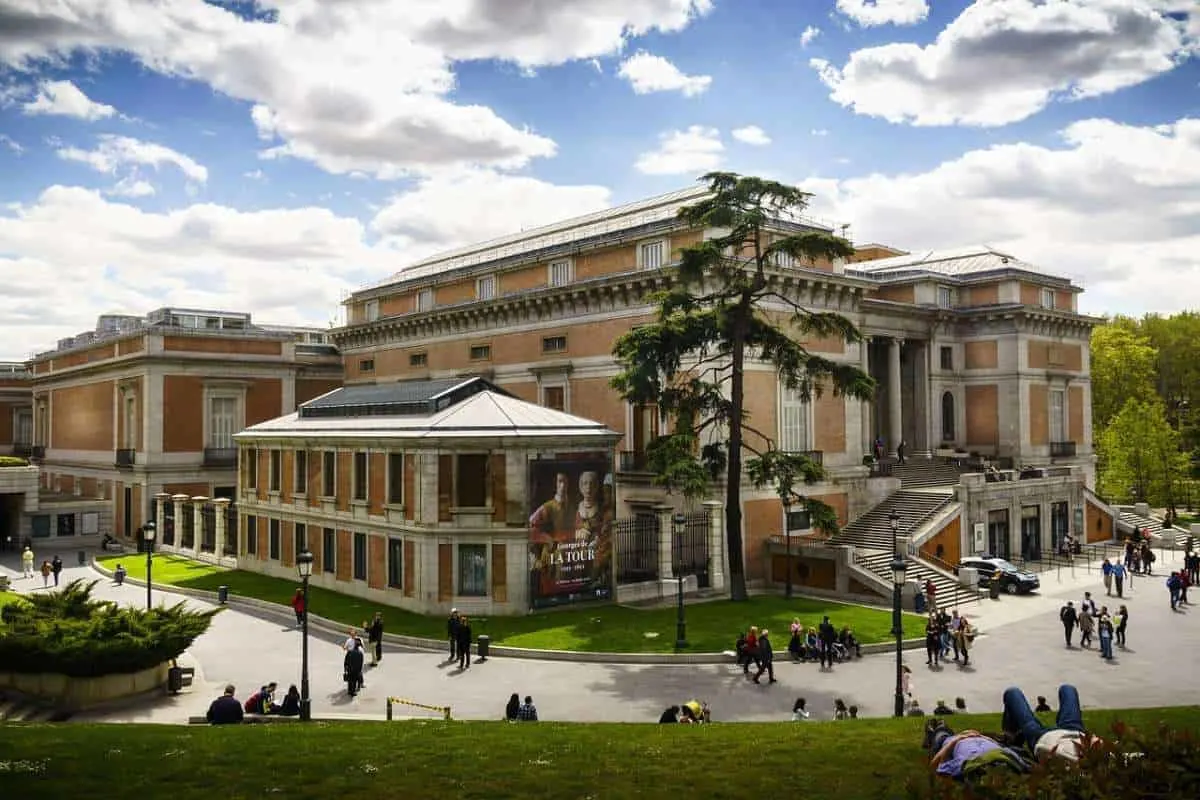 Leisure options to spend a lovely afternoon in Madrid are almost infinite! Of course, this Madrid itinerary can be adapted according to your interests, but I really recommend visiting at least one of Madrid's best museums.
They figure among the best in entire Spain and some of them host some of the most important artworks in Europe. Even though you visit for just 2 hours, you'll get a lovely glimpse into the Spanish history and cultural magnitude.
As temperatures can get suffocating hot during summer afternoons, museums are a great way to escape the heat.
Other options to spend your 24 hours in Madrid could be:
Shopping in Malasaña or Salamanca
Visit the Bernabeu Real Madrid stadium
Stroll through the Retiro park
5. Pick one museum:
El Prado
The El Prado museum is probably the most famous museum in Madrid. If you are looking for important historical paintings and the most emblematic art pieces in Spain, The El Prado museum is the place to visit.
It's basically what the Louvre is to Paris. You could spend hours in the El Prado museum. However, with 2 hours, you can see the most important paintings. The building itself is impressive and well worth a visit.
As El Prado is one of the most popular attractions in Madrid, there will be long queues. In order to make the most out of your time, I strongly recommend buying your skip-the-line tickets in advance.
Book here your skip-the-line tickets
Reina Sofia Museum
If you prefer the art of the 20th century over the classical paintings exposed in El Prado, you'll enjoy the Reina Sofia Museum.
It hosts temporary exhibitions and one floor is entirely dedicated to documents from the Spanish Civil War. However, the most important painting in the Reina Sofia Museum is Guernica by Pablo Picasso.
This painting is one of the key pieces in Spanish historical art. Book here your tickets to the Reina Sofia Museum.
If you wonder what to see in Madrid in 1 day, the Reina Sofia museum should definitely be on your list.
Thyssen Museum
If you cannot decide for one historical period only and you want to see less known paintings from artists all over the world, the Thyssen museum is your museum!
All the paintings you can admire in the Thyssen museum used to belong to a private person, Heinrich Freiherr Thyssen-Bornemisza, who donated them all to the state. You'll enjoy over 1500 masterpieces by Van Gogh, Caravaggio, Degas and more.
Book here your tickets to Thyssen Museum
6. Shopping time in Madrid!
In Madrid, you can shop until you drop! From mainstream brands to Spanish luxury brands, from traditional artisans shops with decades of tradition to quirky and hipster pop-up stores, Madrid gets you covered.
As you have only 1 day in Madrid, it is very important to choose carefully your neighborhood for shopping. Indeed, every neighborhood has a very different vibe which is reflected in the shops. Thus, use your 24 hours in Madrid wisely.
The best way to get to the different Madrid neighborhoods is by metro or by taxi (which is not expensive at all in Madrid).
Here my recommendations for the best shopping locations according to your preferences:
Luxury Shopping: the Salamanca neighborhood in the streets named Serrano, Ortega y Gasset or Lagasca, also El Corte Ingles Nuevos Ministerios
Mainstream brands shopping: Gran Via, Calle de Preciados, Calle de Carretas, Calle de la Montera
Shopping center in the city center: El Corte Ingles at the Puerta del Sol and Calle Preciados (which has a jaw-dropping gourmet store), Centro Comercial Principe Pio, ABC Serrano
Quirky and hipster shops: the Malasaña and Chueca neighborhoods. Best streets for shopping in Malasaña and Chueca: Calle Fuencarral, Corredera Alta de San Pablo, Calle del Espiritu Santo, Calle de Velarde for vintage shops, Augusto Figueroa for shoe shops
Artsy shops: Barrio de las Letras, La Latina
Foodie shopping: Mercado San Anton, Mercado San Ildefonso, La Chinata, Corte Inglés Gourmet Experience Gran Vía, Mercado Anton Martin
If you´re looking for things to do in Madrid in one day or you only have 24 hours in Madrid, some shopping should definitely be on the list.
7. Late afternoon: see the sunset or siesta?
Now, the hardest question: rather opt for sunset or siesta before hitting the nightclubs of Madrid? If you are tired of so much sightseeing and all that walking, I recommend taking a "siesta" (powernap) in order to refuel your energies before going out.
If you are the kind of person that wants to make the most out of its time and enjoy Madrid as much as possible, I strongly recommend hitting one of the fabulous rooftop bars and marvel at Madrid from the sky.
Did you know that there is a saying "De Madrid al Cielo", meaning "From Madrid to the sky"? After Madrid, only the sky is better, and there is no better way to confirm this popular saying than by enjoying some drinks and tapas from a rooftop bar.
I am convinced that there is no other Spanish city that has so many rooftop bars than Madrid. It's a great way to escape the heat and the feeling of sipping your cocktail on top of the city is irresistible.
Here the best rooftop bars in Madrid:
If you wonder what to see in Madrid in one day, make sure to include one of these rooftop terraces.
8. Tapas and Dinner in Madrid
After your aperitivo on one of Madrid's trendiest rooftops, it's tapas time! Remember that the Spanish dine relatively late. Thus, first, you go for tapas from around 8-10 pm and dinner usually takes places from 10 pm to…. People only start going to clubs from 2 or 3 am onwards.
My favorite way of starting the nights of Madrid is by hopping from bar to bar, trying different tapas and drinks. There are so many bars in the Spanish capital that it would be a pity to stay in one all the time.
After tapas, you can opt for a traditional dinner or, why not, a Flamenco dinner in one of the city's tablaos (Flamenco restaurants). During the courses of your meal, the best Flamenco artists will perform.
The best places for tapas and dinner are distributed among all central neighborhoods of Madrid. My favorite ones are still Malasaña, La Latina and Chamberí.
Here, the best places for tapas in Madrid:
The best places for a Flamenco dinner (tablao) in Madrid:
Best places for dinner in Madrid (only a few suggestions here):
9. Hit the clubs in Madrid!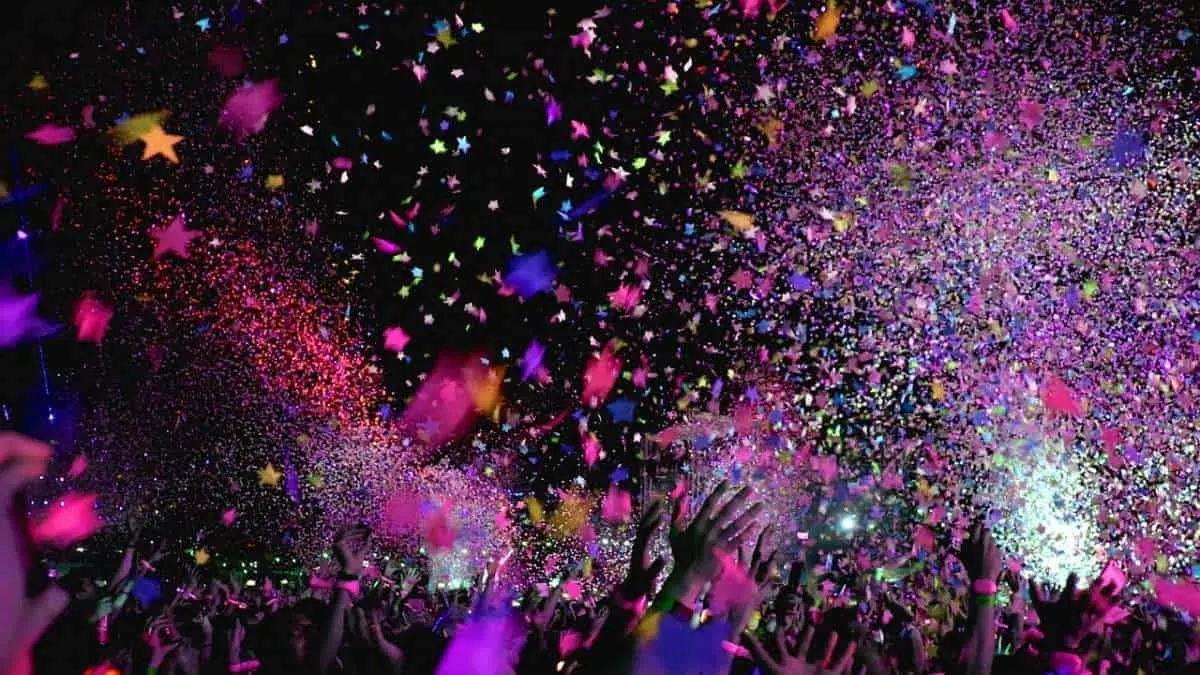 Do you still have some energy left? Good, because Madrid is one of the best European cities when it comes to nightlife! Whether you're looking for nightclubs playing mainstream music, Balkan music, the latest electro music or music from the 70s, Madrid has got it all!
Nights start late in Madrid! People usually hit the clubs only around 2-3 am and dance until the morning light! For some reason, Madrid is known as the city that never sleeps. And 24 hours in Madrid are not complete if you don't taste its nightlife.
My favorite places to go out in Madrid are Malasaña and La Latina. However, also neighborhoods like Chamberí, Salamanca or the city center are fun.
Here some of the best nightclubs in Madrid:
Read more about the best clubs in Madrid
10. Finish 24 hours in Madrid with the typical breakfast
You cannot have a wild night out in Madrid without finishing it with one of the most traditional snacks or breakfasts in Spain: chocolate con churros! Churros are deep-fried dough sweets that are dipped in hot, thick chocolate! A delight!
For the best chocolate con churros, go to Chocolateria San Gines! It is the most traditional place in Madrid to enjoy chocolate con churros and it's open 24/7! On the walls, you'll see the VIPs that have already enjoyed their chocolate con churros in this emblematic place.
Chocolateria San Gines is a must on every Madrid one day itinerary!
I hope you enjoyed your 24 hours in Madrid and that you got a taste of what this vibrant city holds for you. Make sure to come back soon for more… there are plenty of day trips waiting for you such as from Madrid to Segovia, Toledo or Avila! I also recommend having a look at these unusual, secret escapes from Madrid.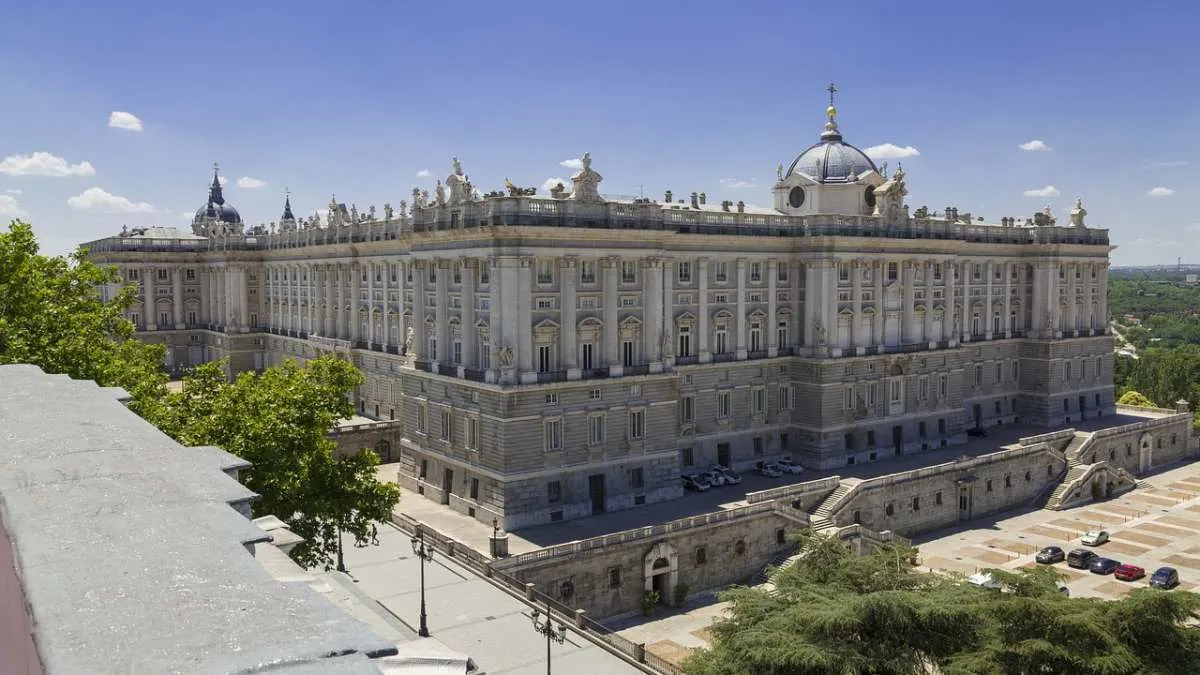 ---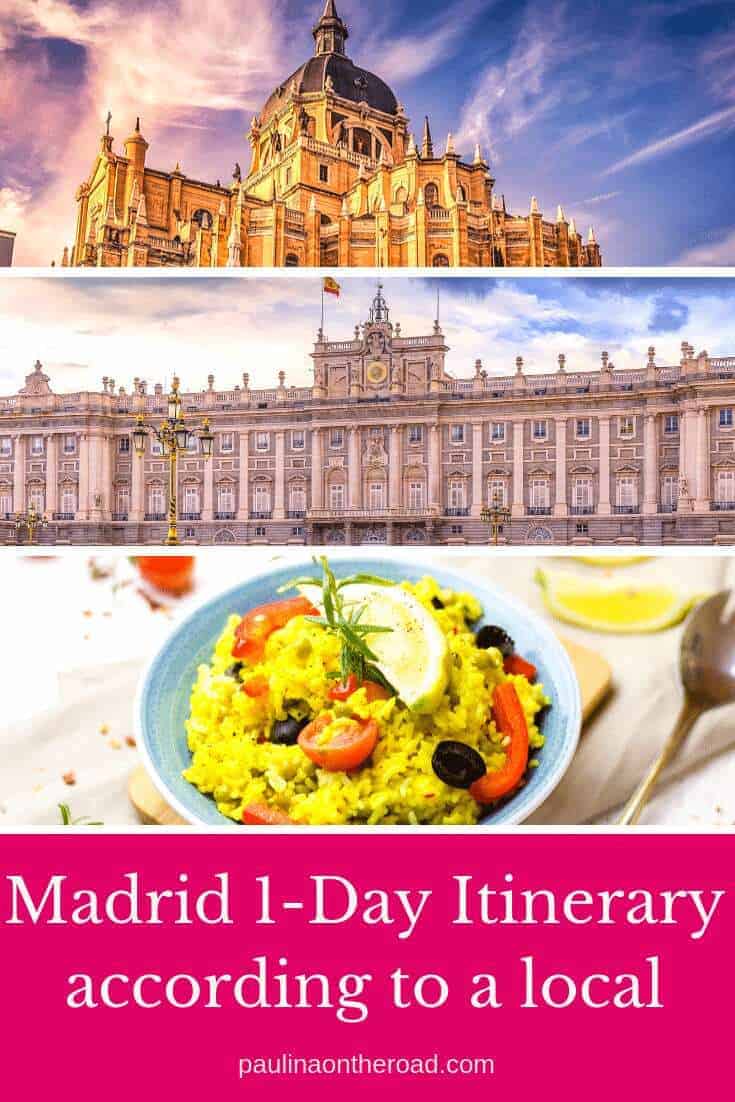 ---
Before You Go: Top Tips for your Trip
To make the most of your trip, I recommend Lonely Planet Madrid
---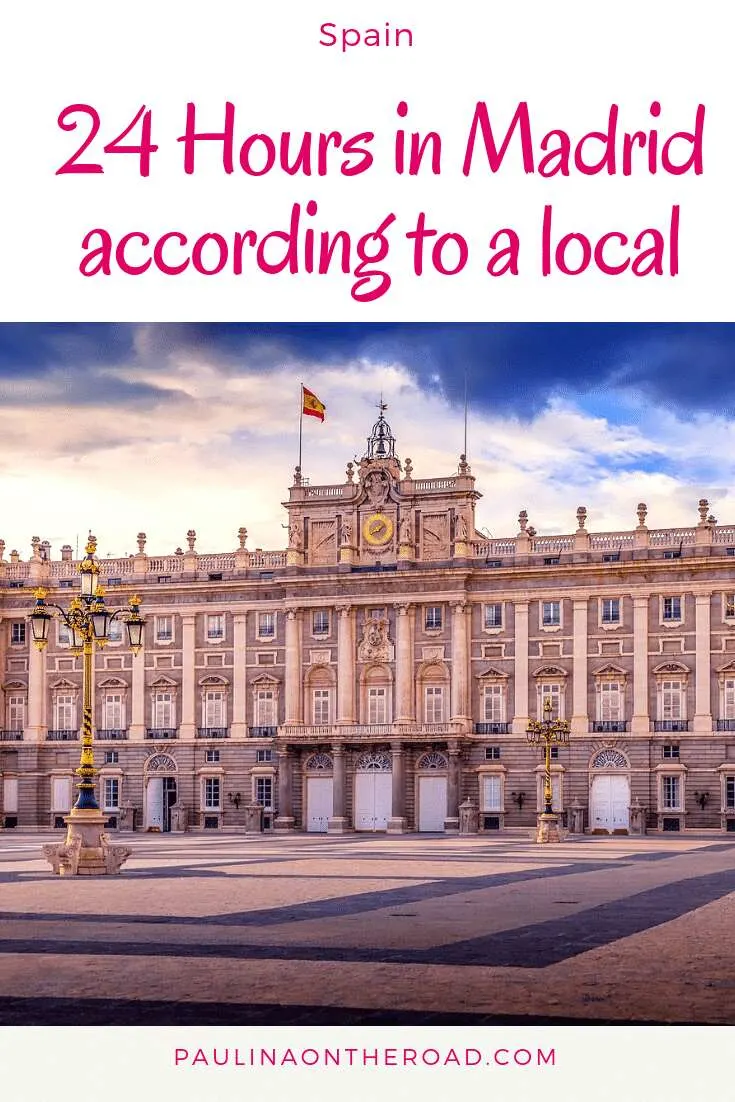 ---
Hola! I am Paulina, a fervent travelette who crossed the Atlantic Ocean by Boat HitchHiking. On my blog, you'll find all the tips to make the most of your holiday. Get ready to enjoy outdoor and sustainable travel like hiking, cycling or sailing. Let's hit the road together!