A travel guide to spend 1 day in Valencia including paella, beaches and monuments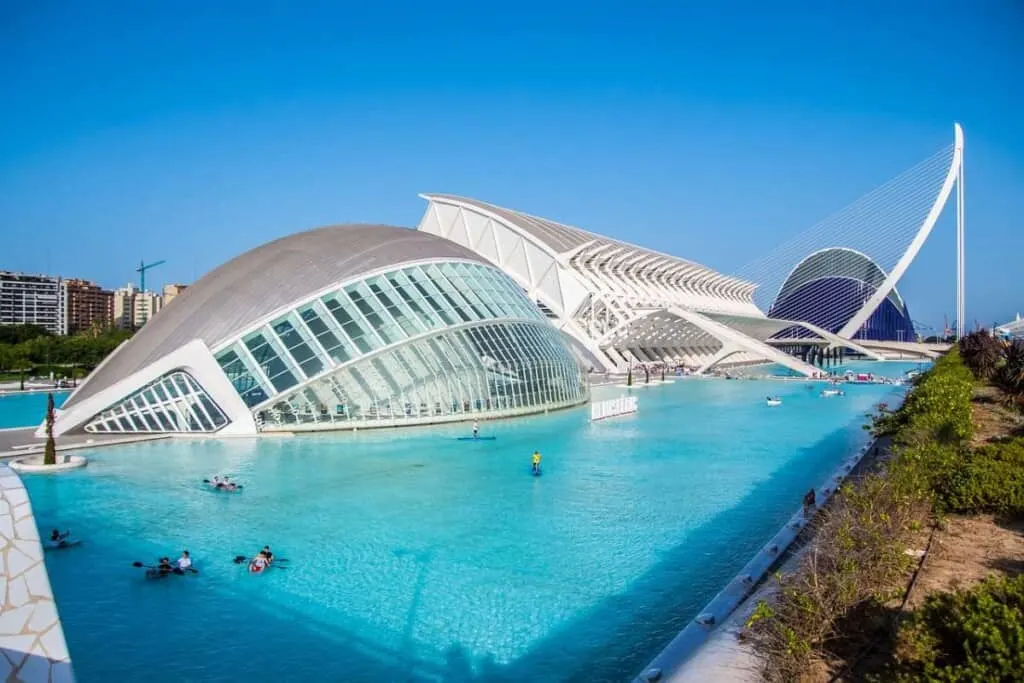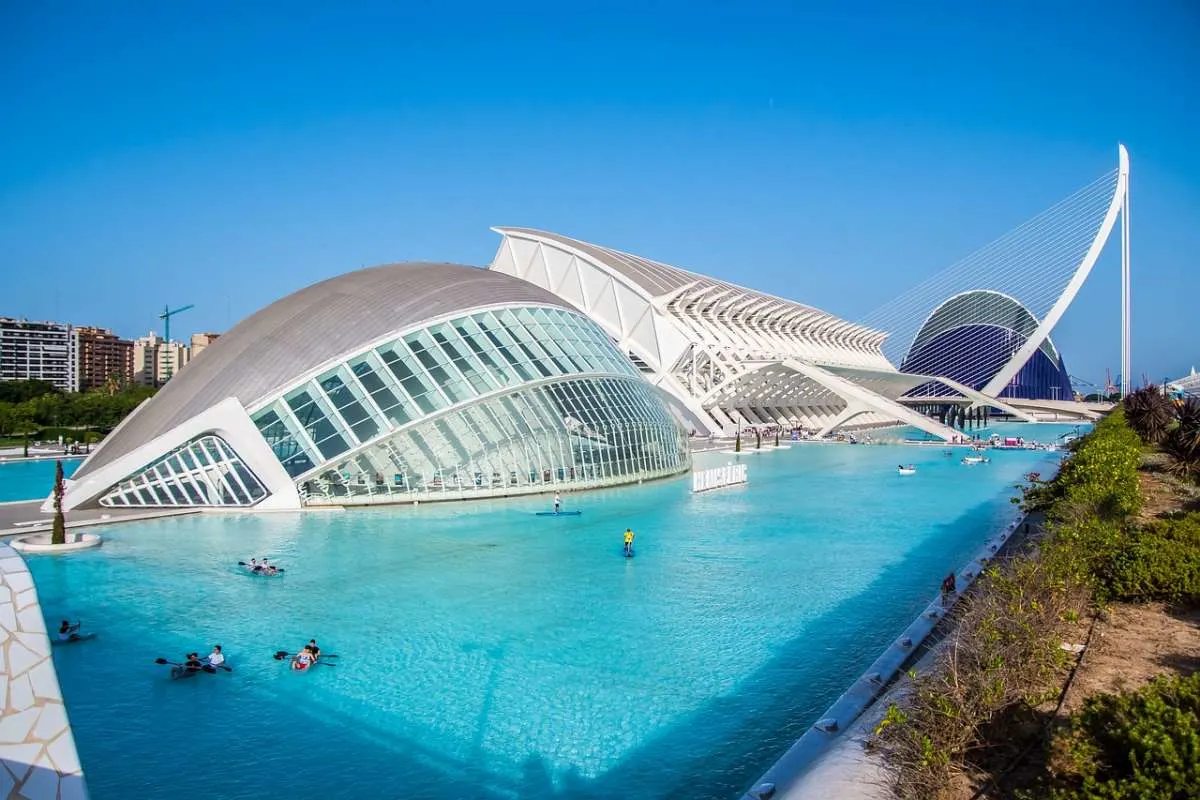 Valencia is Spain's very own not-so-secret paradise. This coastal gem is stunning, historic, exciting and full of things to do. The atmosphere in Valencia is authentic and unique which is why it is a beyond lust-worthy travel destination.
However, it does not get nearly as many tourists as other cities in Spain like Barcelona and Madrid. This is a good thing because in Valencia, you can roam around without being in crowds of tourists, and enjoy the fresh Spanish scenery in more private conditions.
One day in Valencia is just enough time to get a taste of this stunning Spanish gem. Within 24 hours, you can see all the top attractions and spots within the city, and begin to understand the unmistakable allure of Valencia.
Are you wondering what to do in Valencia in one day? Use this list to guide your activities during your one day in Valencia, Spain, and prepare to fall in love with this Spanish coastal gem.
If you have more than 1 day in Valencia, check my 3-Day Valencia itinerary.
"Paulina on the Road" is supported by you, dear reader. As you buy through my links, I earn a small commission. As an Amazon Affiliate, I earn from qualifying purchases. Thank you for your support
Useful Travel Information About Spain
⚘ Avoid tourist traps and get the customizable "Spain Like a Local" itinerary for less than 10€. – Get it here

✈ Book cheap flights to Spain with Skyscanner

✔ Book tours in Spain with Viator

➳ Find the best hotels in Spain with Trivago

❖ Rent a car with the best discounts with DiscoverCars

☘ Get the best discounted outdoor gear (outlet) with REI.com

✎ Never leave without travel insurance. I get mine at SafetyWing. It is easy to set up, cheap and reliable.

$ Withdraw money without hidden fees and avoid exchange rates with Wise (you'll get a free card on top!)
How to get around in Valencia?
To see everything on this one-day itinerary, you will have to move around quite quickly, but don't fear! Valencia isn't a huge city, and walking from attractions is quite doable.
You can also rent bikes to get around quicker or take public transportation. – Check bike rentals here
If you have very limited time, you should consider getting on the Hop-on/Hop-off bus in order to make the most of your time. – Get tickets here
Thank God the weather is very friendly almost all year round, which makes Valencia a great place to spend Spanish winter holidays.
Ultimate One Day in Valencia Itinerary
Get a Bite at Mercado Central (Central Market)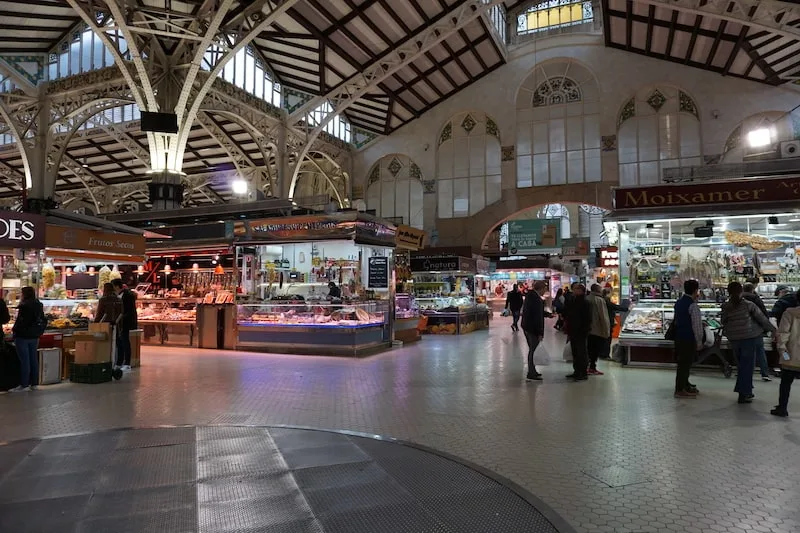 The best way to start the morning of your one day in Valencia is with a visit to the Mercado Central (Central Market) which is located right in the old town of Valencia, and a huge structure full of excitement.
Inside the building, there are tons of stands selling different foods. You can get fresh meat, cheese, fruits, pastries, etc.
The entire market is divided into sections based on what it offers, so that you can explore each unique food item one at a time. – Book a food tour in Valencia here
A visit to the market is the best way to immerse yourself in the daily life of a Valencia native. Here, you will find locals bargaining with the shop owners, and get to see first-hand all the specialty foods of the region.
This is the perfect place to start your day to enjoy a fresh pastry, smoothie and snack! You can stroll around on the hunt for the perfect option until you find it.
If you want to learn more about Spanish snacks, have a look at my in-depth guide here.
Check food tours in Valencia here
Visit the Historic Valencia Cathedral
The Valencia Cathedral is located very near to the Central Market, and a must visit on any one day in Valencia itinerary. This is one of the city's most famous attractions, mainly because it is home to the Holy Grail.
The Holy Grail is the cup that Jesus drank from at the last supper. There are a few places in the world that claim to have the real Holy Grail and Valencia is amongst them.
A visit here is a must to view this iconic item, and to experience an incredibly religious spot. This is an especially great place to visit if you are interested in religious history.
If you think that you don't have enough time to make it inside the cathedral, you can also just view it from the outside.
The outside is built in a stunning architectural style that is beyond enticing. All Valencia is ultra-photogenic, and the Valencia Cathedral and its surroundings area do not disappoint.
Check walking tours in Valencia here
Explore the Stunning Plazas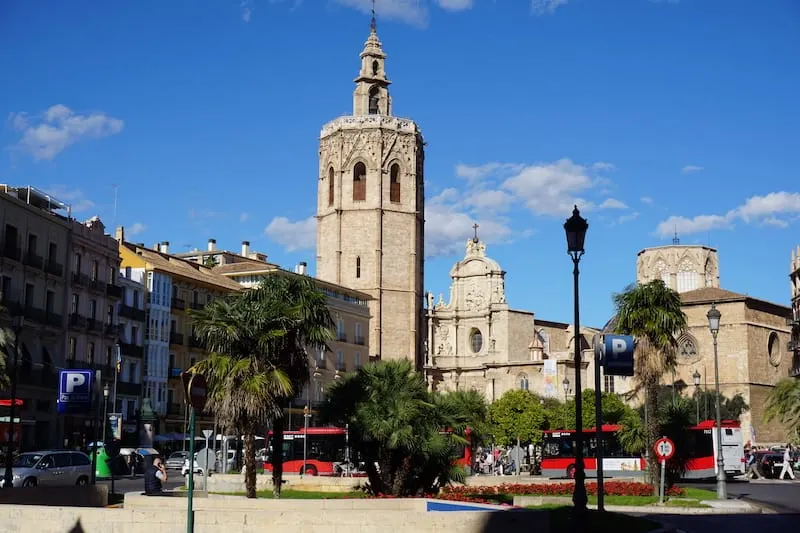 Valencia is home to tons of stunning plazas all around the old town. Both day and night, the plazas are full of life and activity, and very enjoyable to stroll around.
The best way to make the most of your time is with a guided walking tour. – Check tours here
The plazas are always buzzing with life, and you will always find tons of restaurants, bars, and people all around.
They are the perfect place to wander off to for admiring the beautiful architecture and the liveliness of the city.
After visiting the Valencia Cathedral, the next logical plaza to visit is the Plaza de la Reina. This plaza is just a stone's throw away from the Cathedral and is one of Valencia's oldest and busiest plazas.
Some other great plazas to discover are the Plaza de la Virgen and the Plaza del Ayuntamiento.
You will most likely find these plazas without even looking for them. While exploring Valencia, you will most likely find yourself wandering through endless stunning streets and constantly stumbling upon something new and wonderful.
If you want to mingle with the locals, you should check out these funny Spanish phrases.
Climb to the top of Torres De Serrano's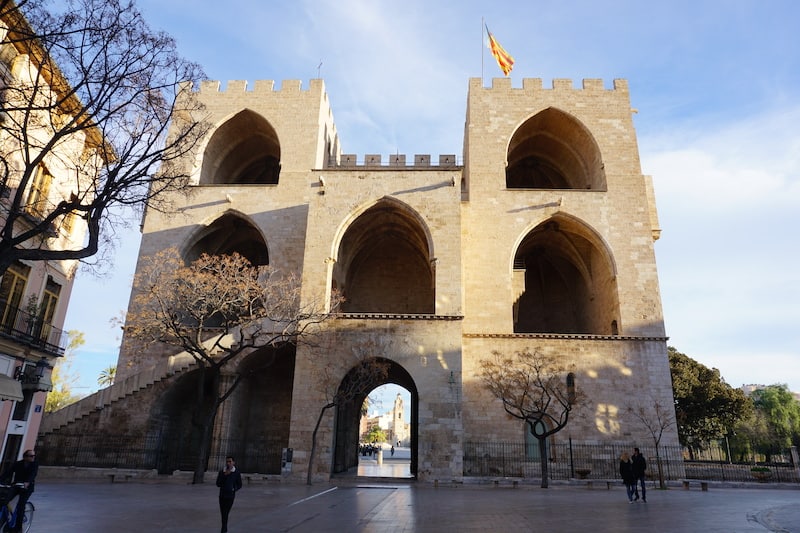 Viewing Valencia from above is the best way to admire this lovely city. There are various lookout points throughout the city, but the best is Torres De Serrano's.
This is one of the old gates that used to be a part of the ancient wall that secured the city. Now, it stands tall at the edge of the old town, and is the perfect place to climb to see Valencia from above.
The walk to the top is quite quick and there are various places to stop along the way to admire the city views.
From the very top, you are blessed with beautiful panoramic views of the whitewashed and colourful buildings, and the maze of their entanglement. The structure itself is also very beautiful! The light washed stones and ancient architectural style will make you feel transported back in time.
From the very top in the guard's lookouts, you can almost feel like the only people in the world. Climbing to the top costs 2 € on every day, except Sunday when it is free!
On top, this is one of the more unusual things to do in Valencia. – Book tours here
Enjoy Tapas and Sangria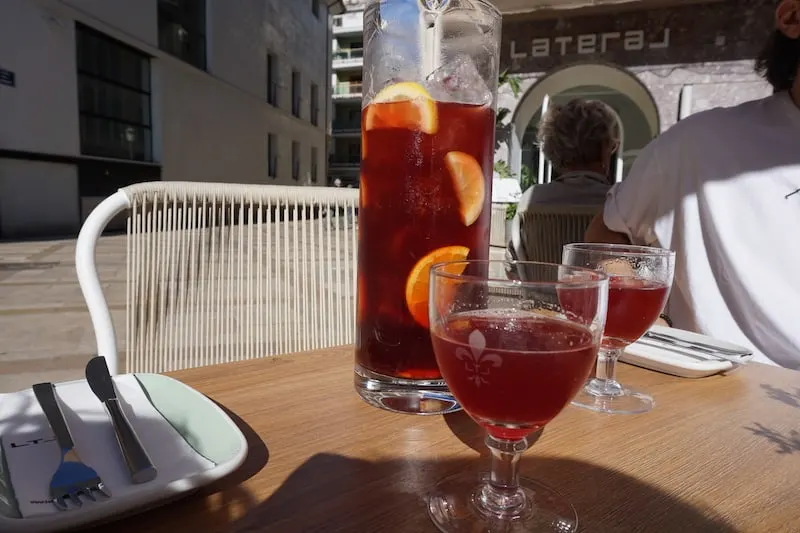 There is no way you can go anywhere in Spain and not enjoy a few breaks along the way consisting of drinks and snacks. And while in Spain, you have to indulge as the Spanish do!
This means for lunch a nice arrangement of tapas and sangria. Tapas are a Spanish favorite that consists of a bunch of small appetizer-sized dishes that you share amongst your table. – Book a food tour in Valencia here
This paired with a delicious pitcher of sangria is a must. Sangria is wine mulled together with fruits like berries, and some sugar. It is a sweet drink that is ultra-refreshing on the warm days that Valencia brings.
For your information, Valencia is not a super vegetarian/vegan-friendly place. There is a strong focus on meat and cheese. However, you can still find potatoes and olives on the menu, so you aren't completely out of luck.
Read more about the best Spanish snacks and traditional dishes to eat in Spain.
Check food tours in Valencia here
Bike to the City of Arts and Sciences
The City of Arts and Sciences is one of Valencia's most amazing attractions. It is located outside the old town, and is best reached by public transportation or with bikes.
With just one day in Valencia, your time will be tight, and renting bikes for a few hours is a quick way to get around while still being able to see the city. – Check bike rentals here
There are lovely bike paths and an entire route through the beautiful park in Valencia that can bring you there in no time. In case you opt to rent a bike, make sure to arrange your travel insurance for Spain upfront!
In the City of Arts and Sciences, you will notice quite a few different attractions, namely: the Oceanographic, the Hemisferic, the Principe Felipe Science Museum, the Umbracle, etc.
Make sure to get your tickets in advance in order to skip the queue. – Book tickets here
All of these places have their own unique offerings and excitement. Oceanographic is the biggest aquarium in Europe, and home to tons of different aquatic species.
The Hemisferic is a 3D cinema that places documentaries on a concave screen. The Principe Felipe Science Museum is a museum for science and technology. And the Umbracle is an open garden full of palm trees and other Mediterranean plants.
This whole area feels like a sci-fi film and is full of things to do! With limited time, you may have to choose just one thing to do in order to have enough time to do some other things. What you decide to do depends on your travel preferences.
Get your skip-the-line pass here
Enjoy Valencia's beach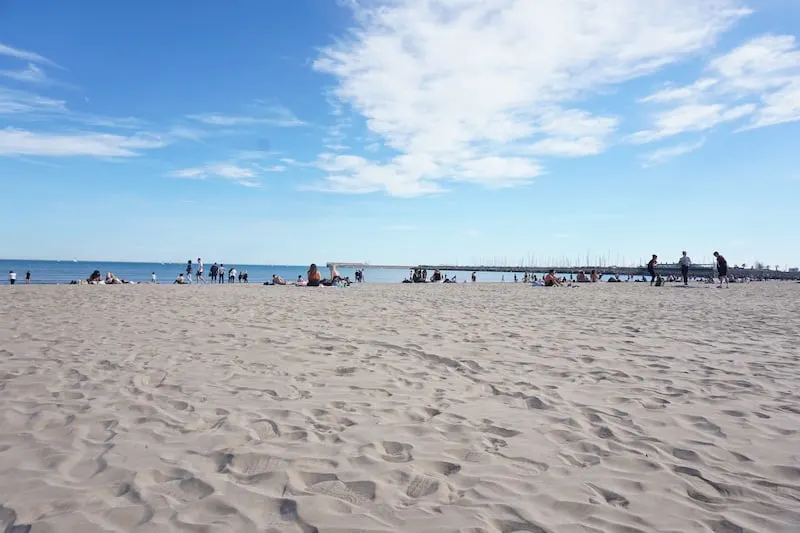 Valencia is not only historic and stunning, but also has a beautiful beach. It is located a little bit of a distance from the old town, and is best reached by bike or by public transportation.
Valencia really does have it all, and the beach is the icing on top. It is huge and full of soft white sand, making it the perfect place to sit and relax for a bit.
More so, the shore is lined with restaurants so that you can sit and enjoy the beautiful scenery with a drink and some food.
The beach in Valencia also has a very nice beach club called Marina Beach Club. The prices for drinks and food here are higher than the ones on the beach but the atmosphere and views are amazing!
For a quick splurge and to enjoy a beachfront and "Ibiza like feeling" in Valencia, this is the place to go!
The seaside is one of the best things to see in Valencia in one day.
Read: 30 Romantic Spanish Phrases
Eat Paella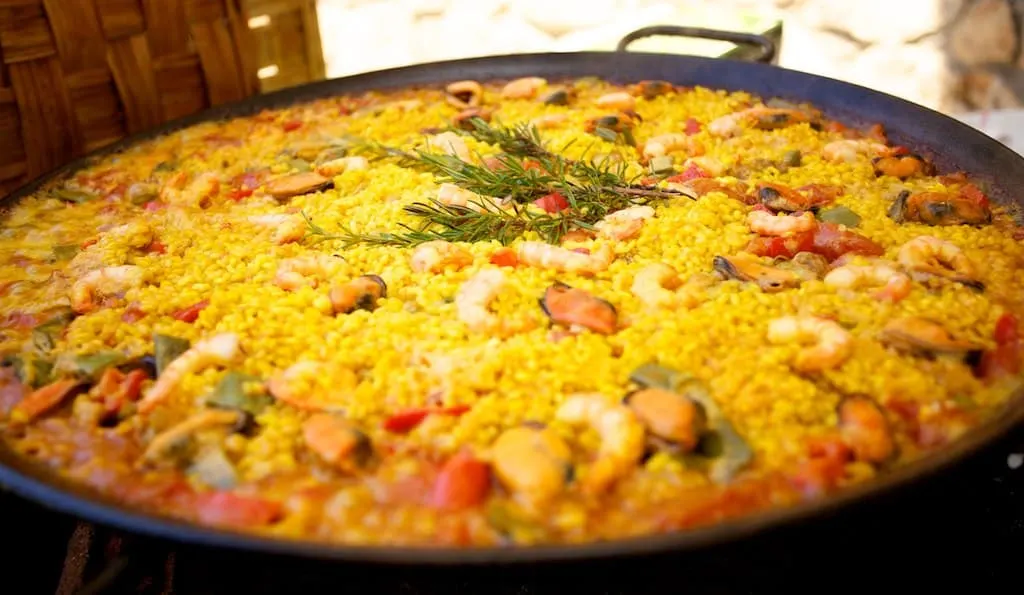 The best way to finish your one day in Valencia is with the ultimate Spanish dish, paella! Paella actually originates from Valencia and when visiting, you must eat this iconic meal from the source!
You can find paella in almost every restaurant in the city and it comes in tons of different styles. In case you are not familiar, paella is a rice dish that consists of rice mixed with various ingredients.
You can find fish paella, chicken paella, vegetables paella and some others. This is the best dinner option that will have you convinced that Valencia is the best city in Spain!
Not only is this rice dish one of the things that Spain is famous for, but it is a must of any Valencia one day itinerary, and one of the most traditional dishes in Spain.
Check food tours in Valencia here
---
Author bio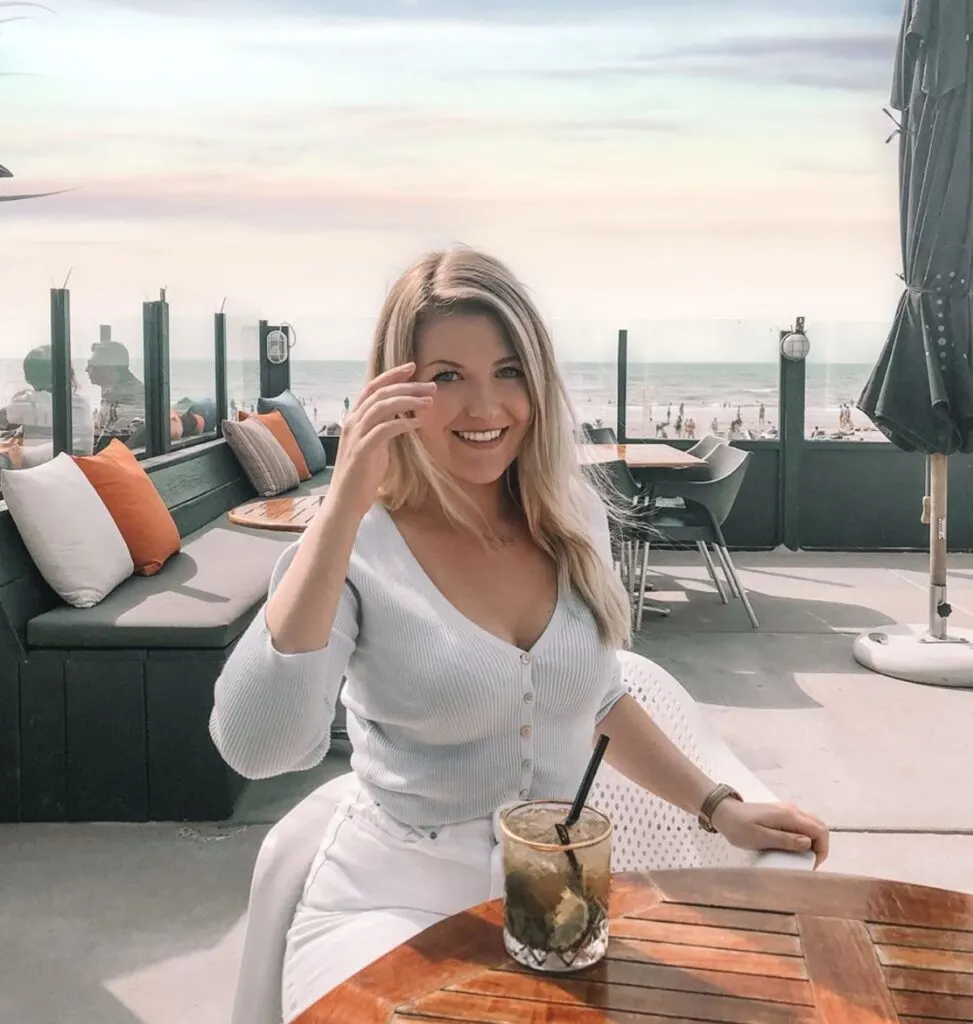 Samantha Karen is the founder of the travel blog Sam Sees World. She is a twenty-something traveler on a mission to explore the world to seek the new and unknown so she can document her experiences and inspire others to explore this wondrous world.
Her objective is to learn about the world while also searching for her place in it.
---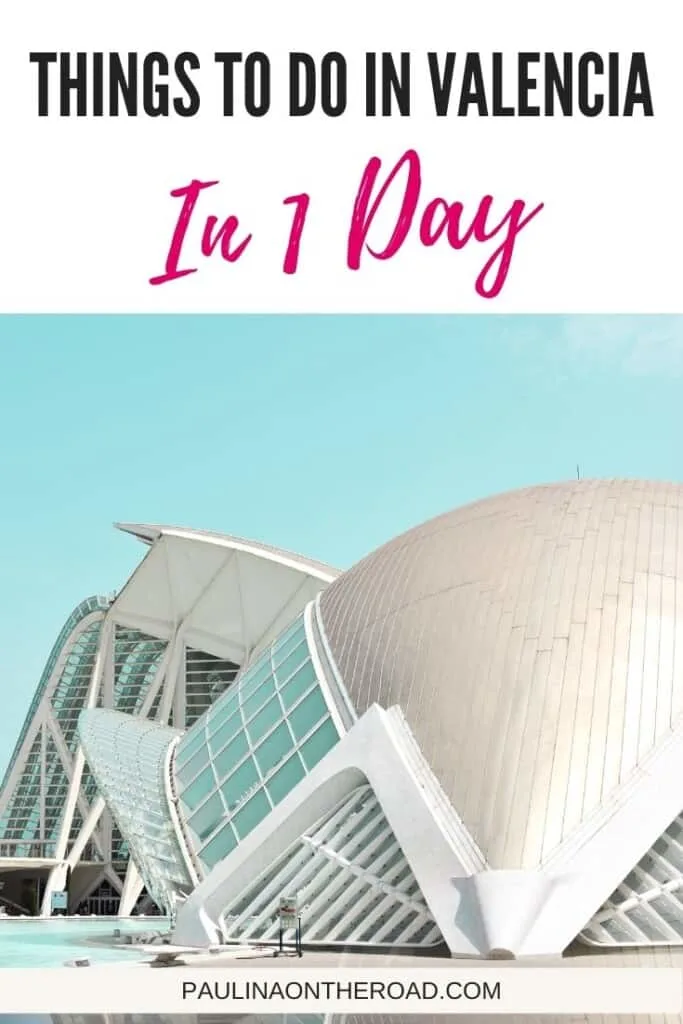 ---
Hola! I am Paulina, a fervent travelette who crossed the Atlantic Ocean by Boat HitchHiking. On my blog, you'll find all the tips to make the most of your holiday. Get ready to enjoy outdoor and sustainable travel like hiking, cycling or sailing. Let's hit the road together!