Are you planning a trip to Oman and you start wondering what to do in Oman?
Because, when you book flights to other countries of the Middle East such as Jordan or the UAE, you mostly know what you get. But in my case, after spontaneously booking my flights, I had to acknowledge that I had no idea about what was expecting me.
I put together this 7-10 day Oman itinerary including all the highlights of this beautiful country.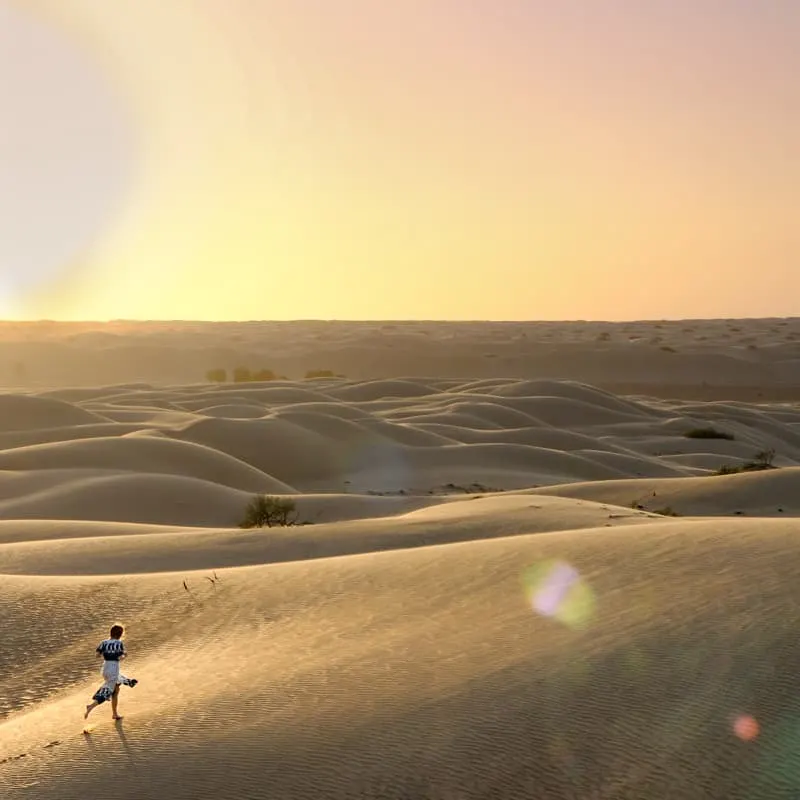 I recognize that I decided to travel to Oman for mostly one reason: the cheap flights to Abu Dhabi and my love for nature.
As Abu Dhabi didn't offer enough nature to satisfy my needs, I decided to hit the road to the Sultanate of Oman and explore a country famous for its lush green wadis, dramatic Al Hajar mountains and frankincense.
But there was so much more that I discovered along the road: extremely kind people, a very quiet and tranquil capital (Muscat), stunning forts, the breathtaking deserts of the Wahiba Sands, and some of the best fruit juices in my life!
This post contains affiliate links. if you buy via them, I'll earn a small commission which helps me to keep this blog running. I received services for free for an honest review. All opinions are my own.
Useful travel information about Oman
Book cheap flights to Oman with Skyscanner

Book transfers from airports with KiwiTaxi

Find the best Hotel Deals in Oman with TripAdvisor Hotels

Best tours and activities in Oman with GetYourGuide

Rent a car with the best discounts at Discover Cars

The best discounted Outdoor Gear at REI.com – Outlet

✎ Never leave without travel insurance. I get mine at SafetyWing

$ I withdraw money without hidden fees and avoid exchange rates with Wise (you'll get a free card on top)
Day 1: Muscat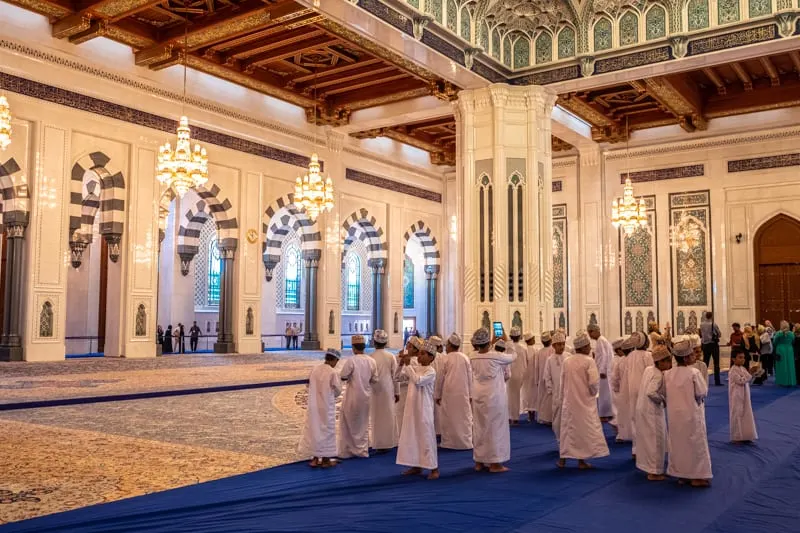 Start your Oman itinerary by exploring the capital city of Oman: Muscat. Located on a long strip of 50 km enclosed by the land, mountains and the sea, Muscat is often seen as a long string of suburbs.
Every neighborhood is very different and has its very own vibe. Unlike other large towns, there is no such thing as a city center. Each neighborhood has its very own center.
Points of Interest: The most interesting ones for tourists are Mutrah, Ruwi, and old Muscat. However, other important Muscat attractions such as the Sultan Qaboos Mosque or the Royal Opera House Muscat are located on the outskirts of Muscat.
Travel Tip: It's thus very important to plan ahead and drive to the different top places of Muscat. If you are in a walking mood, I recommend walking from Mutrah to old Muscat which will take you to some viewpoints and several Muscat attractions. It's only 8 km long.
Where to stay in Muscat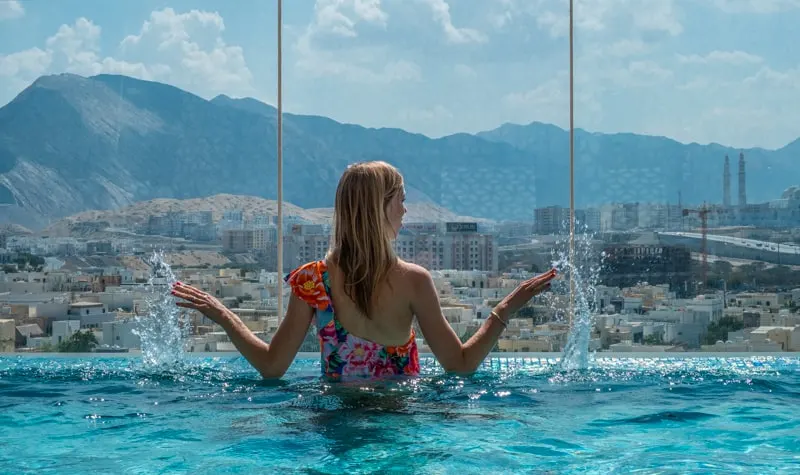 As there is no such thing as a city center in Muscat, you might have a hard time choosing the right location for your accommodation.
I opted for the recently opened (February 2019) Hilton Garden Inn Muscat Al Khuwair****, located in the Al Khuwayr neighborhood.
First, I absolutely loved the suburb as there are plenty of small restaurants and shops that are open until late. It's thus perfect if you want to enjoy the local vibe of Muscat, Oman.
Then, I really appreciated the rooftop pool providing excellent views over Muscat and the breakfast buffet is a delight.
However, my biggest shoutout goes to the commitment of the Hilton Garden Inn's staff team. They really go above and beyond to make your stay in Muscat a great one. Check latest prices here.
Read more: Where to stay in Muscat
What to see in Muscat
Sultan Qaboos Mosque
If you visit only one thing in Muscat, make it the Grand Mosque of Sultan Qaboos. When planning my itinerary, I was literally binging photos of this landmark and by far, it was one of the best places in Muscat I saw.
The mosque is imposing, but without being a show-off. It's an elegant and yet majestic expression of a self-confident Omani culture.
It comes without frills but will definitely leave you in awe thanks to its clear, bright white lines forming a great contrast against the blue sky.
The prayer hall is one of the highlights with the second-largest hand-loomed carpet from Iran. It took 4 years and 600 women to weave it! The Sultan Qaboos Grand Mosque was definitely one of the highlights of my Oman itinerary.
Opening Times: 8-11 am Saturday – Thursday
Costs: Free entrance
Dress Code: Long trousers for men. Women need to cover their hair, arms, and legs. Abayas and scarves need to be bought for 2.5 OMR (= +/- 6 €). Look out for the street merchants that rent scarves for 1 OMR (= +/- 2 €).
Royal Opera House Muscat
After visiting the Sultan Qaboos Mosque, make your way to the heart of Muscat. On the way, make a stop at the Royal Opera House of Muscat. You don't need to watch a show… the building itself is already a highlight.
Constructed only recently, the Royal Opera House marked a true enrichment of the cultural life in Muscat. Similar in design as the Grand Sultan Qaboos Mosque, the building boasts an unimposing, yet clear marble exterior. A symbol of contemporary Omani architecture.
Watch out for the Arabesque details, they are absolutely beautiful.
Tours and Opening times: Saturday to Thursday: 8:30 am to 5:30 pm
Entrance fee: Adults: 3 OMR (= +/- 7 €), children: 1 OMR (= +/- 2 €) and groups: 2 OMR (= +/- 5 €) / person
Book a night at the opera with a traditional dinner
Sultan's Palace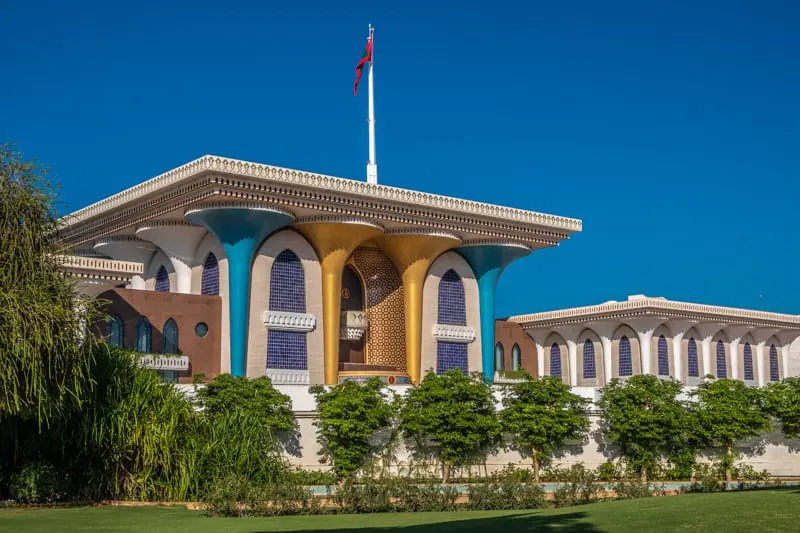 You can't leave Muscat without taking a photo of the emblematic royal palace. Indeed, Oman is one of the few remaining sultanates in the world. Located in Old Muscat, you'll immediately recognize it by its blue and gold colors.
You can either spot it from the seaside at Mirani Street or from the inland where a truly imposing avenue leads you to the palace, used only for representative purposes.
You can't visit the Sultan's Palace.
However, there are several museums in its immediate surroundings that make Old Muscat worth a visit. Have a look at the National Museum, the Jalali and the Al Mirani fort or Bayt al Zubair museum which displays traditional Omani handicrafts.
I also particularly liked the gates of Old Muscat. Did you know that until the 1970s, they were still closed at nightfall?
Muttrah Souq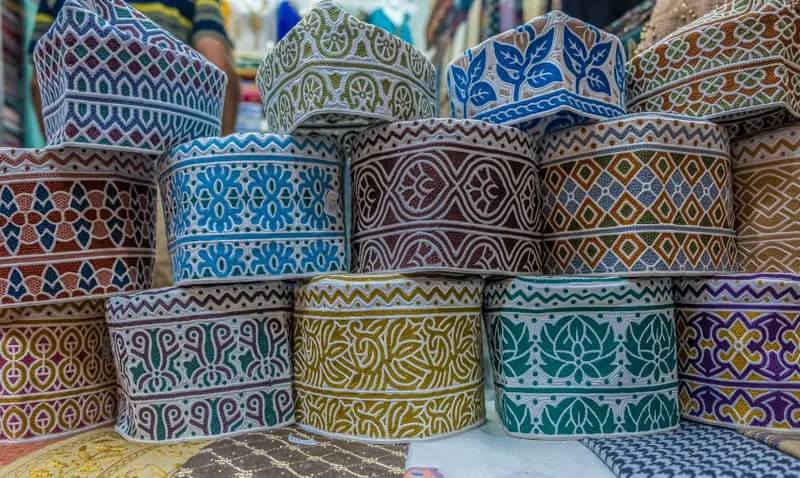 What would be a visit to a country of the Middle East without visiting a traditional souq? Whereas there are several souqs in Muscat, the most famous and scenic one is definitely the Muttrah Souq.
Located a 10 min drive from Old Muscat, the Muttrah neighborhood is probably one of the liveliest suburbs.
The souq reflects the same atmosphere: busy, with plenty of people and things to explore. However, unlike other souqs I've visited, the Muttrah souk is well organized and the sellers are not pushy at all. I loved to get lost in its narrow streets.
In the Muttrah souq, you'll find traditional Omani and Indian artifacts, plenty of frankincense, traditional clothes and the Pashmina scarves worn by Omani men.
The left part of the souq is dedicated to gold. You'll find windows filled with valuable treasures.
Even if you're not in the mood of buying gold, the Muttrah gold souq is worth a visit. It's definitely one of the top things to see in Muscat!
Al Bustan district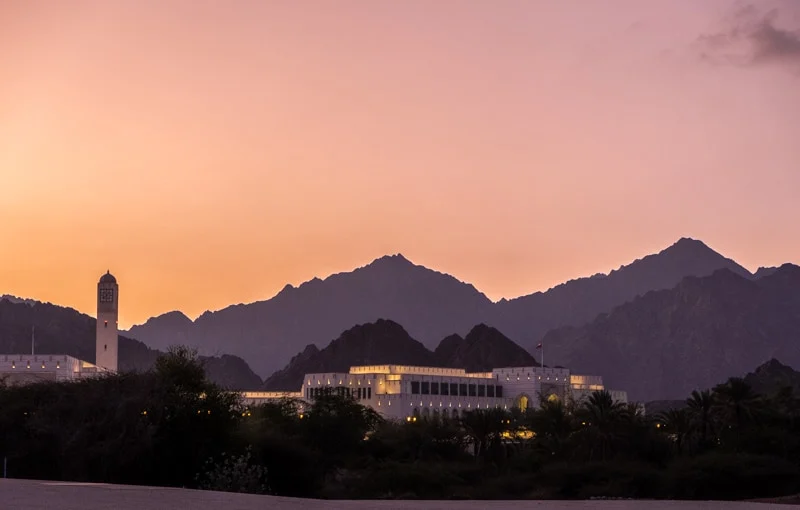 Al Bustan is located outside the city center, a 5-10 minutes drive from Old Muscat. I decided to visit, as a local recommended us the place for watching the sunset.
I couldn't find the spot. However, I explored the luxurious Al Bustan Palace, a Ritz-Carlton Hotel *****. Surrounded by lush gardens and famous for its enormous dome, the hotel is an attraction itself.
Where to eat in Muscat: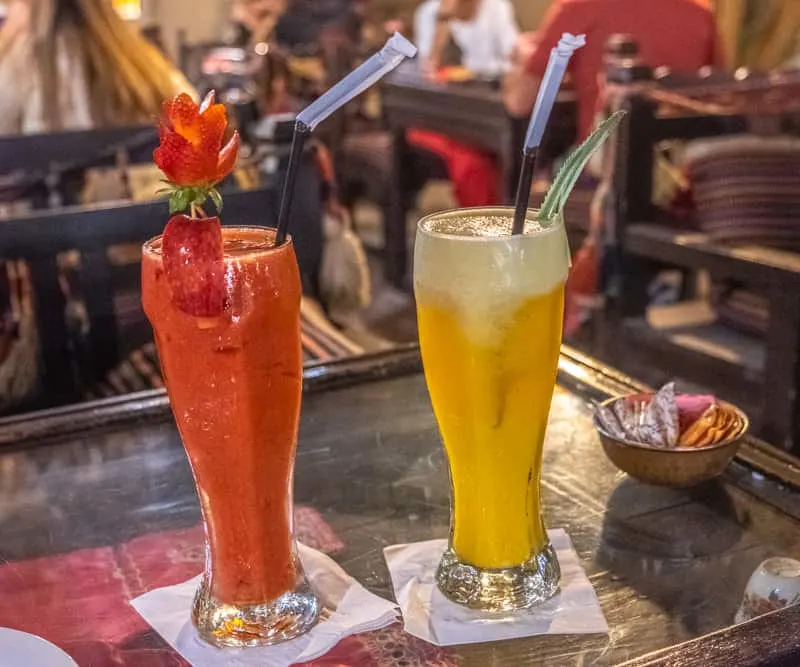 One thing ahead: I loooved eating out in Muscat! Whereas there are plenty of restaurants offering international and Indian food, I had a hard time finding traditional Omani food.
That said, I had the best Indian food in my life in Muscat.
Bait al Luban Omai Restaurant (Omani food): a fabulous restaurant located in a traditional Omani house. It's an experience in every sense. The very moment you enter, you get welcomed with frankincense-infused water. Food is prepared according to traditional recipes by local ladies. The decor and the food are fabulous. Book ahead!
Kargeen (international + Omani food): the new star in town! Famous for its intriguing courtyard decoration, Kargeen has become somewhat Insta-famous. And with a right, as the decoration is breathtaking! I had shuwa, the traditional Omani dish, and some fruit juices. They even have shishas. Again; book ahead!
Fastfood'n'Juice Centre: Oman has some of the best fruit juices I had in my life. I think that during the entire trip, I was on a vitamin C high! You get some of the best ones in this bar located next to the Mutrah souq entrance. My favorites were the pomegranate, lime-chili-mint and the avocado juice. Their colorful triple-layer juices are legendary!
Marlins Restaurant: Located in Al Bustan, I had a quick lunch here as I was starving. Selling international food, this restaurant is a bit pricey for what it is. However, as it's placed within the Marina Bandar Al Rowdha, I enjoyed the setting. It's one of the few places in Muscat that sells alcohol and that comes with a swimming pool for guests.
Day 2 – Day Trips from Muscat: Wadi Shab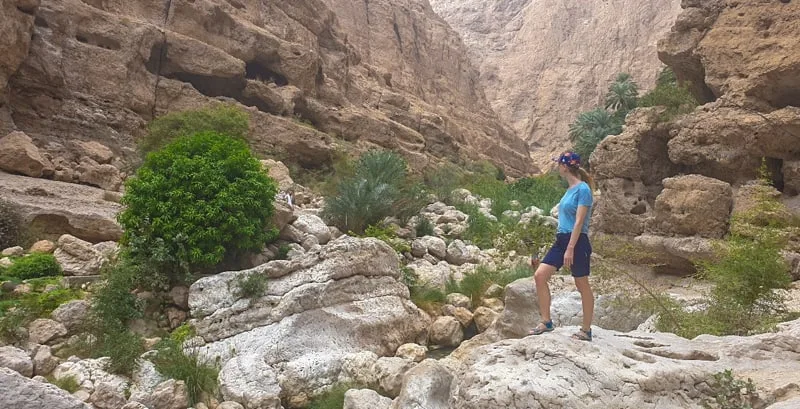 There are plenty of day trips from Muscat! As you easily visit Muscat's best places in 1 day, I decided to spend the second one exploring its surroundings by hiking one of its most famous trails: the Wadi Shab!
Located at 1h30 from Muscat, the entrance to the Wadi Shab is well signposted on the highway to Sur. Leave your car at Wadi Shab parking and take a 5-minute boat ride (1O MR, =+/- 23 €)) to the start of the trail.
Book here a day trip to Wadi Shab
How to hike Wadi Shab trail
The hike is about 45-60 min. but please, note that this is a moderate hike: thus bring sturdy shoes and hiking clothes. Some parts can be slippery!
The views are getting better with every mile you walk and after 40 min, you'll reach the swimming part. That means that you can swim/walk (depending on the water depth) until the end of the wadi.
Some decided to return, I decided to swim on to the end of the wadi. You'll be rewarded with finding a small, narrow cave with a blissful waterfall inside.
IMPORTANT: you need to be a good swimmer and have no claustrophobia while entering the cave. The entrance is extremely narrow and you can't stand in the caves.
In total, I spent up to 3 hours in Wadi Shab, as I really wanted to soak up the beauty of this place.
What to pack for Wadi Shab:
A daypack: to take you stuff with you on the hike – see on REI.com
An action camera: great to film within the cave and below the crystal clear water – see on REI.com
Water and snacks: there are no restaurants during the trek
A swimsuit and eventually a t-shirt to be covered: please respect the local customs concerning attire
A sunscreen (eco-friendly): there is not much shade on the Wadi Shab trek – see on REI.com
Hiking sandals: sturdy shoes are a must for this hike (not an easy walk) – see on REI.com
Water shoes: you'll hike through water on certain occasions
A drybag for your camera if you plan to swim until the cave. If you don't bring an action camera, take a dry bag to take pictures while hiking through the water – see on REI.com
Day 3: Mountain Road Wadi Bani Awf – Hatt – Nizwa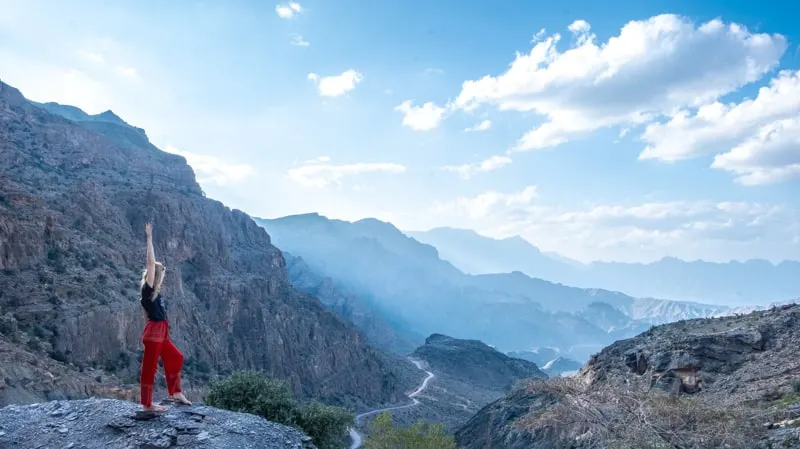 Oman is a great country to be explored by road trip. The distances between the main attractions are quite large, thus a rental car is a must.
As mentioned before, a 4WD is a must… especially if you want to do one of the most epic routes in Oman: from Rustaq through Wadi Bani Awf to Nizwa.
It's all off-road! You need good driving skills and be prepared for an entire day on the road.
For those who enjoy driving, this will be the highlight of your trip to Oman: breathtaking vistas and valleys, steep mountains, extremely narrow roads, plenty of ups & downs, isolated villages,…
The end and highest point is Sharfat al Alamayn and provides some of the best views ever!
That said, don't even dare to do this route without a 4WD! I did so and had to pay a local who drove my car up as it got stuck in the sand. Be smarter! 😉
If you come from Muscat, drive to Rustaq and follow the sign of Wadi Bani Awf. You can easily find it on Maps.Me
Important: Check the weather conditions upfront and take precautions such as water, warm clothing, a spare tire jack,…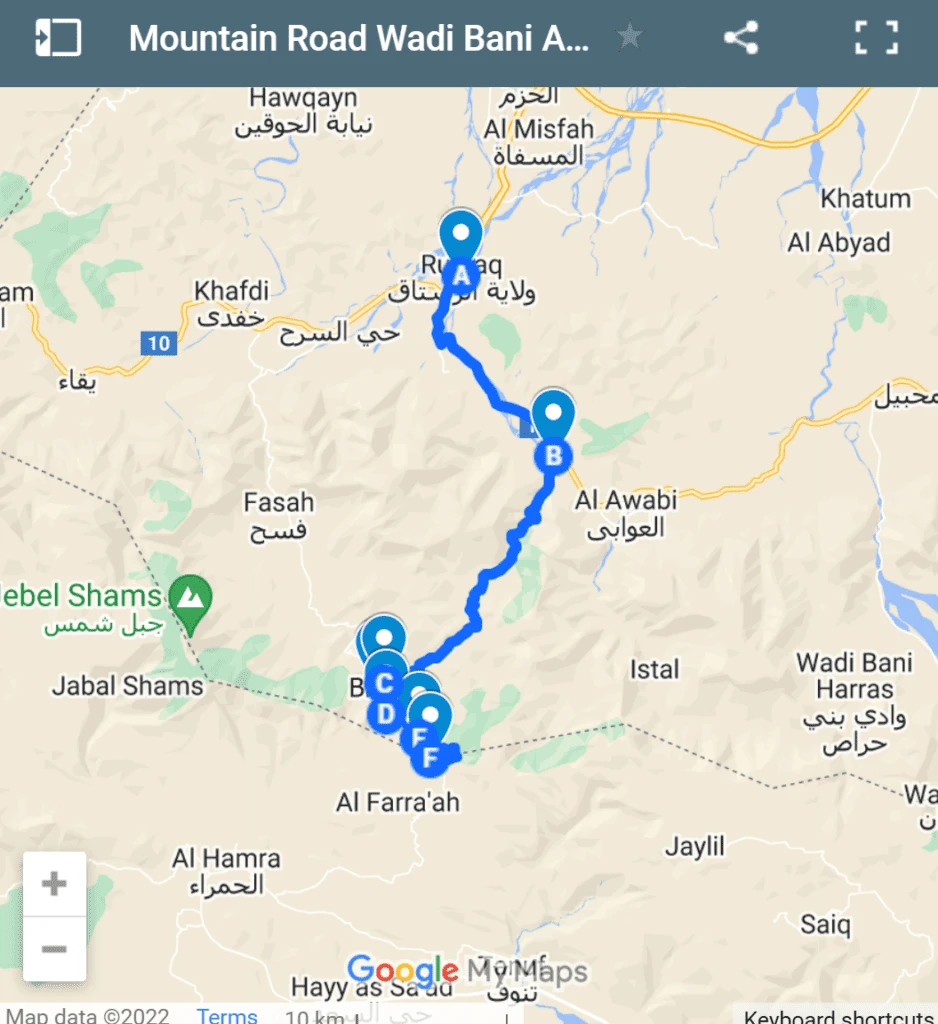 Day 4: Nizwa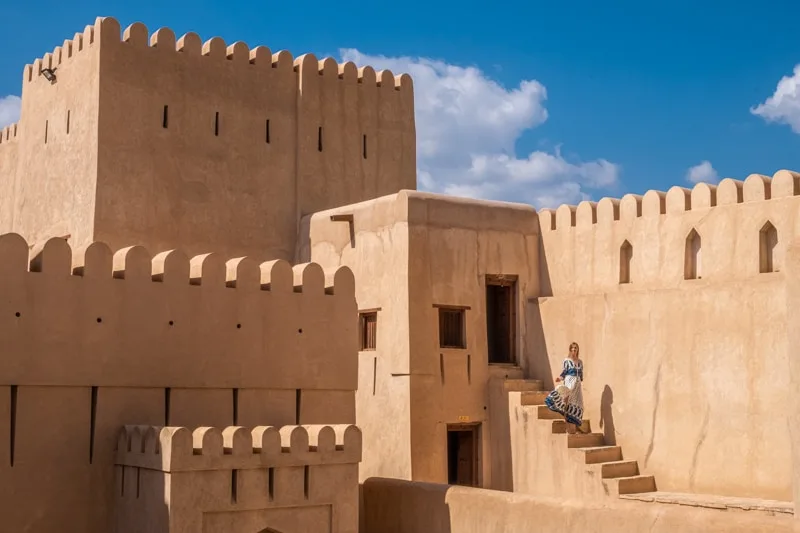 Nizwa will be the highlight for those who love forts and history.
To me, the historic center seemed straight out of a 1001 nights tale. It's definitely one of the best things to do in Oman.
The highlights of Nizwa are its majestic fort and the Nizwa souq. From here, you can enjoy some of the most beautiful doors of the old town.
The Nizwa Fort: I was/am still totally obsessed with the clear lines, contrasts and excellent preservation of the Nizwa fort. It really feels like a trip back in time. It's famous for its 40 m round tower. The entrance to Nizwa fort: 5 OMR (= +/- 12 €).
The Nizwa souq: Nizwa has one of the oldest souqs in the country but it's very different from the Muttrah souq. Located in a new building, you can buy all types of fruits, vegetables, and meats here. It's also a great opportunity to stock up on hand-made halva, the typical Omani desert made out of dates.
The Nizwa Friday souq: This is a unique event in Oman. Every Friday, from 7 am until 9 am, the livestock souq attracts locals and tourists alike. It's extremely lively and its the place where camels, goats, sheep and more find new owners.
Where to eat in Nizwa
I had no luck with the recommendations of the Lonely Planet's guide (the restaurants were either closed or the food was not edible), but I recommend BarbeQue Nation.
A somewhat quirky concept with private cabins for each group, but the food is excellent and you can choose among Arab, Turkish, Indian, and Chinese food.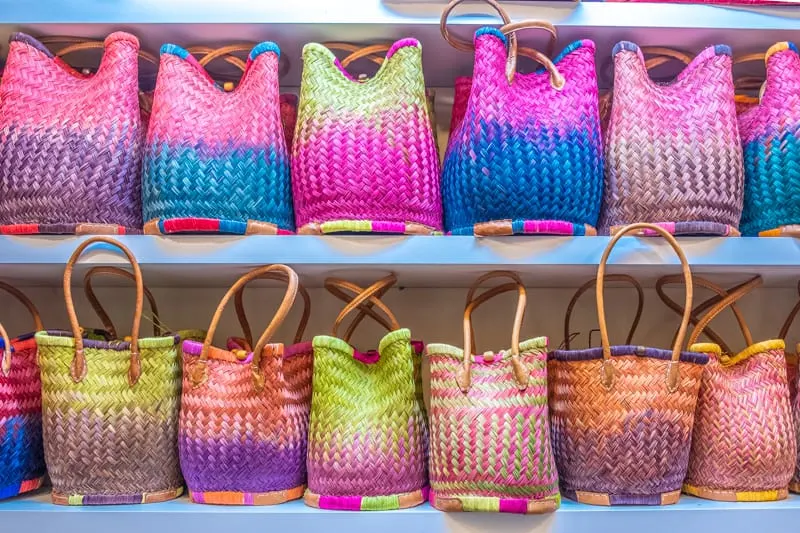 Where to stay in Nizwa
I stayed in the Golden Tulip Nizwa Hotel****. Even though the hotel is located somehow out of town, it is a perfect oasis of peace to recover after the long road through Wadi Bani Awf and exploring Nizwa. They have a lovely swimming pool and the hotel even hosted members of the royal family.
Day 5 – Al Hajar Mountains: Jebel Shams & Grand Canyon of Arabia
Day 5 was all about exploring the dramatic mountains of Oman, the Al Hajar mountains.
After my road trip through Wadi Bani Awf, I already got a slight idea (big understatement here) of Oman's impressive mountainous landscapes.
Let me tell you one thing; Oman's canyons and mountains are some of the most impressive ones I've seen after hiking in Santo Antao, Cape Verde. You can spend several days hiking here!
Here, my 1-day itinerary to explore the Al Hajar mountains (all of them can be found on Maps.Me):
The Al Hoota Cave: start the day with the Al Hoota Cave which is the only cave in Oman that is actually prepared for tourists. It's famous for its impressive stalagmites and stalactites. It contains several lakes within. Entrance: 7 OMR (= +/- 16 €).
Wadi Ghul: The Grand Canyon of Arabia. Probably the most impressive moment of my trip to Oman. Drive to "Al Khitaym" village and on your way, you'll pass along several, dramatic viewpoints. Get out of your car at the souvenir stands and walk to the edge of the Grand Canyon of Arabia: Wadi Ghul. If you're afraid of height; take a DEEP breath!
The Balcony Walk: The best way to get an idea of Oman's mountains is definitely by hiking. If you want to go on a moderate hike, I recommend the Balcony Walk W6 trail. Departing from Al Khateem (or Al Khitaym) village, the non-circular hike is about 2 hours. The views are dramatic but you're absolutely safe to walk. In the posts I read upfront, it is described as extremely vertiginous and even dangerous, but it's totally safe and not THAT extreme. Kids and elderly ladies even crossed my way. Take enough water, and sturdy shoes and check the weather conditions. Here, is a detailed view of the hike:
Al Hamra: the village located on the foot of the Al Hajar mountains is the gateway to the much-known resort "The View", but it's also famous for its mudbrick ruins built in a Yemeni style. If you drive to the upper part of the village, you'll find several warm-colored ruins which are perfect for photos and a little stroll. (Exact location on the map)
The View: As the name was super enticing, I decided to drive up from Al Hamra to the View resort. The road was extremely challenging and when I finally got up there, I was somehow disappointed. The views of the Balcony Walk and the Wadi Ghul were about 10 x more impressive. That said, the location of the resort and especially its infinity pool are epic. But still, I missed the adrenaline of standing at the edge of Wadi Ghul. – The View
Day 6: Wadi Bani Khalid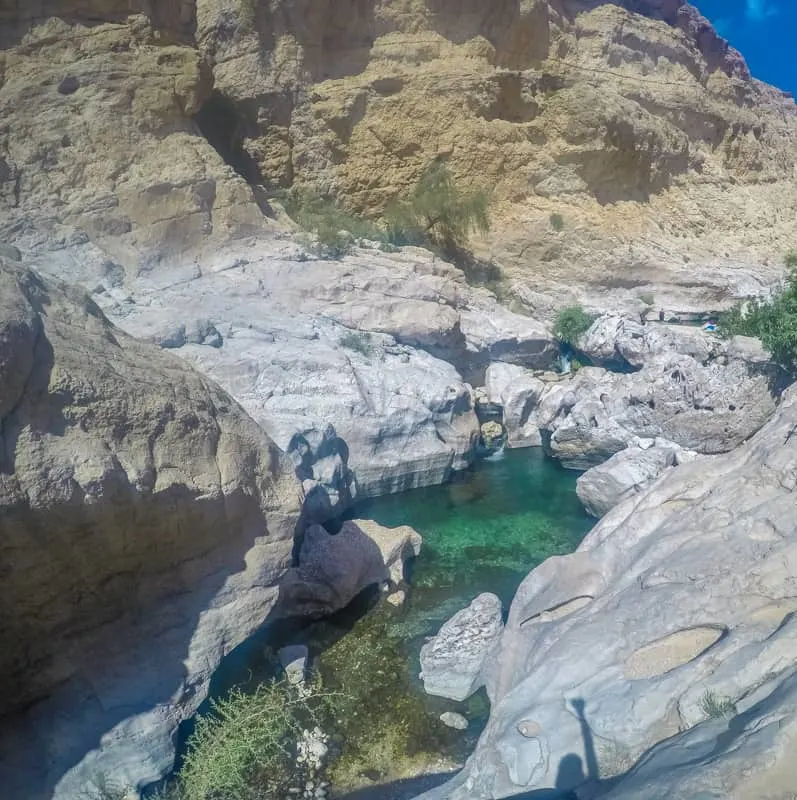 Wadi Bani Khalid is the perfect stop when driving from Nizwa to the desert landscape of Wahiba Sands. Almost 300 km separate both destinations, thus a swim in the crystal clear waters of Wadi Bani Khalid is more than welcome.
The pools of Wadi Bani Khalid are probably some of the most beautiful ones in Oman. The location is well-signposted and there are several picnic sites close by.
The scenery is incredibly beautiful and a perfect place for swimming. Put your feet into the first pool and get a pedicure by the little fish.
I highly recommend getting away from the first pool which is often crowded. Hike towards the Moqal cave (signposted) and have a swim in the smaller, more scenic pools.
Important: The Wadi Bani Khalid Pools are public, thus you need to wear appropriate swimwear. Bring a torchlight if you want to explore the Moqal cave.
Entrance: free
Day 7: Wahiba Sands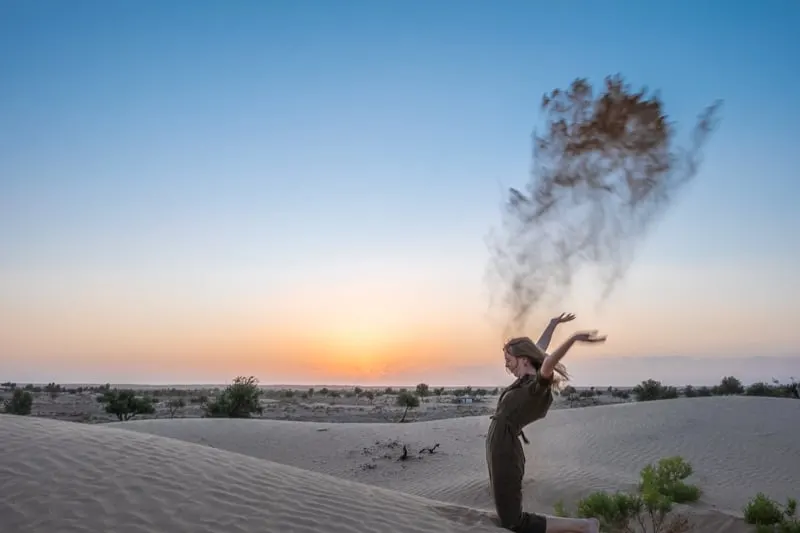 I was looking forward to arriving at the Wahiba Sands the entire time of the trip. After staying in the Bedouin camps of Wadi Rum, Jordan, I was very excited to go back to the desert.
The Wahiba Sands are perfect if you want to do one thing: calm down and unwind!
I spent the night in 2 different camps and it was the perfect occasion to disconnect and just soak up the beauty of the Wahiba sand dunes (also known as Sharqiya Sands).
Some camps offer camel rides and 4WD drives. However, I preferred to spend my time reading and walking towards the sunset.
Stay in Desert Camps in Wahiba Sands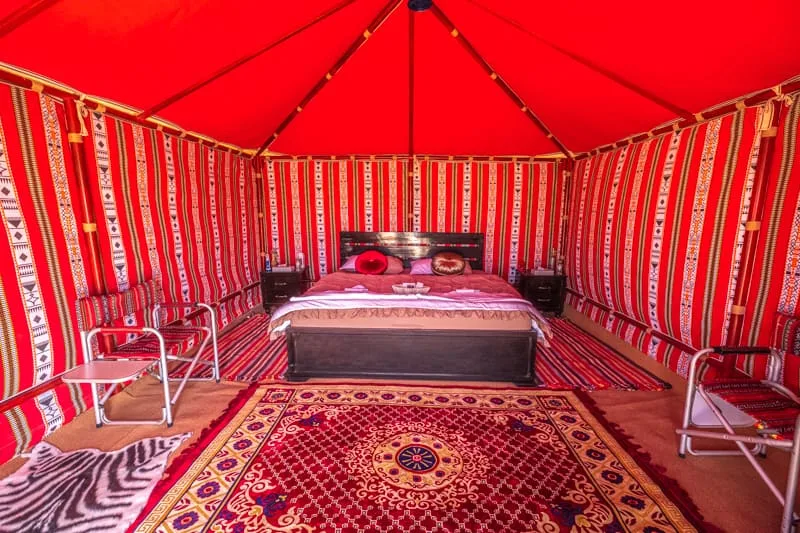 We stayed in the Al-Reem Desert Camp and the Queen Desert Camp ***. The first one is located on the outskirts of the desert and comes with several cabins with lovely interior design. This is the perfect option if you don't want to have the full desert experience.
Check reviews and book on Booking.com
If you want to know what it's really like to be in the desert, the Queen Desert Camp *** is perfect. You'll need to drive 25 min (20 OMR, = +/- 47 €) and all you'll see is sand only.
Both camps have a great sense of hospitality and I loved the luxurious interior design (remember that you are in the desert!).
It's a wonder how the owner created a very welcoming place in such a harsh environment. Showers, modern toilets, king-size beds, hairdryers, they have it all! The staff is extremely kind and devoted.
My highlight was the private campfire after the dinner buffet. The perfect moment to enjoy the stars of Wahiba Sands.
Staying in a desert camp in Oman might be a pricy affair. However, it's the very best way to fully enjoy the beauty of the desert.
Day 8: Wahiba Sands – Ras al Jinz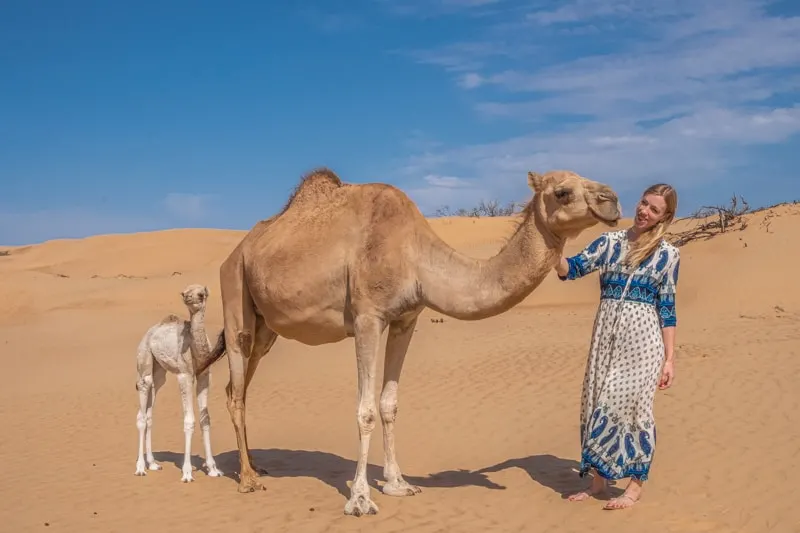 Unless you go on a tour in the Wahiba Sands, make your way to Sur with a stop at Ras al Jinz.
Ras al Jinz is the most famous turtle-nesting site in Oman. The nestling areas can only be visited with an organized tour. The best time to spot turtles is in July, but you'll also get luck in September-November.
That said, the beaches of Ras Al Jinz and Ras Al Hadd are some of the most beautiful ones in Oman. The area is thus perfect if you are looking for an Oman beach holiday.
Day 9: Sur
I was really looking forward to visiting Sur as I was expecting a town like Nizwa but with a maritime touch. I don't want to say that I was disappointed but Sur didn't really live up to my expectations.
In comparison to Muscat and Nizwa, the city center is extremely dirty and I didn't really feel comfortable with the shameless ways Indian men were staring at me. I hardly saw any Omani people in the city center of Sur.
Here are some of the best things to do in Sur:
The Corniche: the best place to enjoy the views of the fishing village of Ayjah and its scenic lighthouse and watchtowers.
The Dhow Yards: located in the lagoon, the dhow yards are leftovers of Sur's boat-building fame
The Souq: Sur has a small souq which is perfect for a little stroll. However, it can't be compared to the souqs of Muscat or Nizwa.
Where to eat in Sur
Zaki Restaurant – located next to the Oman Oil petrol station, Zaki restaurant is a place where travelers and locals mingle.
The food and their fruit juices are delicious and there is a ride range of Arab, Chinese and Indian food to choose from. Take-away is extremely popular.
Day 10: Bimmah Sinkhole and Sohar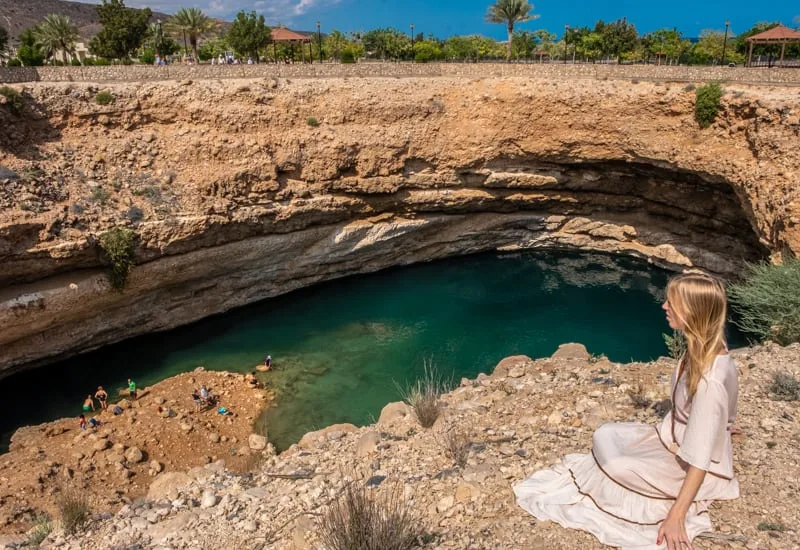 The end station of my 10 day Oman itinerary was Sohar. However, more than 400 km separates it from Sur. As said… you'll drive a lot in Oman!
Stopping at Bimmah Sinkhole Park is the best way to make this long car ride more enjoyable. Located near the village of Dibab (131 km from Muscat), the location is signposted. Book your tour with Viator
The sinkhole is a particular hole with green-blueish water inviting for a swim. The sinkhole is extremely deep and it's recommended to bring a snorkel as you may spot some tiny fish.
You can't compare the sinkhole to any of the wadis mentioned so far. You'll spend less than 2 h here if you're up for a swim.
Next stop: Sohar! I couldn't wait to reach Sohar as it's a synonym to some relaxing beach holidays. After all that driving and hiking, I was craving some days of doing simply nothing.
Where to stay in Sohar
The best place to enjoy calm beach holidays in Oman is the Radisson Blu Hotel Sohar*****.
With its extremely spacious rooms, privileged views of the sea and vast pools, it's the perfect place to unwind and enjoy the beautiful side of life. The daily themed dinner buffet is excellent and the staff goes beyond and above to make you feel like royal guests.
It is one of the best hotels in Oman and it's perfect for Oman family holidays too! It's also rated one of the best 5-star hotels in Oman.
That said, if you manage to get out of this lavish oasis of peace and want to visit Sohar, I recommend:
The Sohar Fort
The fish market in the early morning
The traditional handicraft souq
Stocking up on dates and Omani sweets in Sohar Omani Sweets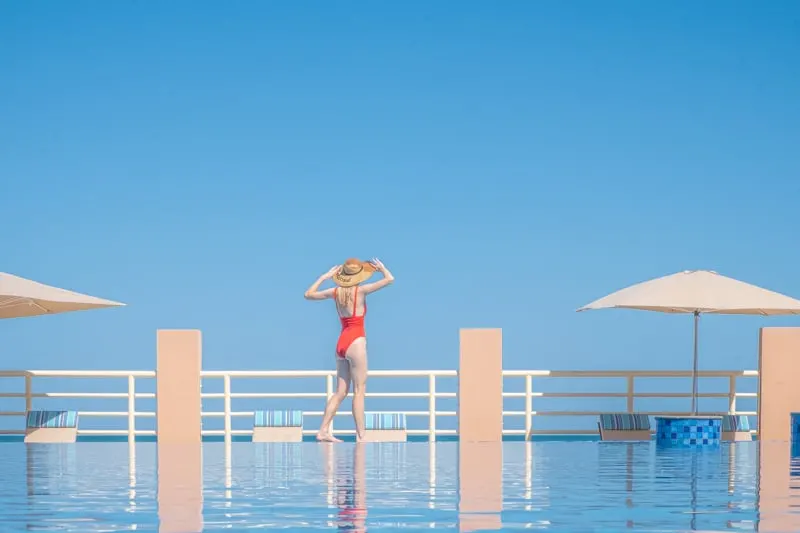 ---
Short FAQ about Oman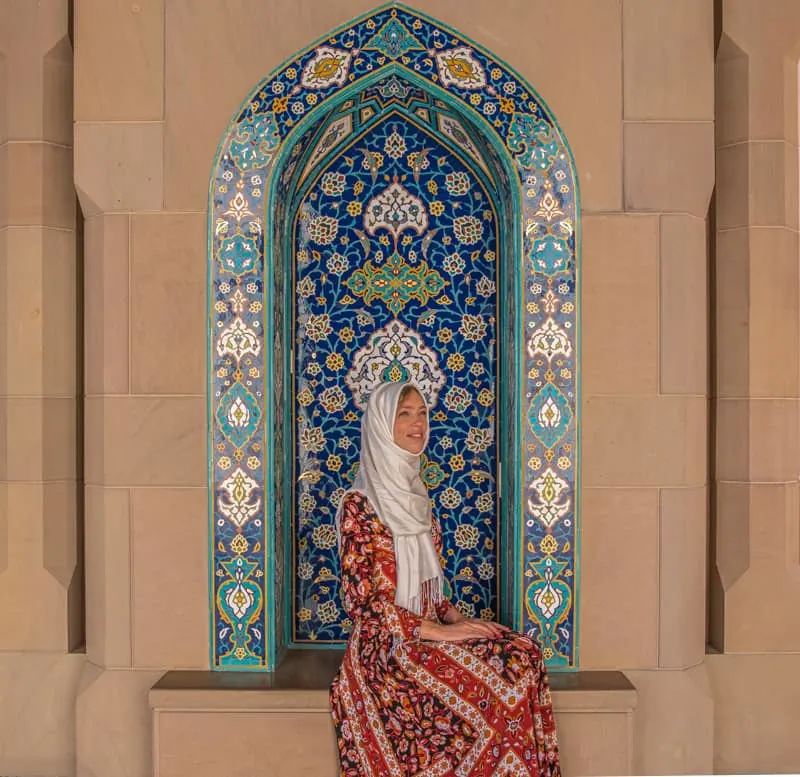 How many days to visit Oman?
In my humble opinion, 7 or 10 days to visit Oman are the strict minimum to get a sense of the rich tradition, history, and beauty of Oman.
That said, you can easily spend more time in Oman. If you have plenty of time, I recommend making your way down to Salalah on the border with Yemen.
Located 1000 km from Muscat, I just heard the most charming words about Salalah. Basically, every local wI met, asked me whether I was planning to visit Salalah.
Book holiday packages from Oman on Tourradar
What about Oman Visa Regulations?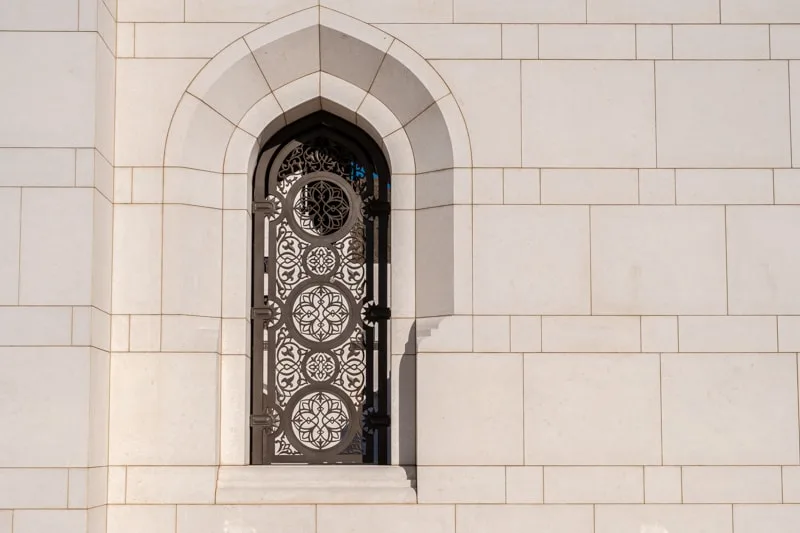 The Oman Visa Regulations are very easy to handle and give a glimpse of a very advanced nation when it comes to digitalization.
Visas can be acquired online or upon arrival.
Where to get your visa for Oman: Don't get fooled by the number of websites selling Oman visas. The cheapest and official visa, you get on the site of the Royal Oman Police.
What is the cost of an Oman visa: The most common tourist visa in Oman is for 10 days, costing you 20 OMR (= +/- 47 €). You'll need to pay a fine of 10 OMR (= +/- 23 €) every day that you exceed your visa.
How to get around?
If you are planning a 7 or 10-day itinerary to Oman, I strongly recommend renting a car, notably a 4WD. There is public transport but it won't take you to the most beautiful places in Oman.
You can rent a car upon arrival at Muscat airport.
Check here rental prices with RentalCars.com
How to travel from Abu Dhabi to Oman
I drove from Abu Dhabi to Oman with a rental car. Please note that you need additional insurance for taking your rental car to Oman. If you don't get one from your rental car provider, it's mandatory to get one at the Omani border customs.
RELATED: 2 Days in Abu Dhabi
Leaving the UAE and entering Oman takes about 1 hour.
Important to know: there are 3 UAE/Oman border checkpoints, 2 for GCC citizens and one for non-GCC citizens.
Enter via Khatm Al Shikla – Wadi Jizzi: Unlike the information I read, all non-GCC citizens need to leave the UAE via the Khatm Al Shikla checkpoint in Al Ain.
Then, you'll drive 40 km until you reach the Omani border control of Wadi Jizzi, where you'll pay for your Oman visa. Unless you acquired it upfront online. There is no exit fee.
How to travel from Dubai to Oman
Wadi Hatta – Al Wajajah: the E44 Hatta route is not an option for tourists. Program Hatta Fort Hotel in your GPS/Maps.Me/Waze for the best route. You can also easily travel by bus from Dubai to Oman
Good to know:
The exit fee of the UAE is 35 AED (= +/- 9 €). There is no entry fee.
Please take enough cash with you.
It is mandatory to have car insurance when entering Oman otherwise, you'll need to buy one at the border crossing.
Don't bring alcohol in the car, just to be on the safe side.
What is the best time to visit Oman?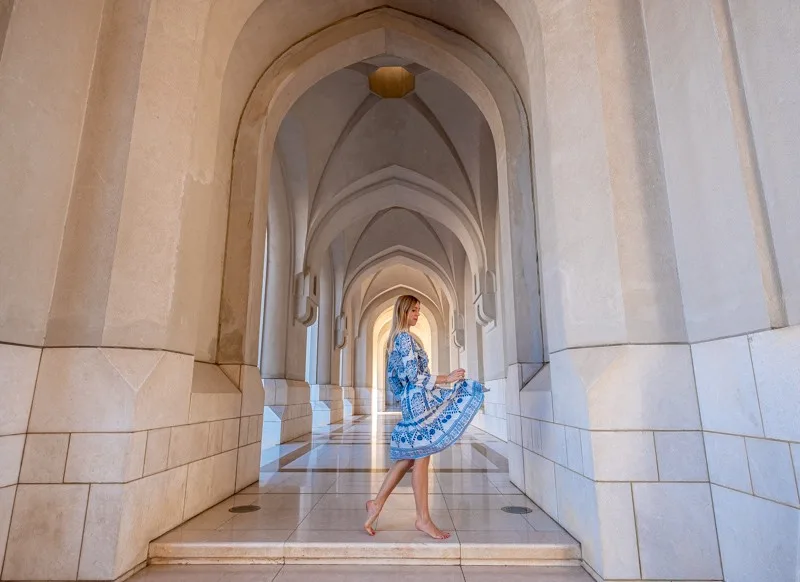 The best time to visit Oman is from October to March when the temperatures are warm but not suffocatingly hot. In April and May, the temperatures are already getting warmer, but still bearable.
It's from June to September that the thermometer can reach up to 50°C.
Is Oman safe?
I didn't travel alone but during the entire stay, I felt completely safe. In retrospect, I would even travel to Oman as a solo female traveler.
Unlike what I've experienced in Maghreb countries, female travelers are treated with respect and a formal distance. Some locals wouldn't even look at me out of formal courtesy.
As there are high penalties and even jail sentences for theft, harming tourists, etc., criminality is generally very low.
What to wear in Oman?
Oman is a traditional country and you should adapt to the local customs. That means covered knees and arms for the ladies and covered legs for the men.
Female tourists don't need to cover their hair unless they enter a mosque.
When it comes to swimming in Oman, some wadis (canyons), such as the Wadi Bani Khalid, require that the arms and knees are covered. In larger resorts, swimsuits and bikinis are tolerated.
No matter when you are traveling to Oman, bring the following items:
RELATED: What to wear in Oman – My complete packing list
---
Oman Map: 10-Day Itinerary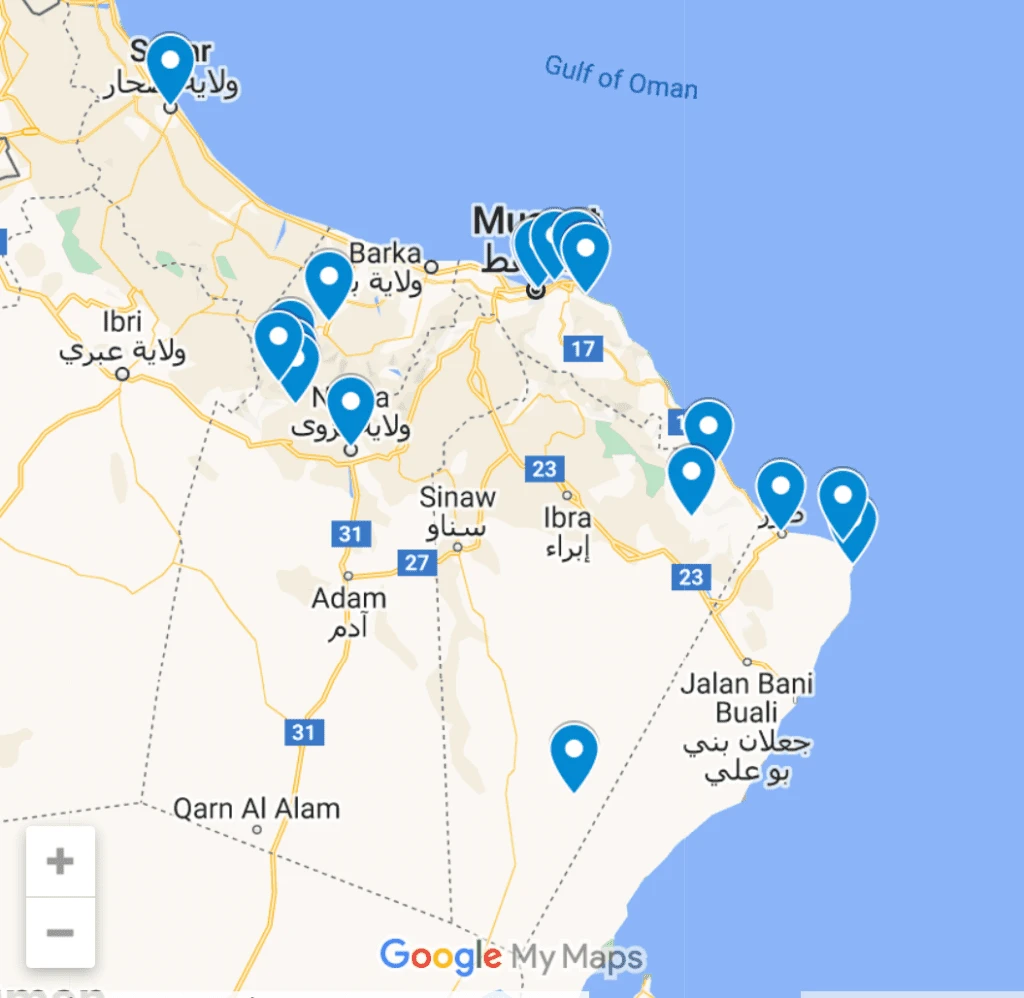 ---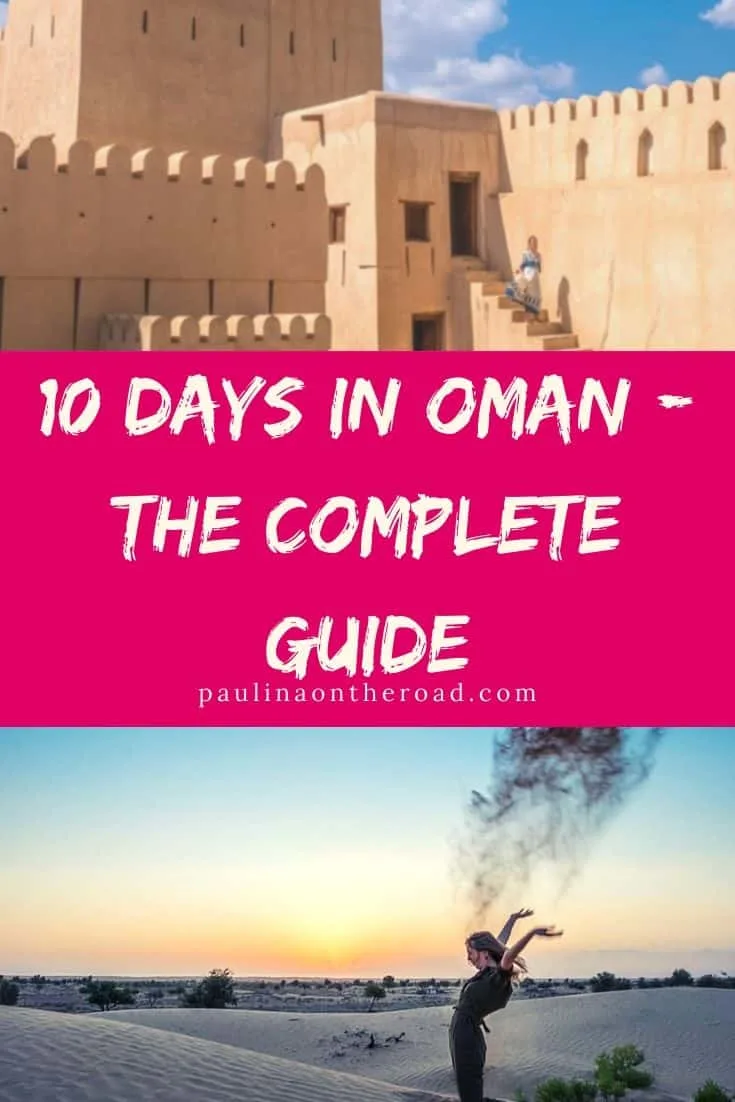 ---
Hola! I am Paulina, a fervent travelette who crossed the Atlantic Ocean by Boat HitchHiking. On my blog, you'll find all the tips to make the most of your holiday. Get ready to enjoy outdoor and sustainable travel like hiking, cycling or sailing. Let's hit the road together!