Ciao from Pontedera, Italy in Tuscany! More exactly from the Valdera region near Pisa. Craving some winter sun, I went south again to fill up my Vitamin D level and indulge on food made with heart.
Whereas I know many Southern Europe countries like my pocket, because I used to live in them, Italy is still a relatively unknown territory for me. Well, it was about time to change that!
Valdera region is often overseen. I blame it on major tourist magnets like Pisa, Florence and Siena. Whereas these towns are getting increasingly massified and flooded with tourists ticking of their travel buckets list, Valdera, with Pontedera capital, is the quiet, easy going backyard of Tuscany. If you are seeking to experience the authentic, laid back Tuscany, look no further. Valdera has got it all!
Besides the famous rolling hills that I only knew from the Gladiator movie, Valdera region and Pontedera offer plenty of options for the mindful traveller.
Indeed the region boasts hundreds of small, local businesses cherishing their family recipes, ocher-colored villages are topping on hills and are crowned by historical fortresses. Slow travel is one of my favorite types of tourism.
Located 20 min from Pisa airport and 1 hour from Florence, Valdera region with Pontedera as the capital town, are the perfect base to explore Tuscany without getting overwhelmed by the tourist masses. Don't forget to read these travel tips for Italy.
From here it is also very easy to get to Rome… A paradise for foodies!
Get ready for a trip filled with finest Italian cuisine, traditional pasta factories and fun outdoor activities. Andiamo!
"Paulina on the Road" is supported by you, dear reader. As you buy through my links, I earn a small commission. As an Amazon Affiliate, I earn from qualifying purchases. Thank you for your support
Pontedera Hotels and surroundings
How to get to Pontedera
1. Biking to quaint Tuscany towns
I am a huge fan of biking (at home in Luxembourg, I even bike when it's -15°C), it's just an ideal way of traveling slowly. You're connected to the natural surroundings and still, you can reach a certain level of adrenaline.
Of course, biking is more fun when it's not -15°C and temperatures during the off-season in Tuscany are just perfect to enjoy a ride. The landscape is shaped by vineyards, olive trees and, of course, the characteristic cypress trees. The hilly landscapes look like straight from a painting. Fortunately, you can stop every time you want and take tons of pictures.
Several companies in Tuscany and Valdera region offer rental bike services. I went with Biking Tuscany Tours and had a blast!
After a quick introduction by the staff, we were ready to enjoy a ride under the Tuscan sun.
Our cycling route leads us from Casciana Terme to Lari and about 7km long. Thanks to the e-bikes, we reached Lari in less than 40 min! On your way, you'll cross the historic center of Gramugnana. It's just picture-perfect and a great place to absorb the vibe of a quiet Tuscany village.
There are no safety risks. However, you'll be driving on the public road and you know the fame of Italian drivers.
Our final destination was Lari, a Mecca for (slow) food lovers. Just read on!
Book here your Bike Tour in Tuscany
2. Visit Pasta Factory Martelli, Lari
To me, Lari represents the quintessence of a Tuscan town: a medieval city center, topped by an impressive fortress, breath-taking panorama views on the rolling hills, and on sunny days you can even spot the Leaning Tower of Pisa!
However, the real treasure of Lari is its slow food culture. Indeed the relatively small town boasts an impressive number of local, family-run businesses that provide a great insight into traditional Italian food culture.
One of them is Martelli, the pasta factory in the medieval center of Lari. Proudly making pasta since 1926, the Martelli family produces some of the finest pasta in the region. Only Martelli family members can work in the factory, no outsiders are allowed!
During your visit, you'll learn everything about the pasta-making process and what distinguishes low-quality pasta from a high-quality one. Mr. Luca Martelli will be your guide and answer all your questions about pasta.
It was impressive to see how 3 generations are working hand in hand to produce a high-quality product and refuse to follow the market's rules. The texture of Martelli pasta is unique as it holds seasoning and sauces exceptionally well.
Indeed the awarded Martelli pasta can be considered as upper-class pasta. A package of pasta can easily cost up to 3 or 4 €. Considering that pasta is a crucial part of any meal in Italy, you can do the maths.
Fun fact: pasta production changes every day. That means that Mondays are for Spaghetti, Tuesdays for Fusilli or Wednesdays for Penne…
You'll recognize Martelli pasta by their bright, yellow package. A restaurant on Lari's main square serves pasta meals only with Martelli pasta!
I was told that Martelli pasta is used for festive days or when you want to prepare a special meal. I had no idea that Italian adapt their pasta brand according to the day!
Apparently, the Martelli pasta has the unique quality to release starch which gives the sauce a unique texture and taste.
Hungry, anyone?
Traditional Artisan Pasta Factory of the Martelli Family
Via dei Pastifici, 3
56035 Lari (PI) ITALY
Tel +39 0587 684238
3. Visit butcher Macelleria Ceccotti, Lari
I promised you foodie heaven in Lari and so our next stop is the local butcher (macelleria) Ceccotti. I admit that it might be hard to see why a butchery should be a haven for foodies and should be featured on a sustainable travel blog?
Well, the Ceccotti's butchery is part of the renowned Slow Food movement by maintaining the traditional recipes of their grandparents and by using only pigs from the nearest surroundings of Lari. I hardly eat meat, but when I do, I need to trust the producer and I want it to be locally grown.
Simone and Barbara, the current owners, purchase the pigs directly at the farmers and decorticate them in their butchery. A hand-worked production, a certified quality, and a short, regional supply chain are the standards of the Ceccottis.
The Ceccottis are famous for their cured meats. Yes, I am talking about mortadella, salami, and sausages! Indeed sausage production in Tuscany is a centuries-old tradition that is being cherished and preserved at the Ceccottis.
During a sausage tasting at the Ceccotti butcher shop, you'll not only learn about the production process but also enjoy several, typical cured types of meat from Tuscany.
Be ready to enjoy lard (never thought of eating only the white part of bacon, but it's delicious!), Italian ham (prosciutto), slow-cooked brawn, Tuscan salami, fennel, and truffle salami… Don't forget to learn Italian phrases when it comes to ordering food.
Sausage and ham tastings can be organized at the butcher shop of the Ceccottis upon reservation. I found it to be a valuable insight into a very traditional, Tuscan small family business.
The butcher shop is only at a stone's throw from Lari castle, I absolutely recommend visiting and enjoy the breathtaking panoramic views. It's one of the best places to visit in Italy.
Macelleria Ceccotti Simone
Via Diaz, 15 – Lari (Pisa)
Tel.: +39 5.87.68.42.31

4. Horse riding at Tuscany Hills
Are you an animal lover AND enjoy to travel slow? If yes, why not explore the lush green hills of Valdera region, Tuscany on horseback?
The ranch "Il Ranch the Carlotta" offers horse riding tours to beginners and intermediate riders alike. Located in an isolated valley, Carlotta's ranch is an oasis of peace where poneys, dogs, goats, and cats live happily together.
After a quick introduction, you're ready to go on an exploration tour and enjoy the typical Tuscan landscapes near Pisa. The tour will take you through lush forests with several viewpoints on Tuscan villas and valleys.
Book here your horse riding tour in Tuscany
All the horses were very calm and as a beginner, I really had a great time on the horseback. That being said, you still need to be vigilant and reactive to your horse while absorbing the beauty of the Valdera region.
If you are a more proficient horse rider, you can also take lessons at Carlotta's Ranch.
Il Ranch di Carlotta
Via di Lucagnano 2a
56035, Cevoli – Lari
+39 33.48.400.638
ilranchdicarlotta@yahoo.it
5. Enjoy Pontedera, Tuscany from the sky
You want to give your trip to Valdera, Tuscany a unique touch and make it simply unforgettable? Look no further, as the Aero Club di Pisa offers flights in small planes over the Tuscan countryside!
Even though I am a bit afraid of heights, I overcame my fear and got into that plane with one of the AeroClub's pilots. It was my first time in such a small plane and it was definitely a unique experience.
From a fabulous perspective, you'll enjoy the rolling hills of Tuscany shaped by waterways like Era and Arno river. The region managed to preserve its agricultural heritage: the hills are covered with vineyards, olive trees, wheat, and sunflowers.
If you love to explore Italy in an unconventional way, make sure to consider hiking on the Amalfi coast.
During your flight, you'll even be able to spot the coast. I recommend flying during the Golden Hour before sunset as the warm light will only enhance the experience.
We also flew over the Temple of Silence which annually holds a concert of world-famous Italian tenor Andrea Bocelli.
Book here a hot balloon flight over Tuscany
The highlight of this 25 minutes flight was definitely flying over Volterra. This gem of Roman, Etruscan, medieval and Renaissance art is towering on top of a hill in the Cecina Valley. Enjoying the beauty of Volterra, its castle and fortification walls from above was definitely a once in a lifetime experience.
Flights can be arranged via the Tourist Office in Pontedera and cost about 2€ per minute. Thus a unique experience at a very attractive price.
6. Learn to cook like an Italian in Scuola Tessieri
As many of you know, I am a disaster when it comes to cooking. On the other hand, I am fascinated by people who understand cooking as an art and love traveling to countries where gastronomy is almost a religion. Tuscan cuisine is one of the most ancient ones based on simples dishes with delicate flavors.
If Italian cuisine is an art, then the Scuola Tessieri is its sanctuary. It's the place where professionals and hobby cooks gather together in order to refine their cooking skills. Here, professionals can take training sessions and learn how to do the perfect drawing on cappuccino foam or work on their chocolate designs.
Professionals will gain in-depth knowledge of every step when it comes to cooking: where to find the best raw materials, food processing, the presentation of a meal, and much more.
Book here your cooking class at a local's in Tuscany
However, also hobby cookers can learn the basics of Italian cuisine by participating in the workshops and learn from professionals. A great and fun way to learn about Italian products like chocolate or coffee is by organizing a tasting.
In all, Scuola Tessieri can host a wide range of events such as cooking classes, workshops, show cooking, and tastings.
Scuola Tessieri
Via Milano 24
56038 Ponsacco
7. Learn about Chocolate made in Italy
Chocolate made in Italy is a tradition that dates back centuries. If you are visiting Valdera, Tuscany and you want to immerse in the sweet world of chocolate production, I highly recommend a chocolate tasting of Noalya chocolates.
Taking place in the prestigious Scuola Tessieri, a connoisseur will lead you through the delicious world of chocolate made in Toscana.
A tasting usually starts with a bar of soft white chocolate and you'll slowly increase the intensity. The workshop leader delicately introduced us into the geographic varieties. Indeed, I had no idea that chocolate from Vietnam would taste so different from chocolate from Papua.
Noalya produces chocolate to up to 89% and is an authentic gourmet experience that is created upon traditional recipes of chocolate production.
You can book your chocolate tasting here.
Scuola Tessieri
Via Milano 24
56038 Ponsacco
8. Wine Tours in traditional Tuscan wineries
Leaving Tuscany without a wine tasting would be a crucial sin! There are many historical cellars that offer wine tours all over Tuscany and Valdera region.
However, today, I want to introduce you to a small wine cellar, located in the heart of the gentle hills of Valdera: Usiglian del Vescovo. Despite its relatively small size, the history of the estate dates back to more than 10 centuries and the cellar boasts now ten labels.
Counting on 160 hectares, the hills of Usglian des Vescovo estate produce the finest Merlot, Cabernet Sauvignon, Syrah and Chardonnay grapes. Over 15 hectares are planted with olive trees which give origin to high-quality olive oil produced at the estate.
The superior quality of the Usiglian del Vescovo wine is not only due to the vast knowledge of its owners but also due to an extraordinary micro-climate and an old ocean soil rich in marine fossils. Indeed the soil is extremely rich and winemaking in Valdera dates back to Roman times.
The estate organizes both wine and oil tastings. It's indeed a great opportunity to learn more about Italian wine and it was pure joy to listen to the passionate explanations of our guide. Upon demand, the tastings are accompanied by typical local salami and cheese.
Book here your wine tour in Tuscany
The tour also went through old Etruscan cellars where the roof is covered with shells from the maritime soil. It was an overwhelming feeling to stand in a cellar that's more than 3000 years old!
Societa Agricola Usiglian del Vescovo
Via Usigliano,26
56036 Palaia
9. Get pampered in Casciana Terme a Lari
Who doesn't like a good spa? Especially when it comes with so much history and tradition as the hot springs of Casciana Terme a Lari.
Even though only the small town of Casciana (3000 inhabitants) is well worth a visit with its picturesque plaza and vistas over the hilly landscape, the spa is the main reason why people visit. Dating back to 1311, people visit the town for the therapeutic properties of its hot springs.
Indeed the thermal water of Casciana is used to cure disorders of the circulatory system, arthritis, rheumatism or bronchitis. I was told that the treatments are kept at a very affordable price for Italian citizens in order to diminish illnesses in advanced age. It's better to prevent than to cure!
The spa's water is enriched with sulfate, calcium, and bicarbonate at 35.7°C. The spa even opens its outdoor swimming pools at night which makes it a great experience under the starry sky.
The Casciana Terme offers a large range of curative treatments and leisure spa activities. You'll be spoilt for choice when it comes to balneotherapy, massages, yoga, sauna or Turkish bath.
My favorite part of the Casciana Terme, located at the very heart of the town, is the Grand Caffè. Under an impressive ceiling and behind a neoclassical facade, you'll dive into past times while enjoying a tasty aperitivo with view on the piazza. It's also a great place to indulge in regional Tuscan meals.
Casciana is at only a stone's throw from Lari away (13km), which makes it the ideal departure point for an e-bike tour with Biking Tuscany Tours.
TERME DI CASCIANA
Piazza Garibaldi, 9
56034 Casciana Terme (PI) Italy
10. Visit non-touristy towns
Everybody heads to Pisa and Firenze during their visit to Tuscany. Well, what if I tell you that these towns have serious problems with mass-tourism and accommodation prices went through the roof. So, why not visiting smaller towns in Tuscany that managed to preserve its authentic charm and where interacting with locals is not an impossible thing to do?
Indeed exchange with the local community is an important part of slow tourism and sustainable travel.
Here my top recommendations for small Tuscany towns to visit:
Pontedera
At first glance, Pontedera on the Arno river looks like a mere industrial town. So what to do in Pontedera, Italy? Well, you couldn't be more wrong as the provincial municipality holds many attractions to its visitors.
Housing the headquarters of Piaggio, the Vespa museum is one of the top things to do in Pontedera. I had a blast while visiting the Piaggio museum and traveling back to vintage times among colorful Vespas. Entry is free!
The city center of Pontedera is very inviting for a shopping spree and many piazzas invite for a cappuccino.
You can't leave Pontedera without visiting the emblematic 7Sois7Luas Center. Promoting the exchange for artists all over the Mediterranean, the cultural center hosts concerts, exhibitions and foodie events all year around.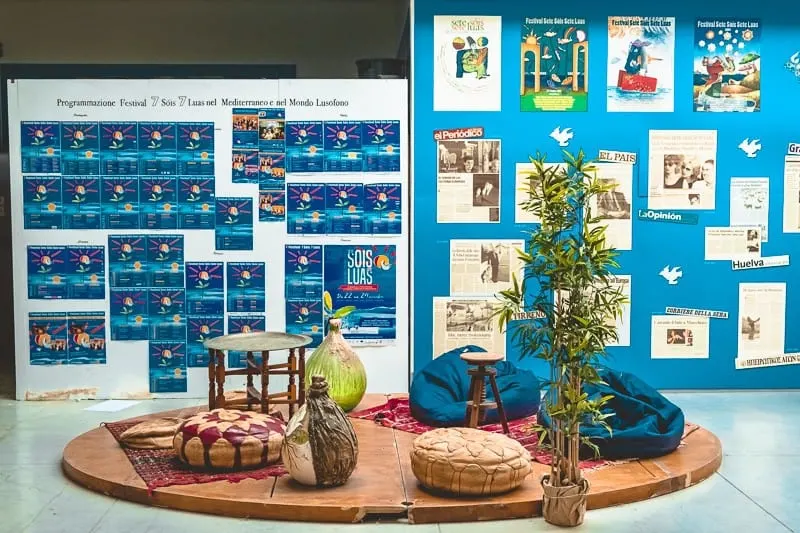 Housing a traditional cafeteria, the 7Sois7Luas Center is a great place to learn more about this ambitious and meritorious project.
Palaia
Palaia is probably my favorite small town in Tuscany. It's quaint and sleepy but offers tremendous views on the beautiful vistas on the rolling hills of Tuscany. Boasting Etruscan origins, I loved to stroll around and observe the daily grind of the locals.
While I visited there was a massive gathering in a side rod, apparently the doctor was in town… which happens only once per week!
Palaia is one of the smallest towns in Valdera, but one of the largest when it comes to square kilometers. Several local groceries and fruit shops are operating and make a great place for (foodie) shopping. I loved the tiny gas station, which consists of … 1 vintage pump!
In order to get the best view on the landscapes shaped by sharp cypresses, I recommend walking up the castle or the town hall's terrace. Indeed it's not an obvious viewpoint, but certainly one of the best. It's located just behind the tourist office.
For architecture and history buffs, the Pieve di San Martino (Romanesque, 13th century) and Chiesa Sant Andrea (13th century) with the campanile inside the church are a must!
Lari
Lari is probably my favorite small town near Pisa. Despite its limited size, this hill village comes with a bunch of things to do. Especially for foodies.
Whereas I already mentioned the slow food initiatives in Lari like Ceccotti's butcher shop or the pasta factory Martelli, Lari is also a great destination for history buffs.
Indeed Lari castle is one of the most prestigious ones in the region. The Castello di Vicari (Castle of the Vicars) dates back to 1061 and can be visited. An interactive exhibition (in English) gives you a great insight into life back then.
My favorite part was, however, the breathtaking view on the surrounding borgo, the Tuscan hills, and countless twin row cypresses. On clear days you can even spot the leaning tower of Pisa!
This hidden gem makes a great day trip whether you're based in Florence, Pisa or Valdera region.
Read more about quaint Italian towns
---
---
Pontedera Italy Map
---
Before You Go: Top Tips for your Trip
I travel with a FUJI XT2 (mirrorless, takes amazing photos) and Action Camera GoPro HERO 7 (takes beautiful photos in the most extreme situations, slim & lightweight). All of the cameras are WiFi enabled so you can share your trip pics to social media in real time!
To edit photos and answer mails while traveling, I usually take my Touchscreen 2-in-1 Business Laptop with me.
When spending a lot of time on the road, I love to wear my trekking sandals.
Travel insurance is essential! If you haven't already obtained travel insurance for your trip, travel protected against all odds with World Nomads.
***
In order to get more information on tourism in Pontedera, Italy and the Valdera Region, I recommend the site of Visit Tuscany.
---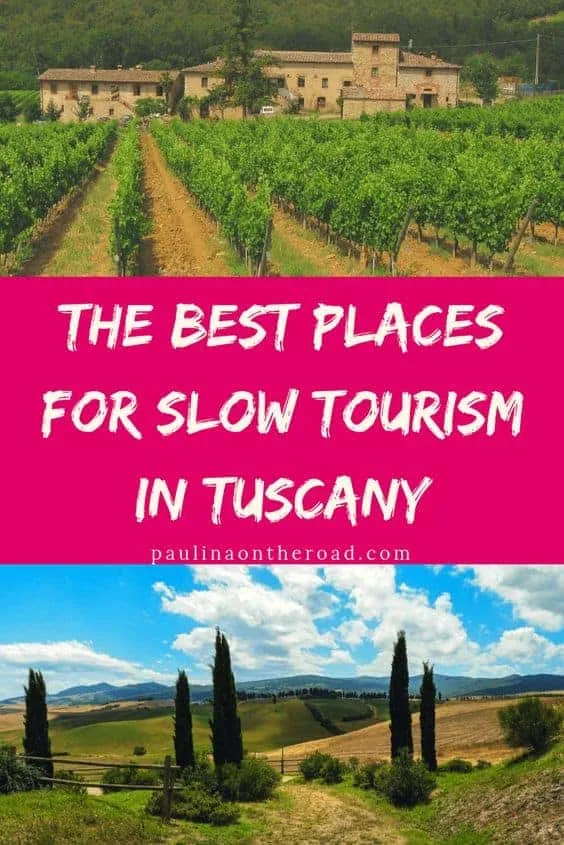 ---
Disclaimer: I have been a guest of Valdera and Pontedera Tourism. All my opinions, as always, are my own. This posts contains affiliate links. In case you purchase one of the items, I'll receive a small commission. The price remains the same for you.
Hola! I am Paulina, a fervent travelette who crossed the Atlantic Ocean by Boat HitchHiking. On my blog, you'll find all the tips to make the most of your holiday. Get ready to enjoy outdoor and sustainable travel like hiking, cycling or sailing. Let's hit the road together!