Lake Garda in Northern Italy is well known as a little paradise on earth: quality wines, mild climate, breathtaking mountain panoramas and a lake whose ends can hardly be seen. And of course amazing Italian food!
Understandably, all this attracts loads of people. Especially during the summer months.
Thus why not visit the enchanting region of Lake Garda, with its most popular gems Sirmione and Verona off-season when autumn foliage is at its brightest and only a few nonnas are walking through the narrow, winding streets?
In summer, the quaint villages around Lake Garda rather resemble a stirred up anthill, than the peaceful, enchanting oases that we're seeking when visiting this part of Northern Italy.
The crowds flooding the streets of Sirmione, Riva del Garda or Torbole might easily become so overwhelming that you'll only wish for a pleasant corner to relax. How can you get lost within these Mediterranean, warm brown colored decors, when you're constantly being pushed by somebody or while waiting in endless ques?
Don't these masses take away some of the characteristic charm of the picturesque villages?
Why not enjoy the beauty of Sirminone and Verona in autumn, when autumn foliage wraps towns around Lake Garda in bright yellow, red and orange colors and when streets are almost empty?
I can guarantee that you'll not be pushed around! The only people you'll encounter are locals doing their grocery shopping in delightful Italian Deli shops. I can hardly imagine visiting Lake Garda's most popular towns like Sirmione and Verona during the summer months.
Let me take you on a colorful, autumnal getaway in Sirminone and Verona inspired by Dolce Vita at Lake Garda..
***
The described itinerary perfectly fits into 48h but can of course be expanded over several days including visits to hidden gems like Brescia, Torbole, Riva del Garda, Isola del Garda, Lake Como…
Like it? Pin it!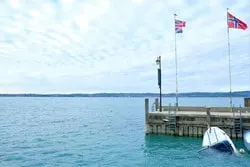 Geographic situation: Lake Garda (It.: Lago di Garda) is the largest lake in Italy. It's located about halfway between Brescia and Verona, and between Venice and Milan on the edge of the Dolomites. It's a pre-alpine lake which is divided between the provinces of Verona, Brescia, and Trentino. The name Garda comes from the town of the same name and has its origins in the evolution of the Germanic word warda, meaning "place of guard".
Language: Italian. English in the most touristic villages.
Currency: EUR
How to get there:
Lake Garda is in a strategic position within easy reach international airports, the nearest being Verona-Villafranca, approximately 15 km, and Brescia-Montichiari, 30 km. Another important airport is Bergamo-Orio al Serio, about 80 km from the lake. Milan (Linate and Malpensa) and Venice airports are about 100 km from Lake Garda. Checkout here free things to do in Milan
By train: If you are travelling by train, the stations on the southern shore of Lake Garda are Desenzano and Peschiera del Garda. The nearest station to the northern area of the lake is Rovereto.

By bus:

Check Bus Timetables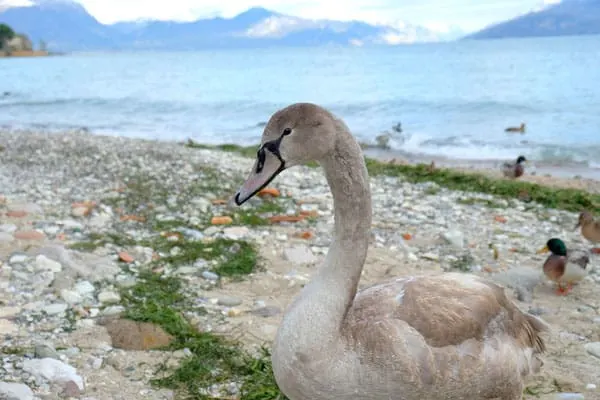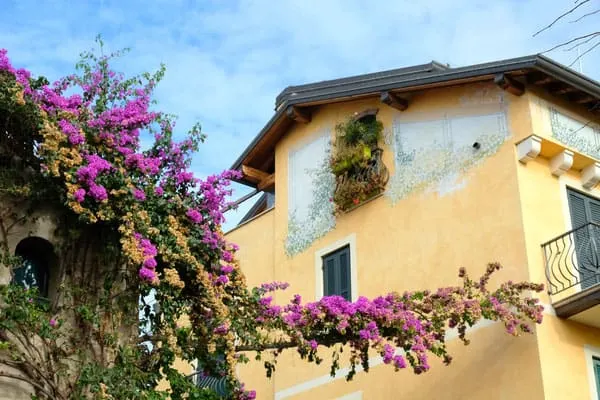 Where to stay at Lake Garda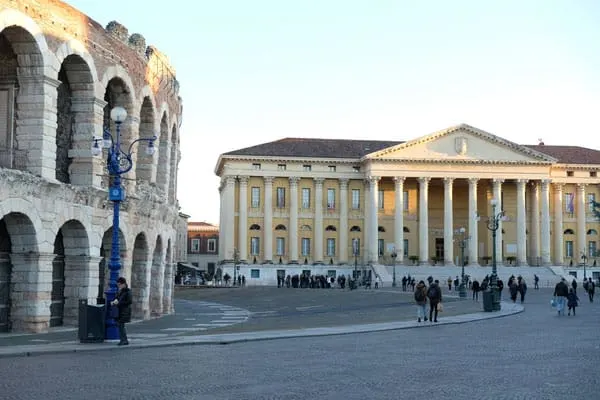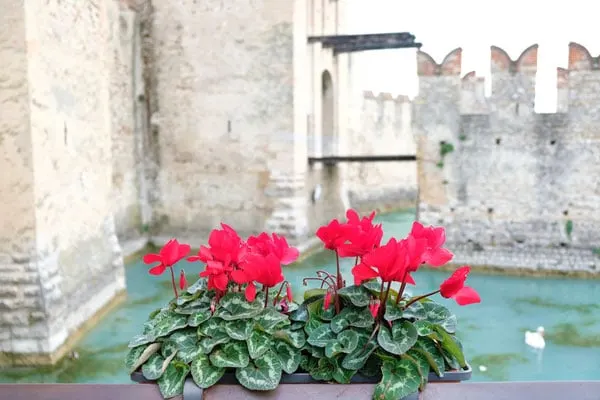 Where to stay in Verona
Why Visit Lake Garda in Autumn?
Well, let's get the burning question answered right away:
Why should you visit Lake Garda in autumn?
Well, there are plenty of reasons!
More affordable prices.

More attentive service.

Accommodation is easily available.

Unlikeliness that your pictures will be photobombed by huge travel bus groups.

Better travel photos: The autumnal season will take your pictures to a new level. Just imagine this: the last bright pink bougainvilleas blossoming around houses lost in time, vineyards in bright orange, yellow and red colors in the background of the already snow-copped Alps. And all this, most likely with a blue sky and a turquoise colored Garda Lake. A photographer's dream come true!
Different travel photos: The bright colored autumn foliage will set your travel photos apart from the

standard Lake Garda pictures that show the usual sun, blue sky and a few cypresses in the background.

No crowds: You'll have the picturesque narrow streets of Lake Garda's charming villages almost for your own. Is there any better way than to get lost then while strolling through narrow Mediterranean streets and discovering hidden gems without being pursued by massive coach travel groups?
Friendlier locals because their cities/villages are not being invaded and they don't need to wait in endless ques in order to follow their daily grind.
When being near Lake Garda, consider visiting the Borromean islands.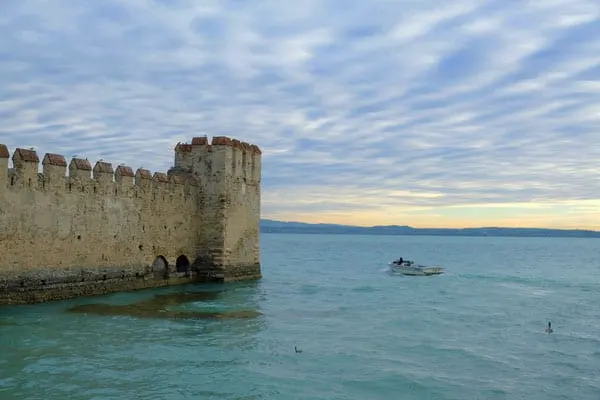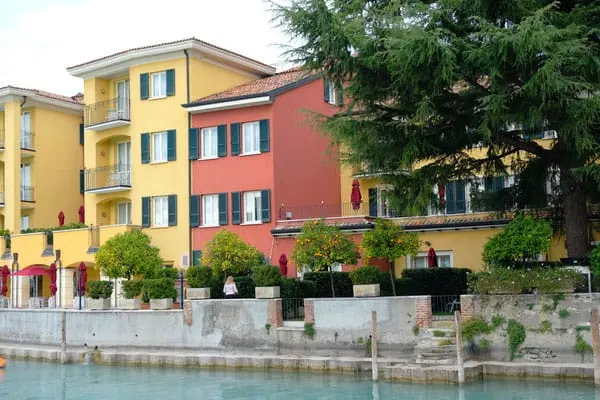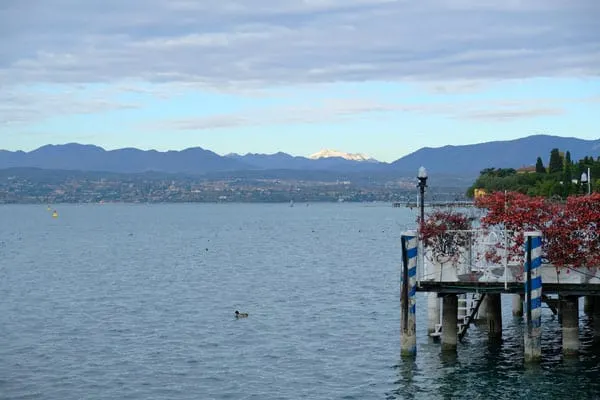 3. Sirmione: Pearl of Lake Garda
One of Lake Garda's most known and photographed gems is certainly the town of Sirmione in Lombardy province. No wonder that it's also known as the Pearl of Lake Garda.
The most eye-catching attraction of Sirmione is definitely its defensive fortress known as Scaliger castle and its unique geographical setting on a small headland surrounded by the lake. The fortress is the main entrance to the peninsula and is a popular photo motive… for which you don't need to queue in case you visit in autumn. Sirmione is definitely one of the prettiest towns near Lake Garda and there are plenty of things to do in Sirmione.
Whereas I've been told that Sirmione in summer is more crowded than Venice, autumn was just perfect to visit the Pearl of Lake Garda: no crowds, a laid-back Mediterranean vibe, and peace of mind to enjoy the beauty of this place.
The town used to be a free commune and the prestigious Della Scala family from Verona was the founder of the fortress. Its characteristic swallowtail merlons indicate that the town was supporting the German emperor. Two drawbridges, nowadays fortified, were supposed to protect the town from enemies.
When Venice came in control of Sirmione, they used the fortress as storage for their weapons. That's why, unlike many other castles in the area, it's in particularly good shape.
After belonging for a period to the Habsburg Empire, Sirmione became officially part of the Italian Kingdom in 1860. The different regimes all left parts of their heritage and influenced the urban development of Sirmione.
Many of these influences can still be seen today.
a. Grotte di Catullo
The historic value of Sirmione is much more present than in any other lakeside village. Apart the fortress, Sirmione boasts the Roman Grotte di Catullo (Grottoes of Catullus) and ancient thermal baths. And not to forget that even Maria Callas felt in love with Sirmione and got a villa close to the Grottoes.
Unlike the name suggests, the Grottoes of Catullus are not a cave but the remains of one of the most impressive Roman villas in Northern Italy. It was about three storeys high and with its location on the end of the peninsula it had the best view of the entire town. There is no other word than breathtaking to describe the vistas on the lake and the snow copped Alps.
Again, unlike the name suggests, the Grotte di Catullo didn't belong to the famous Roman poet Catullus.
Even if it's confirmed that Catullus owned a country villa in the area and that he wrote several poems praising the beauty of Sirmione, the Grottoes, or better said the villa, didn't belong to the poet. Catullus died long before the construction of the villa which got its name due to its resemblance of partially collapsed caves when it was discovered in the 15th century.
b. Thermal Baths of Sirmione
Sirmione also holds a highlight for those that are not that much into history: a little beach, Lido delle Bionde and the thermal baths. While temperatures might be a bit too low for a swim in Lake Garda during the autumn season, the thermal baths attract with its hot water tubs and gorgeous views on the lakeside. The spa centers Terme di Catullo and Terme di Vigilio offer high standard balneotherapy and thermal bath services.
According to our guide, it's almost impossible to get a free spot in the thermal baths during summer, but during the autumn months this place, immersed in a large park, is a heaven for recreation and cure.
When visiting Lake Garda, you simply can't miss to wander around in Sirmione's narrow, winding streets and discover its historic sights and artful gems at almost every corner.
If you are in Lake Garda region, the Lake Como is located only at a stone's throw. A perfect Lake Como itinerary will help you to make the most of your stay.
c. Where to Eat in Sirmione, Lake Garda
The Speranzina Restaurant has the most awe-inspiring views on Lake Garda, with a sophisticated white interior design. I especially liked their creative and very refined cuisine using local products like rice from the region or sardines form the lake. All their dishes have a surprising presentation and are experimental variations of traditional Italian dishes like Risotto, Tiramisu…
Their terrace is directly facing the Lake Garda and it's a place that you never want to leave.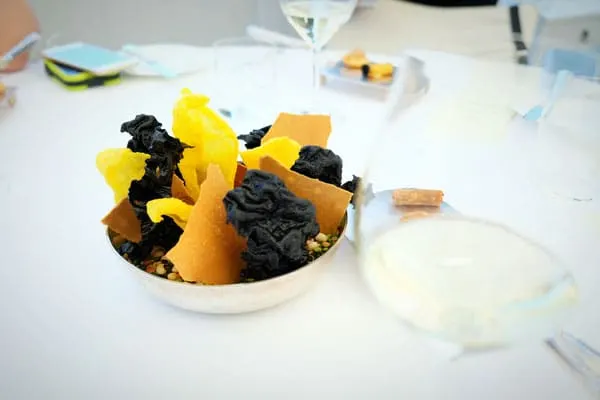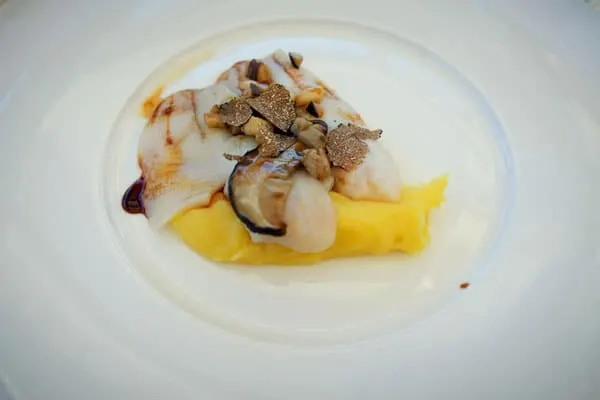 4. Verona: Mora Than Romeo & Juliet
Verona is the most known municipality in the region of Lake Garda. It's only 1 hour away from the always popular tourist destination Venice, but therefore Verona might be for many a more relaxed and pleasant option to discover the culture of Veneto region.
Apart the fact that Verona holds Juliet's balcony where Romeo, desperately in love, was courting her, I didn't know much about the third largest town in northeast Italy.
But let me show you what Verona holds to catch your breath.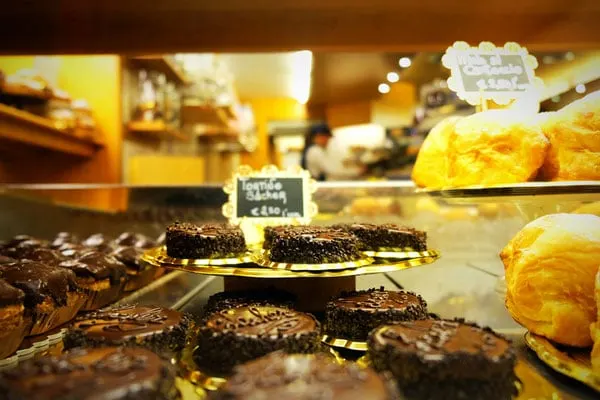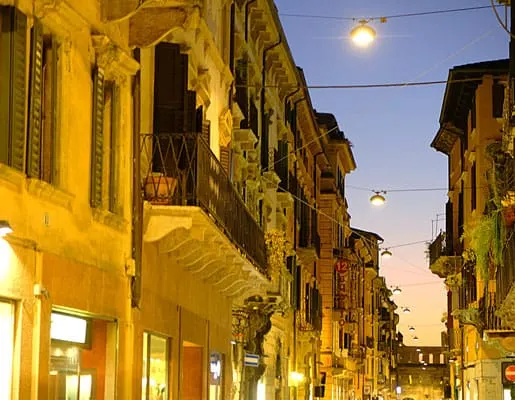 a. The Amphitheater & Roman Heritage
Well, did you know that Verona boasts one of the best maintained and most spectacular amphitheaters in Italy?
The arena in Piazza Bra was erected in the 1st Century AD in an elliptical shape, and is the world's third-largest amphitheatre to survive from antiquity. Some parts of the outer ring were damaged during an earthquake in 1117 but the inner part is still intact. It's fascinating to imagine how merchants and curious onlookers came from miles away to watch the stirring gladiator fights. Sometimes they camped around the arena for several days in order not to miss anything. Almost 30.000 people could fit inside!
Nowadays Verona's amphitheater is the setting of the legendary opera performances during the summer months. It all started in 1913 when Giuseppe Verdi's opera "Aida" was staged with great pomp and circumstance in order to mark the birth of Verdi 100 years before in 1813. They even had elephants during the performance!
While the elephants disappeared in the 1970s, but still nowadays 2 versions of Aida are staged every summer: the traditional production and a modern, contemporary one. Every year more than 500.00 people come to Verona to see the productions of popular operas in warm summer nights.
Verona's Roman heritage is impressive indeed and could fill an entire article by itself. Since the Roman times Verona was an strategic hot spot as it was 3 vital Roman roads passed through the city:
Via Postumia (Aquileia on the Adriatic Sea and ending in Genoa on the Ligurian Sea)
Via Claudia Augusta (Connecting the valley of the Po River with Rhaetia (modern Southern Germany) across the Alps.)
Via Gallica (Starting from the Via Postumia and connecting Brescia, Bergamo and Milan, passing near Lake Garda.
On top, Verona boasted excellent wine and marble quarries. What more could you wish for in Roman times?
Verona is also the perfect base to do a romantic tour in Tuscany or an epic road trip through Tuscany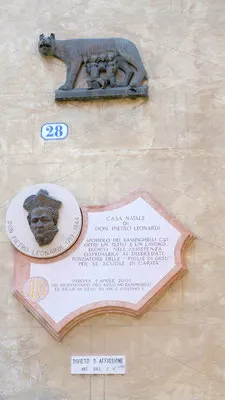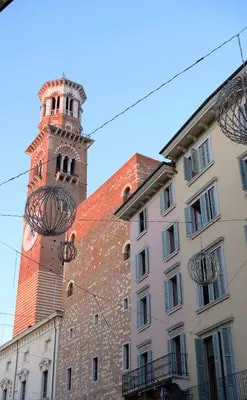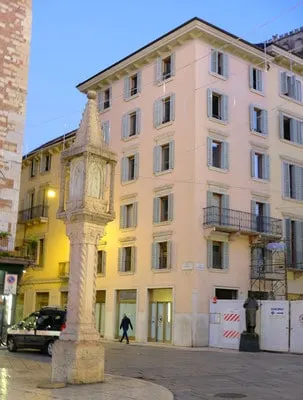 b. Juliet's Balcony & The True Story Behind
Of course a visit of Juliet's House and its famous balcony is a must when traveling to Verona. Supposedly it was the location of the famous love scene from Shakespeare's Romeo and Juliet. But I have to admit it wasn't really my favorite experience from Verona: tons of people, huge amounts of badly made graffitis and even more tons of chewing gum stuck on historic house fronts.
Why do people do such things??!!
On top there's a price tag (6€) if you want to get the cliché photo from the balcony.
The background information behind all the Romeo & Juliet hype is quite disenchanting too…
I can deal with the fact that Shakespeare had never been in Verona, but I can hardly accept that he turned a real, political drama between the Montecchi and Capuleti into a plain love story. It was basically all about to distort a story to sell it better.
Furthermore Juliet never lived in "Juliet's House", she's a fictional character and never 'lived' anywhere. The house was bought from the Cappello family by the city of Verona in 1905, and the similarity of their name to Capulet (Juliet's surname in the famous play) resulted in the city burgher's declaring that it was Juliet's House. That's how the famous tourist attraction was created.
And what would be Juliet's House without a balcony?
The balcony was added artificially in 1936 to provide a balcony to "Juliet's House".
If you want to learn more about this tragic story, make sure to watch Romeo&Juliet, one of the best movies set in Italy.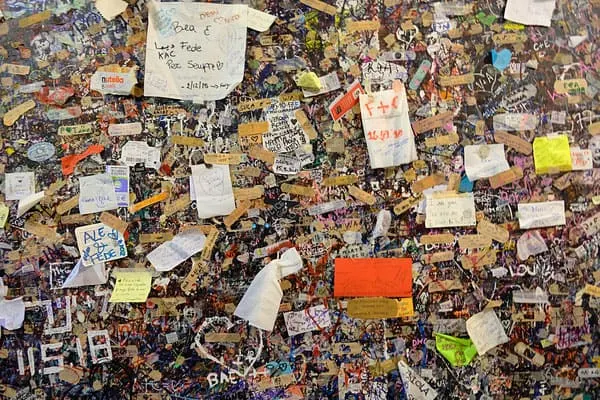 c. My Favorite Part of Verona
Like so many Italian cities, Verona holds loads of history. There is so much art and culture that you could probably fill a new Wikipedia with all its historic and cultural sites.
Sometimes I am literally overwhelmed with the amount of historic and artistic value of every single church or house in Italian towns…
That's why sometimes I just prefer to let myself get carried away by the mesmerizing atmosphere of ancient towns like Verona and get lost in their narrow, winding streets and hidden corners.
And why not disconnect from "checking sights" stress and give yourself the peace of mind to start daydreaming about Julias, Romeos, Romans and desperate love stories? Is there something wrong with saying "I don't want to know ALL the information and complete data."?
Is it allowed to take the liberty and time to develop a feeling for the very own character of a town? Just traveling slow in its purest form… ?
That's what happened to me in Verona and how I felt in love with the town.
And I would definitely go back and get lost again in its narrow, ancient quarry streets ending in quaint ostarias and trattorias serving you the most tasteful aperitivi bites obviously always accompanied by a refreshing Aperol Spritz in good company.
That's my favorite side of Verona.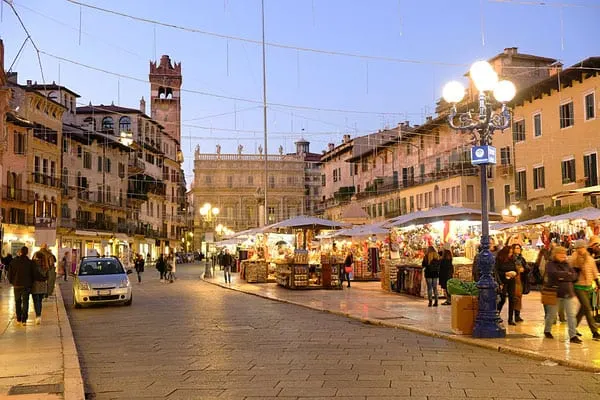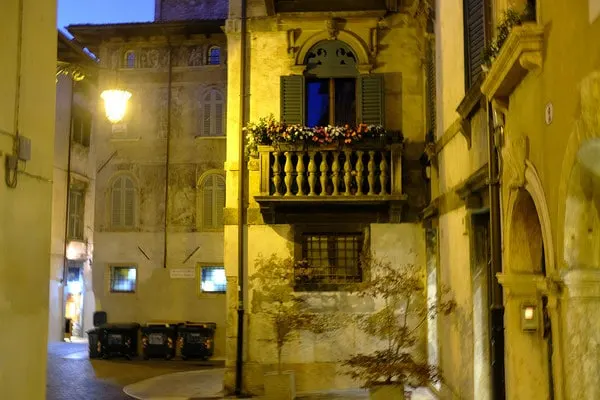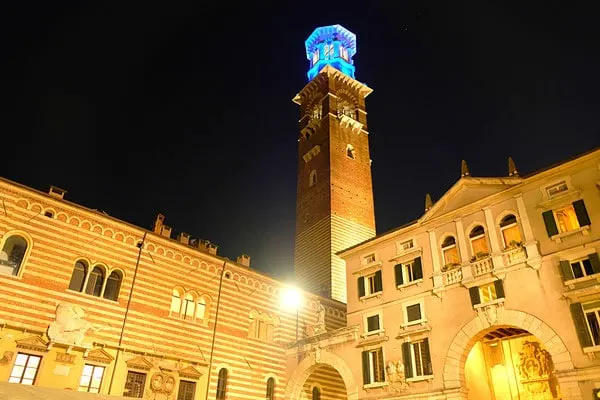 d. Where to Eat and Shop in Verona
Restaurant:
Aperitivo:
Bakery:
Wine Shopping:
All locations in map at the end of the post.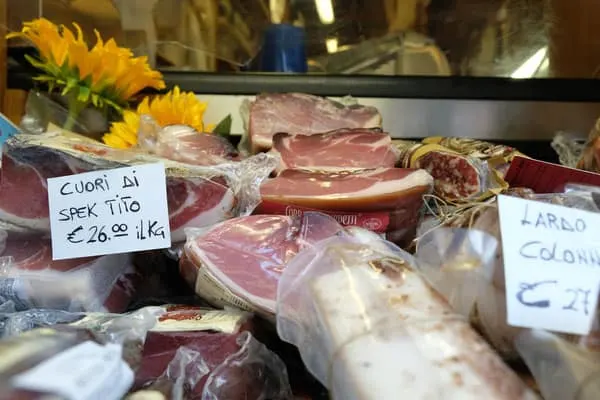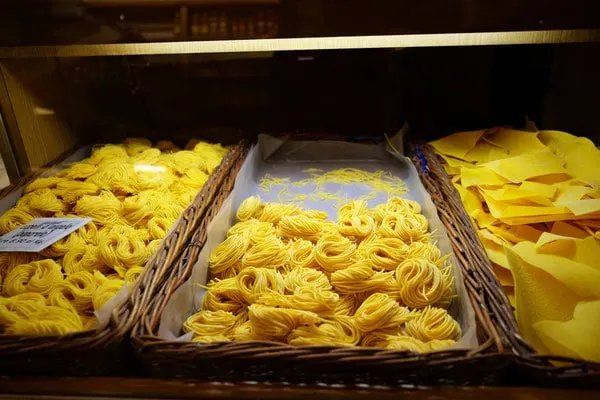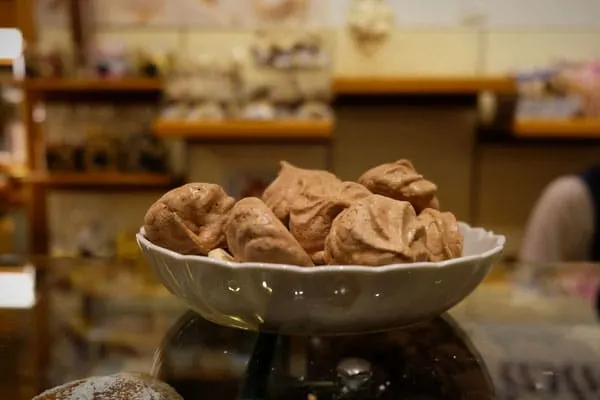 5. Where To Stay near Lake Garda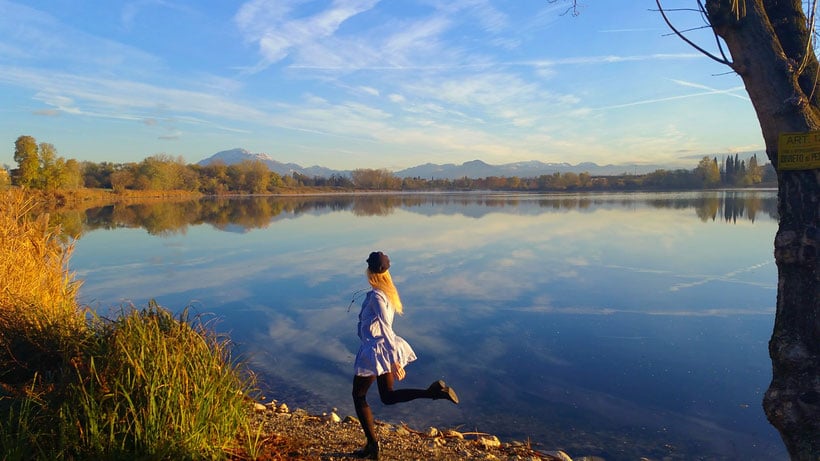 I stayed in Le Ali de Frassino in Peschera de Garda. Besides its breathtaking natural setting, it's the perfect location to explore the area around Lake Garda.
The resort consists of six buildings: the beautifully restored 20th century Villa Liberty, the original lemon houses and the new Belvedere and reception building complete the resort. All the guest rooms are unique and have been individually styled depending on the theme of the building where they are located.
The autumnal season gave this place an almost melancholic atmosphere like straight from a Visconti movie. The morning mist covering lake Frassino, the snow copped Alps in the background, the wide nature reserve, a Mediterranean style villa on the opposite shore… all this makes Le Ali del Frassino a heaven of well-being and profound relaxation.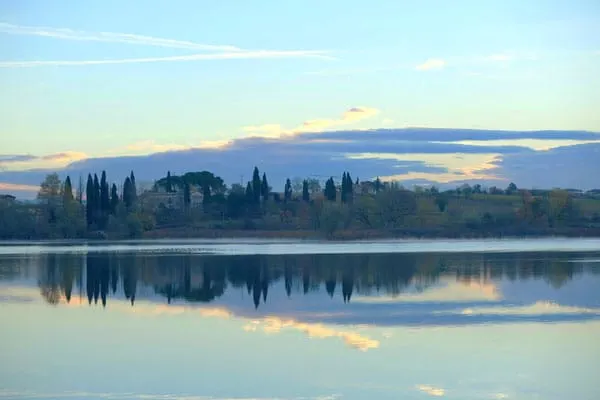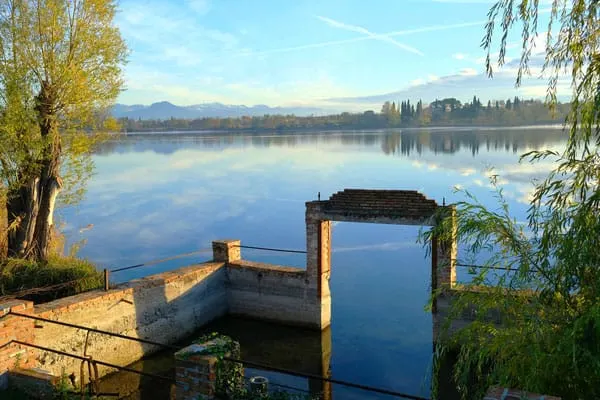 6. More Autumnal Photos from Lake Garda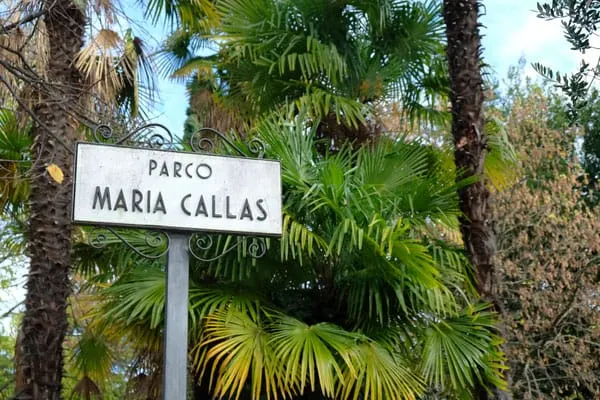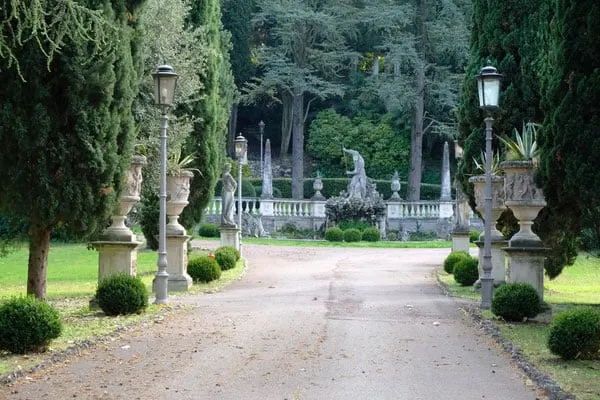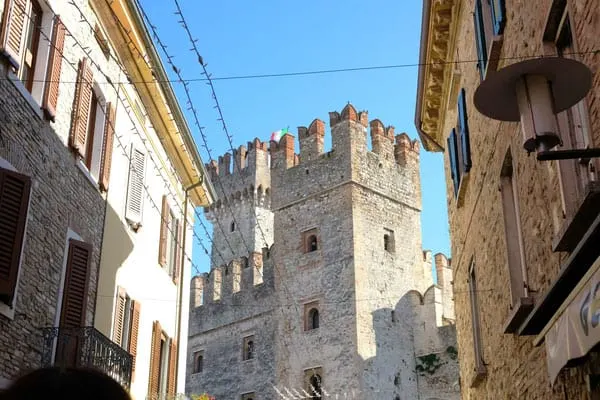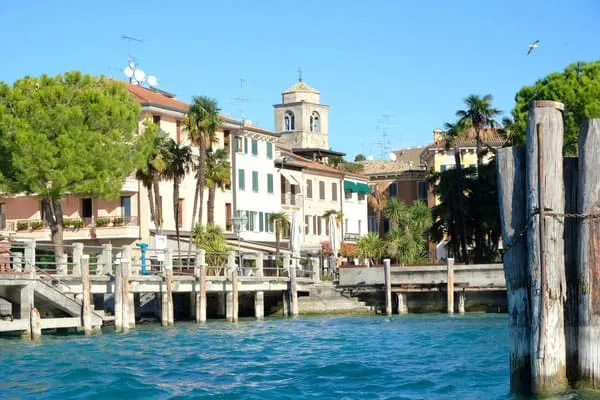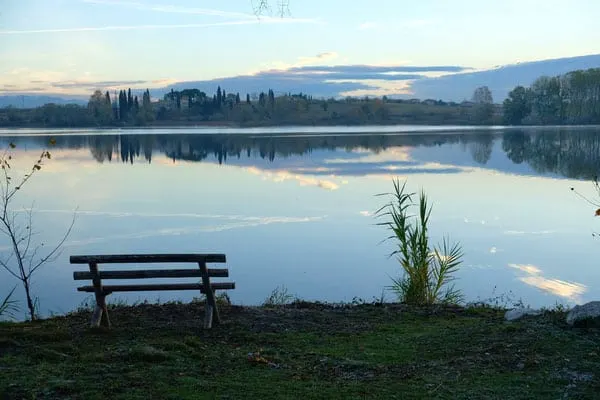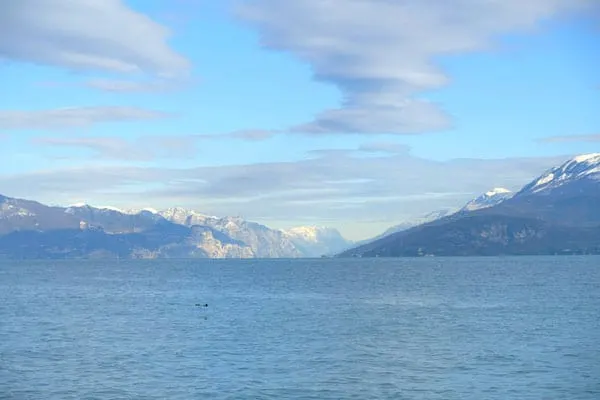 7. Map: Highlights of Sirmione and Verona, Italy
---
Are you considering to visit the picturesque area of Lake Garda? Then, I recommend you to reach out to ItalianLeisureWay, involving companies who represent local companies from the Veneto region.
Have you been near Lake Garda? What was your impression? Did you visit in fall?
I would love to hear about the things you loved in the comment form.
---
Disclaimer: I have been a guest of the Italian Leisure Way. All my opinions, as always, are my own. This posts contains affiliate links. In case you purchase one of the items, I'll receive a small commission. The price remains the same for you.
---
---
Hola! I am Paulina, a fervent travelette who crossed the Atlantic Ocean by Boat HitchHiking. On my blog, you'll find all the tips to make the most of your holiday. Get ready to enjoy outdoor and sustainable travel like hiking, cycling or sailing. Let's hit the road together!