15 Cool Things to do in Santiago Island, Cape Verde
A Guide to Santiago Island with the best attractions and sights in Santiago, Cape Verde
Santiago, Cape Verde's largest island, is a surprising place where African traditions blend with the Portuguese ones in perfect harmony.
Located in the south of the country, off the West African coast, this patch of land is home to over half of Cape Verde's population and the main tourist hub.
It's known for its beaches and unique colonial towns, as well as its rich history and natural beauty. Visiting Santiago Island is really one of the best things to do in Cape Verde.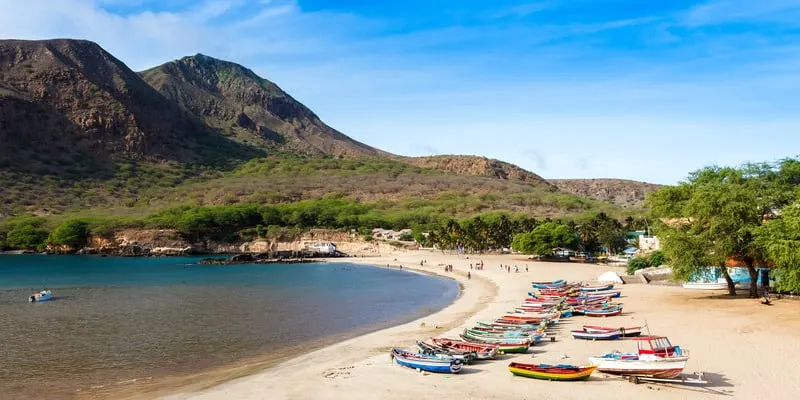 Unlike the other islands in Cape Verde which are characterized by slower paces, Santiago Island boasts it all.
From the bustling city life in Praia to the slower rhythms in Cidade Velha to the history-filled Forte Real de São Filipe or the postcard-perfect Serra Malagueta National Park, you can find everything on Santiago.
Despite being packed with landmarks and places to see, Santiago is relatively concentrated.
One day is usually enough to explore its main attractions. Yet, there is plenty to see and do for an entire vacation in this place. Santiago can also be discovered with a day trip from Boa Vista.
With this in mind, let's check out together the 15 coolest things to do in Santiago Island, Cape Verde.
"Paulina on the Road" is supported by you, dear reader. As you buy through my links, I earn a small commission. As an Amazon Affiliate, I earn from qualifying purchases. Thank you for your support
Top Resources to Travel Cape Verde
⚘ Don't leave without a travel guide. Be prepared and get the Ultimate Cape Verde Travel Guide Book

✈ Book cheap flights to Cape Verde with Skyscanner

✔ Book the best tours in Cape Verde with Viator

➳ Find the best hotel deals in Cape Verde with Trivago

❖ Get the best car rental deals with DiscoverCars

☘ Get the best discounted outdoor gear (outlet) at REI.com

✎ Never leave without travel insurance. I get mine at HeyMondo. It's easy to set up, cheap, and reliable.

✔ Skip the queue at the airport and get your Cape Verde visa in advance with iVisa

$ Withdraw money without hidden fees and avoid rubbish exchange rates with Wise (You'll get a card for free!)
How to get to Santiago Island
The most important Cape Verde island, Santiago, is relatively easy to reach.
There are no direct flights from the USA but many European companies operate international flights from all the main airports in the USA as well as direct flights from some European cities to Praia. – Check here the flights to Praia, Cape Verde
Domestic flights from Fogo, Maio, Sal, and São Vicente not only make it easy to get to Santiago from another island but also make island hopping in Cape Verde quicker and more comfortable. – Check here the flights
By boat: Alternatively, you can reach Santiago Island with a ferry from the islands of Brava and Fogo. While the ferry ride will take a while, it will give you the opportunity of admiring the unique archipelago from the sea.
Wondering whether you need a Visa for Cape Verde? Read the full guide here.
Where to Stay in Santiago, Cape Verde
Budget
Pensao Esplanada Music Mito Alves
Morabeza Kriol Hostel
Mid-Range
Hotel Cesaria ***
Syd's Guest House (outstanding, home-made breakfast!)
Sol Hotel ***
Family-Friendly
Pestana Tropico ****
OASIS Praiamar ****
Beach-time
King Fisher Village – Tarrafal
Kama Ku Kafé – Pousada and B&B – Cidade Velha
Luxury
Pestana Tropico ****
Hotel Peróla ****
Hotel Vip Praia ****
OASIS Praiamar **** (top breakfast!)
How to get around
Like all Cape Verde islands, Santiago doesn't have a well-established public transport. The easiest way to get around is with a rented car or motorcycle. – Check here the rates for rental cars
Thanks to the rapid growth of the island, many international car rental companies have offices at Praia International Airport.
Small motorcycle and quad rental shops are also established in Santiago Island. Provided you're in good shape, you could also rent a bike to tour the main landmarks but please always make sure to get your Cape Verde travel insurance upfront!
At the same time, aluguer (public taxis) provide quick connections between the various municipalities.
While hitchhiking is also a thing in Cape Verde, remember that it's never completely safe, and I don't recommend it. However, if you do decide to flag down a ride, offering payment when reaching the destination is a beautiful thing to do.
1. Visit Praia, the capital of Cape Verde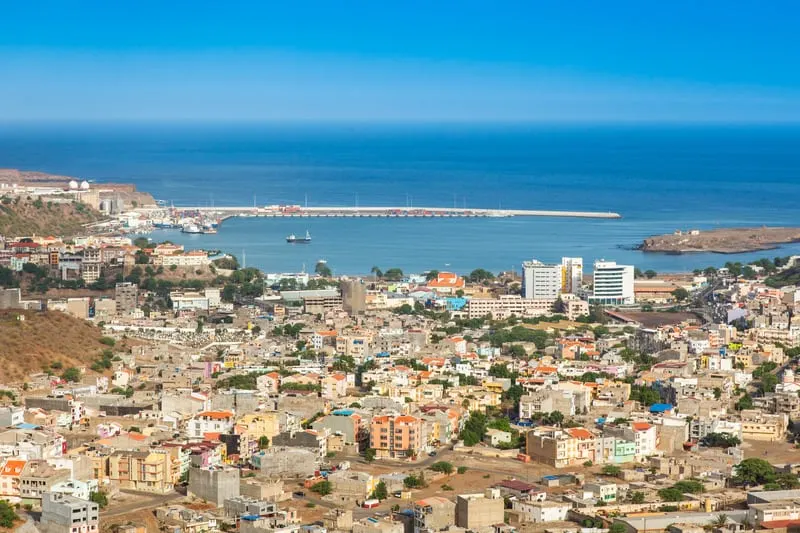 The most important town on Santiago Island, Praia is also the capital of Cape Verde and its main tourist hub.
It was founded in the 17th century, and you can still admire the Portuguese influences in the beautiful colonial buildings.
Perhaps the liveliest city in Cape Verde, Praia is a world of contrasts. Undeniably, the best place to start exploring Praia is Sucupira.
This colorful African market has everything; from baked goods to fresh fruits and vegetables, clothes, toys, street food, and even livestock.
From here, head to the Plateau, Praia's oldest neighborhood. It's a busy place that gathers crowds of locals and tourists alike. All it takes to turn from chaos to a relaxing experience is to reach the viewpoint near the Presidential Palace.
A stroll by the seashore along the beach of Quebra Canela can fill you with energy for the night. Nightlife is bustling in Praia! Entertainment and food go hand in hand here, with most bars serving delicious dishes too.
One of the best places to go for both food and drinks is Kebra Cabana, a hipster bar serving excellent cocktails, burgers and grilled seafood, and where you can enjoy live music every Friday night.
Check here the guided tours of Praia
2. Hang out at Quebra Canela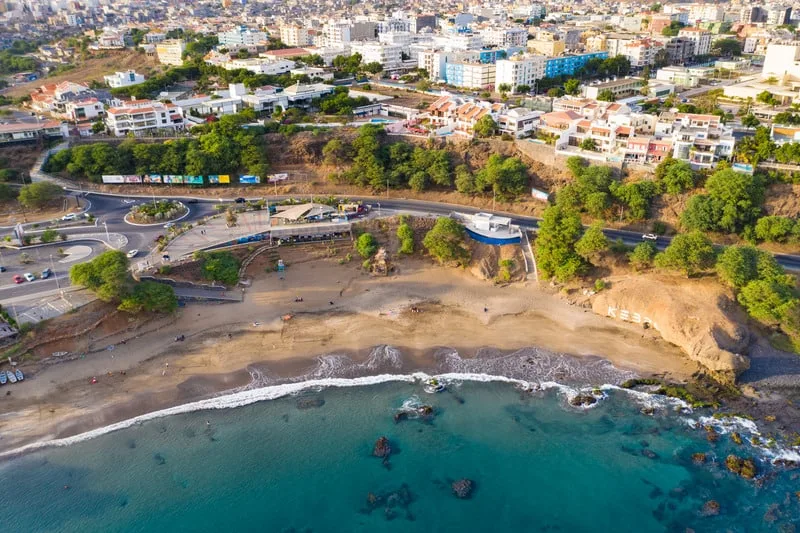 Quebra Canela district is famous for its popular beach, one of the best beaches in Cape Verde. But this subdivision of Praia awaits you with much more than expanses of black volcanic sand.
Situated southeast from the city center, it's easy to reach by taxi, bike or foot.
This place is a real paradise for snorkelers and beach enthusiasts, while nature lovers can hike up to Cruz do Papa, a huge cross perched on a hilltop, and from where you can enjoy fantastic views over the bay.
If you're visiting with kids, sunbathing or playing beach games is another fun way to spend an afternoon here. In the evening, the small wood café next to the beach is the perfect place to relax.
3. Enjoy a music night out in Praia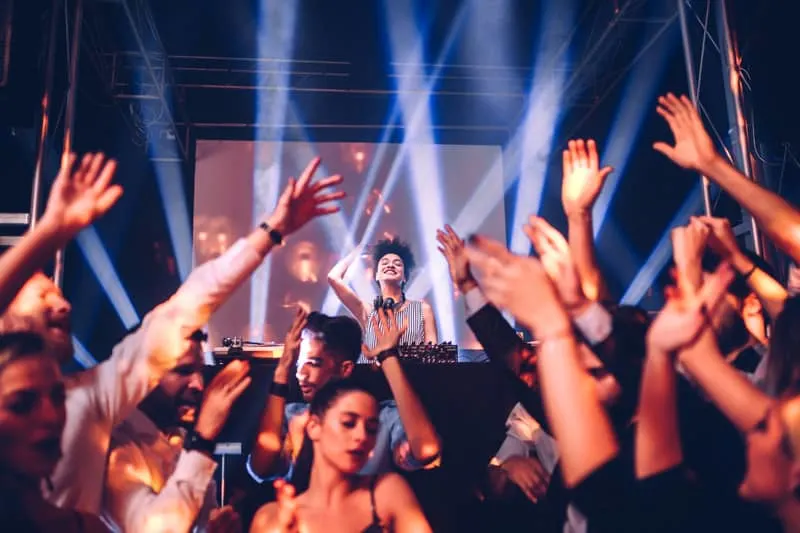 Visiting Santiago Island is no fun if you don't enjoy at least one music night out. The archipelago is famous around the world for morna, a type of folk music sung in Cape Verdean Creole.
Finding a venue where to listen to it in Praia isn't tricky either.
One of your best bets is Quintal da Musica – 5al da Musica, one of the best restaurants in the city. Characterized by a cozy atmosphere, and serving amazing traditional food, this place hosts delightful music nights.
More than a place to eat and drink, Cafe Sofia – Copacabana Bar & Lounge Praia is a place for the artists. Charmingly colorful, it impresses with its walls decorated by local artists, amazing local specialties, great cocktails and amazing traditional live music.
The elegant Suave Lounge is another great place to check out in Praia. Divided into a restaurant on the ground floor and a lounge bar in the basement, it offers everything, from food to drinks, to entertainment.
4. Learn about the past in Cidade Velha
The first capital of the archipelago and the birthplace of the Cape Verdean culture, Cidade Velha is also a UNESCO heritage site and a place you can't miss if you want to learn more about the country's history and culture.
Meaning "Old Town" in English, Cidade Velha brags with over 500 years of history.
It was the first European settlement in the tropics, as well as one of the most important places in the world for the slave trade. Its beautiful historic center still bears signs of the colonial-style architecture.
Undeniably, the best thing to do here is to stroll along its characteristic streets and admire its gorgeous colonial houses, typically along with Rua Banana or Rua Carreira.
5. Explore Real Forte de São Filipe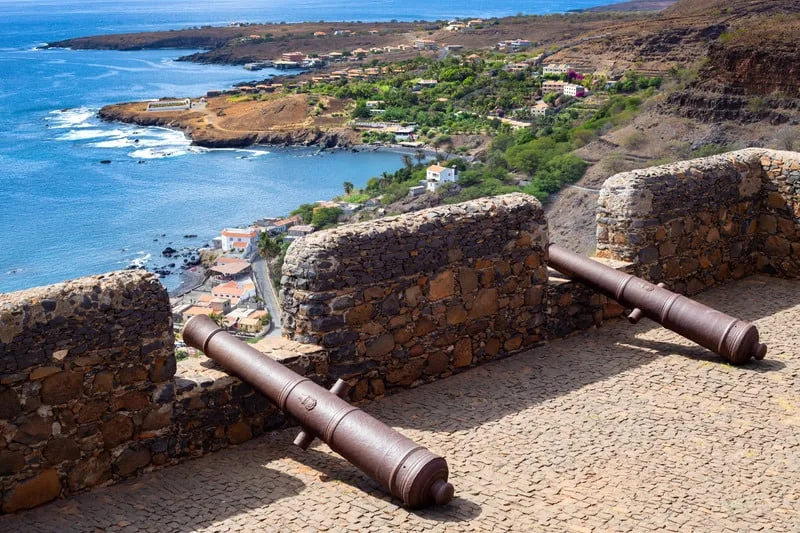 Located in Cidade Velha, the Forte Real de São Filipe is an impressive 16th-century fortress that overlooks the entire area of Ribeira Grande, Cidade Velha's original name.
It served as a defense system for centuries but today, it attracts visitors with sweeping views over the town and surroundings. No doubt, this is the perfect place to take that Insta-worthy shot while visiting Santiago Island!
Check here the day tours to Cidade Velha
6. Visit Assomada Market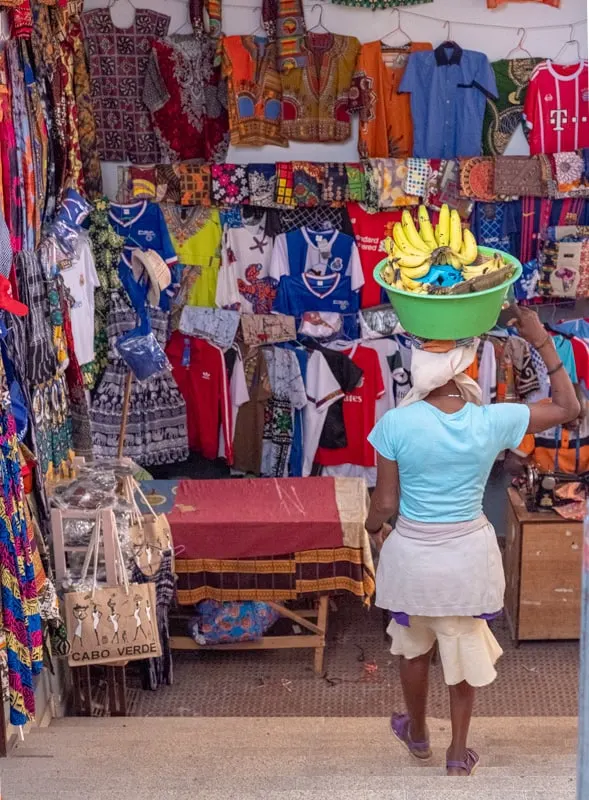 Assomada is a quaint little town located a 45-min drive northwest from Praia. Counting around 15,000 inhabitants, though, it's the second-largest municipality on the island. It's a must on any Santiago island tour!
Impressing with a pleasant combination of urban and countryside areas, this town is also an important commercial center, and famous for its colorful market.
Undeniably, this is the best place to visit if you want to immerse yourself in the authentic African culture.
Founded in 1931, the market of Assomada is the largest on Santiago Island. Besides a wide variety of fresh local products, it's also the perfect place for souvenir shopping if you want to go home with an original handcrafted object.
Once you've explored the market, don't forget to visit the Norberto Tavares cultural center, a cultural space, and a museum dedicated to the famous Cape Verdean musician.
Housed in the former post office, the center was established in 2008, when the popular Museu da Tabanca was moved from Assomada to Chã de Tanque.
It's also the perfect place to buy souvenirs from Cape Verde.
Check here the tours to Assomada
7. Hiking in Serra Malagueta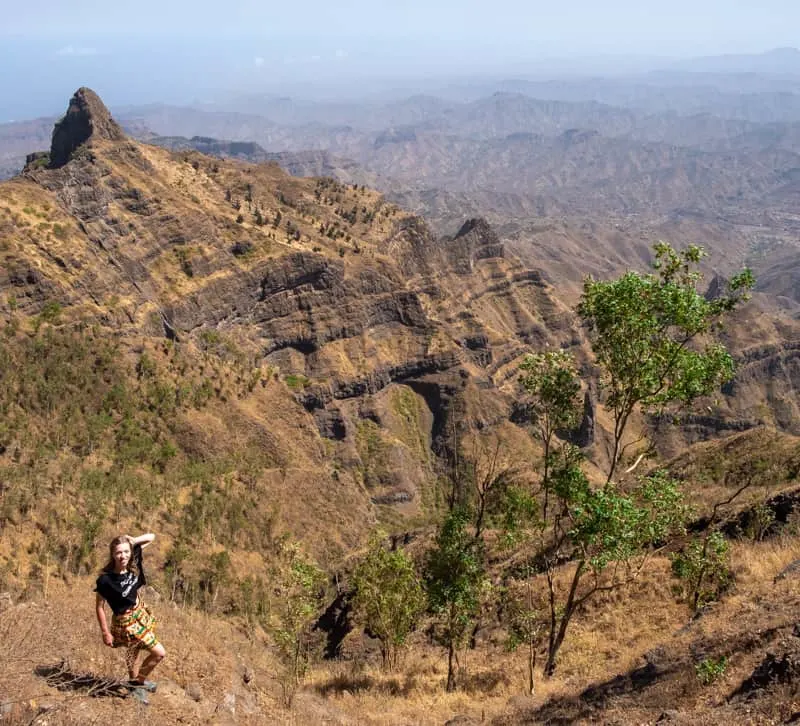 Home to important threatened and endemic species, Serra Malagueta is a real paradise for hikers!
This splendid natural park is not only the most important ecological area on the island of Santiago, Cape Verde, but it also encompasses beautiful landscapes and impresses with a vast network of trails that cross lush forests.
From all, Ribeira Principal is undeniably the most spectacular! Covering the entire area from the park's entrance to the ocean, it leads you to the discovery of a wide variety of landscapes.
Undoubtedly, an experience to live if you want to see more than only colonial towns and beaches during your trip.
8. Climb the highest peak: Pico da Antonia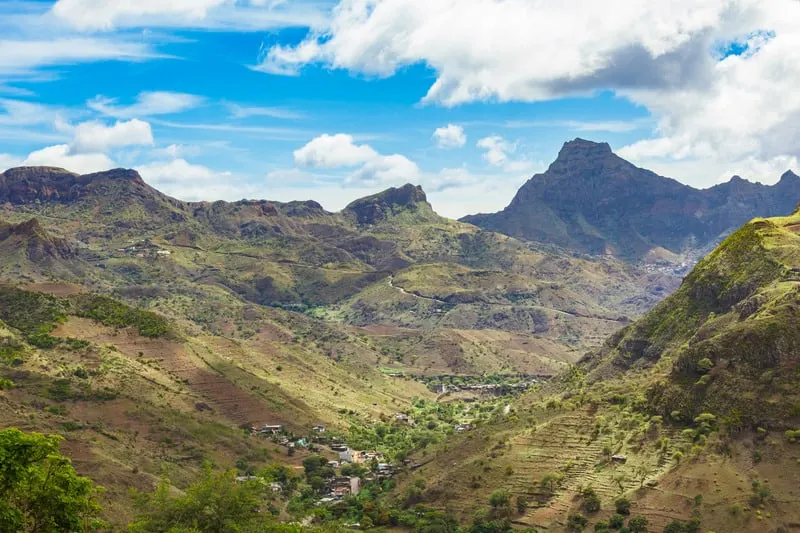 If hiking is your thing, another place to explore is the protected Parque Natural da Serra do Pico de Antónia. An important bird area and home to thick forests, the natural park is famous for its Pico de Antónia, the highest point of the island.
The views you can enjoy from 1.392 m above the sea level are spectacular, but you'll need to be in shape to get there!
That said, the mountain is located close to Assomada. So, if you don't feel like climbing, you can stroll through the market, and admire some views of the peak from afar.
9. Visit Tarrafal Concentration Camp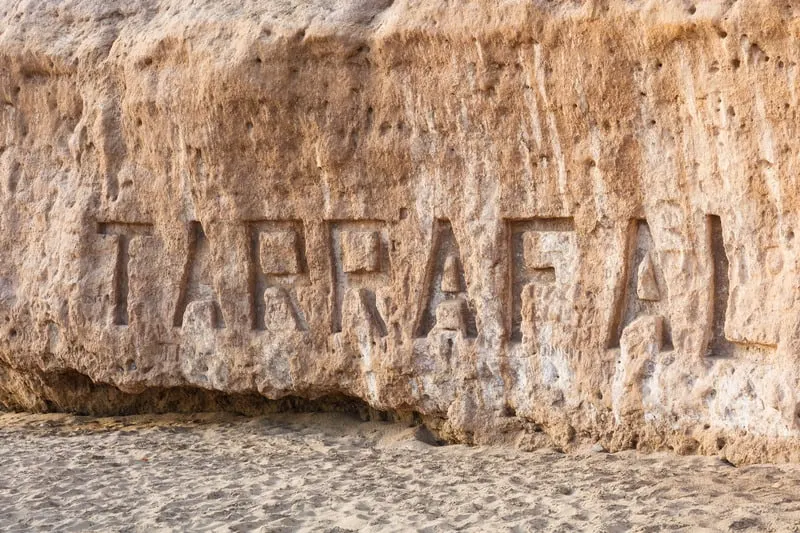 Holidays in Santiago, Cape Verde islands, are often synonymous with relaxed sunbathing, hikes and watersports. Visiting the Tarrafal concentration camp, thus, might not be on your bucket list.
However, even if it's sometimes hard to uncover the darker chapters of human history, this peculiar prison deserves a visit.
Built-in 1933 by Portuguese dictator Antonio de Oliveira Salazar, this place housed political prisoners and Africans fighting against colonial rule.
Many of these prisoners were held here until 1975 when Cape Verde won its independence.
Despite being now turned into a museum that displays photos and artifacts from the time, the Tarrafal concentration camp still transudes the sadness of the horrors that happened between its walls.
10. Surf and relax in Tarrafal Beach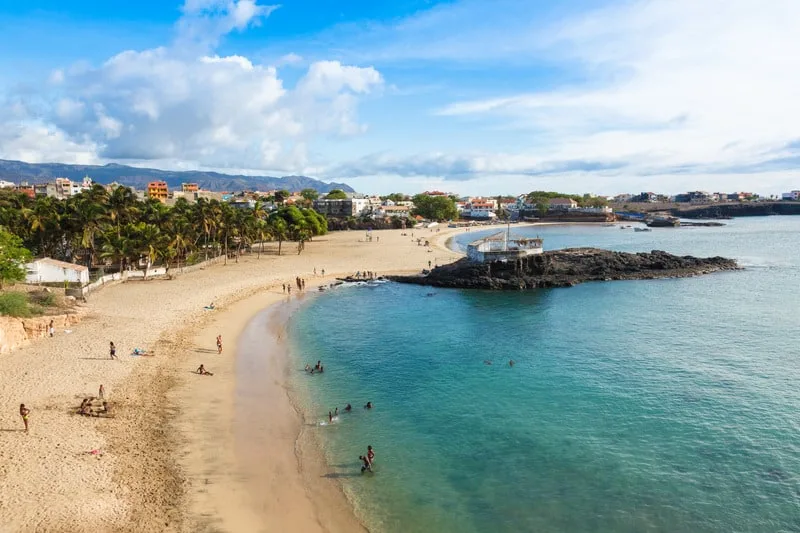 While the Tarrafal concentration camp is a place for reflection, you can easily unwind and get back into vacation mode at Tarrafal beach.
Located at the foot of Monte Graciosa, about one hour by car from Praia, this golden sand beach is a paradise for surfers, snorkelers and divers.
The best thing about this beach is that it's never overcrowded. The only downside is the lack of amenities, such as beach chairs and umbrellas, but you can relax after sunbathing in one of the many restaurants or bars nearby.
11. Visit the pottery near Tarrafal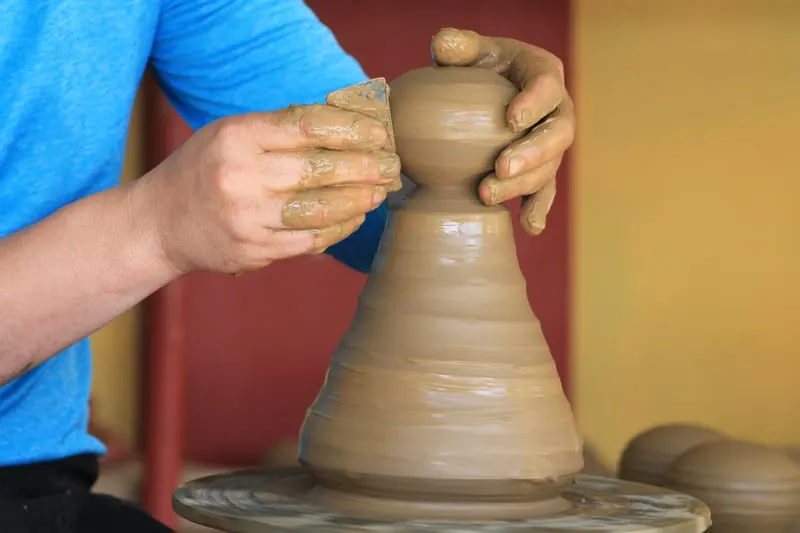 Cape Verde offers much more than pristine scenery and days by the sea. Unique traditions and crafts include the art of pottery, and you can join a workshop if you want to.
Located in the rural zone of Tarrafal behind Monte Graciosa, the Trás di Munti pottery center is a great place to visit by yourself or with children.
12. Visit the Rabelados in Espinho Branco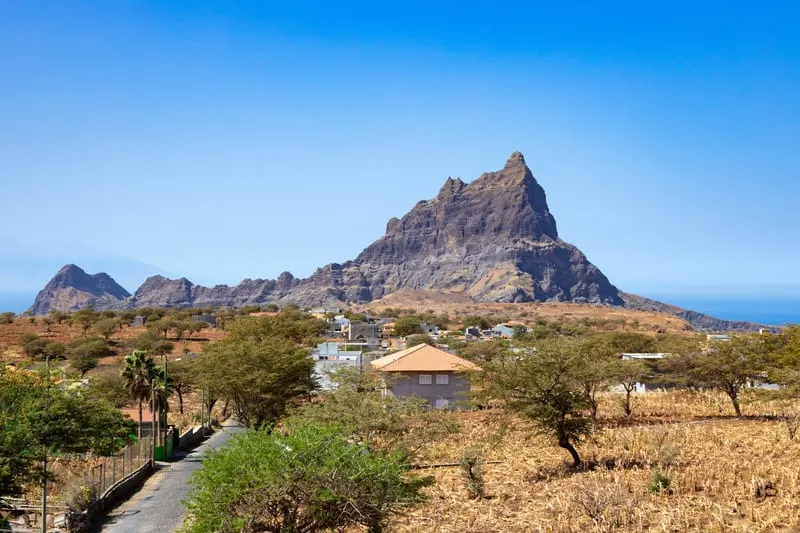 If you love discovering new cultures, visiting the Rabelados in Espinho Branco is a must! This unique religious community was formed in the 1940s by a group of locals who rebelled against the liturgical reforms introduced by the Catholic Church.
Today, the largest community of "rebels" lives in Espinho Branco, a small village on the northern side of the island. They are mainly involved in agriculture, handicrafts, and fishing.
Living in semi-isolated conditions, they maintained their own culture and traditions based on a closer relationship with the land and nature. Their religious rituals are unique, and you can attend ceremonies on Saturdays and Sundays.
They have a small shop where you can purchase hand-made souvenirs and support the local community.
Check here the rates for guided tours
13. Do an island tour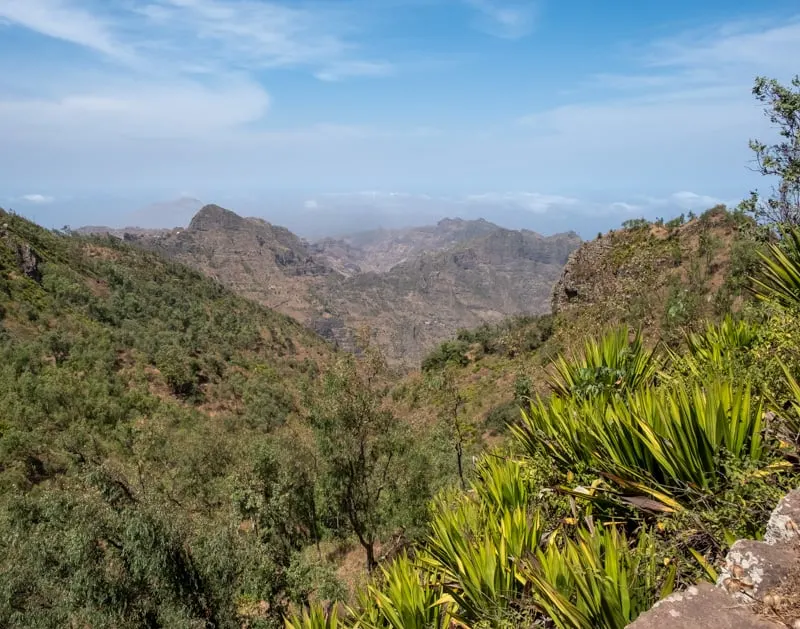 Santiago might be the largest of the Cape Verde islands, but the truth is that it's still pretty compact. If you only have one day to spend here, an island tour is your best bet.
Numerous companies offer group or private tours, or you could simply rent a car, and create your own route. To have a glimpse of the authentic lifestyle, though, hiring a local guide is a must!
Typical tours include a drive around the Natural Park of Serra Malagueta, a few hours of strolling through characteristic neighborhoods in Praia, sunbathing at Tarrafal Beach, as well as visits at the Assomada market and the Rabelados community.
Most experiences also include a traditional lunch with a Cape Verdean family, usually consisting of the conventional cuscus (couscous and fidjós).
The evening will most likely end in Praia with drinks and live music.
14. Stay in an EcoLodge
Accommodation can make or break the deal when planning a holiday. If you love immersing yourself in the local culture, the ecolodge might be your best bet when visiting Cape Verde Santiago Island.
Quinta da Montanha is a unique place, nestled in a remote area in the heart of Norte National Park, Santiago.
Instead of a crowded, touristy hotel, you'll discover a place focused on a sustainable lifestyle. Indeed, Quinta da Montanha *** transudes the eco-friendly philosophy of its warm-hearted owners.
Not only is this a perfect place for casual travelers looking for a unique lodging, but it's also a great choice if you want to spend a few days away from the modern hustle and bustle.
Offering half or full board in its restaurant and bar, quick access to the beach, as well as lots of space to soak up the sun, this place attracts those who need the utmost relaxation.
Check here the rates and reviews
Similar to this, you can always find locations where you can stay and enjoy your stay in Cape Verde.
15. Enjoy local food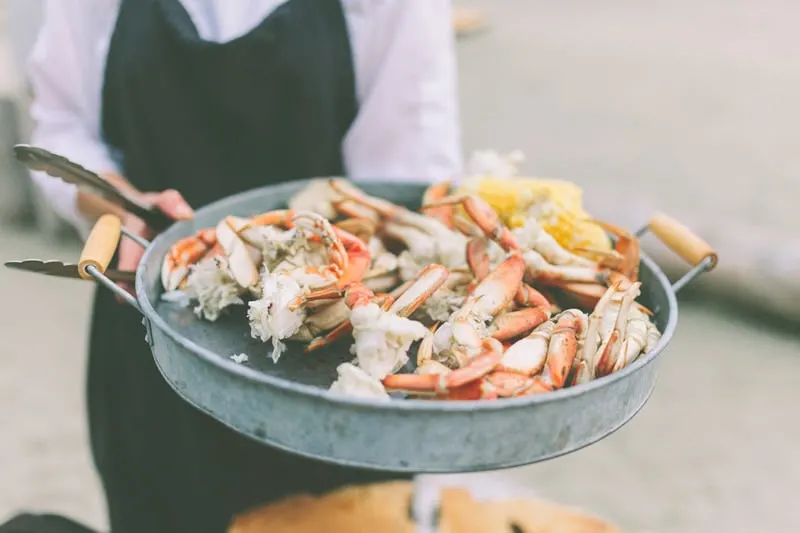 Last but not least, one of the coolest things to do in Santiago Island is trying the local cuisine!
Some of the must-tries include cachupa, a Cape Verdean stew made with corn beans, cassava, sweet potato and fish or meat.
Cuscus (couscous), moreia (fried eel) and buzio are other delicious dishes that you should try! The island is known for its exquisite seafood and fish dishes.
These all are delicacies of traditional Cape Verdean food that you should try!
Restaurante Maracuja in Tarrafal is one of the best eateries in Santiago Island. From fresh food dishes to traditional ones, you'll be spoilt with choices, and will taste some of the most amazing food in Cape Verde.
90 (Noventa) Bistro in Praia, Santiago Island, Cape Verde, awaits you with loads of traditional dishes, including local goat cheese, cuscus, vegetable stews, as well as seafood.
For dinner with a view, Kebra Cabana can surely satisfy even the most demanding tourists. Located next to Quebra Canela Beach, it's an excellent choice for lunch or dinner after exploring this beautiful district.
In the Prainha district, you can find the Creole – Food and Arts Restaurant. A landmark for tourists and locals wanting to taste African, Cajun and Creole dishes, it surprises with a unique atmosphere and high-class services.
While it may maybe cost a bit more than the average restaurant in Praia, a dinner here will surely be the highlight of your holiday in Santiago Island!
For more local restaurants check out the Ultimate Cape Verde Travel Guide Book.
If you want to make real connections with the locals, you can even try out their Creole phrases and get the Capeverdean vibe with them.
---
Santiago, Cape Verde Map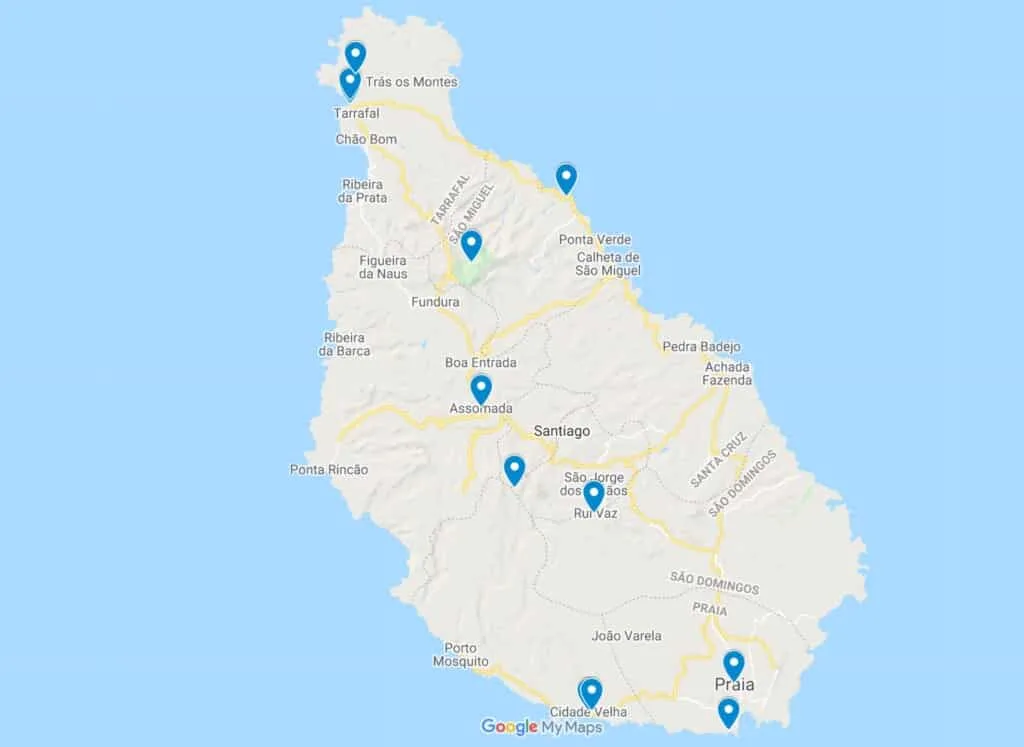 ---
A short FAQ about Santiago Island, Cape Verde
What are the things that you can do in Santiago Island?
You can enjoy the nightlife in Praia, enjoy food and drinks in Kebra Cabana, and if hiking is your thing, a great place to explore is the protected area Parque Natural da Serra do Pico de Antónia.
Where can you discover a new culture feel in Santiago Island?
If you love discovering new cultures, visiting the Rabelados in Espinho Branco is a must. This unique religious community was formed in the 1940s by a group of locals who rebelled against the liturgical reforms introduced by the Catholic Church.
Where can you enjoy the best local food in Santiago Island?
You can visit Restaurante Maracuja in Tarrafal and Noventa Bistro in Praia, and for dinner with a view, Kebra Cabana can surely satisfy even the most demanding tourists.
---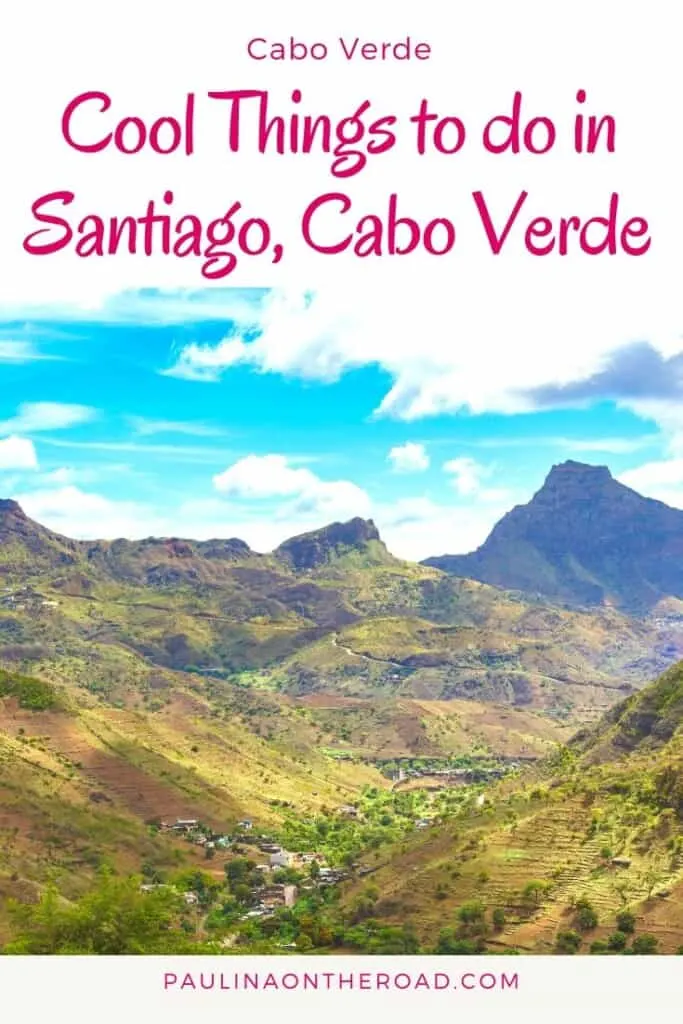 ---
Hola! I am Paulina, a fervent travelette who crossed the Atlantic Ocean by Boat HitchHiking. On my blog, you'll find all the tips to make the most of your holiday. Get ready to enjoy outdoor and sustainable travel like hiking, cycling or sailing. Let's hit the road together!